My Birthday in Japanese Ryokan Shiorie Keiryu-so
NatashaTheNomad
04/07/2018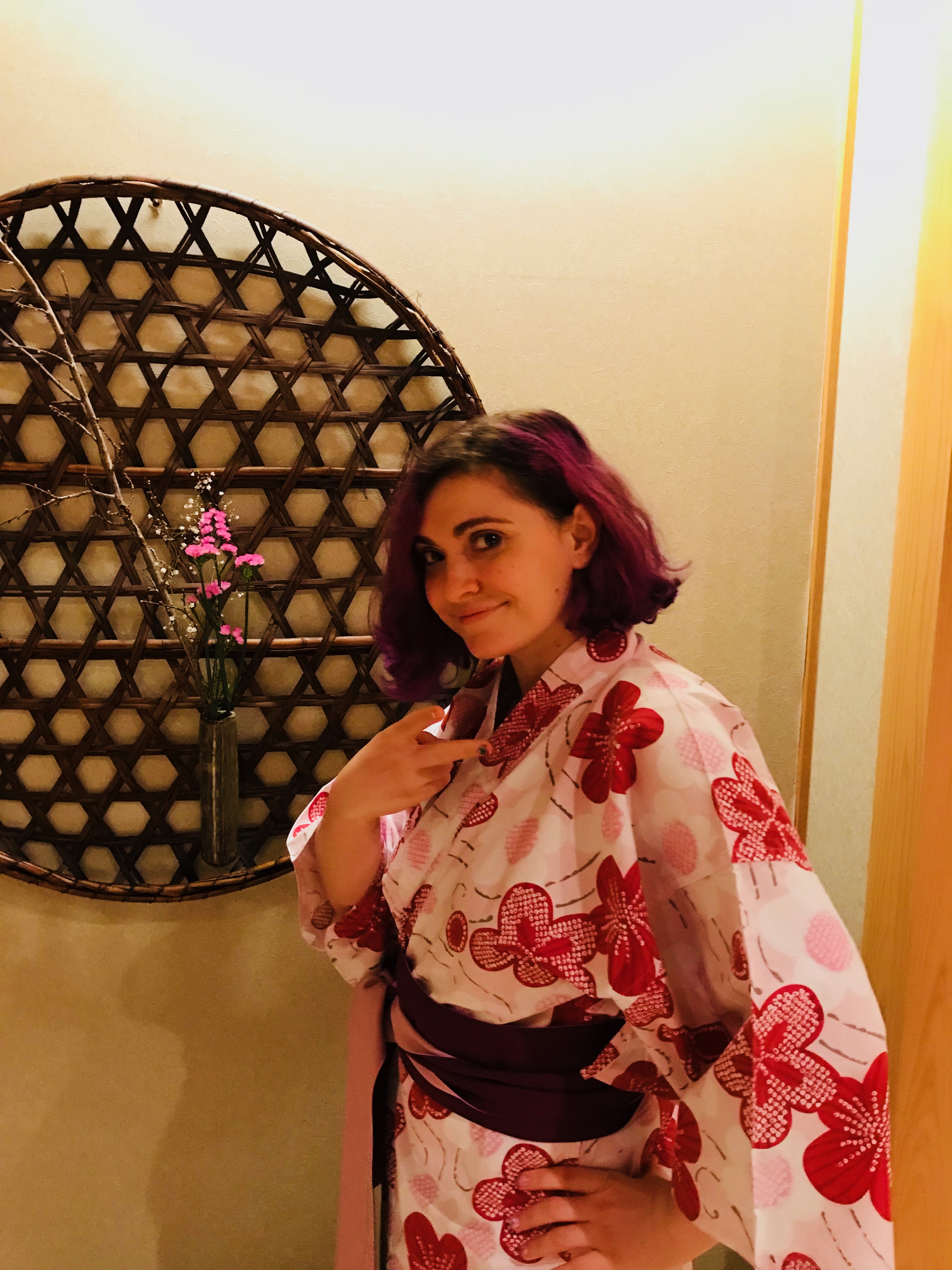 Every year, for the past three years as a digital nomad, I've celebrated my birthday in the same way. By staying in a ryokan - a traditional Japanese hotel with hot springs. Sometimes by myself, sometimes with friends. It's the most amazing treat regardless!
I usually stay at the Awanoyu Ryokan - they have THE BEST hot springs! But this year, my birthday collided with Chinese New Year tourists and Awanoyu was almost fully booked and extremely expensive. So my friends and I booked at the Shiorie Keiryu-so Ryokan instead.
Getting There
The best way to get to get to Matsumoto from Tokyo is to take the 8:00 AM Chuo Line-Limited Express Super Azusa 1 Limited Express Matsumoto train from Shinjuku Station. BONUS: It's purple! My favorite color!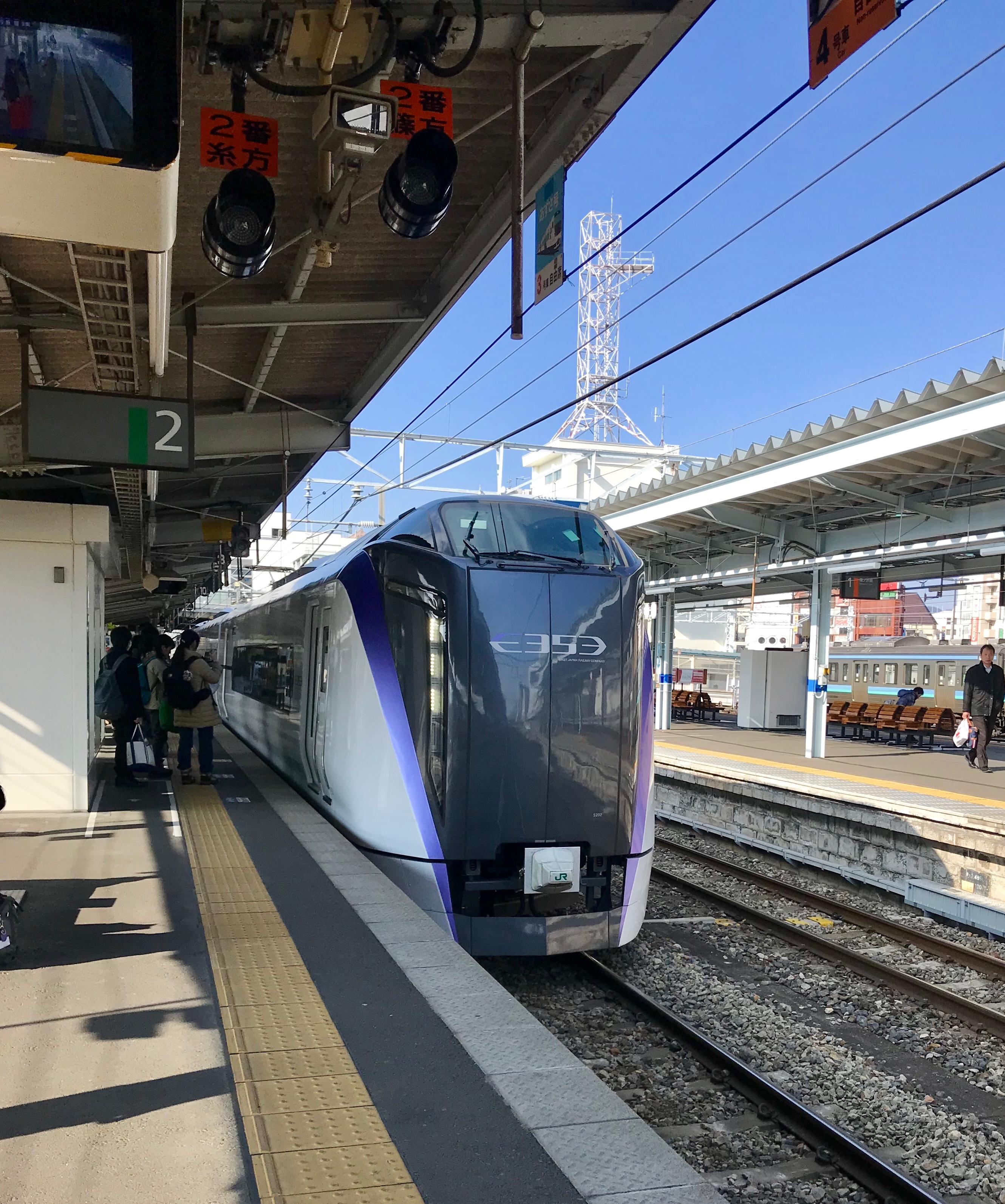 Since it's the express train, it doesn't run very often, so make sure to the 8:00 AM one! The train takes 2 hours and 39 minutes to reach Matsumoto. But don't worry, the views start getting very pretty very soon! I also recommend getting to Shinjuku station early to get snacks / breakfast - you can eat on this train! Enjoy the ride!
Upon reaching Matsumoto, head to the Matsumoto Bus Station across the street from the train station to get your bus tickets to the ryokan: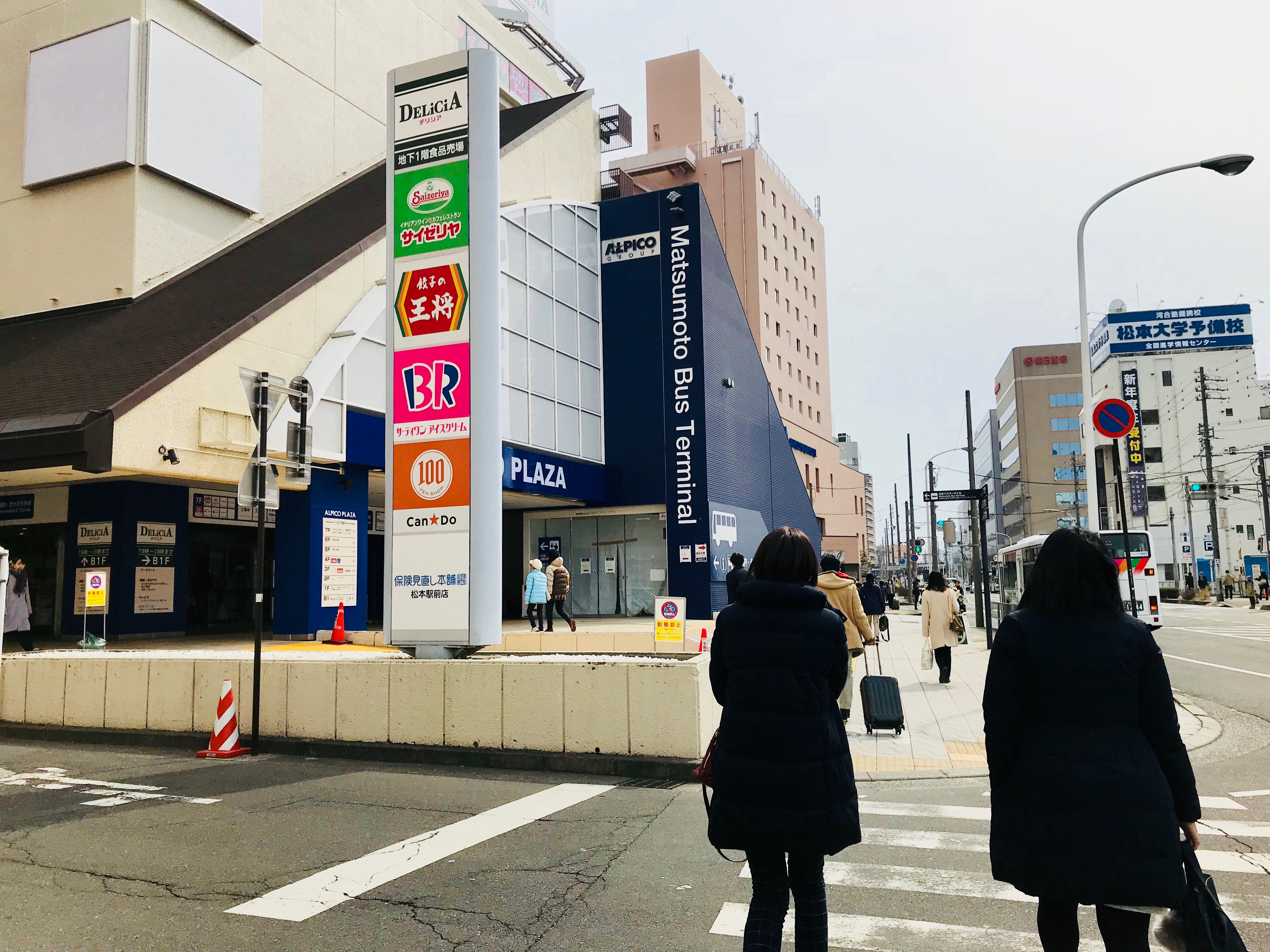 Here is the bus schedule: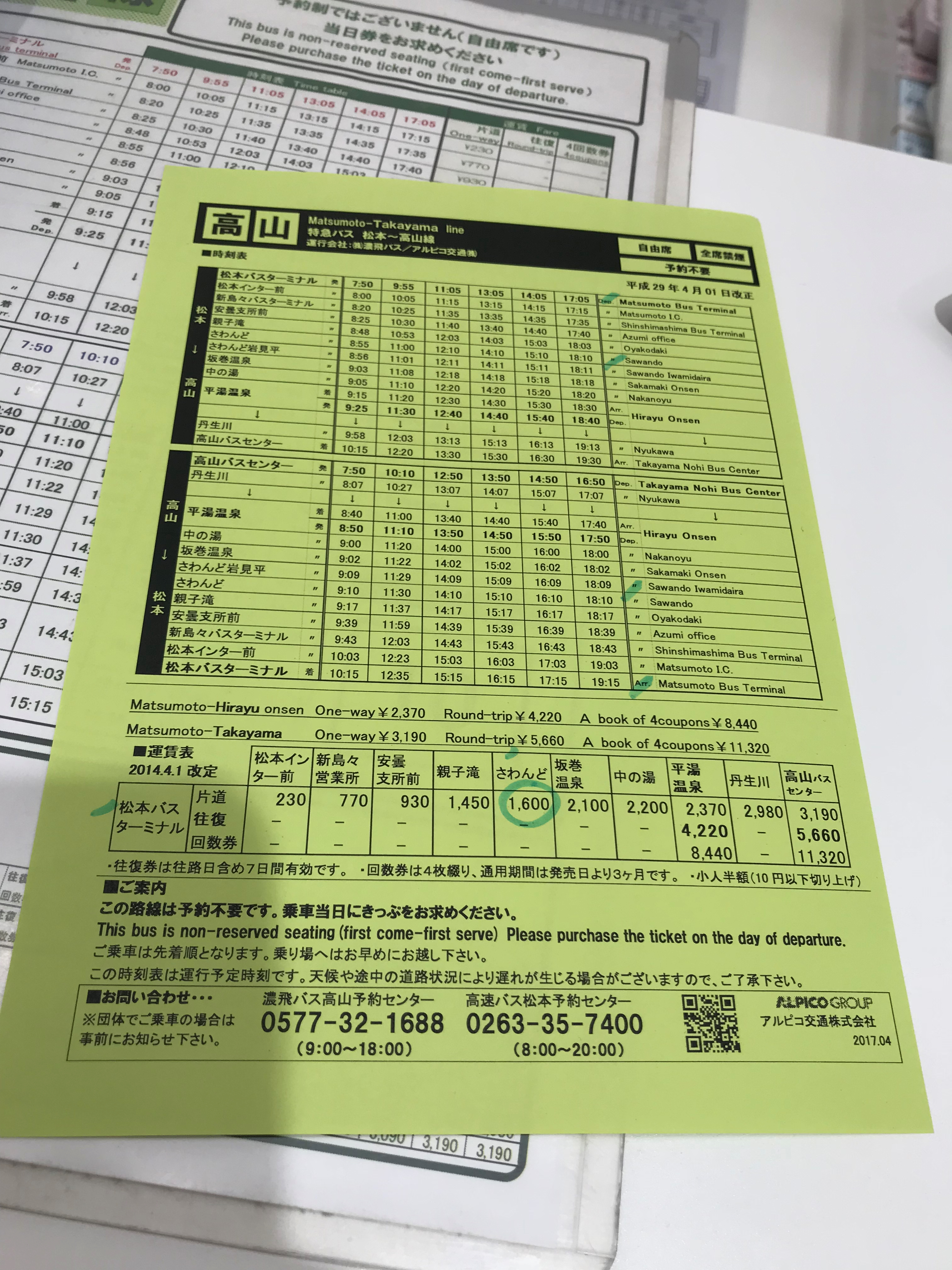 I recommend getting on the 14:05 bus - the next one comes 3 hours later! Make sure to ask which bus stop number to be at at that time, since it might get confusing with Japanese signs.
Now you have time for a nice lunch! I recommend Goshiki chiken ramen!
Pro tip: You can leave your things in a locker at the bus station, so you don't have to carry it with you to lunch.
Come back to the bus station about 30 minutes before the bus departure to buy any snacks that you might want at the ryokan or on the bus ride (water maybe). The Ryokan is in the middle of nowhere, so you won't get a chance to buy extra snacks when there - although they will feed you A LOT! In my case, this is when I buy my birthday cake! The dinner at the ryokan is very rich and amazing, but there is no traditional cake in Japanese desserts.
The bus ride is a bit over an hour, but the views are spectacular! You won't notice the time go by!
The ryokan is about a 5 minute walk from the bus stop, but there is snow and it might be confusing (you might not have phone signal), so ask the ryokan to pick you up at the bus stop beforehand - it's super nice to not have to carry your suitcase in the snow! The ryokan will email you about your food preferences and arrival details once you make the booking, so this is easy to arrange.
Yakuta!
Besides the regular paperwork and learning about your room and where things are during registration, you get to choose the yakuta (Japanese robe) that you will wear around the ryokan!!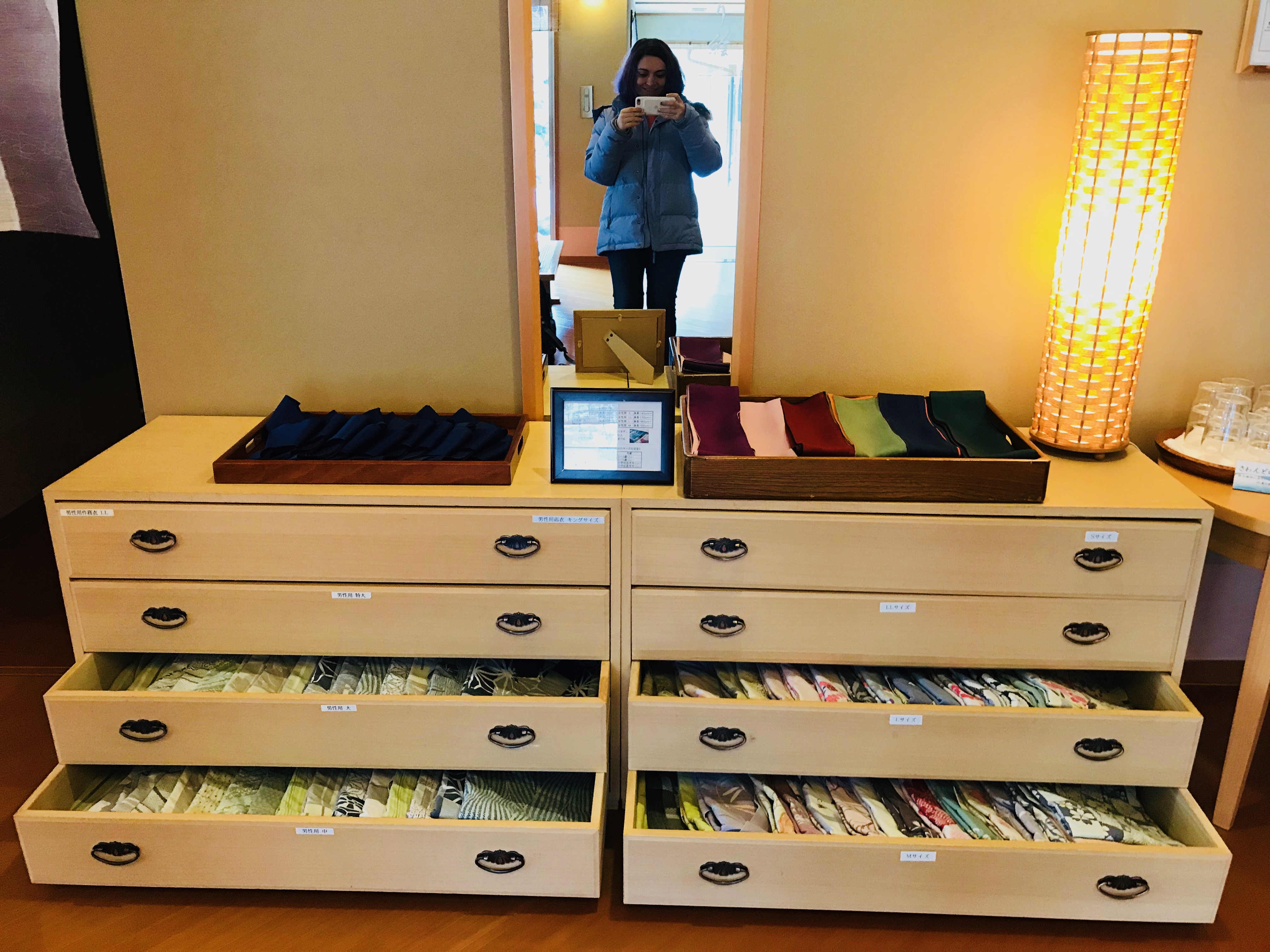 This is my favorite part of staying at a ryokan - the yakutas are so comfortable, you feel like you're walking around at home! There were many pretty designs to choose from: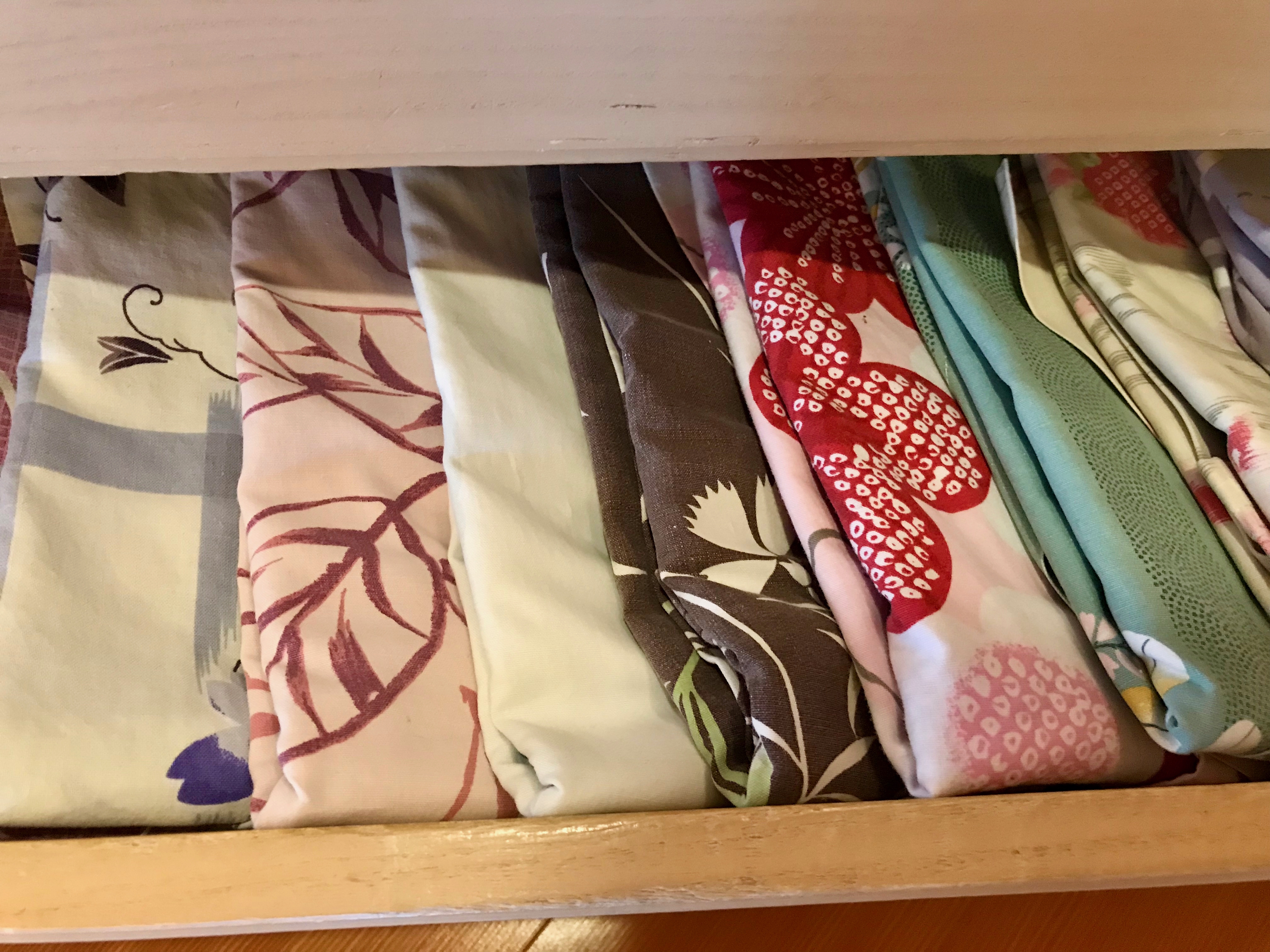 And you choose a belt to match too!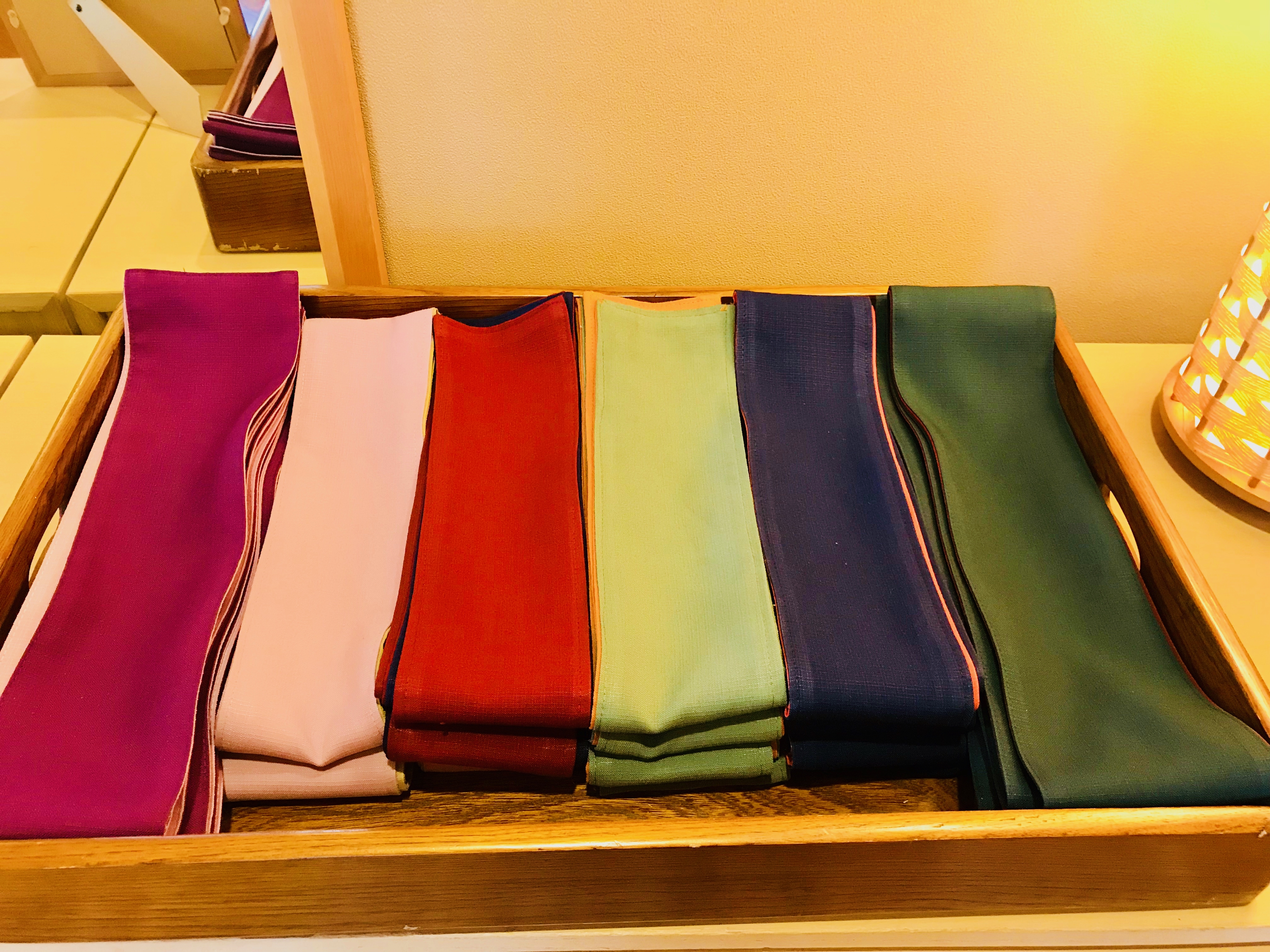 Tada!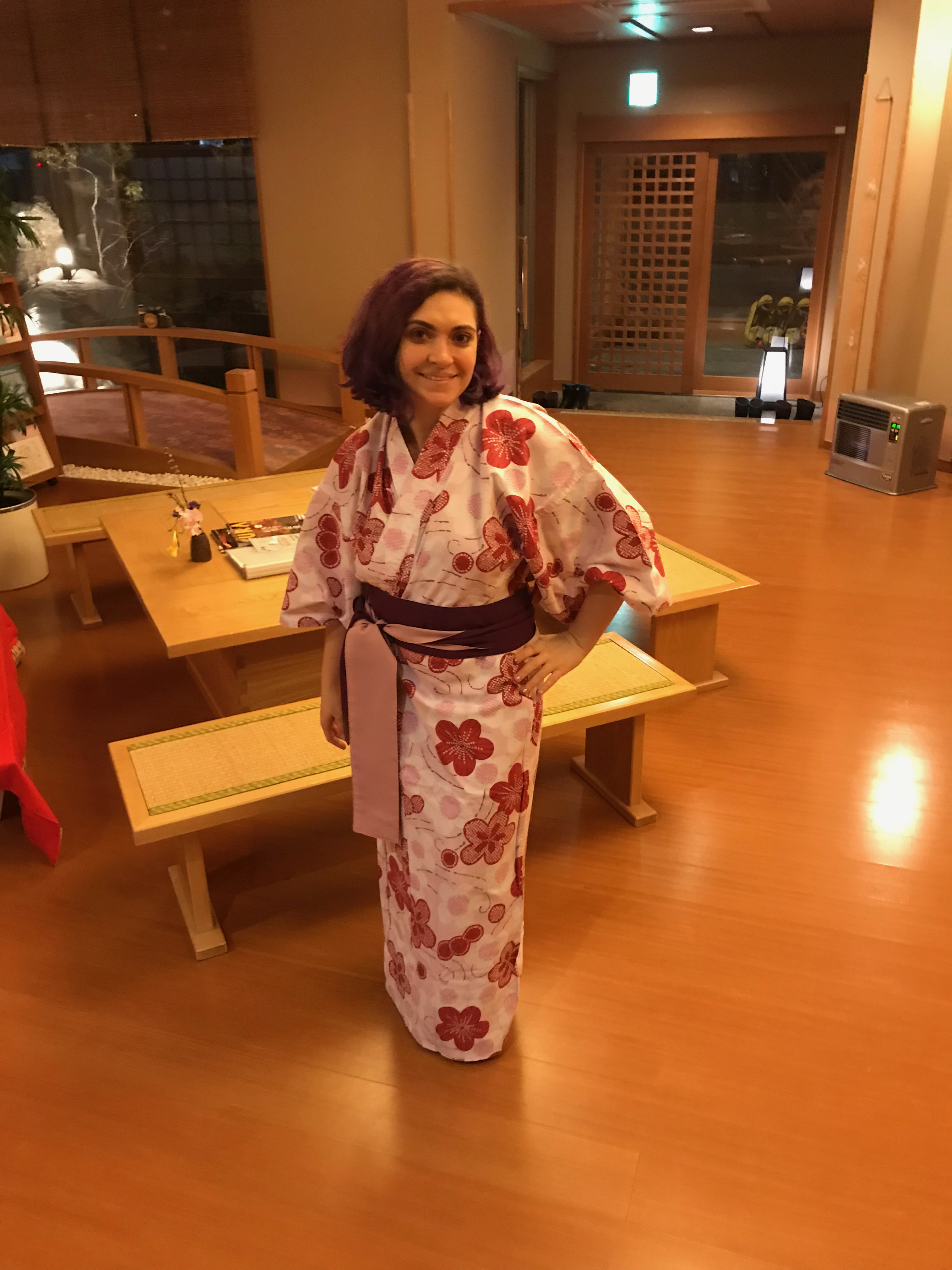 The Room
I LOVE the electric table blanket that is common in ryokans during the winter. It's so nice to sit under it, drink amazing tea, and be warm!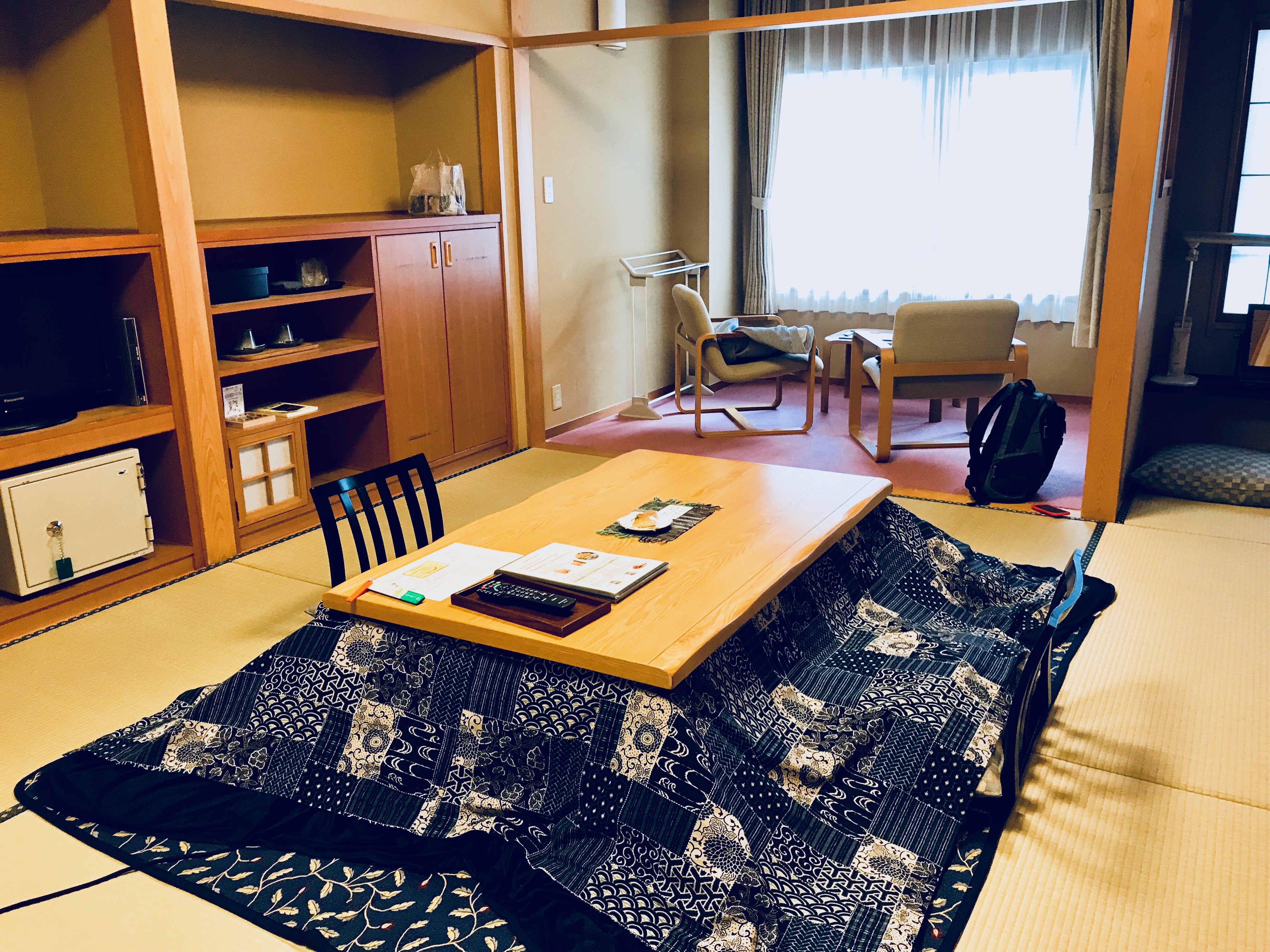 Japanese-style rooms are super simple and nice and flexible. When you get there, there is a table. But when you come back from dinner, there is a bed waiting for you on the floor! It feels like you're having a sleepover.
I loved the special touch of the Yutanpo in my bed!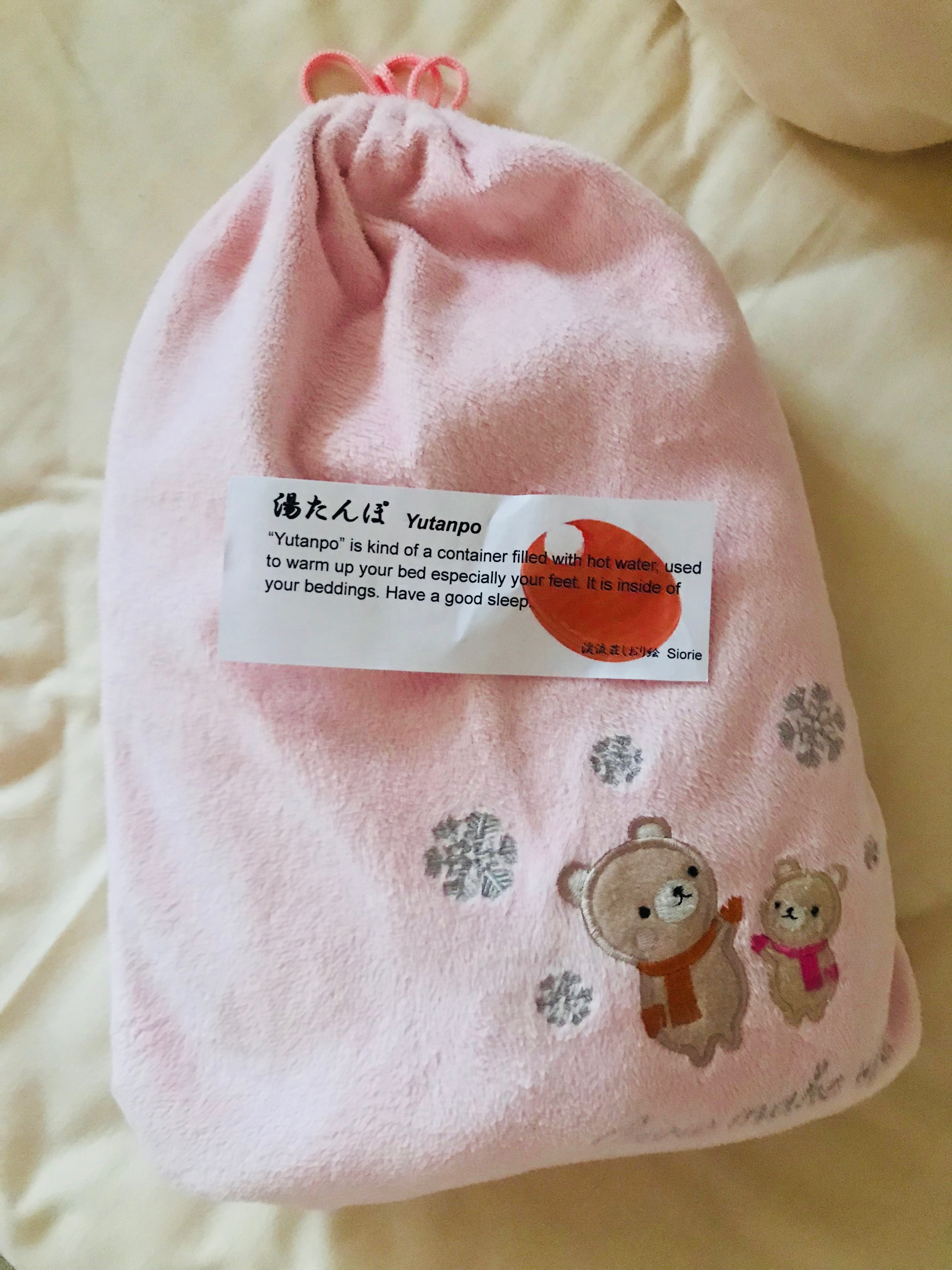 Onsen
The next order of business after registration was to go soak in the onsen, Japanese hot spring. This hotel has rooms with a private hot spring right in your room. So if you're shy (read about the Japanese onsen culture if you don't know about it), that's a good way to go. But it is a lot more expensive, and even then, there is no shower in your room, so you still need to use the public shower.
I chose to use the public onsen. But here is the thing - there was nobody there! I guess most people get a room with a private onsen. And then the few who don't would have to collide schedules (and genders) with you.
You can also reserve a private smaller hot spring for yourself or your family or your friends. I reserved it for myself the next morning super early and enjoyed soaking while watching the world wake up :)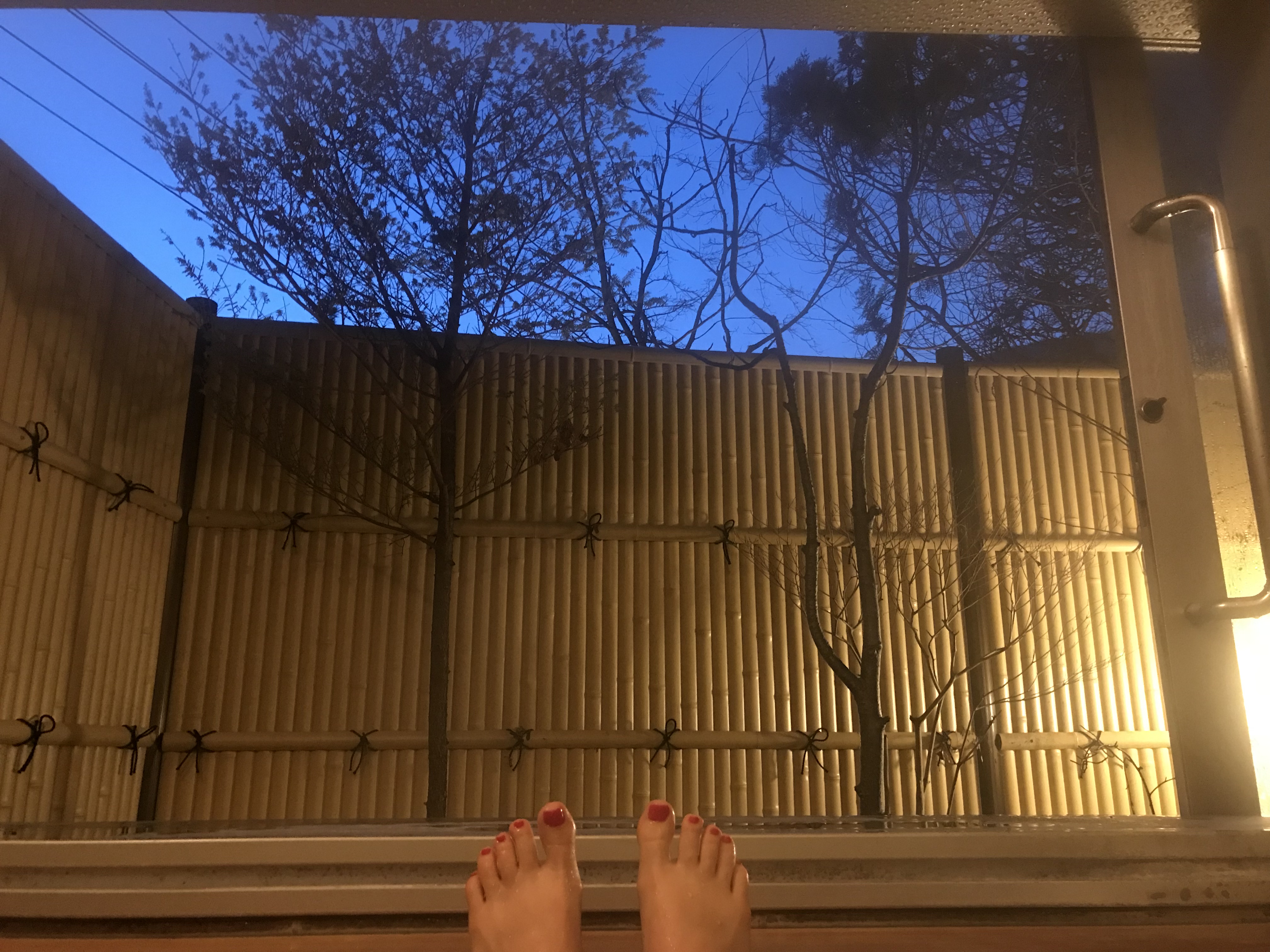 You can also use the public onsen for private use during the night between 11:00pm and 5:00pm if you can't sleep or are a night person.
Overall, I think it was too much hassle and pressure to reserve the private onsen. I should have just gone to the public one whenever I wanted. It is only useful if you are traveling with your significant other of the opposite gender or family, and want to be in the same one. Also good for selfies!
A Walk in the Snow
The hotel provides waterproof shoes of different sizes, and even snow cleats that you can clip on to your shoes for walking in the snow. So a few of us went on a walking adventure before dinner. The area is gorgeous!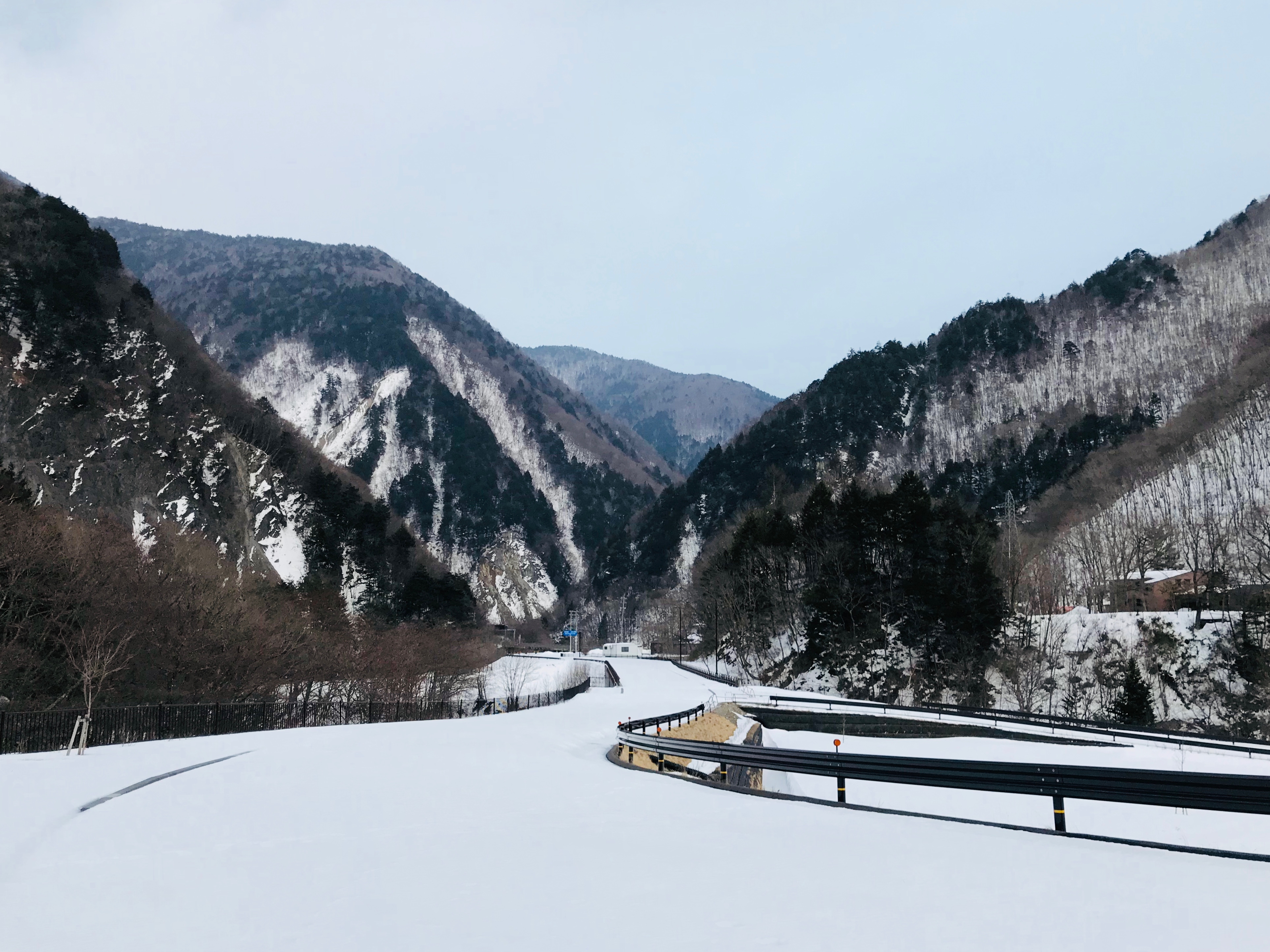 The naked trees on a mountain make it feel like you're in a Japanese painting: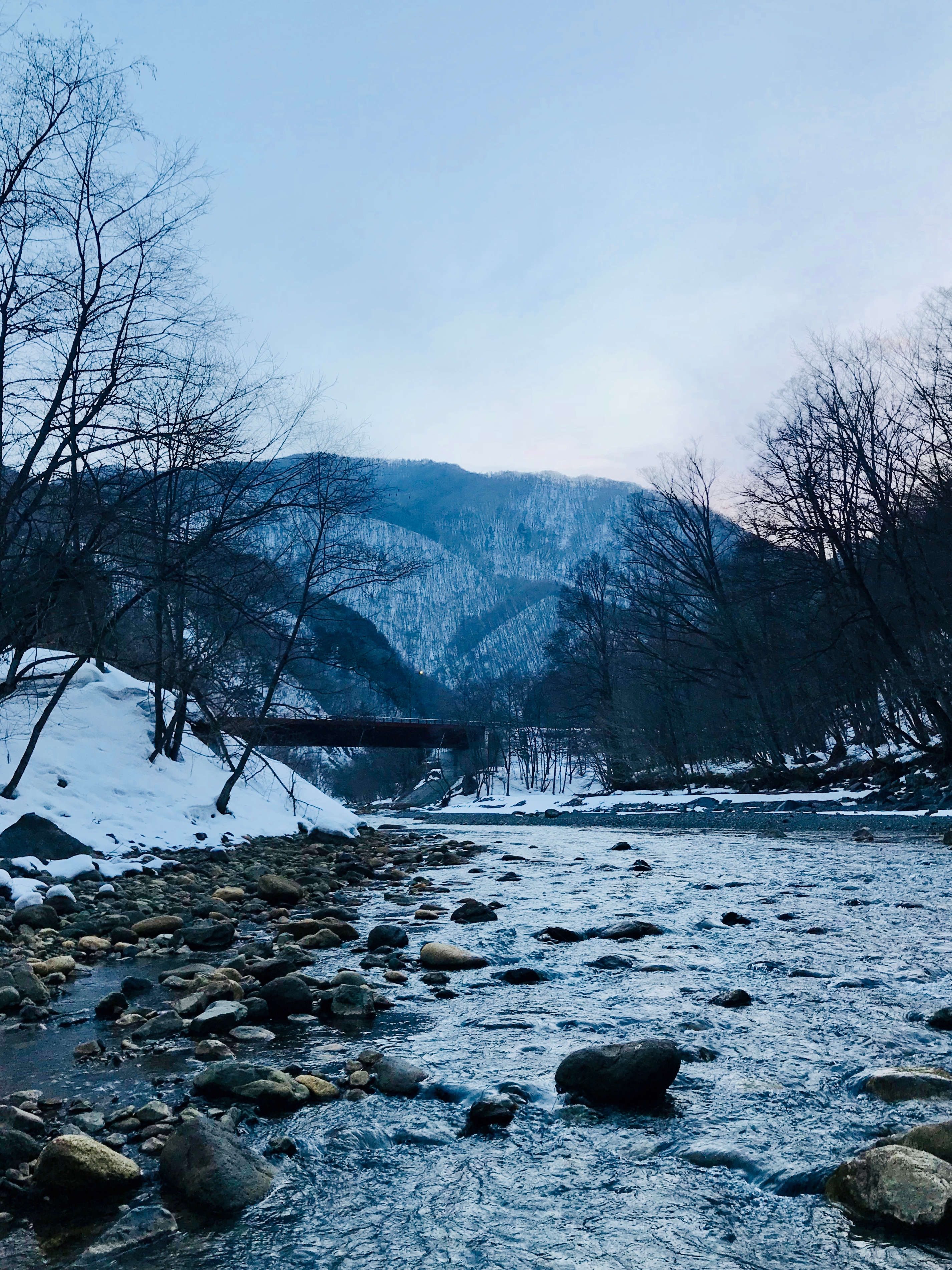 I got to play in the snow!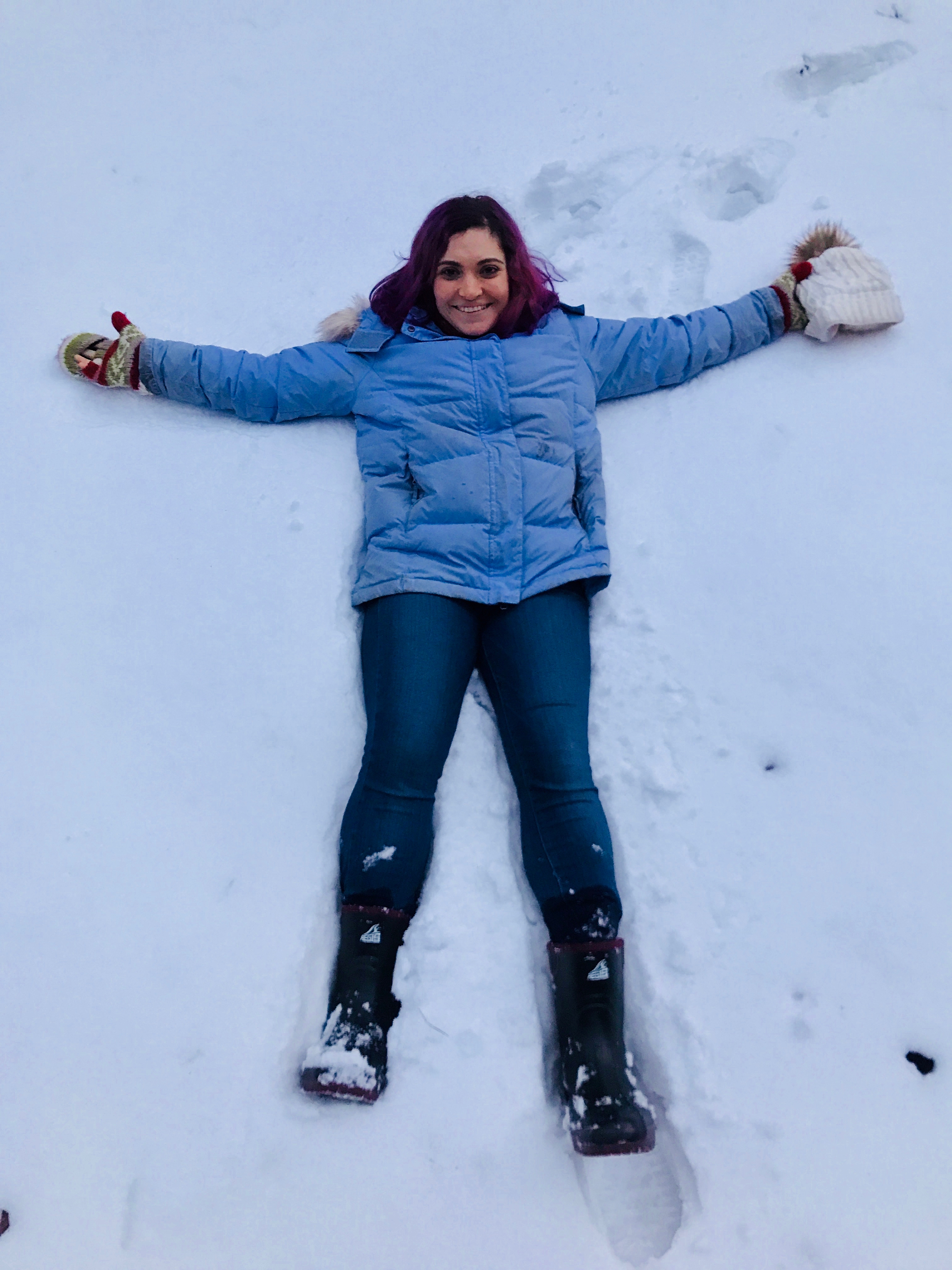 Kamakura
One of the cool features of the Shiorie Keiryu-so Ryokan is that there is an igloo, called Kamakura in Japanese, right outside!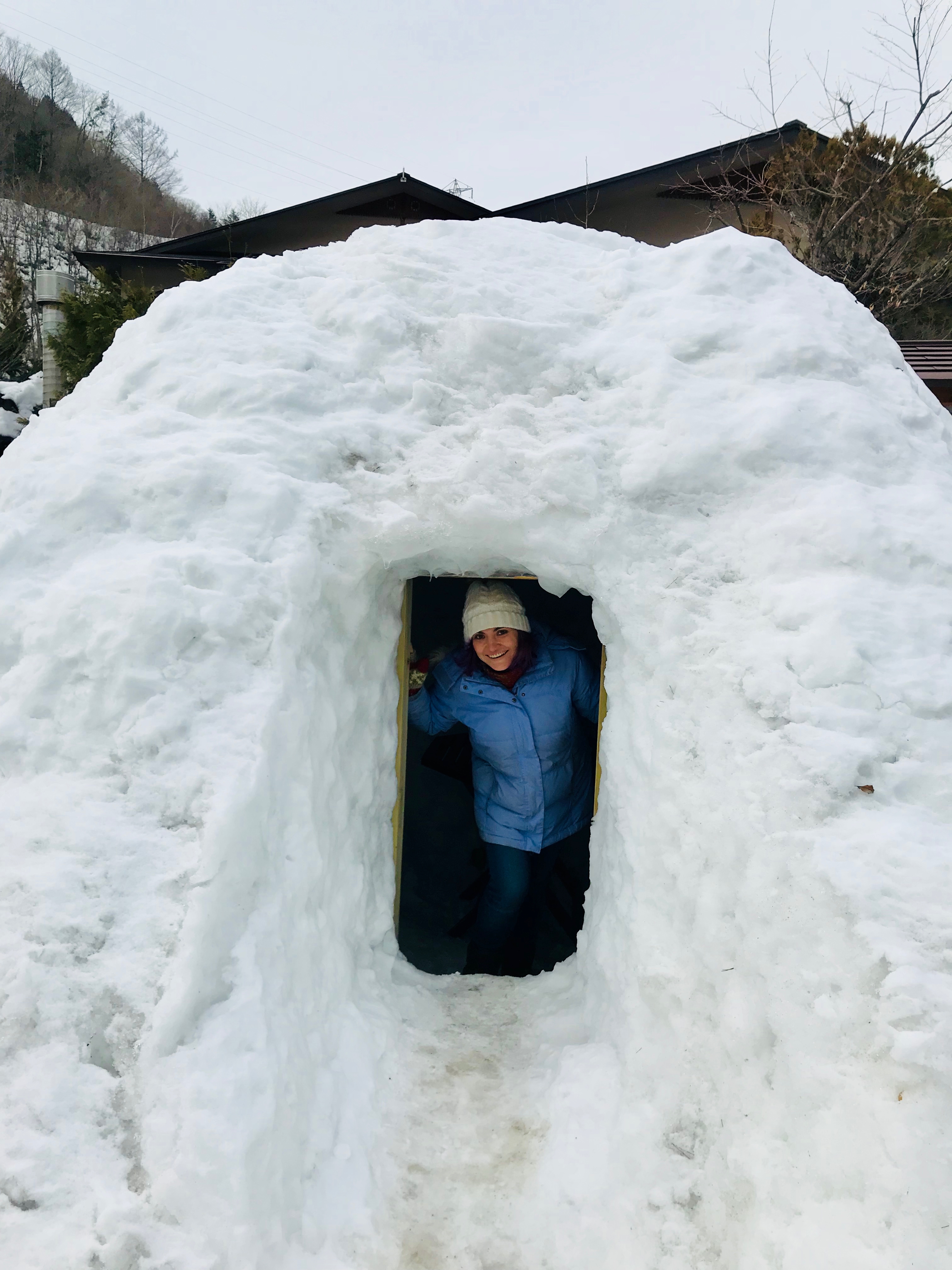 Inside it has a table and benches: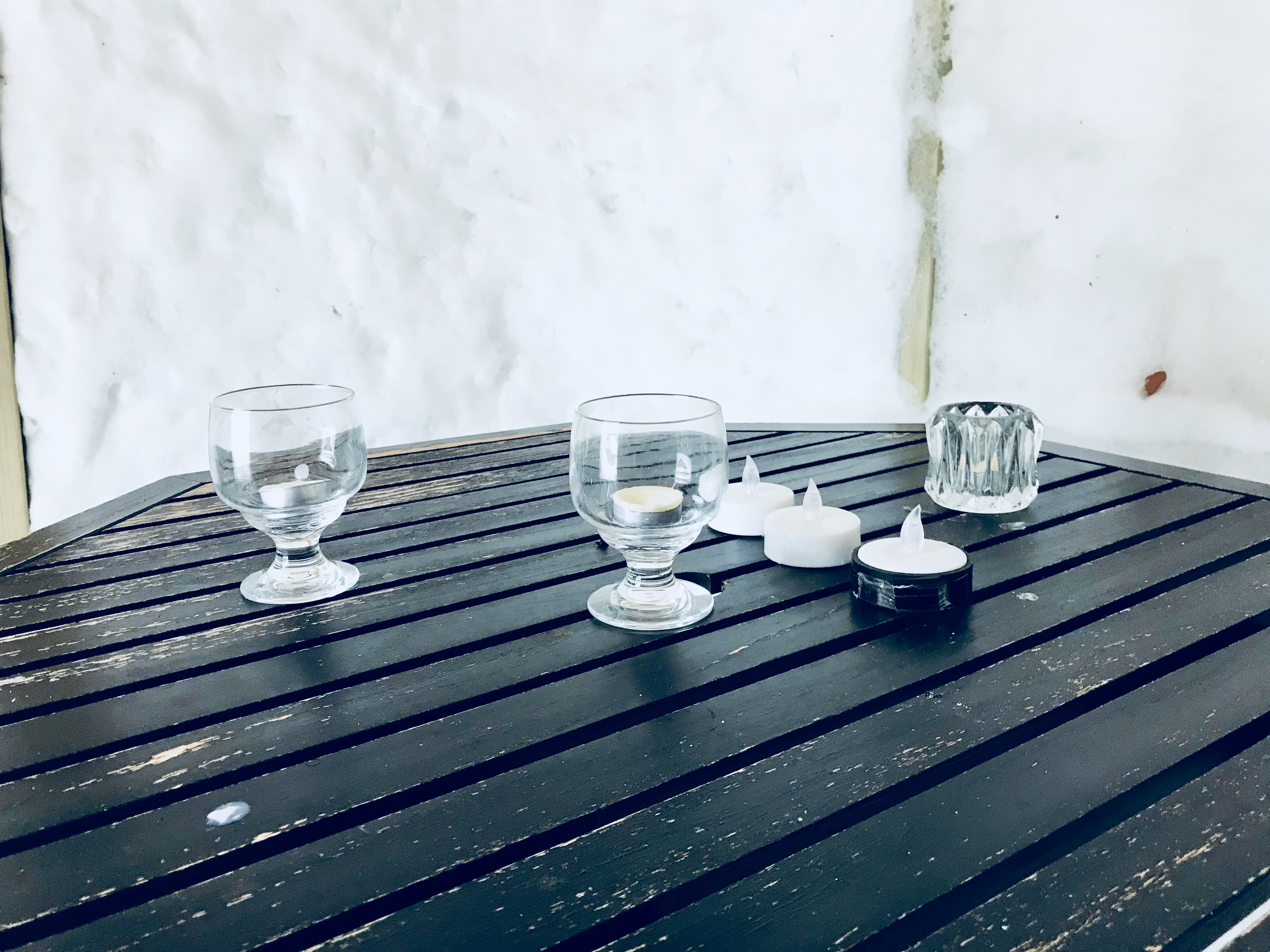 It must be super cool to sit there and get drinks and chat at night, but our friend group did not take advantage of it. We were all super exhausted. Something fun to keep in mind though!
Dinner
Dinner at ryokan's is super special! It's a series of beautiful delights.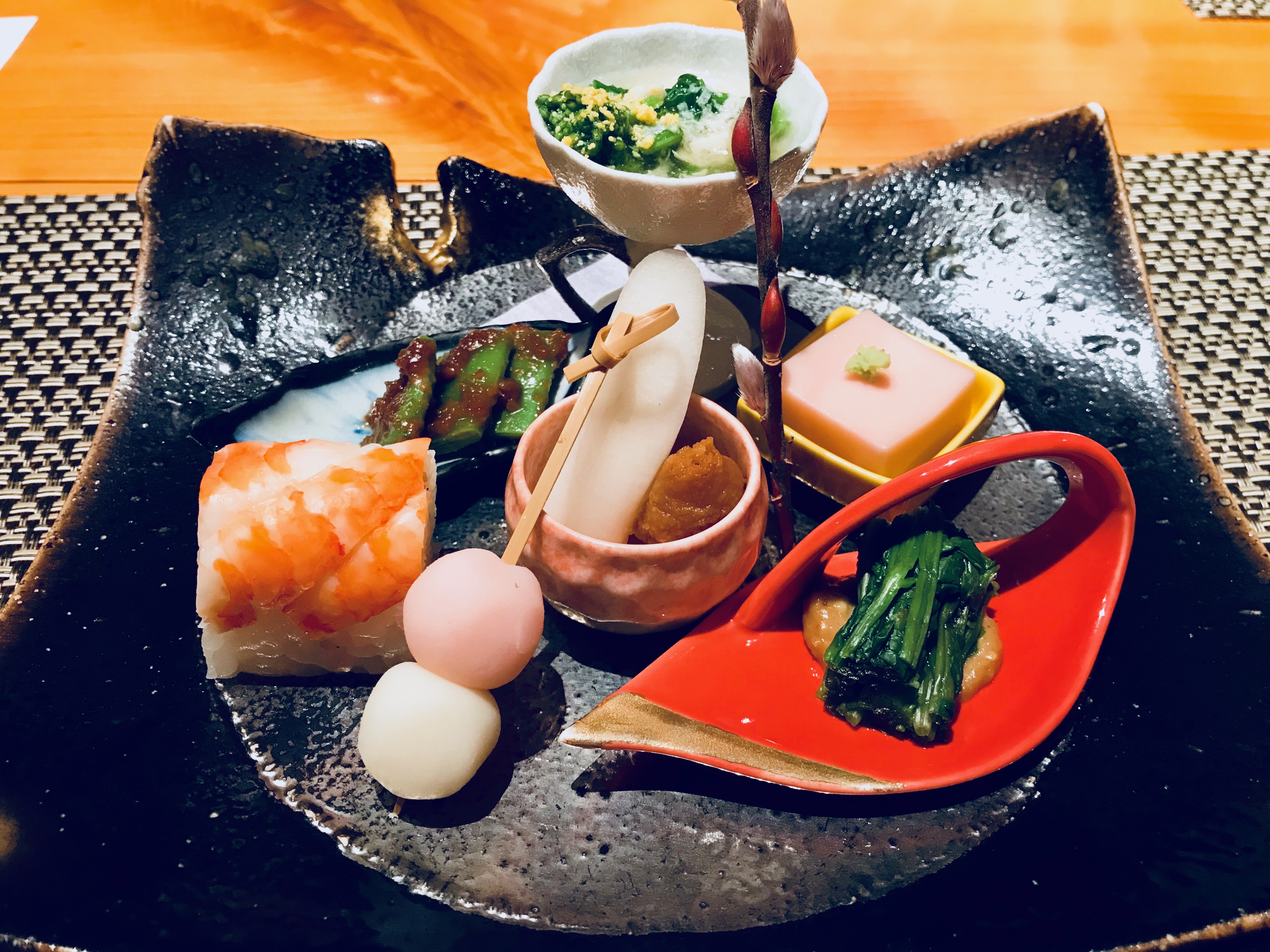 Not only does each plate look like a piece of art, it is incredibly delicious!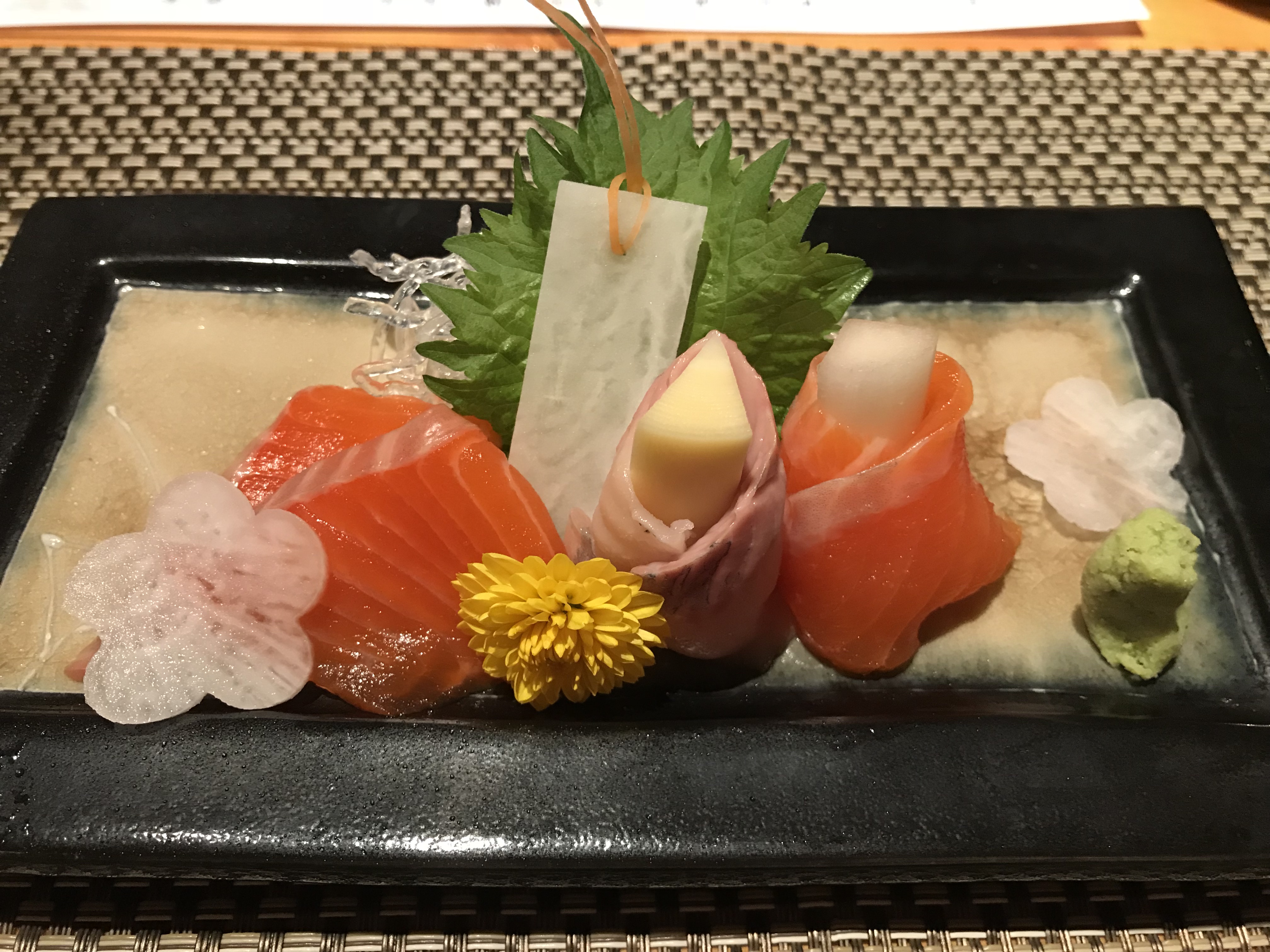 Matsumoto is a known apple-growing region of Japan. It was incredible to taste the special local Apple Wine!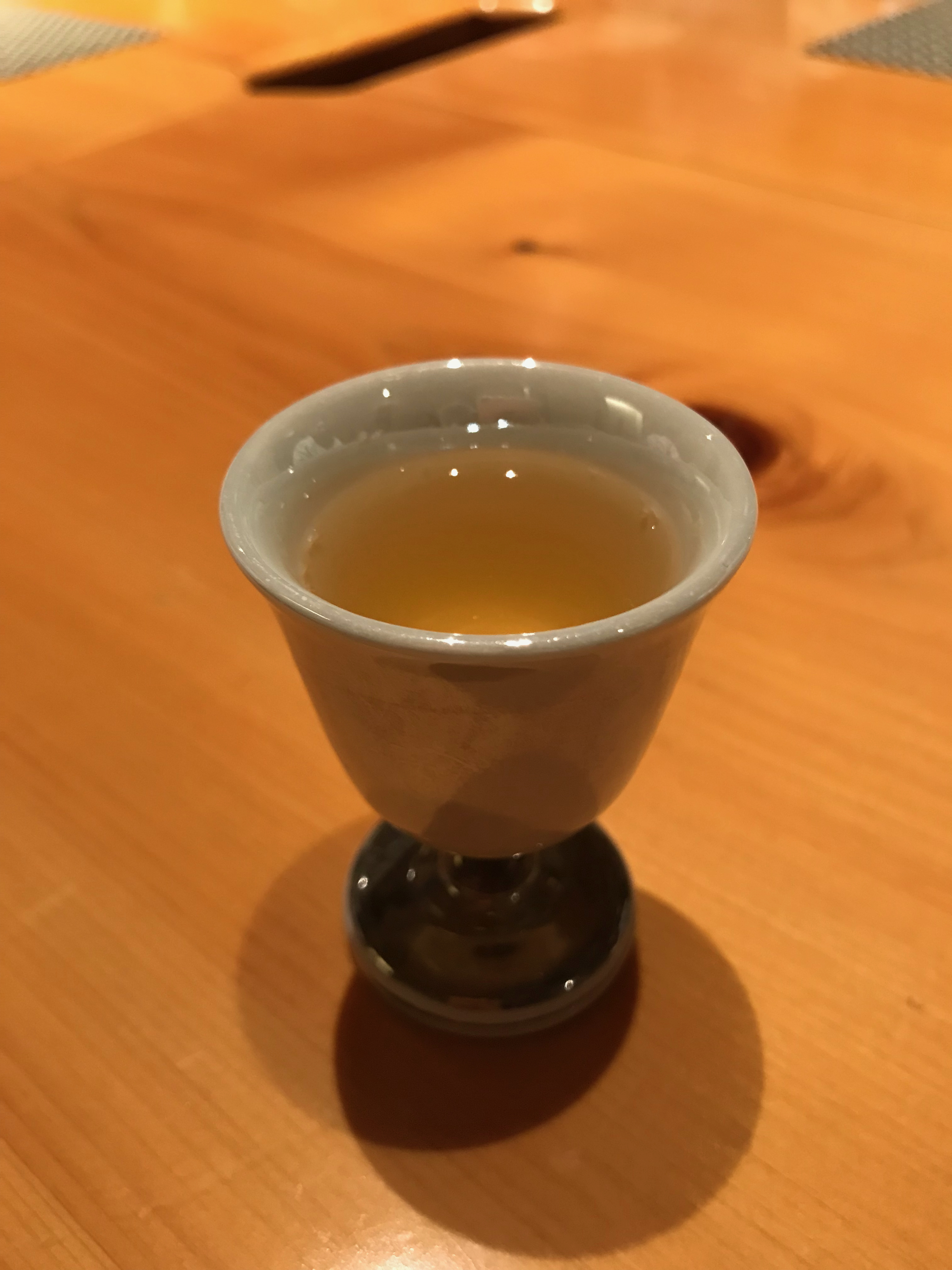 Make sure to be hungry for dinner - there are many many courses! Each one a delight! Our hostess mentioned that she helped with the soba noodles herself!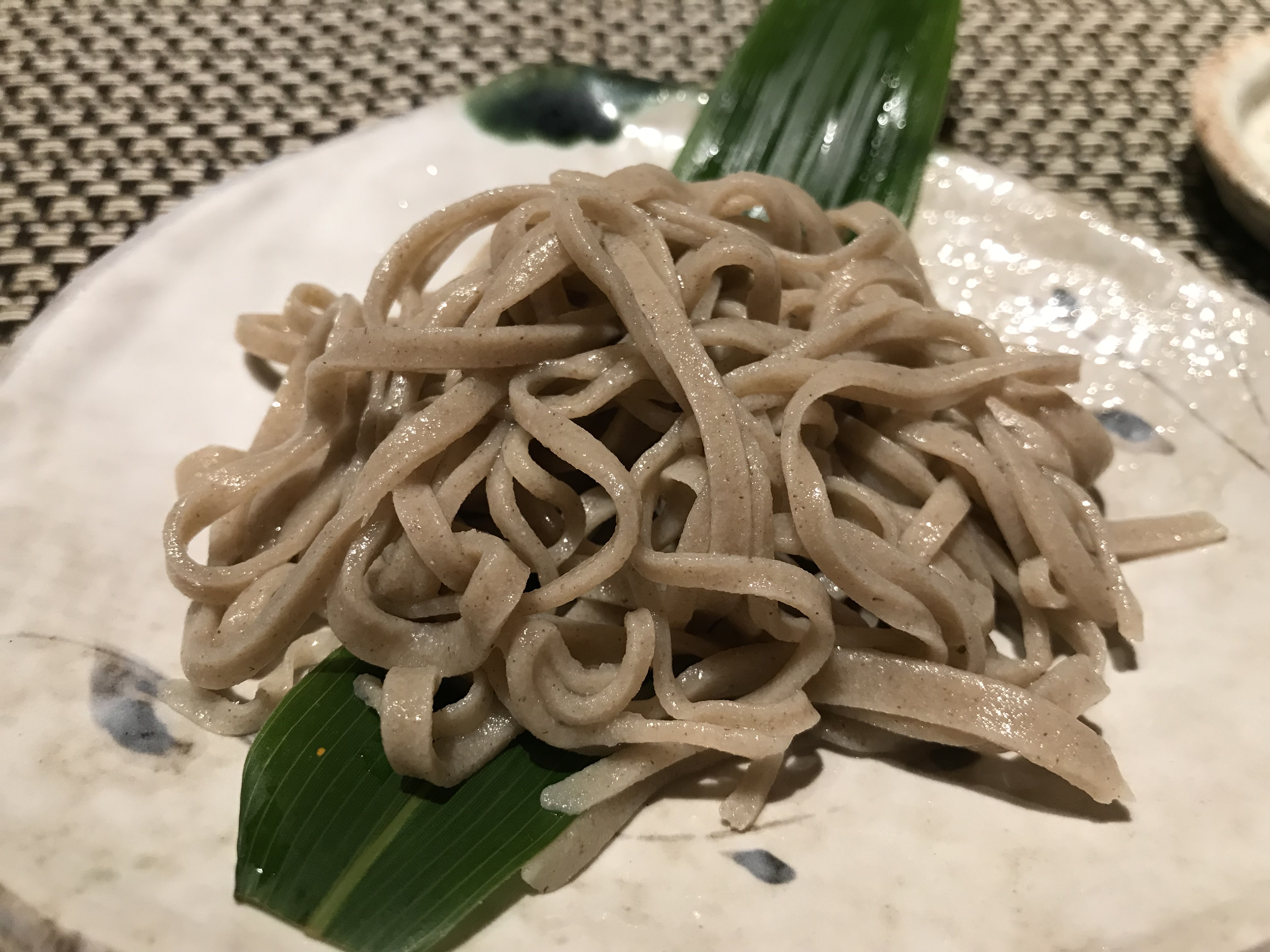 And we got a colorful dessert!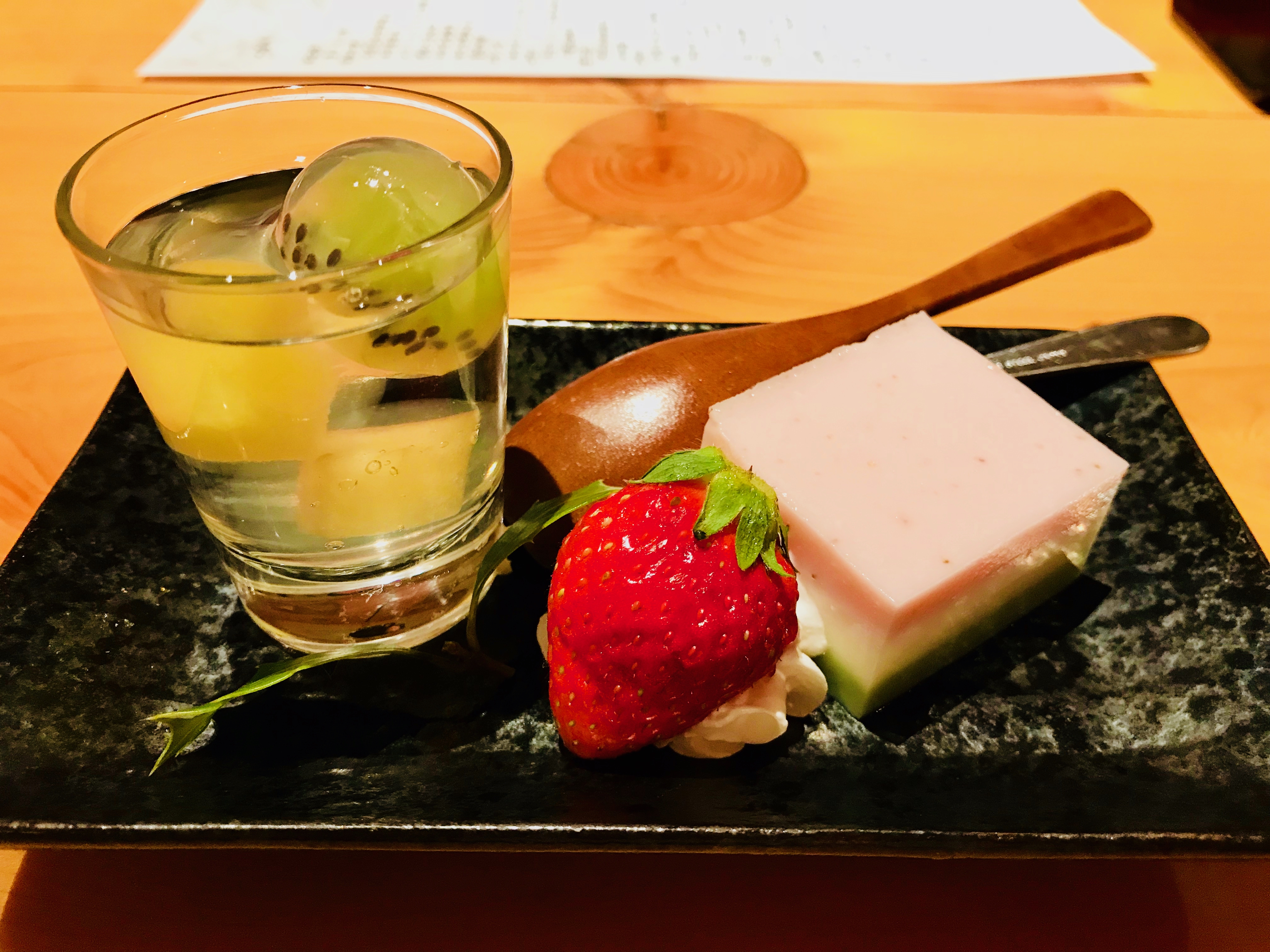 The triple color jelly cake matches the treats in their doll day display!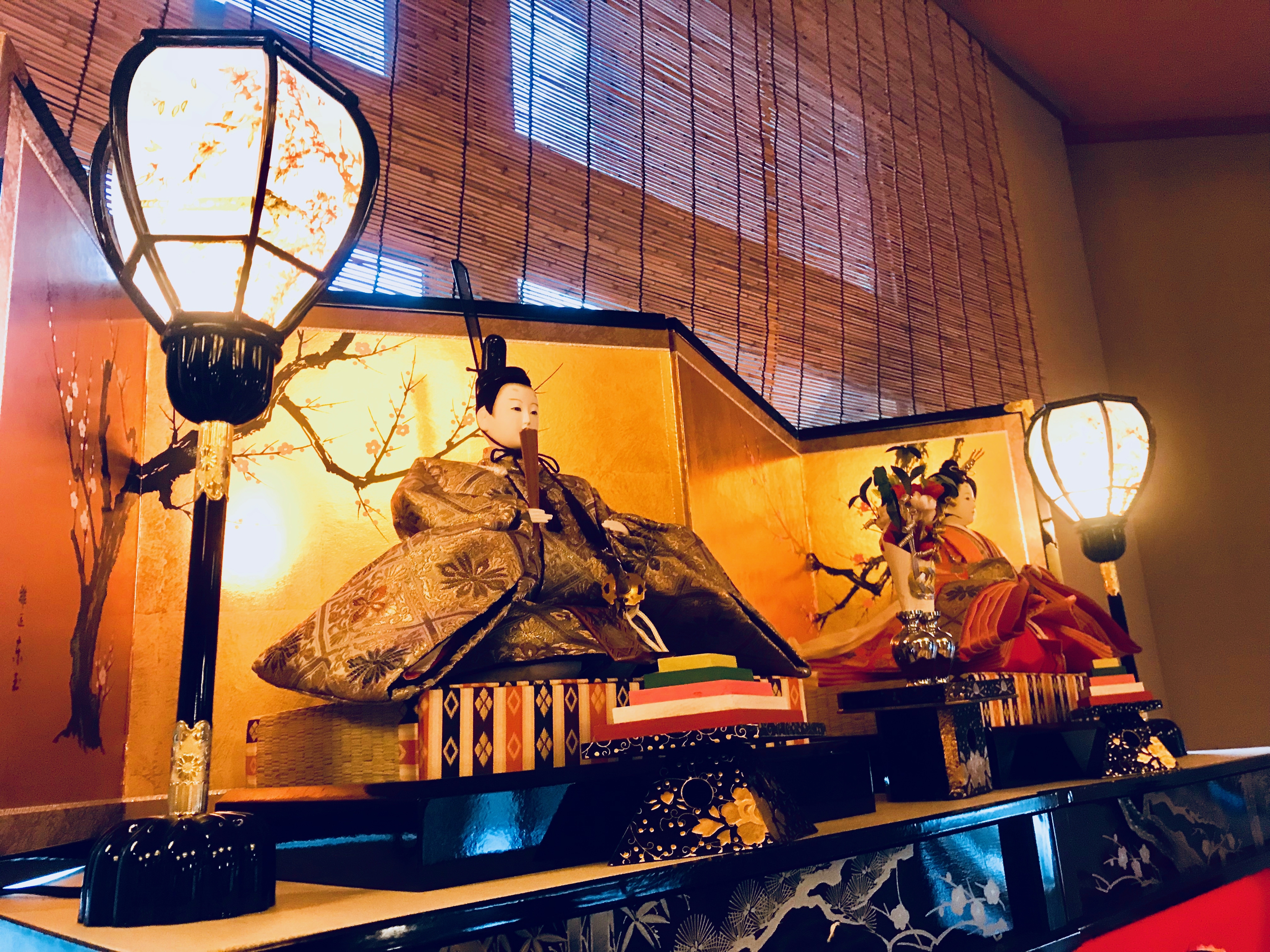 The attention to detail in Japan is beyond mind-blowing!
At the end of our dinner, we asked them to cut our birthday cake :)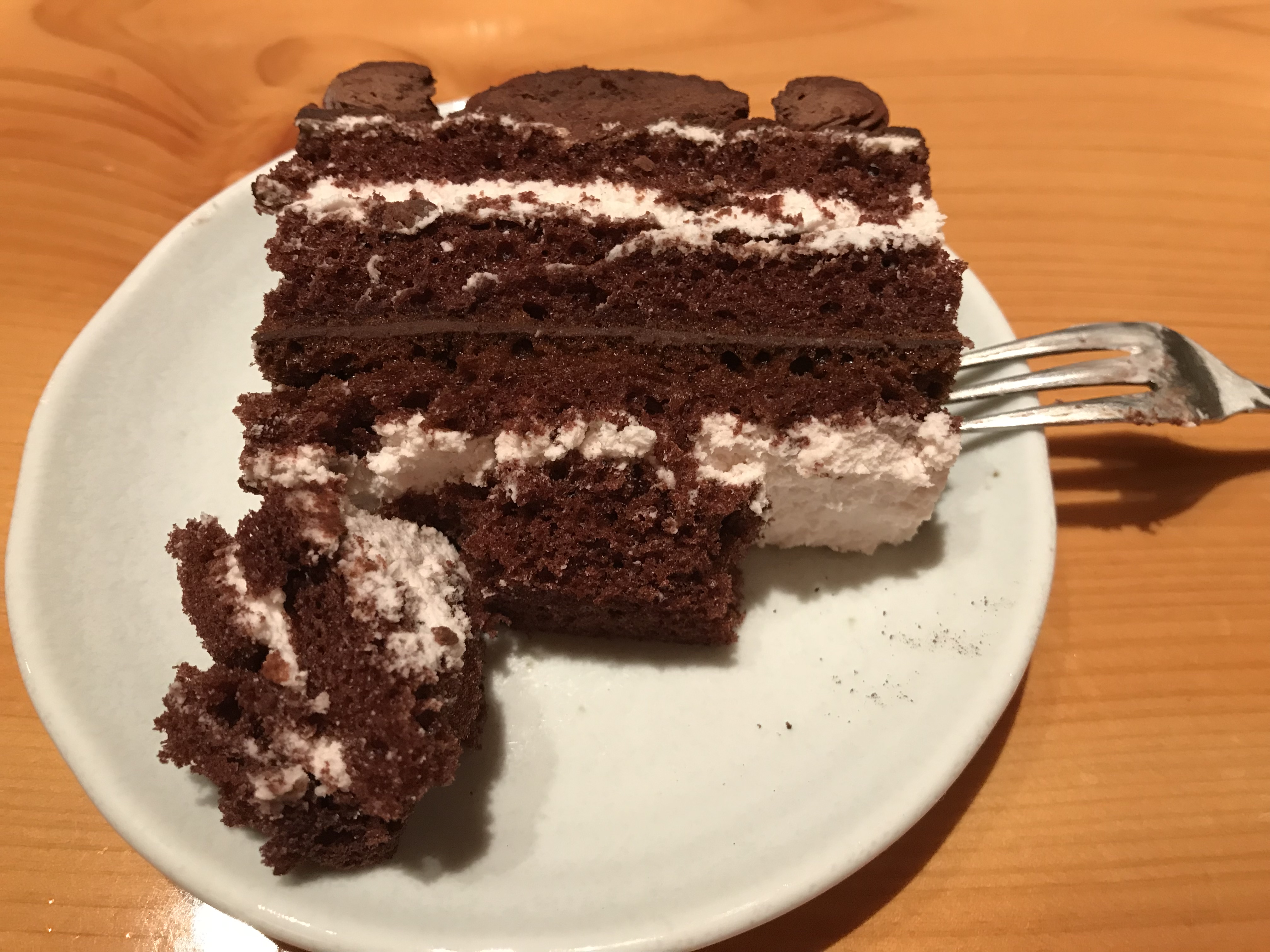 Yum! What a delight!
Breakfast
At around 6:00am in the morning, the ryokan staff deliver super fresh local farm milk to your door - they put it in this yellow box!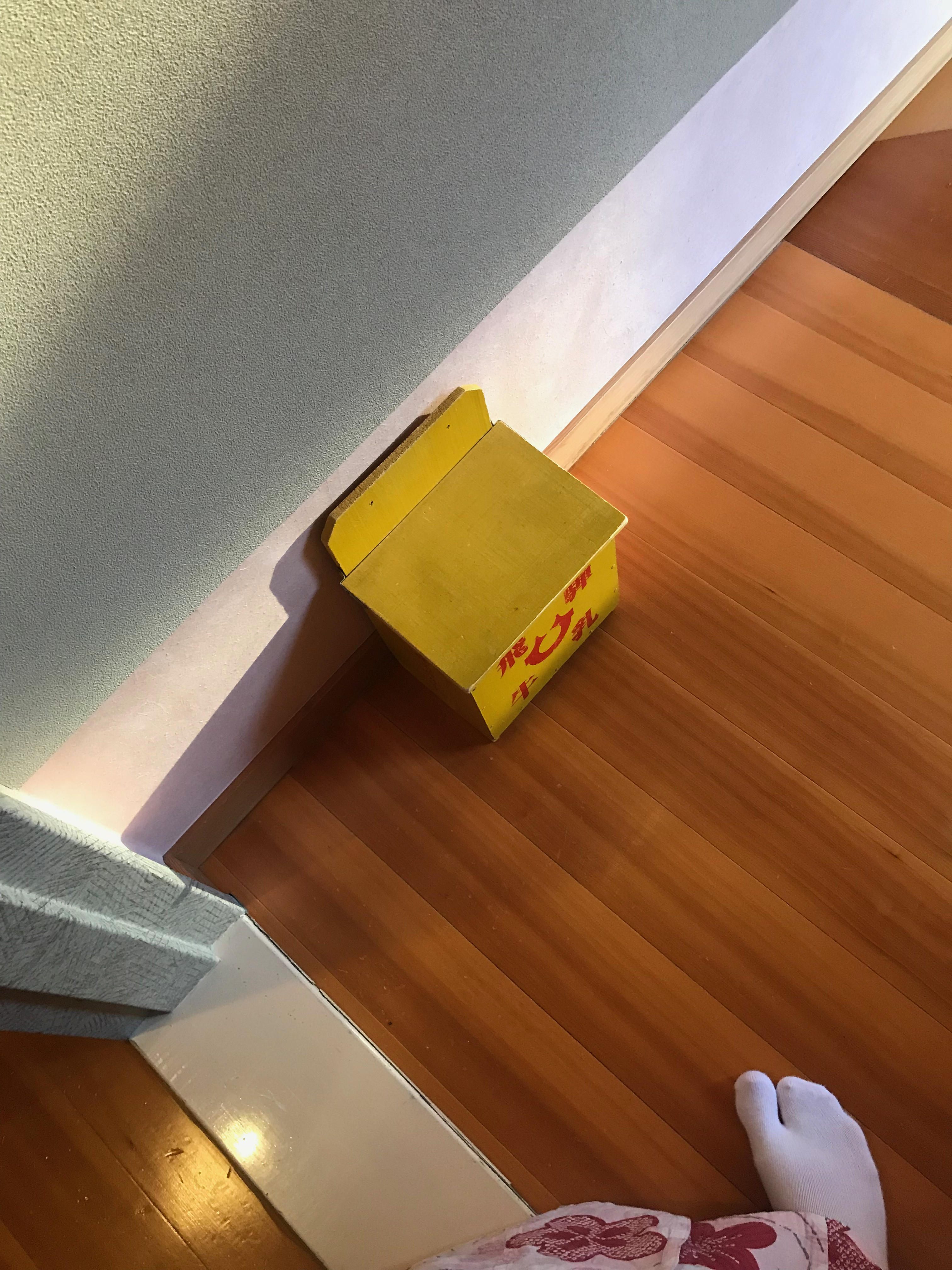 I don't drink milk, so I gave it to one of my friends. But it was still a delight that they did that :)
Breakfast is as delightful as dinner! Beautiful, somewhat mysterious, delicious, and very filling!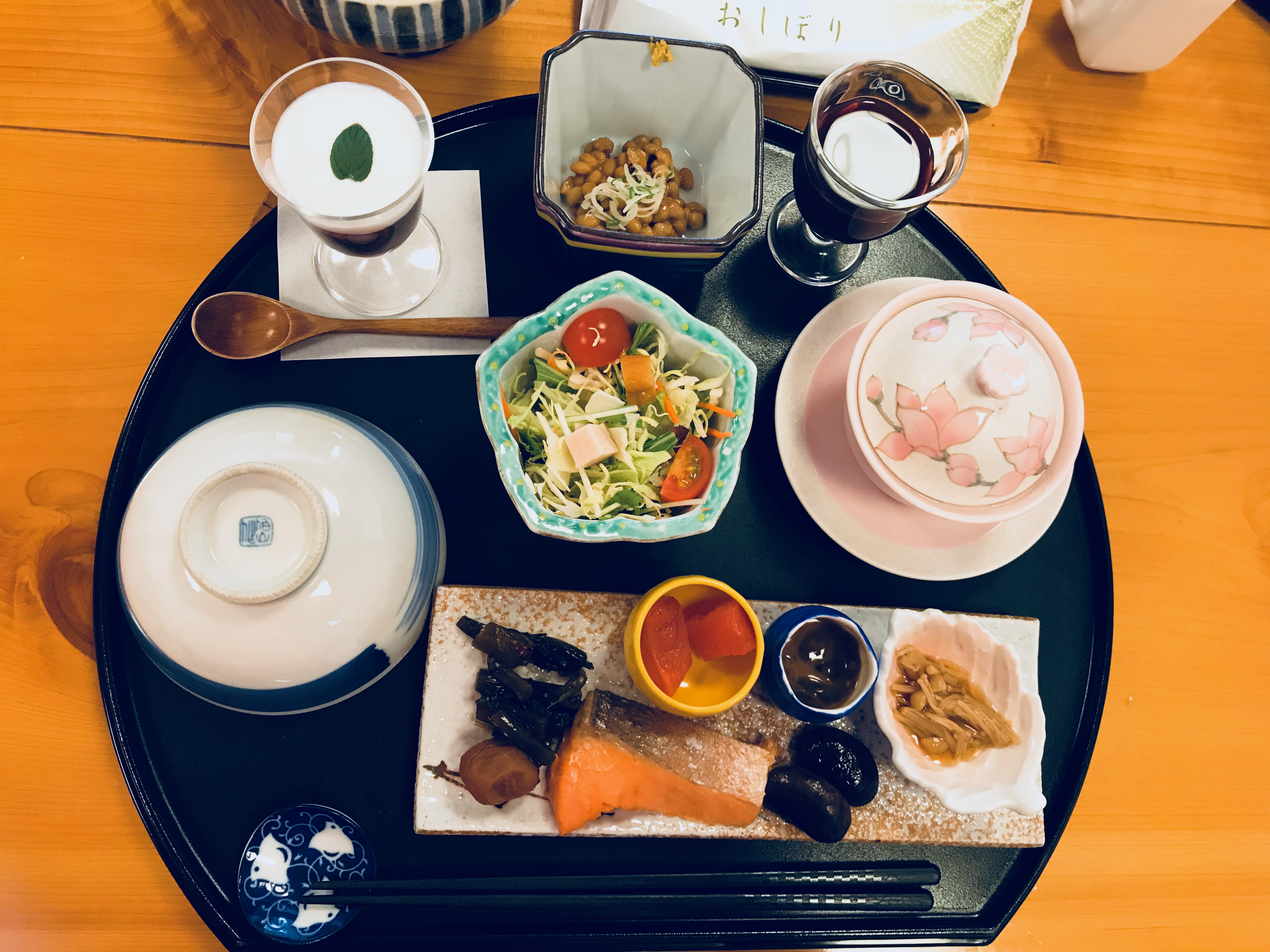 I recommend leaving the ryokan right after breakfast - on the 9:09 AM bus so you have the rest of the day to explore Matsumoto! You can check out before breakfast so you don't have to do it in a rush afterwards.
Exploring Matsumoto
This is my third year celebrating my birthday in Matsumoto, and I love it every time! The samurai castle is simply incredible!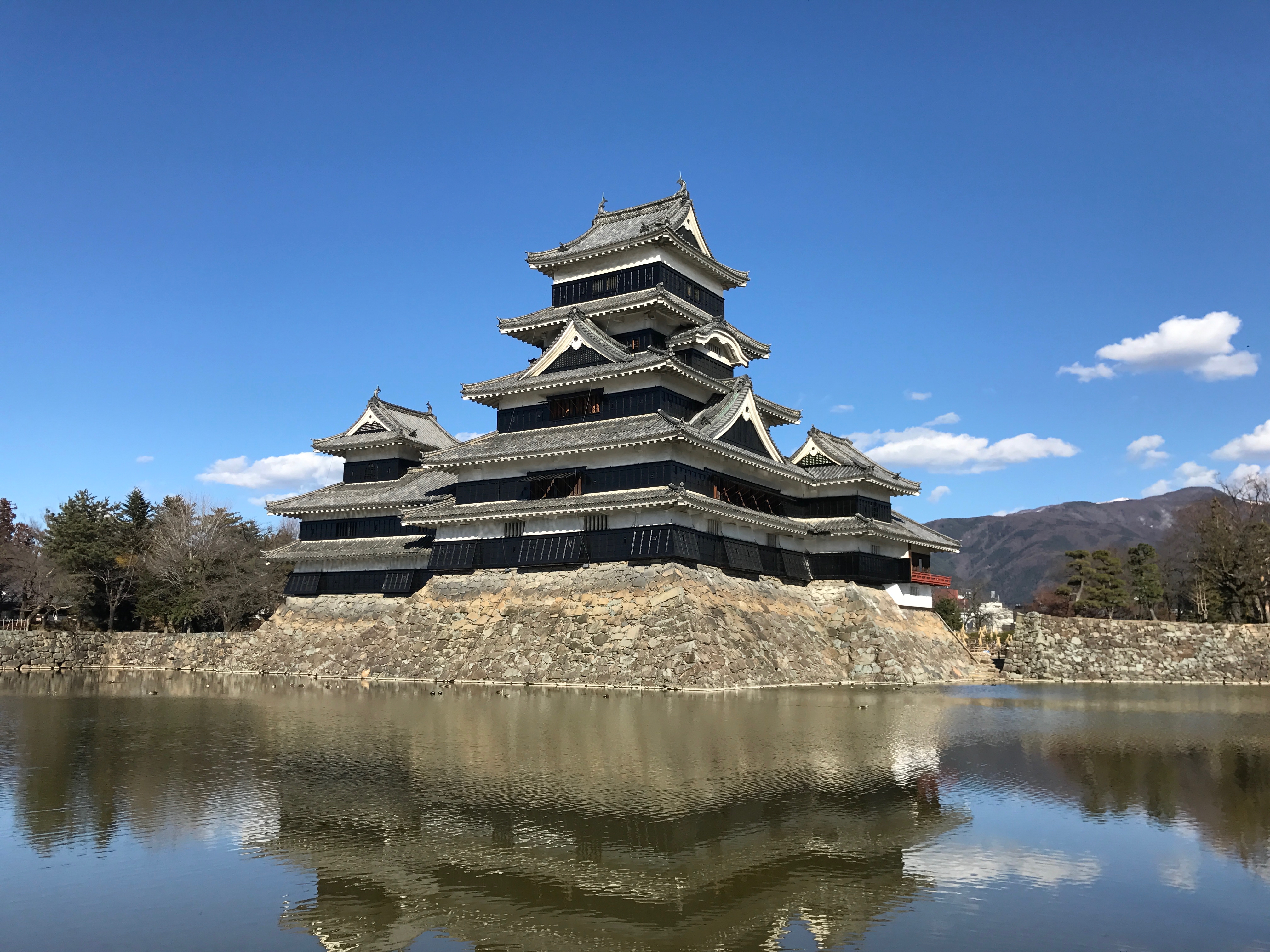 Once you go all the way up to the top - some of the castle steps are very very steep! you can see the full views of Matsumoto!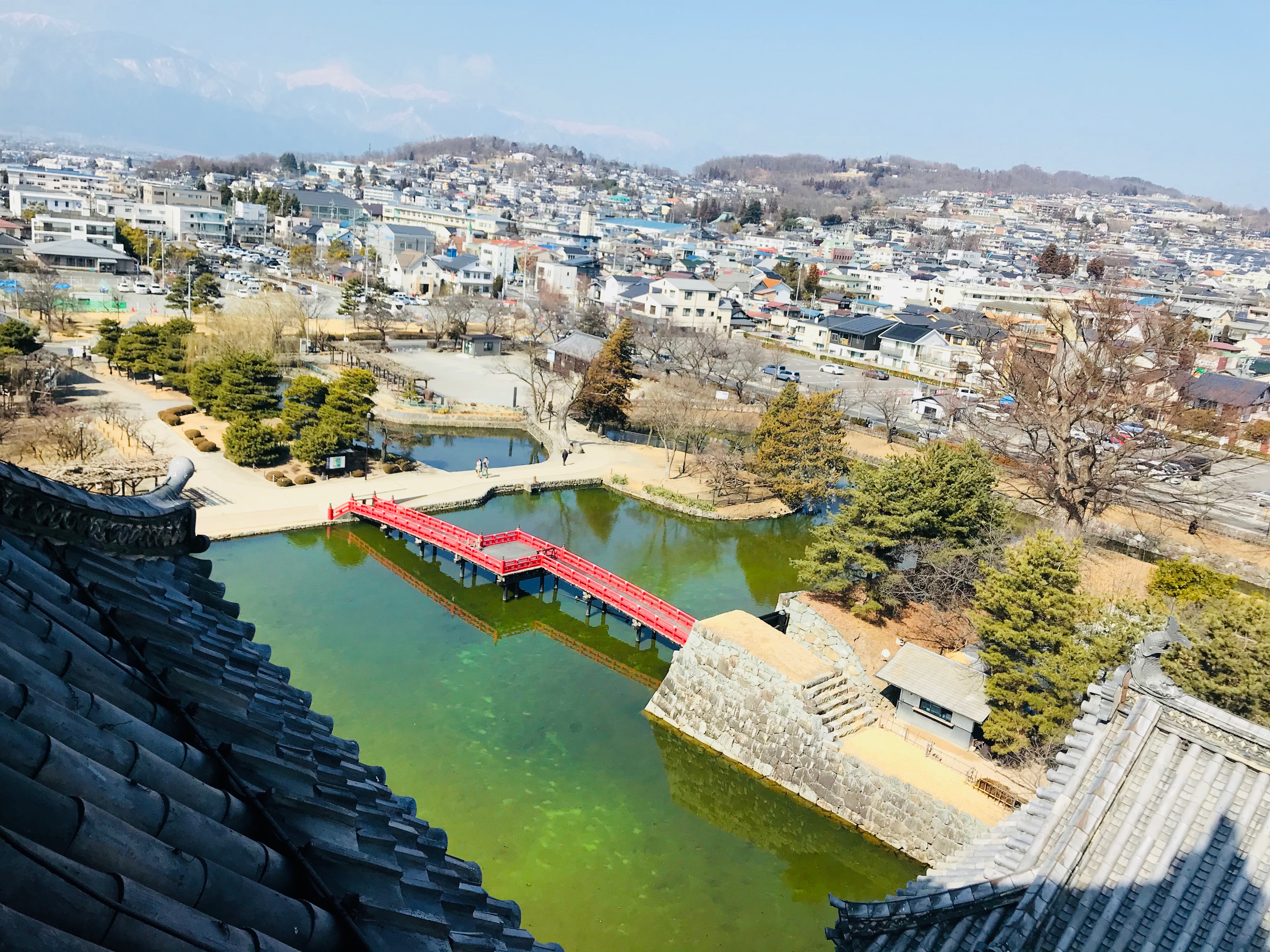 After the castle, I recommend walking around then getting lunch at the super fancy Matsumoto Marunouchi Hotel. They have incredible fancy French lunch sets for around $30 - this same food would no doubt cost a lot more for dinner!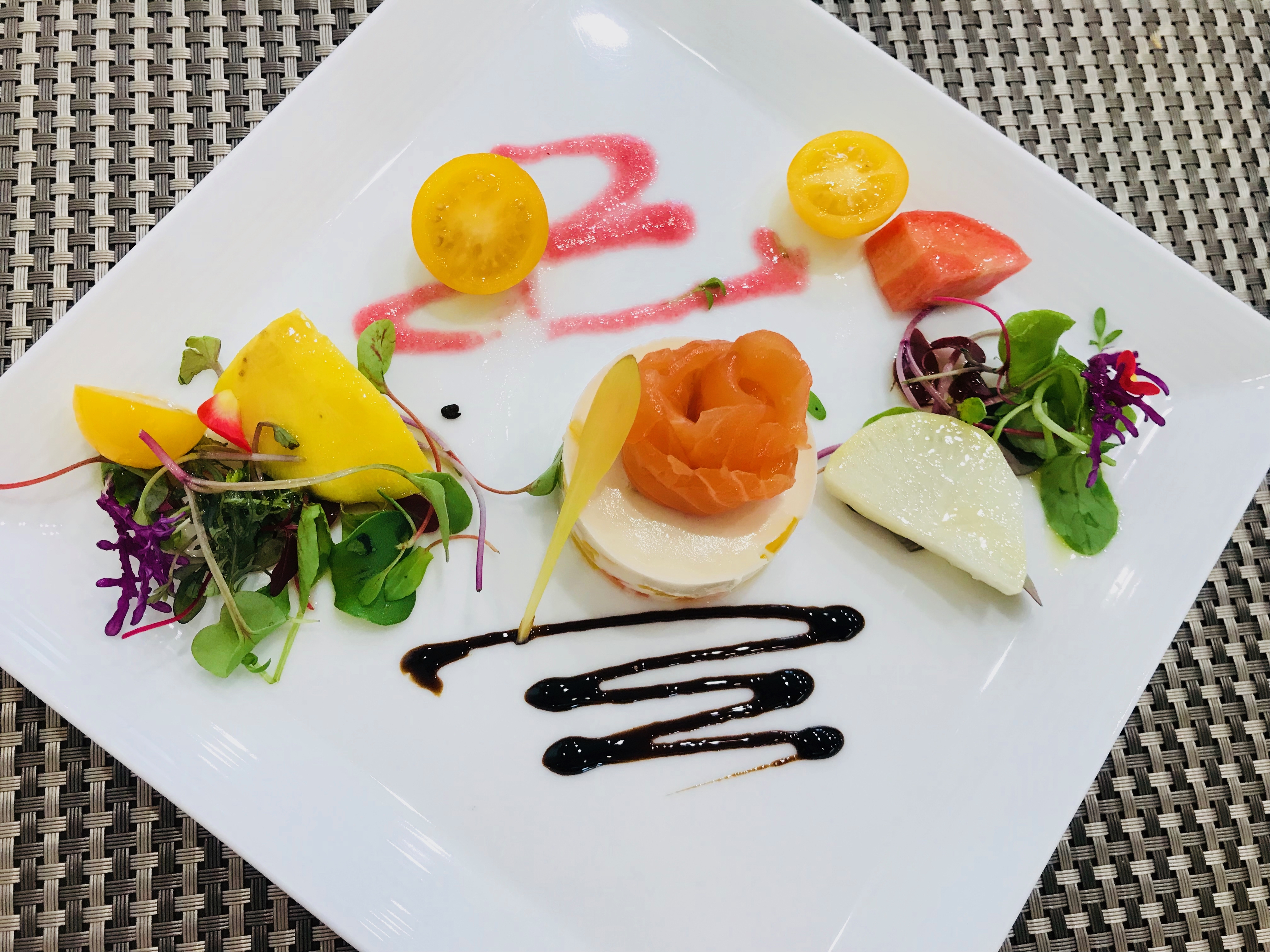 Conclusion
As I mentioned, I've done this birthday trip for three years now, and it's sort of become my tradition. I love it every time! The food, the mountains, the hot springs! Matsumoto is not a common place to visit for foreign tourists, but it's definitely a special off-the-grid adventure to consider!