Goshiki: A Taste of Real Chicken Ramen in Matsumoto, Japan
NatashaTheNomad
04/06/2018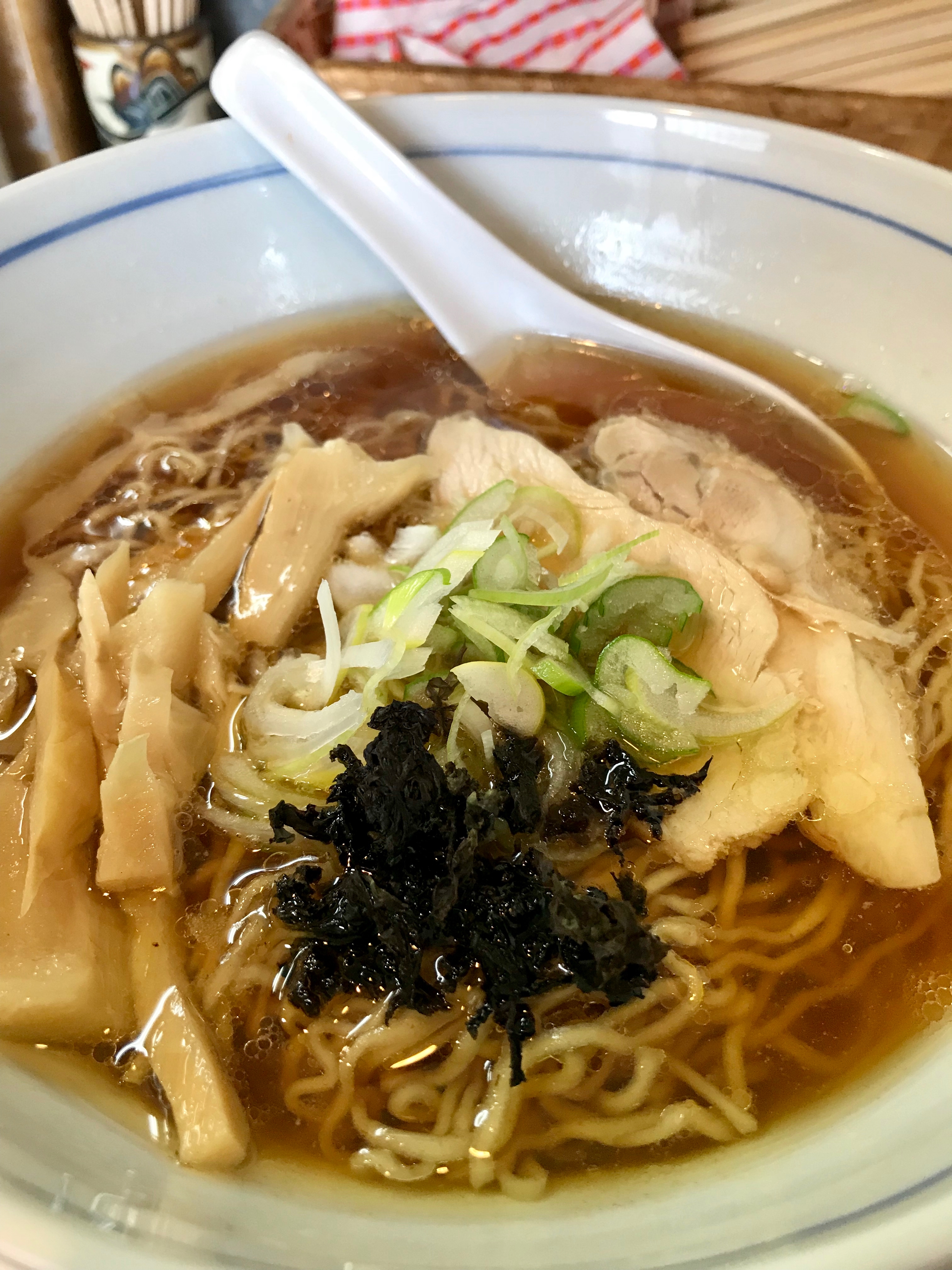 The Unagi restaurant we really really wanted to go to was completely booked. And there wasn't much time left before our bus departed. So we were aimlessly walking when we stumbled onto Goshiki in a back alley.
Noooooooooo, not ramen, I thought! I wanted Unagi… And I've been avoiding chicken and red meat in general. But there was no time. This was the only option.
The restaurant was tiny, but almost full - just counter space and a kitchen that the one chef was working in right there. Luckily there were 3 more seats, just for us. I loved the giant dough ball there on the counter, ready to be made into ramen: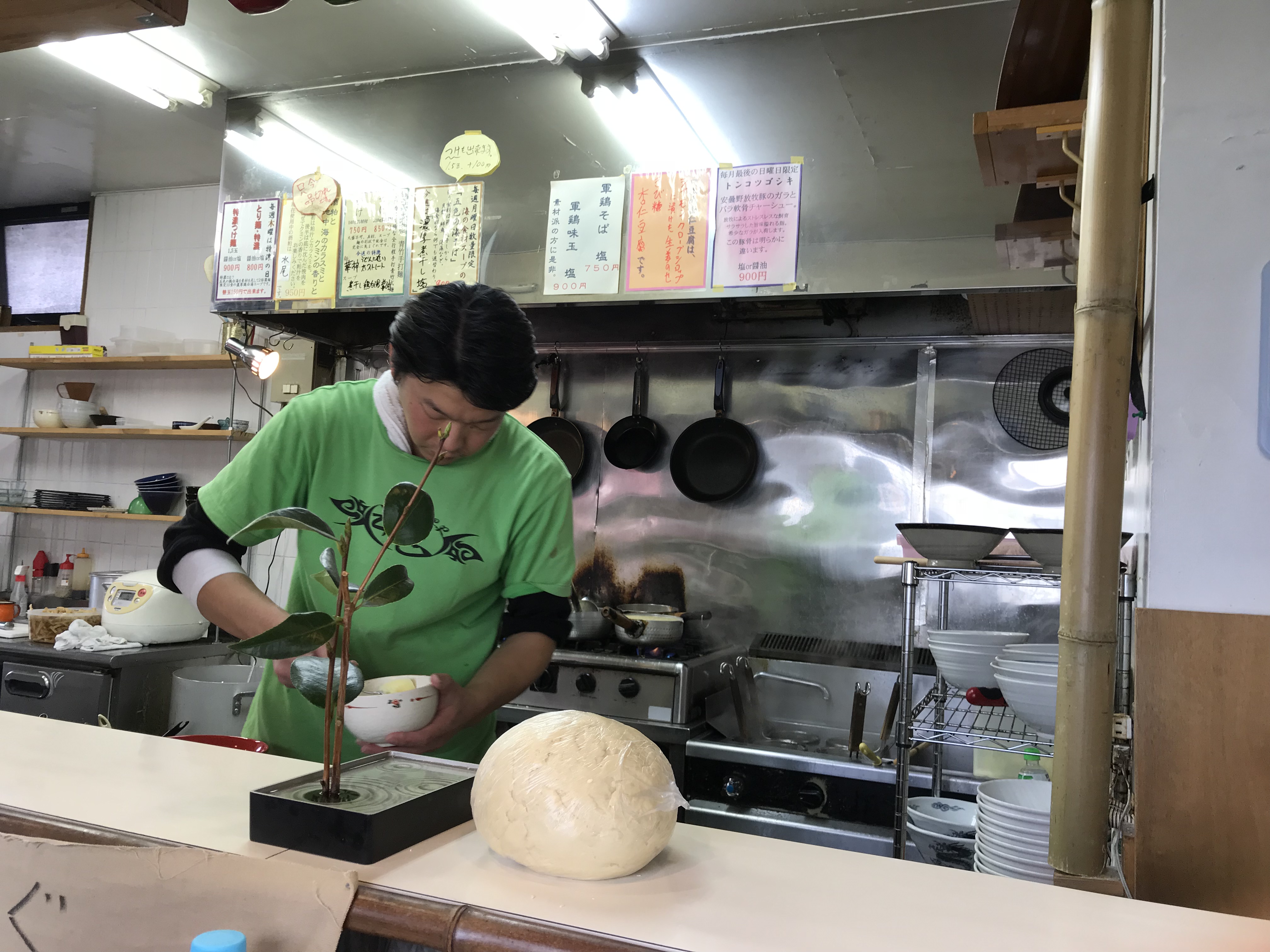 Then we got the menu: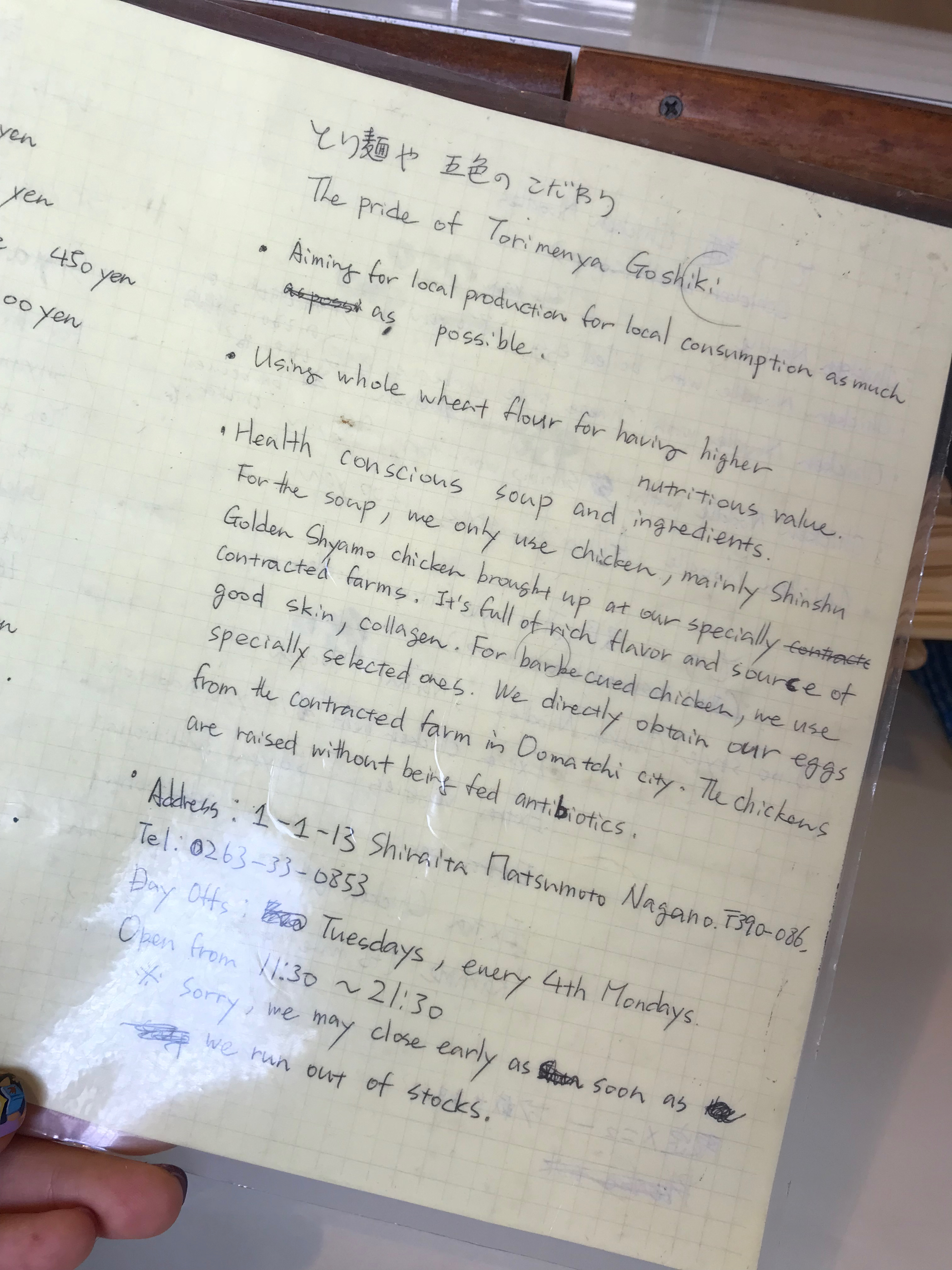 How can you not love the seeing the hand-writing?!! And all local and healthy and high-quality ingredients!!! I was not expecting this from a back-alley restaurant in the small town of Matsumoto, Japan!
Their signature dish was Shyamo Noodle made with Shinshu Golden Shiyamo Chicken. There were only 20 bowls of this dish served per day, because the chicken is so rare!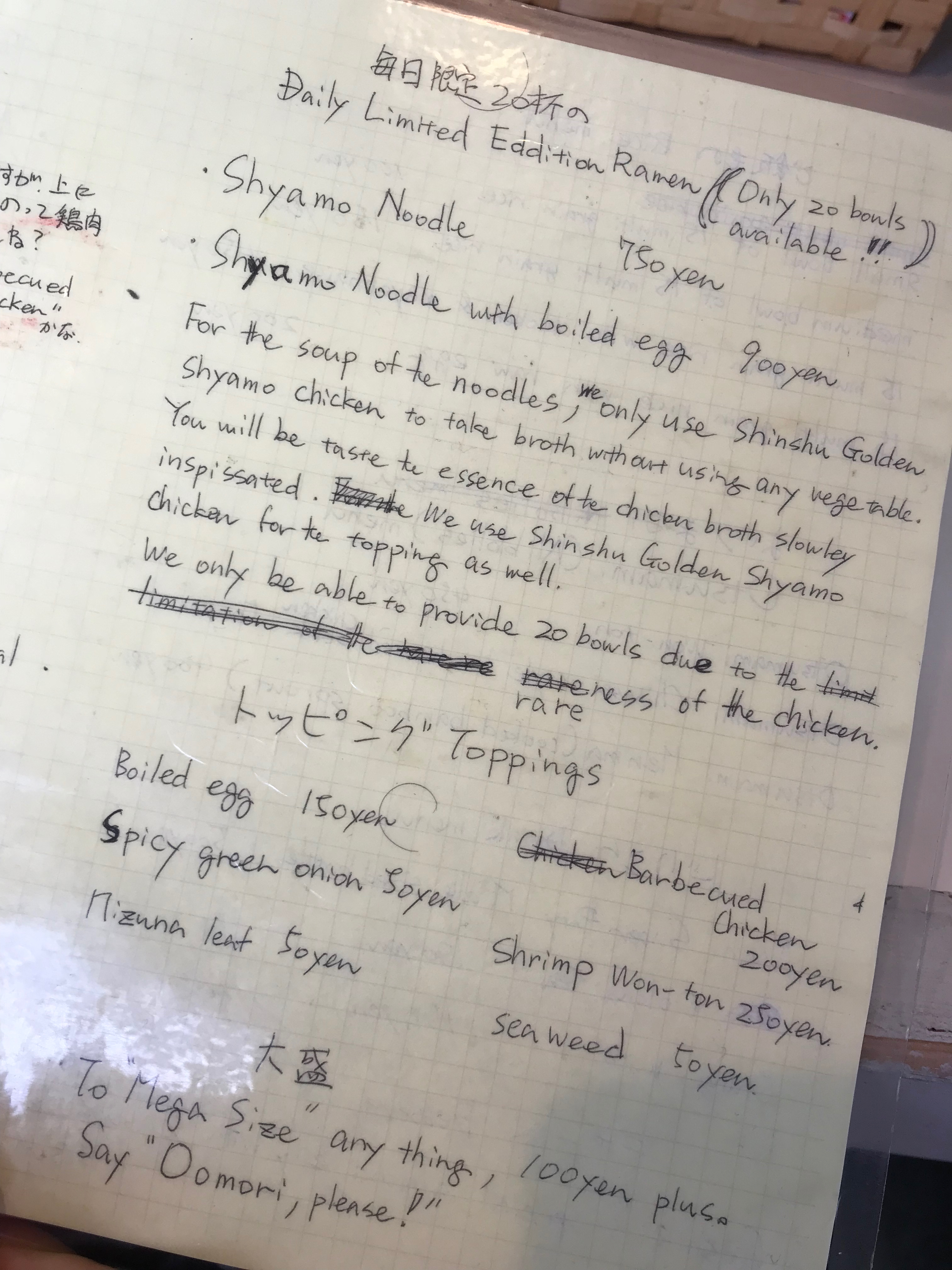 From Googling around, I think the chickens are Shamo Chickens:
"Shamo (軍鶏) is an overall designation for gamefowl in Japan. There are seven recognised breeds of Shamo chicken in Japan, all of which are designated Natural Monuments of Japan. The Shamo breeds are thought to derive from fighting chickens of Malay type brought from Thailand in the early part of the seventeenth century.
The name "Shamo" was a corruption of the word "Siam", which means "Thailand", during the early Edo period. Even though the breed was originally from Thailand, it has been selectively bred for several hundred years and is very different from the original stock. The breed is used in naked-heeled cockfighting in Japan, where it is still legal. It is also bred all over the world for its show quality and unique upright posture." ~ Wikipedia
I had to get this ramen! Luckily there were still a few bowls left: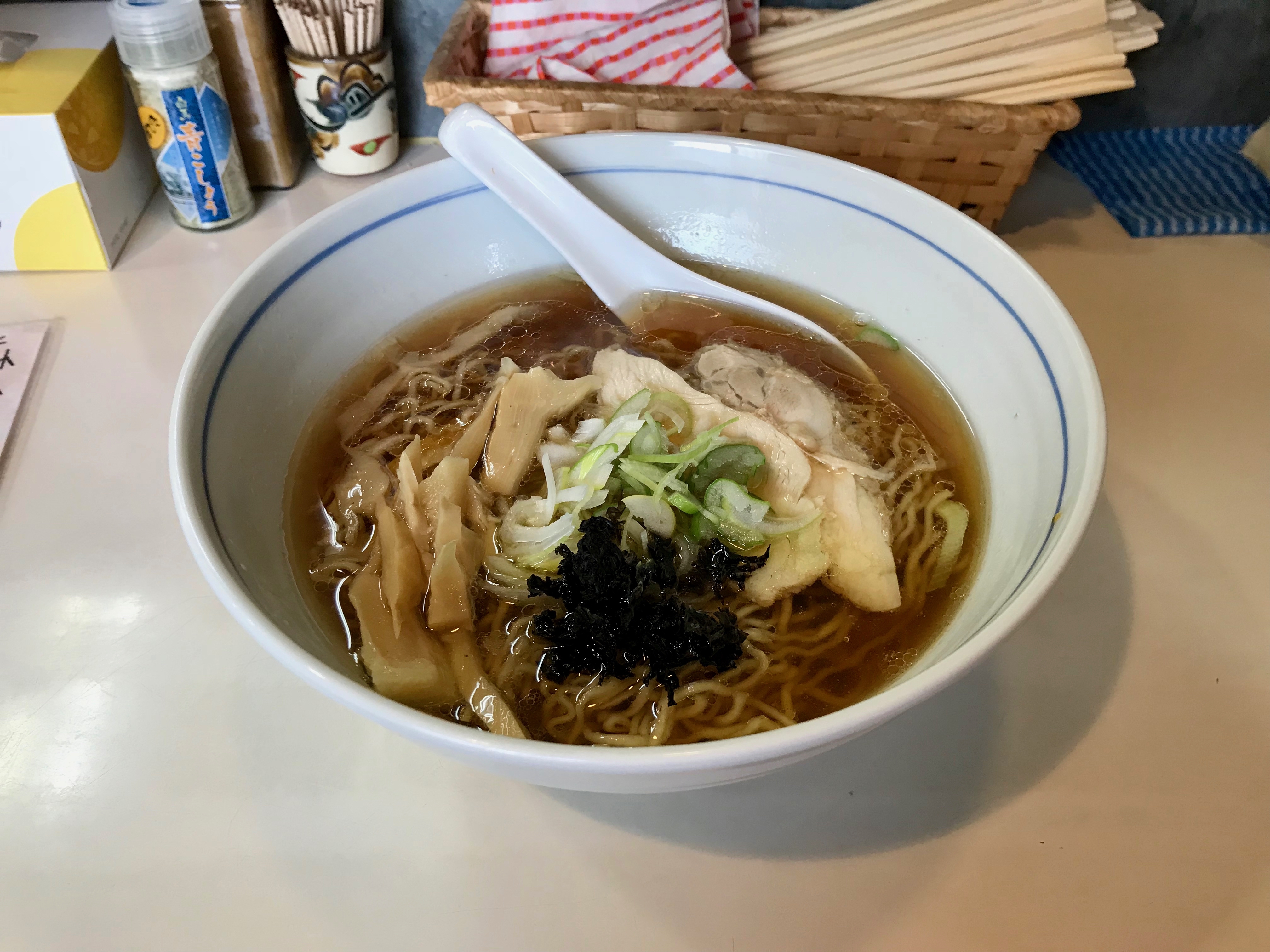 Can you see the fat spots in there?!!! Now that's real chicken broth! It did not disappoint. It tasted like REAL chicken! Before it got pumped with hormones and overfed in America, increasing the quantity but tasting like water (can you tell I don't eat chicken in America?).
It reminded me of a chicken soup my grandmother would make… in Ukraine when I was little. It took me back to simpler times of my childhood.
Wow! What a special treat! And on my birthday!