A Joyful Walk in Shimoda, Japan
NatashaTheNomad
01/10/2018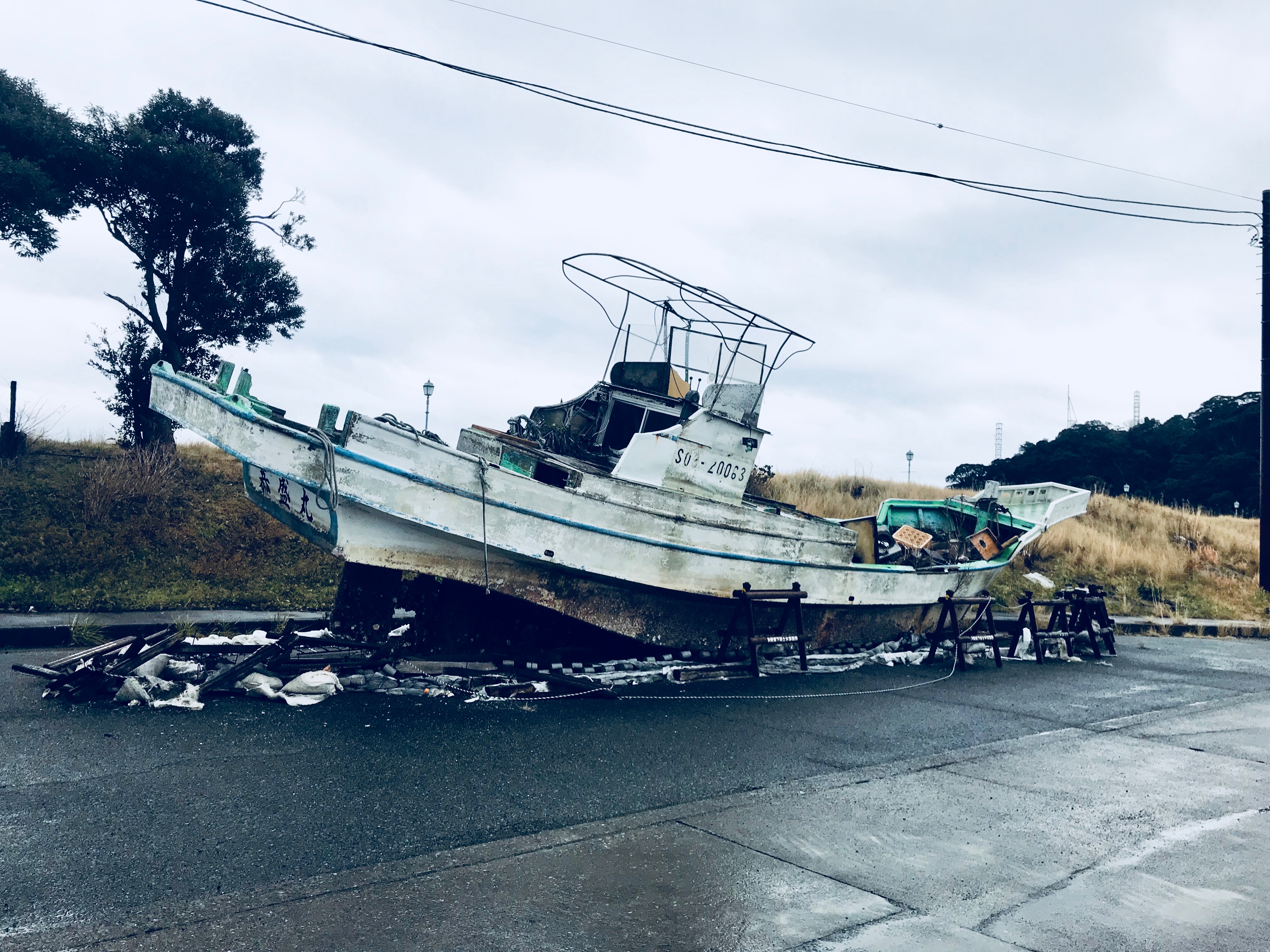 The only reason I ended up in Shimoda was simply because it was the last stop on the joyful train Izu Craile that I was riding with no other purpose than to ride it. I did no research into the town ahead of time. I was to arrive at 2:08pm and catch a regular train back at 4:50pm (around the time it gets dark).
By the time 4:50pm came around, however, I did not want to leave! I'll have to come back and explore more!
The Lunch Debacle
Due to a misunderstanding on my part when booking the Izu Craile, which was supposed to include lunch, I ended up not really eating anything except a sweet treat before boarding a train and one third of a fish sandwich that a super nice lady shared with me.
So my first goal in Shimoda was to eat. I found an open conveyor belt sushi restaurant. But since it was getting late, the chef simply had me point at the sushi I wanted from the picture menu and made it fresh for me! Yum!!!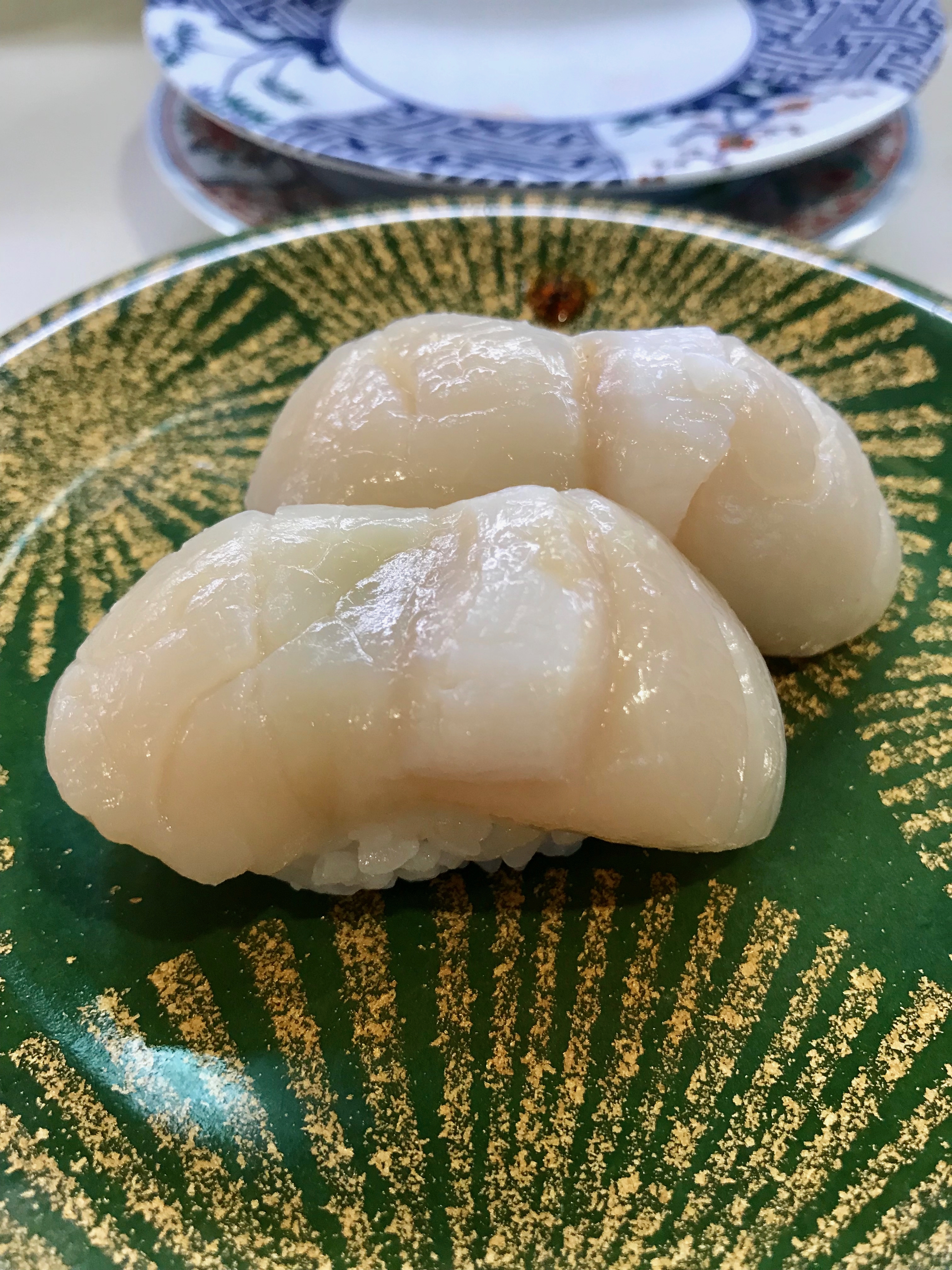 Walking in, I knew I didn't have that much money, but I thought I would have enough to pay for the meal. Well, the sushi was so good, I ordered too much! When it was time to pay, I was short by 200 yen (~$2). How embarrassing! Especially as there was a huge "CASH ONLY" sign at the entrance…
I asked for an ATM, and the waitress / cashier pointed me in the right direction. But when I got there, there were only rows of Japanese bank ATMs, none of which accepted my American debit card… more embarrassment!
I started heading toward the train station, thinking there would be more ATMs, but the waitress saw me, and ran outside (probably thinking I was trying to dine and dash..). I tried to explain that my debit card wasn't working, so she motioned where I can find another ATM. Just at that time, I saw a 7/11 down the street… As I started walking in the opposite direction than the waitress told me, she started running after me once again… (so embarrassing!!!). After repeating "7/11" a few times and pointing at it, she understood and let me go.
I came back and paid for my meal… Now, where to go! I was standing outside the restaurant trying to figure that out, when the waitress ran out one more time and handed me an umbrella! It was raining, and I didn't consider bringing my own for the journey.
How nice of her! And after I caused all that commotion and annoyance with the payment.
At first I tried to refuse the umbrella thinking that I didn't mind getting wet, but she insisted. I'm glad I took it, since it ended up raining the entire time - my boots were soaked by the end of my walk!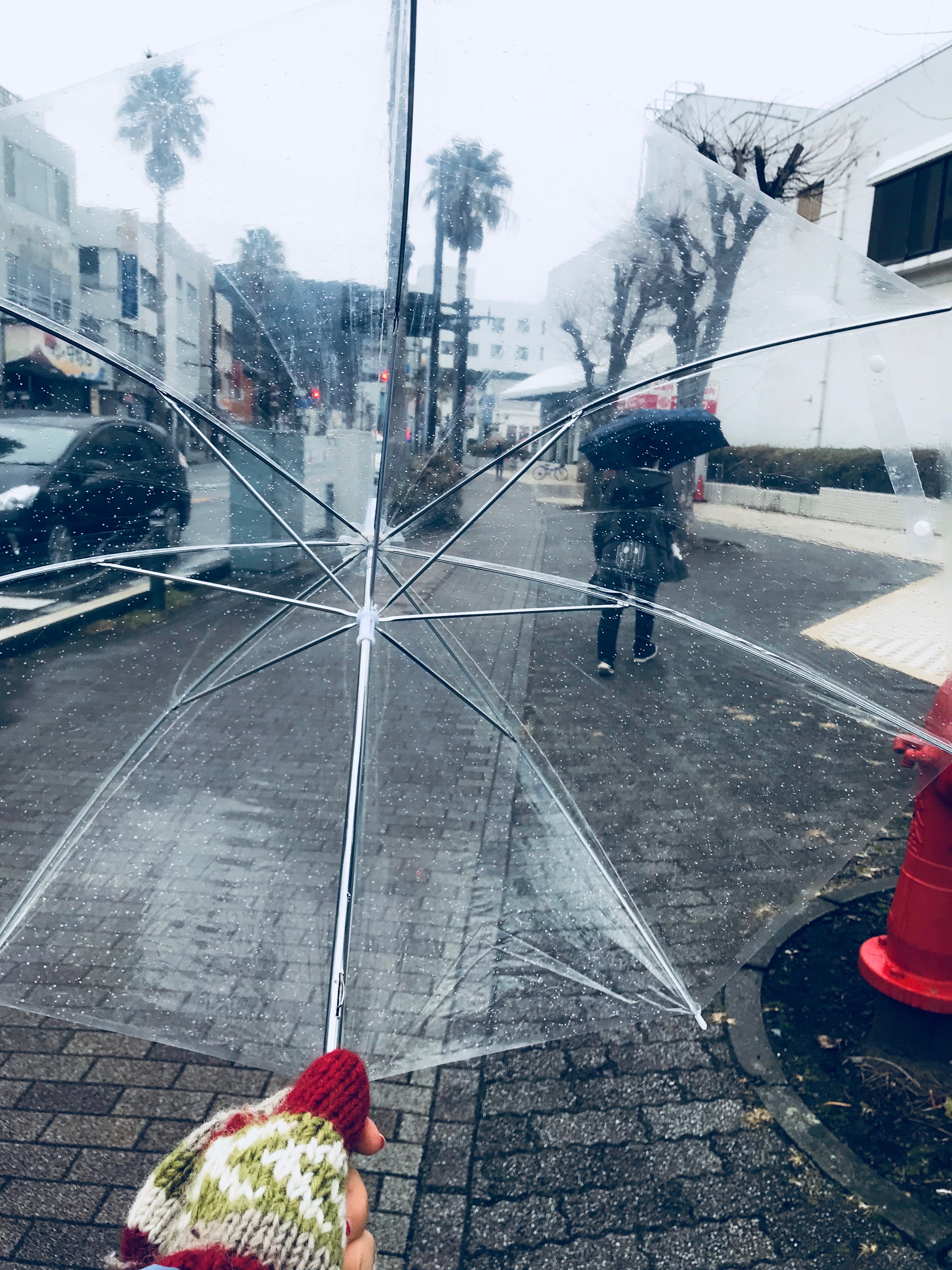 Since the restaurant was very close to the train station, I dropped the umbrella before catching my train back, hanging it on the closed door.
Seriously, there are such amazing and kind people in this world.
The Marina
It looked like it was too far to hike to a beautiful view point I saw on Foursquare (on the way back, I noticed you can get there by an amazing Ropeway! Will go next time…), but I tried to walk over there anyway to see if maybe Google Maps was missing a trail… it wasn't…
But I ended up on this beautiful bridge overlooking boats with a road sign pointing to a "historical walk"…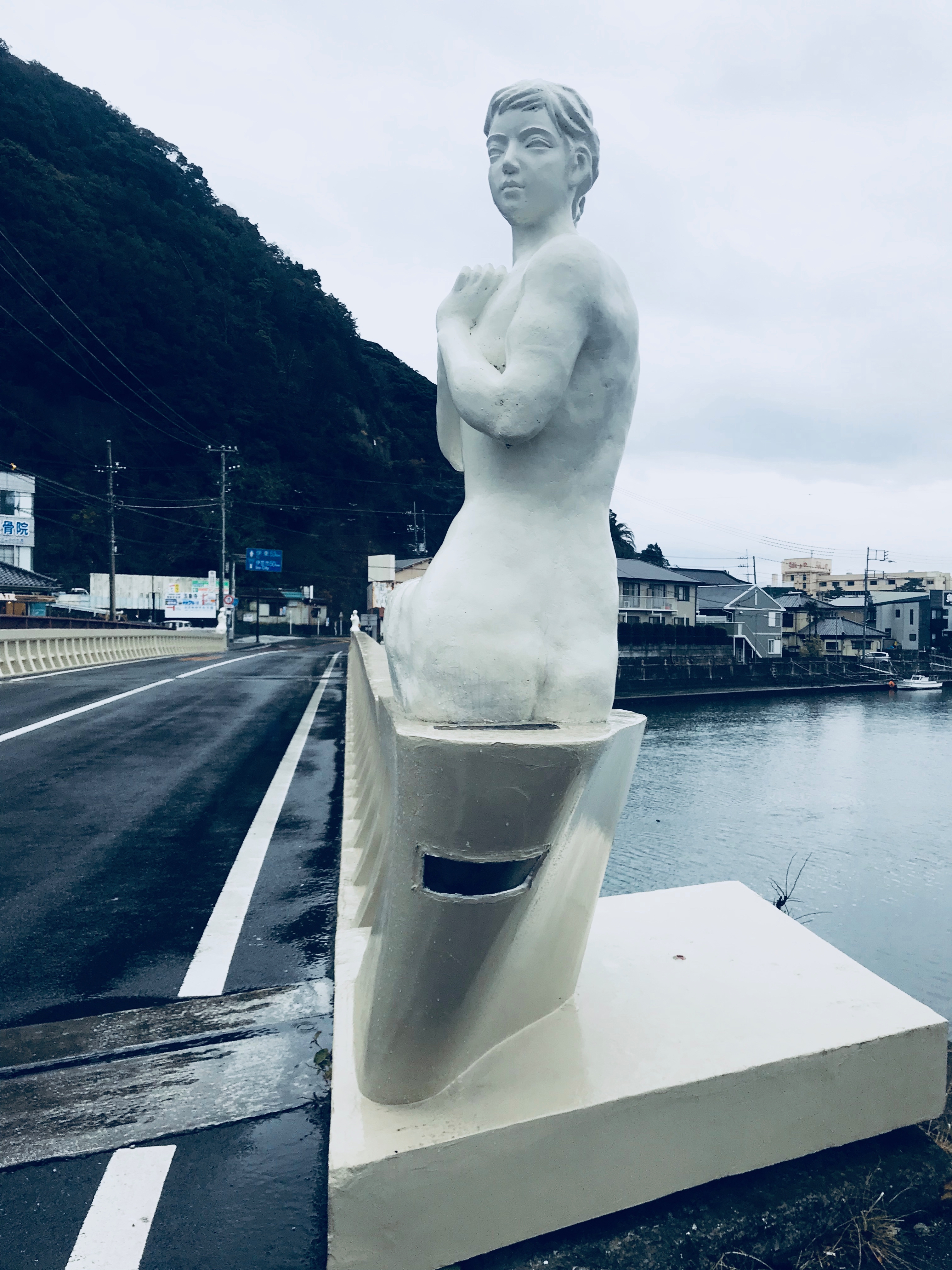 So I walked around, alone in the rain, really enjoying all the boats in the marina: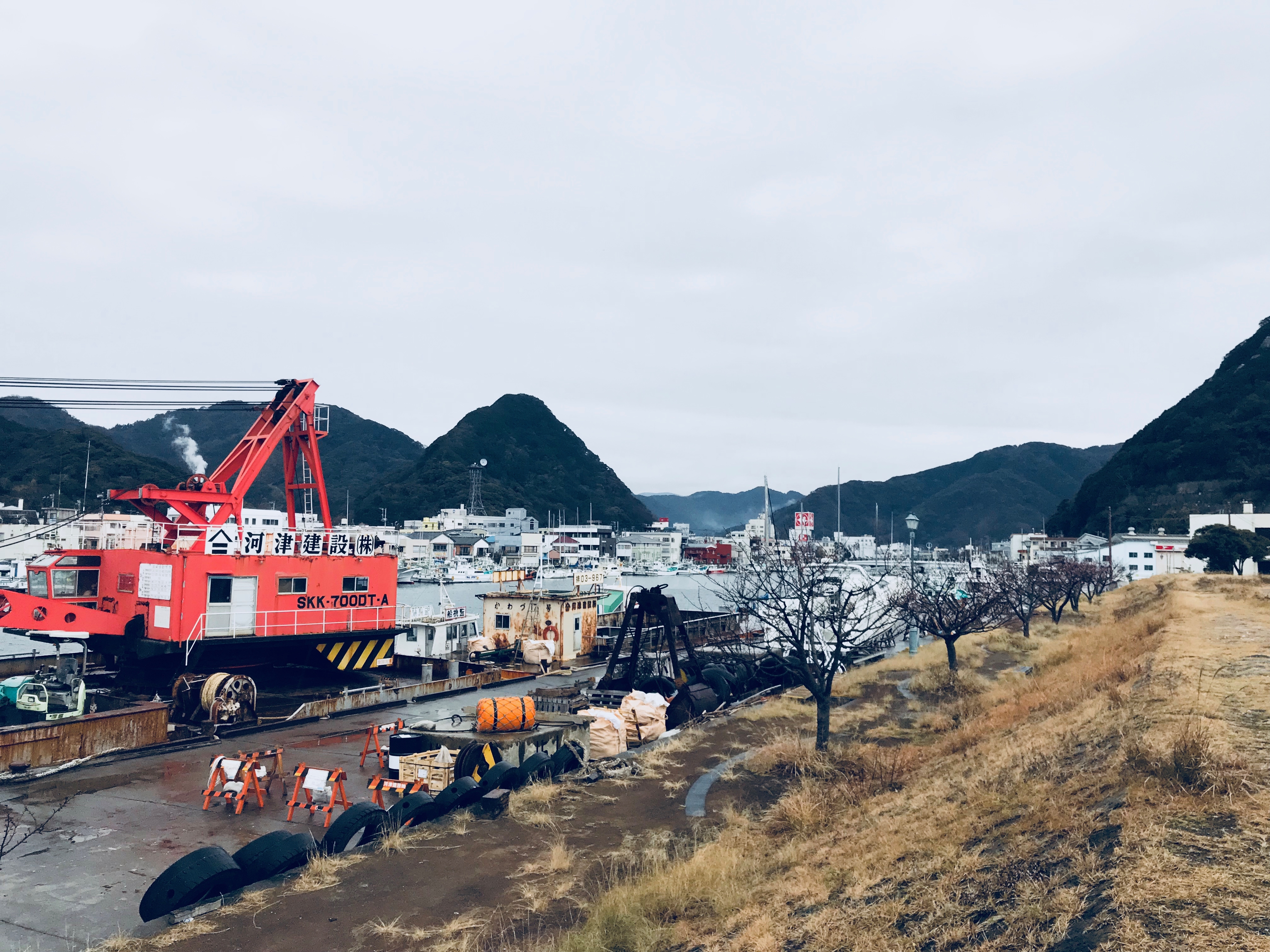 Shimoda Park
I saw on the map that there was a park nearby. I didn't know if it was worth going to, but I went anyway…
I was greeted by a statue of Renjo Shimooka, a pioneer of photography in Japan from the 1800s!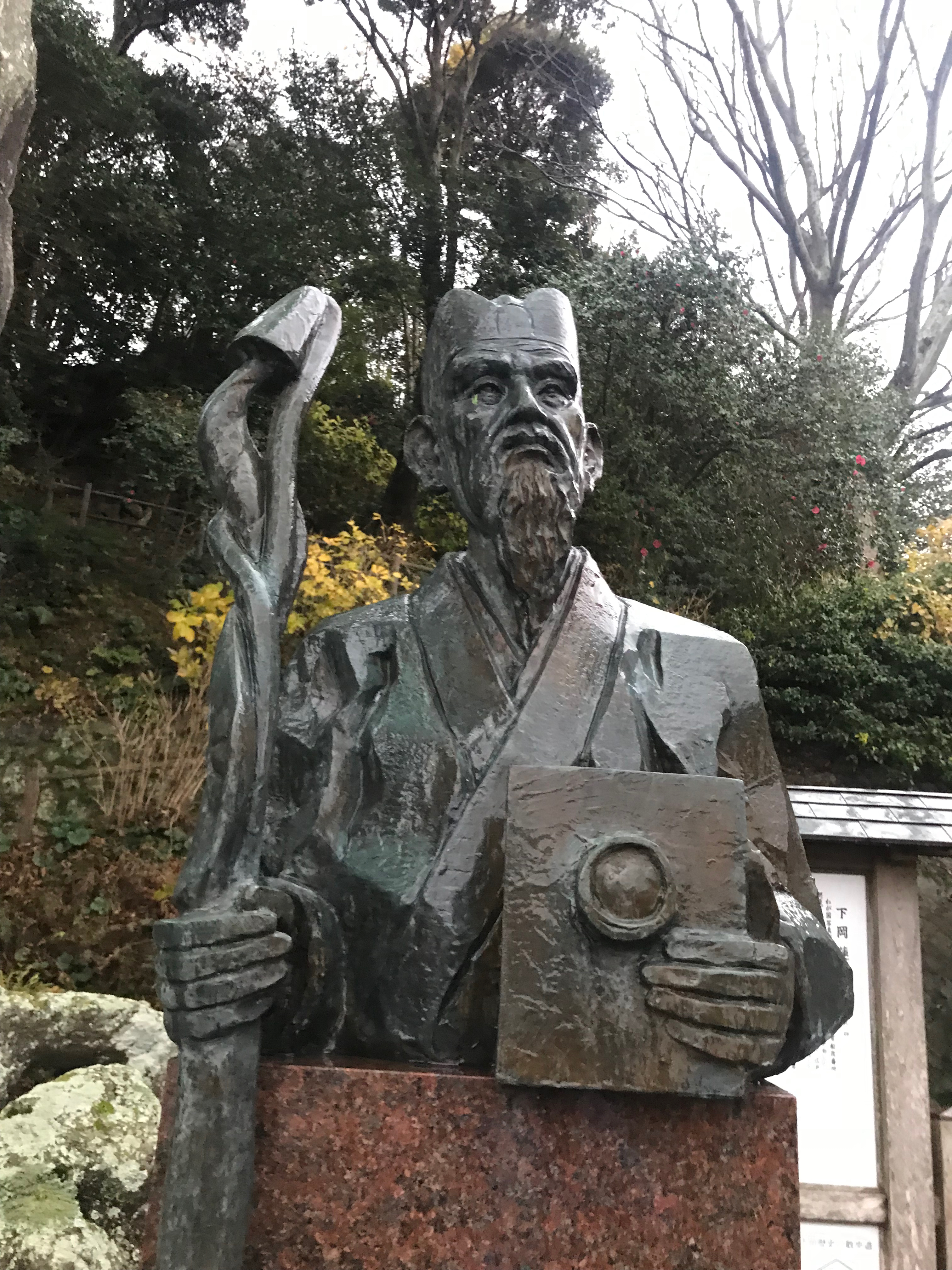 I just love the contrast of the ancient wise man with that camera.
Next, I saw a surprising sign pointing to the Monument of the Opening of U.S. - Japan diplomatic relations. Whoa!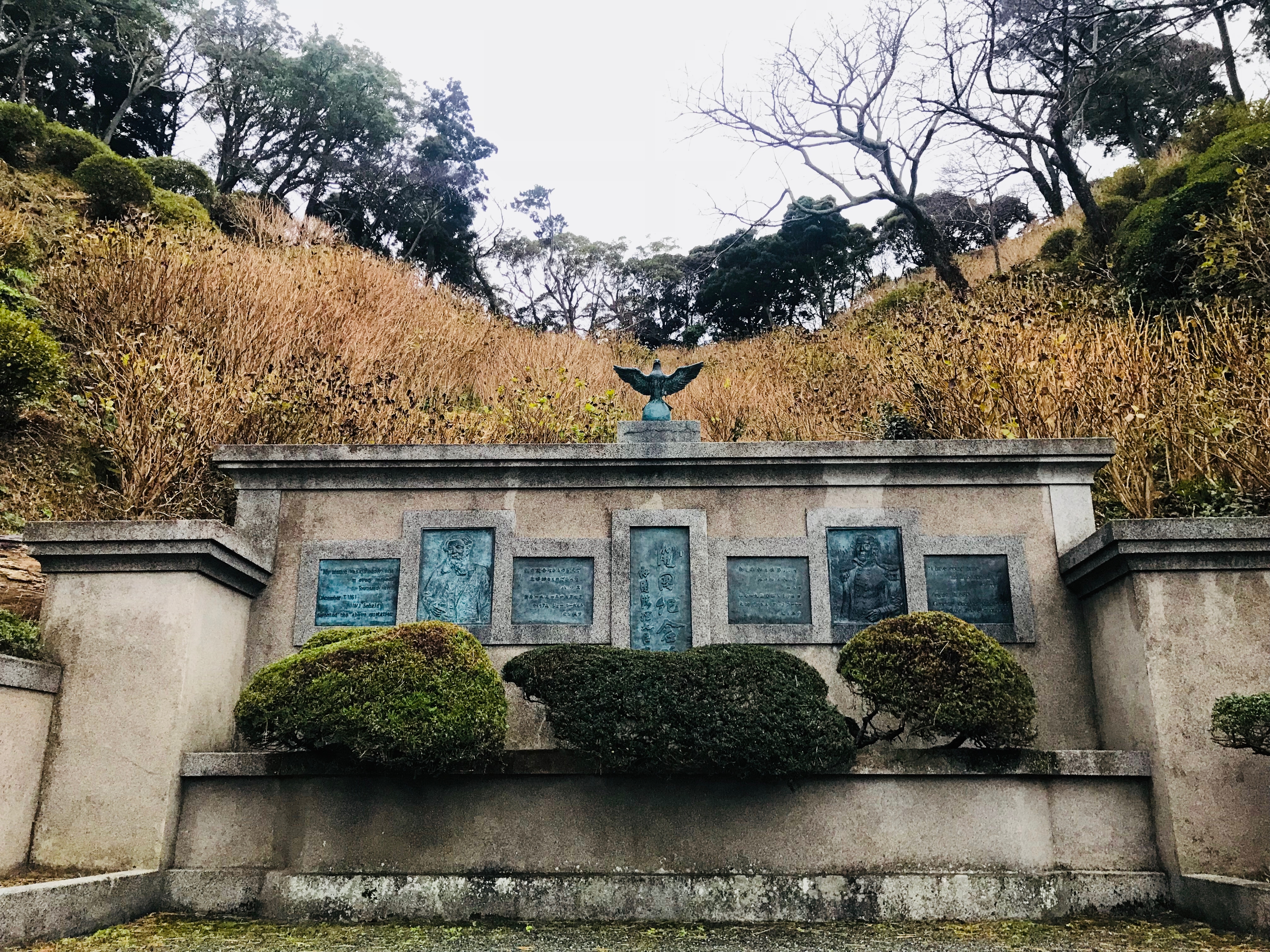 There was another small monument of Jimmy Carter: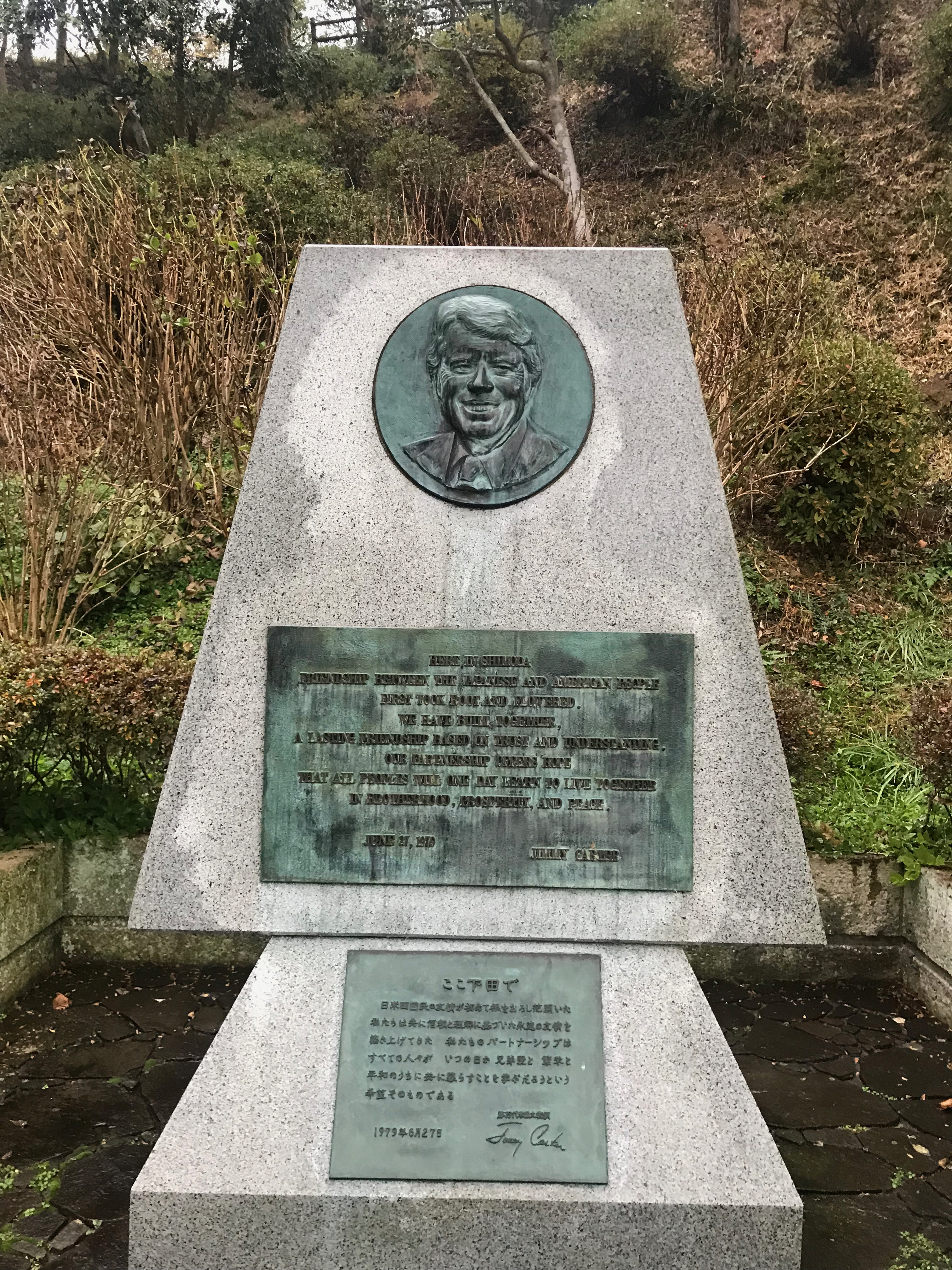 It said:
"Here in Shimoda, friendship between the Japanese and American people first took root and flowered. We have built, together, a lasting friendship based on trust and understanding. Our partnership offers hope that all peoples will one day learn to live together in brotherhood, prosperity, and piece." - Jimmy Carter, July 27, 1979
Whoa! Whoa! Whoa! So cool that I stumbled onto such a significant place in American - Japanese relationships.
I kept walking through the beautiful park, enjoying the scenery: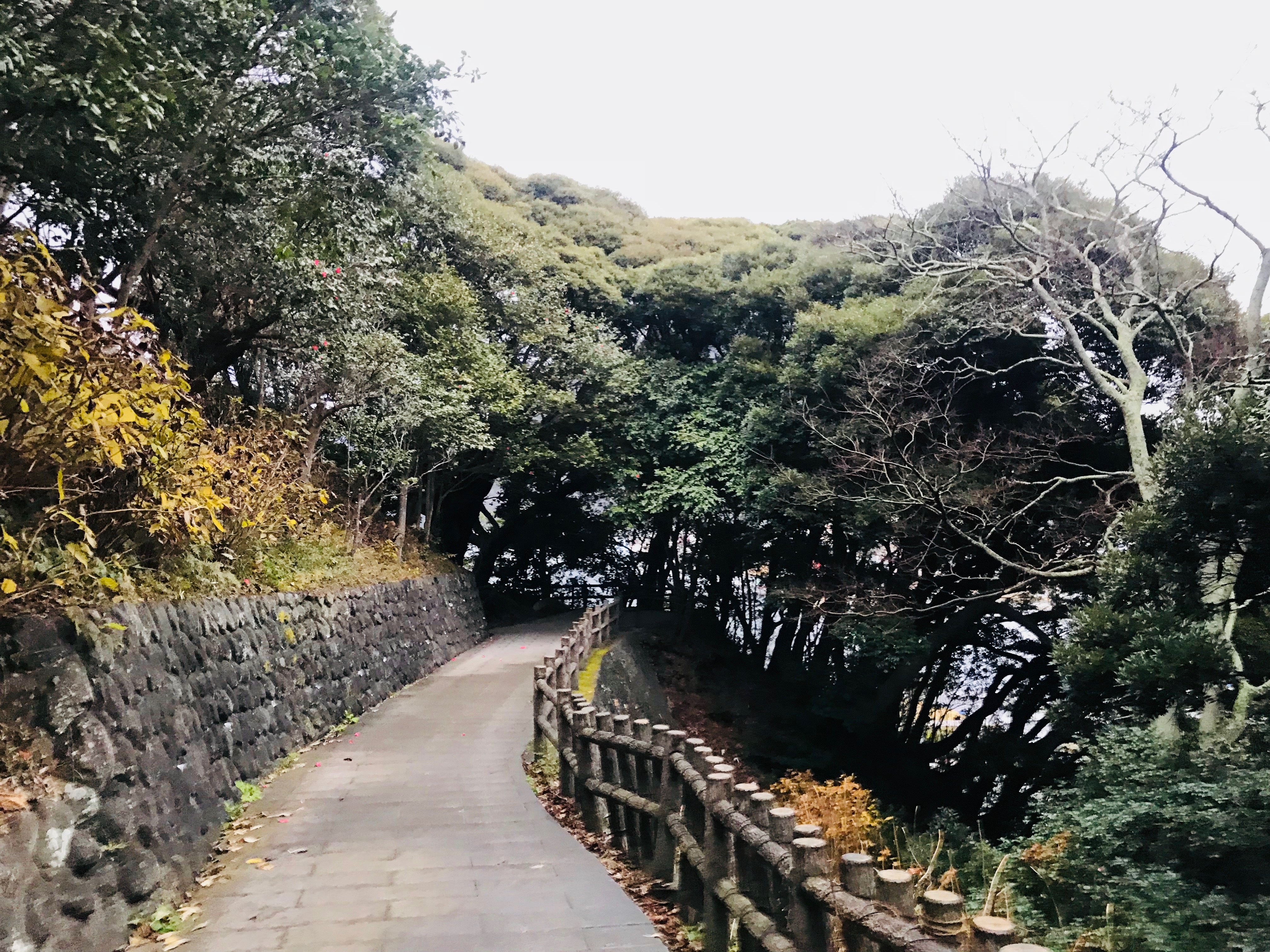 I saw a sign for the hydrangeas garden. Of course, since it was winter, there were no hydrangeas, but I still enjoyed walking through the garden, imagining how unbelieveably beautiful and full of tourists this place will be in the spring. But for now, it was just me and the view: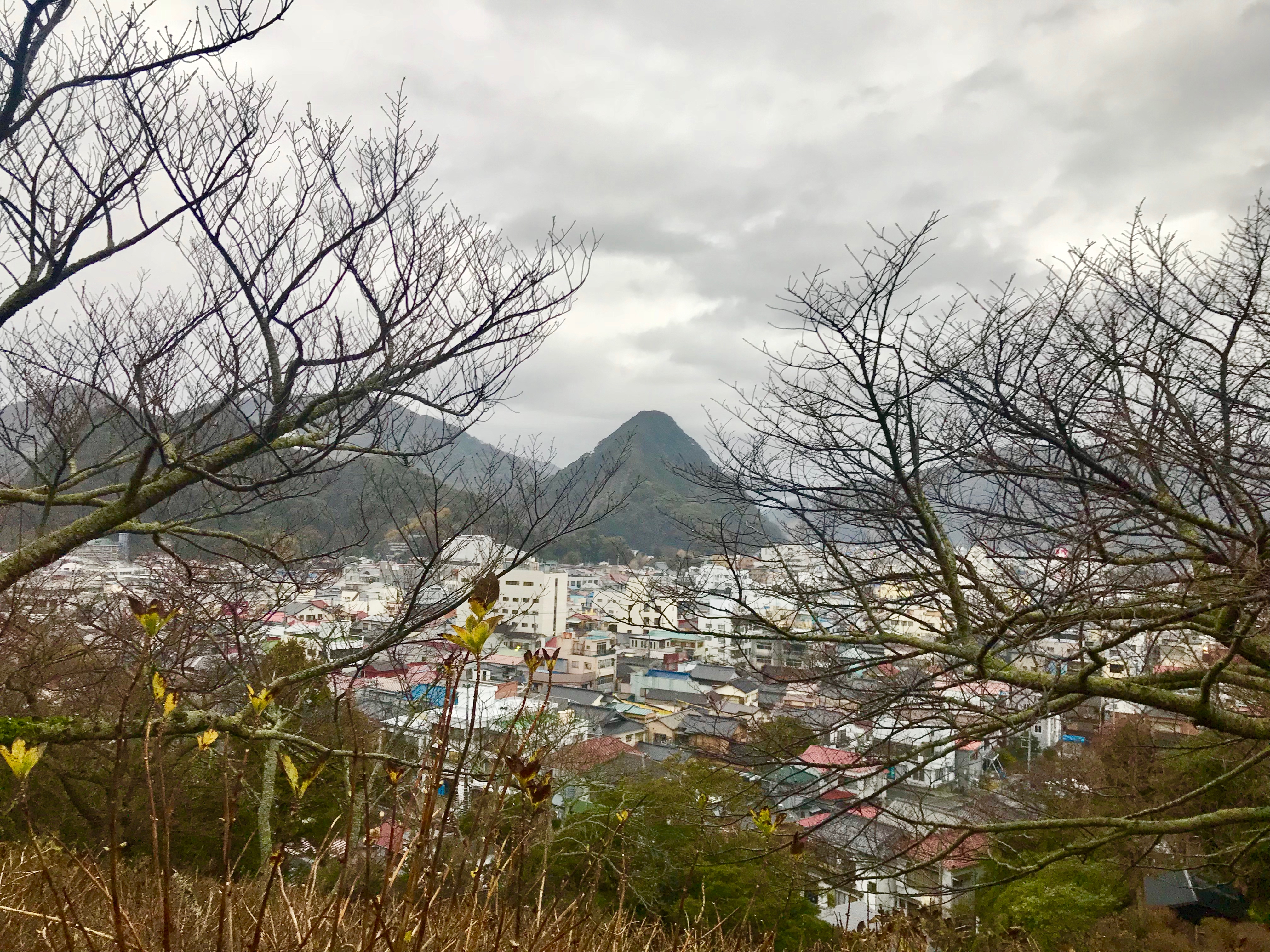 There was more in the park I wanted to explore, but it was time for me to go…
The Most Romantic Street
I headed back through a different way than I arrived, only to stumble onto the cutest romantic street I've seen in Japan: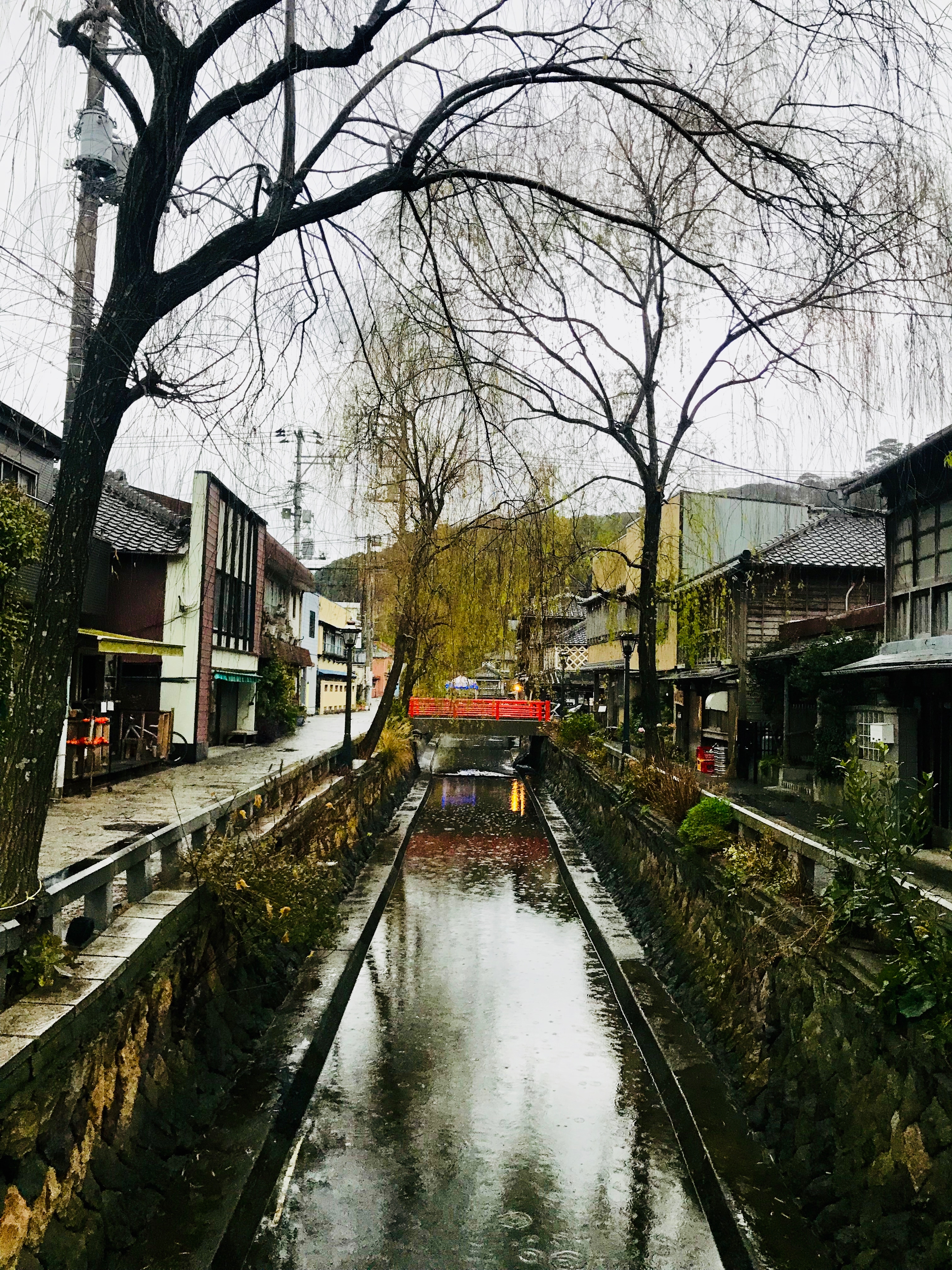 It was set along a canal, making me think of Venice. There were cute bridges, and small cafes, and even an Italian restaurant with romantic seating on a bridge (like I've seen in Venice!).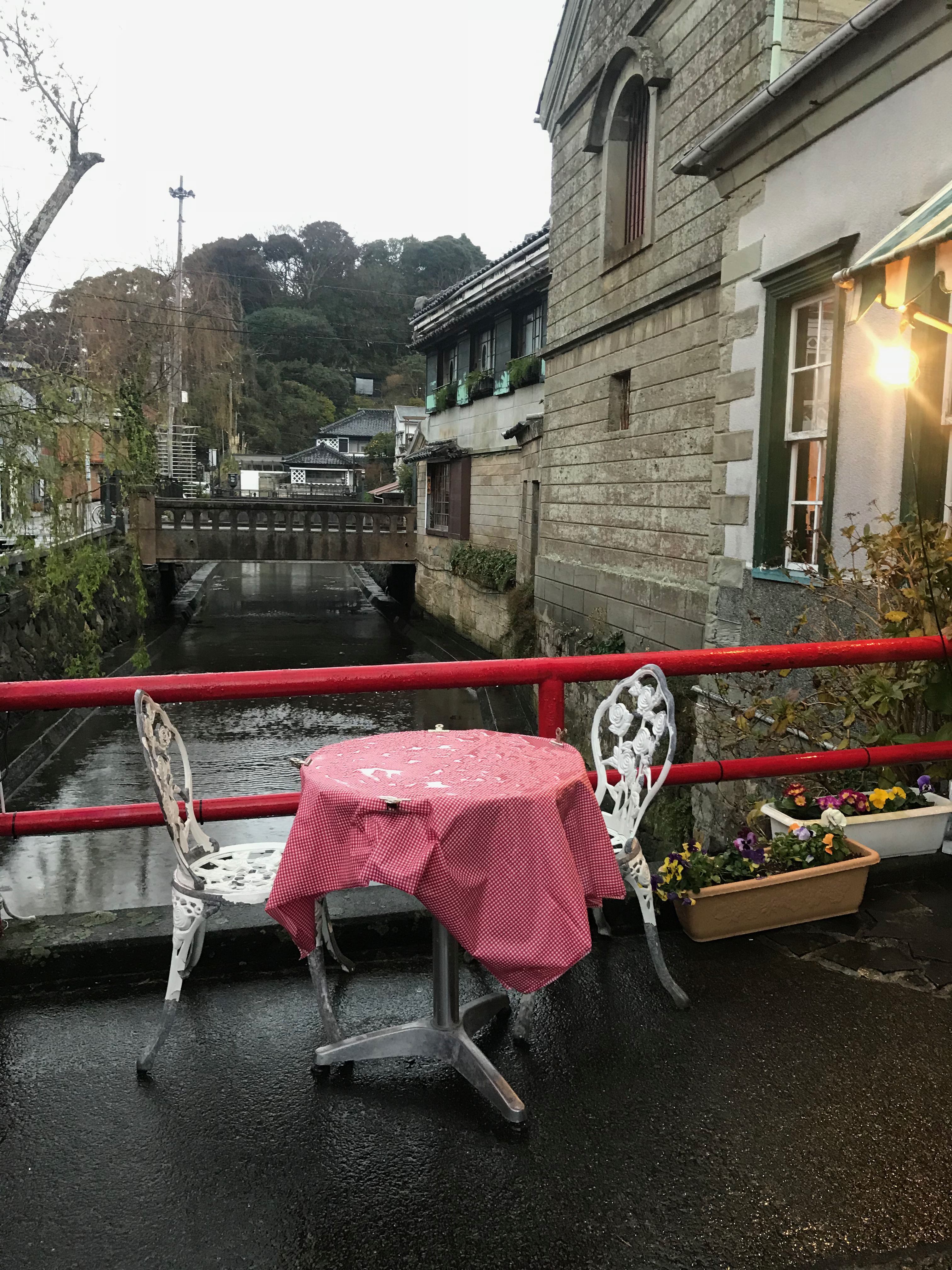 Right now, it was abandoned, but once again, I could imagine it on a beautiful spring day, full of flowers and tourists.
Yes, I will have to experience Shimoda in the spring one day.