My First Hostel Experience
NatashaTheNomad
04/27/2018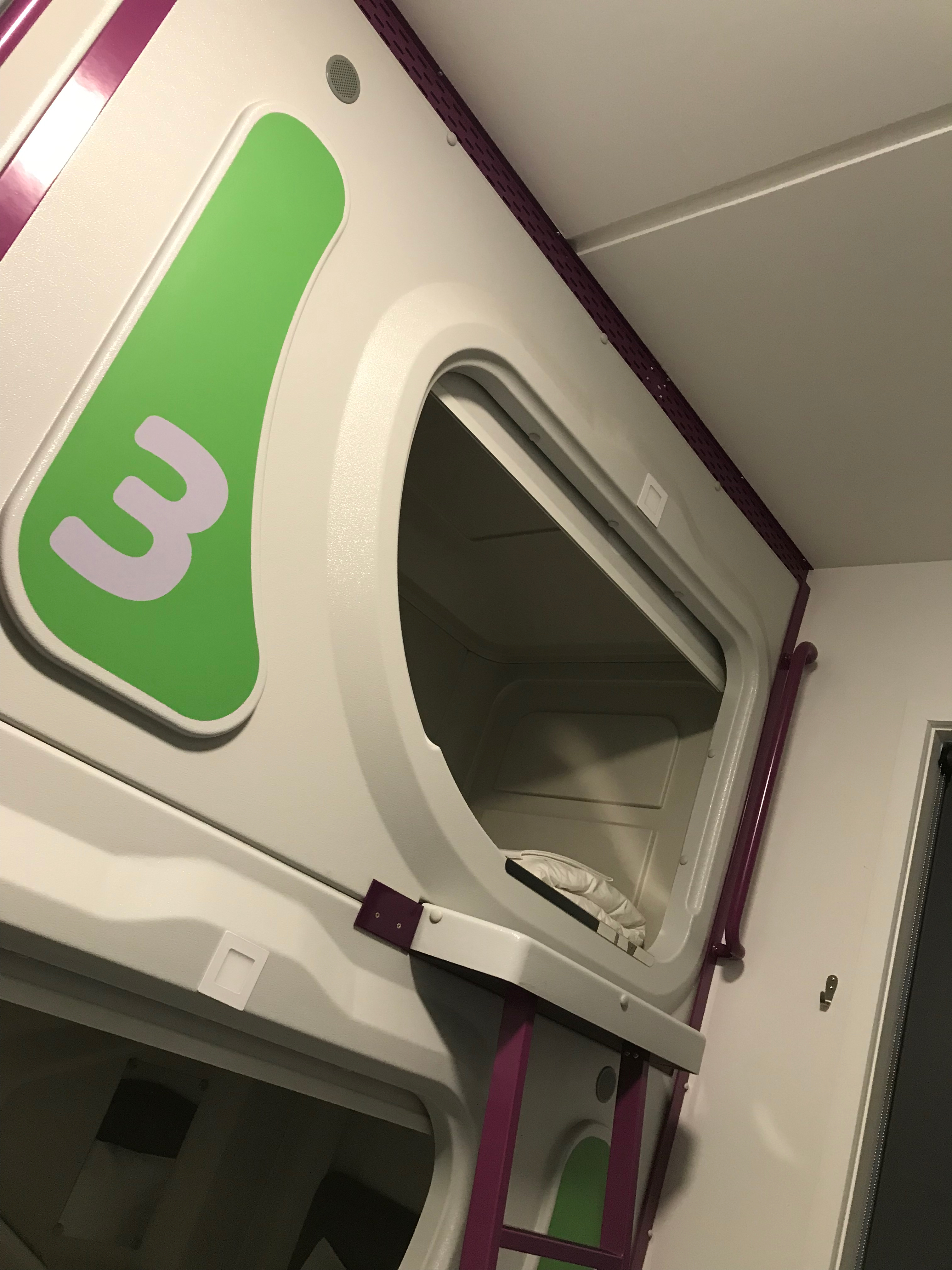 My flight left at 6:00am in the morning, and there was no way for me to get to the airport from my AirBNB during the night. Yet - it seemed stupid to spend a lot of money on a hotel room that I only needed for a few hours of sleep the night before. So I finally got to try something I was uncomfortable with - a hostel!
Luckily, New Zealand is probably one of the best places to try a hostel - there is a very strong backpackers culture here, so I at least didn't have to worry about the hostel cleanliness and safety aspects.
And since the town I was going to - Queenstown - was so expensive. Not to mention the cost of my guided hiking trip, I decided to just go all in and stay in hostels the entire time. Here is my experience:
Jucy Snooze
The first hostel I stayed in was Jucy Snooze - a 10 minute walk to the Christchurch airport. It had a fun and quirky theme and actually looked pretty nice! It was also super high tech. When I got there, I used the computer screen to check in:
Another person who just checked in asked about getting a towel - this is when I realized that this is not a hotel and there will be no free towels! I rented a towel.
Each room had 8 "pods" - 4 bunk beds on each side. I was on the top bunk… There was a sheet left for me - I had to put it on myself! This was no easy task to do on a ladder…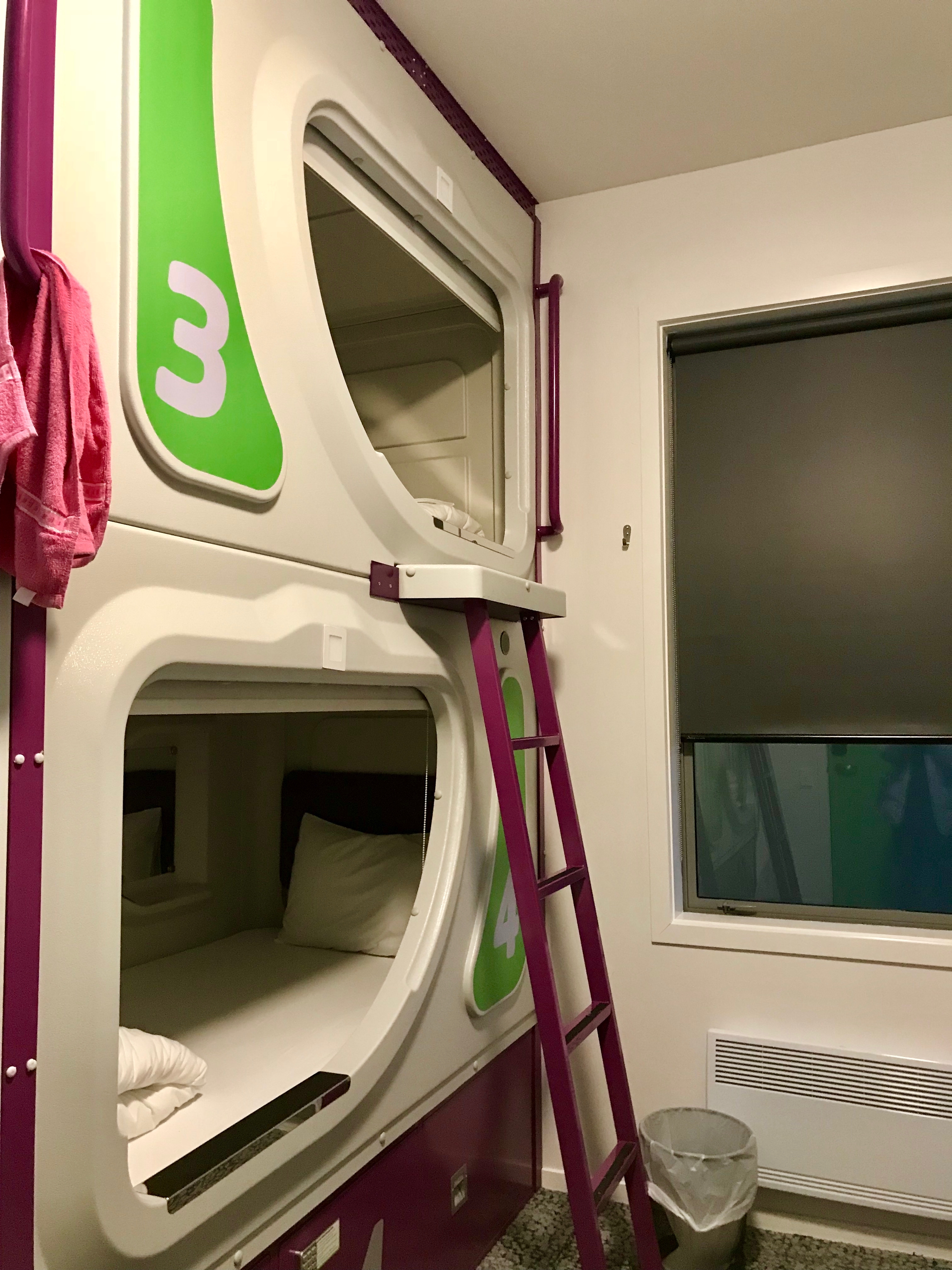 Each bunk had a little pull-down shade, so you can get privacy once inside. And there was a white card to active lights inside the bunk - I had to ask another girl to help me figure it out (yay! I socialized!). There was also a nice touch of two USB outlets for charging devices.
I locked my things in a locker underneath (each one with a number matching the bunk), but didn't want to sleep yet. I know I'm supposed to go to the common area and socialize, but I didn't feel comfortable with that. I associate socializing with younger backpackers with drinking, and I really didn't want to get pulled into any weird party things. Maybe that's my misconception on hostels, but I didn't feel like finding out.
Instead, I went out to a nearby plaza to get food. I got back, brushed my teeth and went to sleep super early - at 8:00pm. That is close to my usual bedtime, and I had to wake up at around 4:00am for my flight anyway. Of course, that is too early to go to sleep for everyone else. Pretty soon, more women checked in and were putting away their own stuff.
I would open my curtain to go to the restroom, only to have them apologize to me for the inevitable interruption. One girl checked in after midnight, making a lot of noise as she couldn't get her white card for turning on the lights working. I knew I would be the one interrupting them at 4:00am, so there were no bad feelings from me.
Oh, and I didn't know to bring my flip-flops. I only had my hiking boots on, so I had to go to the public bathroom with my socks on during the night…
That, on top of getting a bit sick from the food I ate (I don't usually eat late), I didn't get much sleep at all. I had my alarm set for 4:00am, at which point I went to take a shower. No soap or shampoo was provided…
When I got back to the room, I realized that I accidentally SNOOZED my alarm instead of turning it off. The poor women had to listen to my alarm the whole time I was in the shower at 4:00am! I felt sooooo bad.
I felt so tired and horrible once I got into Queenstown, I ended up going to SALT Float Spa just so I could take a super nice shower and get some rest after the night at the hostel.
The cost of the hostel - $16. The cost of the spa to recover - $89.
Looks like a $100 hotel room would have been a better bargain for me after all…
Haka Lodge
In Queenstown, I got a private room at a hostel. I knew I would need a lot of energy for my big 3-day hiking trip, so taking a risk on bunk beds was not an option. Luckily, this hostel was super super nice!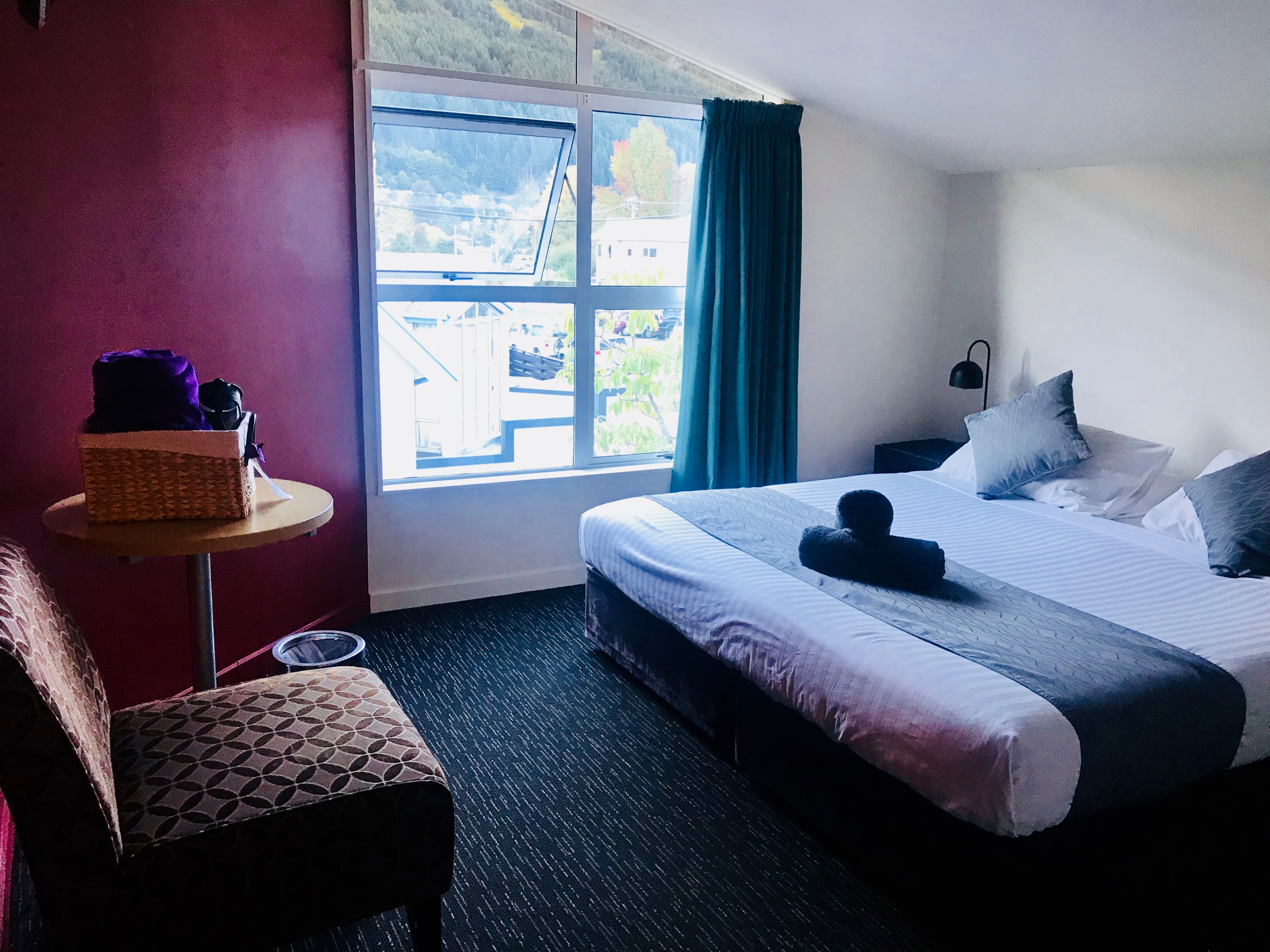 Yay! Towels! And the bathrooms were the full bathroom all to yourself type. At least by my room. There were more public-style bathrooms on the first floor (probably where the bunk bed rooms were).
There were also several comfy lounges spread out across a few floors. People were using the kitchen to cook. It smelled delicious!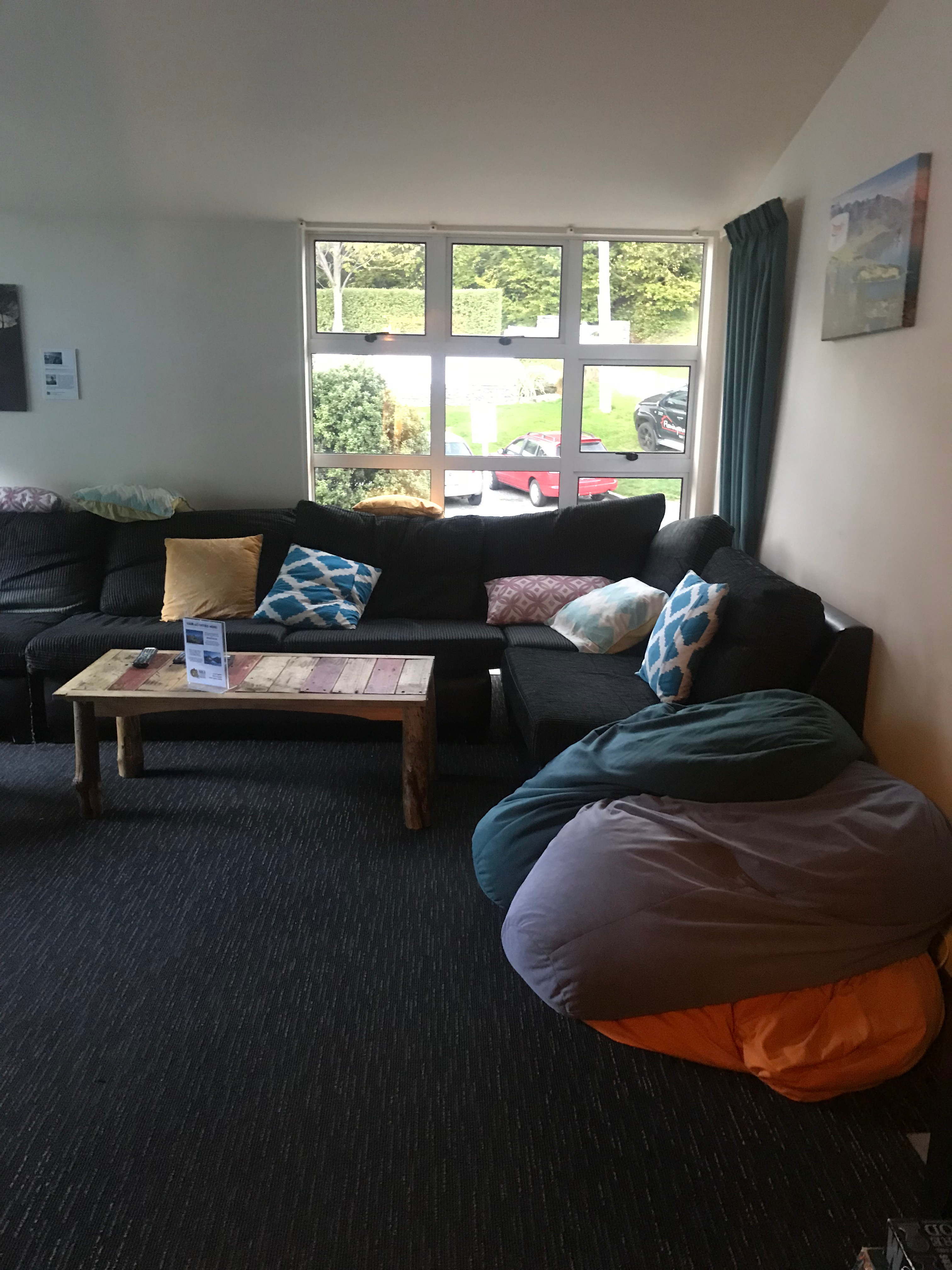 I liked the idea of having a private room in a hostel - you get privacy and peace when you want it, but you can also go to the lounge and socialize when you want to. Turns out, I did not want to socialize lol. I was exhausted after walking around Queenstown, going to my hiking orientation, and shopping for last-minute items for my hiking trip. Maybe I'll lounge next time…
Base Backpackers Queenstown
I had one final night in Queenstown after my big hike. This is when I stayed in a private room in the Queenstown Base Hostel. My private room was fine: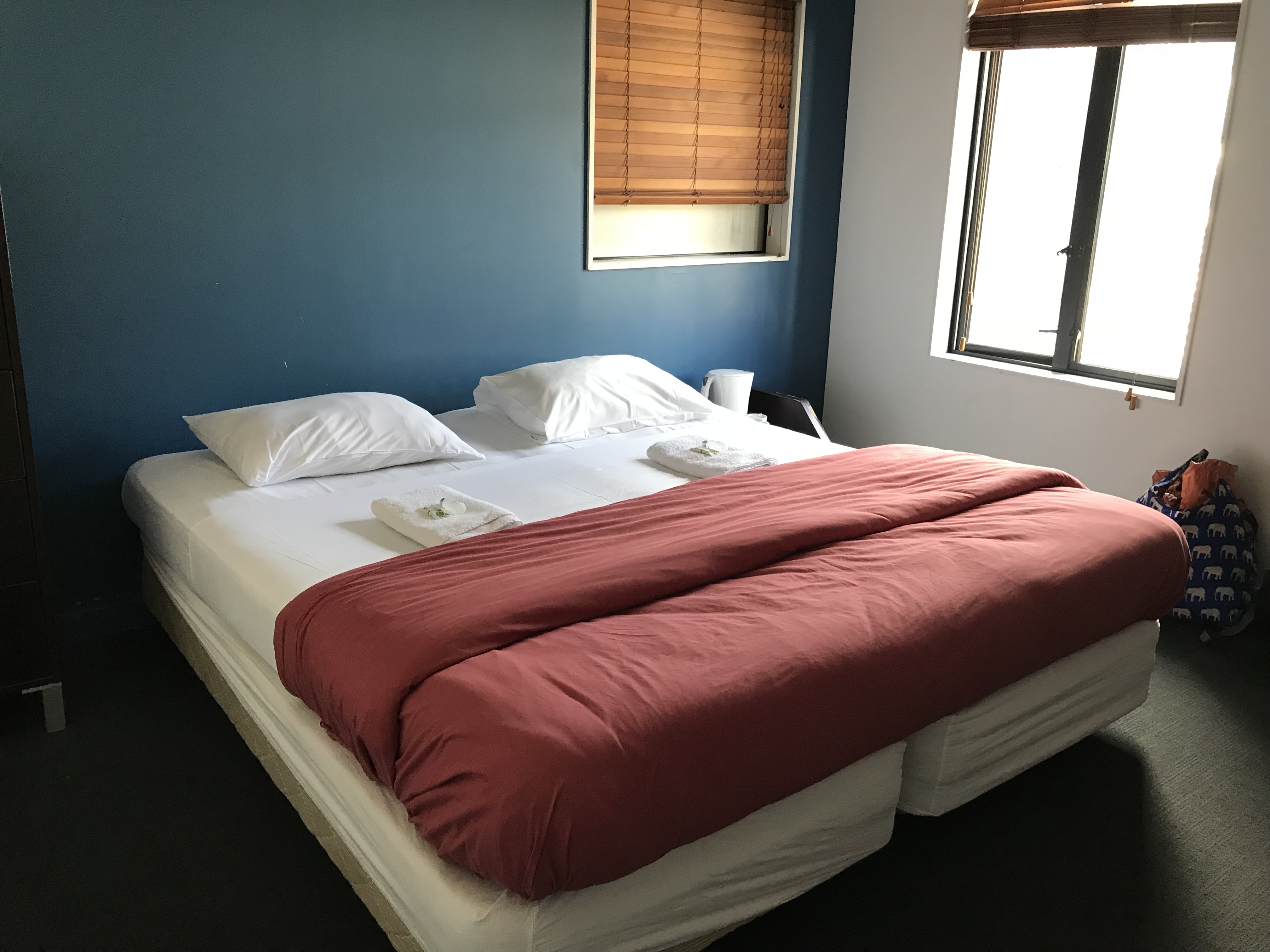 But the hostel was basically my nightmare hostel! It was HUGE, loud, "fun". And not that clean. It was a party hostel. Luckily, my room was hidden away in a corner and I could escape.
The only nice thing - and I've seen this in other hostels I stayed in as well - was a laundry room. It was amazing to do laundry of my dirty hiking clothes right there!
The bathrooms just felt gross. I couldn't handle using it again in the morning, so once again, I went for a float session ($89!) to get a nice shower and sleep before heading to my flight.
When I was checking out, they wouldn't let me leave until I brought my pillow case…
Conclusion
My hostel experiment felt like failure… While trying to save money, I couldn't get enough sleep or a decent shower, so I mostly ended up spending more money on recovering.
I'm still open to having a private room in smaller nicer hostels like Haka Lodge and potentially socializing as well.
But I would have to do the research. Hostels vary largely in things like whether you get a towel, whether you have to put on / take off your own bedding, whether there is soap in the shower, whether it's loud with party atmosphere or quiet and respectful.
Yet - I do have a romantic notion of hostels as a way to make good friends. I'll keep trying once in a while. Adventures to be continued…