A Day Trip to Yokohama, the Future City of Japan
NatashaTheNomad
01/05/2018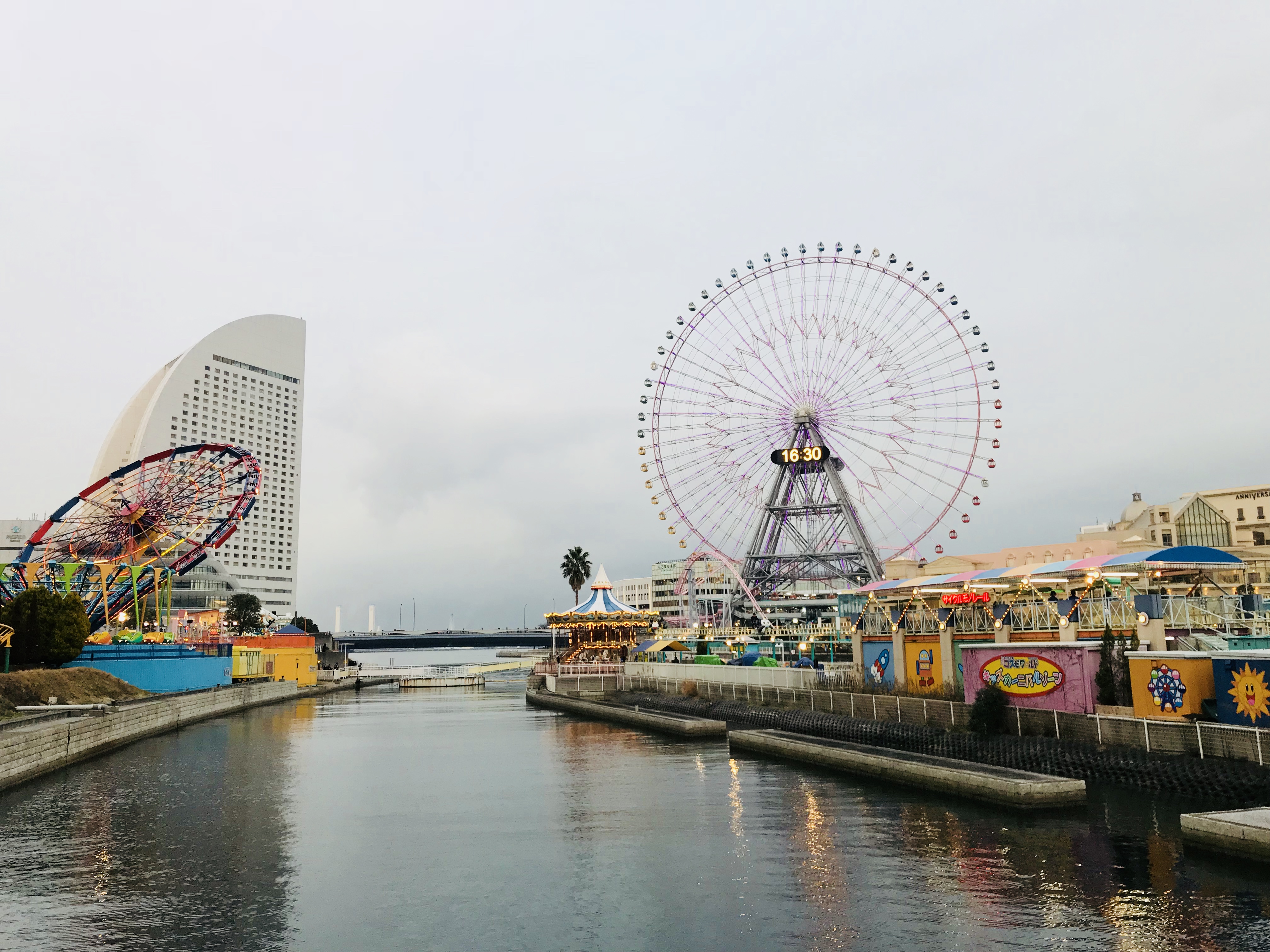 When I first started walking from train station to the main attractions of Yokohama aka "Future City", it reminded me of the time I visited St. Louis - it felt sterile, there was nobody around. This was weird, since there were SO MANY people rushing around at the station: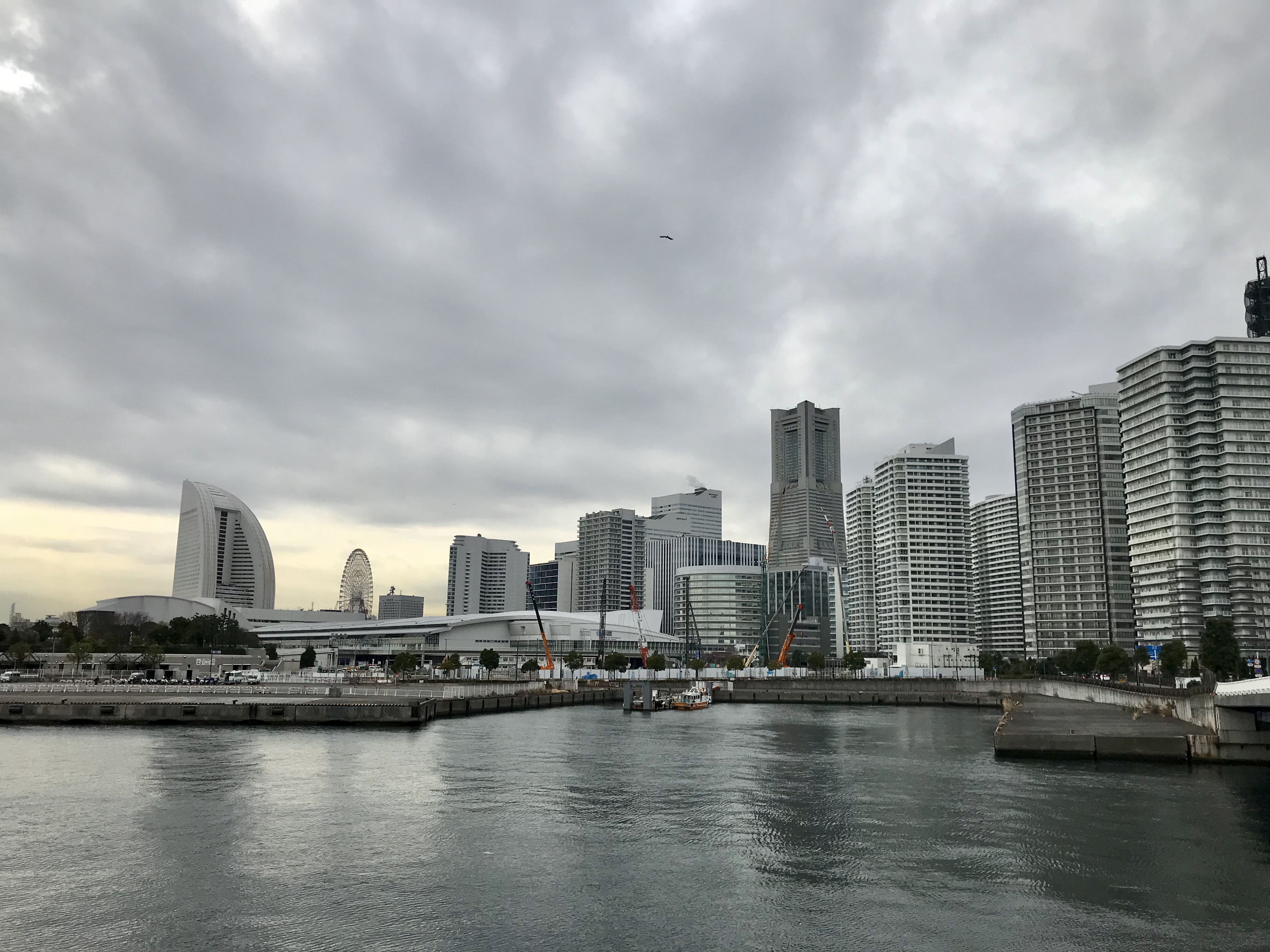 I noticed that there were a lot of tunnels and above-ground walkways between buildings - I remember that to be one of the reasons I didn't see many people on the streets of St. Louis…
"In the last 60 years, the population of Yokohama City has increased 3.5 fold. As a result, energy consumption has been ever increasing.
"FutureCity" initiative is to create a vibrant city through comprehensive initiatives that address the above challenges. This is exactly the kind of future Yokohama City is aiming for. Yokohama City is making efforts in 5 categories: "low carbon and energy conservation", "water and environment", "super-ageing society", "creativity" and "challenge". By taking advantages of synergistic effects to grow a wide range of areas, Yokohama City is working to develop a well-balanced and vibrant city." ~ Yokohama City
I kept walking, despite my initial disappointment. I had the whole day ahead!
The Fish Market
My first priority was food of course! I headed over to the Yokohama City Central Wholesale Market for some fresh fish. When I got there (according to Google Maps), I wasn't sure where to enter. It was a giant warehouse!
I kept walking around until I finally found a way to walk through the parking lot, entering into a random building. There were a few restaurants open, but one of them was filled with locals, while the others were empty. I always go where the locals go! It did not dissapoint - I got an amazing sashimi set 😋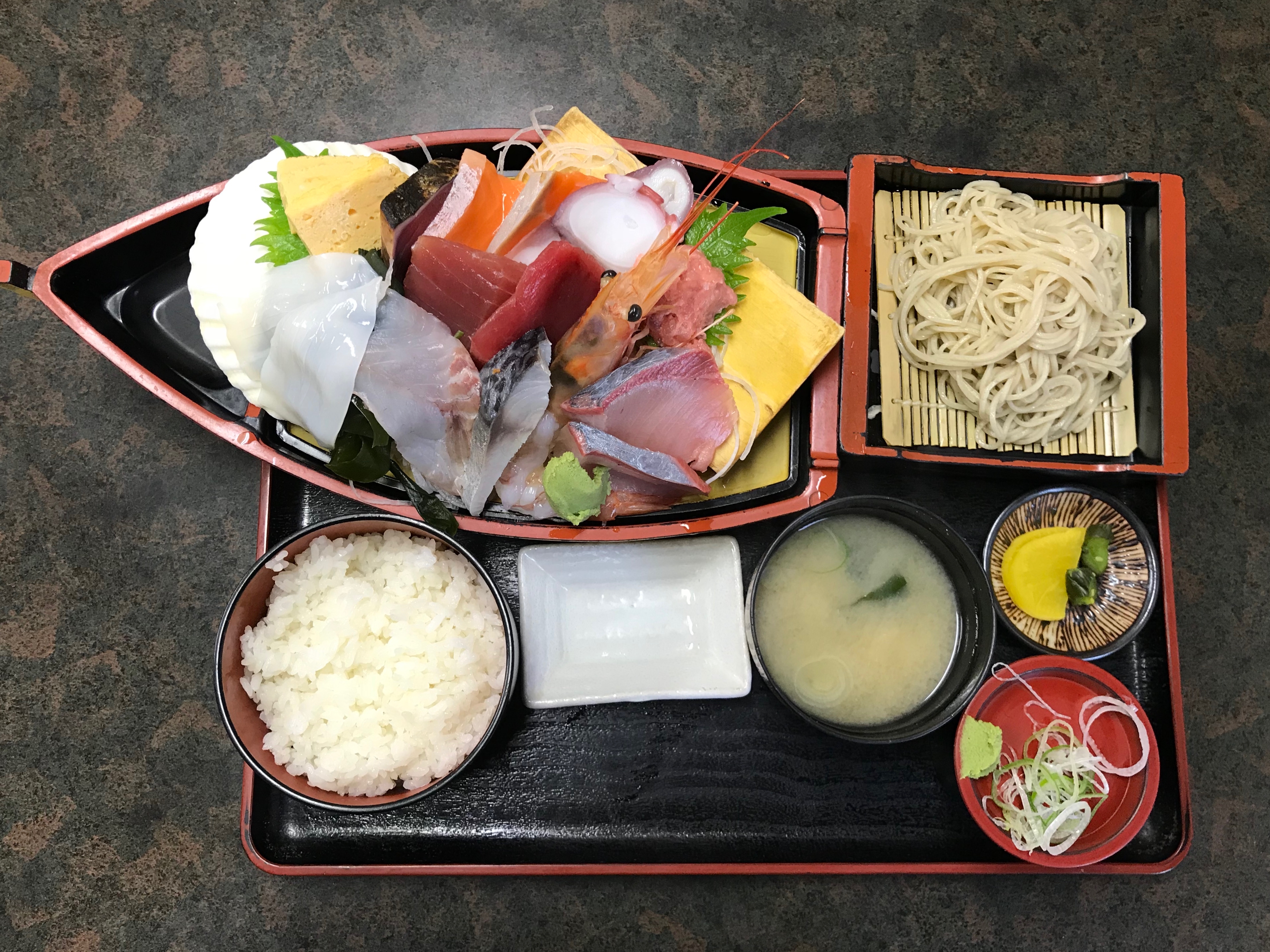 Afterwards, I walked through another building, which I'm guessing is the main fish market, and saw a lot of big fish being prepared to be eaten!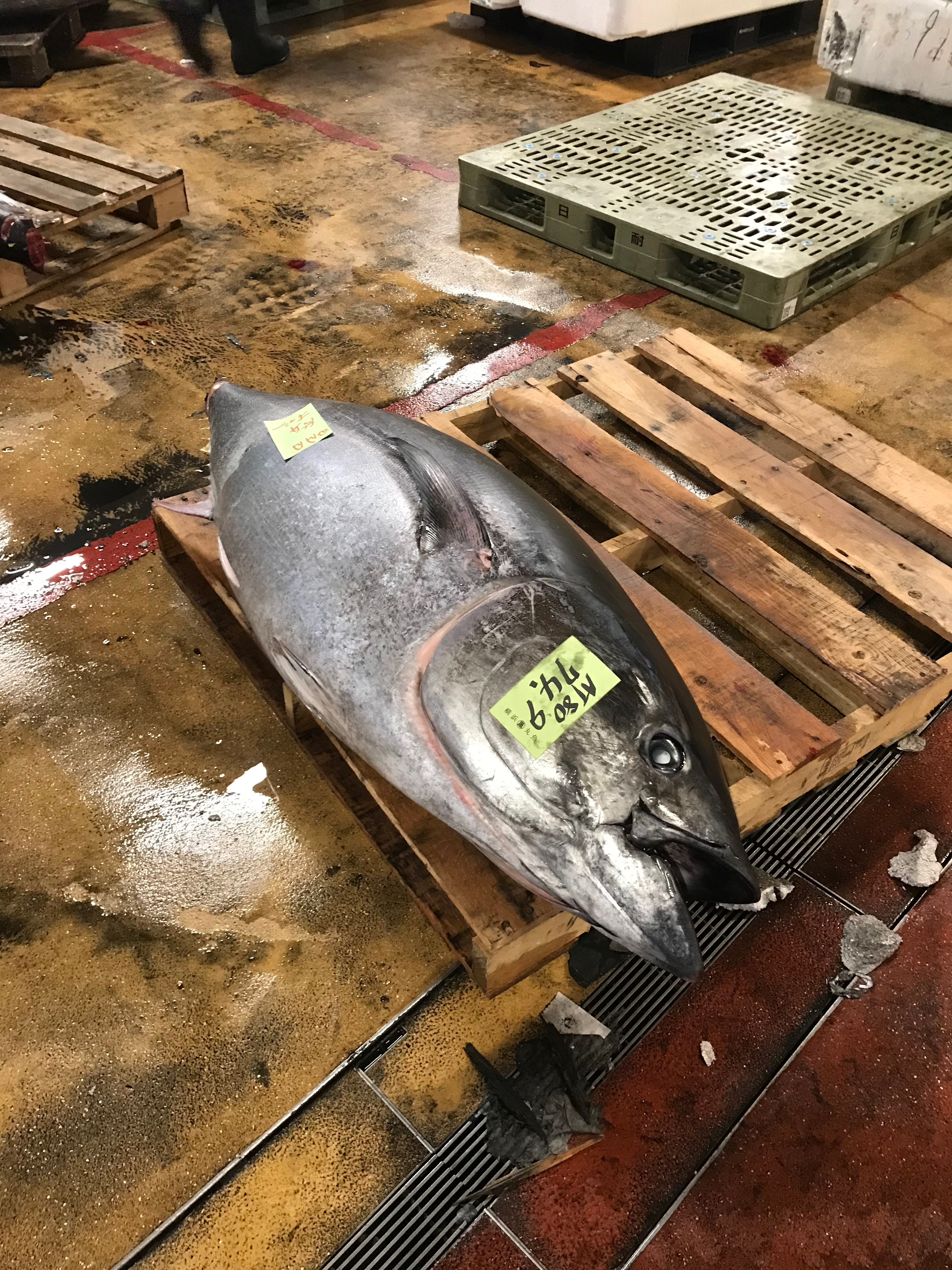 Cup Noodles!!!
I've wanted to visit the Cup Noodles museum ever since I first heard of it - it was high on my bucket list! It was finally time!!
The first thing I did when I got there, was make my own Cup Noodles!! The first step, of course, is to color on the cup with markers…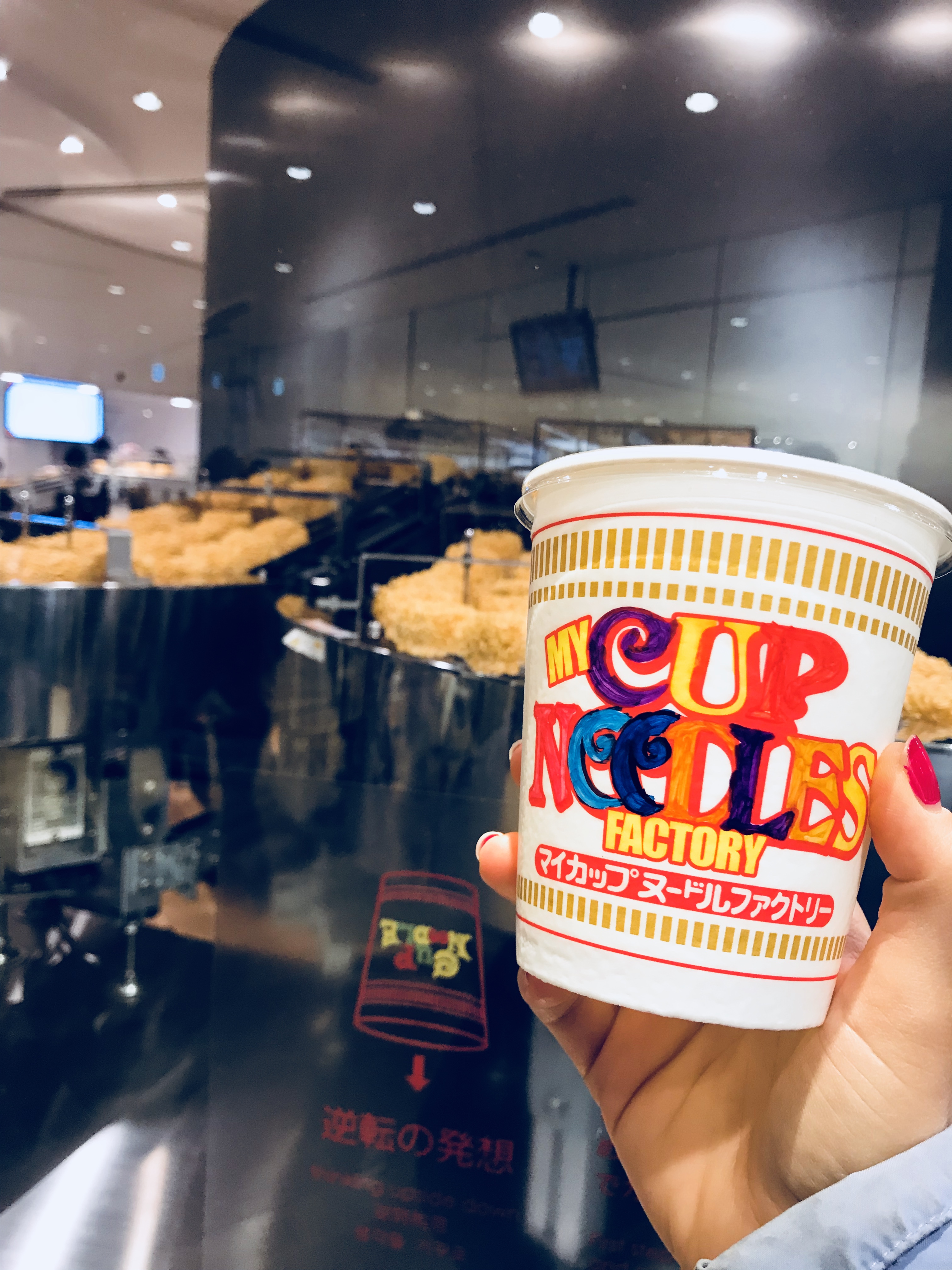 We then learned how they put the noodles in the cup - upside down!! - and decided which flavor and toppings to put inside: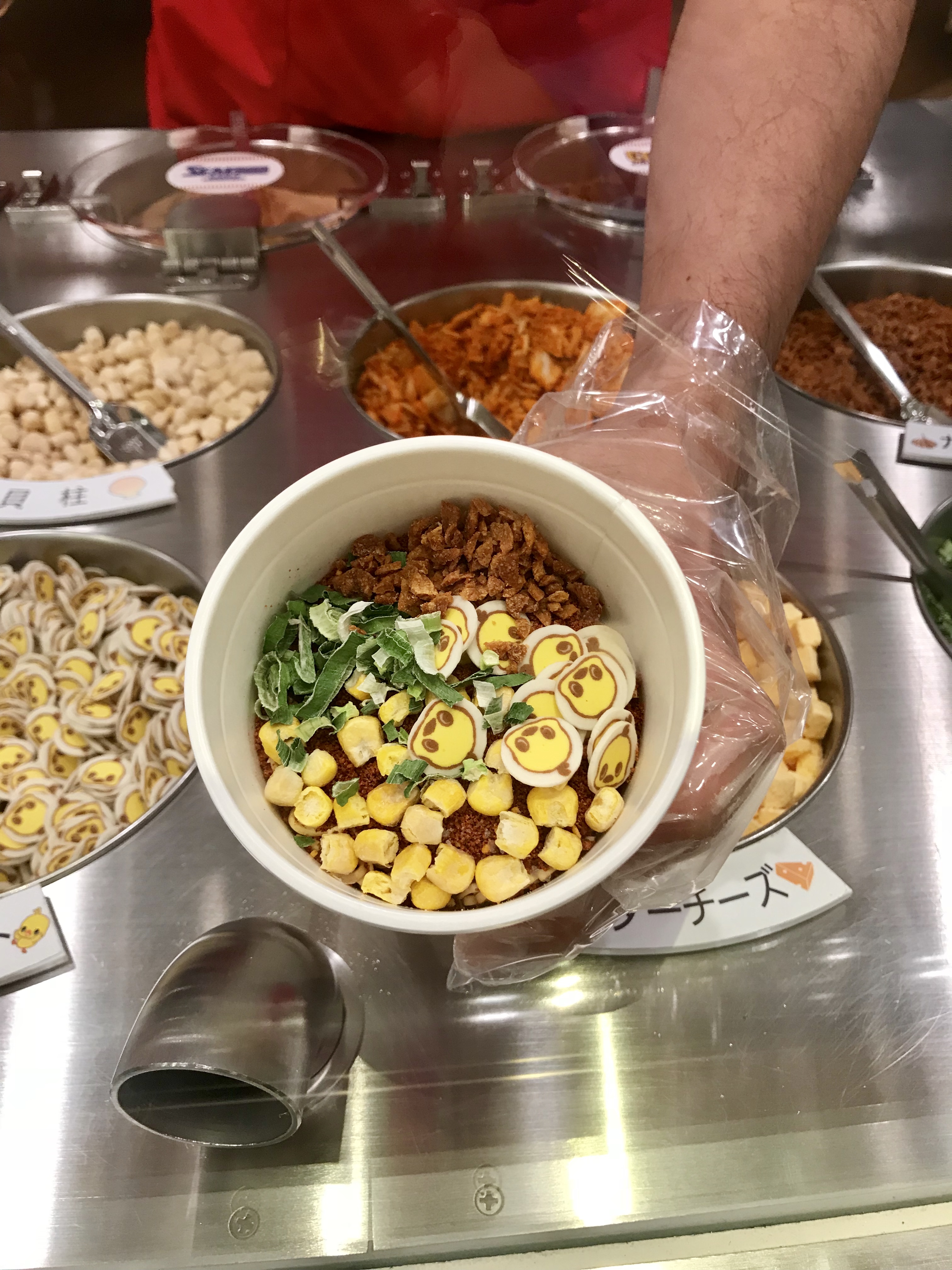 The cup was then sealed to be eaten within one month!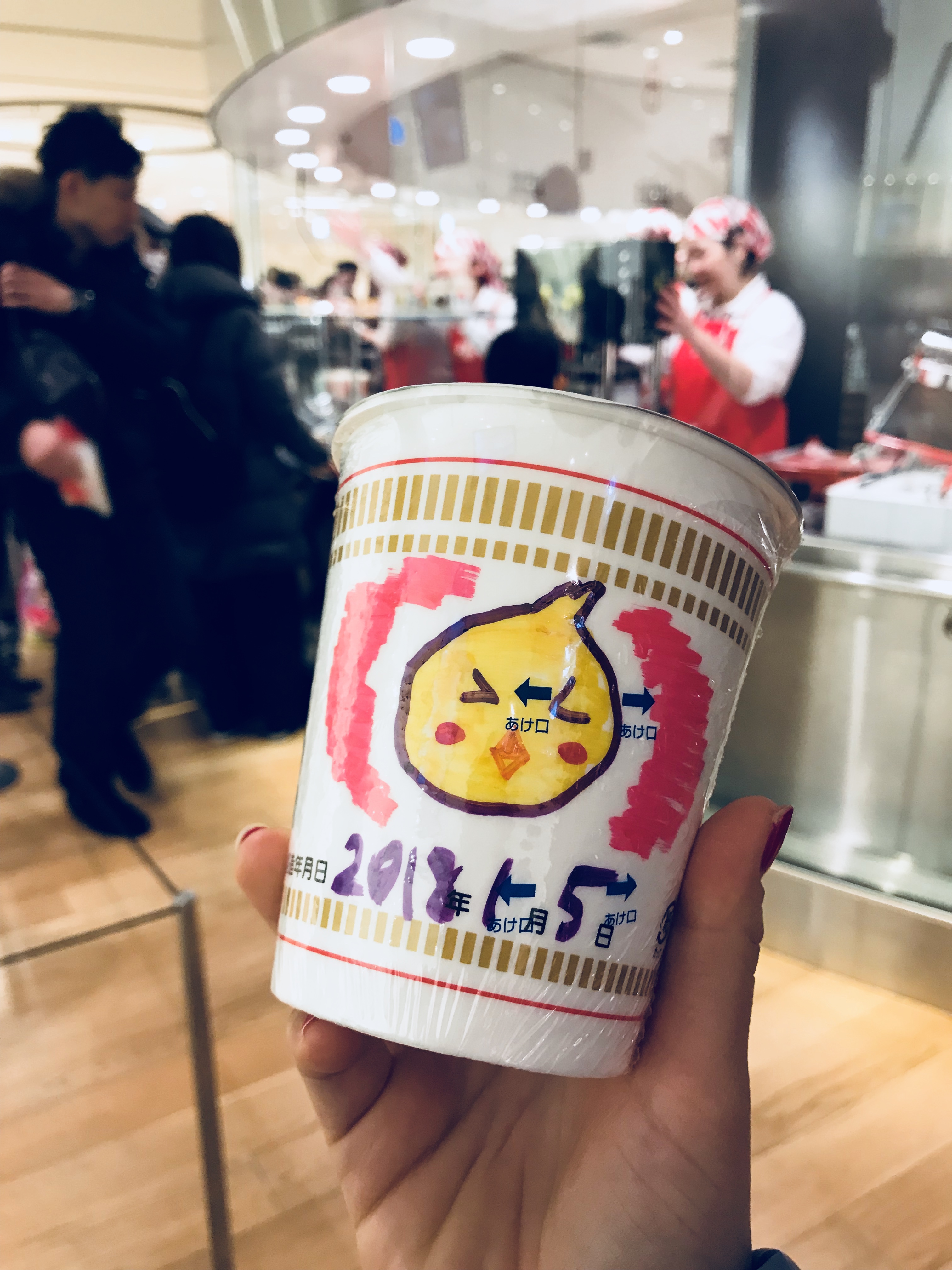 There is also an option to make the noodles (you get to wear the cutest bandana!), but it was completely booked. The museum was very busy, filled with families.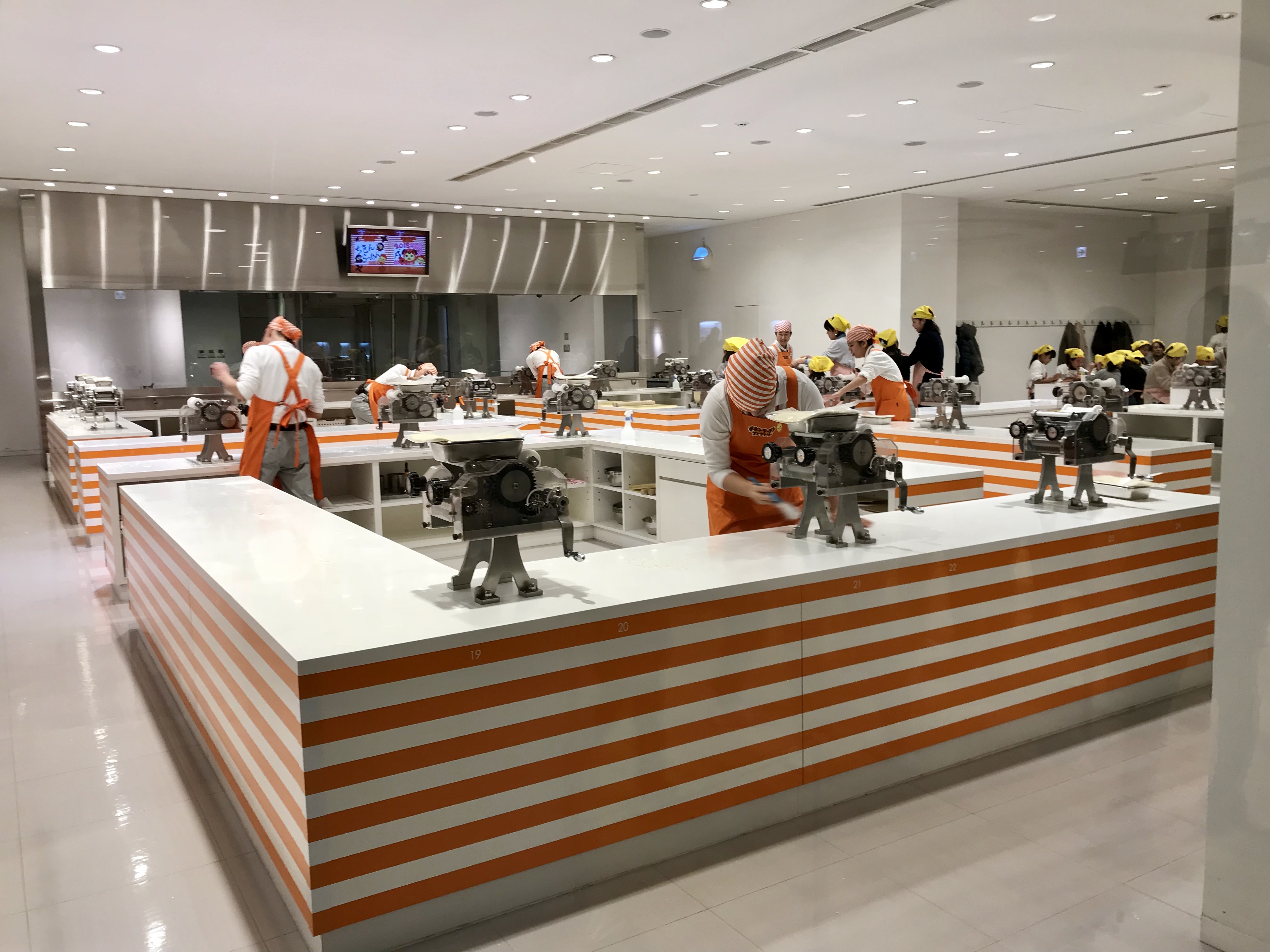 So I went back downstairs and watched the movie (they gave me an English translation receiver) about the Cup Noodles founder Momofuku Ando. It was super impressive! He started the entire instant ramen industry… at age 48! And kept innovating in the space, figuring out the Cup idea to bring it to America and other overseas markets… at age 61! The coolest part was that he kept innovating up until he died. At age 95, he figured out how to bring instant ramen into space!
It was super inspiring to hear the story, and to later on see the ramen types grow from one (chicken) to the variety that there is today through ramen covers: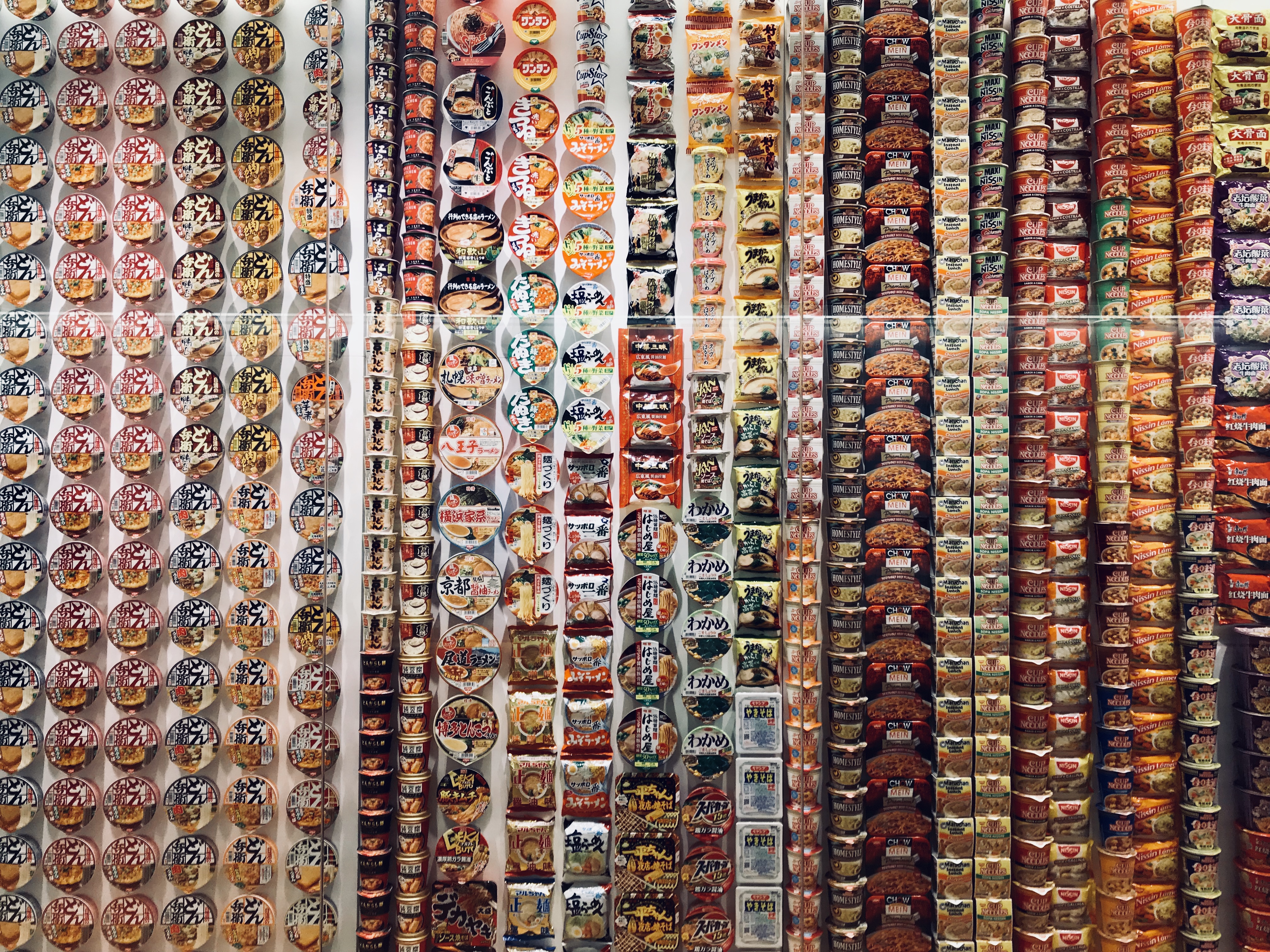 Just goes to show that it's never too late for anyone!
Mega Onsen!
The Manyo Club was right next to the Cup Noodles museum, so I had to go there…
It was HUGE, spanning several floors (I think they have the entire building!). There is the regular onsen (hot spring baths) separated by gender, which also includes an herbal steam room and at least two saunas. Outside, there was a bath with a whirlpool for you back! And a cedar wood bath! Amazing!
For the other floors, I was given a free yakuta to wear - mostly everyone else was wearing special pajamas! There is a whole floor dedicated to arcades! And a floor dedicated to relaxation - you can relax in a chair and watch tv lol. On the top floor (9th!), there was a panoramic outdoor foot bath. The 360 view of Yokohama was spectacular!
The onsen also includes restaurants and several international spa treatments, including a Korean Scrub! I will definitely go back there - maybe for the entire day next time…
Japanese Tea Ceremony… in the Sky!
I haven't attended a Japanese Tea Ceremony since my first visit to Japan 4 years ago. So I was excited to learn that I could attend one at The Landmark Tower… on the 65th floor!
The Tea Ceremony Room Kaikoh-an included several bigger and smaller rooms for multiple visitors. I was the only one there, so I chose to be in the biggest room with the best view :)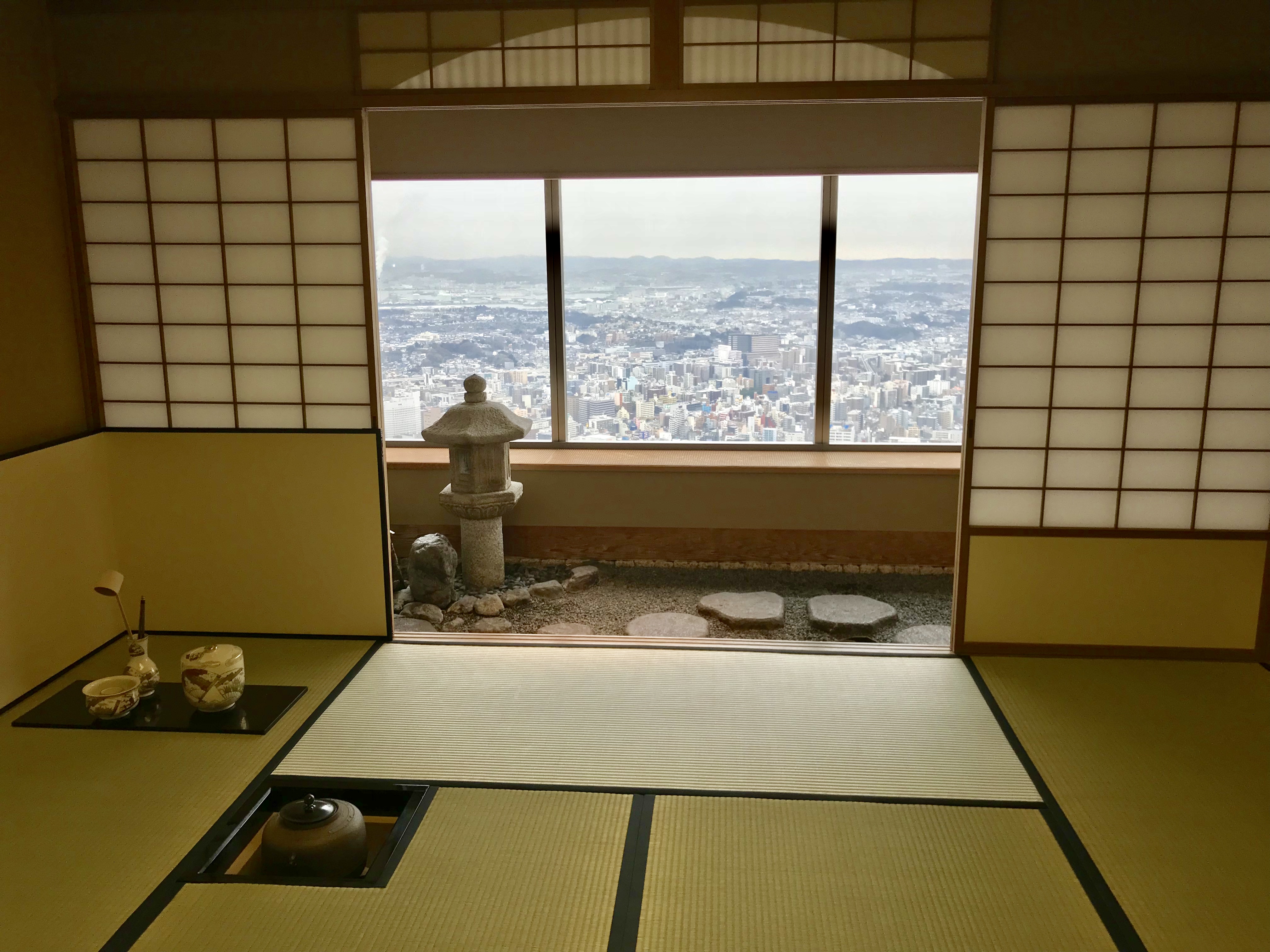 The hostess served me some sweets first: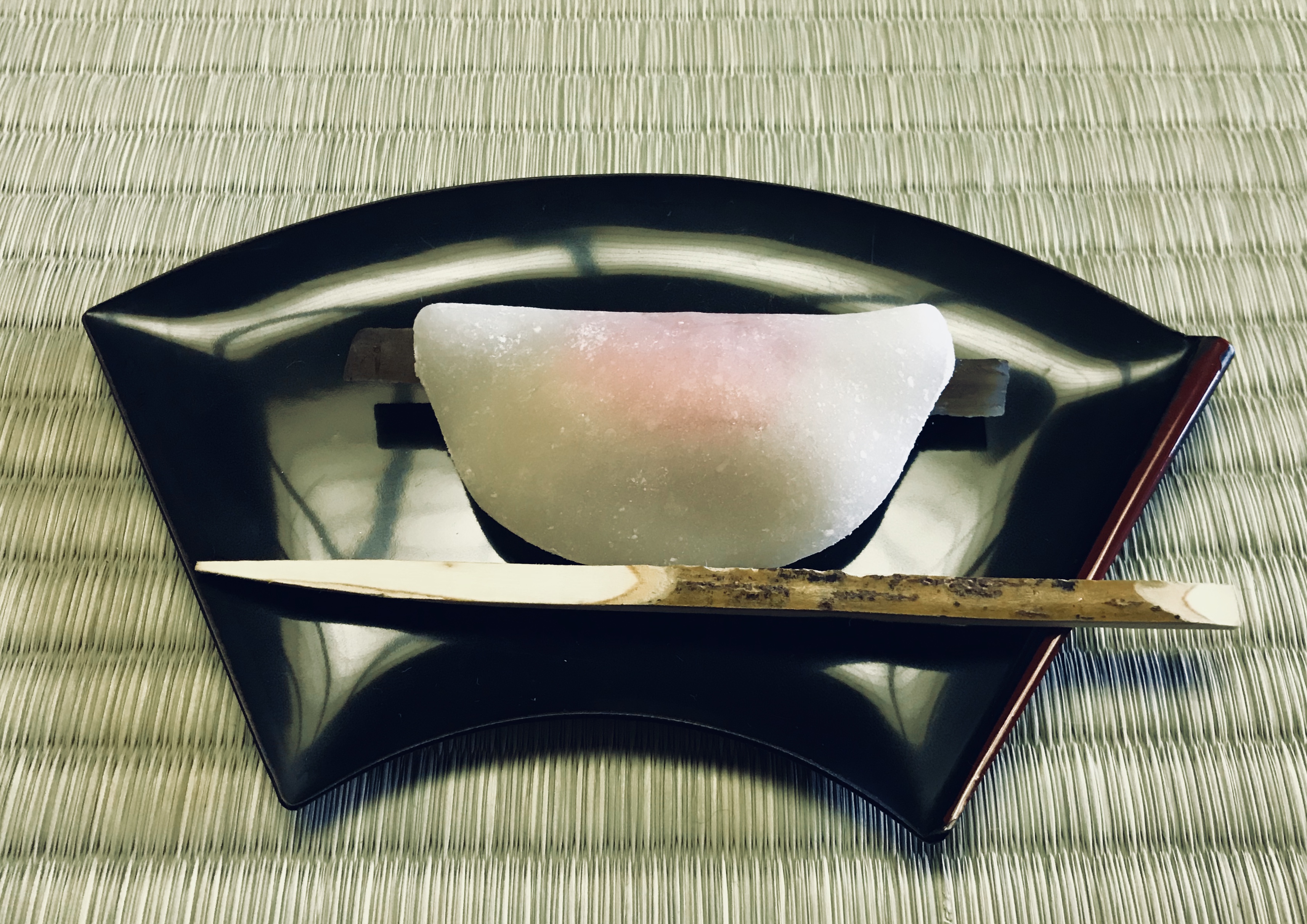 I usually don't like the tea ceremony desserts because they're made with Azuka bean, but this one had a different filling and was actually amazing!
She then started the tea ceremony, making me the foamy matcha drink: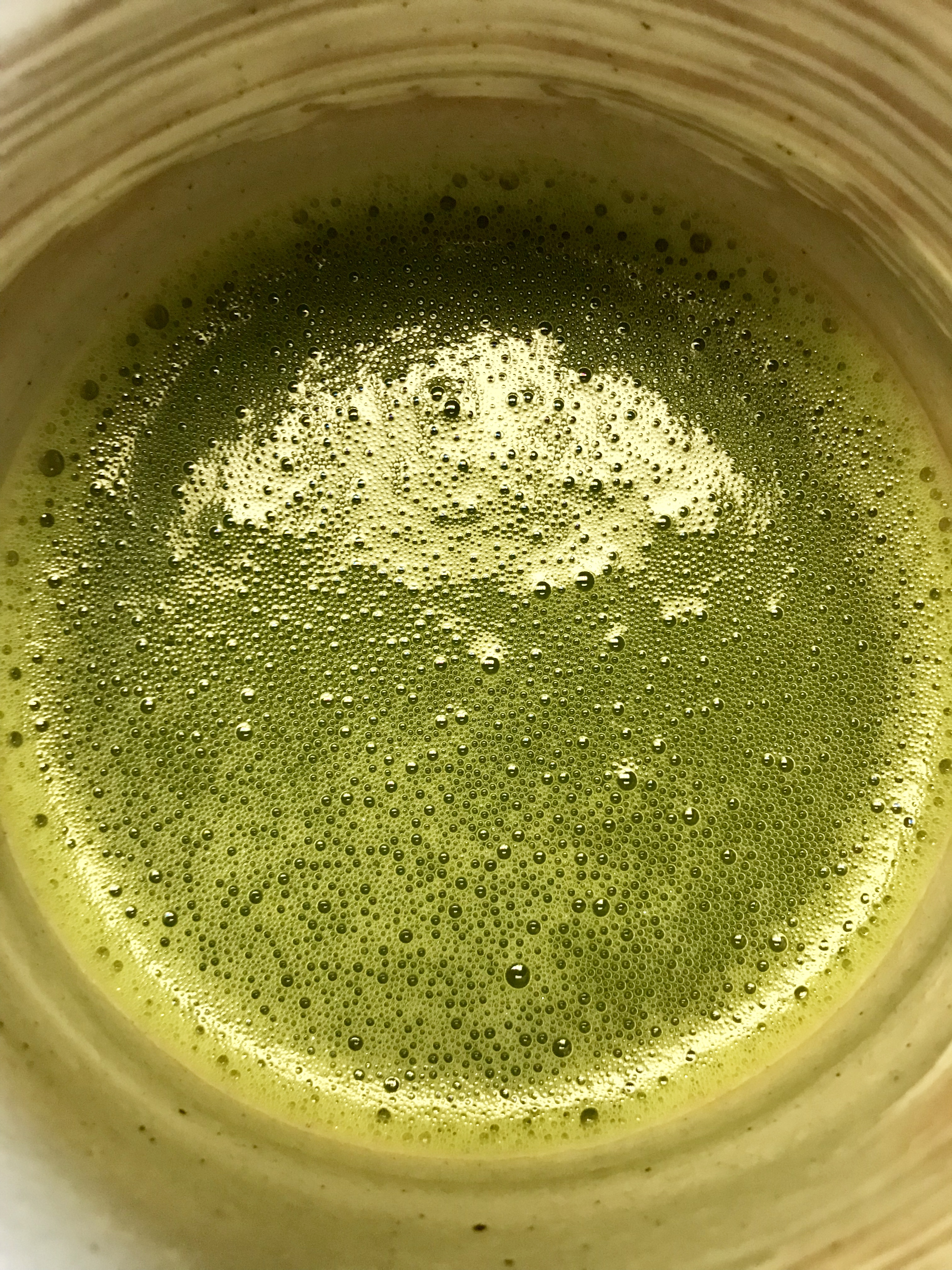 I thought I was done, but she urged me to try my own tea ceremony 😱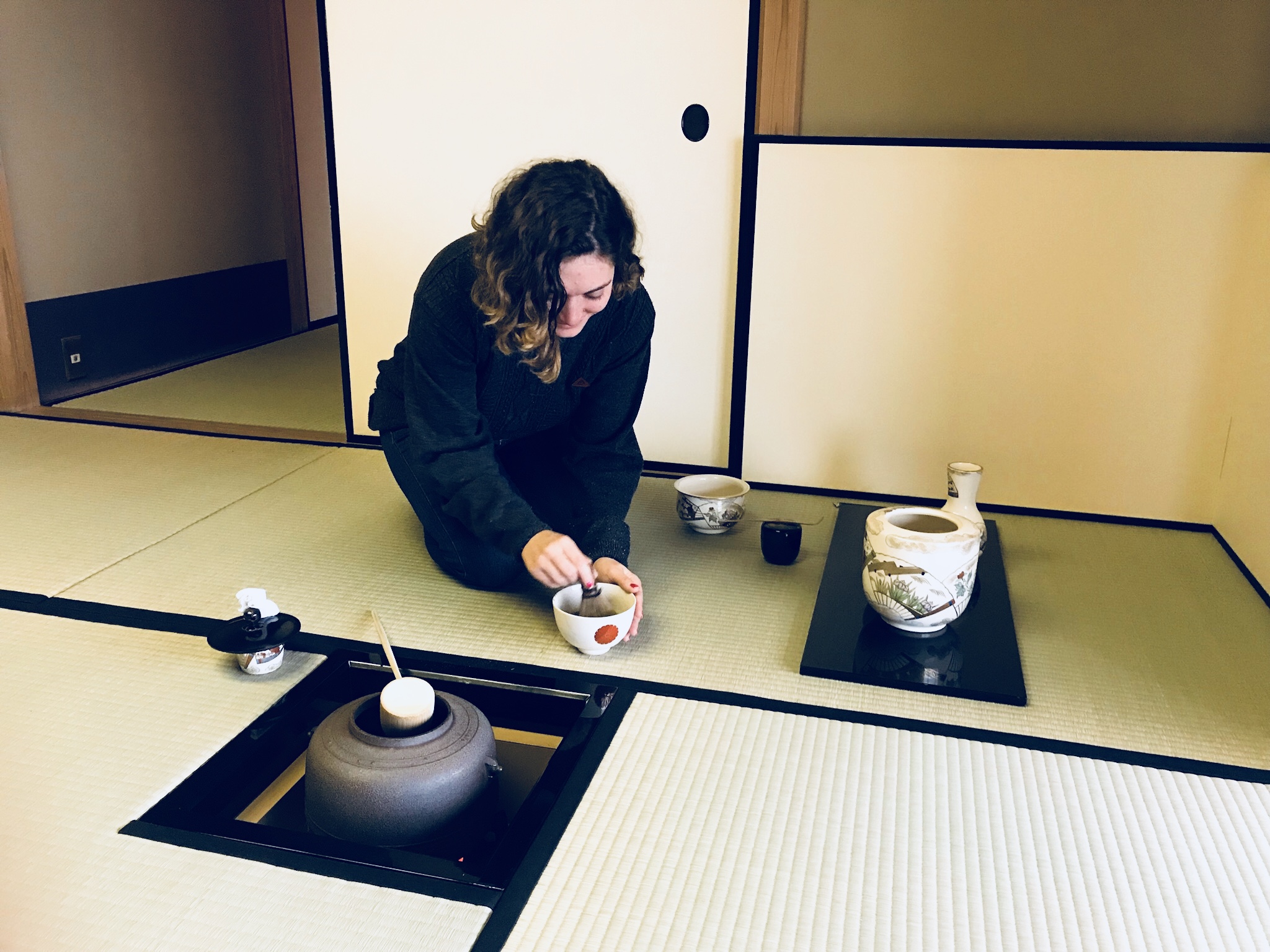 Needless to say, I couldn't mix the matcha in a proper way to make the pretty foam. But it was ok… she fixed it for me and I got another cup of tea :)
Watching the tea ceremony is very zen. The hostess takes great care of every detail, even how everything is put away at the end: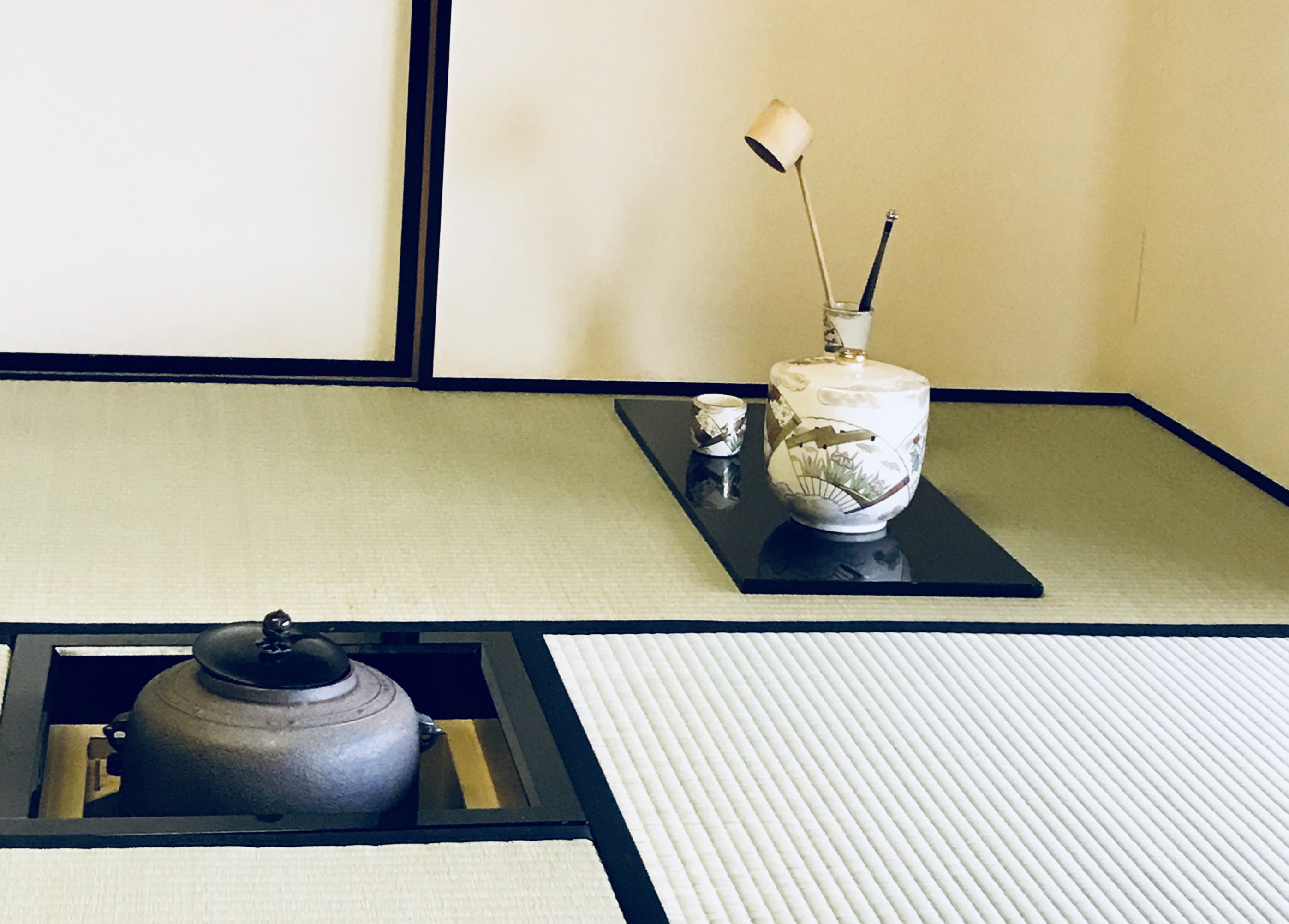 Perfection!
Romantic Sunset Ride… all by myself!
After an amazing late sushi lunch, I started heading toward Chinatown. The route took me past Cosmo World, Yokohama's theme park, at which point I couldn't resist riding the giant ferris wheel… just in time to watch the sunset!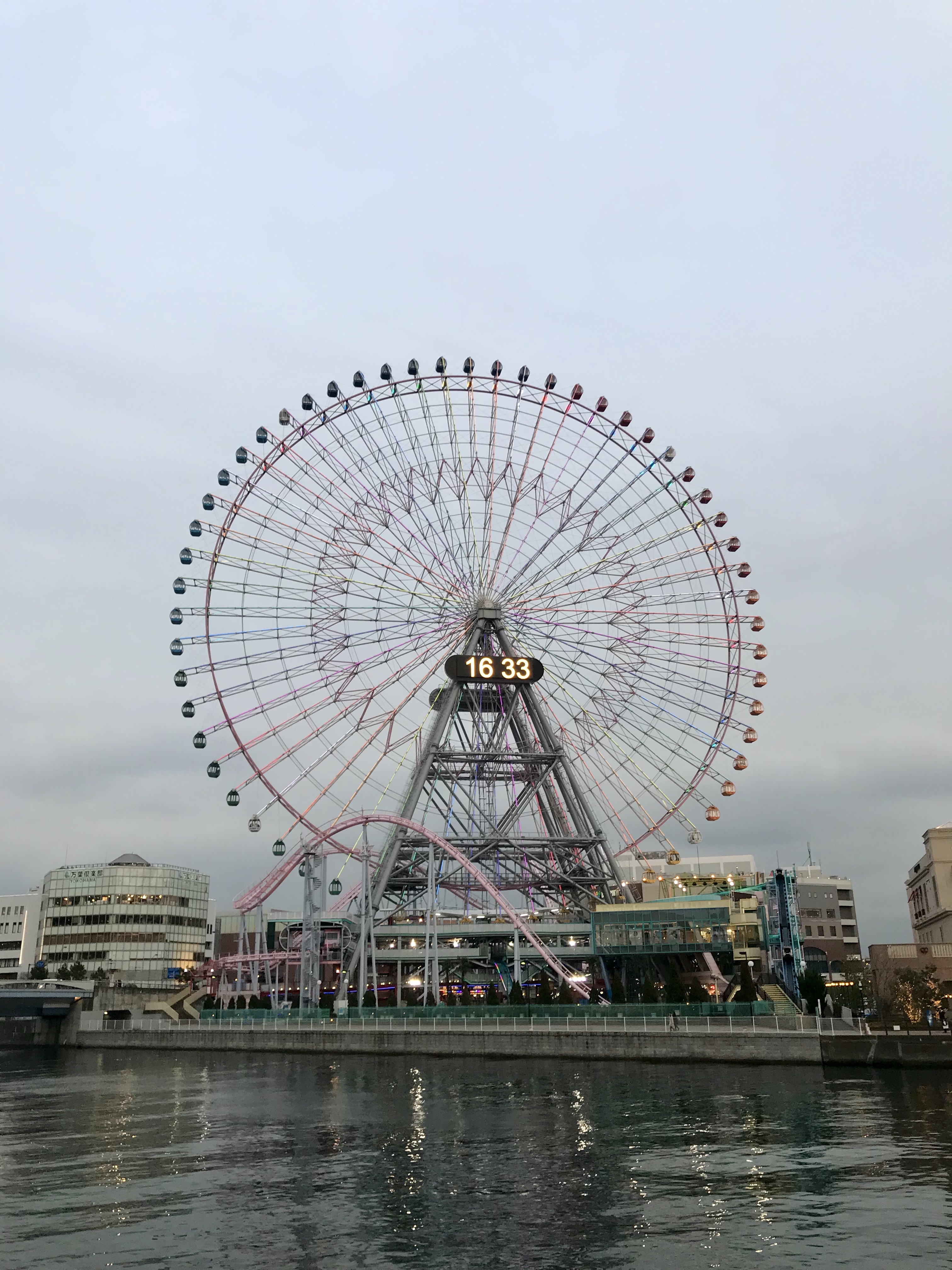 I got the entire gondola to myself!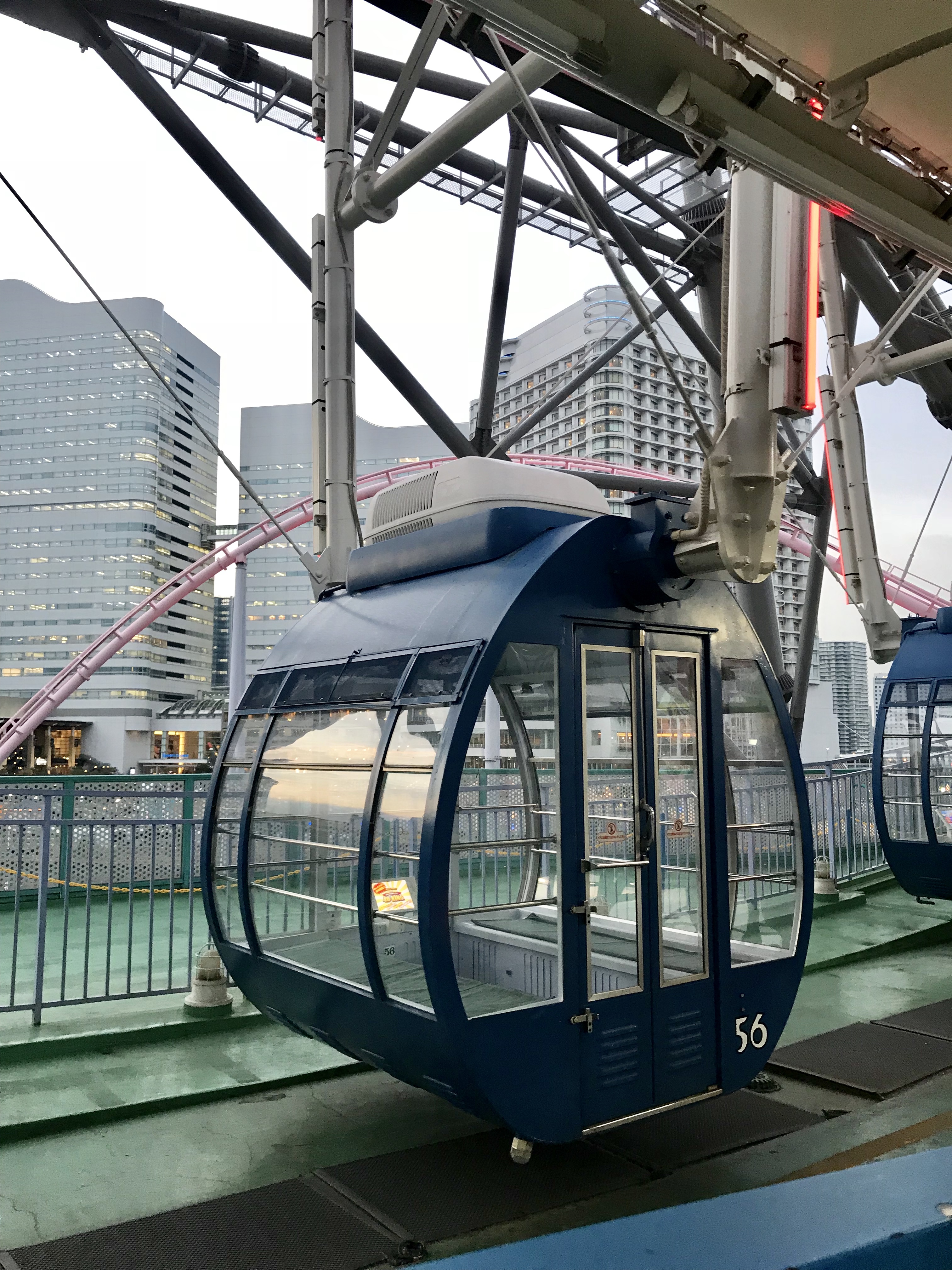 It wasn't the most epic sunset, but I enjoyed the ride and the view regardless :)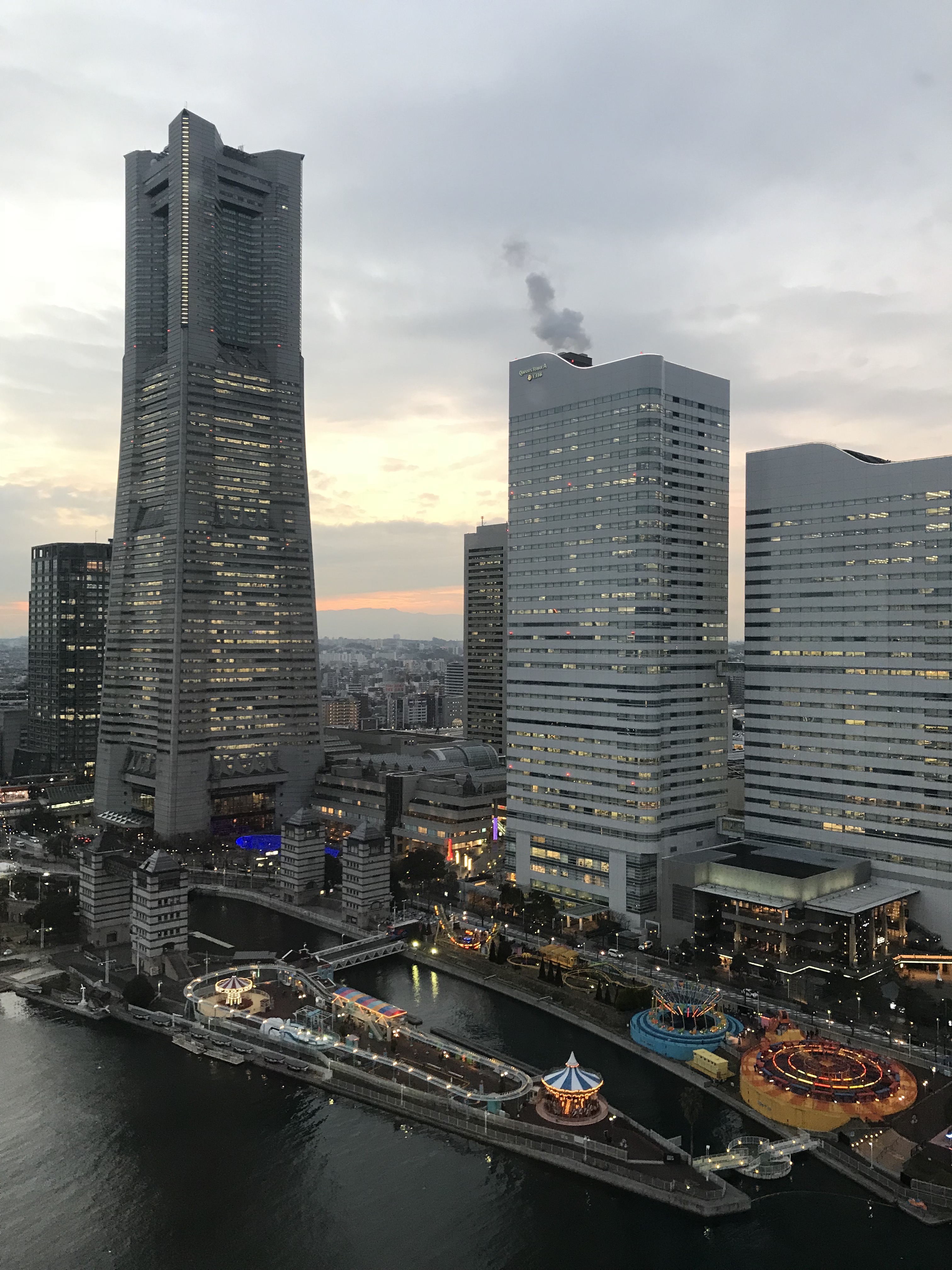 I could also see the fun rollercoasters of Cosmo World!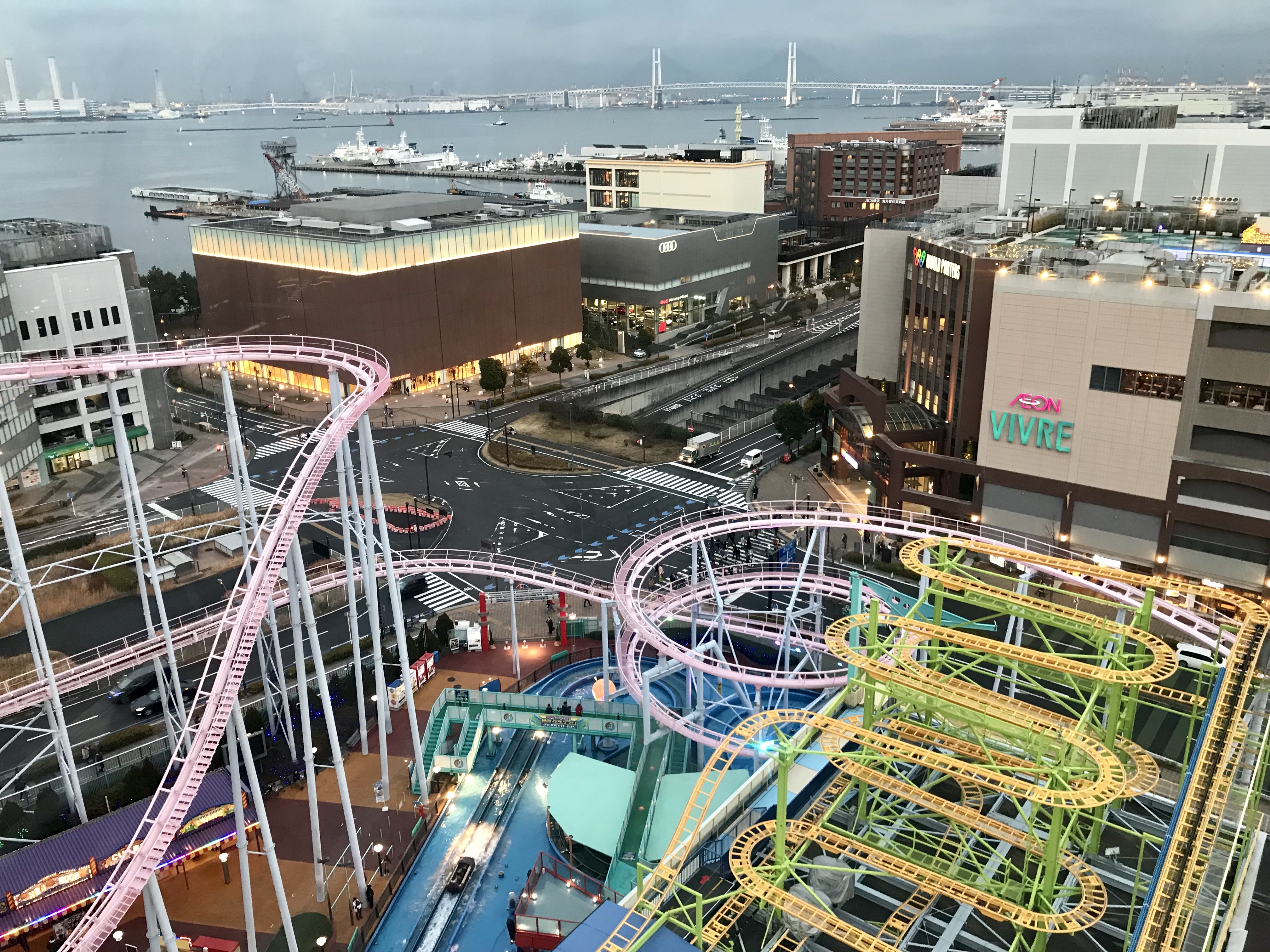 A Beautiful Night Stroll
One of the best things about Japan is that there is pretty much no crime. Even if you pass out on the street with your wallet fallen out next to you, you'd wake up with your wallet still there! I once ate a fancy cafe in Ginza, where a very fashionable woman didn't think twice about leaving her very expensive purse unattended when she needed to use the restroom.
This safety includes walking at night. While I'm cautious in pretty much every other place in the world, walking alone as a woman at night is completely safe in Japan. It's such a relief to just enjoy the night without all that fear!
So I enjoyed walking through Zou-no-hana Park, along the port. I loved running into the incredible Red Brick Warehouse that has been converted into a fancy high-end mall: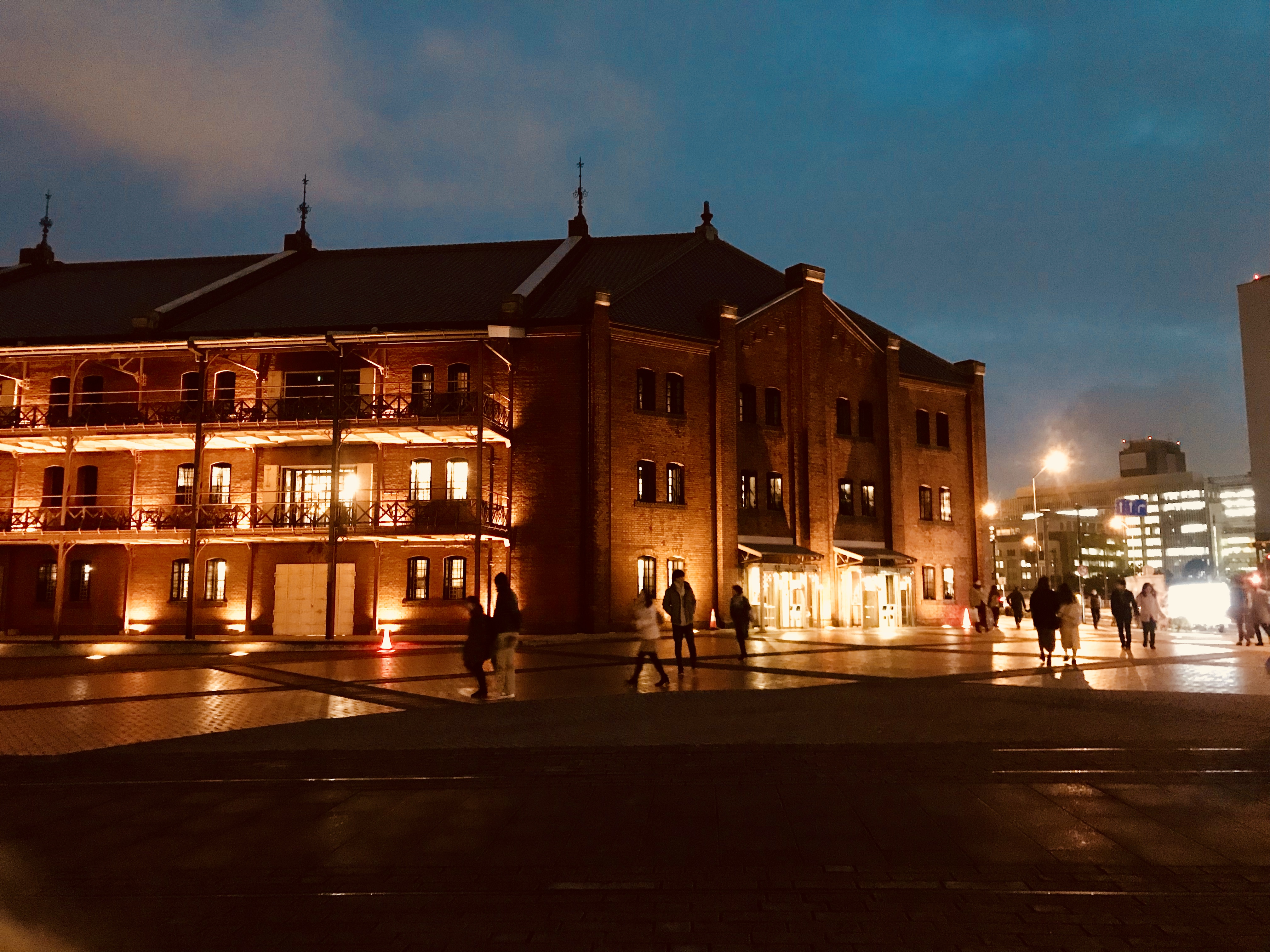 Next to it was an artsy ice-skating ring, with beautiful murals like this one: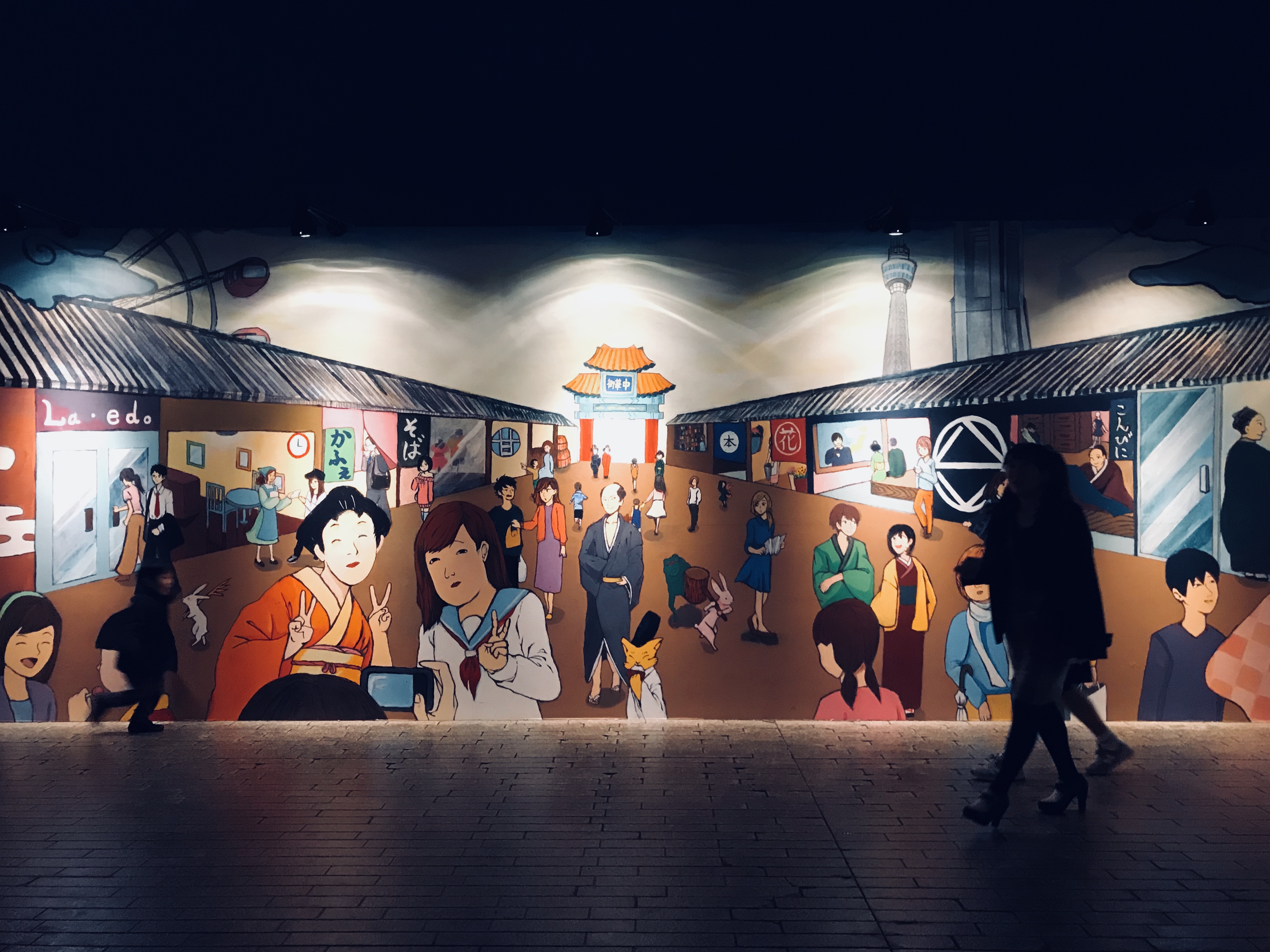 I loved the mix of old (kimono), with the new (selfie!).
And, of course, it was great to see the city lit up at night: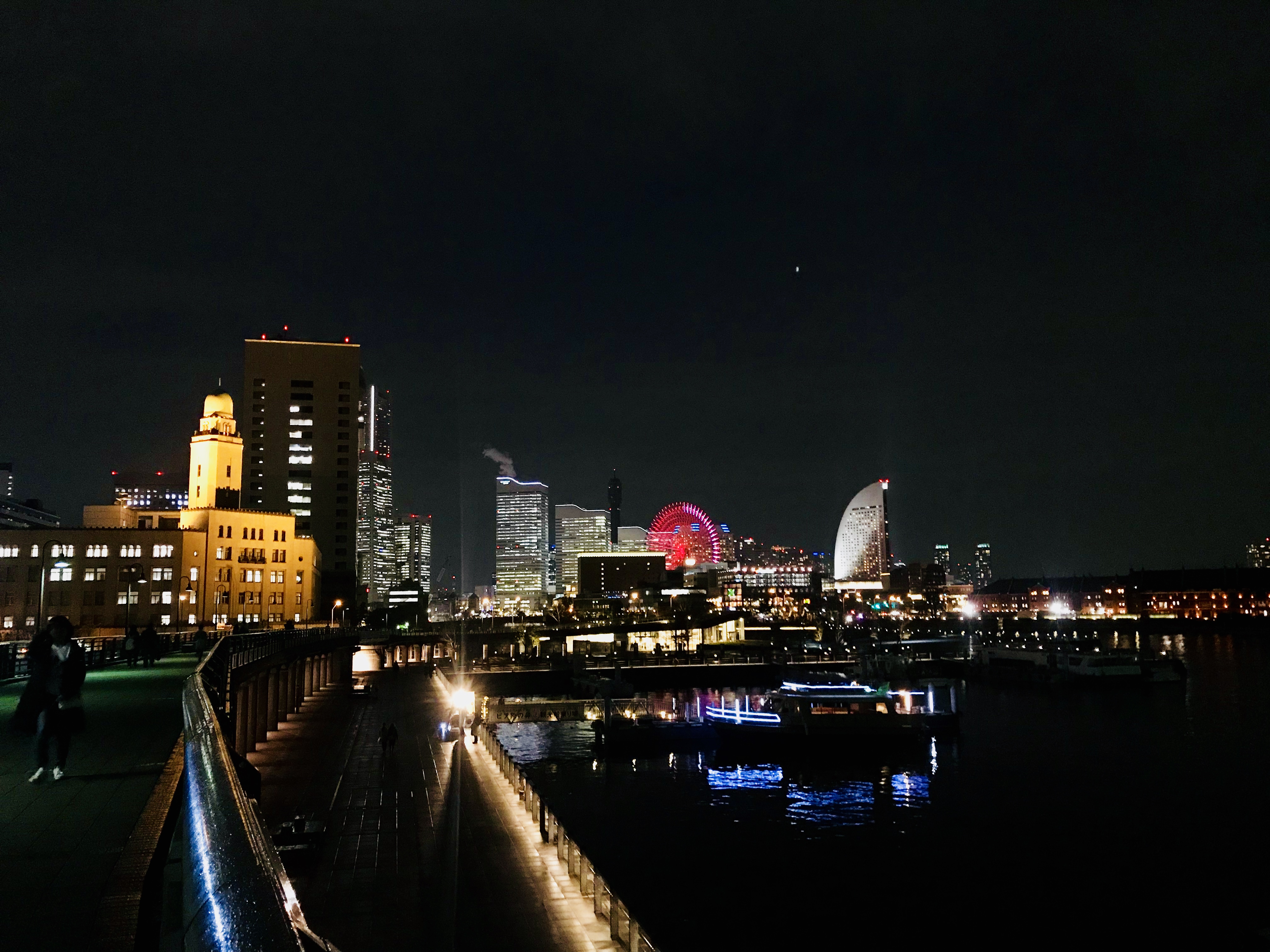 Chinatown
Yokohama has a very fancy Chinatown: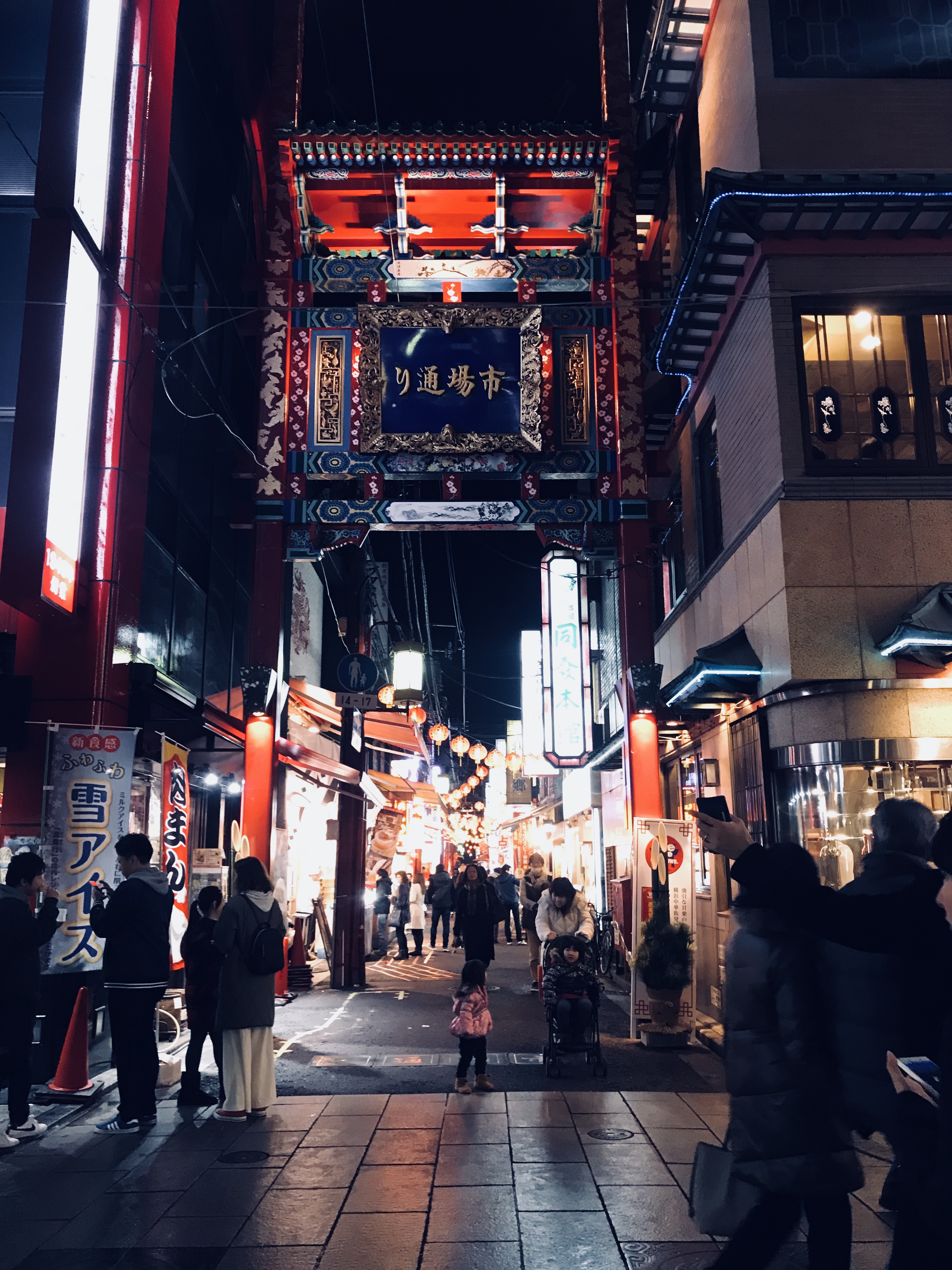 I walked through the lantern-lit streets as vendors were selling goodies and trying to read fortunes. I got myself a sesame ball sweet: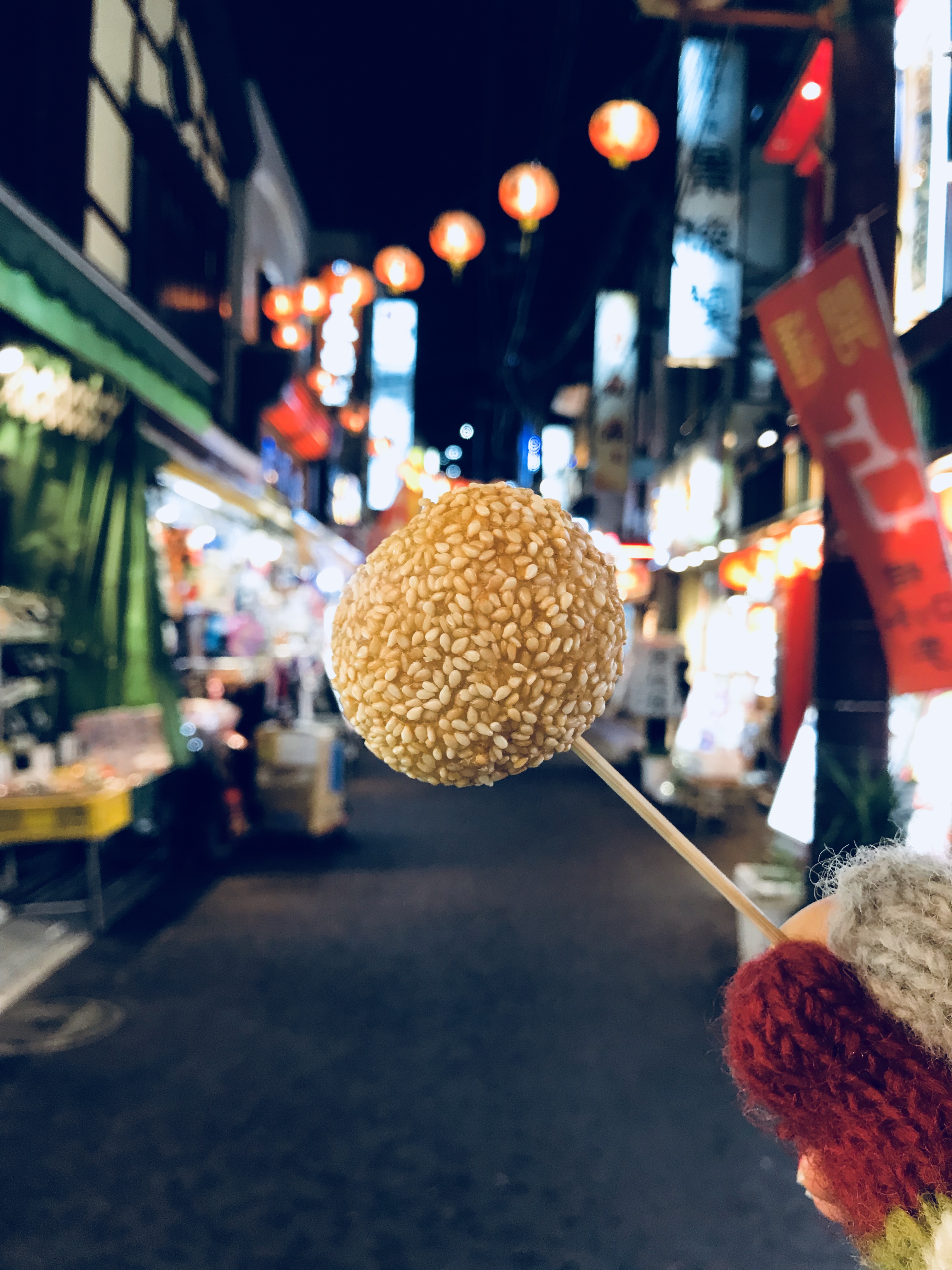 I ended the night at Monkey-Magic Teahouse, a traditional Chinese tea house, with flowers and chocolates for myself: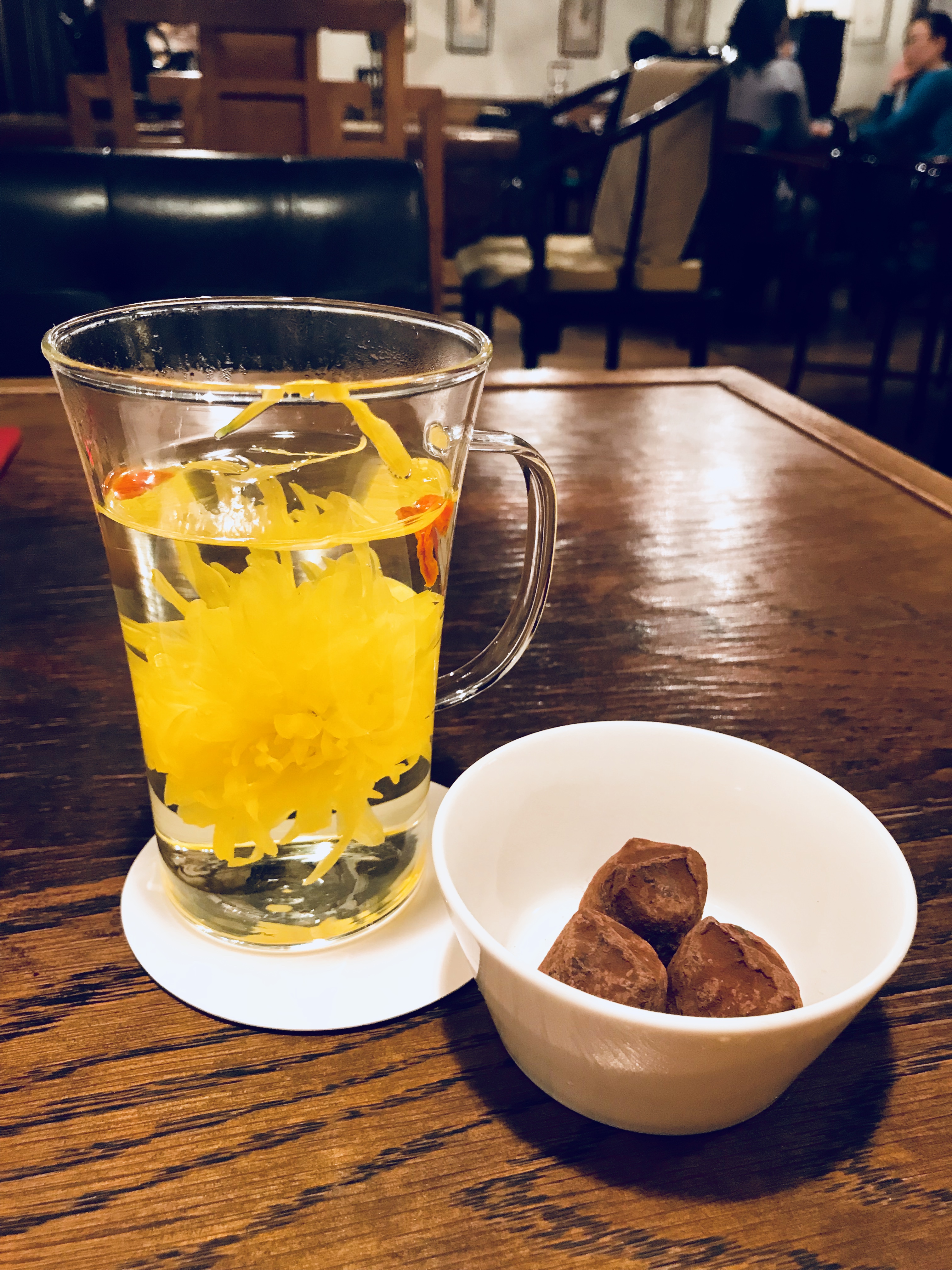 The absolute perfect ending to the day!
Au revoir
Despite my initial reservations about Yokohama, I was super sad to leave. I really enjoyed the day!
The cool thing about it is that it's a city with a ton of fun stuff to do and great food to eat, but it is small and walkable. I didn't have to take any public transportation to any of the areas I mentioned - I just walked! It also lacks the fast-paced energy of Tokyo, so it very relaxing.
The next big thing on my Yokohama list is visiting the Ramen Museum - unfortunately, it was actually too far away for walking. I'll have to make a special trip there next time!