Adam & Eve: An Authentic Korean Scrub in Tokyo!
NatashaTheNomad
01/03/2018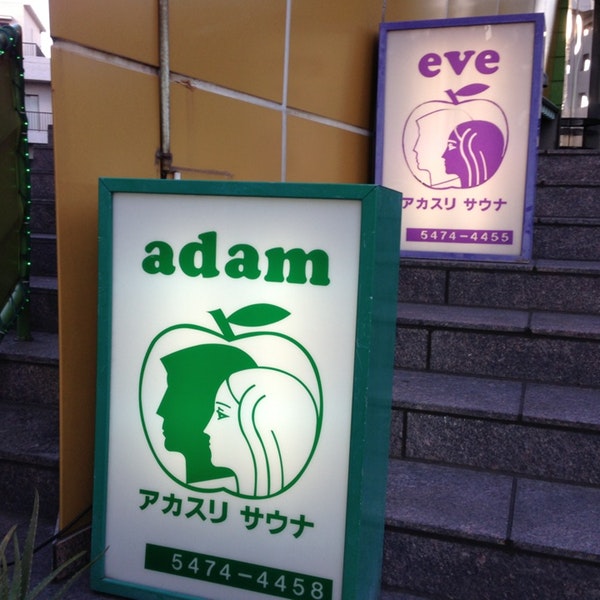 By far, one of my favorite things in South Korea was going to the Dragon Hill Spa and trying out all the treatments. The most memorable one was the traditional Korean body scrub.
I've been searching for this scrub all over the world since then, but the best I get is getting gently scrubbed with soap that includes some bubbles - basically an exfoliating scrub you can get in any generic grocery store in the U.S. and Europe.
So I was super excited when I learned about Adam & Eve Day Spa in Tokyo - they offer THE SCRUB!!!
The Scrub
So what is this special scrub?!!! It's definitely not for the weak. The lady puts on gloves made out of the material similar to what you'd use to scrub rough pots and pans in your sink, and proceeds to rub your body in a similar fashion - as if you just cooked rice and it all got stuck to the bottom of the pan!
Soon, you can see all your dead skin on the table! This is when you realize you're not as clean as you thought…
The Facilities
Adam & Eve, so nicely named!, is separated into two sides, one for women (Eve) and one for men (Adam). In the Eve part, there is a rock bath, a mist sauna, a dry sauna, and a bedrock bath:
"Bedrock bath using various materials such as, yellow clay, charcoal and gold etc. By warming up the body, metabolism is improved having the body de-tox. Its middle temperature which is 50~55 degree cel, is very effective while not giving too much pressure to the body."
I took use of these facilities before my scrub. I really enjoyed the bedrock bath, taking my time to warm up different sides of my body.
The Bamboo Salt Massage
After the intense scrub and shedding a layer of my skin, I signed up for a healing Bamboo Salt ("Takeshio") Massage:
"What "Takeshio" is that pack the salt into the bamboo, burnt many times, and made into powder form. Then, creamed by mainly using brown sugar and eggs, etc. The skin will be gently protected by this cream. It is effective in not only after the body scrub but the recovery of tiredness and beautiful skin; it is a massage we highly recommend. When the massage is performed, the cucumber packing with whitening effectiveness is given to the face."
This massage was heavenly!!! I felt very relaxed, feeling my skin softening under this mixture.
Results
I mean, you can't argue with the effectiveness of the scrub when you literally see your dead skin on the table beside you! You can also feel your pores opening up, breathing now that they are not blocked by all that dead weight, and you can feel your circulation in action.
The day after, my skin was sooooo incredibly new and fresh and soft. I'll need to go to Adam & Eve once more before leaving Tokyo!