Beautiful Pokhara
NatashaTheNomad
11/19/2020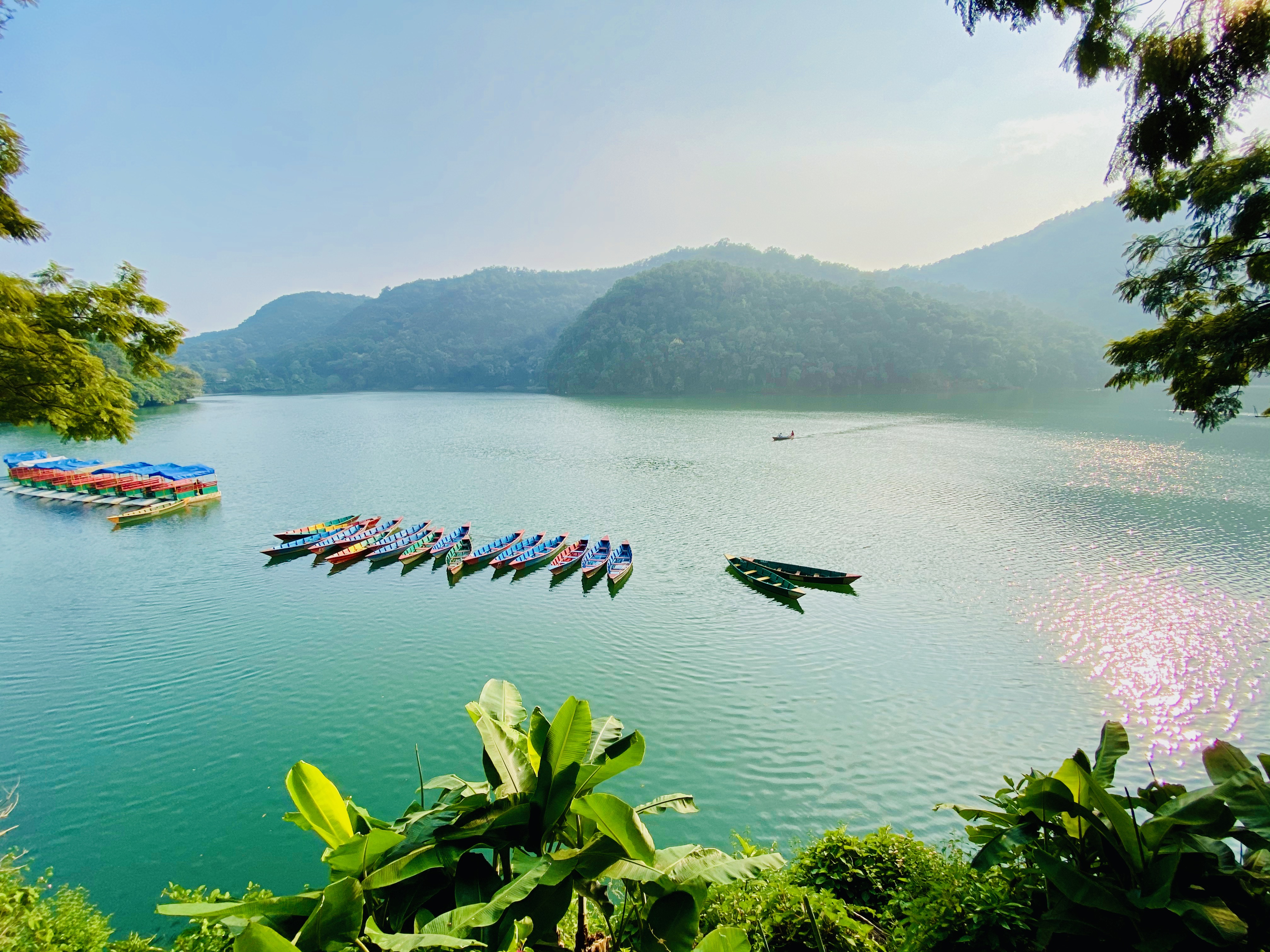 While some stress-cook, I stress-travel. That's just what being a nomad is… So when things didn't go as planned once again, I decided to run away to Pokhara. Pokhara is a city in Nepal that is only a 25-minute plane ride from Kathmandu (or 5+ hours by bus). I took Yeti airlines… yes, Yeti!

I had no idea what to expect, but I left filled with breathtaking beauty and ready to take on the next sets of challenges..
Dahlia Hotel
I arrived to Dahlia Boutique Hotel, where I got to stay at a super low prices since I was one of the few tourists there compared to usual number of tourists that stay there in non-pandemic years. Immediately, I was greeted with incredible views of the Annapurna Mountain Range from their rooftop: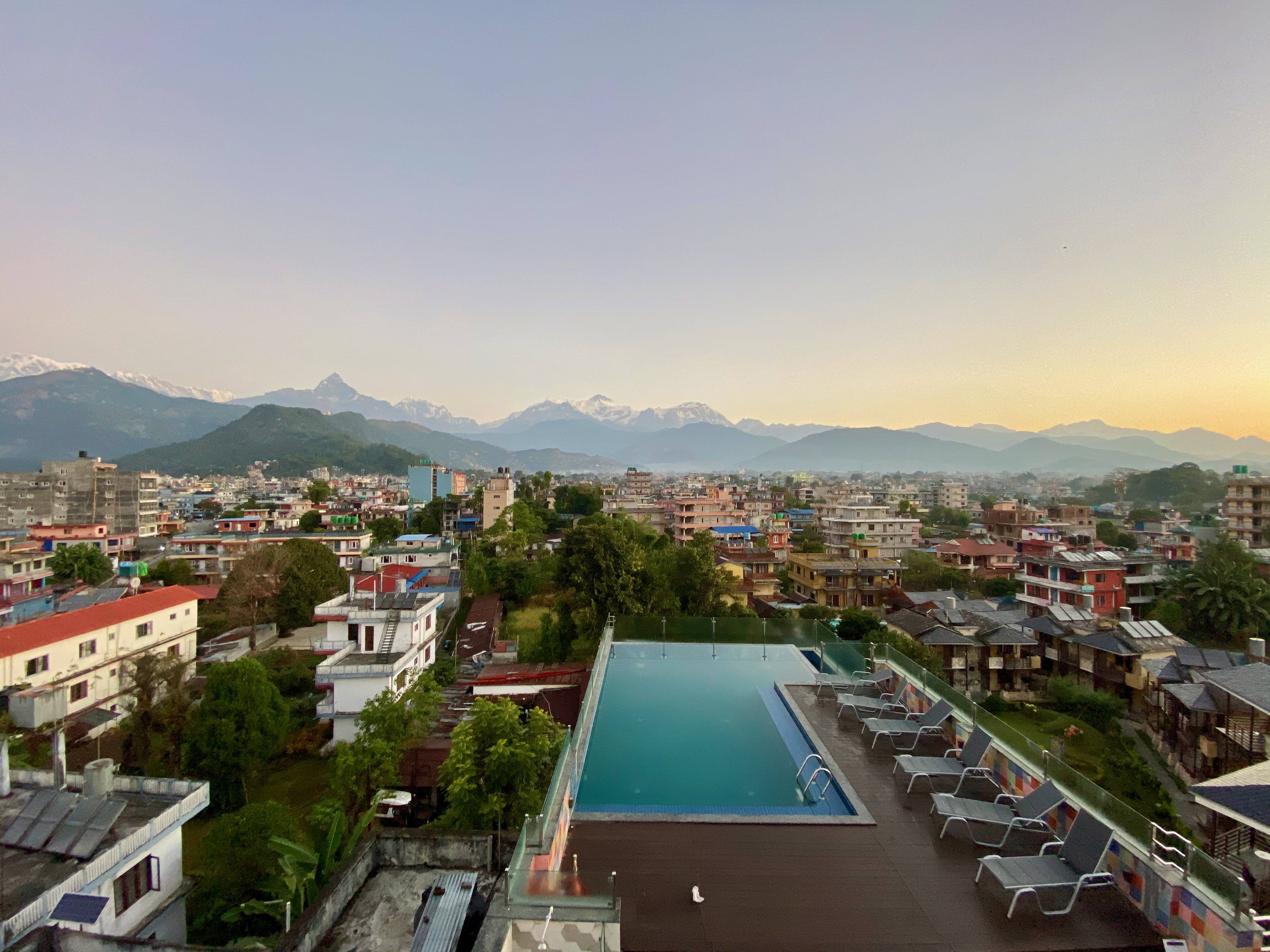 I made sure to visit the rooftop at night, to see the full moon as well: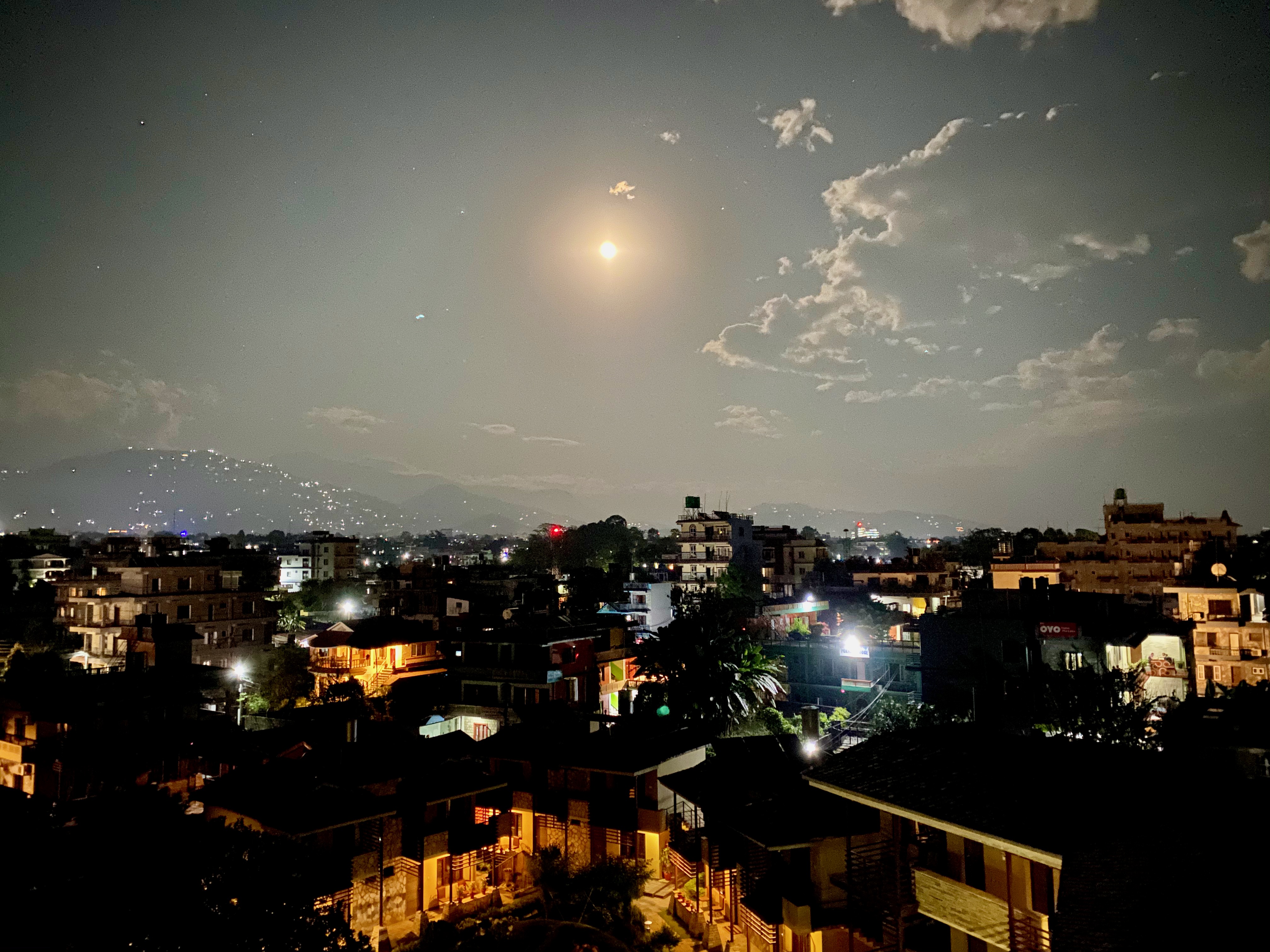 And of course, the spectacular mountains standing up like ghosts in the night: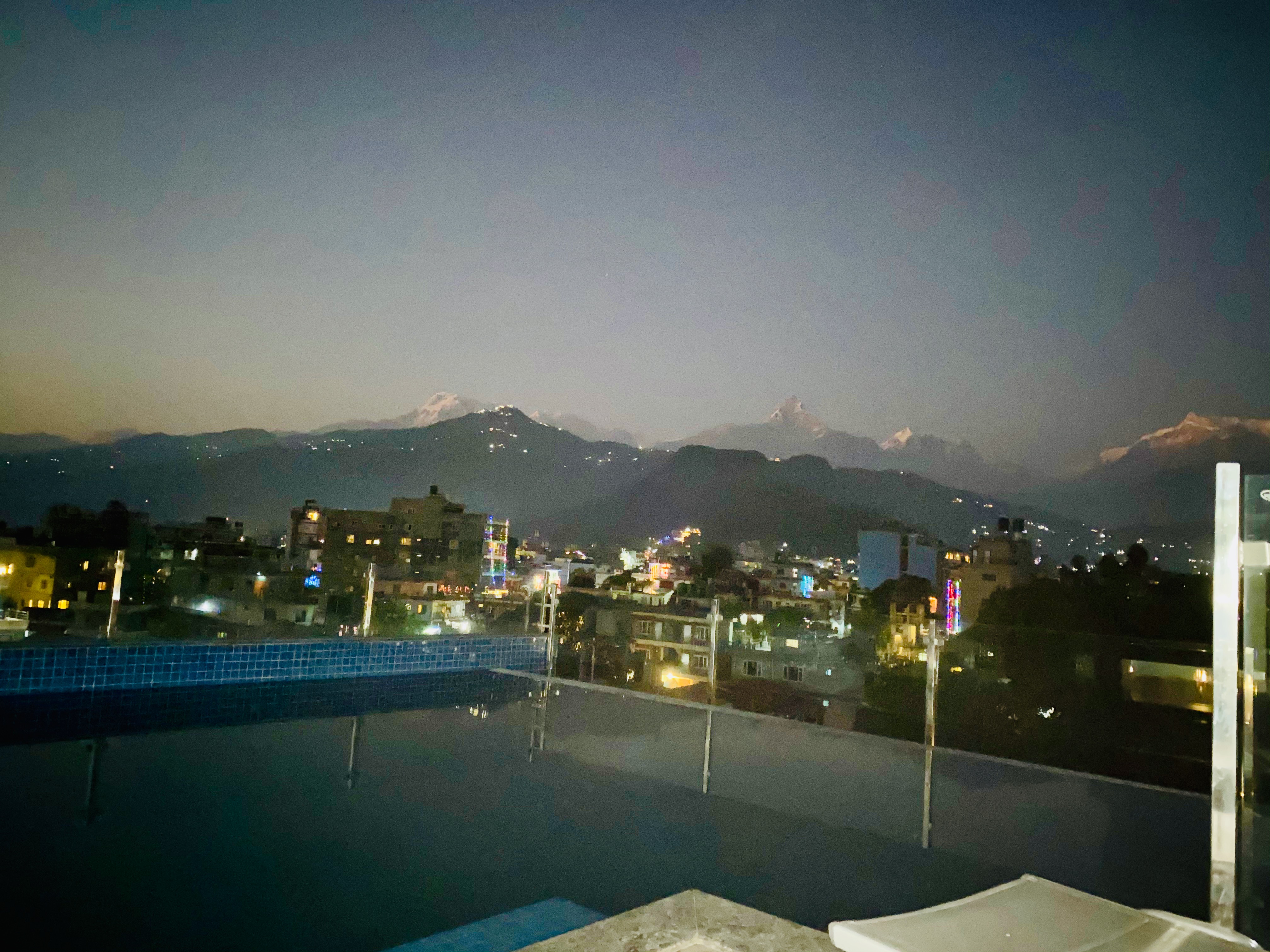 The manager of the hotel was super nice and helped me almost daily with excursion plans. He took the time to draw out everything for me, in a way that I felt safe going and exploring on my own.
They also stored my luggage when I went trekking. And when I needed a COVID test, they went out of their way to call 10+ places to find one that was open on a holiday, and the manager explained where to go to the taxi driver. Amazing and personal customer service that I've only experienced in Nepal!
Throughout my stay, I became comfortable in my new Himalayan office at the hotel…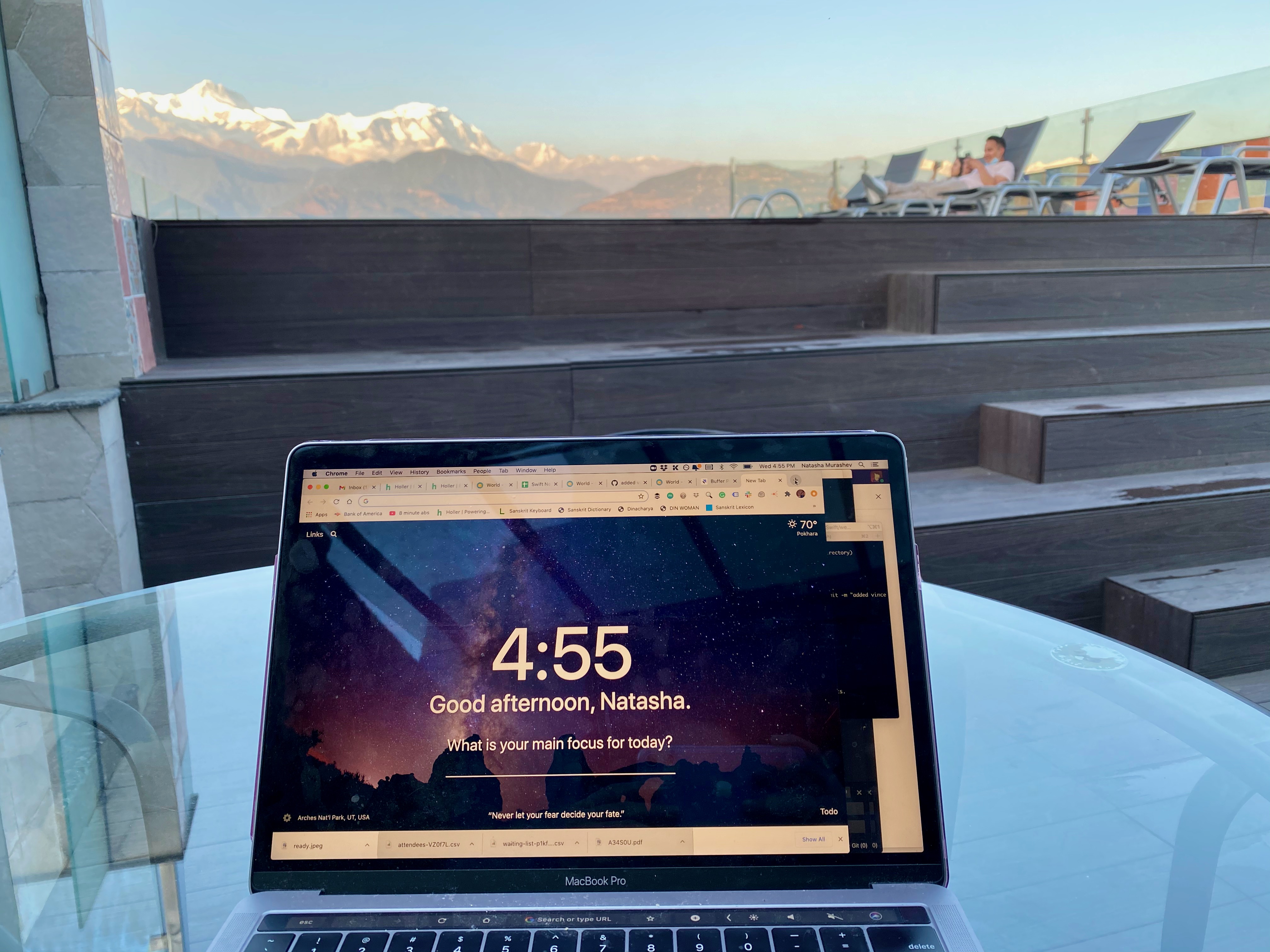 World Peace Pagoda
Since my first day in Pokhara coincided with November 4th, the day of US elections, I felt it was the perfect day to visit the famous World Peace Pagoda.
To get to the beginning of the hike, I had to take one of the colorful boat across the gorgeous lake: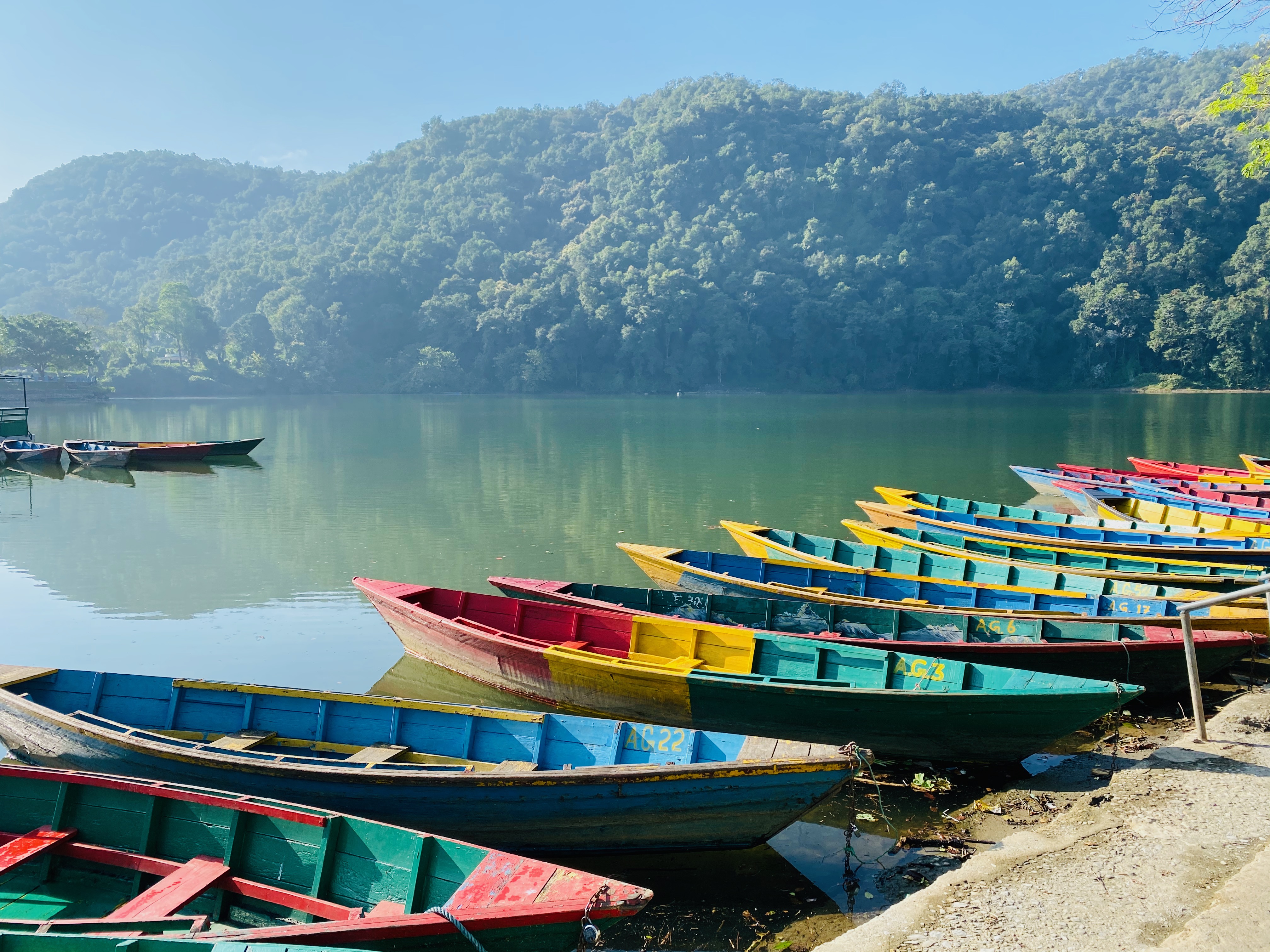 I hired a rower to take me, but he let me row once or twice… wheeeeee!!!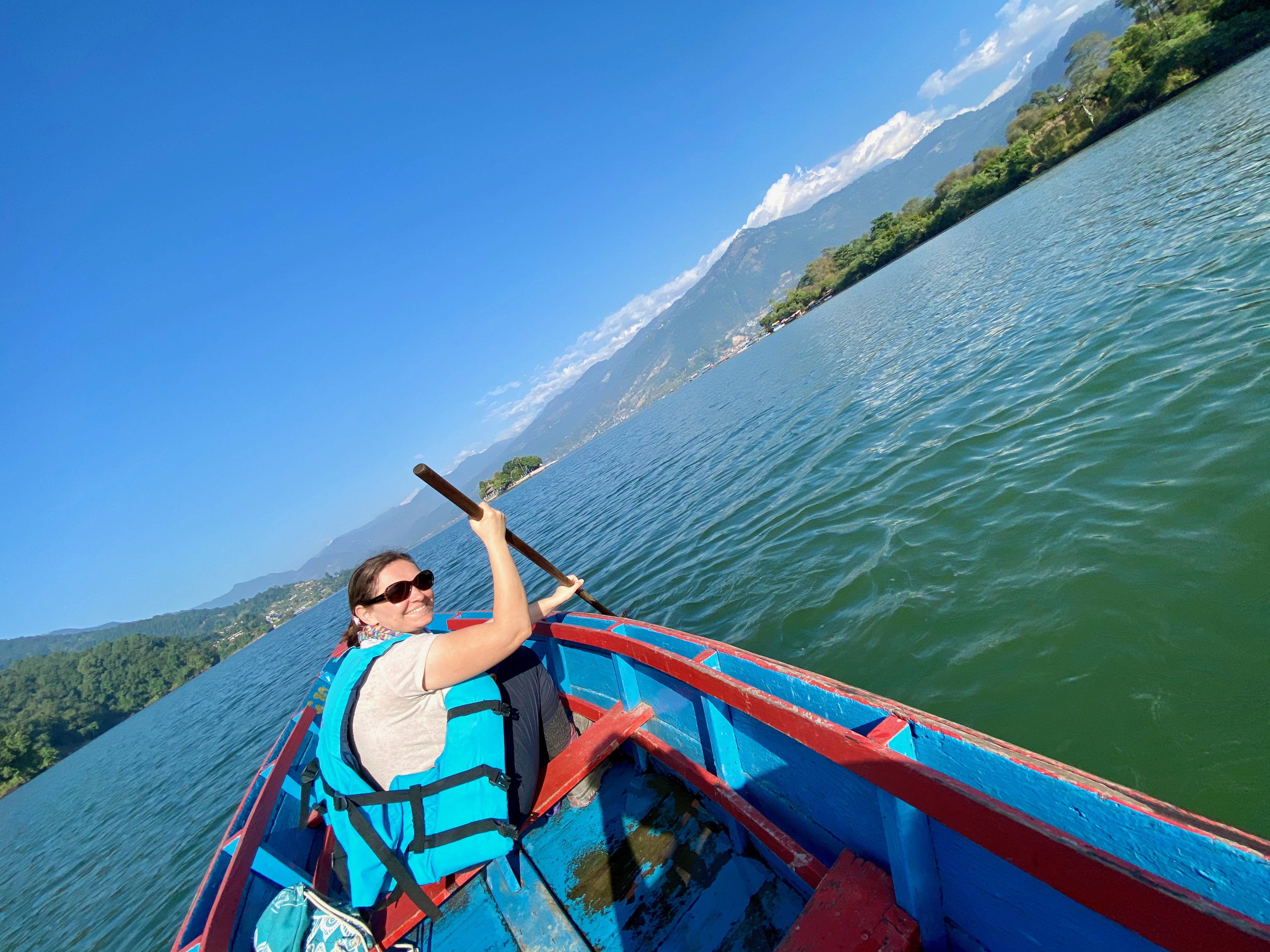 We arrived, and I started my hike. All alone. The hike up was mostly made of stairs, but some were slippery:
At one point, I sat down to take a rest only to see that all the trees around me were moving. Monkeys!!! A ton of them just jumping around minding their monkey business!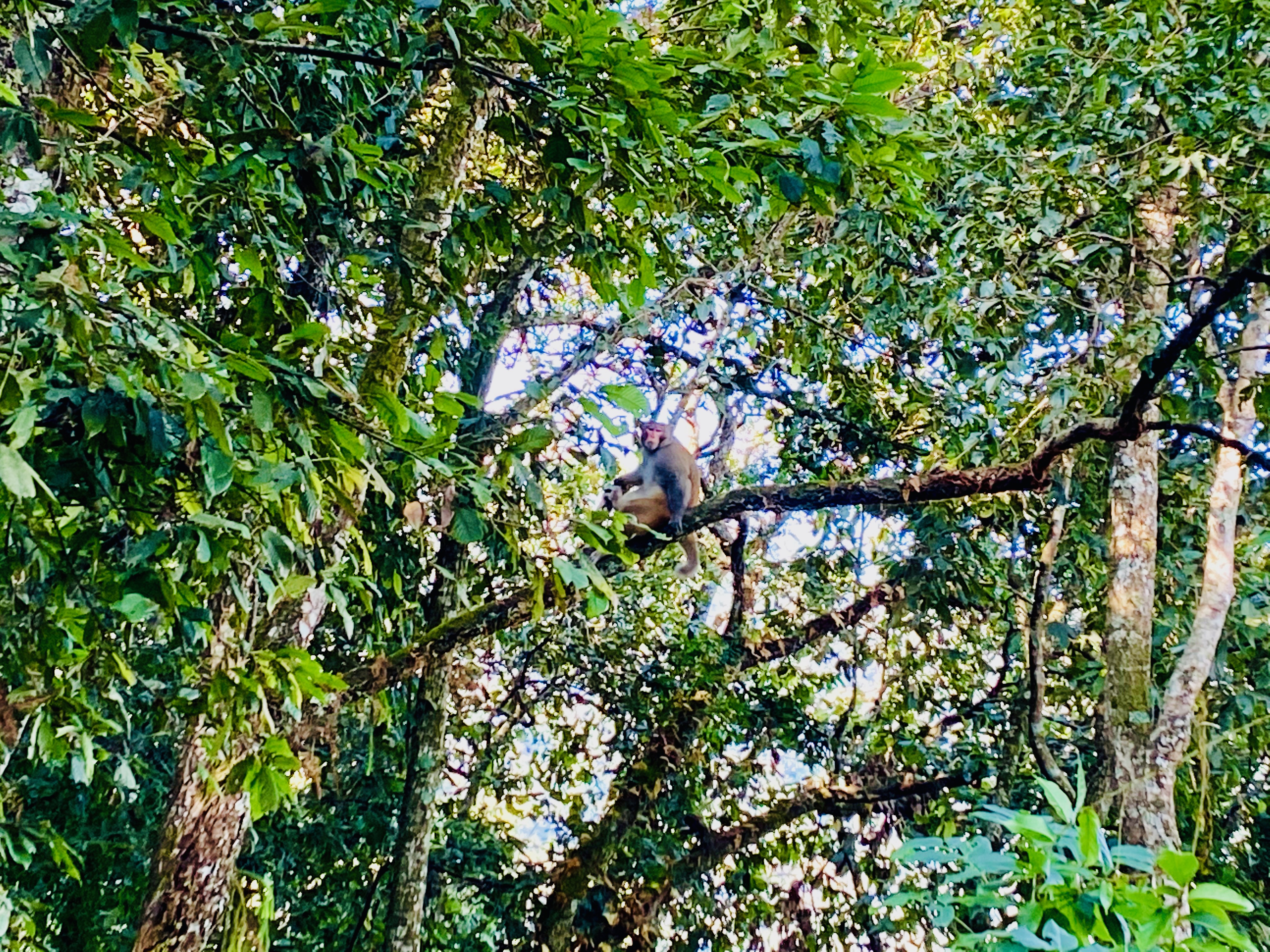 I sat and watched for a while, just getting a private monkey show to myself.
Eventually, I came up to this sign about the World Peace Pagoda: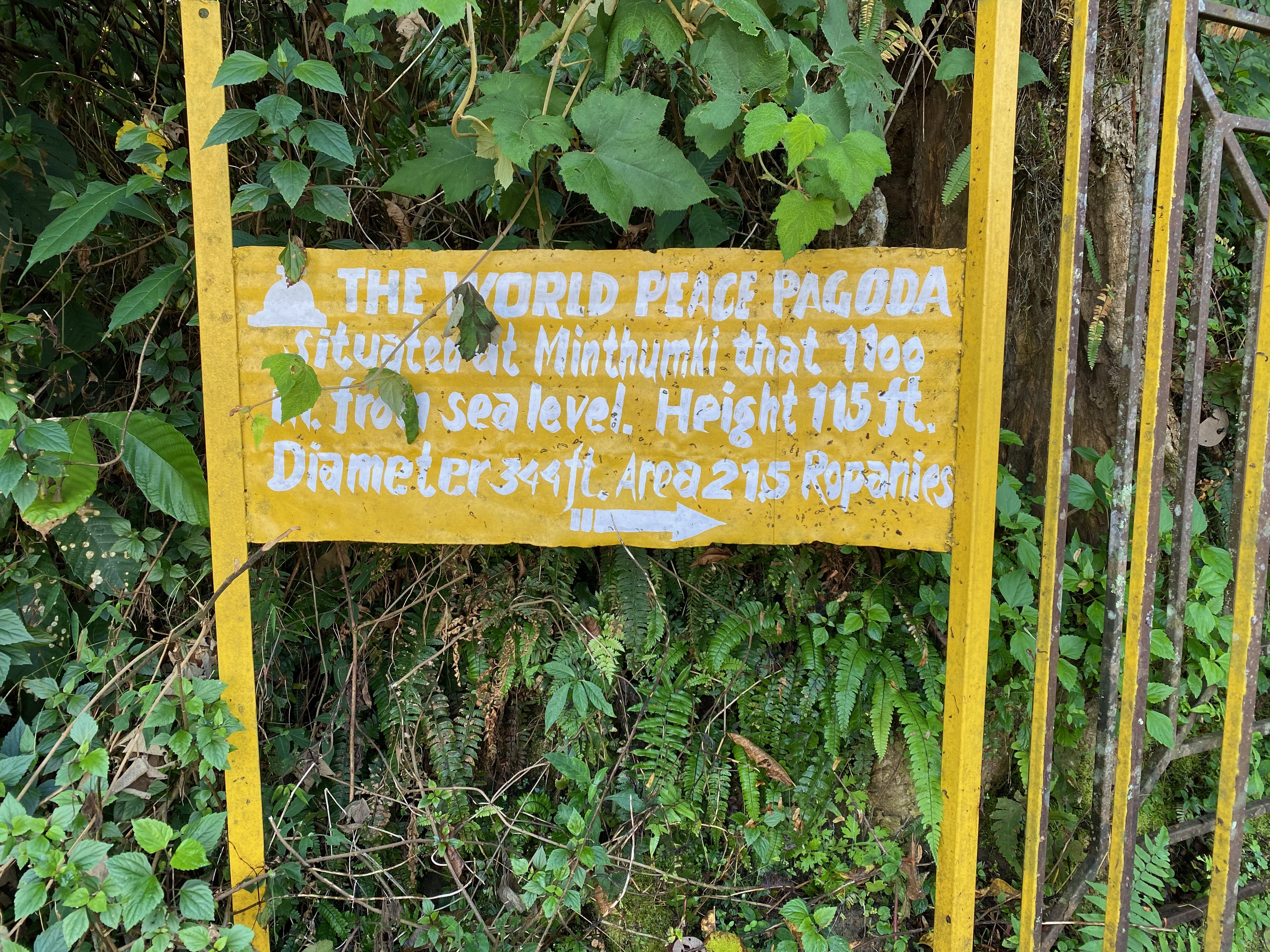 "A Peace Pagoda is a Buddhist stupa; a monument to inspire peace, designed to provide a focus for people of all races and creeds, and to help unite them in their search for world peace. Most (though not all) peace pagodas built since World War II have been built under the guidance of Nichidatsu Fujii (1885–1985), a Buddhist monk from Japan and founder of the Nipponzan-Myōhōji Buddhist Order. Fujii was greatly inspired by his meeting with Mahatma Gandhi in 1931 and decided to devote his life to promoting non-violence. In 1947, he began constructing Peace Pagodas as shrines to world peace. The first was inaugurated at Kumamoto in 1954." ~ Wikipedia
After an hour of climbing up, I finally saw the World Peace Pagoda: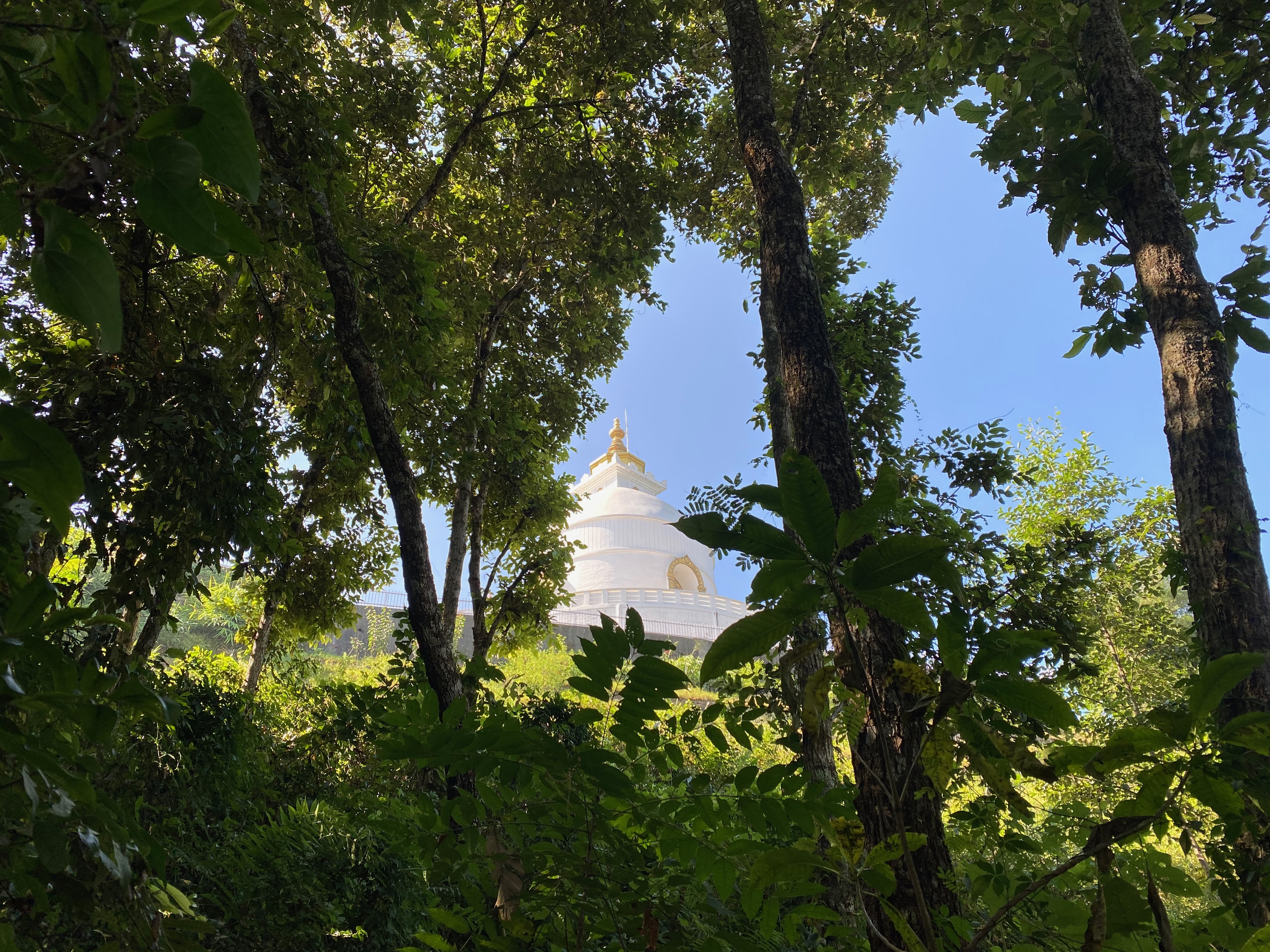 Unfortunately, given how many people usually visit it, the government closed it for tourism. I already knew going up, so I was not disappointed. I kept walking and got a seat at a cafe for lunch with this view…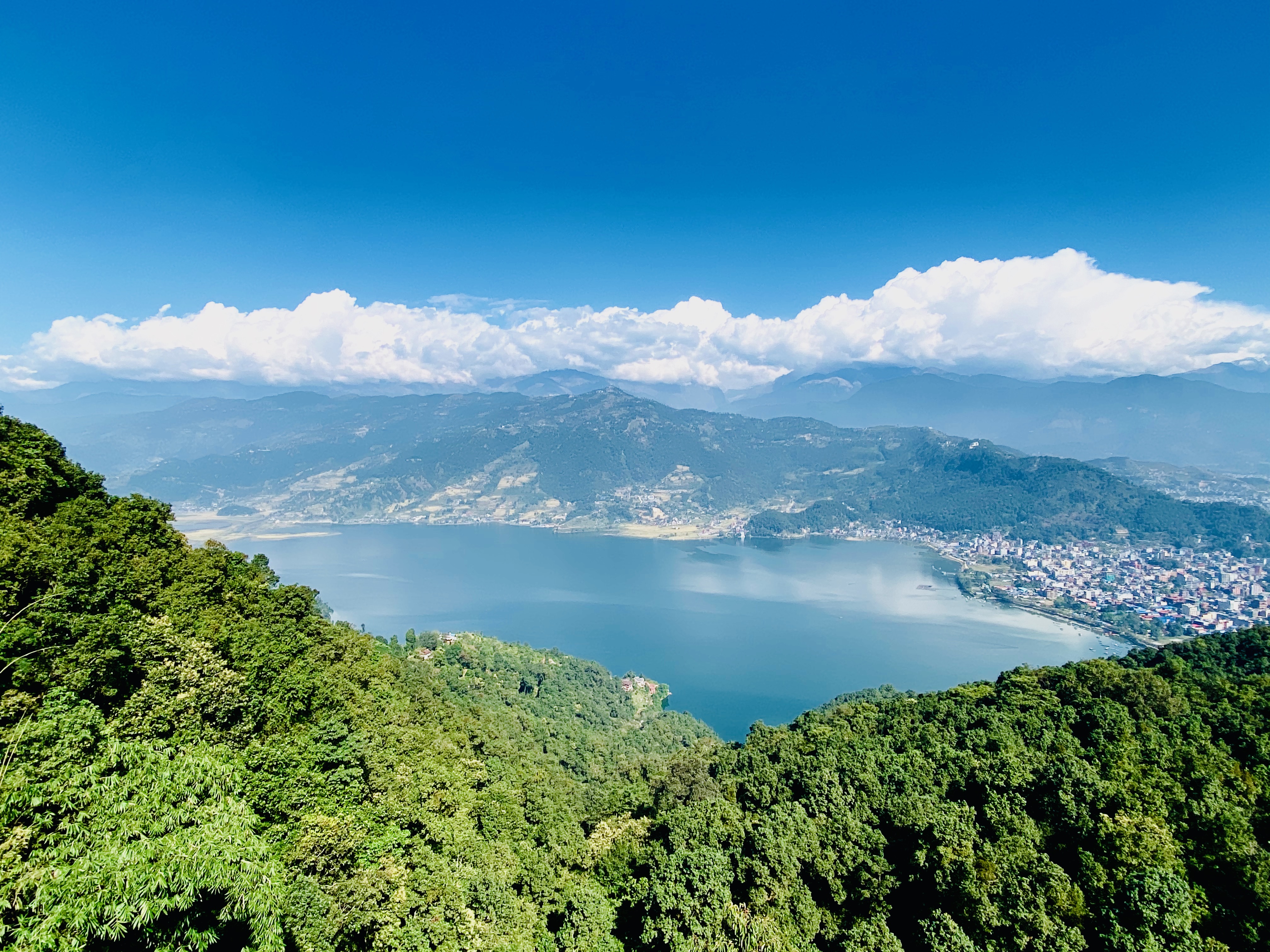 Not disappointing at all…
As recommended by the manager of the Dahlia Hotel, I took a different view down, where I got to see a bit more of the amazing World Peace Pagoda: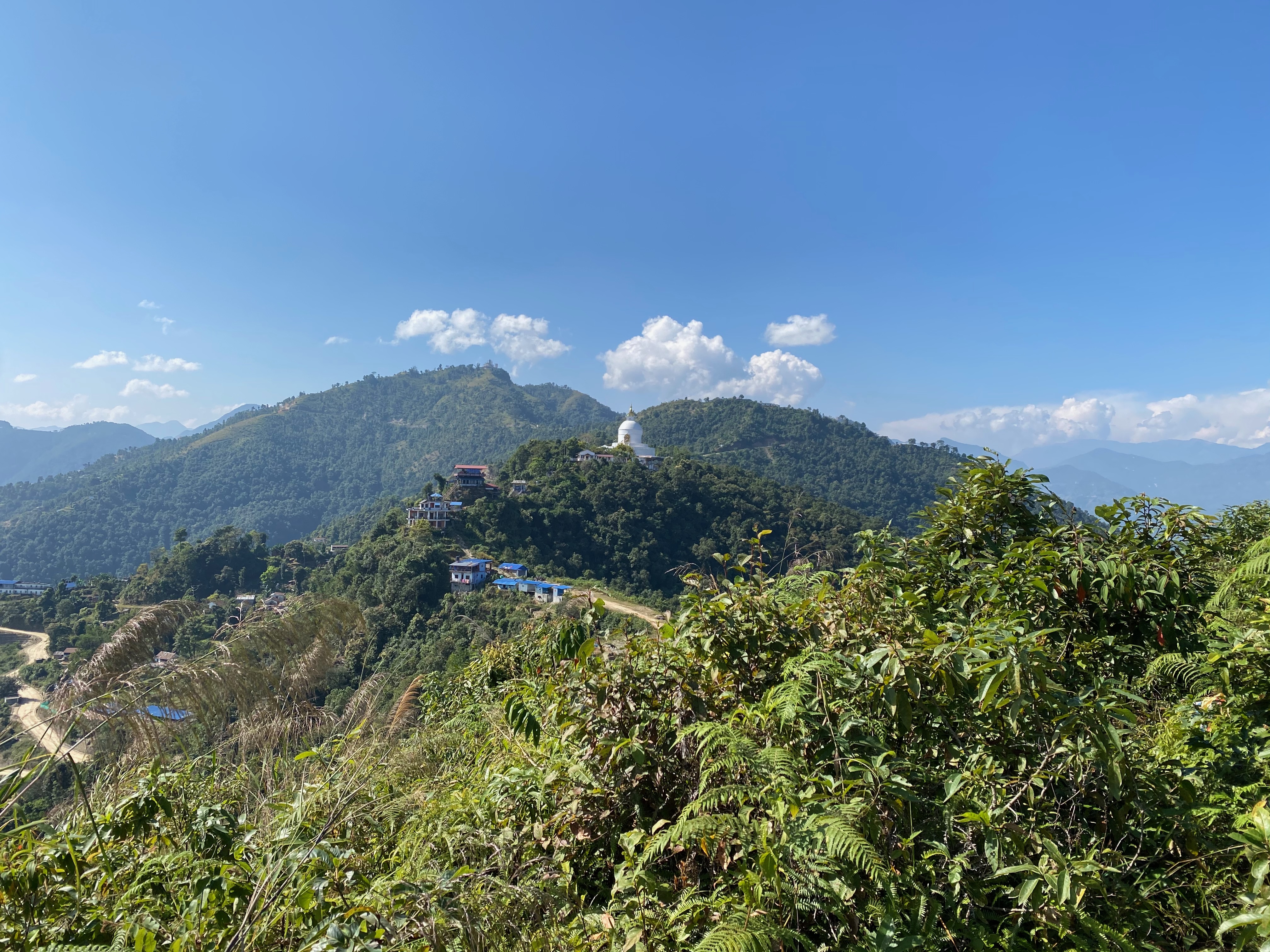 I walked down, honoring the spectacular trees on my way…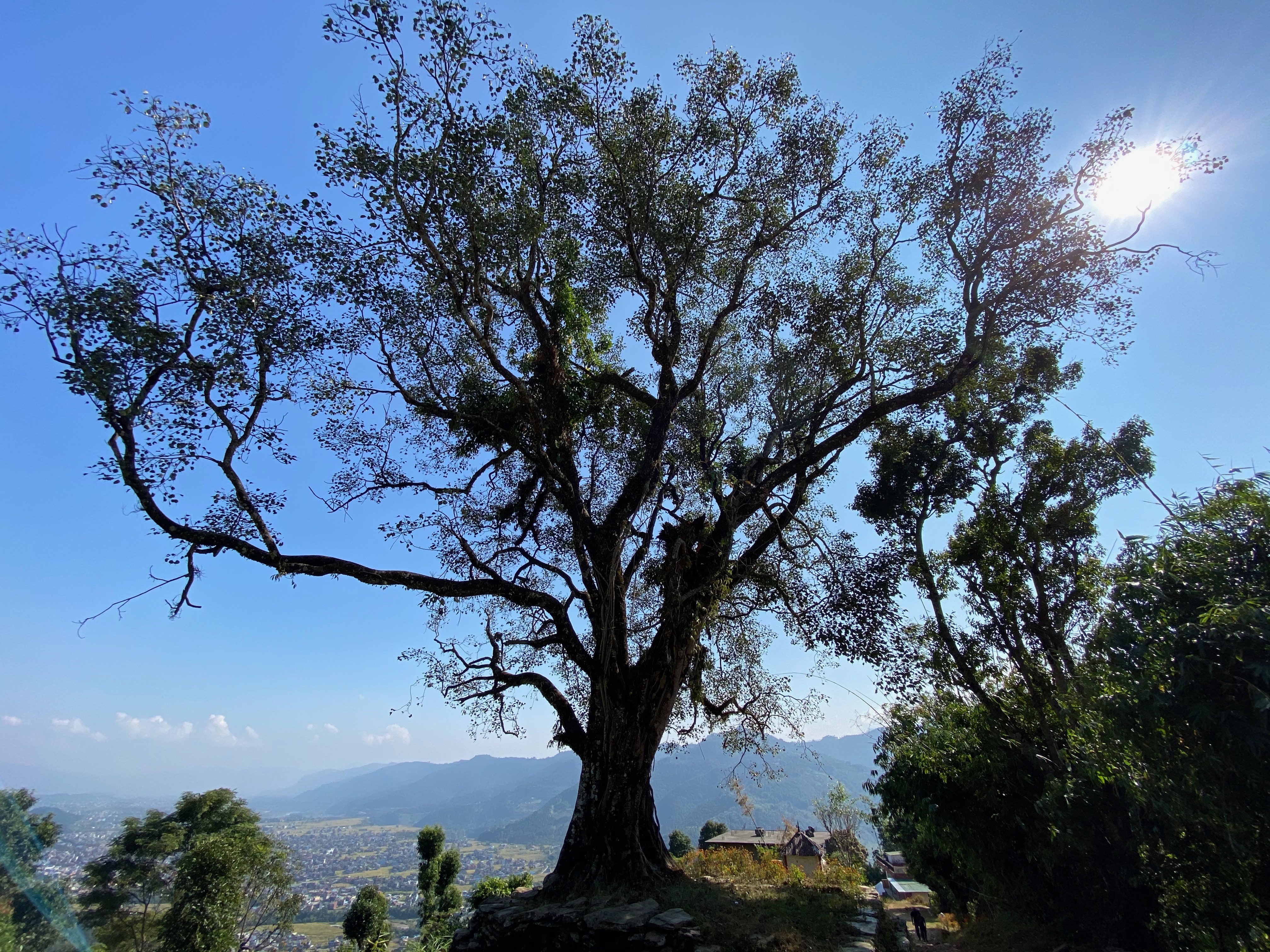 … all the way to Devi Falls and Mahendra Cave, but both were completely closed for tourism. That's tourism in the pandemic… you never know what will be closed, but it's in the journey of trying and the small things you notice on the way that the satisfaction of the day is reached anyway.
Sarangkot
Sarangkot is a famous place to see sunrise from. Unfortunately, I did not have that pleasure. Instead, I just wanted to go there for fun and didn't mind that it was hazy. At the recommendation of the Dahlia hotel manager, I got a cab there, getting dropped off slightly before reaching the top so I could still climb up some for fun. It's possible to climb all the way up, but it was later in the day and I wanted to get lunch there.
On my climb up, I enjoyed watching all the paragliders!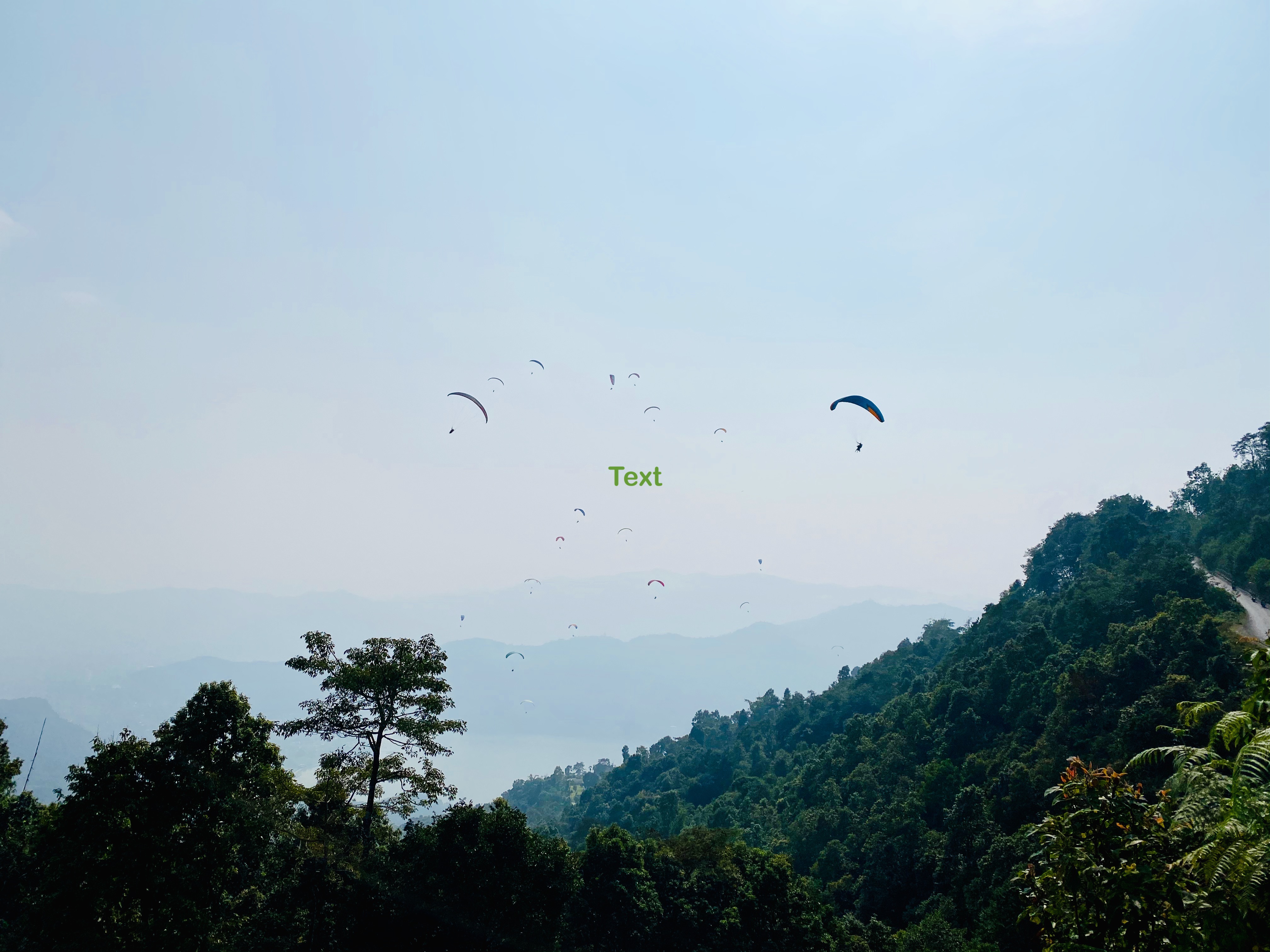 Paragliding is one of the most popular activities to do in Pokhara, but I wasn't really in the mood for it. Maybe next time!
Instead, I just enjoyed the walk to the top and the views, and then found a cafe to sit at and enjoy mint tea and lunch from :)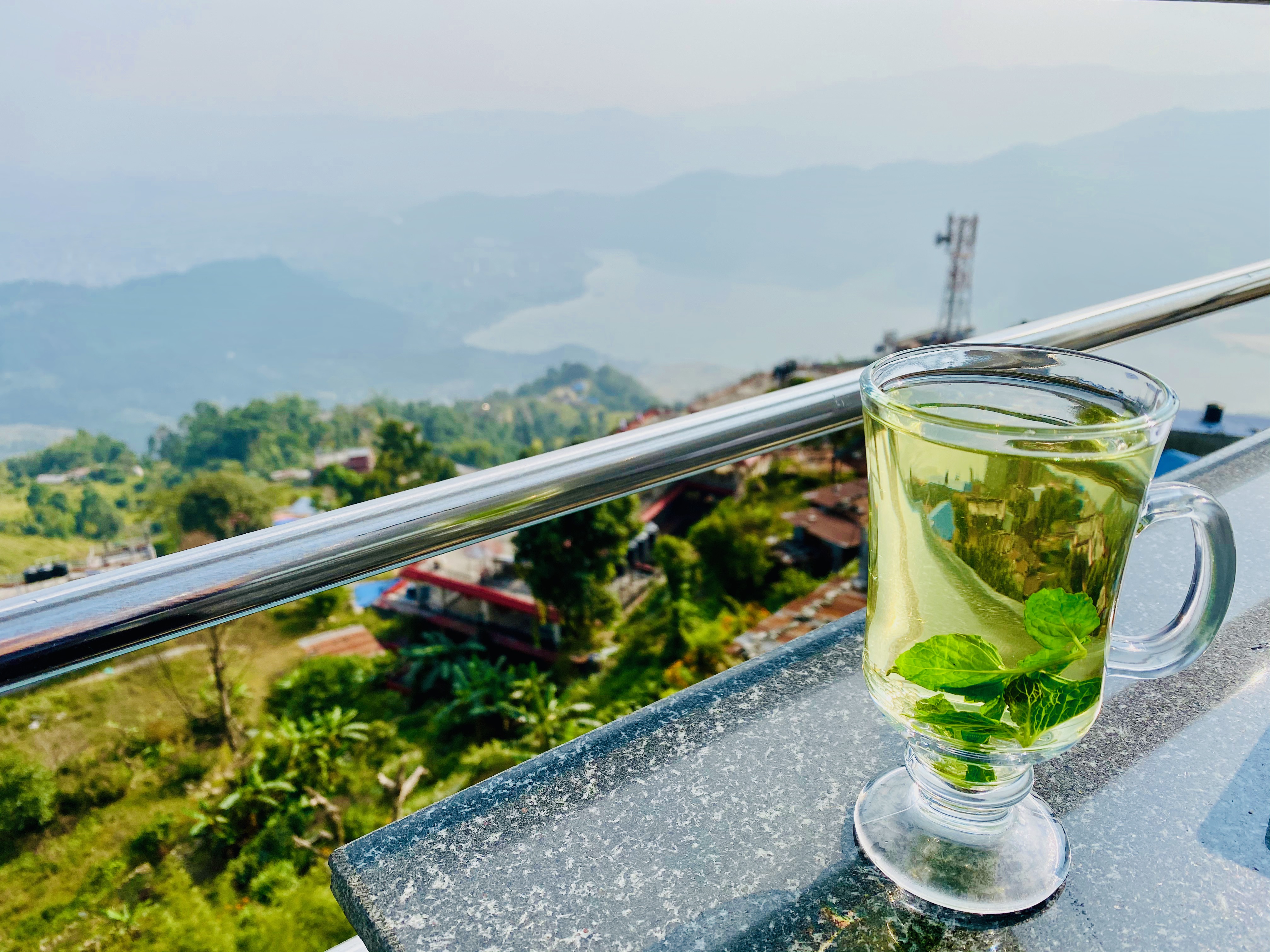 I then happily enjoyed the full hike down…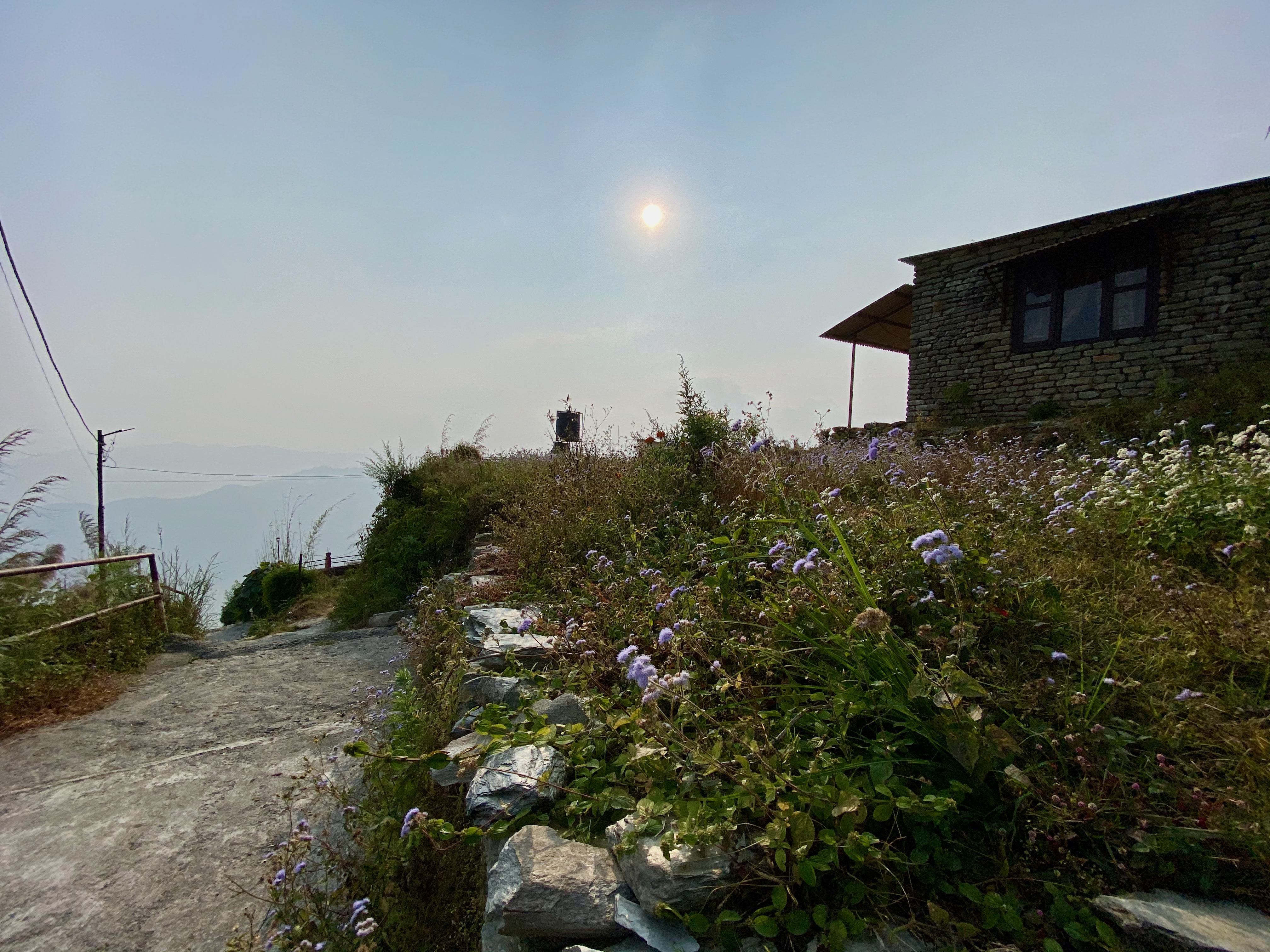 Did I mention the baby goats?!!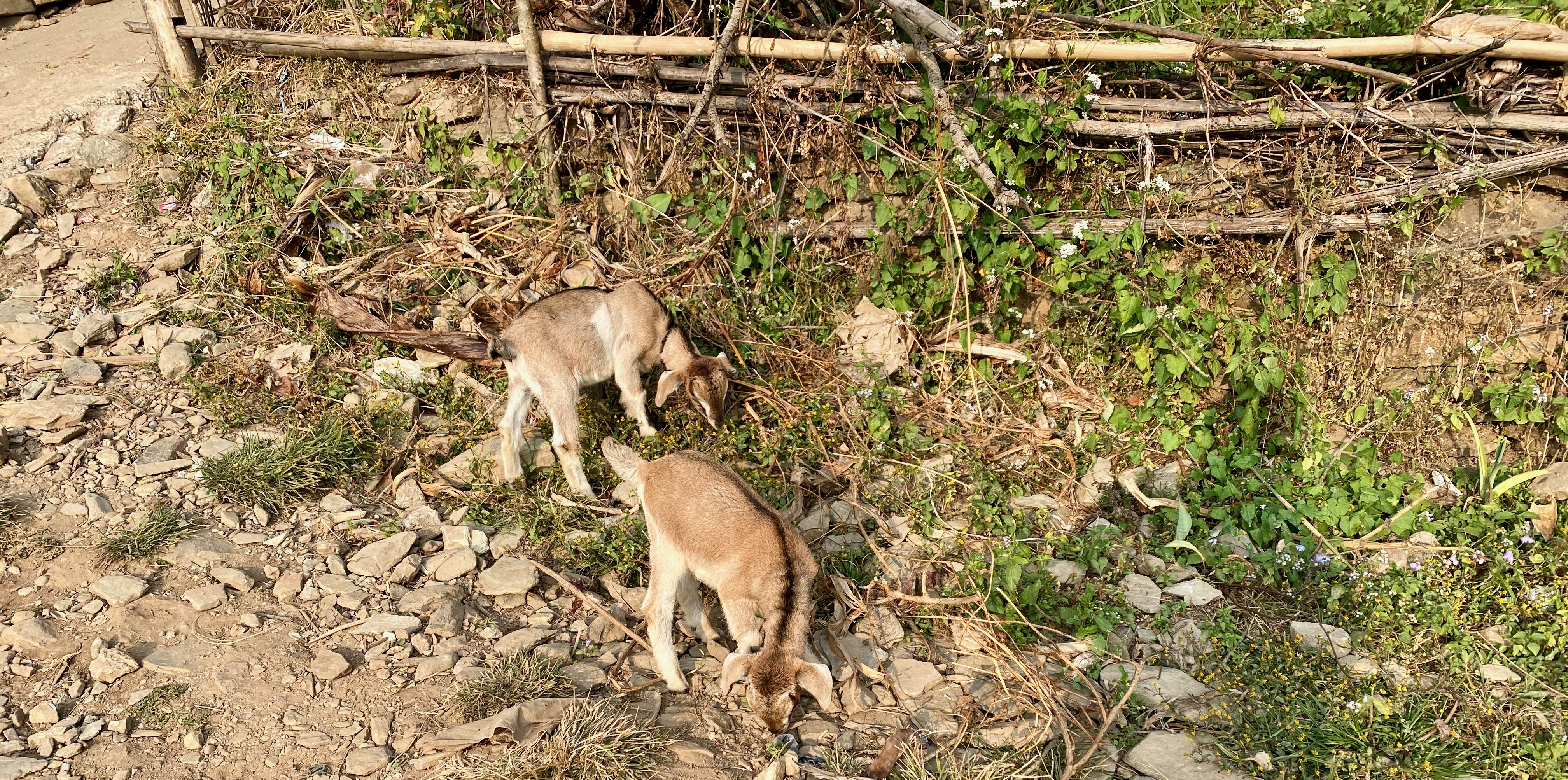 I made it down just in time for sunset!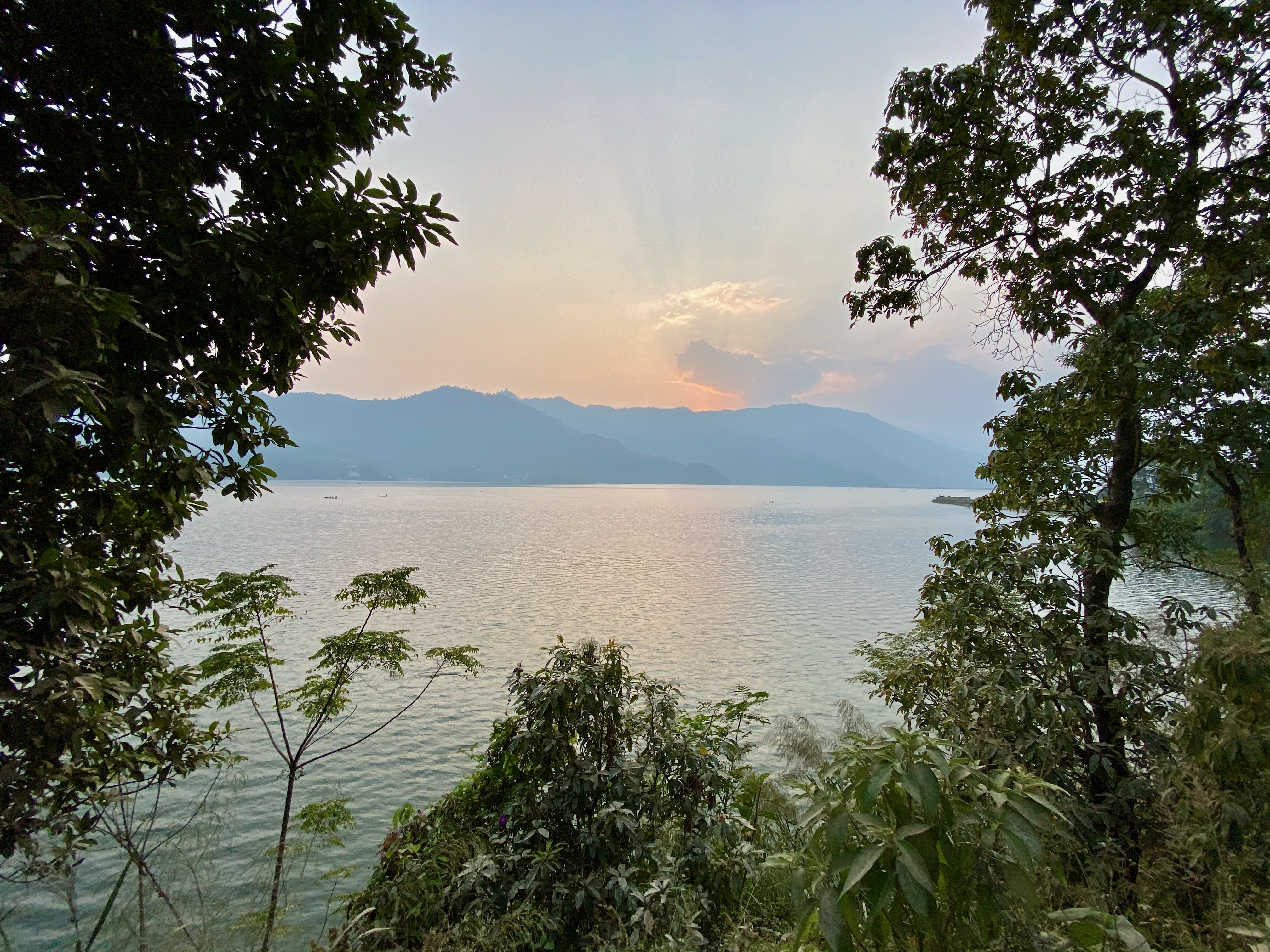 The Lakeside
On my way down from Sarangkot, I ended up walking at The Lakeside part of Pokhara. Not sure why I didn't hear of it before, especially since it was very close to where I was staying.
It seemed like a carnival with a ferris wheel, lake on the side, and being lined with cool cafes to enjoy the lakeview: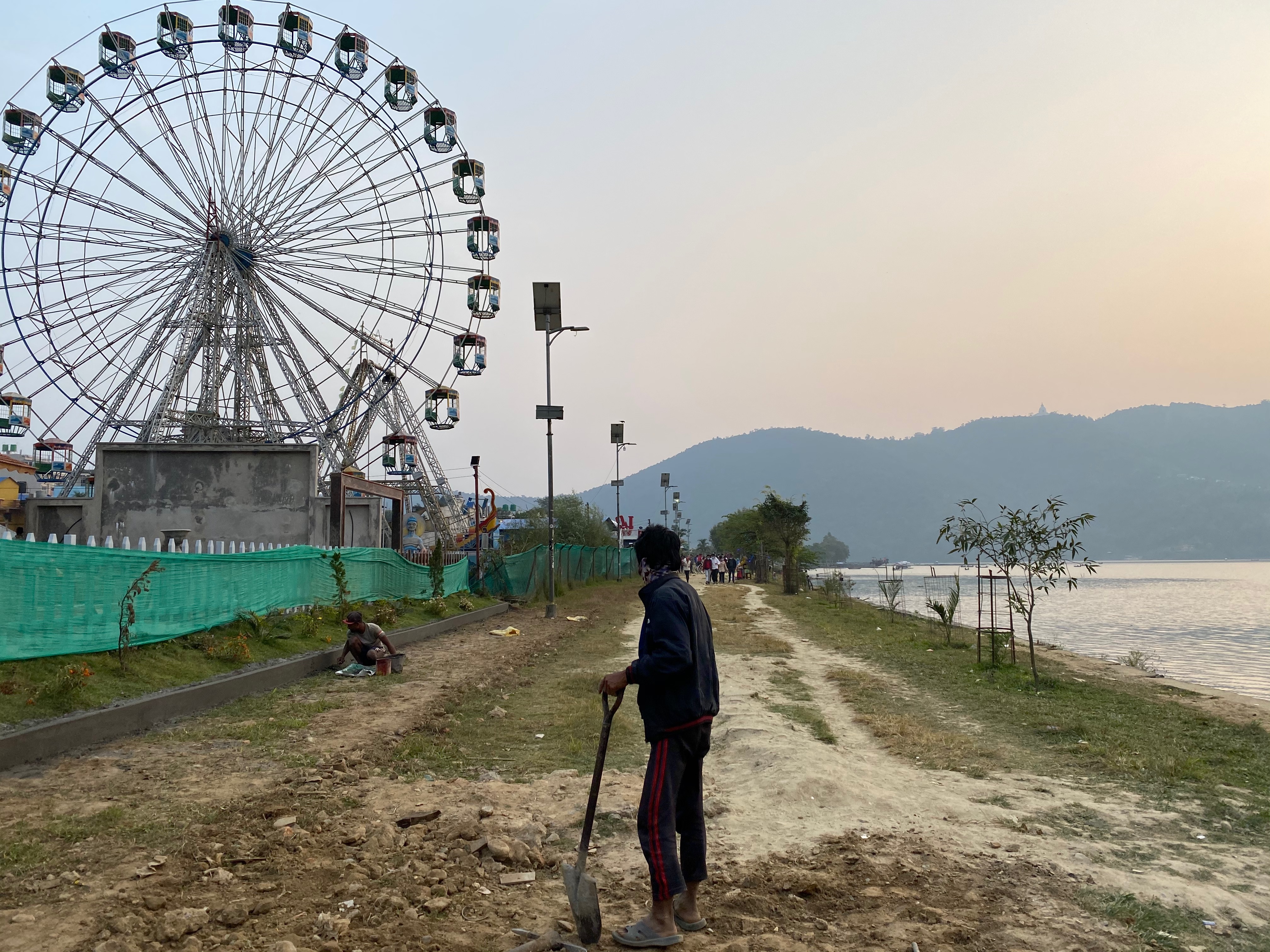 I know we shouldn't be too excited to be around people, but I was excited to see everyone walking around enjoying the sunset and treats! (note: everyone was wearing masks…)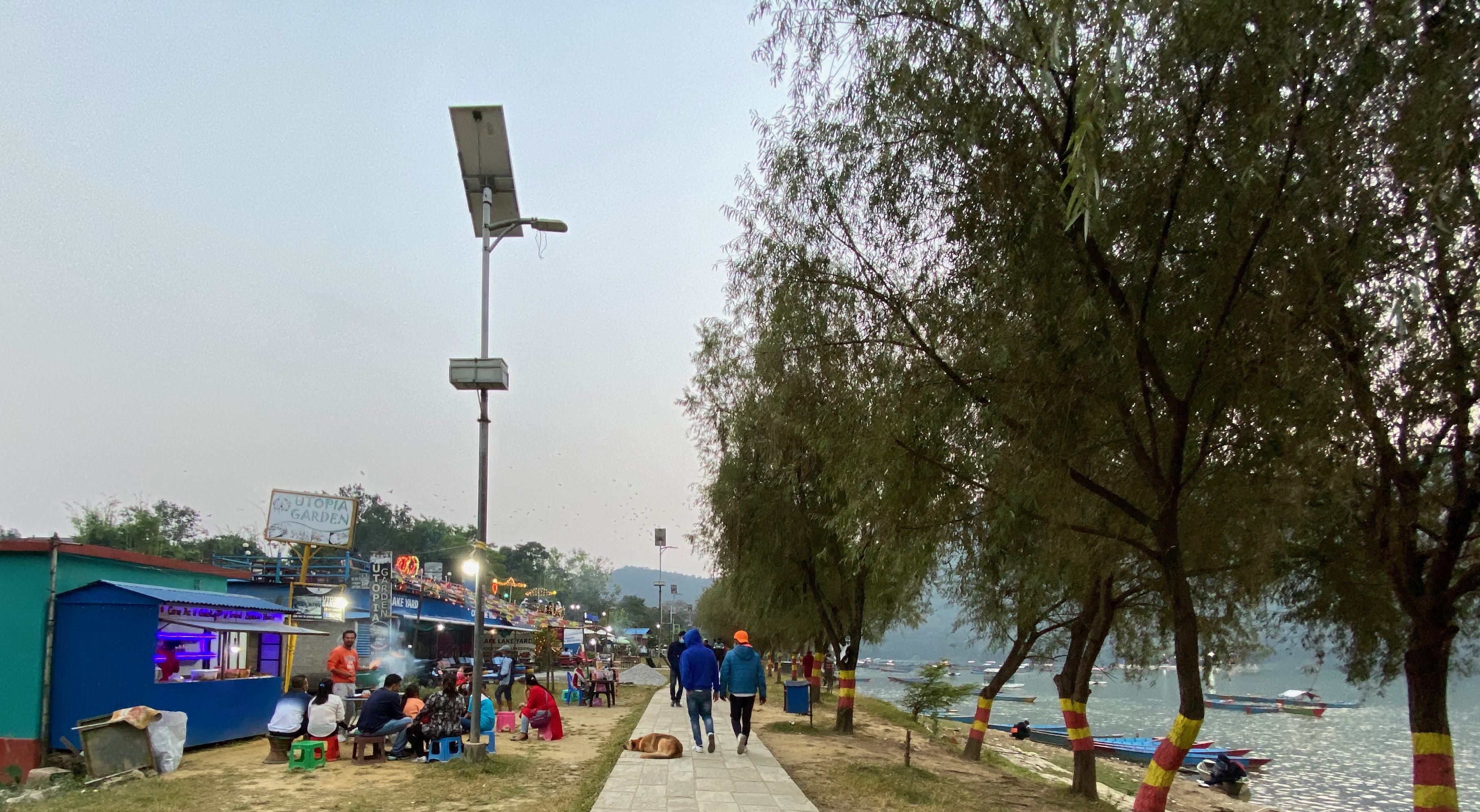 I'm sure it is wayyyyyyy more busy during normal tourist season. There were comfy lounges lining the lake that served drinks and had live music normally, but now they were mostly empty.
I got a coconut from a vendor and enjoyed it while looking out into the lake!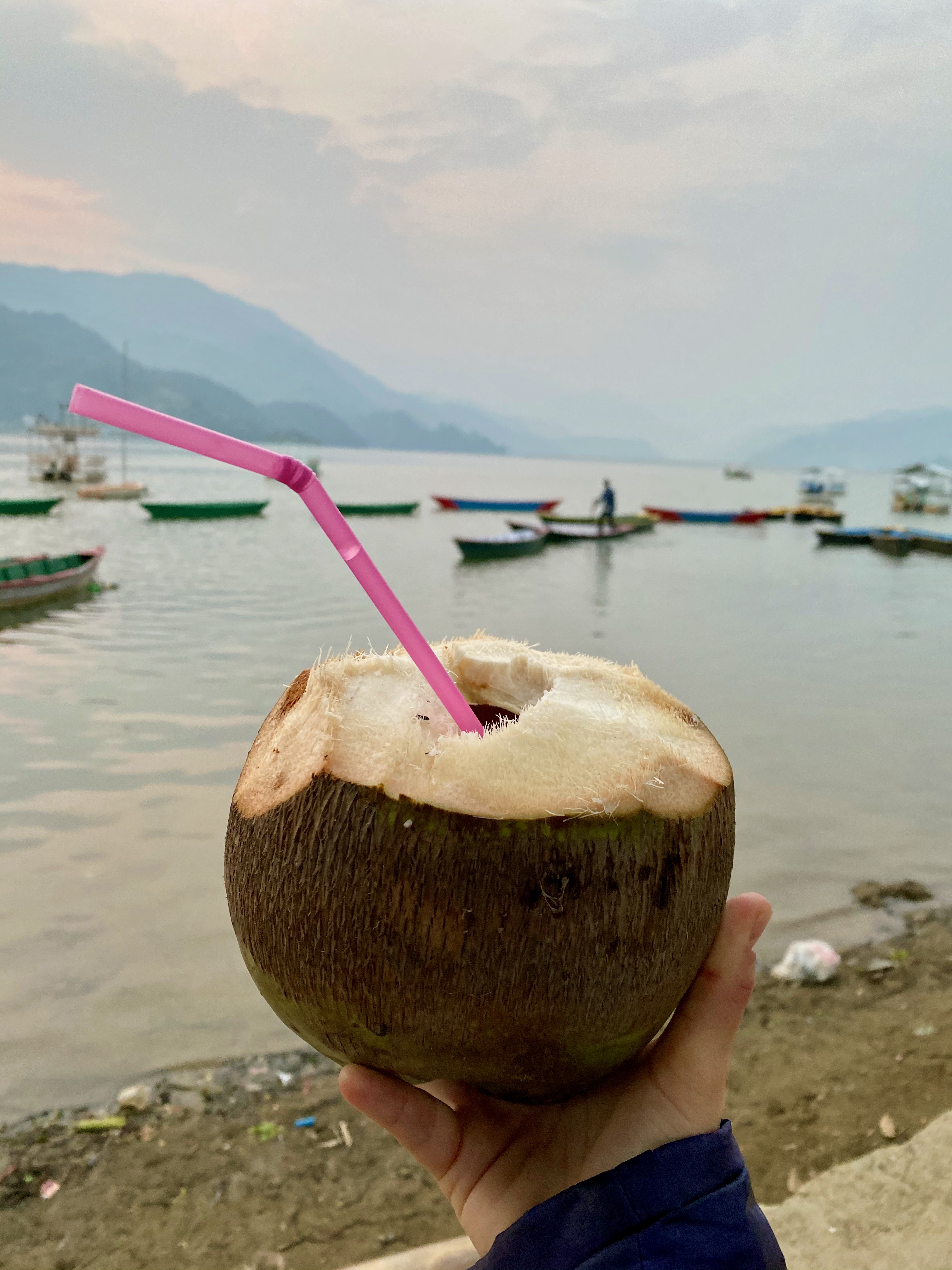 I've been wanting a coconut ever since coming to Nepal, but because it is so north, this is the first time I got one. I was so happy!
I came back to a Lakeside restaurant before I left, ordering another coconut with my meal. I got the full restaurant, which would usually be packed, to myself.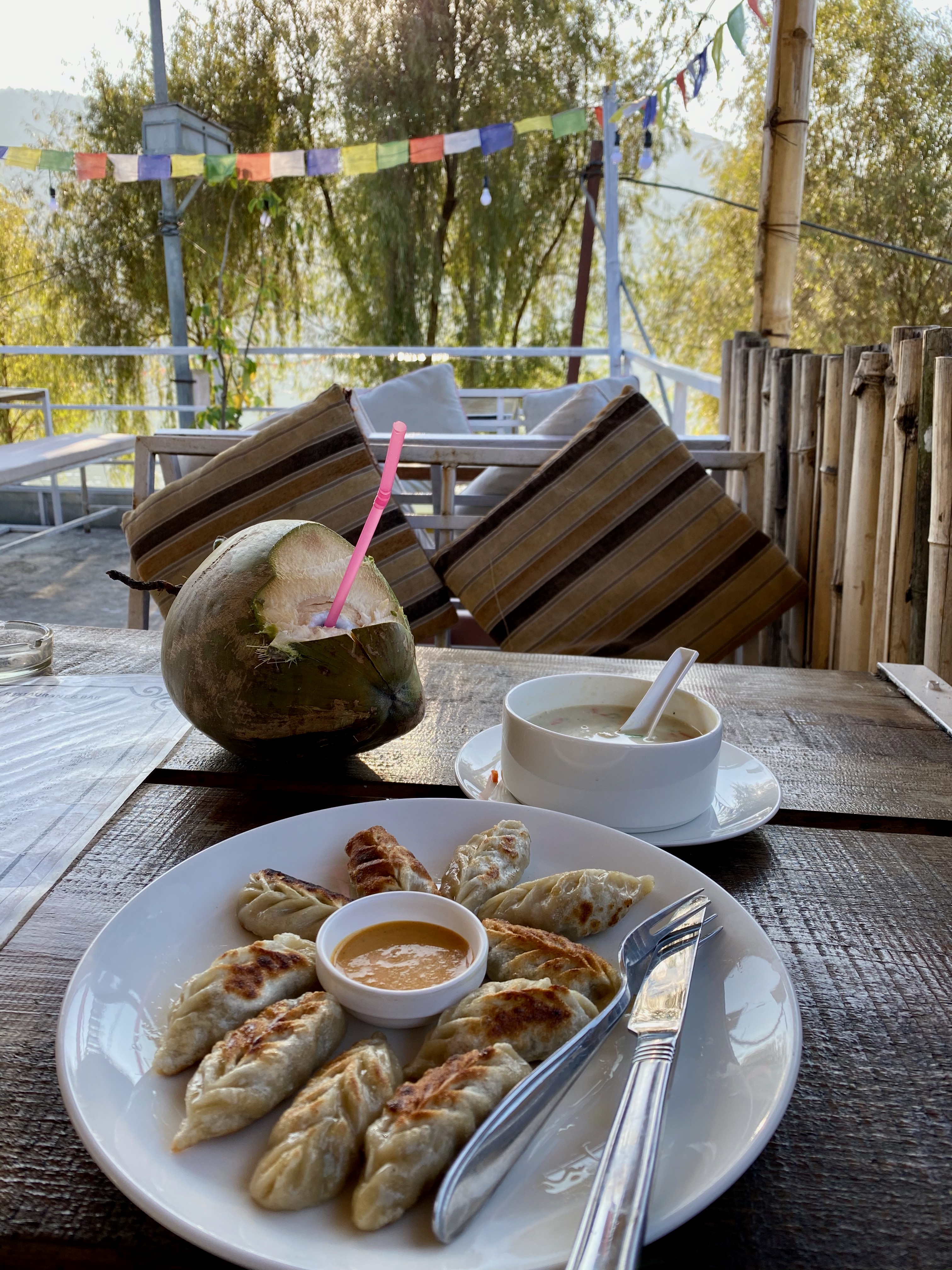 The Australian Camp Adventure
Pokhara is the gateway to the Annapurna Mountain Range of the Himalayas. While there are higher altitude and colder multi-day treks, I decided to take it easy and do a guided 3 day, 2 night trek to Australian Camp, where I did get to see that stunning sunrise:
I wrote more about my Australian Camp Adventure in details here.
Conclusion
As I felt extremely safe and comfortable enjoying my exploration of Pokhara, my local Nepalese friend mentioned to me that Pokhara is in fact a romantic city! I've been enjoying it so much solo, I didn't realize it at all!
But when I thought about if for a moment, I could see it. Romantic sunrise views, romantic boat rides on the lake, romantic evening meals… While I paid a rower to paddle me around the lake, boats can be rented out alone. Wouldn't it be nice to have someone paddle me around the lake at sunset?!!
But until that person comes, I will continue to happily adventure solo 💃🏻