La Isla Bonita: Pure Paradise at the Afelita Island Resort in Tuvalu
NatashaTheNomad
07/17/2018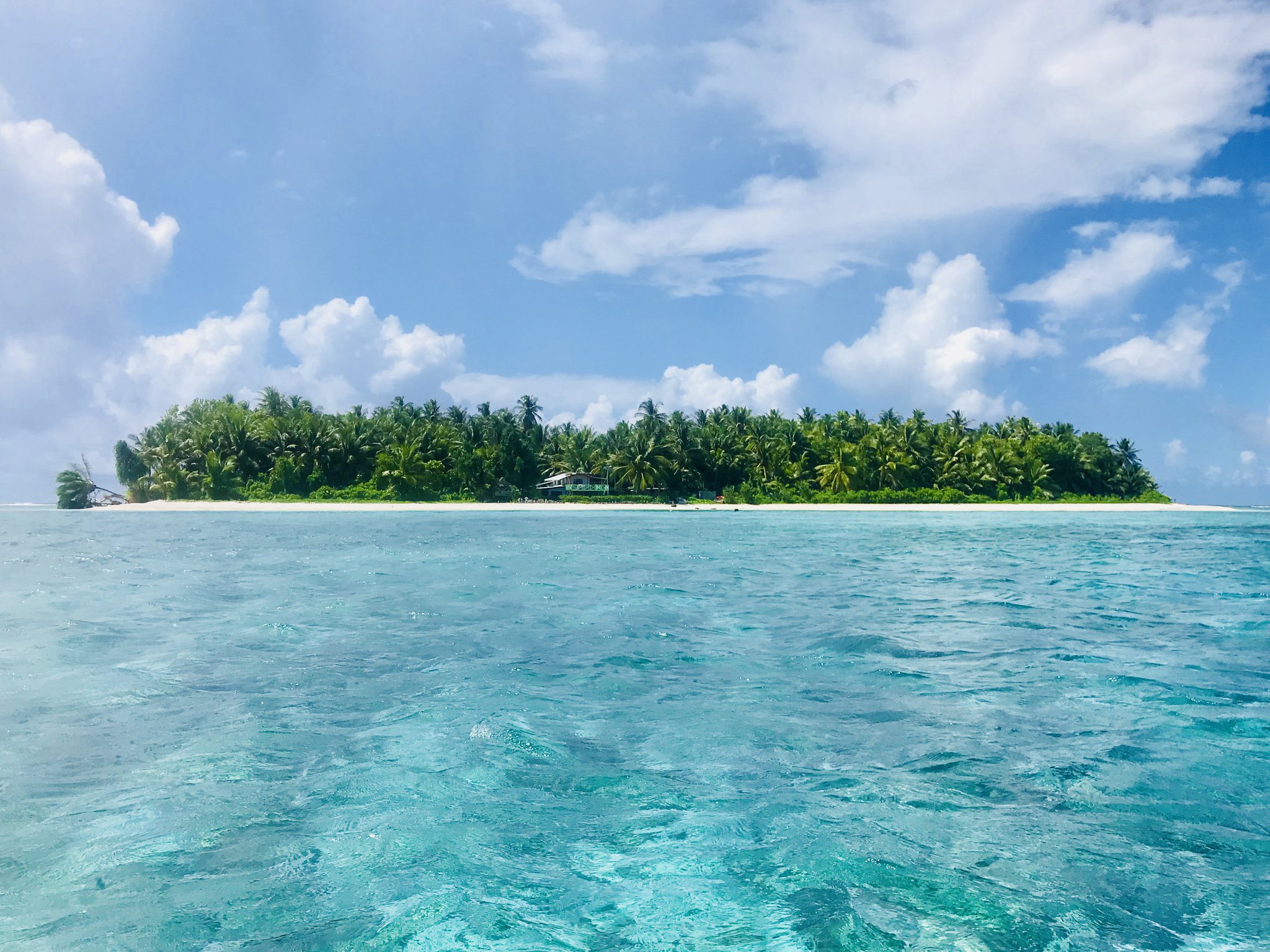 "Tropical the island breeze
All of nature wild and free
This is where I long to be
La isla bonita" ~ Madonna
Ever since I read @catehstn's incredible newsletter about Tuvalu, I knew I had to go there some day. Some day came sooner than expected.
I randomly ended up living in New Zealand for two month, with San Francisco as my next destination. Tuvalu was basically on the way! Well, at least Fiji was, and Tuvalu is close to Fiji… sort of.
Before Cate went there, I've never heard of Tuvalu. My guess is that you haven't either.
Well, it's a tiny country made up of atolls in the middle of the Pacific with a population or around 11,000 on the verge of extinction from global warming. Funafuti, the biggest and most populated atoll in Tuvalu is mostly this long strip of land!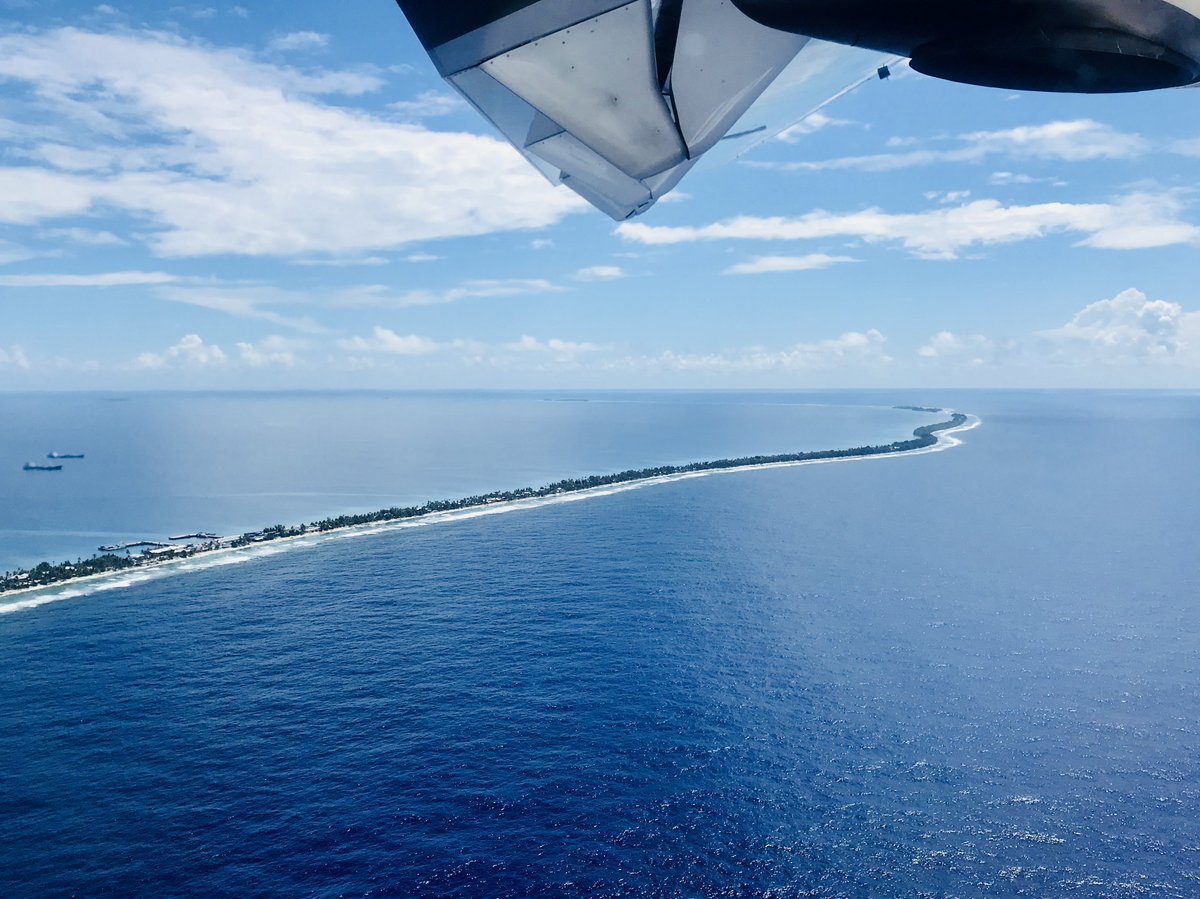 When you look at Tuvalu on the map (from Tuvalu), the location dot covers the entire country!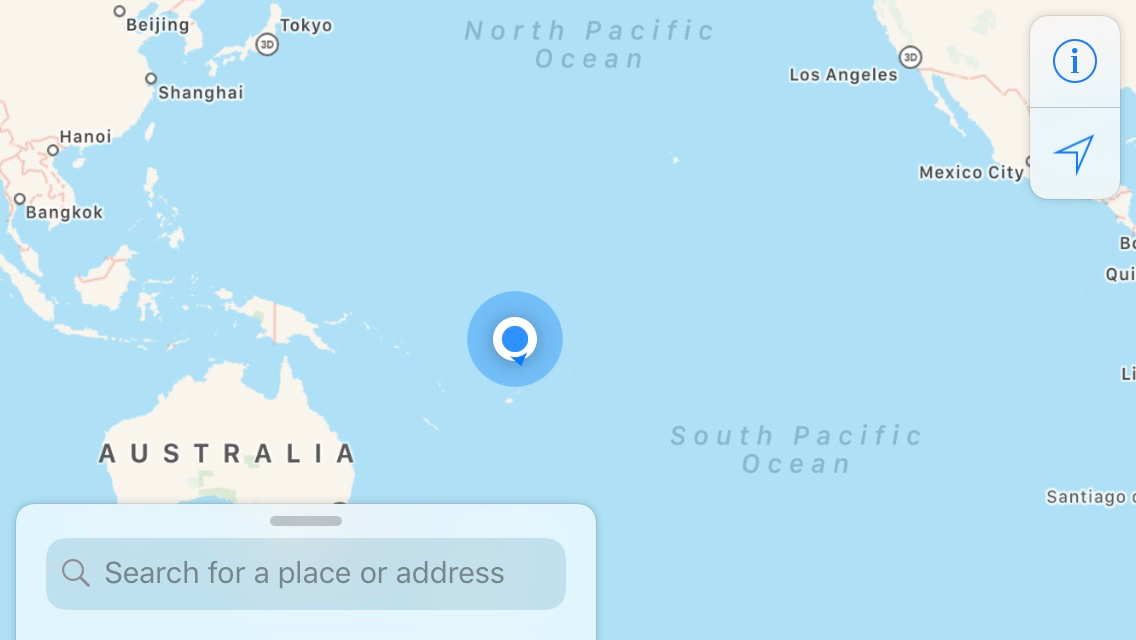 Getting There
The main way to get to Tuvalu as a tourist is by taking a plane from Suva, Fiji to Funafuti, which has the coolest airport code ever!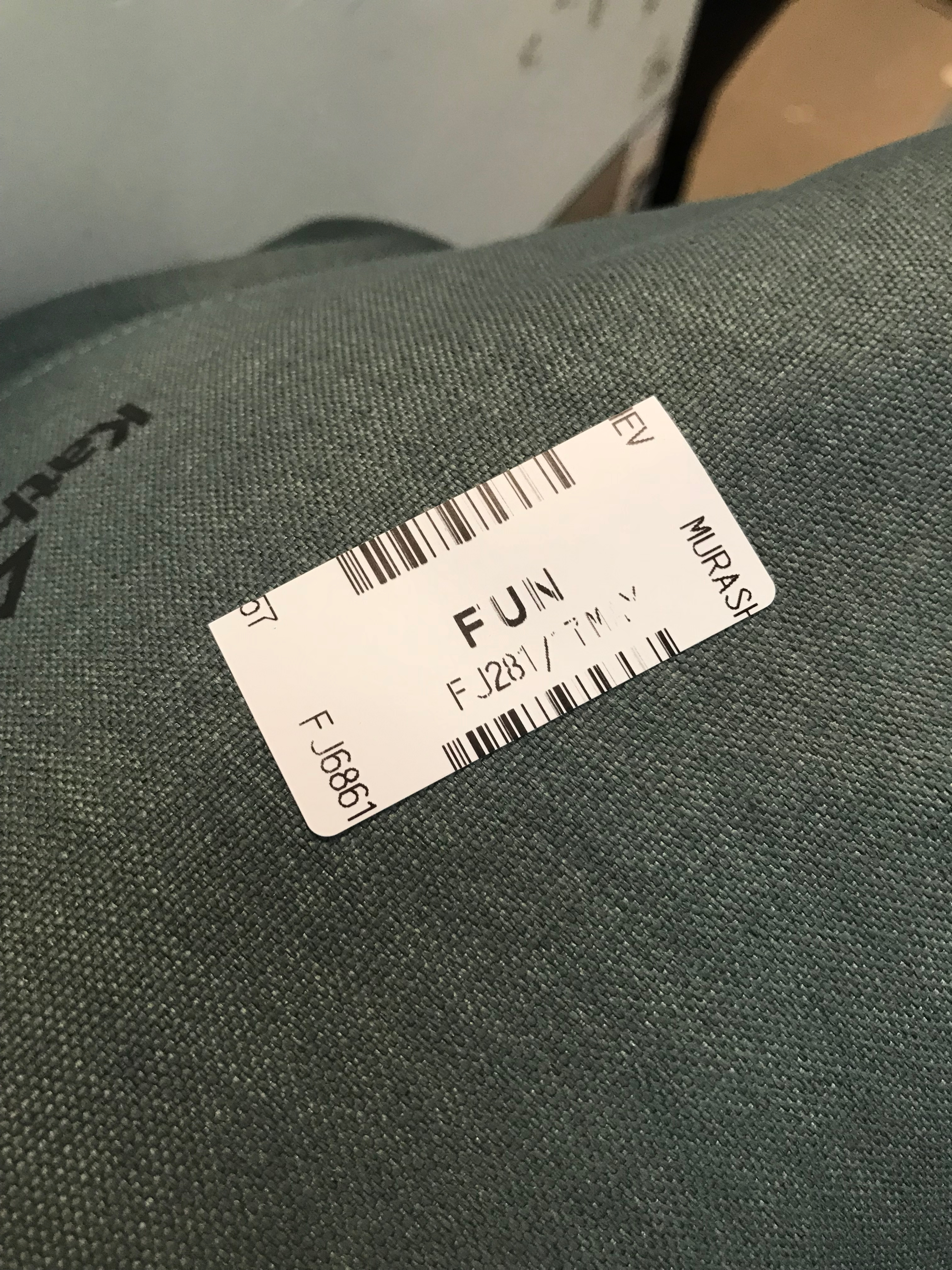 The tiny plane only flies there every other day, and I'm pretty sure you can't get there via any alternate location by plane. So plan ahead. Tuvalu is very rarely visited by tourists - it's mostly locals, business people (United Nations), NGOs, etc that go there.
When I landed, our plane was surrounded by local kids and adults looking through the very unsecure small wire gate around the airport. There is an immigration process, but anyone can just walk off.
In fact, the airport has a double-function of a road and a playground with basketball hoops and soccer field for the local kids. There are even houses and a children's daycare along the runway! After all, it is not in use as an airport most of the time…
I was given the most generic 30-day visa stamp:
When leaving, my luggage had to be hand-searched (they don't have a luggage scanning machine) and my ticket was hand-written, with a sticker for my seat number!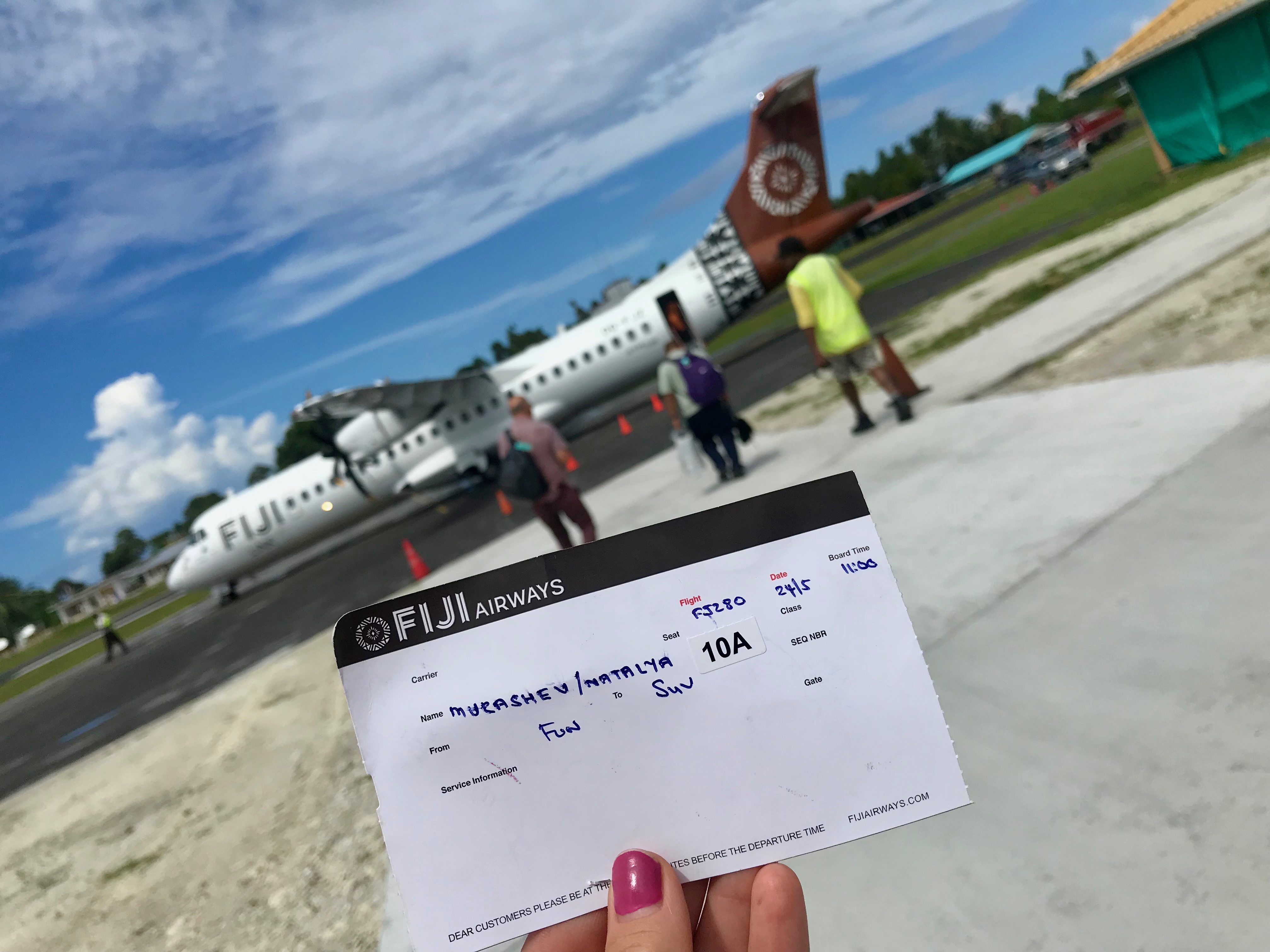 Logistics
My host, TJ from the Afelita Island Resort, was waiting for me outside the airport. We loaded my luggage onto a taxi and I headed with her via motorcycle to the Telecom office to get a SIM card.
Internet
4G is now available in Tuvalu! But the SIM card doesn't work with iPhones. TJ had a MiFi device for the SIM card, so that was fine. The Wifi was pretty good - I could probably get by on it for a month, but it is an island in the middle of nowhere in the Pacific, so you shouldn't fully rely on it…
It is also very expensive if you do need the Internet A LOT. Going there, I assumed no Internet was going to be available and planned ahead. In fact, I was a bit disappointed that the Internet was that good - it meant I had to do some work after all…
Money
One big thing to note is that there are NO ATMs in Tuvalu! They use Australian dollars, so I went to Australia while I was in New Zealand and withdrew the money from an ATM there. You can also go to a local bank of course, but going to Australia to get Australian money for Tuvalu just seemed more logical to me. Can you tell I'm a nomad?
Later on, I learned that there is also a local currency - with fish!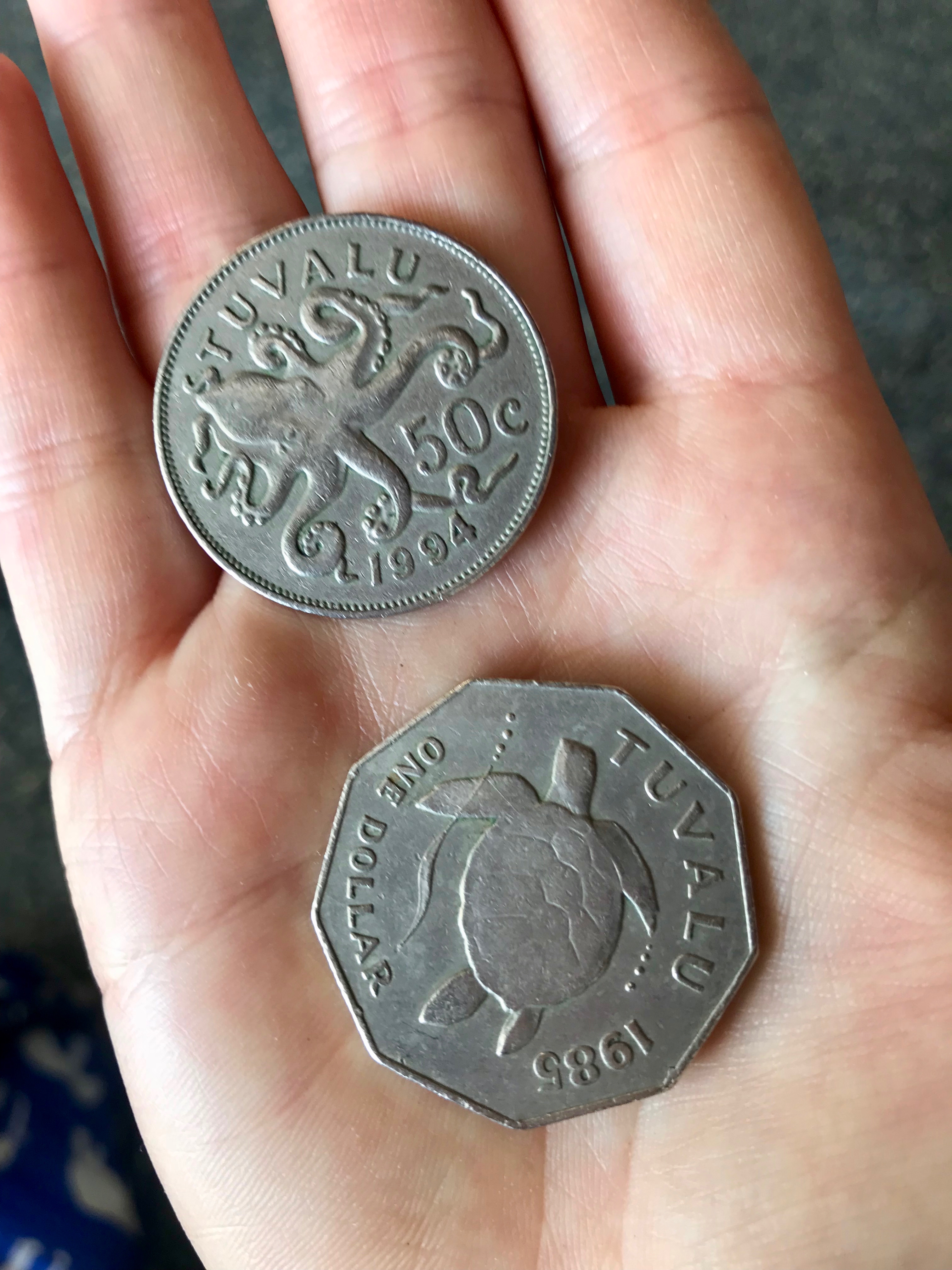 You might get these coins as change, but you can only use them on Tuvalu, unlike the Australian dollars. They are so pretty though!
Accommodations
There is only one official hotel in Funafuti - Vaiaku Lagi Hotel, which seems to always be fully booked. Regardless, the reviews for it are not great… some are pretty terrifying!
While Cate had a good stay at L's Lodge on the main atoll, where most of Tuvalu's residents live, she mentioned the eco-friendly Afelita Island Resort to me.
I couldn't find much information on it… there was a generic Facebook page, which was the only way to contact them. They took a while to reply and set up the reservation (everything is on island time after all!), but I was excited by the idea of being on a smaller island of a small island nation instead of where all the people were. I booked for an entire week!
Still, I had no idea what to expect.
Afelita Island Resort
Afelita Island Resort is about a 10-minute boat ride from the main atoll. I was more than happy to be greeted by this sight and a boat ride after a long morning of travel from Nadi: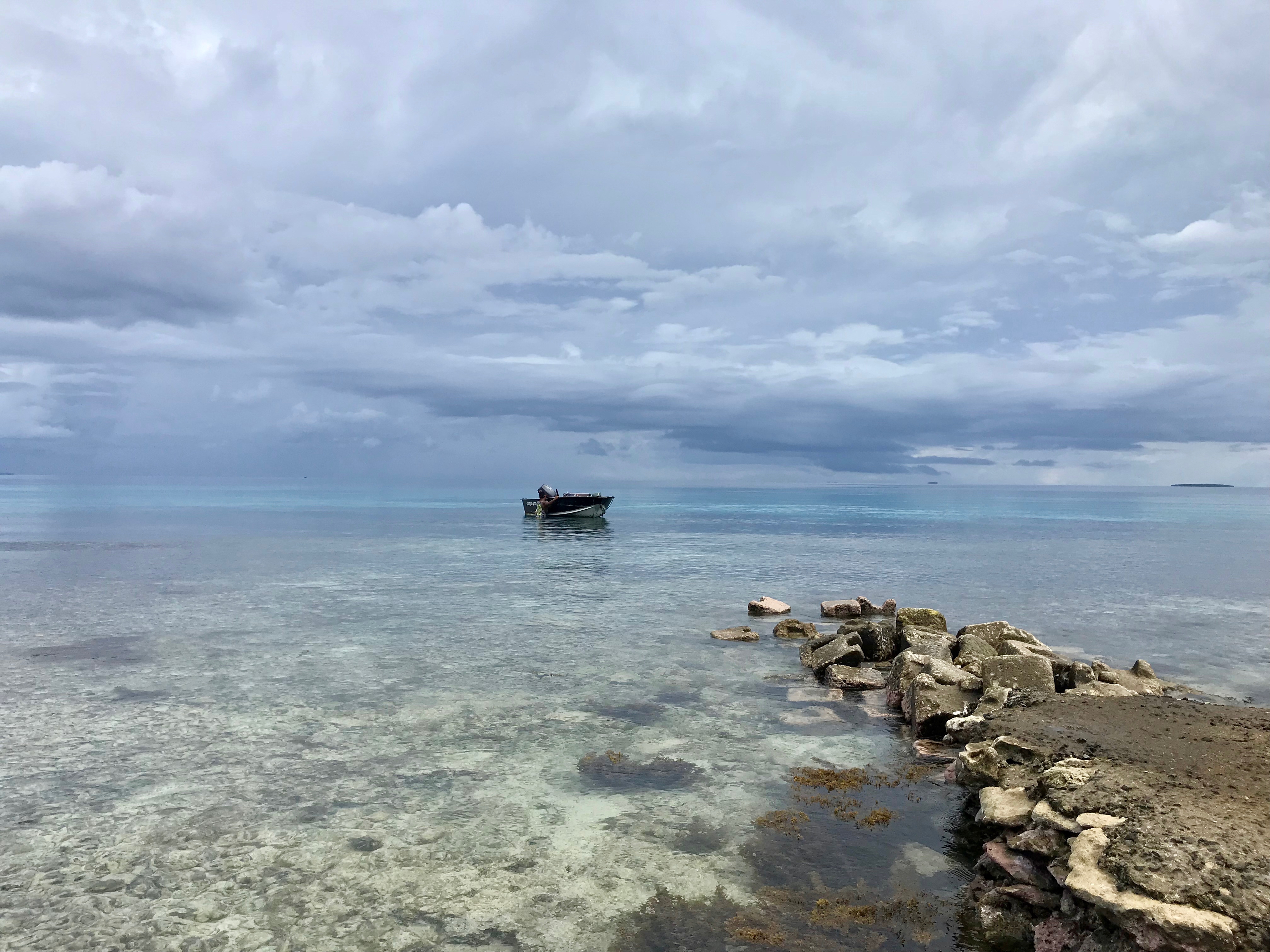 Finally, I was in true paradise!
My hosts TJ and her brother loaded my luggage onto the boat, since it required walking through some water. Finally, we arrived to Mulitefala Island, where the Afelita Island Resort is the only house, and I was the only guest in this paradise: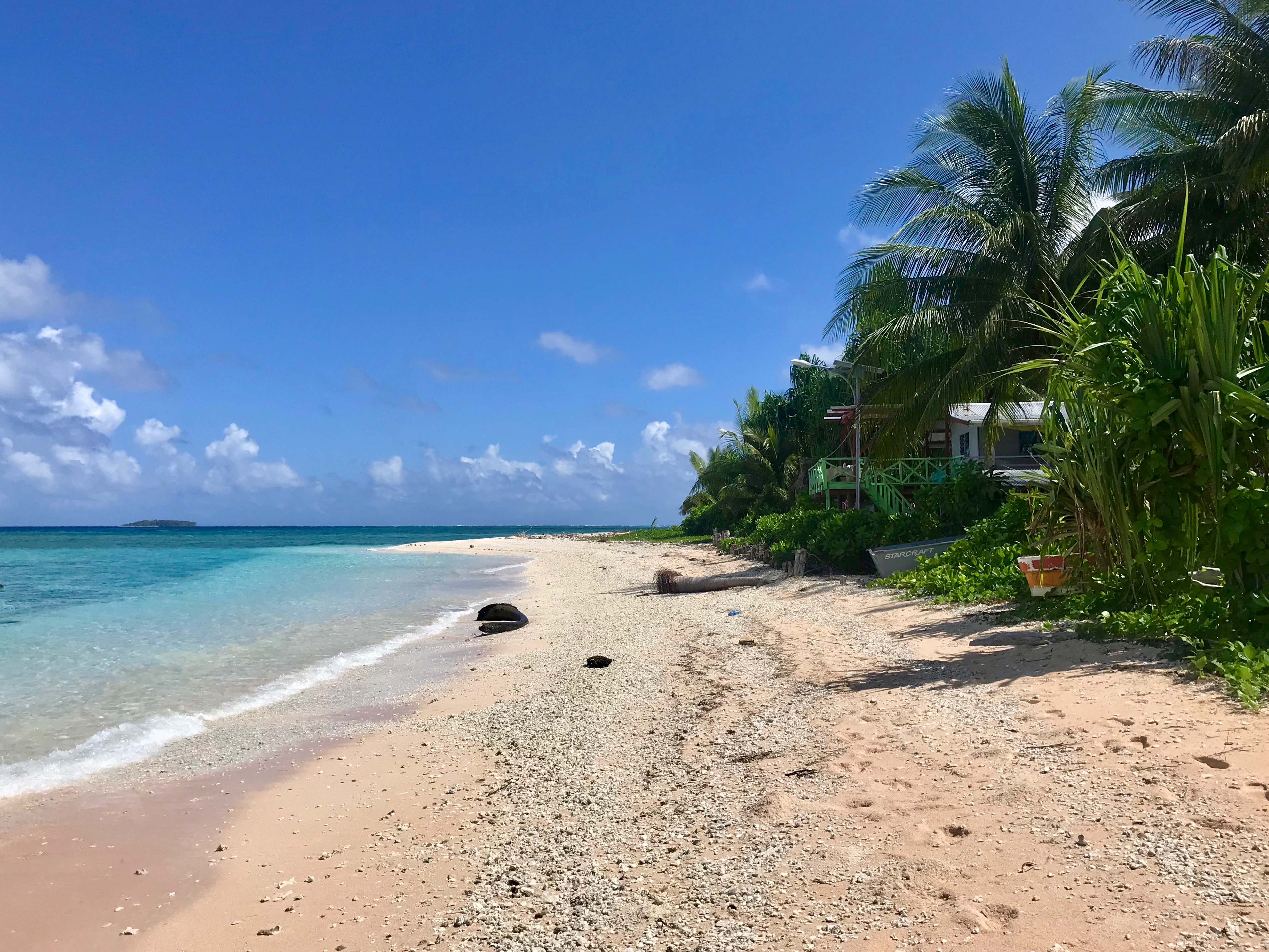 Right away, the views blew me away: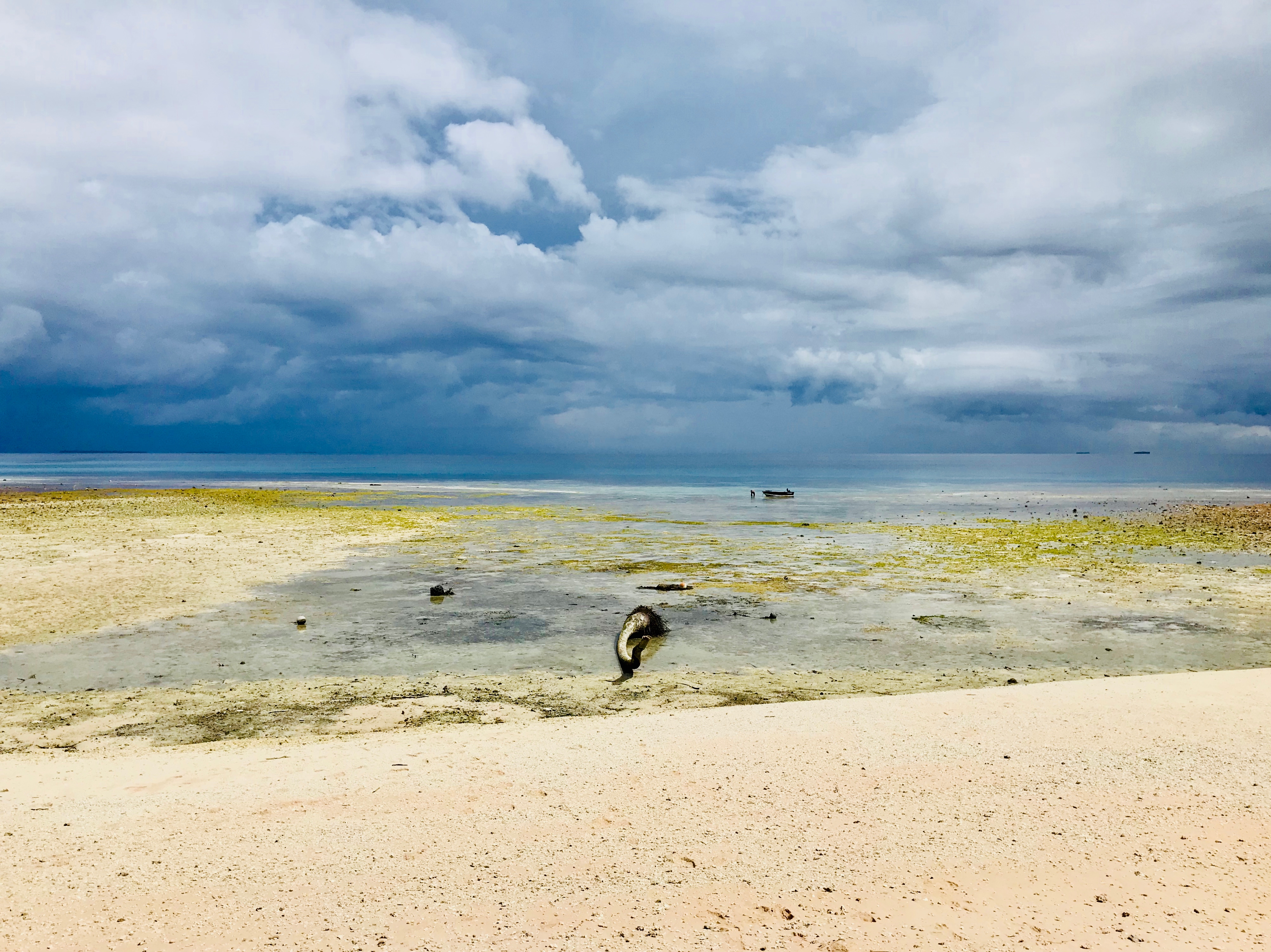 The hosts showed me to my room - a super simple and nice guest-room: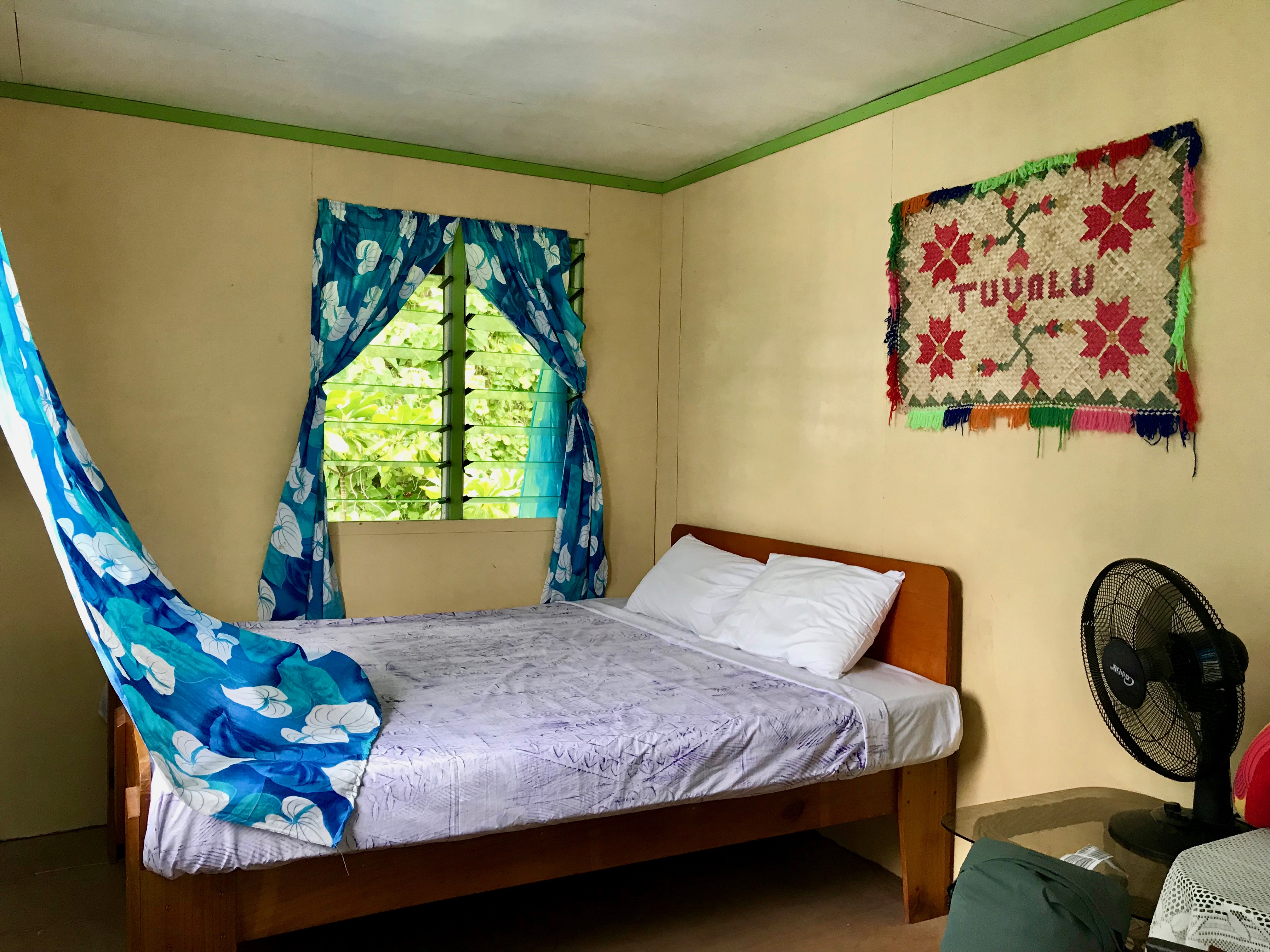 They gave me the room with the best view, so I can monitor the tide for swimming :)
The only big issue was that the bathroom was separate from the room, down the stairs and a bit of a walk from the room. Also, the shower water was cold only. It is hot on the island… so I guess it's not as horrible as it might sound.
I would honestly take these small inconveniences to staying at Afelita Island Resort any day!
Things to do on a Deserted Island
I came to Tuvalu for a vacation - to relax and de-stress before a big event I was planning in San Francisco. This island was perfect for that! To do nothing on a small deserted island that I had all to myself! No tourists here!
Swimming
… at sunrise and sunset! I've wanted to wake up and swim for months, but nowhere I went was just right. Finally, I was able to swim at sunrise and sunset each day!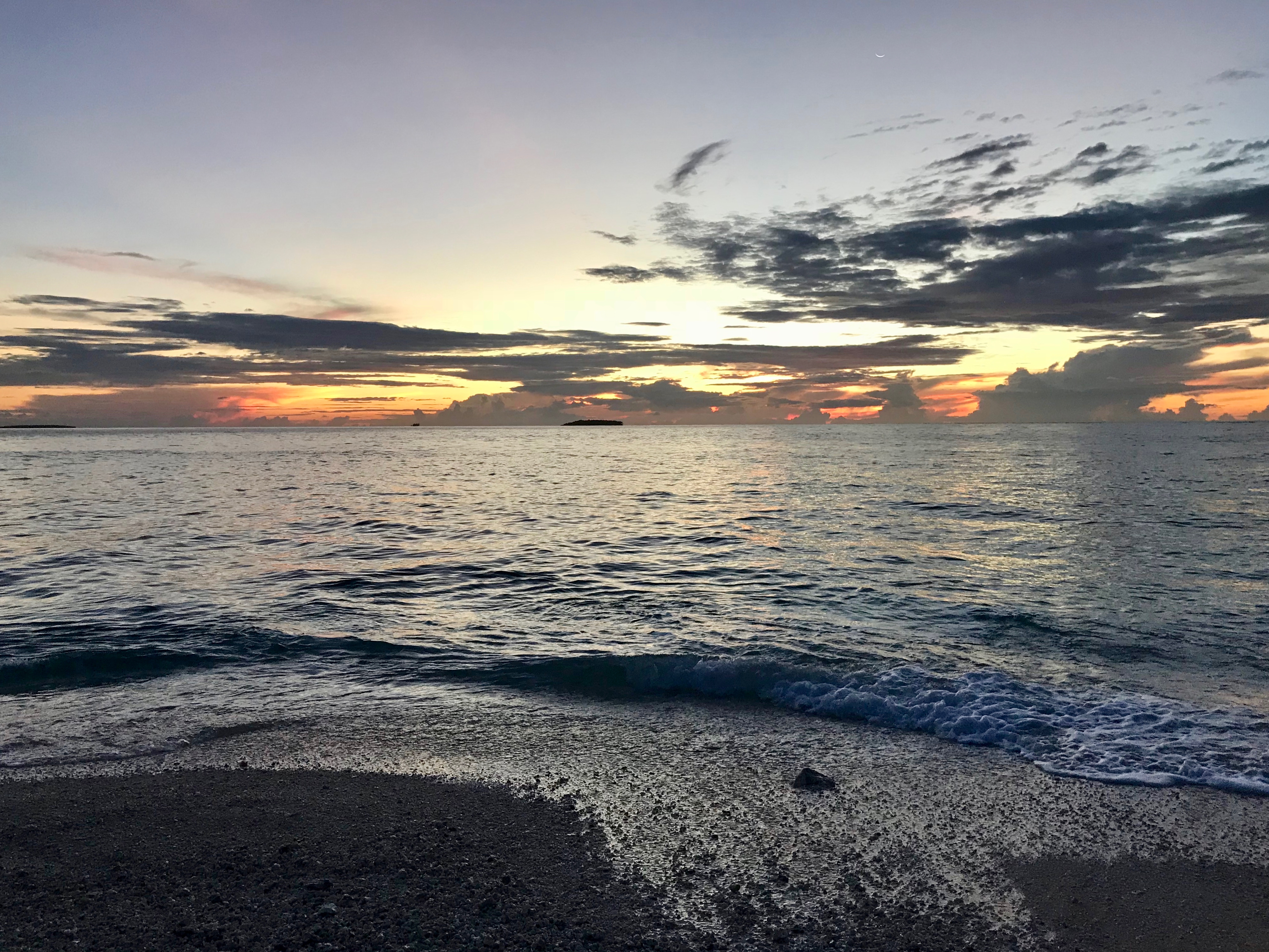 Watching Hermit Crabs
As soon as I stepped foot on the island, I had to do a double take. All the shells suddenly started to move!!!! I've only seen dead shells up to this point. Seeing the creatures inside was mesmerizing!
I would sit on the beach and just watch them walk around for at least an hour each day in amazement. So cool!!
Sometimes, I would find a shell high up on a shrub: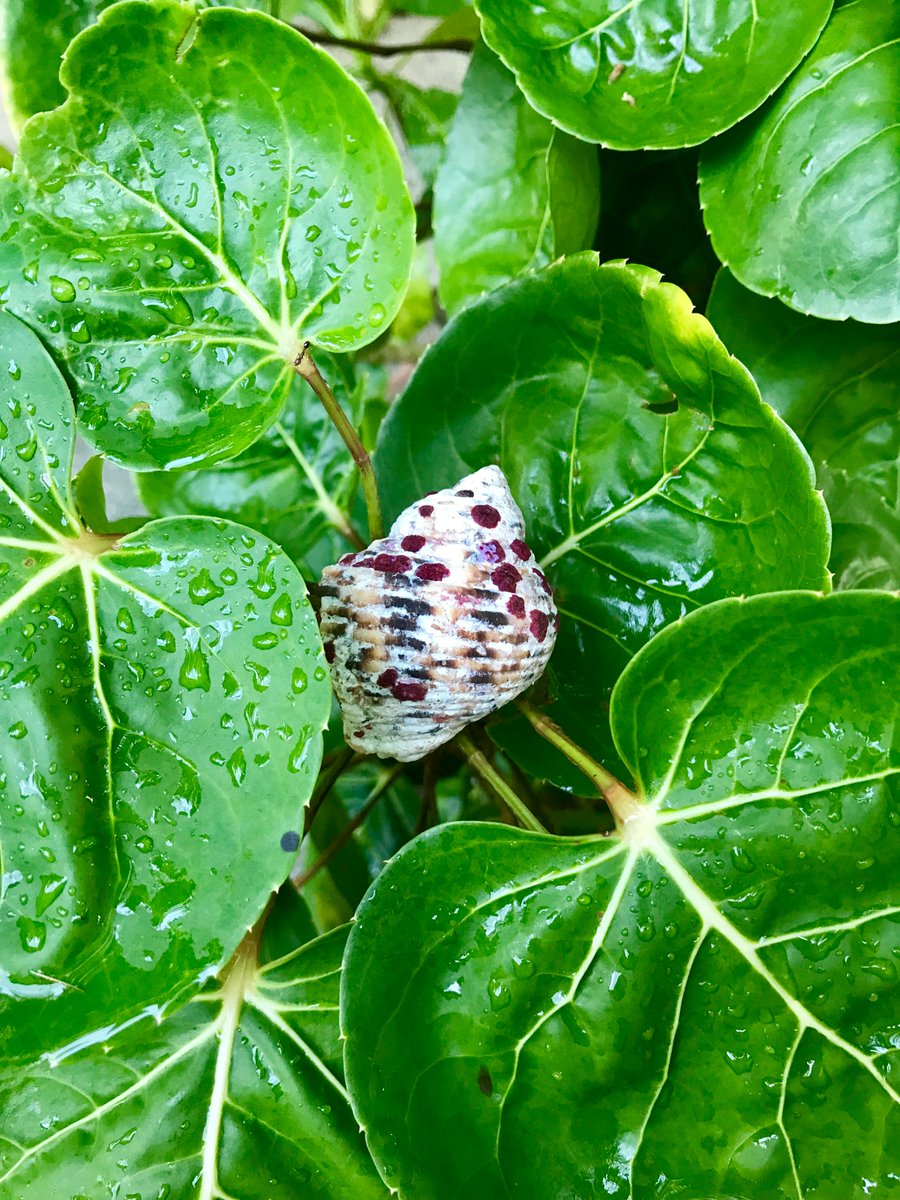 I'd look under it, and sure enough, it was a living hermit crab that climbed up that high!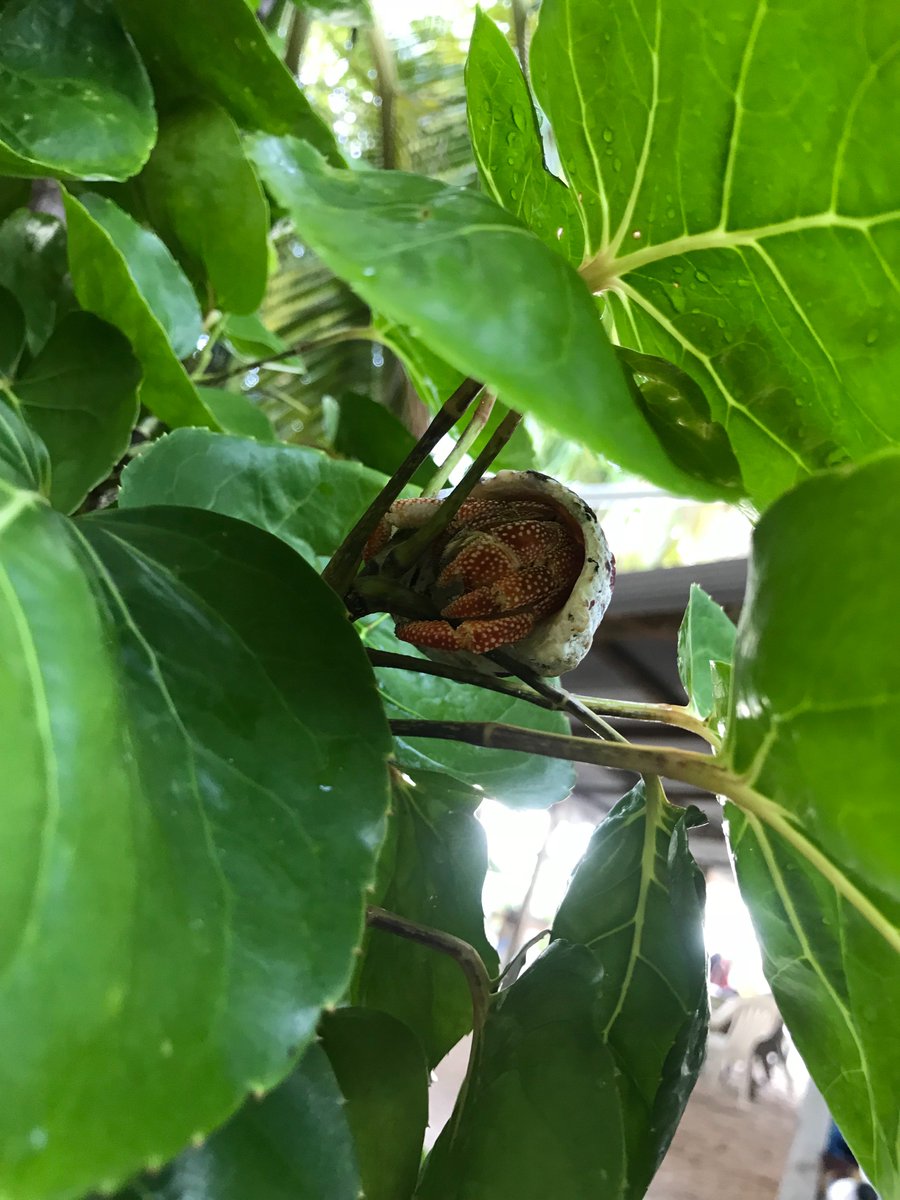 Hammock
When it got hotter during mid-day, I would lay in a hammock under palm trees and read: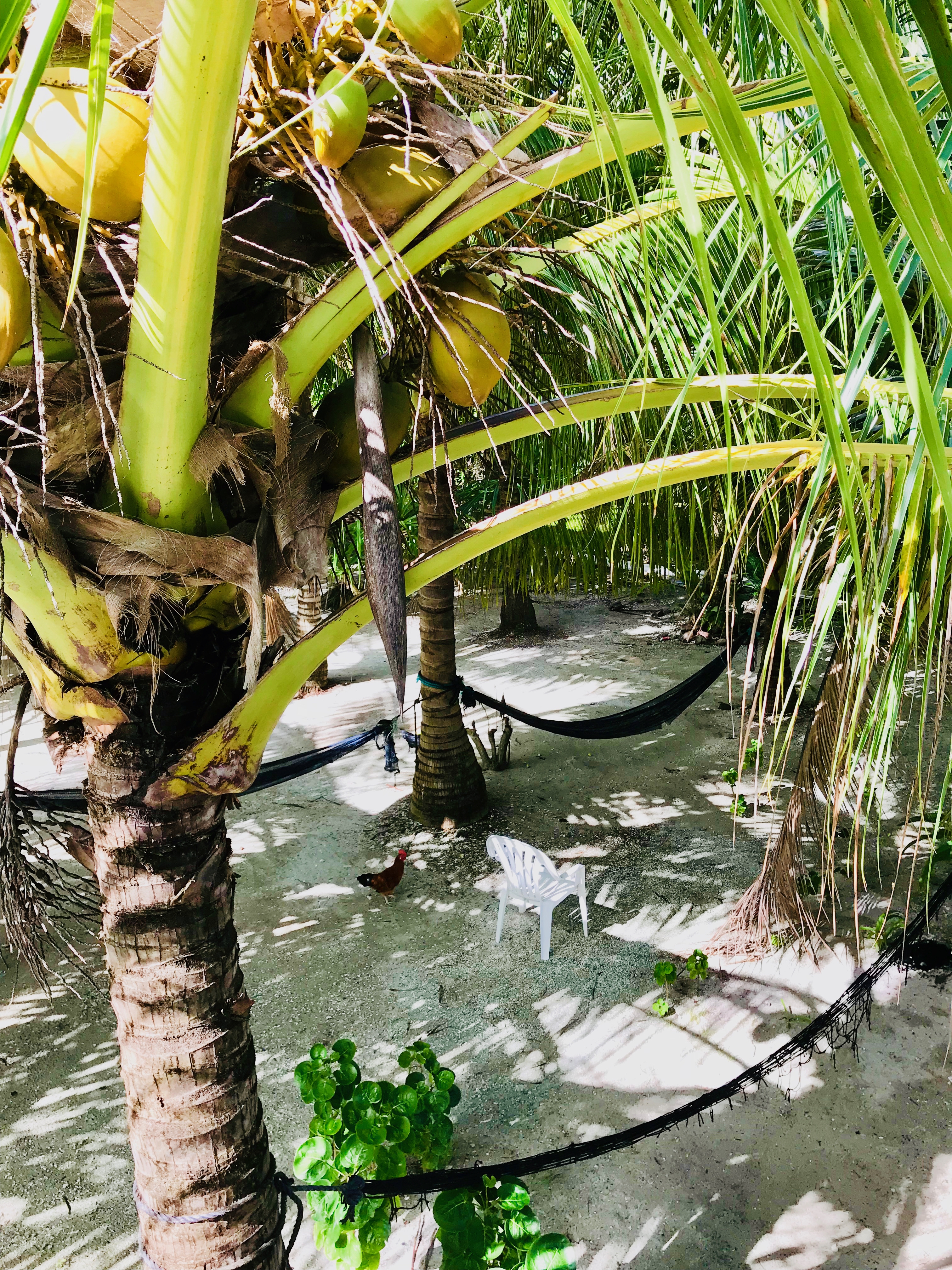 The two most amazing books I read during the week were Tales of a Female Nomad: Living at Large in the World and The Sex Lives of Cannibals: Adrift in the Equatorial Pacific. Highly recommend both!
Writing
Being in such a place is so amazing, creativity just flows. I ended up writing every day!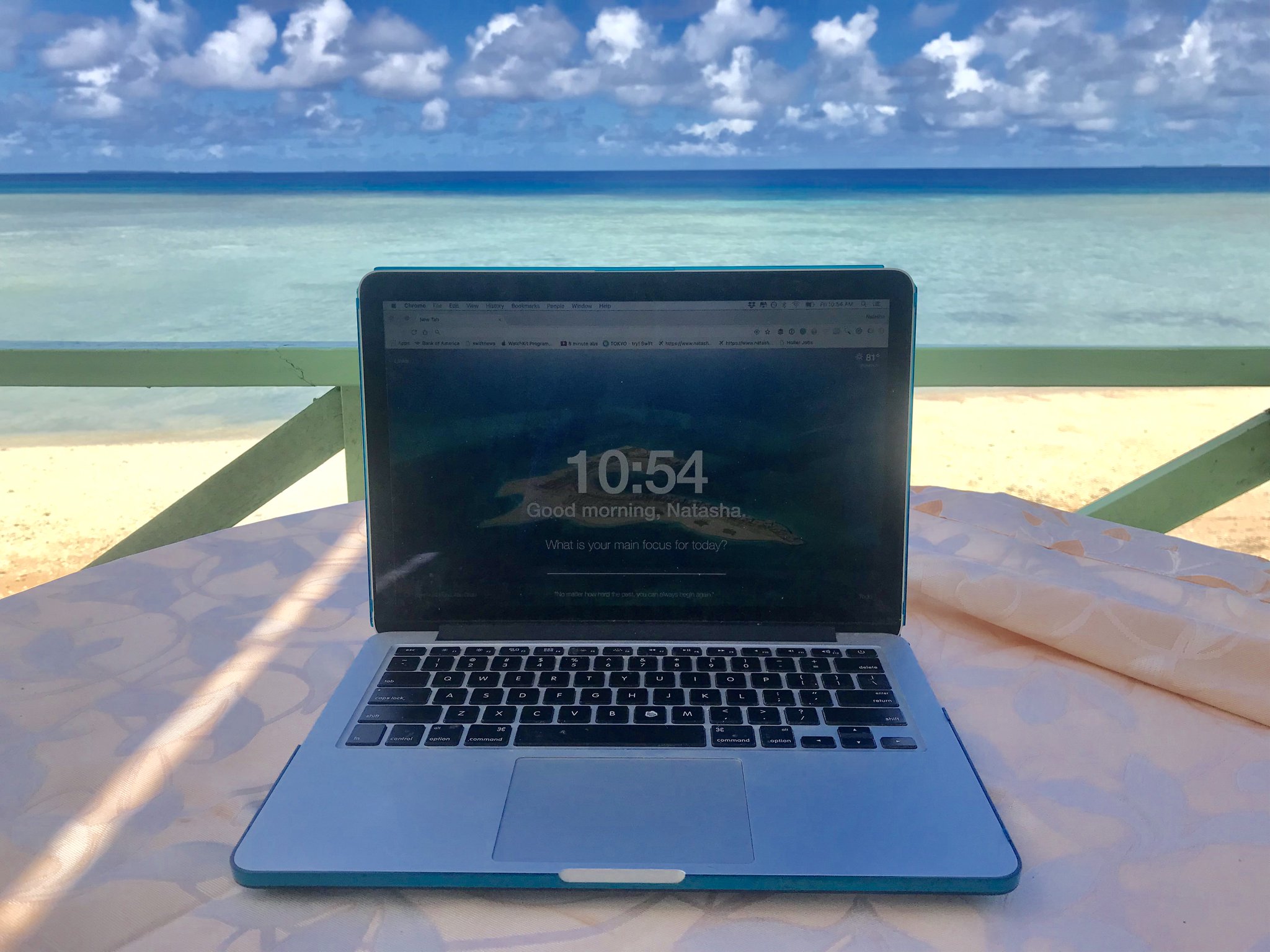 Rainbows
I got to see at least one stunning rainbow every day!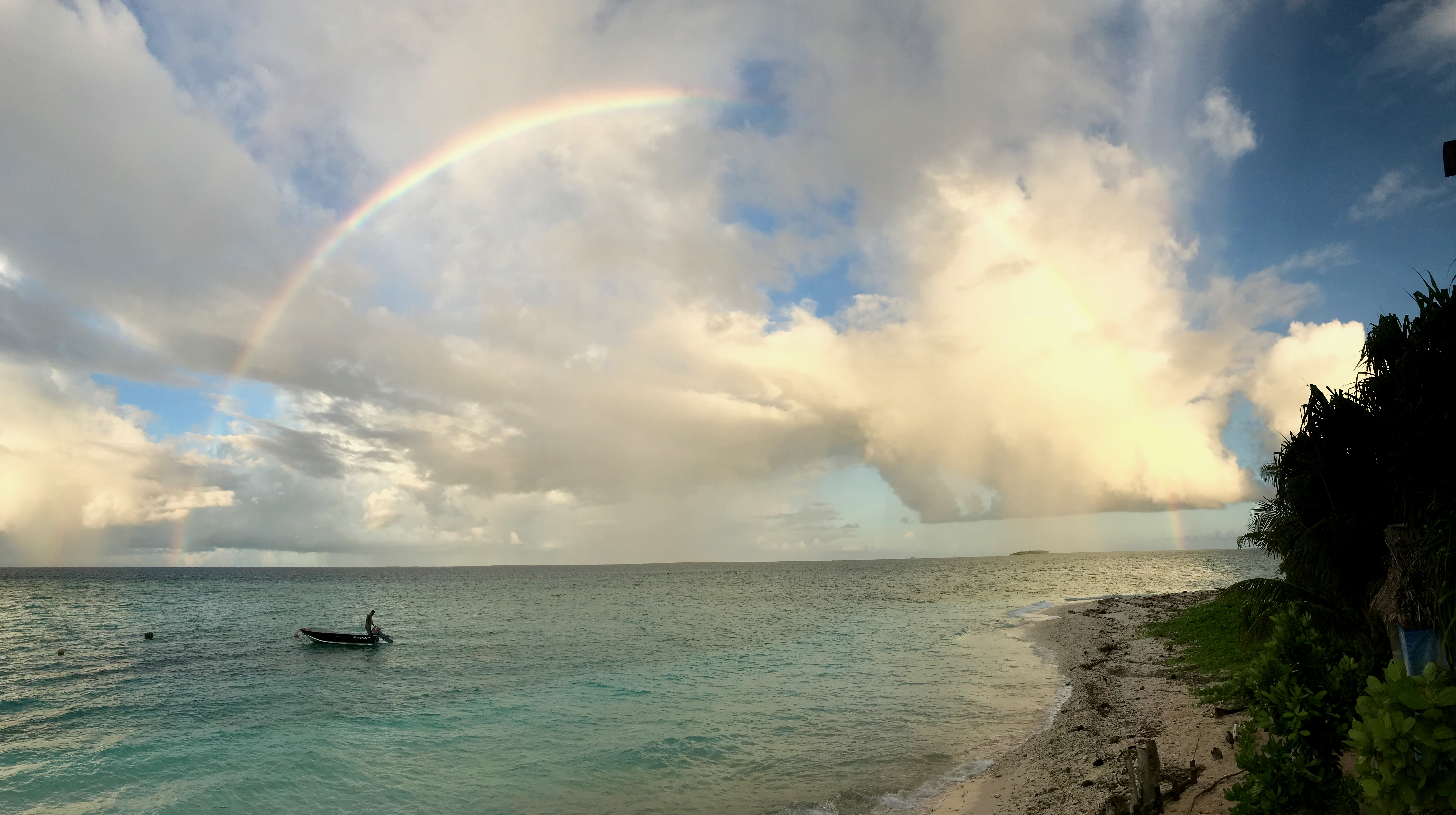 One day, it rained, and the water turned the most stunning green color: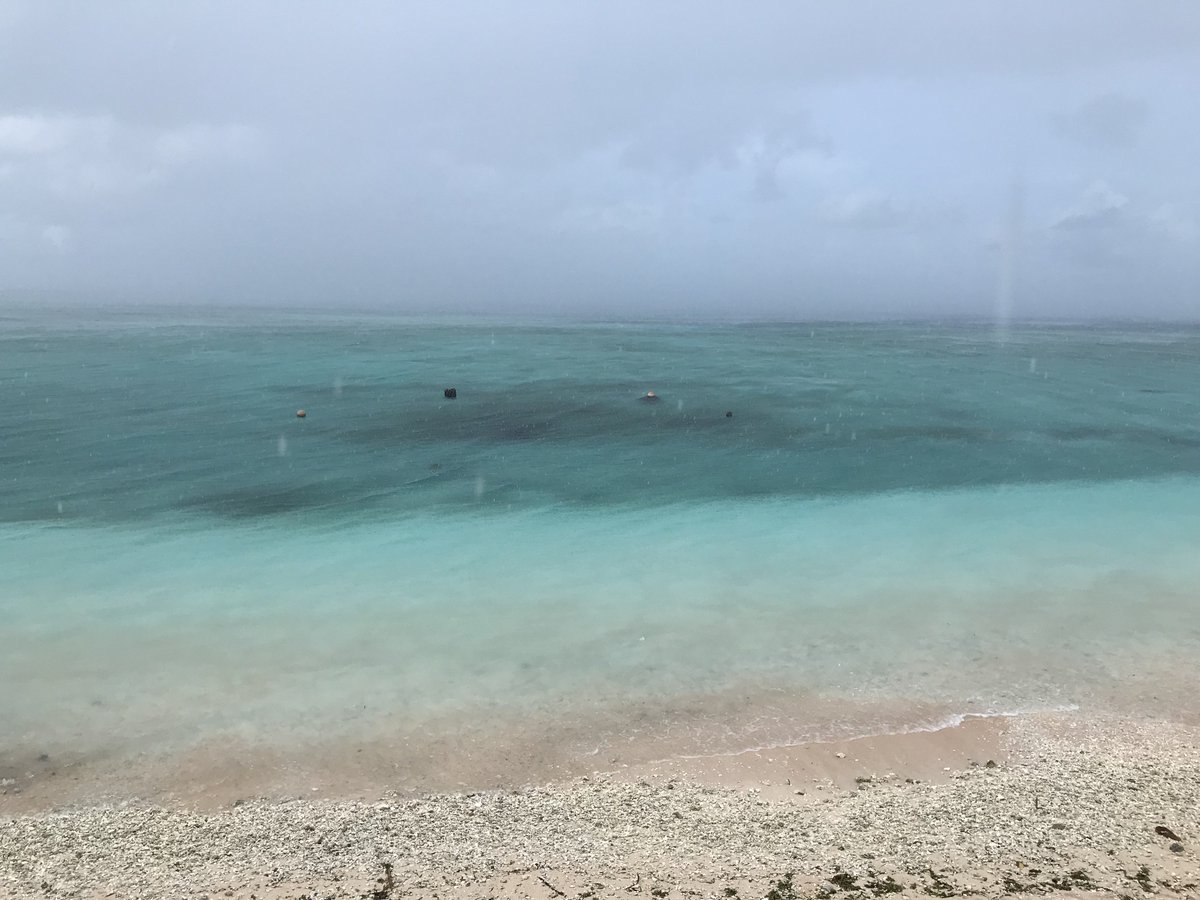 Soon, a double rainbow was added to such stunning natural beauty already: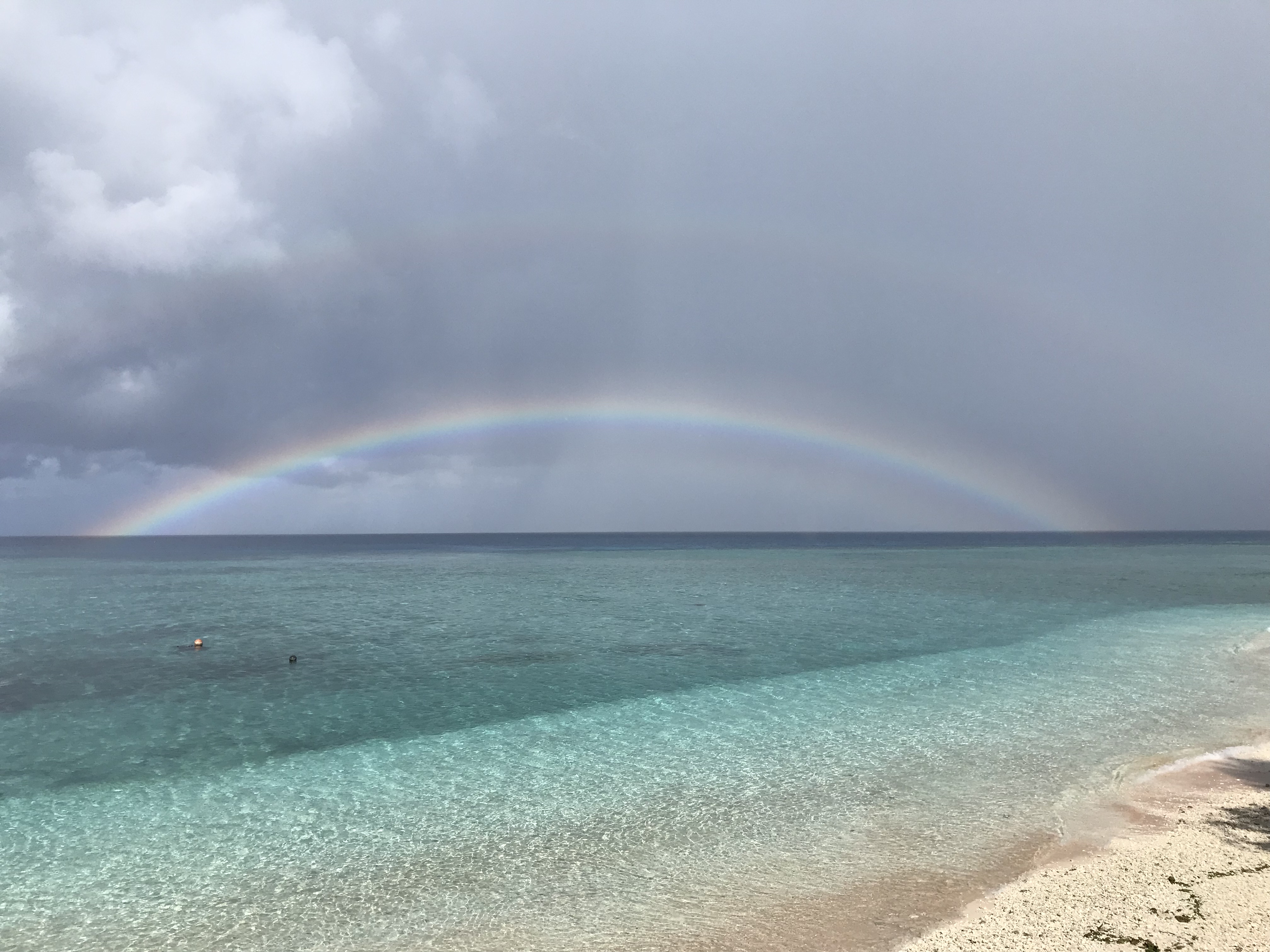 Soaking in the Moonlight
The stars and moon in the middle of nowhere in the Pacific are simply stunning. No city or pollution to hide them. I would go to the beach after dinner and just lie there soaking it all in.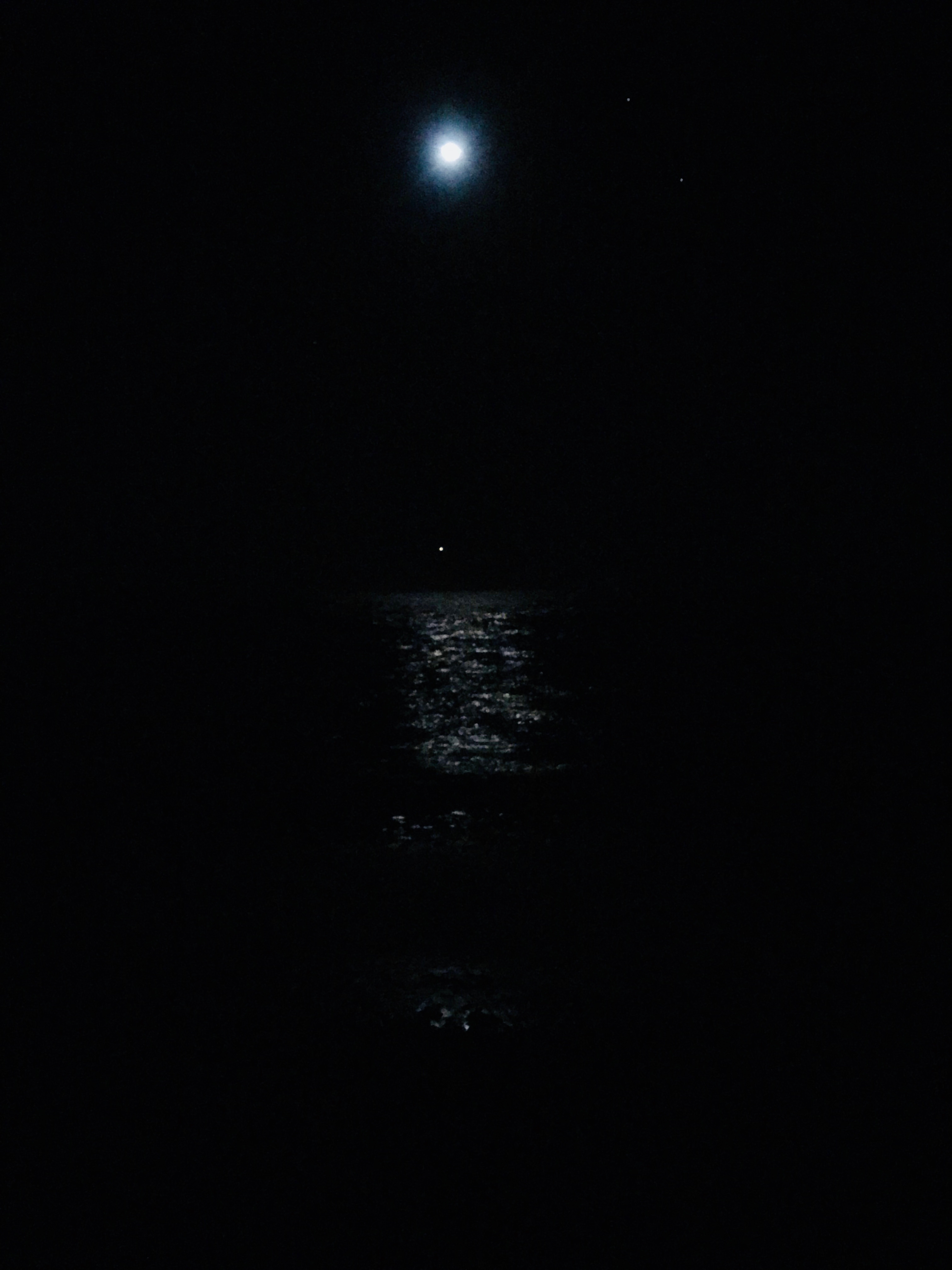 Funny enough, one family member asked me if I was afraid going out in the dark. I didn't understand why he would ask that - after all, we're alone on the island, there are no scary animals like bears or lions or even dogs that would attack me.
A few days later, another family member asked if I wasn't scared of ghosts. I thought he was joking, but then I realized that's what the first family member was referring to. Ghosts and spirits, especially in the night under moonlight and stars must be part of their culture. I could see why.
The Food
I was very worried about food when I read about Cate's experience of food on Tuvalu. I figured I would just not eat… But my hosts at Afelita Island Resort were the absolute best!
I started my day with a breakfast coconut picked right from the trees on the island!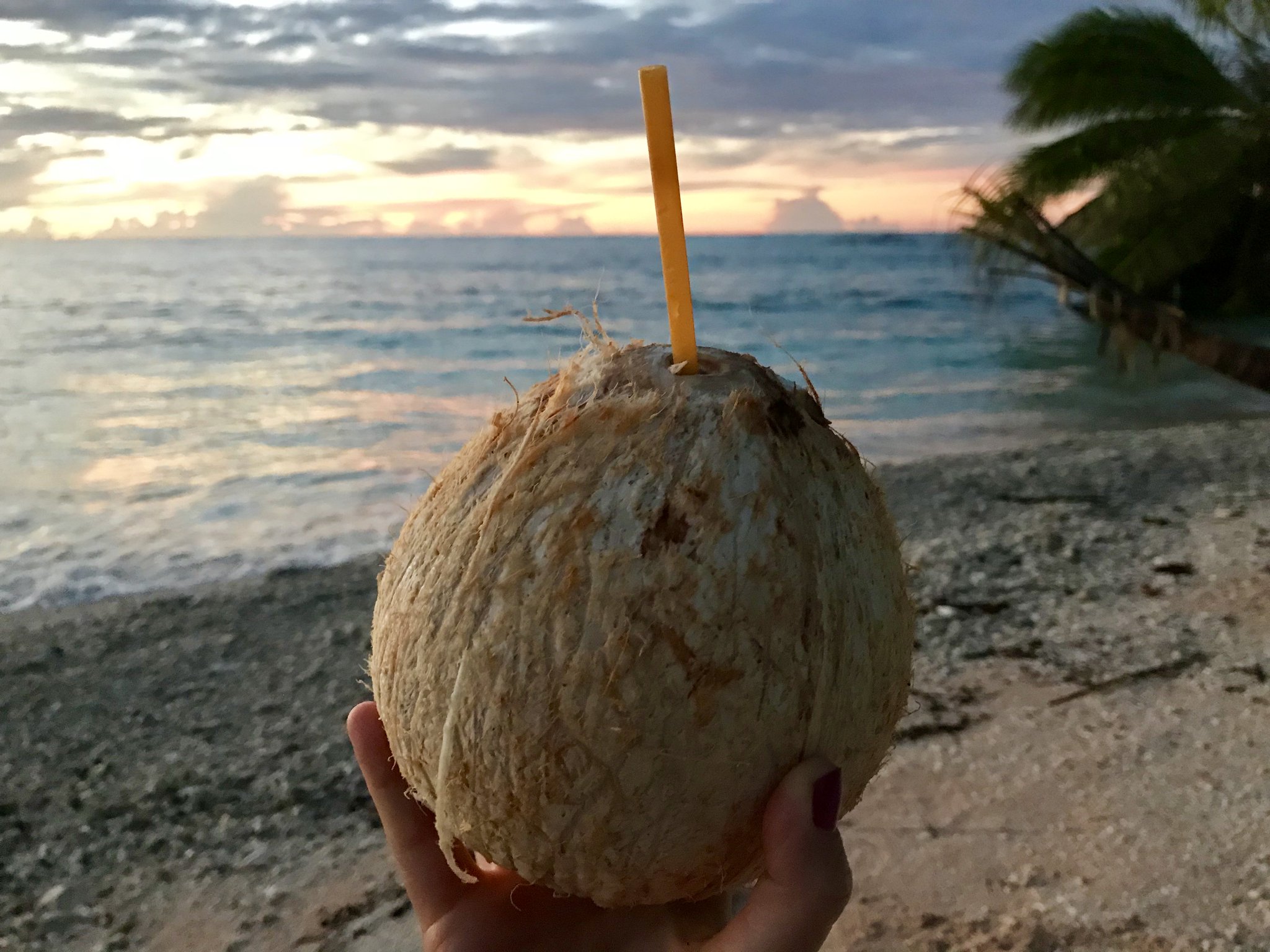 After I drank the sweet coconut juice, my hosts cut the coconut in half for me, and I would eat the flesh: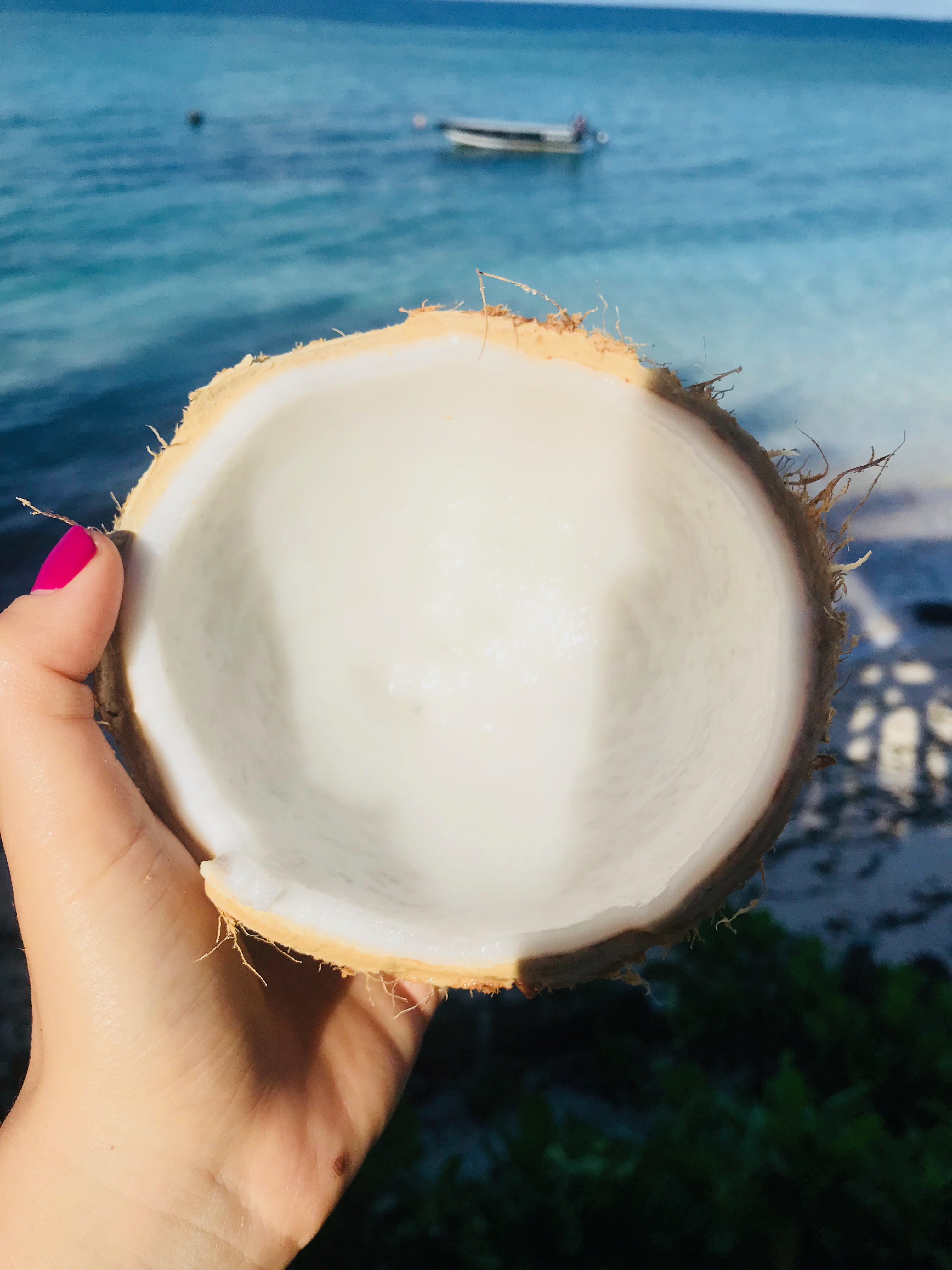 They also had the option of cookies, cereal, milk, apples, pears, eggs, and other Western foods, but I was very happy just eating a fresh coconut as my breakfast.
Lunch and dinner was always amazing - included a few fresh-caught fish, rice, and vegetables.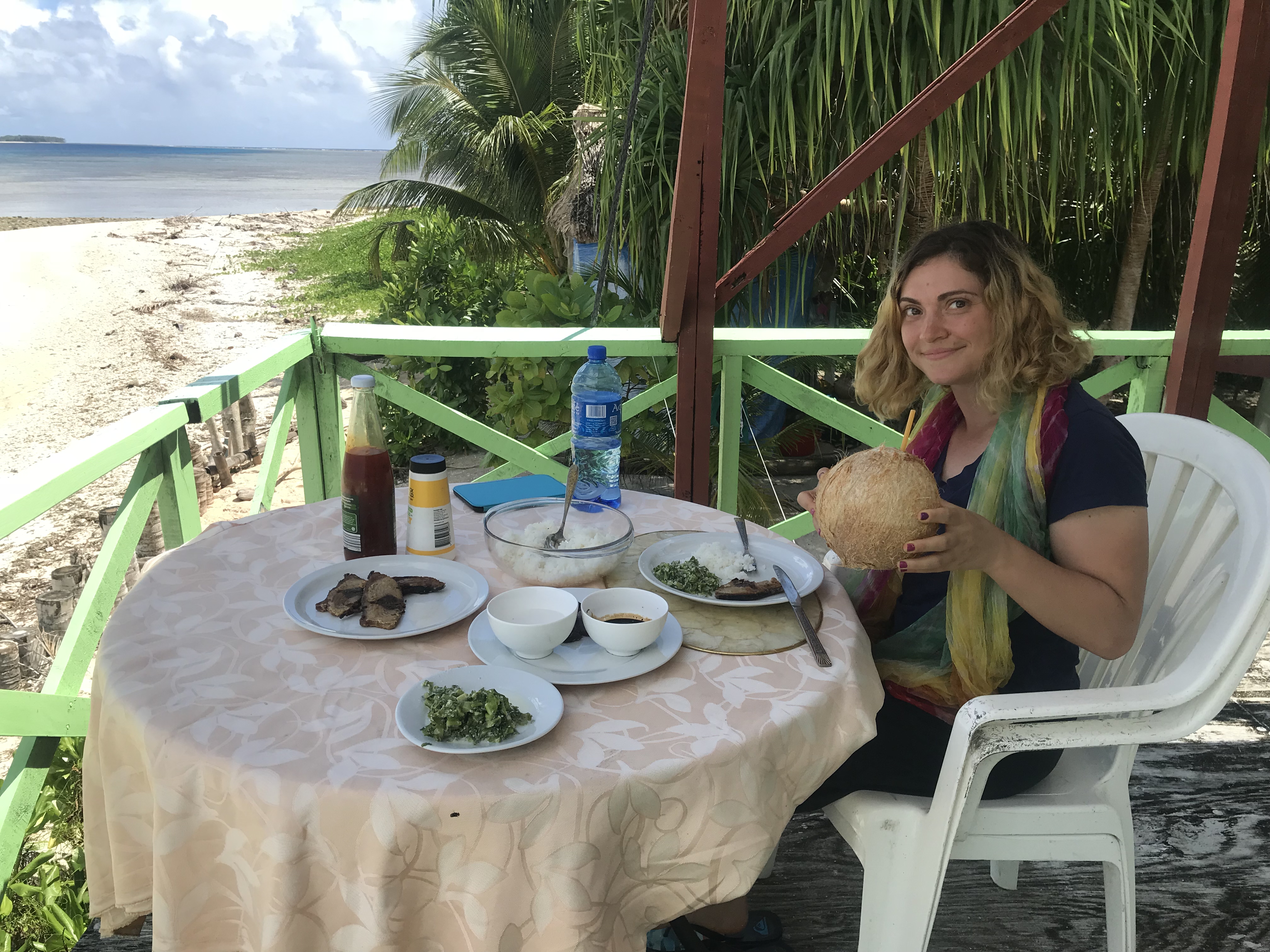 Everything was absolutely delicious (I felt so spoiled!). My favorite was their preparation of Kokoda - a Fijian ceviche dish, raw fish in coconut milk: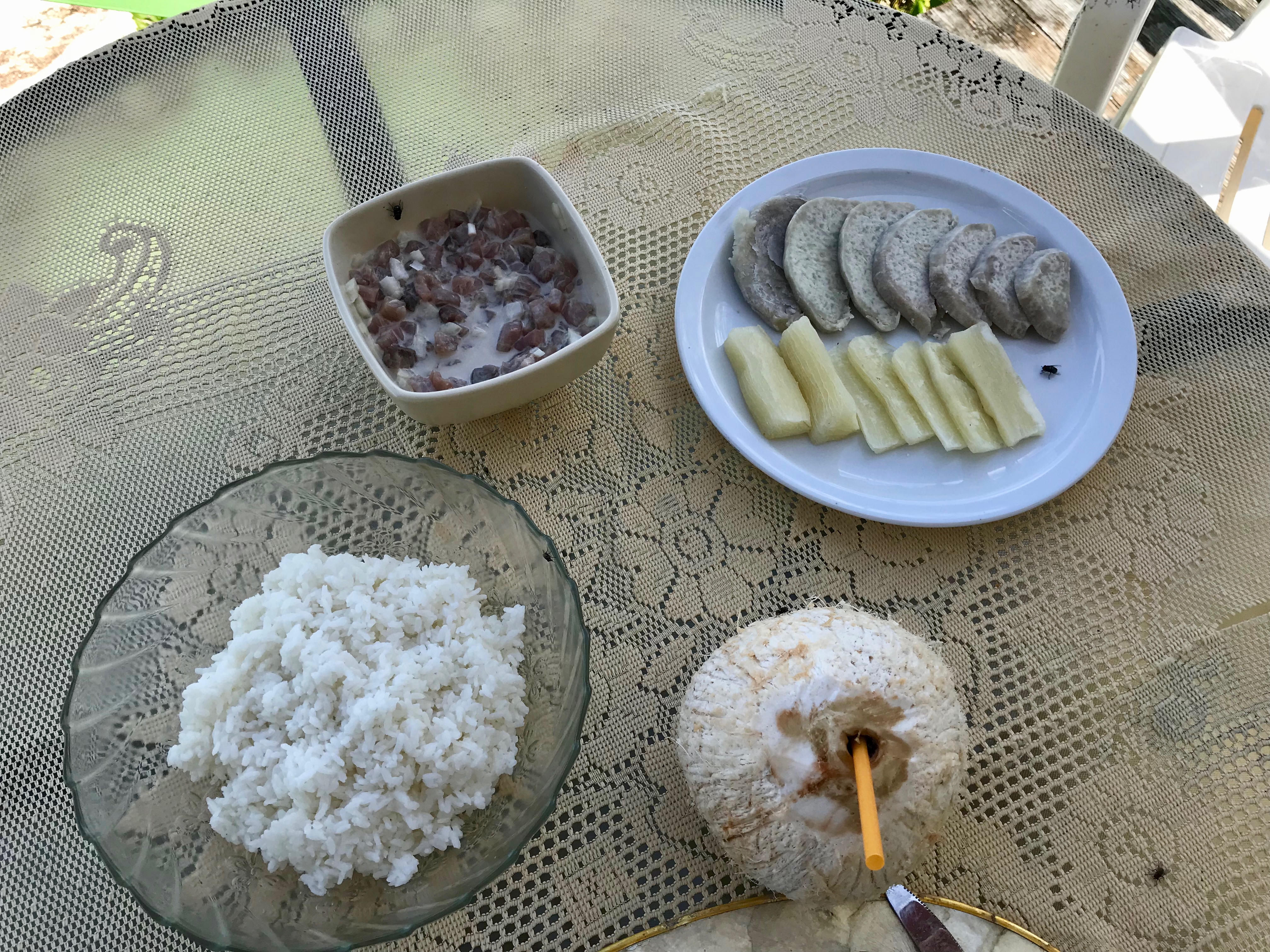 One of the cousins caught a fresh tuna and they made me the best sashimi!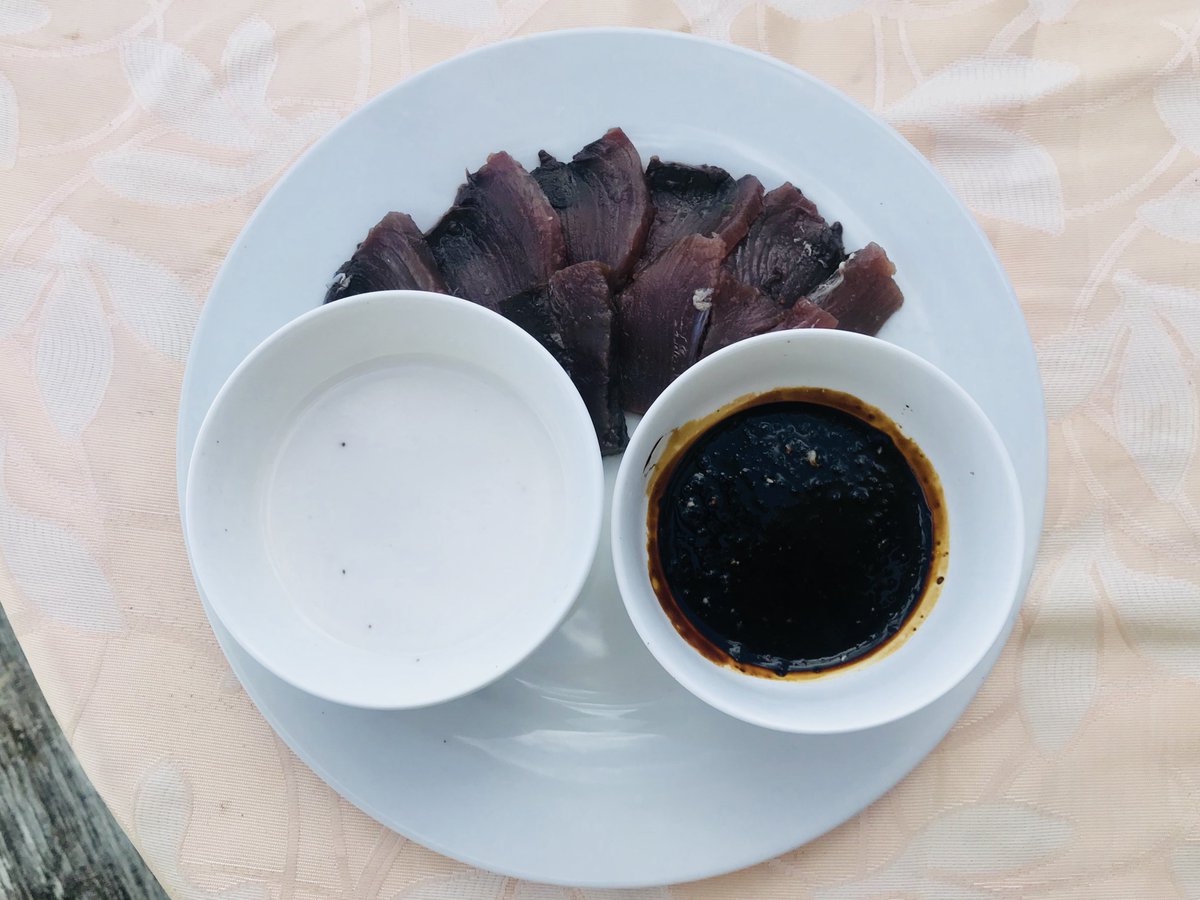 With it's unspoiled crystal-clear waters, Tuvalu is the place where Japanese and Korean vessels pay a hefty fee to fish. This tuna is probably fresher than you can get in Japan!
I also loved the local seaweed + coconut milk salad: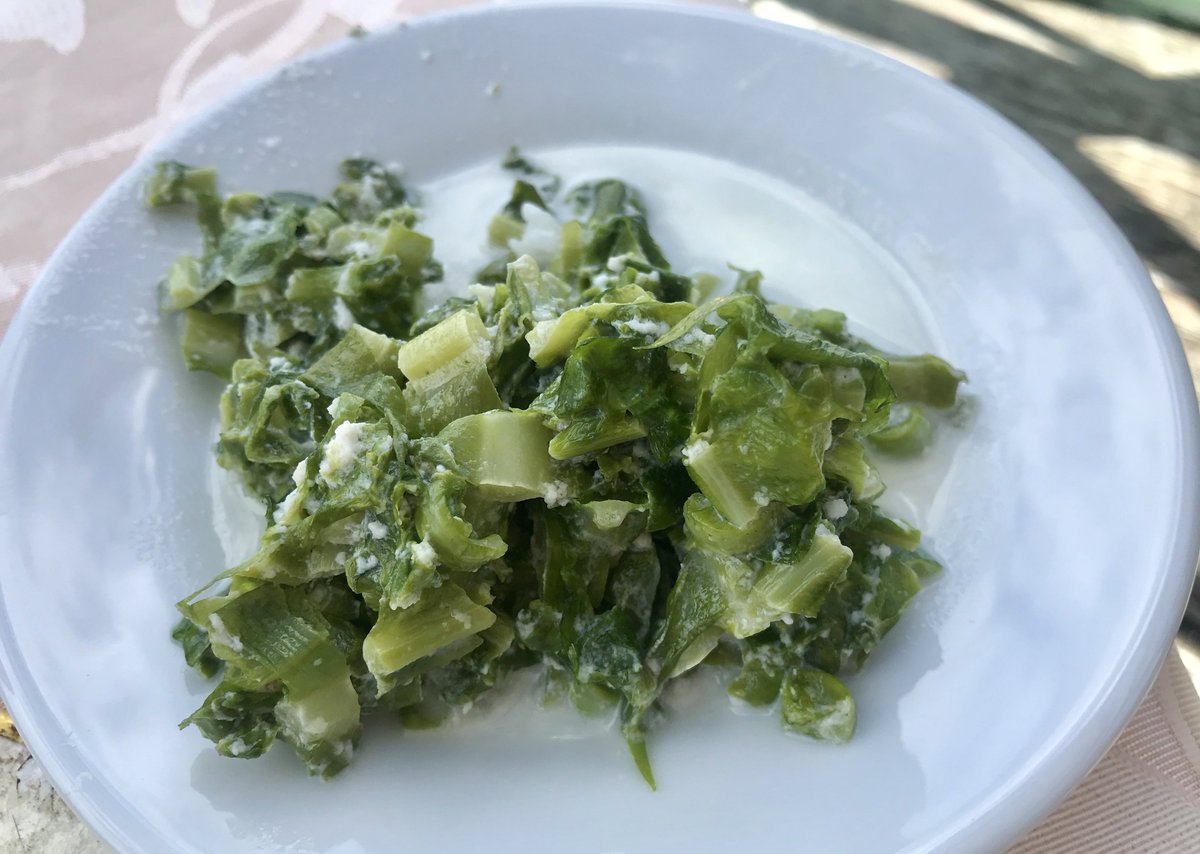 And I really enjoyed cassava - the super filling potato-like root!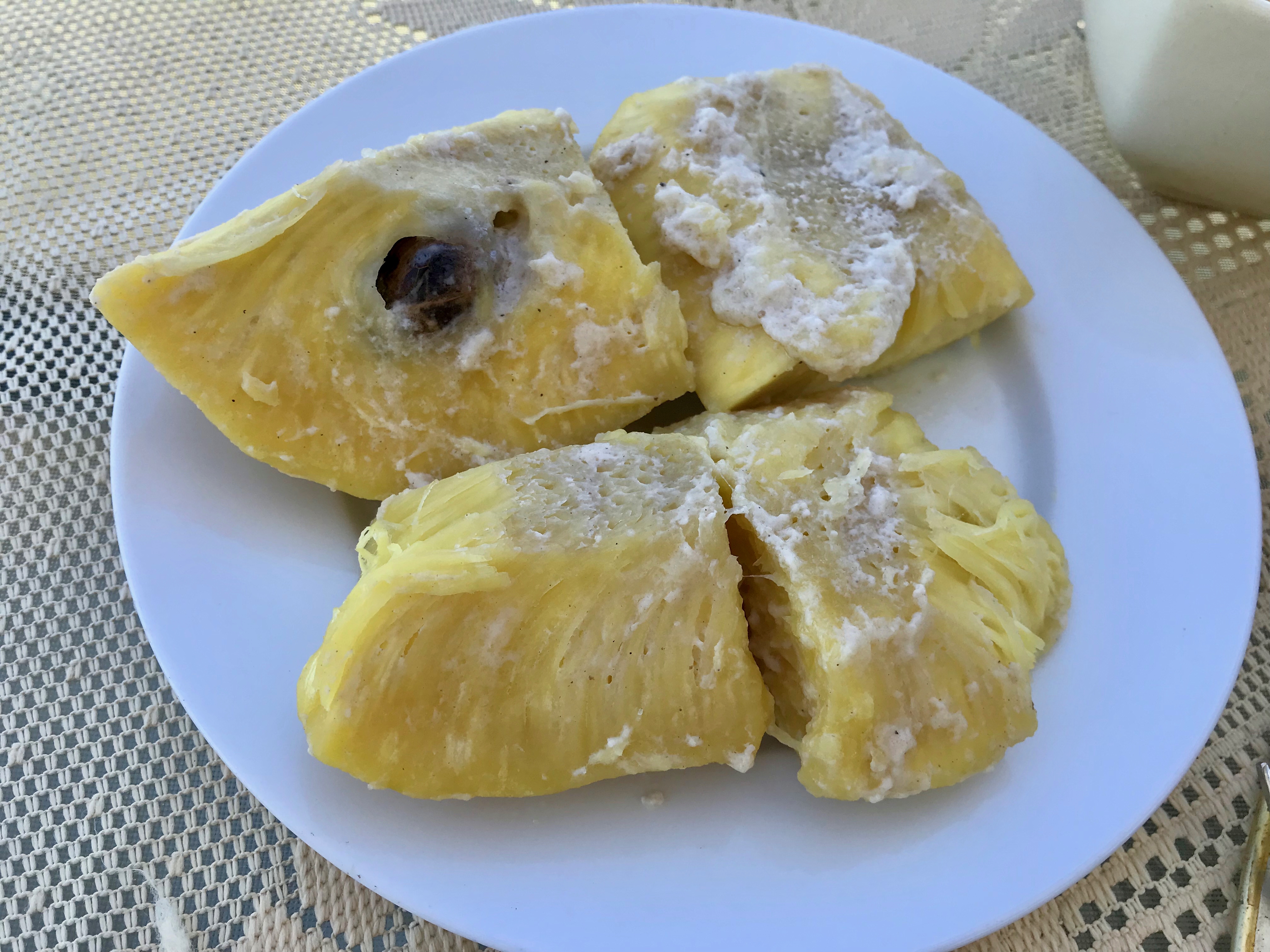 You know how they say some foods are great for dieting because they make you so full? Like celery? Well, I always want to eat more right after eating celery. But after a few bites of cassava, I'm soooooo full! It's truly amazing - delicious and truly great for dieting.
One day, they made great cassava chips. How pretty are these?!!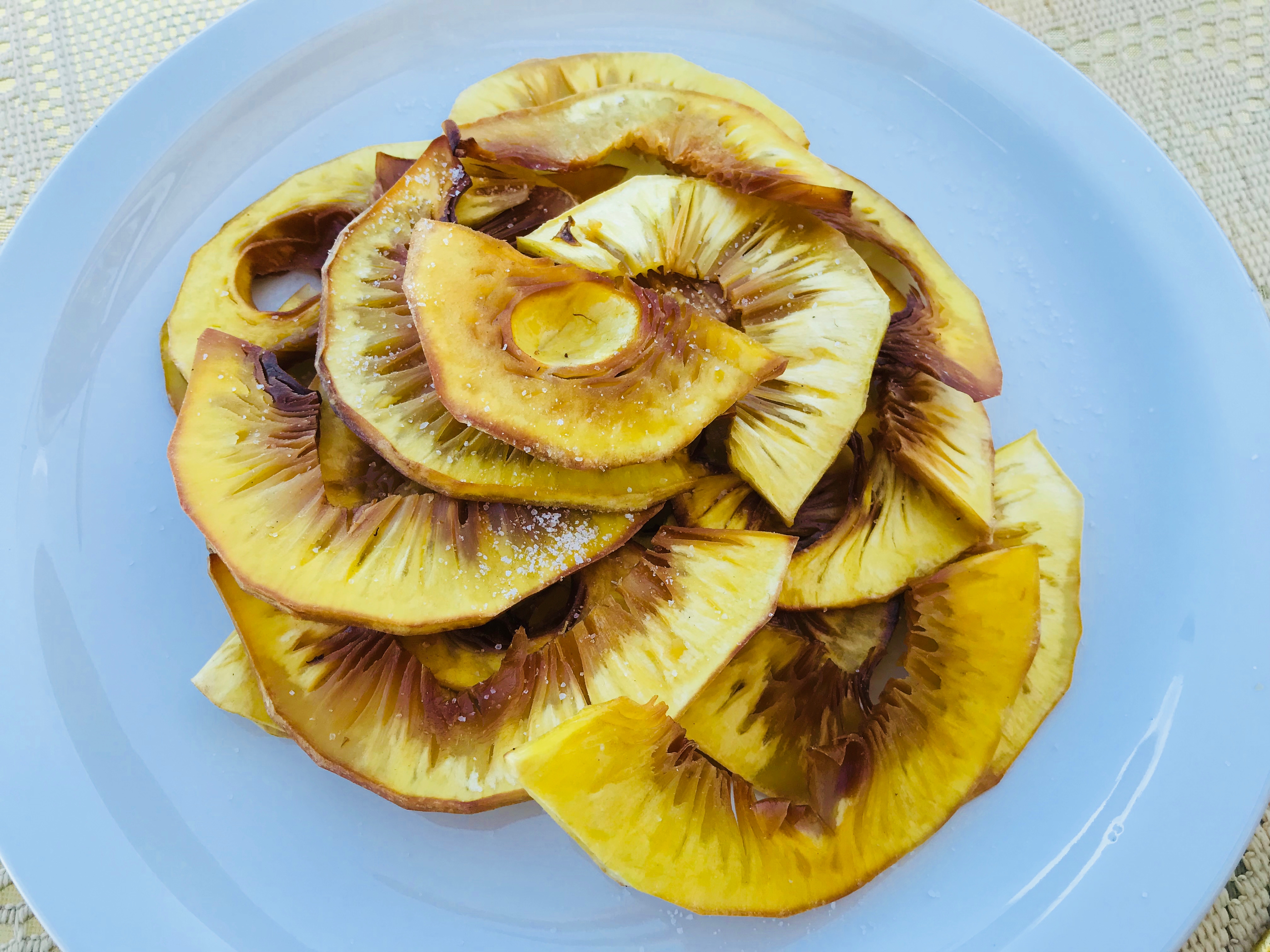 I felt like I was very spoiled and taken care of. I'm used to taking care of myself - I live in AirBNBs and mostly cook. It was an incredible and overwhelming feeling to have a family cook delicious food for me every day.
The Family
Since I was the only guest at the Afelita Island Resort, it felt like I was part of the family. The owners (the parents), Lita and Afelee were out for most of my stay. Afelee came by one evening and I really enjoyed talking with him during dinner.
Afelee and his family lived in New York for six years when Afelee was Tuvalu's ambassador to the UN. I can't imagine going from the island paradise of Tuvalu to New York (even I have a hard time living in New York for a few weeks a year that I do!). I could see how much Afelee loves Tuvalu. He built the island resort to be eco-frindly, with solar panels powering the lights!
As I was there, Afelee was traveling around helping re-write the Tuvalu constitution, taking care to go to each island and explaining and collaborating on the changes with everyone. Lita and Afelee have many children, and I think he said 16 grandchildren!
I was taken care of by TJ - their daughter. She was amazing - very smart and very professional. She made me feel like I was staying at a 5-star hotel. It's hard to get such personal customer service anywhere else in the world.
And throughout the week, other members of the family would join us from the main island. One night, I joined a few of them playing the board game Sorry! that they completely made from scratch with an old table hand-drawn as the game board and custom game pieces (coins, sticks, etc). It took me back to my childhood - I haven't played Sorry! since then!
Pets
One day, the cousins brought over a pet turtle - they caught it when it was little. I watched them set it free into the ocean!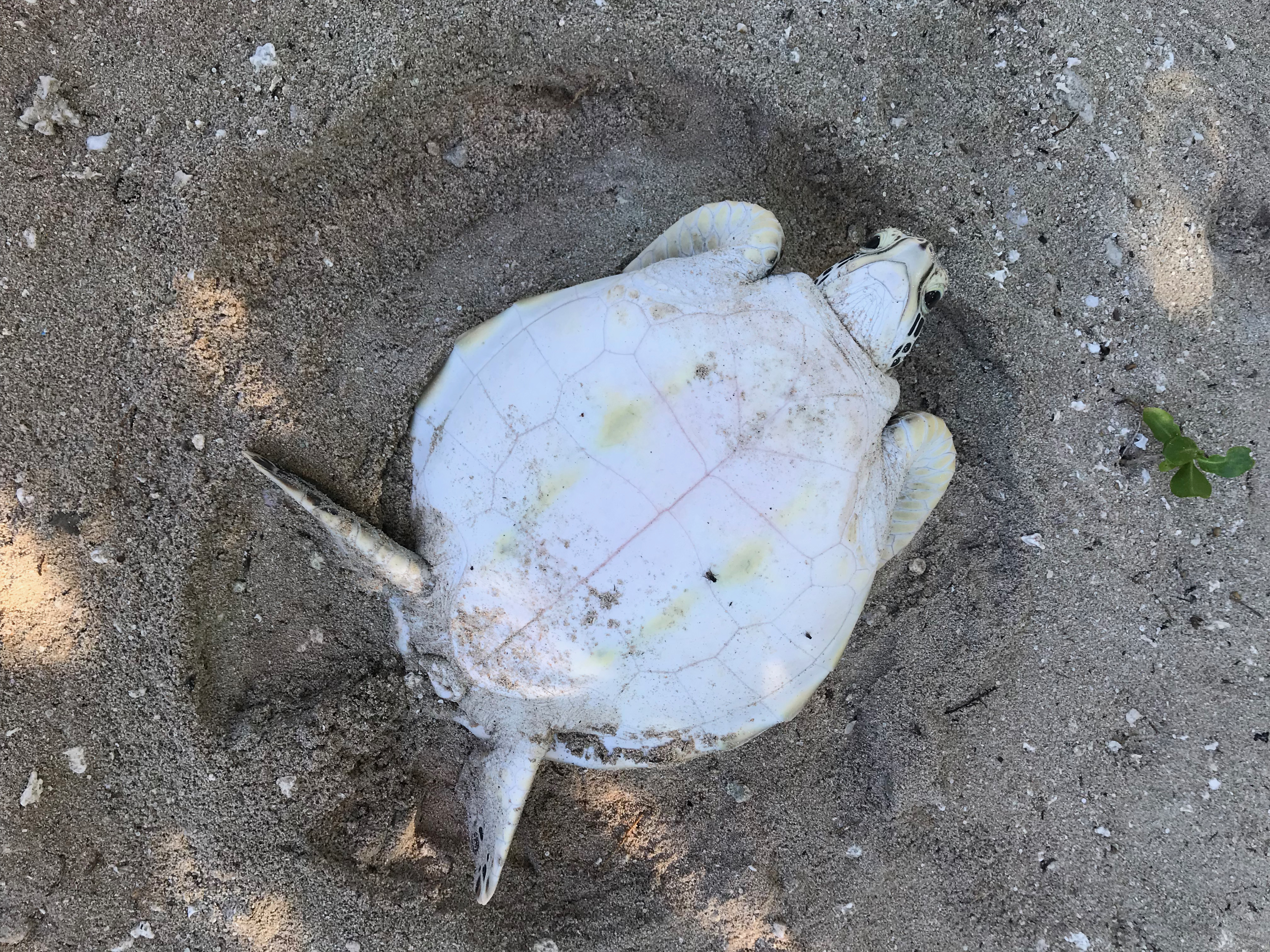 They also had a duck that would walk around and sometimes appear in the dark: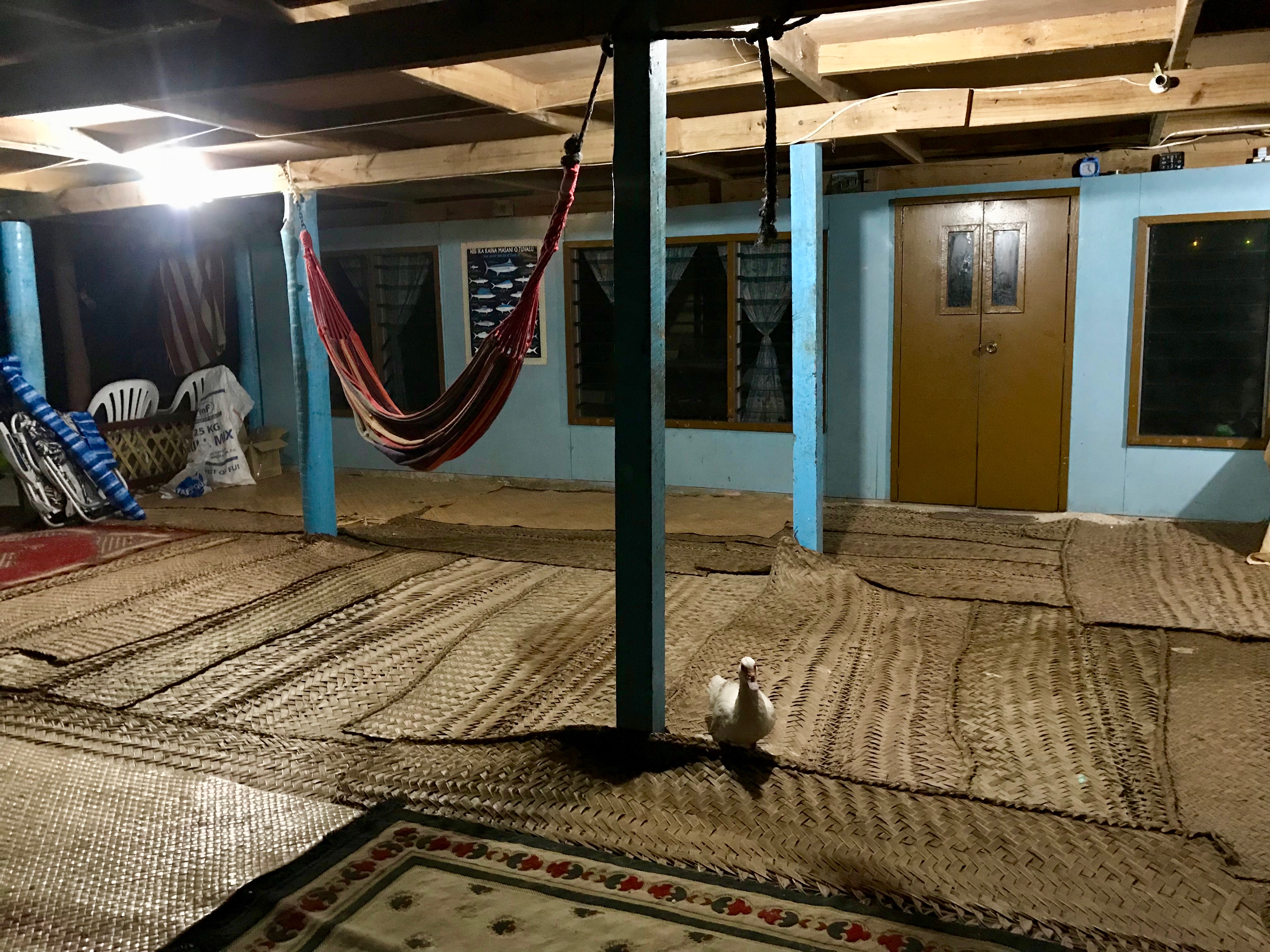 I loved when the duck would eat a coconut: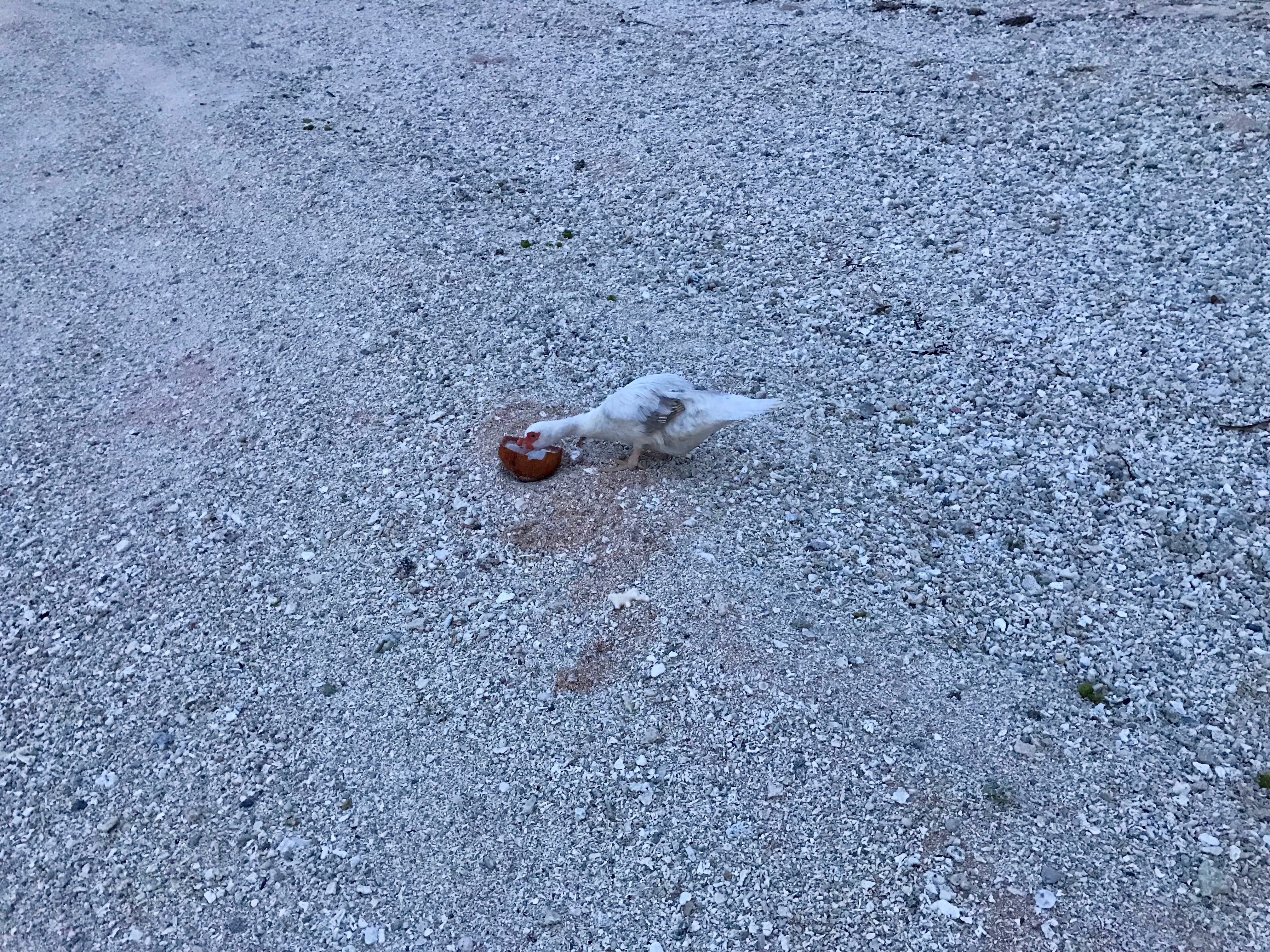 I walked to the back of the island one day and found a pen of pigs - they were very big and making noises, so I just didn't go to that part of the island after that.
The Luau
On another day, the cousins brought a pig they just killed to cook on the island. I watched as they dried the pig from the water and cut it up for food purposes.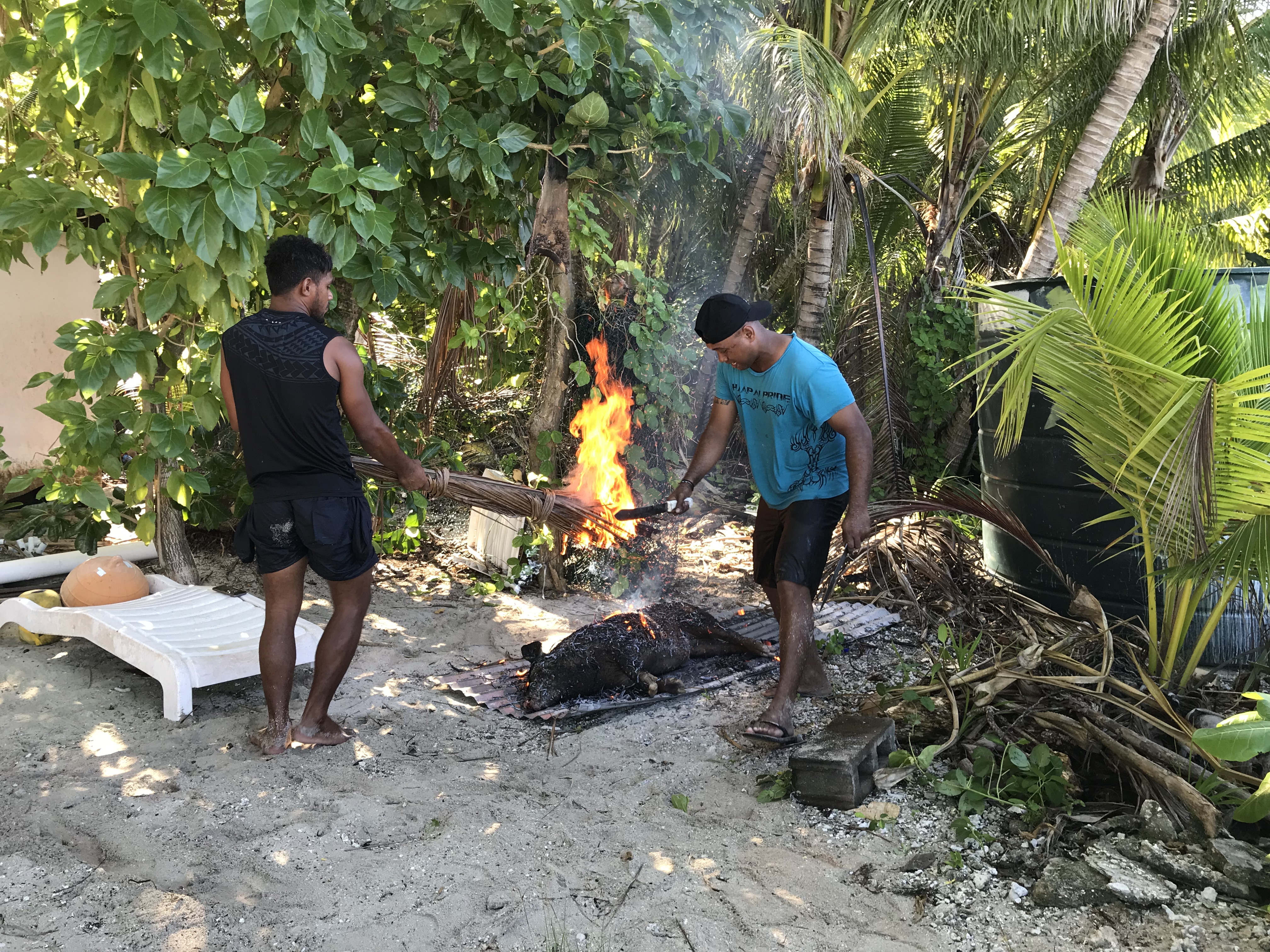 They soaked the pig in sea water (this makes it super tasty!) and later cooked the pig in a traditional earth oven dug up into the sand (called lovo) and covered with coconut shells. A private luau!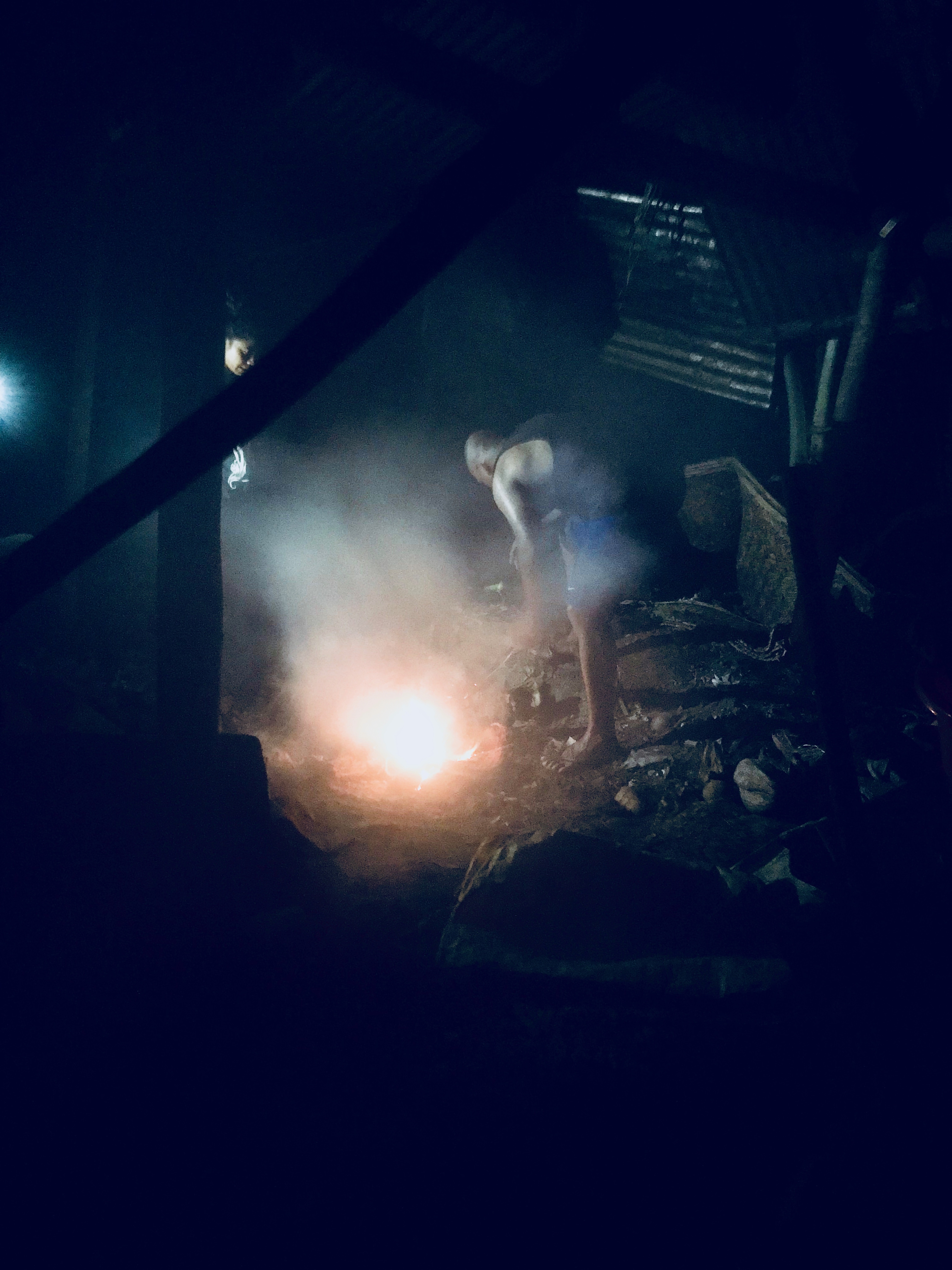 I've never seen that happen before! In the U.S., we are so removed from our food. We go to the store and buy meat, which looks nothing like the animal it came from.
The closest I've been to this type of experience was when I went to a very touristy luau in Hawaii. It basically consisted of getting all the tourists drunk (open bar), dance performances, and the serving of the food - it was served in these hospital-like tray and looked horrible. The pig got cooked in the background while everyone was getting drunk - we didn't get to see the gory parts at all.
Watching a real pig be cut up like that was fascinating to watch and a bit shocking. I don't eat pork (I'm mostly vegetarian these days), but I usually make exceptions when food is an experience like this one. However, in this case, I just couldn't make myself try this pig - my stomach was closed up after watching the violence of cutting it. If you're into pork, this will surely be a treat for you!
Basket Weaving
On the night of the luau, I came back from my night moon stroll to see some of the cousins weaving baskets out of coconut leaves: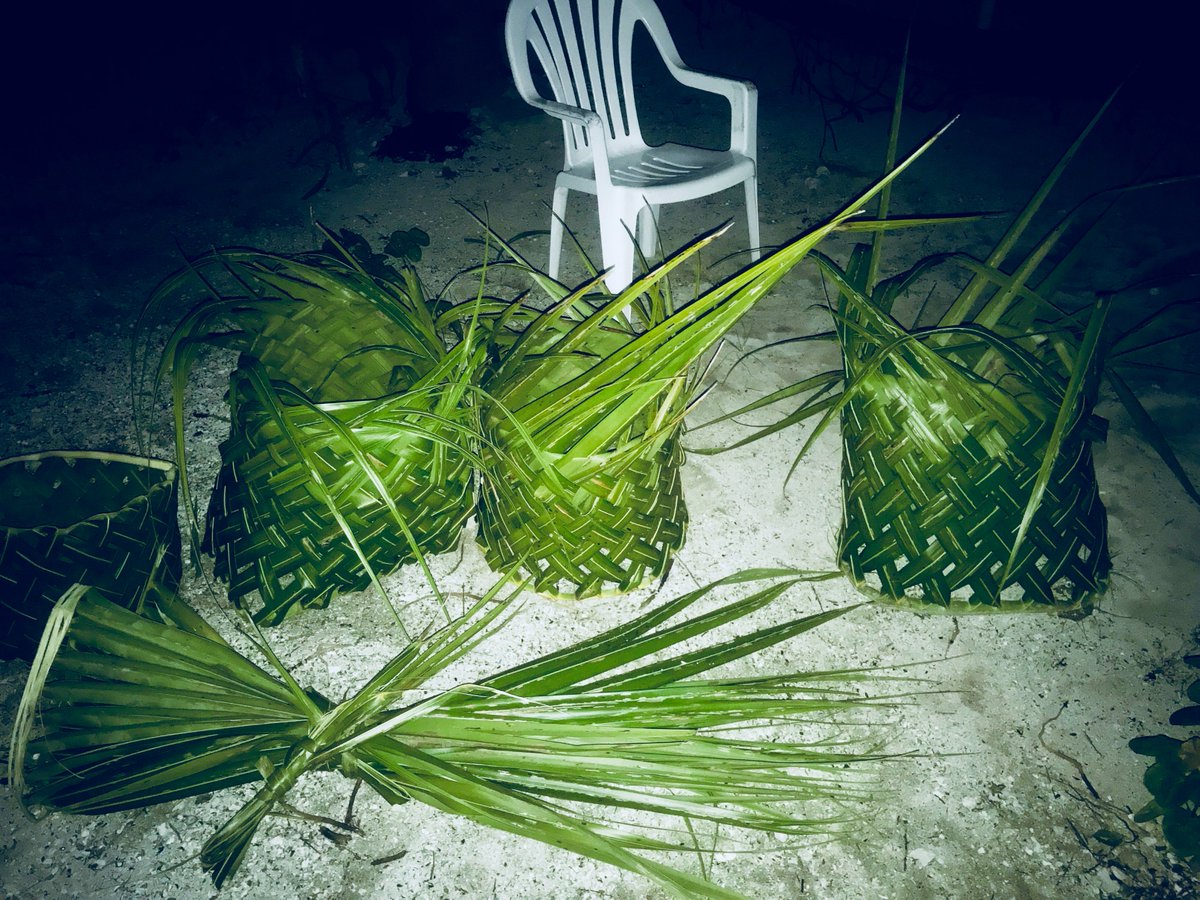 I asked if they were doing it for fun. As a Westerner, that's the only reason I could think of for this activity - it looked like fun to me! It turns out they were actually weaving these baskets to use to gather coconut shells for the earth oven (lovo).
This is where the evils of plastics on the environment came alive for me. Instead of using plastic-based bags that would pollute the ocean and kill wild-life, they were making natural, organic, bio-degradable ones from materials around them.
It suddenly made sense to me why people in countries like India simply throw garbage on the ground - back in the day (before plastics), all garbage was just natural materials that would simply decompose like coconut shells and baskets made from coconut leaves.
The next morning, they used the pretty baskets to bring parts of the pig back to the main island to share with their other family members.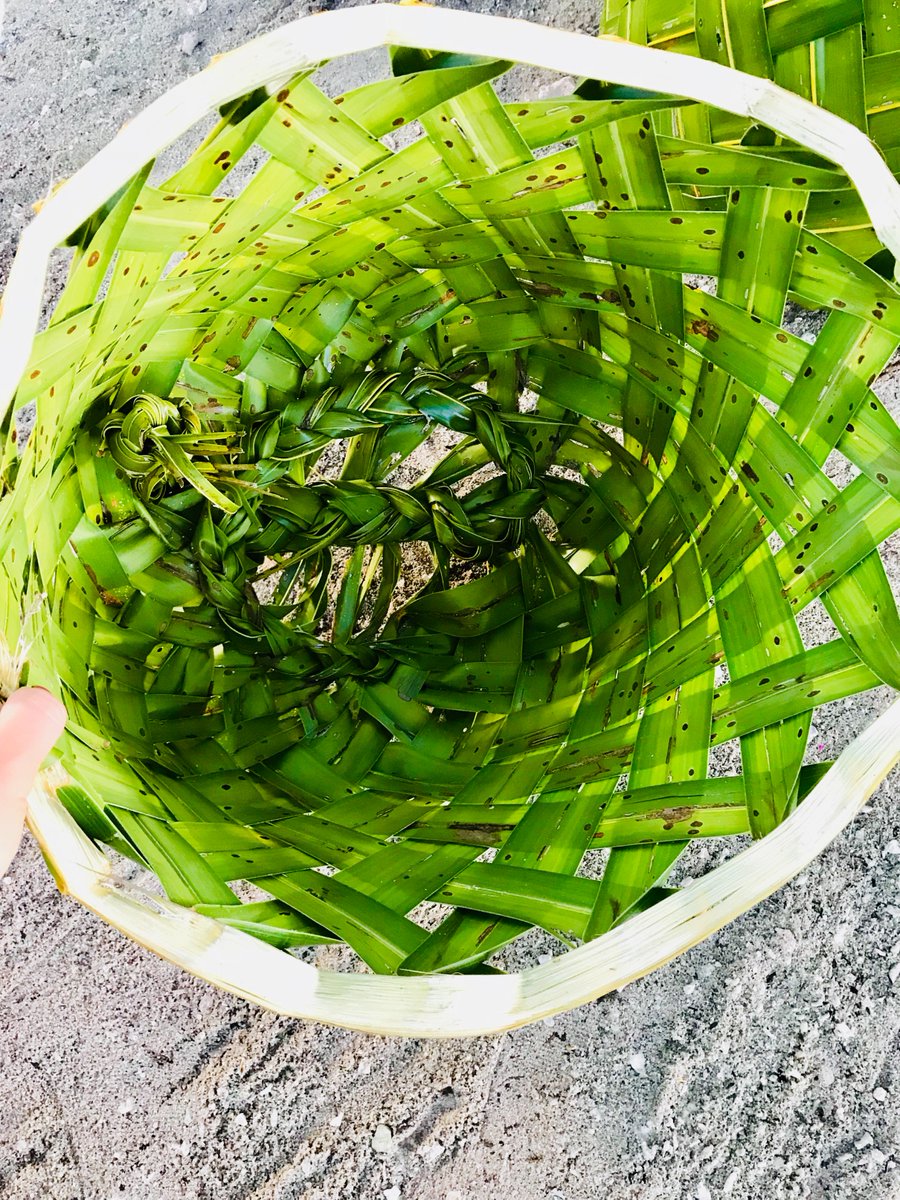 The Boat Trip
On my last full day on the island, I asked my hosts to arrange a triangle tour around the lagoon, as mentioned by Afelee.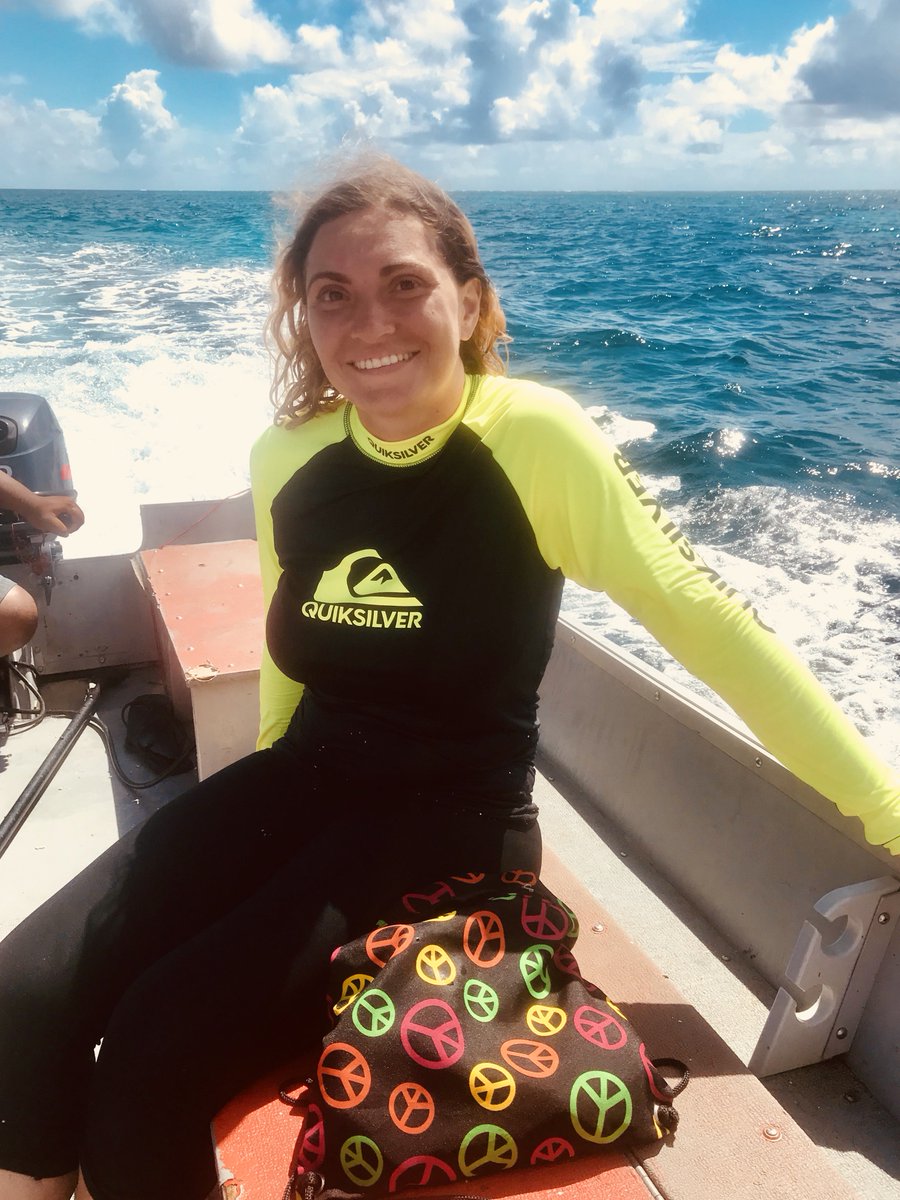 The water was the most unbelievable shades of blue.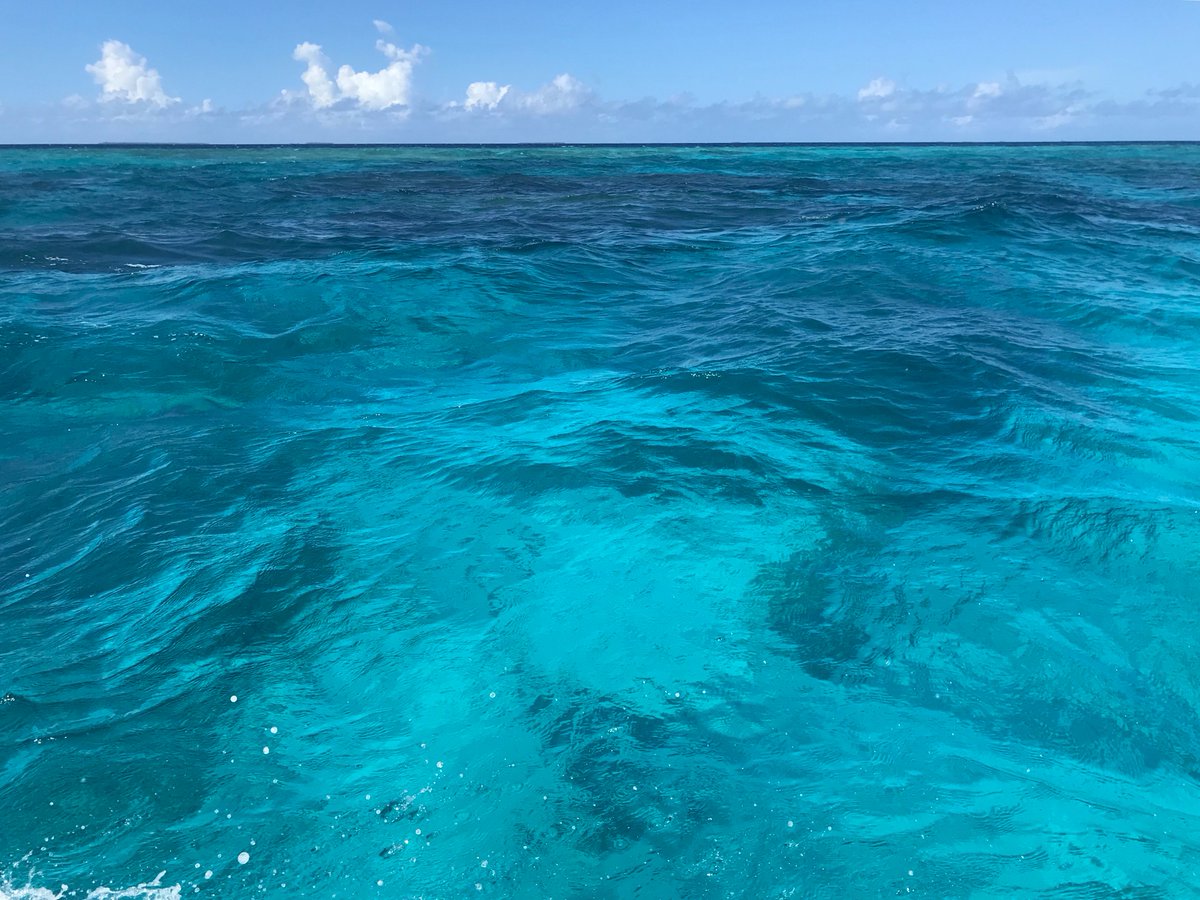 They took me to a completely deserted atoll for snorkeling: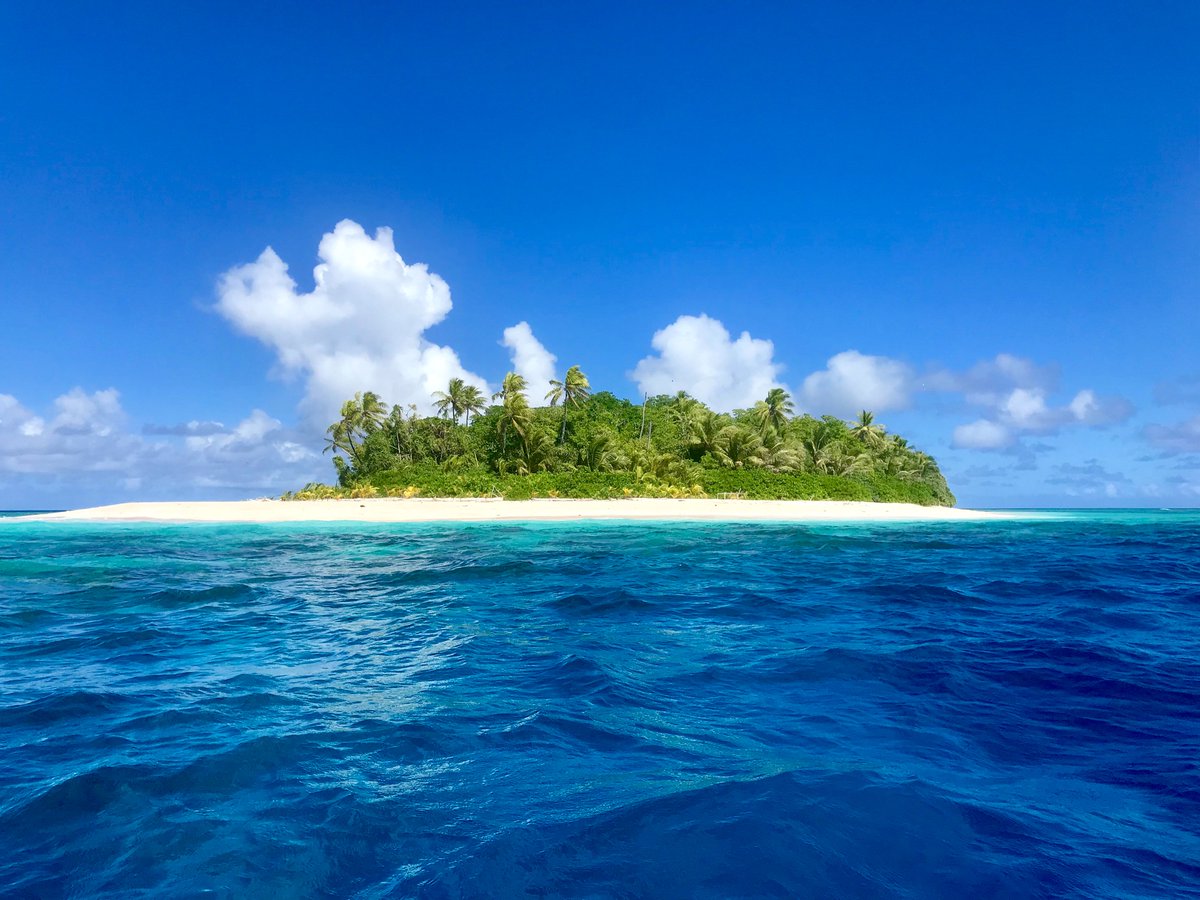 I love looking at all the beautiful fish. A whole world under the sea!
Next up - another deserted paradise all for us!
After a bit of swimming, my host TJ prepared the best picnic lunch for me!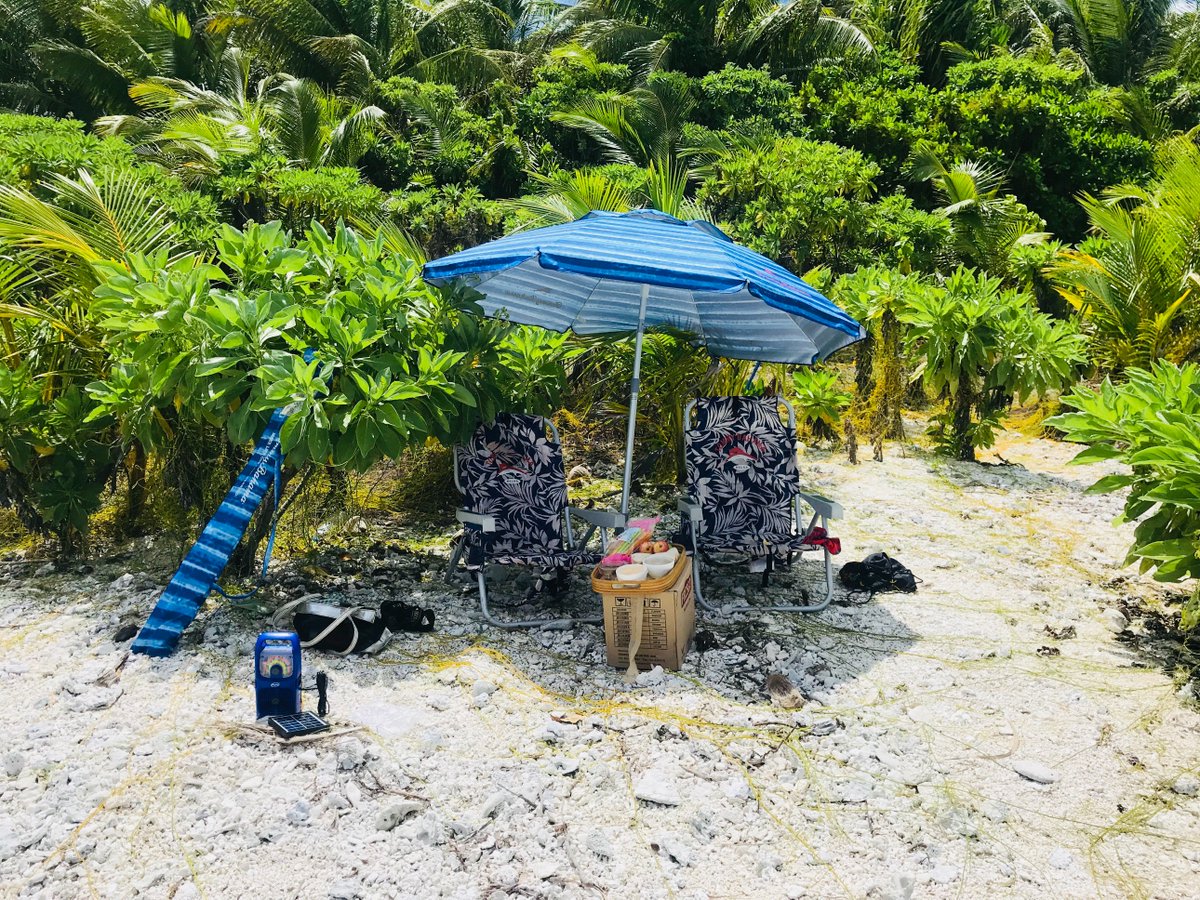 I would be way too lazy to ever do that type of setup for myself! It was unbelievable. True heaven.
On the way back, I saw several flying fish! I thought flying fish were once that simply jump out of the water, but these could actually fly a bit, like grasshoppers. It was soooo cool!
Fun on Funafuti
Since my flight was in the afternoon - I had another half-day to explore on the main island (the long strip of land Fongafale) where everyone lives. A trip from one end of the island to the other takes about 30 minutes!
I was planning to borrow their motorcycle and drive around, but it was not the easy scooter I learned to drive in Thailand. The motorcycles on Tuvalu are more old-school with gears controlled by feet. I didn't feel comfortable driving it (and I didn't have time to learn), so I asked TJ to drive me around.
The Post Office
Our first stop was at the Post Office.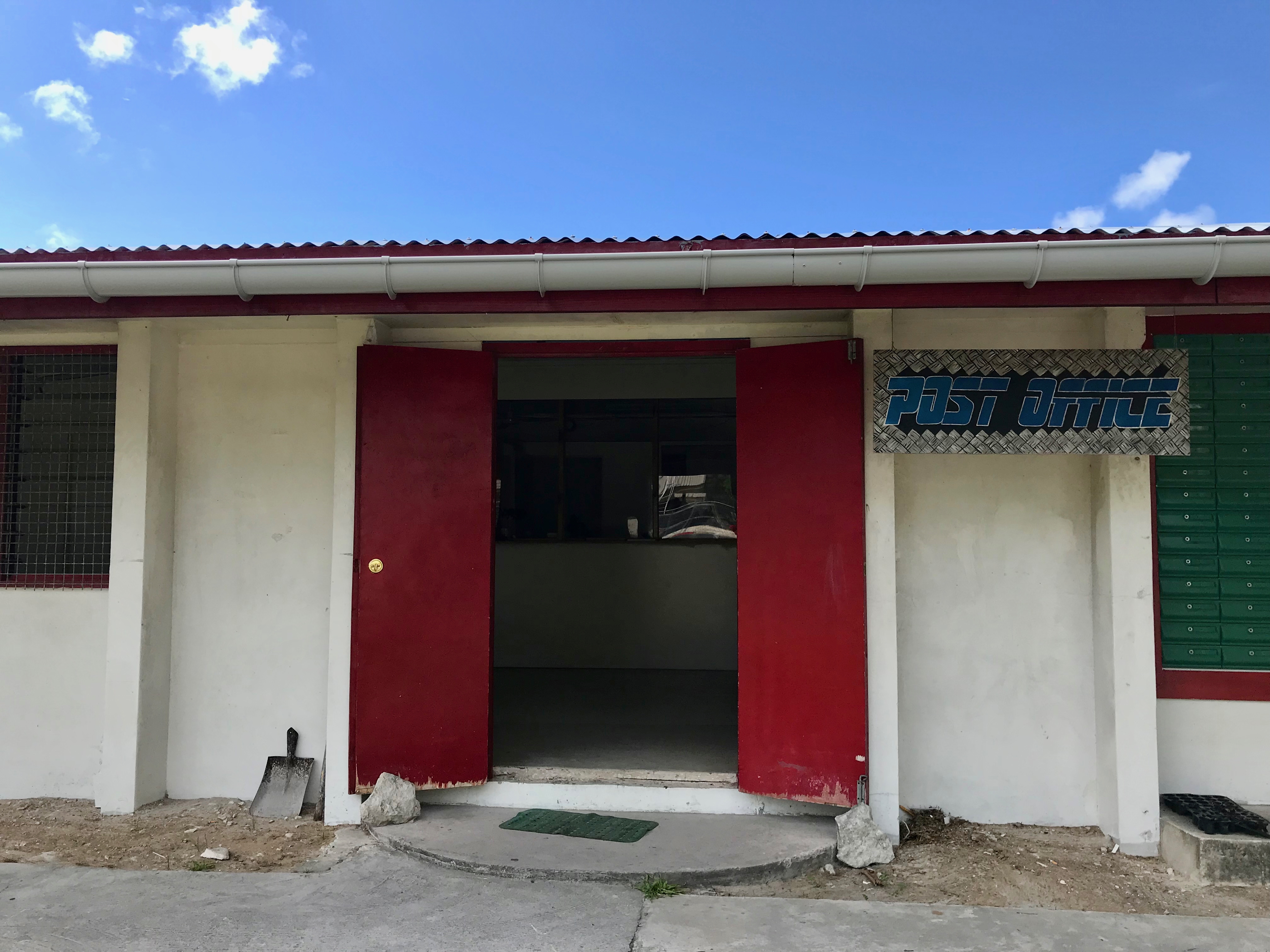 I knew from Cate's newsletter that it was a big tourist attraction - stamp collectors come here for unique stamps that could be auctioned off for a good price. I had to see it and get stamps! There were so many - so pretty!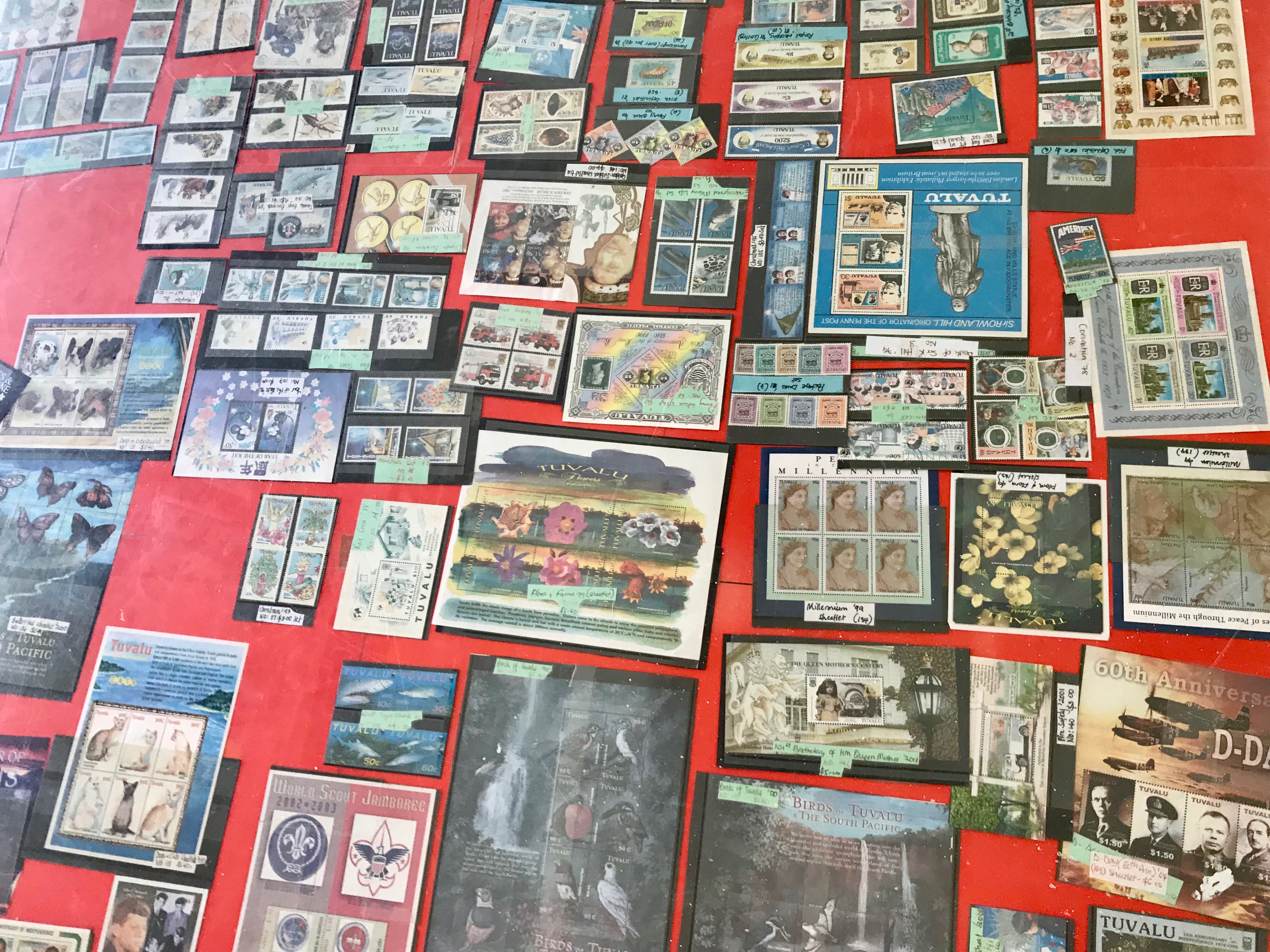 To buy the stamps, you have to walk around, list down the code number for each stamp and give it to the post office worker, who told us that it would take a while to prepare them. We decided to come back later after our trip around the island, since the Post Office was so close to the airport.
Mysterious WWII Structure
We then drove all the way to the end of the island - past the rubbish dump and to a mysterious WWII structure: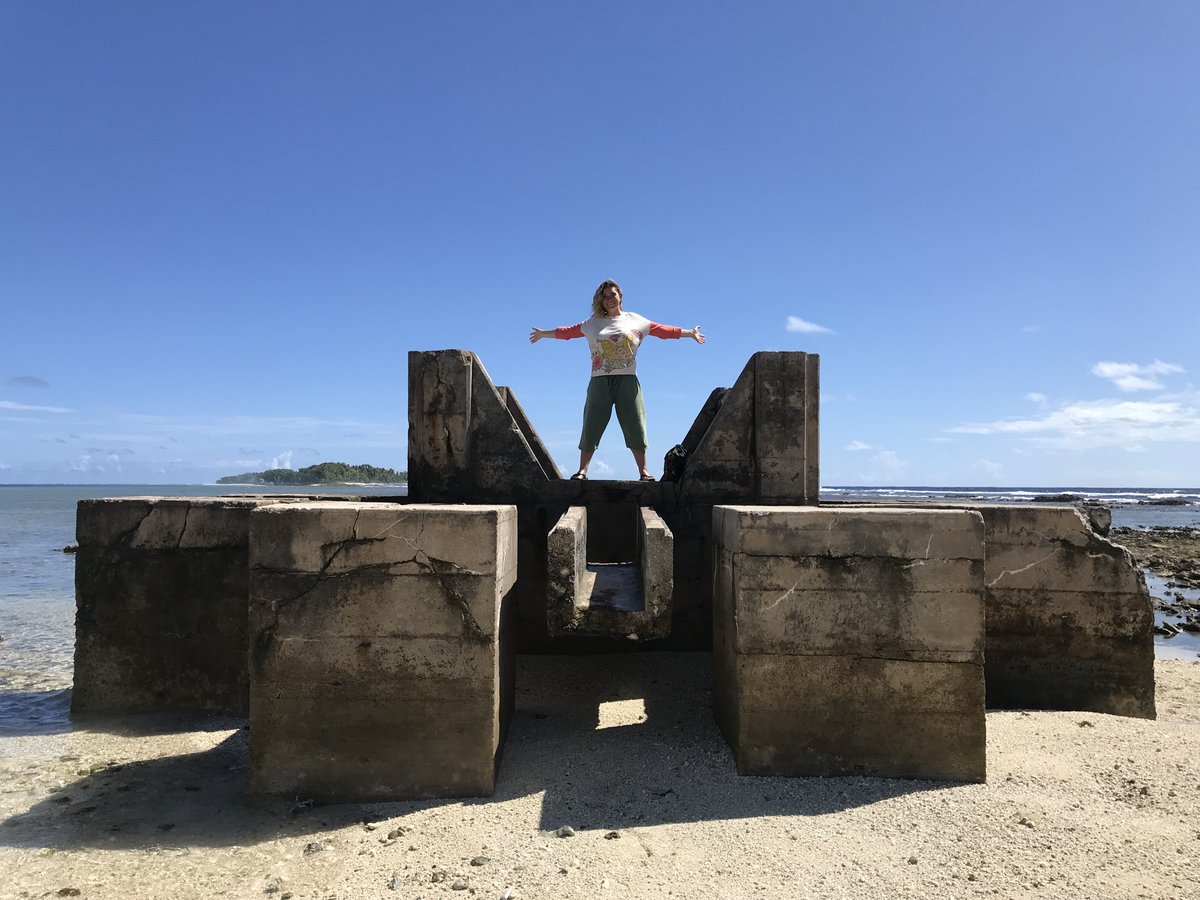 The Best Beach
We then walked through the best beach on the island - there were trees to provide shade! I didn't swim during the main part of the day for my week-long stay because the sun was too hot. Here, it would be possible!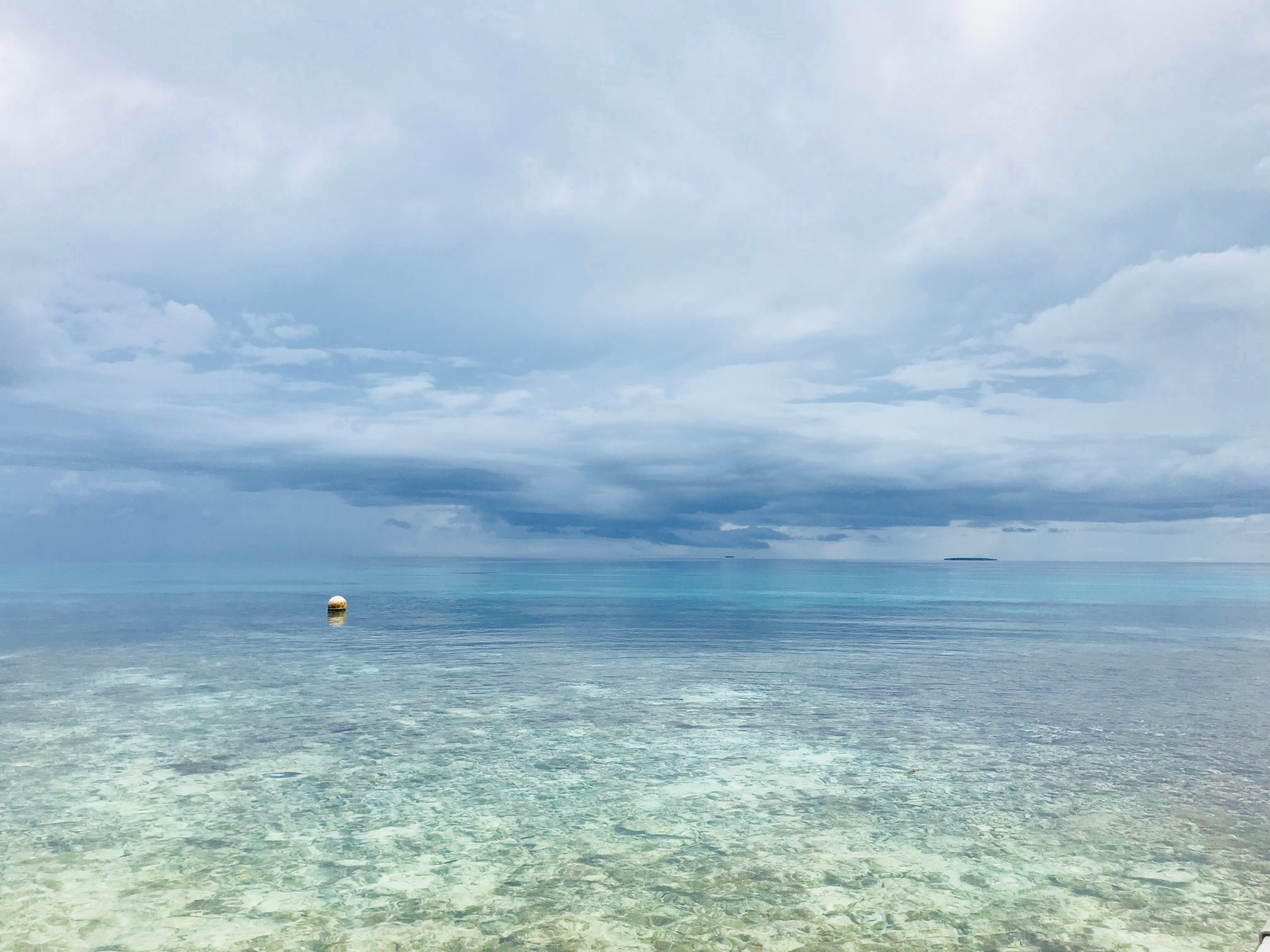 Conclusion
Tuvalu is one of those rare places still left in the world where you can enjoy the beautiful simplicity of life.
My day started with waking up, heading for a swim on the beach during sunrise. I would then take a shower, get dressed, eat a coconut for breakfast, watch hermit crabs, write, read, lay in a hammock, swim at sunset, eat dinner, soak in the moonlight and go to sleep again. All without the interruptions of other tourists or motor vehicles.
Can you imagine a better place to go?!