The Only Tourist in Nepal: My Himalayan Trekking Journey, 2020 Edition
NatashaTheNomad
10/31/2020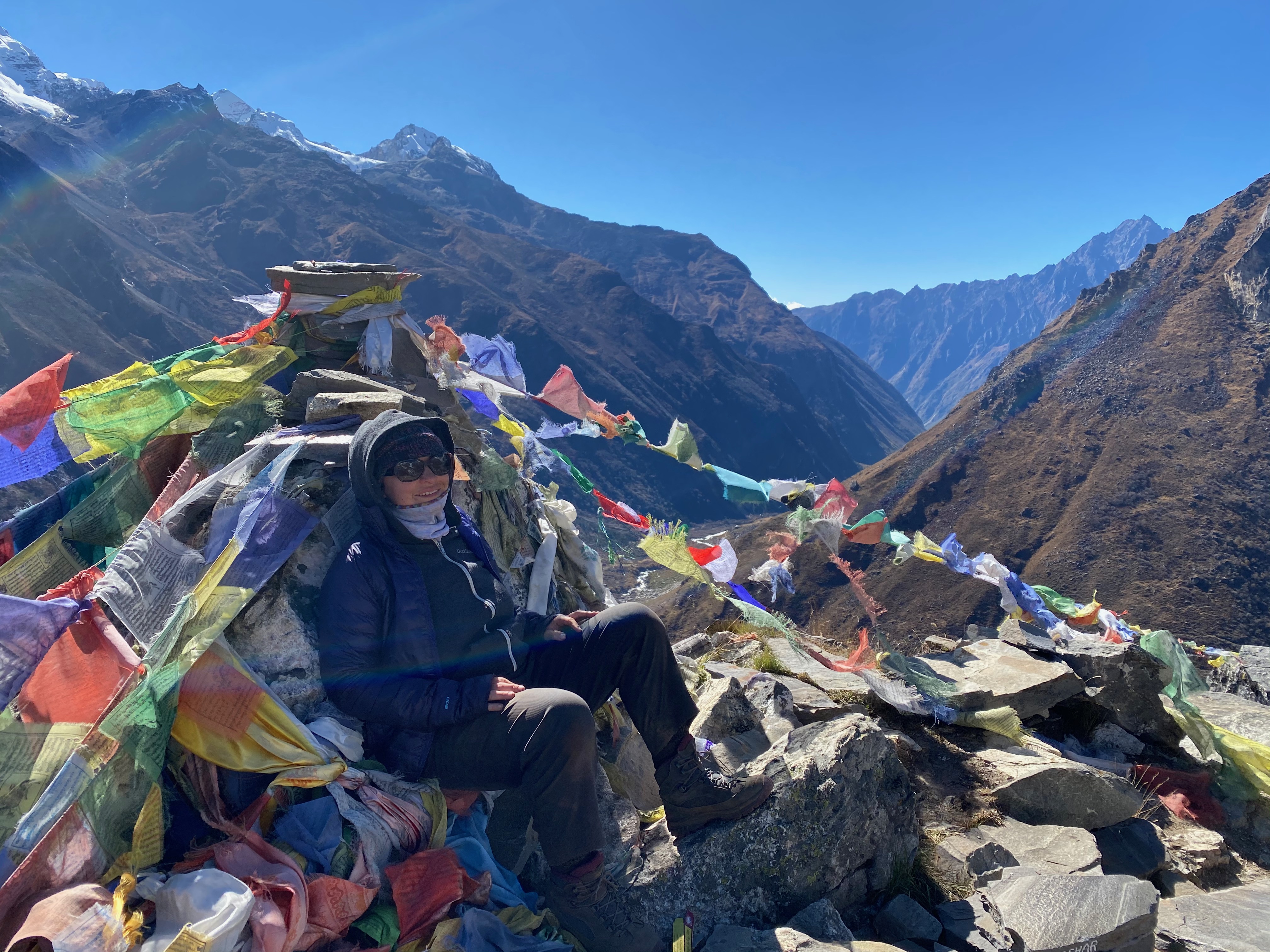 2020 ended up being a weird travel year for me. Without planning it, I became a nomad again. I left my apartment in Albuquerque in March for spring break, never to return again without any planning. When the lockdown happened in San Francisco Bay Area, where I was, I went up north to the woods in Nevada City. Few months later, I was on a plane to Ireland, where I quarantined for 14 days, did a bit of touring with the incredible @catehstn, and from which I reached my friend in Austria.
Somehow months passed and soon it was October - I had less than 30 days to decide where to go next before my Schengen visa expired. I didn't want to go back to the U.S. and there weren't many choices open for U.S. Citizens. One morning, I woke up to see that Nepal would open borders for tourism on October 17th. Out of all the choices, this felt like the best one to me.
When the world is ending, might as well go trekking in the Himalayas!
Getting a Visa
I went to the Nepal Embassy in Austria and confirmed that it was in fact true - the borders were opening! To enter Nepal as a tourist, I would need to book a trekking tour (the tourism visa was meant to salvage Nepal's most popular time for trekking) and get a negative COVID test before my flight. I did a bit of research and decided to book the Langtang Valley Trek w/ Magical Nepal.
Magical Nepal was extremely responsive, answering all my questions, figuring out dates, giving me flexibility as things might change, and preparing an invitation letter for me. I took the document to the embassy and got a visa to Nepal. A negative COVID test later, I was on a plane to Kathmandu (after my flight was cancelled and rescheduled by a day).
| | |
| --- | --- |
| The funny thing is that several years ago, when I did my first solo multi-day hike in New Zealand, I bought a hiking / travel backpack from the brand "Kathmandu" that I use almost daily. Until I booked my flight to Kathmandu, I thought "Kathmandu" was a cool native New Zealand word. Now, somehow, the backpack has manifested that I actually go to Kathmandu and start my new trekking adventure from there! | |
The Plane Ride
I felt super safe flying to Nepal with Qatar Airways. On top of everyone having to wear a mask, they asked everyone to wear a face shield that they gave out as well: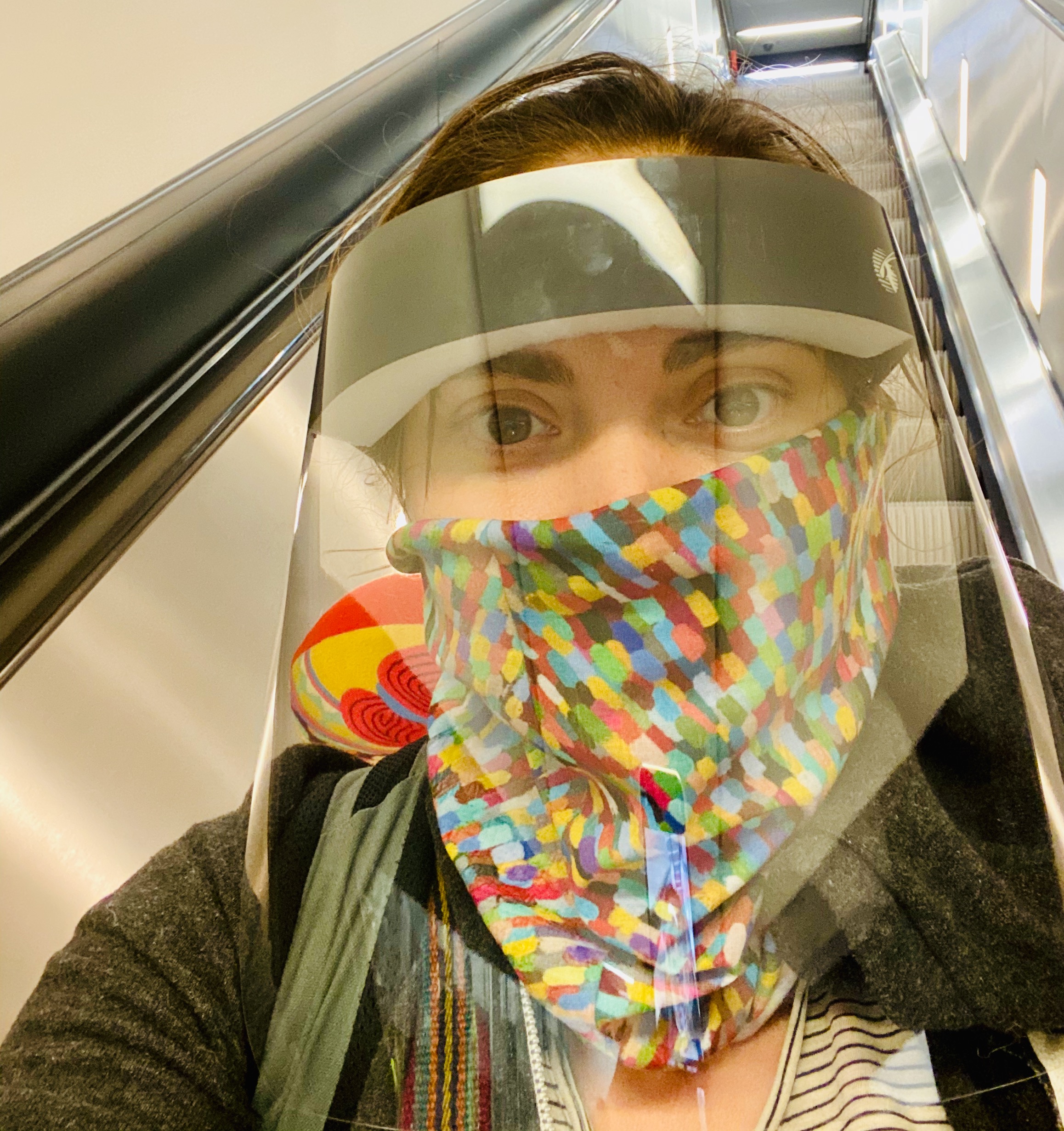 On my first flight to Qatar, the plane was pretty empty. I got the full row to myself, with all 3 pillows and blankets. It felt like being on my own private jet!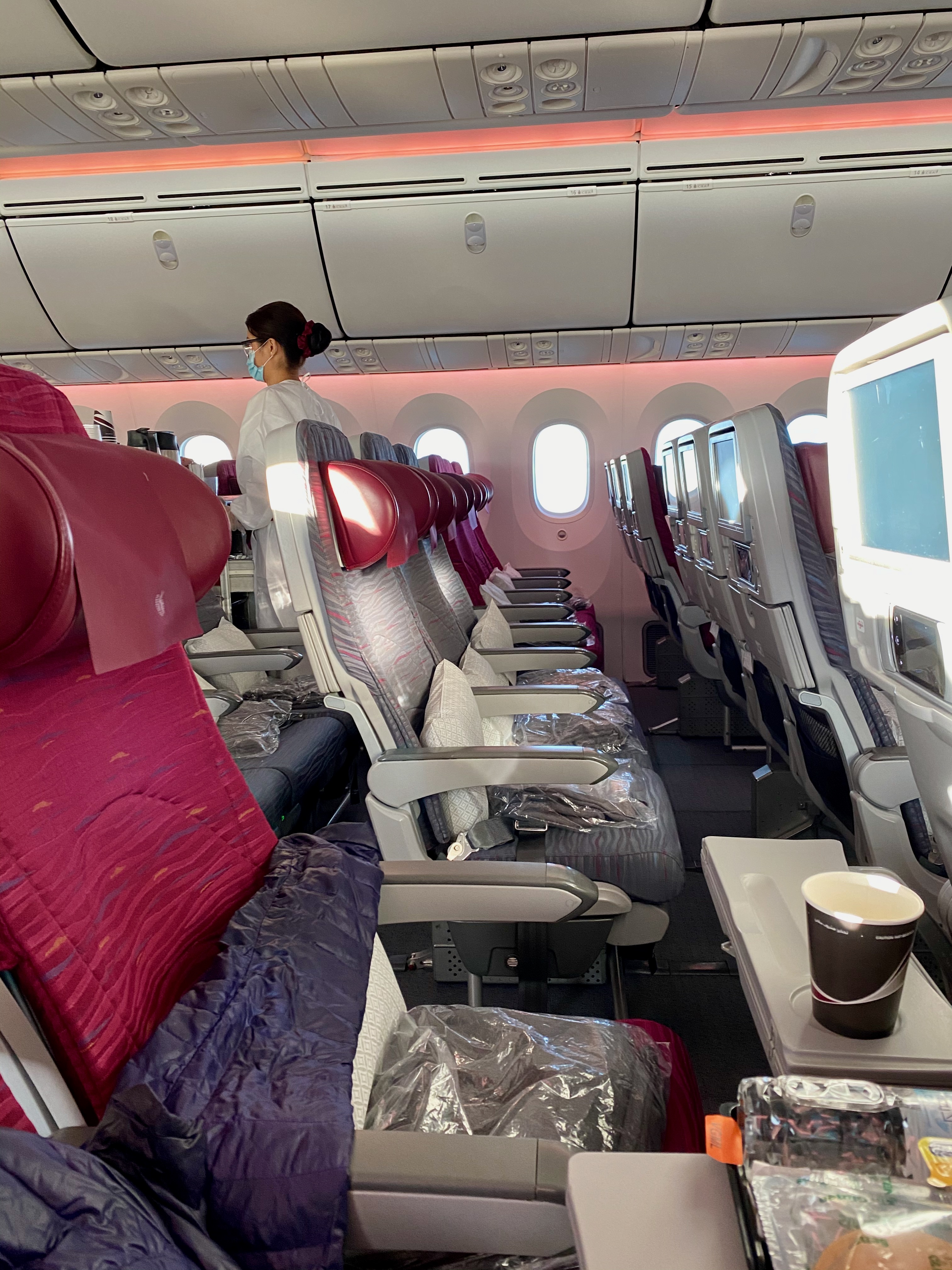 On my second flight, as the plane was more full of local Nepalese coming home, the stewardesses wore full on disposable jump suits with goggles and masks. It felt like being in Ghost Busters!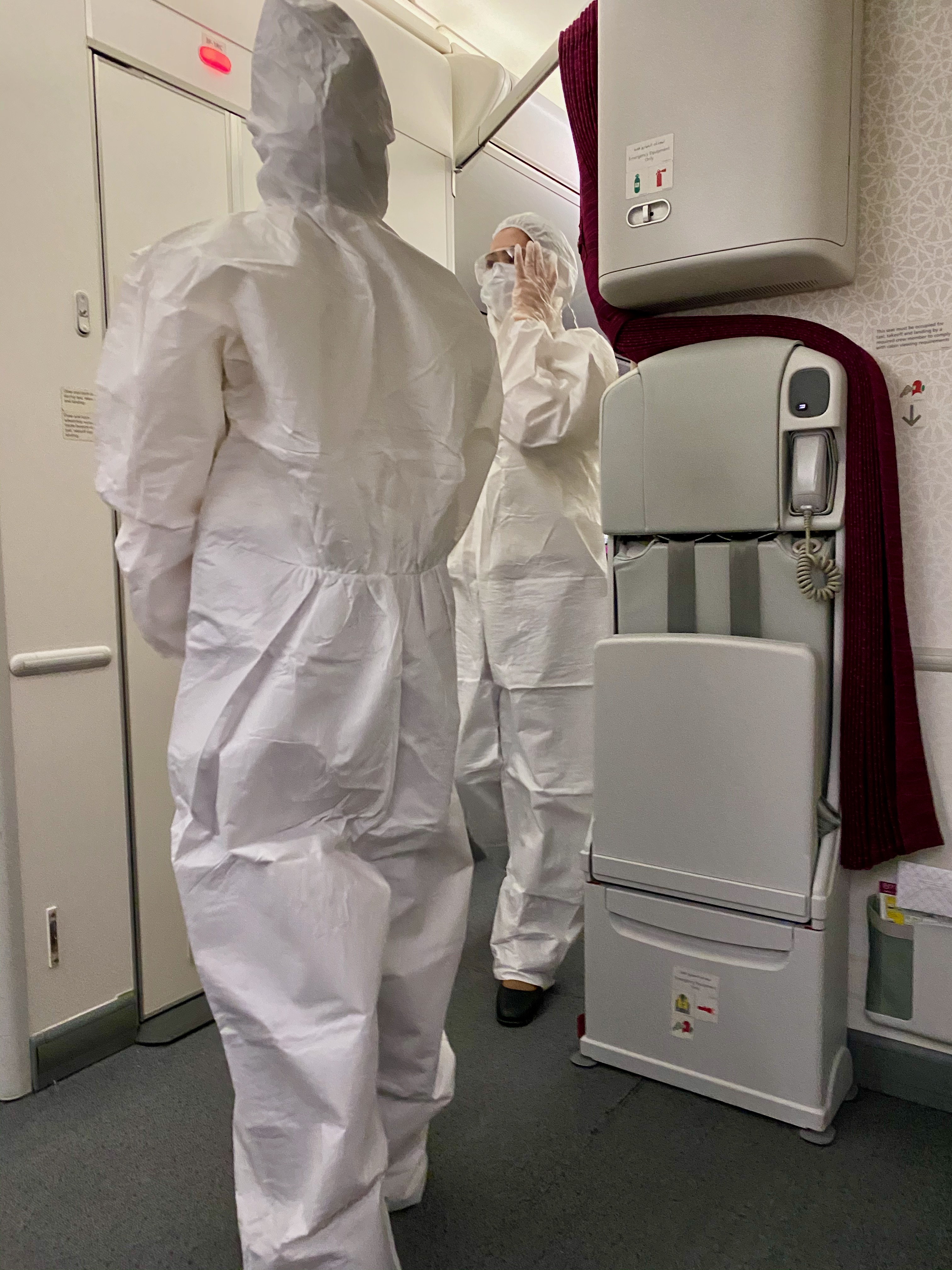 I still got a full row to myself (by purchasing an emergency-row upgrade). But most importantly, I knew that everyone on the plane going to Nepal had to have a negative PCR test. So I again felt very safe.
Arriving in Nepal
I thought I had all my paperwork in place when I arrived to Nepal - a tourist visa in my passport, documents about my trekking, a negative COVID test, travel insurance that covered COVID, etc. But while I was going through customs, they told me I was missing an invitation letter from the tourism office. They asked me and 2 others coming from Vienna to wait in the "Isolation Room". After about an hour, they came to get us and let us through.
My guide Dil Man from Magical Nepal met me at the airport and took me to my hotel, where I stayed a few days before my trek, resting, finishing up my work, and preparing for the trek.
Preparation
Given how random and spontaneous my trip was and that I left most of my things in my Albuquerque apartment only to give it away since I won't be returning, I wasn't exactly the most prepared.
I did a bunch of day hikes in the Austrian alps while I was there, so I did bring walked-in hiking shoes and a rain coat. I also bought good-quality wool socks, liners, and merino wool neck warmers before leaving for Nepal. Oh, and I grabbed a roll of toilet paper!
Otherwise, I didn't want to buy much else for hiking clothes. I'm not sure where I'm going next, so buying anything just makes my suitcase heavier. I just packed whatever I had - cotton t-shirts, one light one warm pair of pants, a DuckDuckGo hoodie given to me by the amazing @catehstn, warm hat, sunhat and my light NorthFace wind-resistant jacket.
My guide went with me to the store where I could rent a warm dawn jacket (I was very grateful to have it on the trip!). At his suggestion, I also bought thermal underwear and a pair of gloves. The only thing I wish I thought to buy were bath slippers - these are much needed to use the bathrooms on the hike. But each guest house we stayed in provided a pair.
I didn't look like a professional hiker, but it all worked well for me. I believe the biggest investment for a hiking trip should be in good shoes and socks, and I was well-prepared there!
The Magical Nepal team took care of storing all my extra luggage and electronics for the duration of my trek.
Safety
Ok, so now I'll talk about the elephant in the room… safety of doing all of this, especially during COVID…
COVID
Nepal, like most other countries around the world right now, has a high COVID rate. I had to go somewhere, and any choice I made for a country to go to was a "bad" one in relation to COVID (especially the U.S.). So I chose to go to the country where I could see and experience something new.
Before I left Vienna, I got a negative PCR test. I felt super safe on the plane due to all the precautions taken by Qatar Airlines. In Kathmandu, EVERYONE is wearing masks all the time, even walking outside! I wore my mask as well while I was running errands.
As part of the safety measures of trekking Langtang Valley, a negative COVID test is required. So my guide took one, and everyone else I met on the trek did as well.
However, with that said, there is always a risk of contracting COVID while doing anything besides hiding away in your house (ideally in the woods). Even going to the grocery store carries a risk. So does going to Kathmandu and going trekking in Langtang Valley.
Ultimately, I had to be ok with taking this risk. But of course, my decision is likely not right for most people, especially those who are immune-compromised or older or taking care of others who fit in these categories, etc. Unfortunately, any ordinary activity we do at this point in the pandemic comes with a big ethical dilemma (going to a coffee shop, getting a massage, etc). So this is something for everyone to consider and decide.
Fear of getting injured
Besides COVID, hiking in the middle of nowhere for 5 days carries a risk of getting hurt. That is a risk taken with any trek. I always have it as a fear in the back of my mind (among other fears), but I just walk slowly and careful and do my best. I'd rather hike than not hike. So I go beyond my fear and go for it.
Being a Solo Woman Tourist
Finally, there is that fear of being a solo woman tourist. Bad things can happen of course - we've all heard them. And I have this fear as well.
Luckily, I felt safe with Magical Nepal right away. They sent my guide Dil Man to the airport to pick me up, so right away I met the person I'd be trekking with. If I didn't feel good, I wouldn't have gone. Dil Man was very professional, able to answer all my questions, and very nice the whole trek, taking care of all my requests and needs. I had no fear going with him.
There were also many hikers along the trek - many local and some expat families living and working in Kathmandu. Some of them we met over and over again, so it started to get comfortable and familiar with everyone there hiking along with us. That made me feel even more safe in the long-run.
Unfortunately, the extra danger for women is always there. And it's a risk we have to take in order to do daring things.
Conclusion
Just like everyone else, I have a lot of fears around COVID, hiking, and being a solo woman tourist in a country I've never been to among others. But my biggest fear in life is letting my fears get in the way of living my life to the fullest. So I decided to go for it despite my fears.
Starting the Journey… on the Bus!
Finally, I was ready to start the trek. Actually, I didn't feel ready, but that's always the case. The dates worked well. Let's do this!
The first day was just taking the bus from Kathmandu to Syabrubesi, the start of the Langtang Valley trek. October 23rd was the day of the big festival here in Nepal, so the bus was full of locals going back home to their villages to celebrate. Almost everyone wore masks the entire time.
I personally loved being part of the local culture, and joining in on the festivities. The bus would stop and more people would hop on or off throughout the 7+ hour ride. At one point, a guy brought in a box with 2 chickens. I'm pretty sure they put two goats in the trunk as well…
I got a window seat in the back and loved watching the villages preparing for the holidays as we passed by amazing local culture and scenery.
Now the tough part… the bus was comfortable, but the road was not: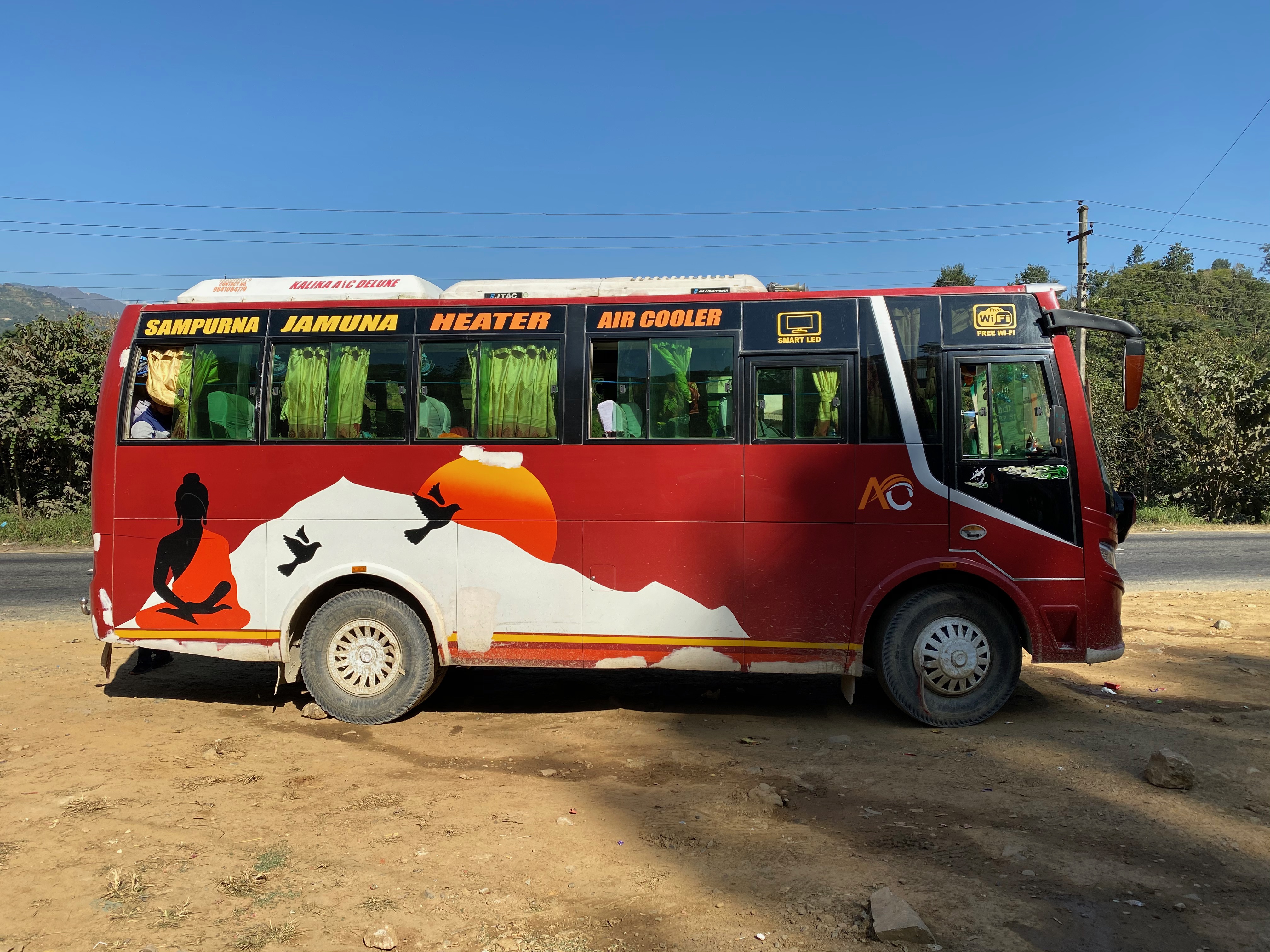 In many parts, especially at the end, the road is a dirt road with many potholes. It felt like being on a very bouncy 7-hour roller coaster ride! I would not recommend doing this if you have any body / spine injuries or sensitivities or get car sick. It can also get hot and uncomfortable, especially with everyone jammed in together.
At one point, I needed to go to the bathroom while the bus was not in a good place to stop. The bouncing did not help… eventually, to my relief, we reached a bathroom! After that, I avoided drinking any water for the remainder of the ride (and on the ride back). I also didn't eat much during the lunch stop as nothing would go down too smoothly with all that bouncing…
The bus conductor put on some local music and even music videos on the way back. This made it feel more like a party bus and the music helped calm me down.
At the end, as you're going down the mountain, the bus goes very close to the edge of the road. And sometimes, another bus comes and the two pass in what seems like an impossible maneuver, with only millimeters between both vehicles. It feels like a miracle!
Overall, it's a really amazing experience and I loved it. But it does get extremely tough especially in the second part of the journey after many hours of the intensity.
I was excited to arrive to the Sunrise Hotel in Syabrubesi. After taking a hot shower, I was greeted with a warm meal and rest before the start of the trek the next day! Oh, and did I mention the view?!!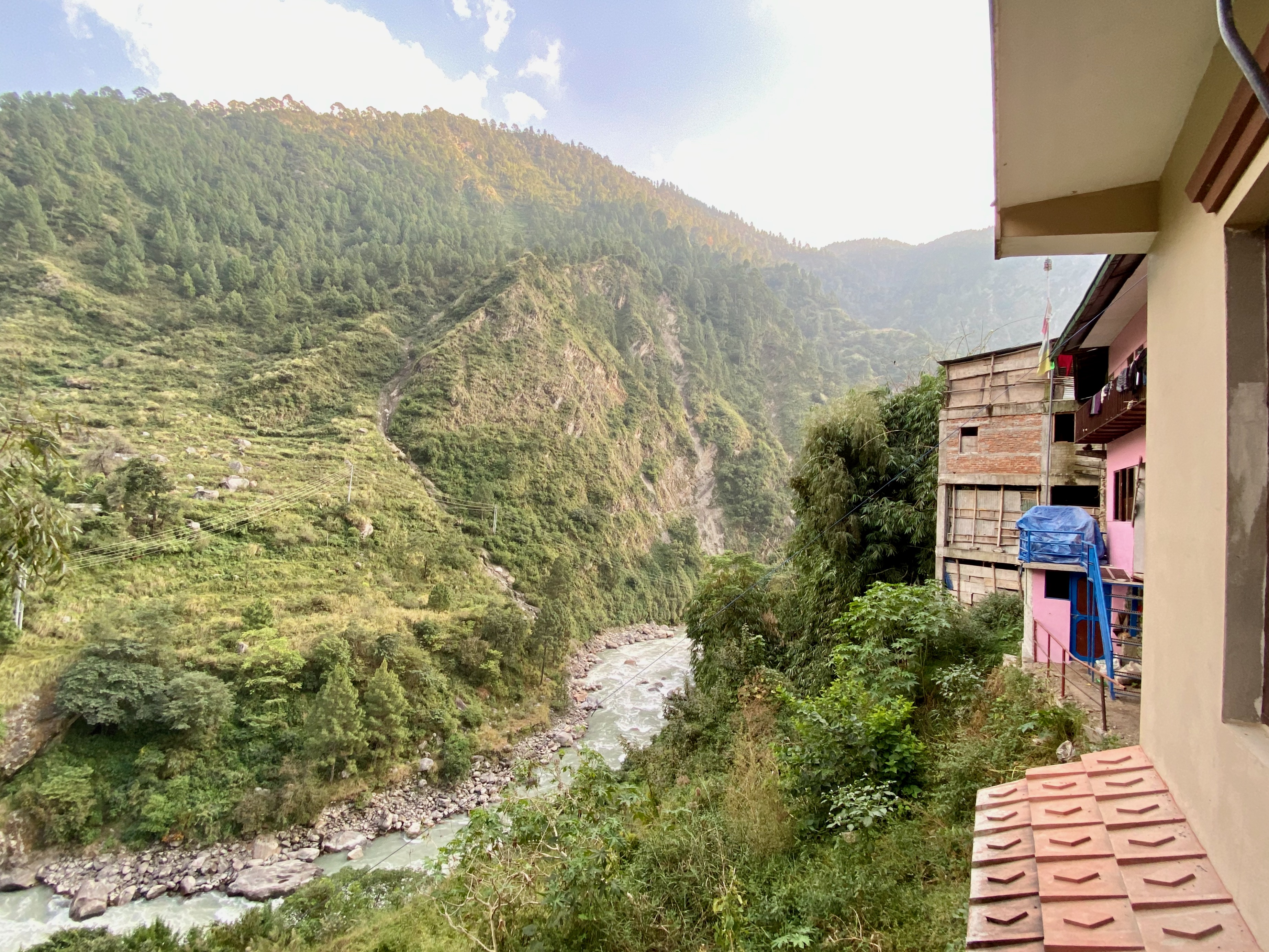 Difficulty
So we started walking, and very soon climbing and that was right away hard for me! The Langtang Valley trek is considered the more "easy" one compared to others in Nepal, but really it's a moderate level trek. My fitness level is not the best… I live a pretty sedentary lifestyle - mostly working, with at least two walks each day. I did do hours of hiking in the Austrian alps while I was there. But not in the few weeks before the trek.
The trek includes 3 days of climbing up almost the whole time, with few flat parts in between. Each day, you climb up 1,000 meters (3280 feet). And at the end, you get to climb a mountain! It's about 7-8 hours walking each day.
Luckily, knowing my own fitness level, I hired a porter in addition to my guide when the company gave me the option at a low cost. The porter carried my backpack the entire time. It felt like the best money I ever spent!
My guide and porter were extremely patient and respectful of my slow walking pace and need to rest often. They even walked behind me to let me go in front as I needed! They also offered a hand whenever we passed over more dangerous rocks and landslides. I felt extremely supported and went as I needed.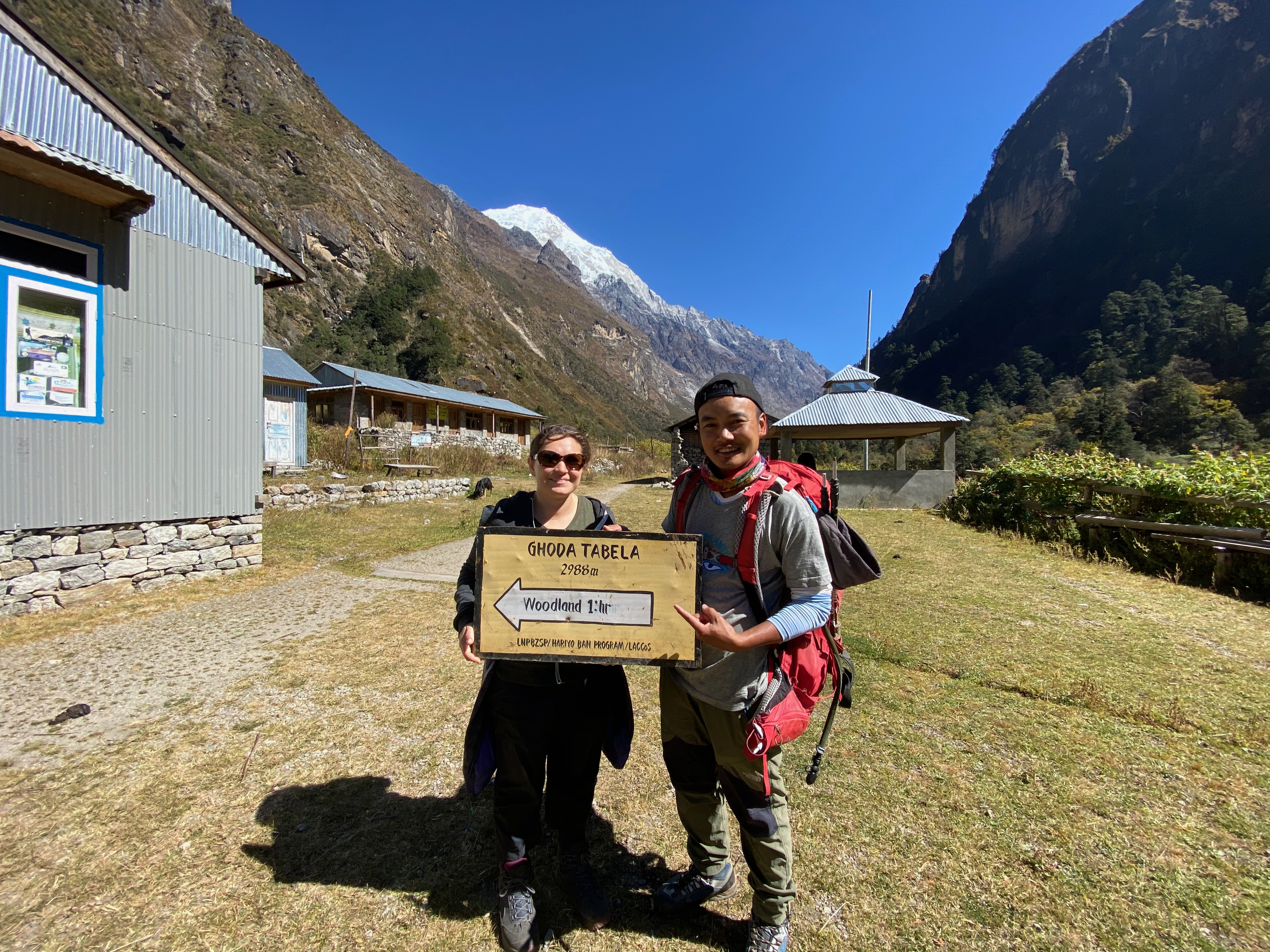 Climbing Kyanjin
The apex of the trek happened on the 3rd day, when we walked for 3 hours from Mundu village where we stayed the night before to Kyanjin. Got lunch, then proceeded to climb the Kyanjin mountain… all the way up to the rock on top…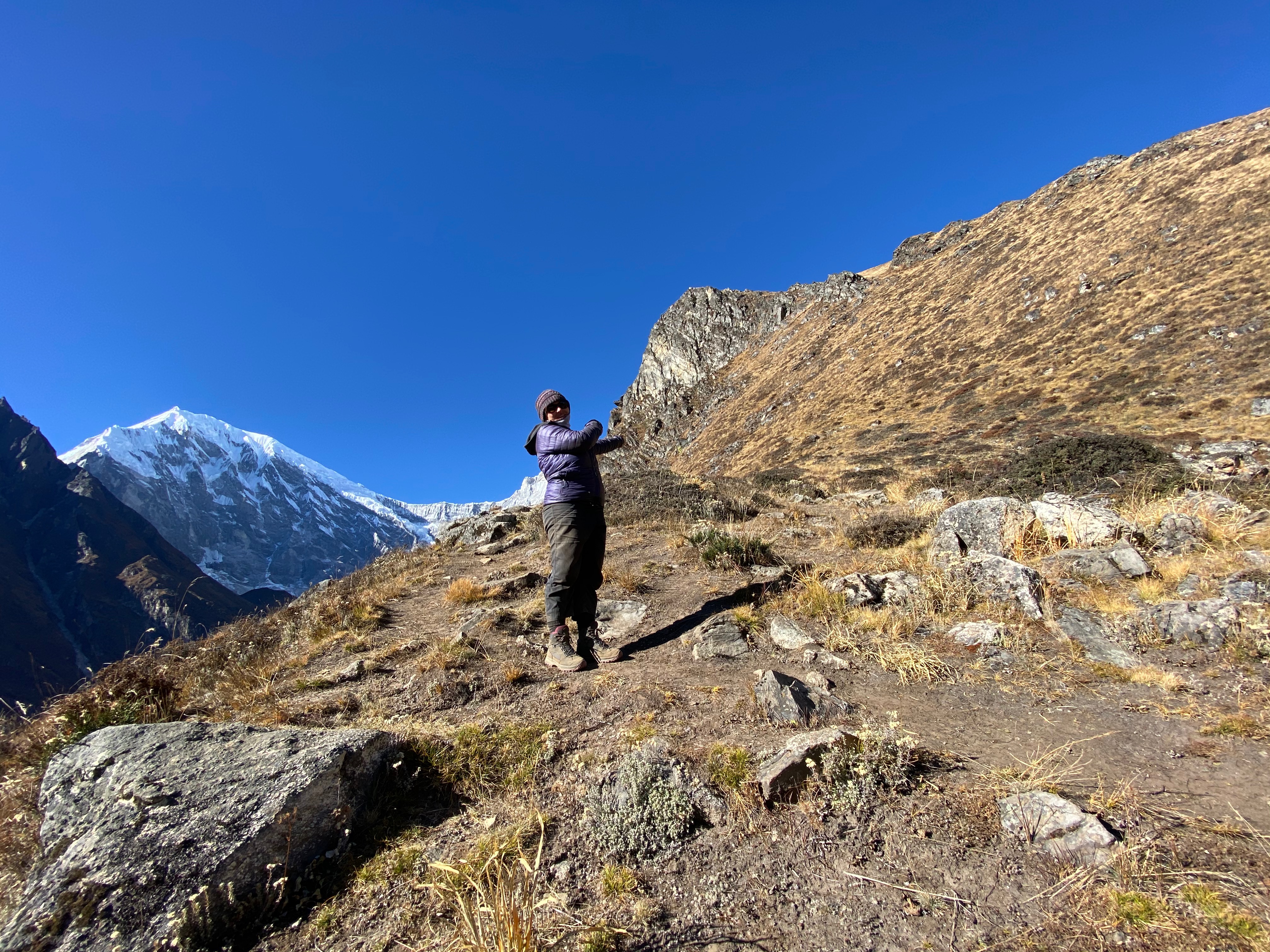 The climb took 2 hours and was completely vertical the whole time! This was also the highest altitude point of the trek and the wind on the mountain did not help. It was INTENSE!! I felt like I could barely make it. I would take a few steps to climb up, then sit down to breathe and rest until I could repeat again and again.
But of course, I did make it! With a lot of encouragement and patience from my guide and proter, and having the company of another solo trekker who joined our group for a few days…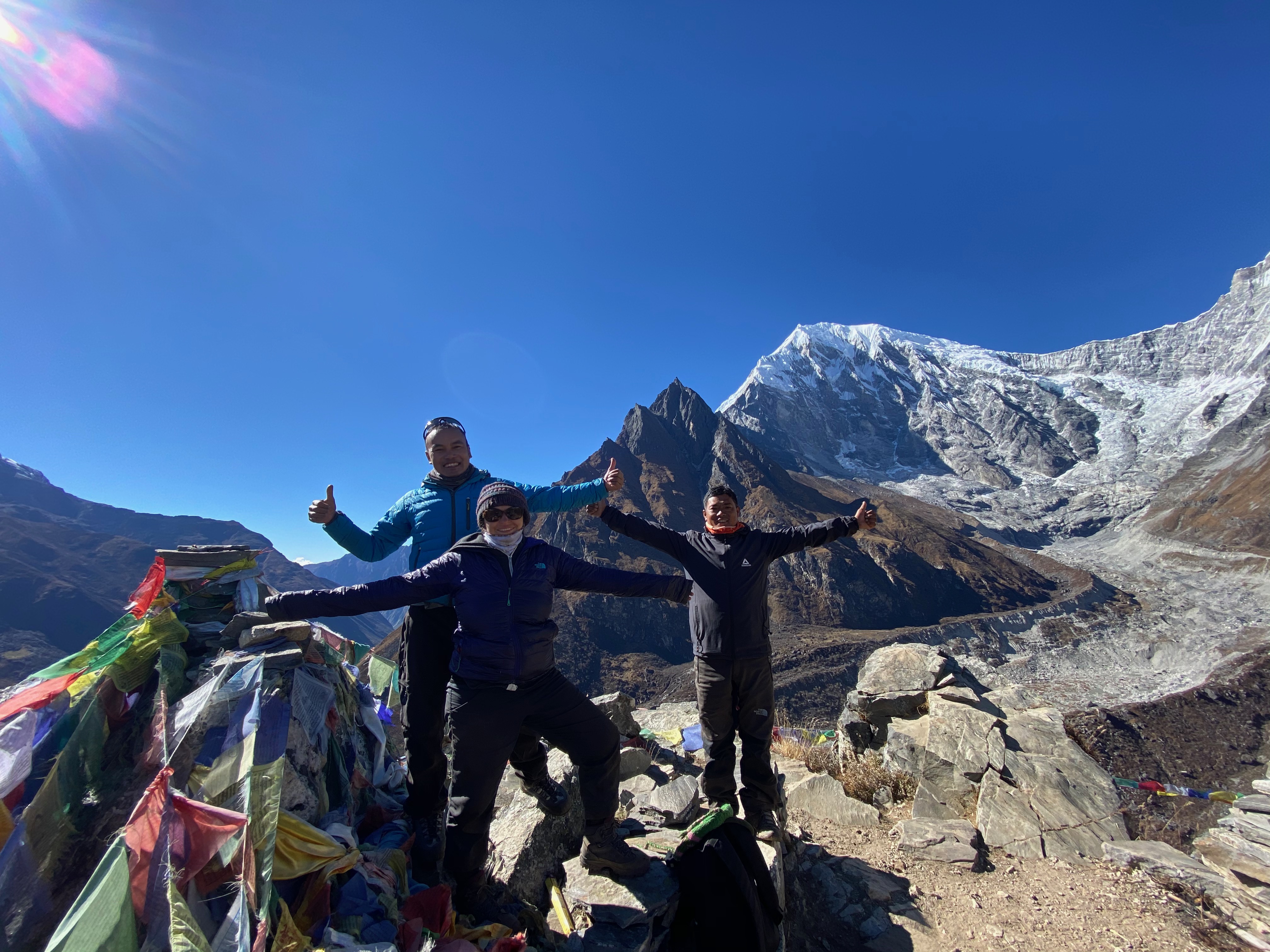 The view was well worth it!
The Big Pause
After pushing myself hard to keep going for 3 days and climbing Kyanjin, I needed a break. I asked my guide to extend my trip by a day. Before I left, the Magical Nepal team told me it was fine if I needed to do that. I was very glad I did!
My guide got me a "luxury" room with my own private bathroom for the night (and the next one!). The next day, we only did 3 hours of walking to Langtang village. I took this nice break to walk around to explore with no pressure to keep going or get somewhere. I found this amazing small clear lake…
…an oasis in the high-altitude desert I was in!
I went to the river, and sat there for hours watching cows and local hikers cross a small bridge at some point: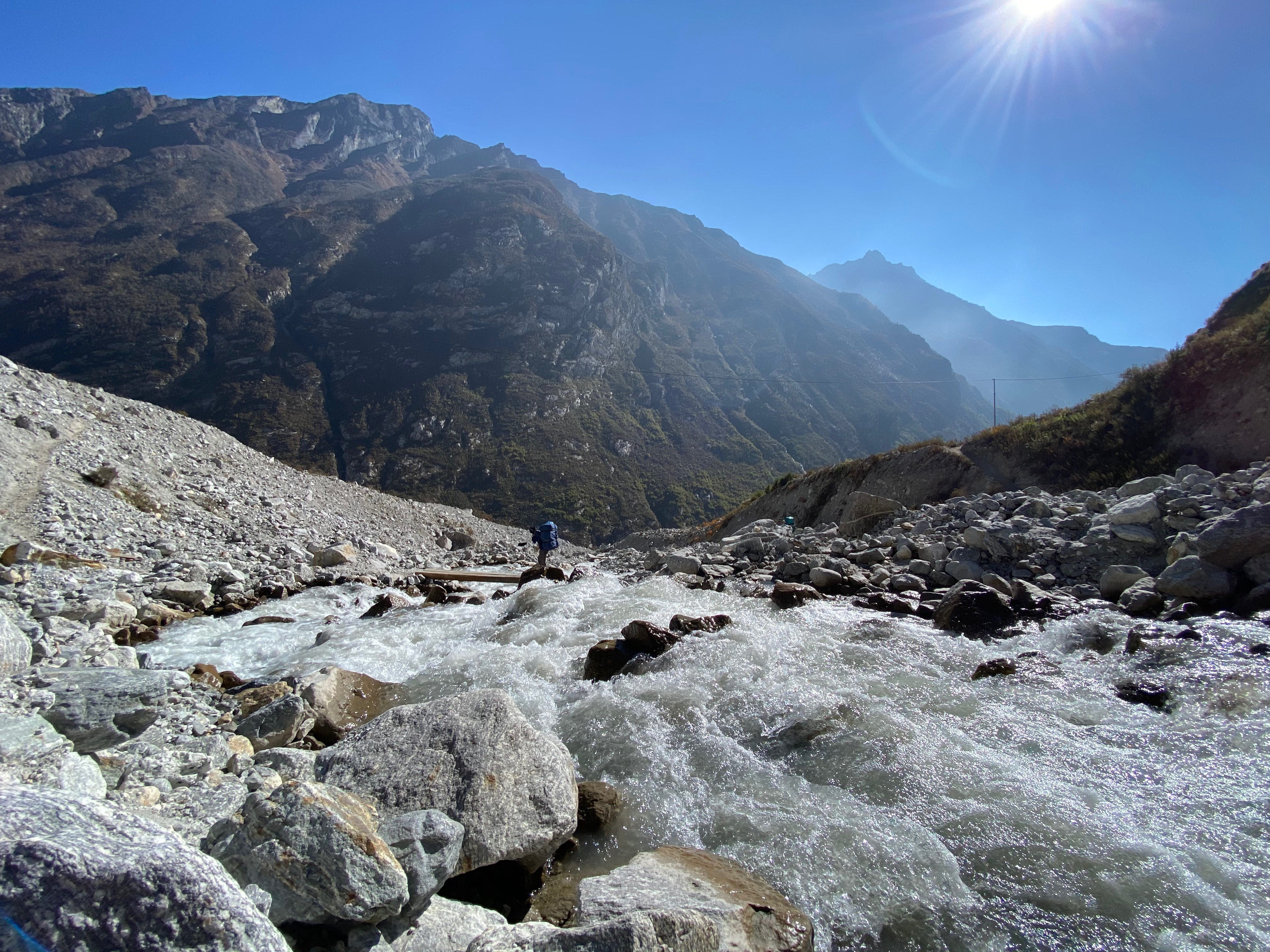 And finally, I went to visit the memorial for those who died in the devastating Langtang Valley earthquake 5 years ago.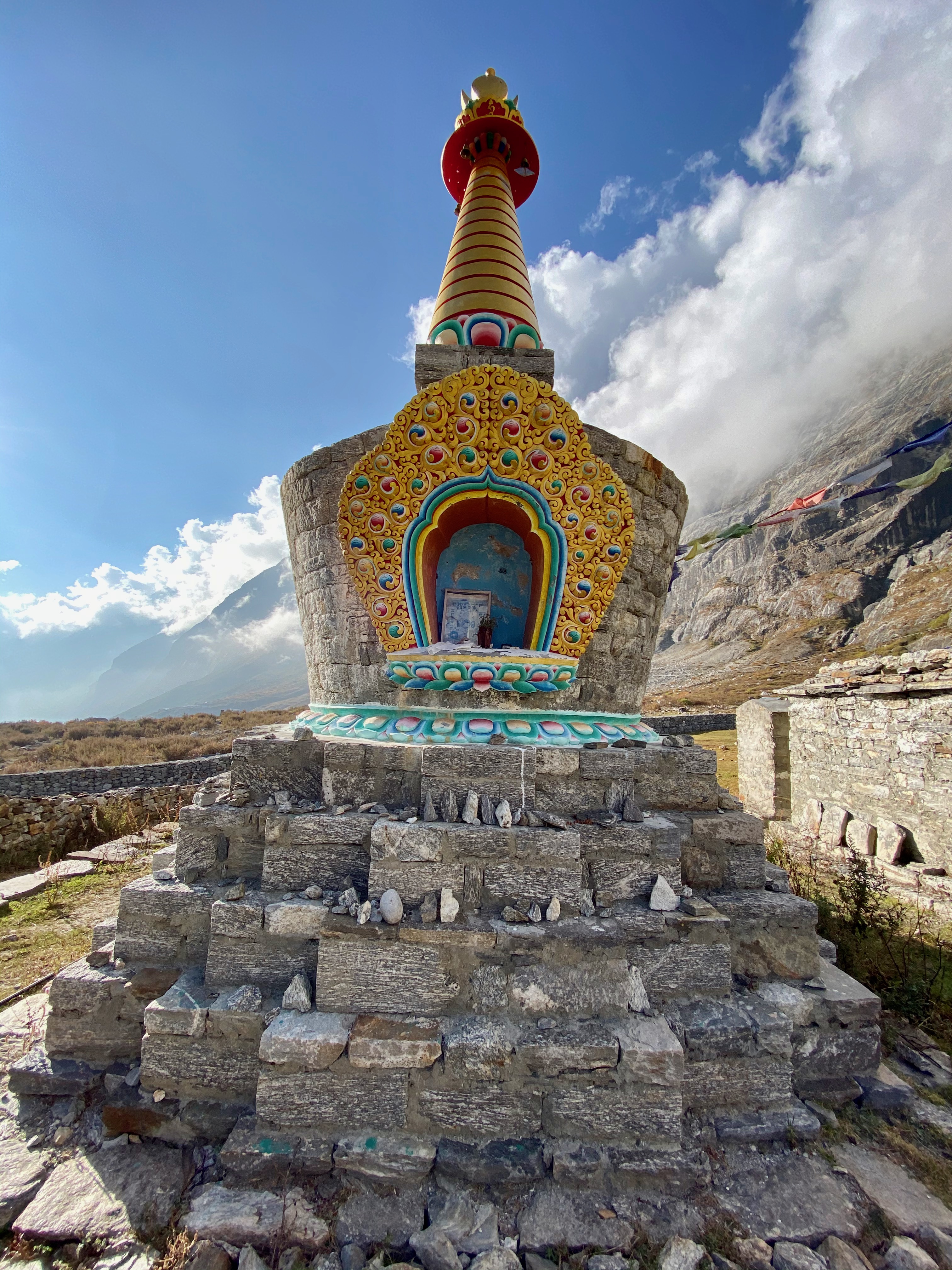 With all the names and nationalities of those who died written on the side, it was a powerful reminder of how short life is and how it can end so unexpectedly in a moment.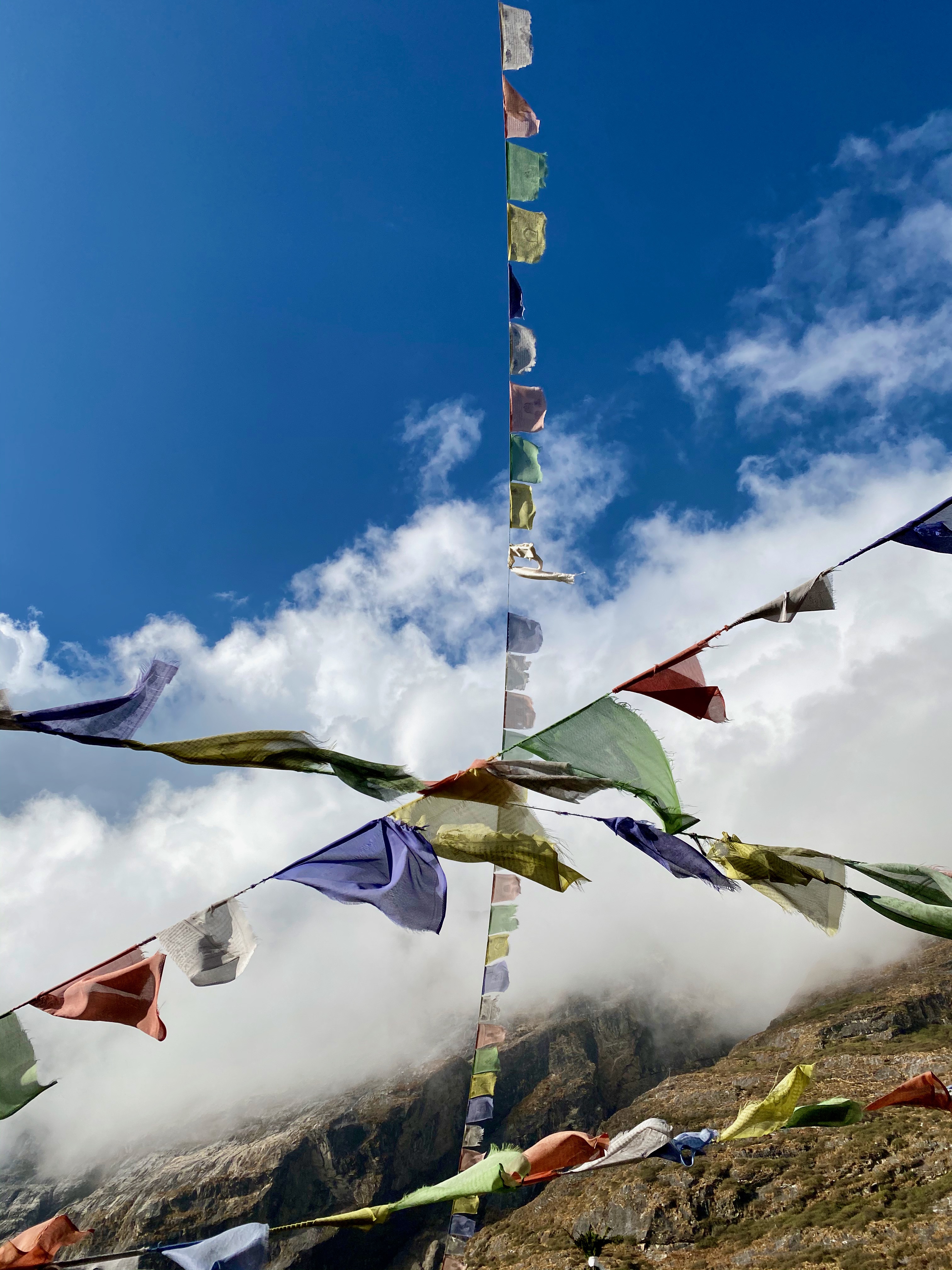 The Weather
I brought my raincoat just in case, but it remained at the very bottom of my bag the whole time! The weather, especially at the higher altitudes, felt like the Albuquerque desert I lived in for the past few years. Super hot and sunny during the day, cold when the sun goes down.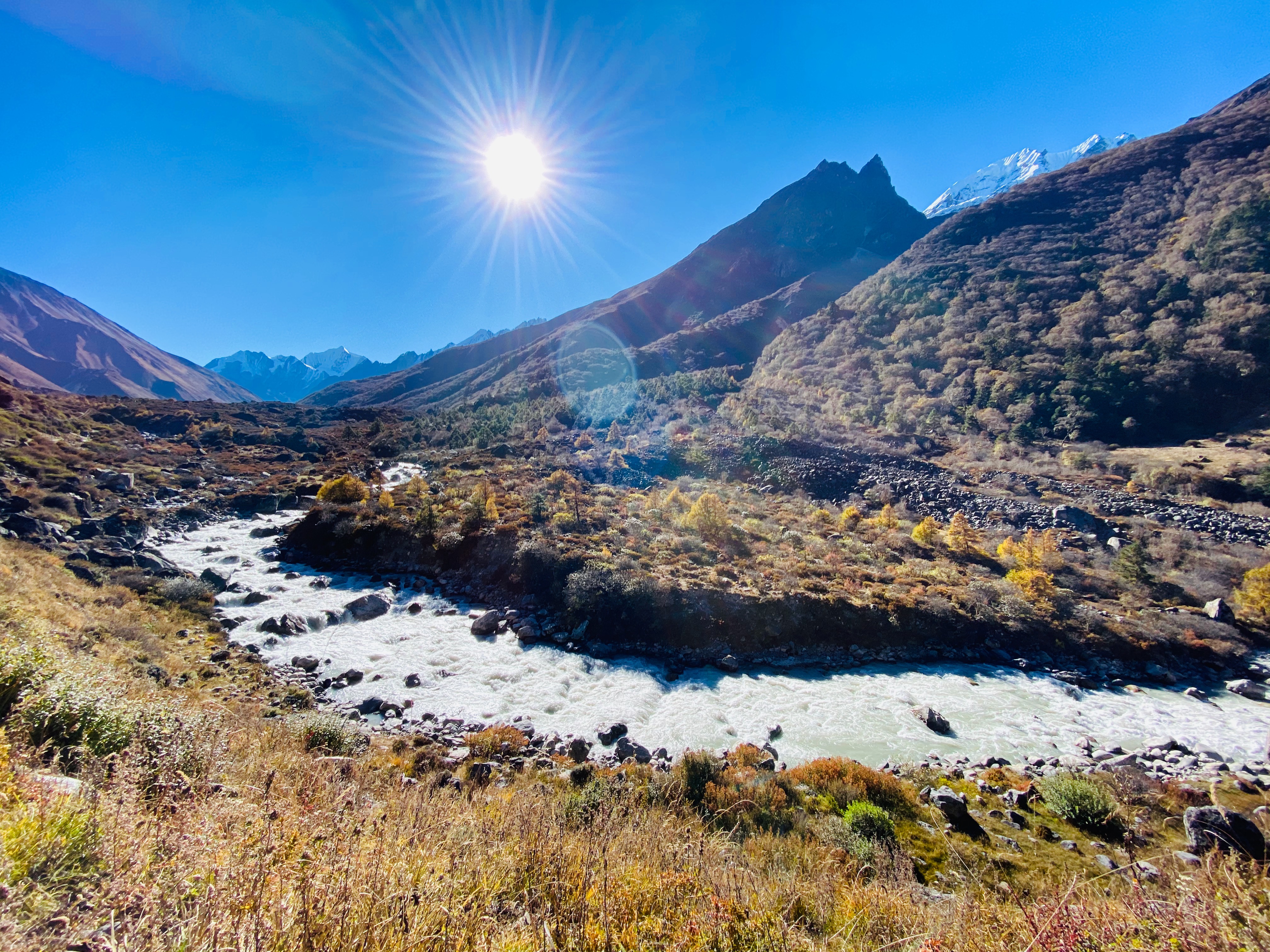 So layers are key! During the hike in the day you could be sweating, with no trees overhead or shade during the hike. But at night it's FREEZING. The guest houses along the way do not have any heating. So my pajamas included a thermal suit, warm pants, hoodie, dawn jacket, merino wool cover over my neck, merino wool cover over my head, warm knit hat, hood from my jacket, and two blankets!
At the very top, it was colder and windier, but still sunny during the day. I wore my merino wool over my neck and head, covering my ears well, with a sun hat and sun glasses. It looked silly, but worked amazingly well!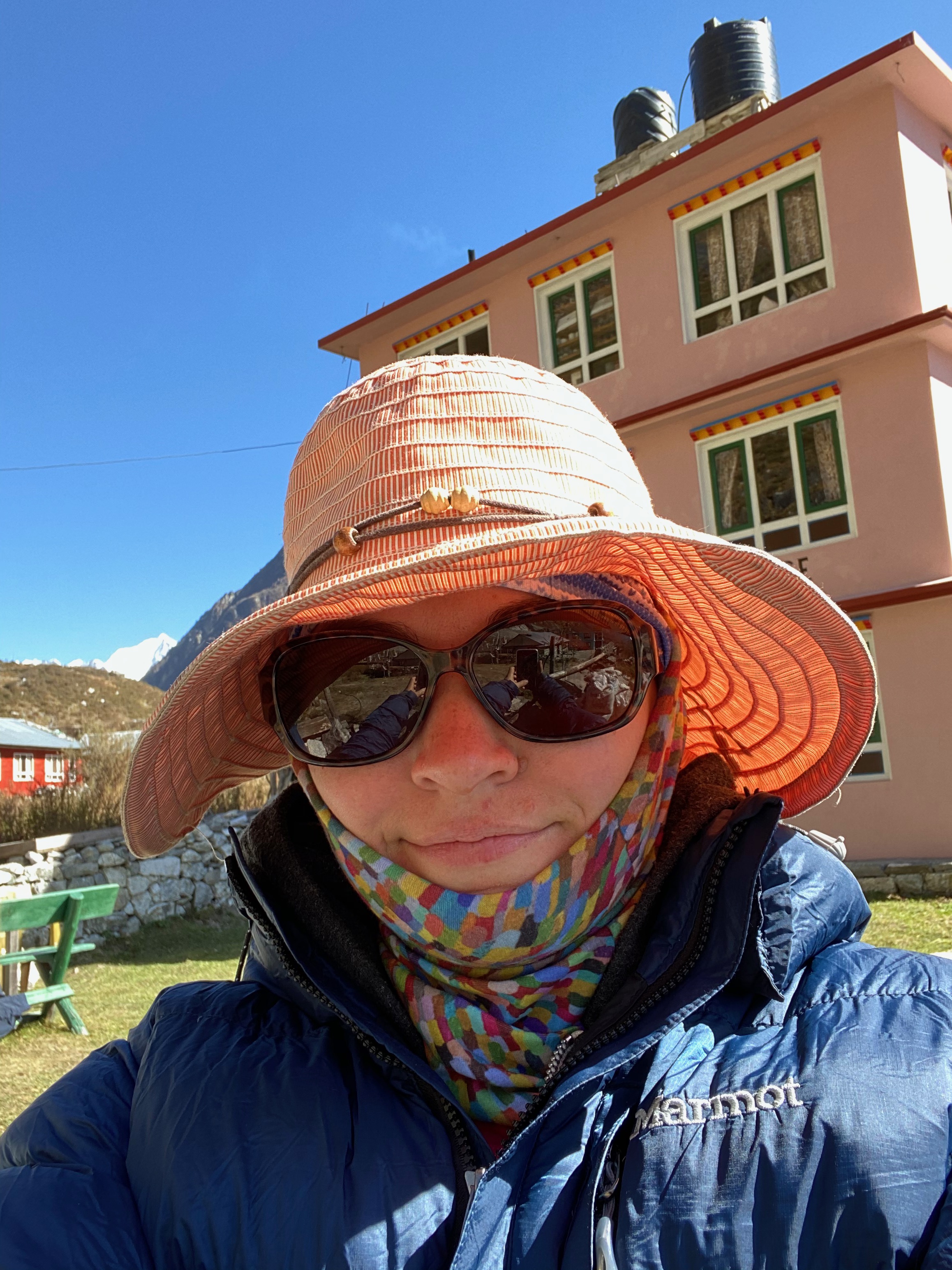 Accommodation
If you've ever been camping with a tent, then you will know how much of a luxury the guest houses along the way are. They are simple - you get a room with a bed and blanket, but it is cover from the elements in a solid structure: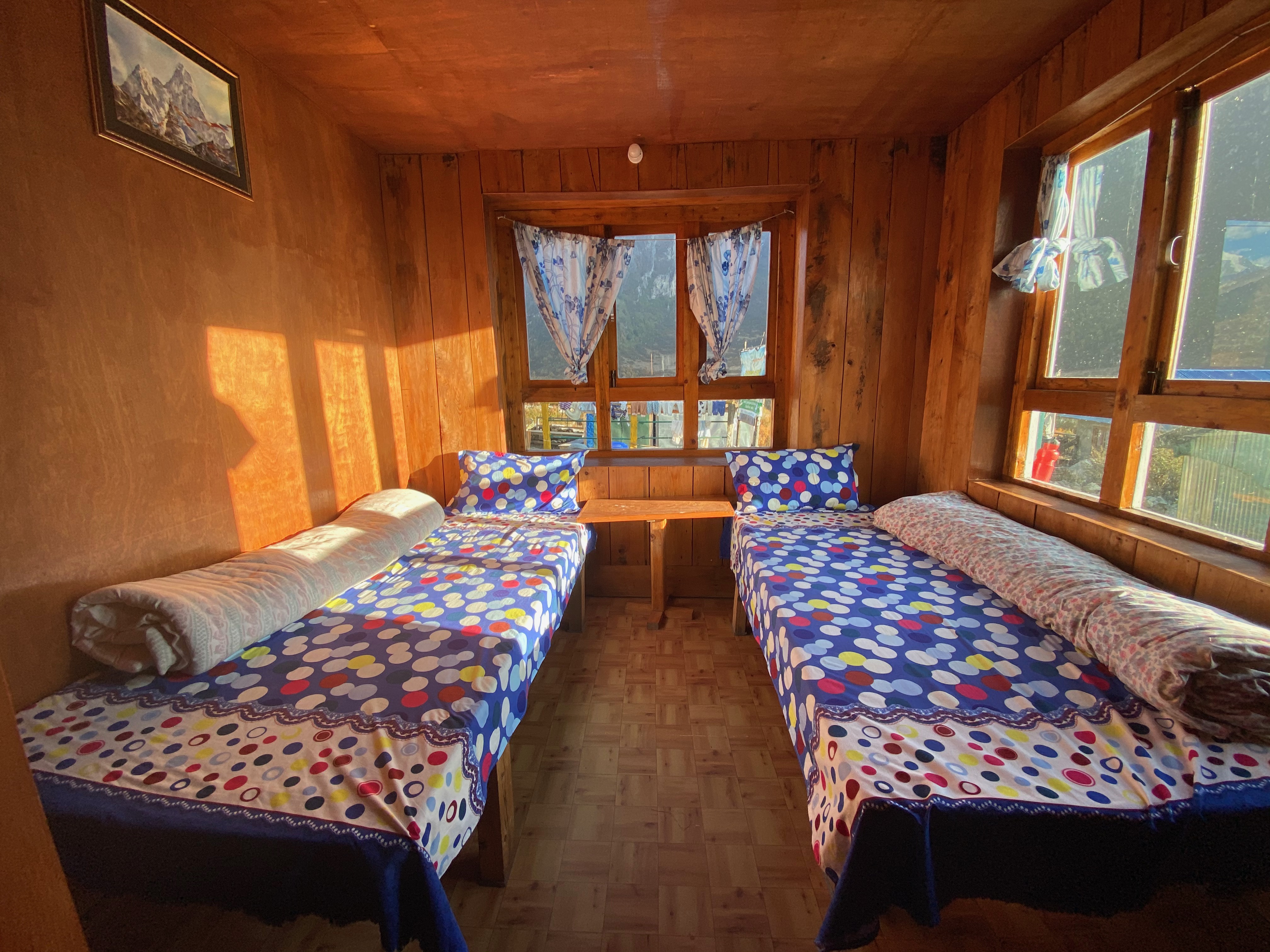 As mentioned, there is no heating. The walls and windows are really thin. But a real mattress and blankets. Amazing!
Most places had a shared shower. But not always hot water. My strategy was to take a shower as soon as I got to the guest house, while there was still sun and warmth outside. At that time, the water had time to heat up during the day, so it was usually warm. Sometimes, the pipes would freeze overnight and there was no water in the morning. So morning I only washed very minimally with colder water and enjoyed my afternoon post-hiked shower. Again, this doesn't sound great. But compare it with camping and it's a miracle to get hot water at all!
The bathroom situation was an adventure… not the good kind. You usually have to share a squatting toilet with others. I felt extremely luxurious the few times I got a room with my own private toilet! Sometimes the Western type! I was glad I brought toilet paper. But when I ran out, I was able to buy more, so that wasn't a problem.
At night, as it got cold out, everyone would gather together in the main common room near the fire stove and chat and eat together before sleep. It felt like a great community as we all got to know each other along the way.
Food
Imagine waking up in the morning - it's super cold. You go to the kitchen and there is a real wood-burning stove and someone cooking for you… That is the reality of life in the Himalayas on the Langtang Valley trek…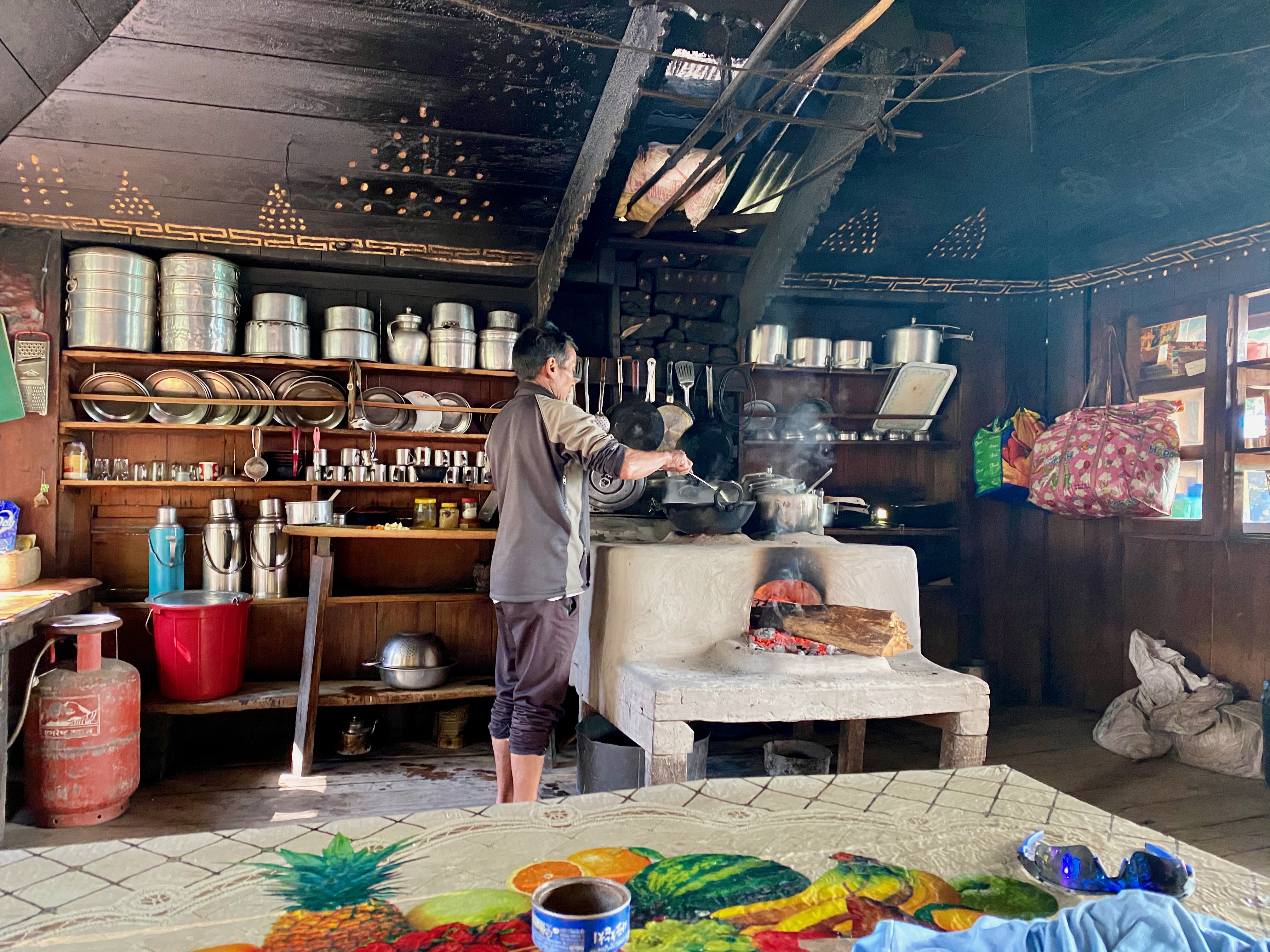 There was a variety of food you could order, but the main meal here in Nepal is Dal Bhat. It's a plate of rice, lentil soup, curry, vegetables, and pickle. You can ask for an unlimited refill for any (or all!) of the items on your plate: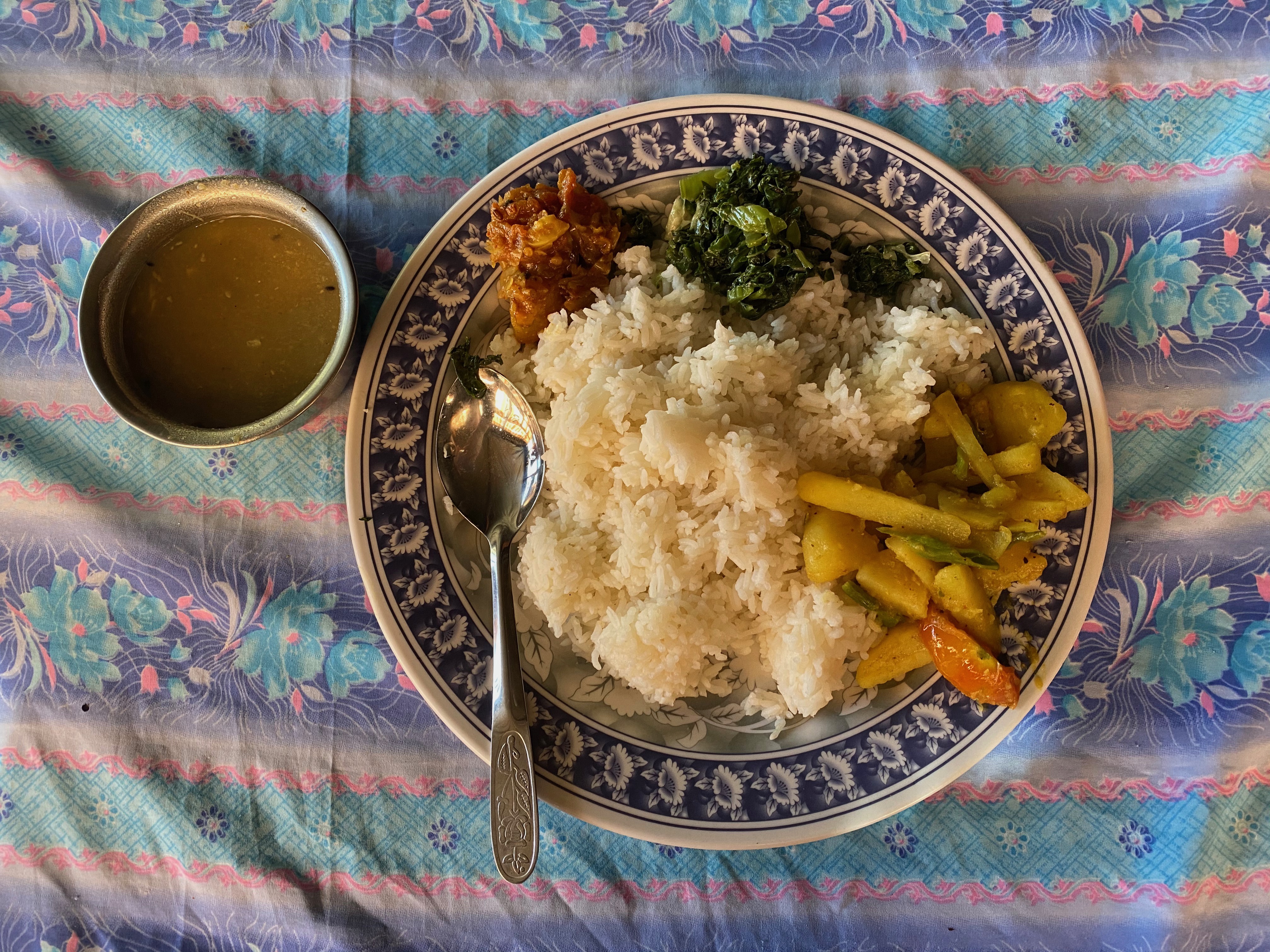 Rice + lentils make a perfect protein. With vegetables, it is a full wholesome meal. It's best explained by this t-shirt that a guy I met was wearing: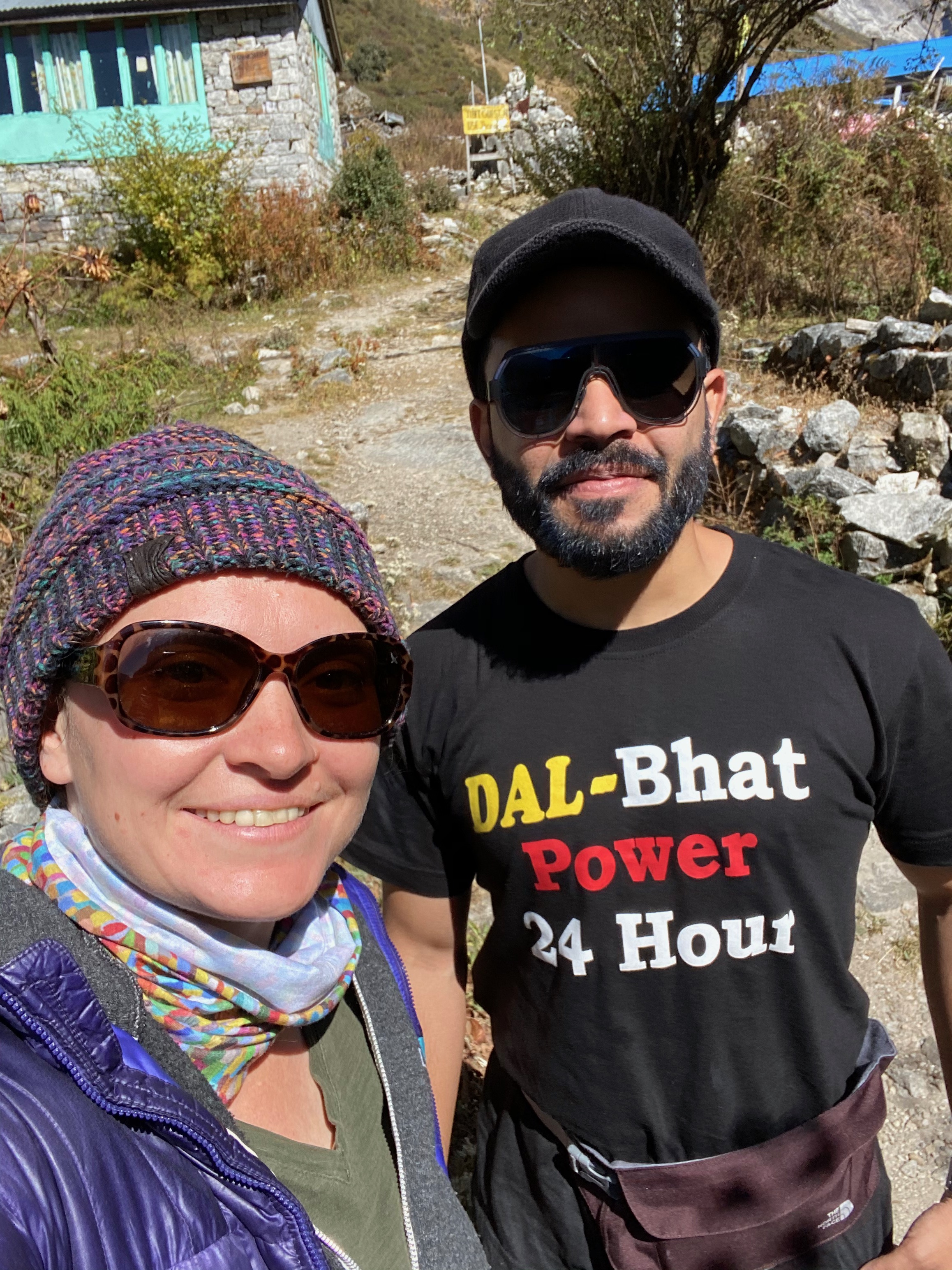 However, my favorite during the hike was the Sherpa Stew - a hearty vegetable soup with homemade noodles: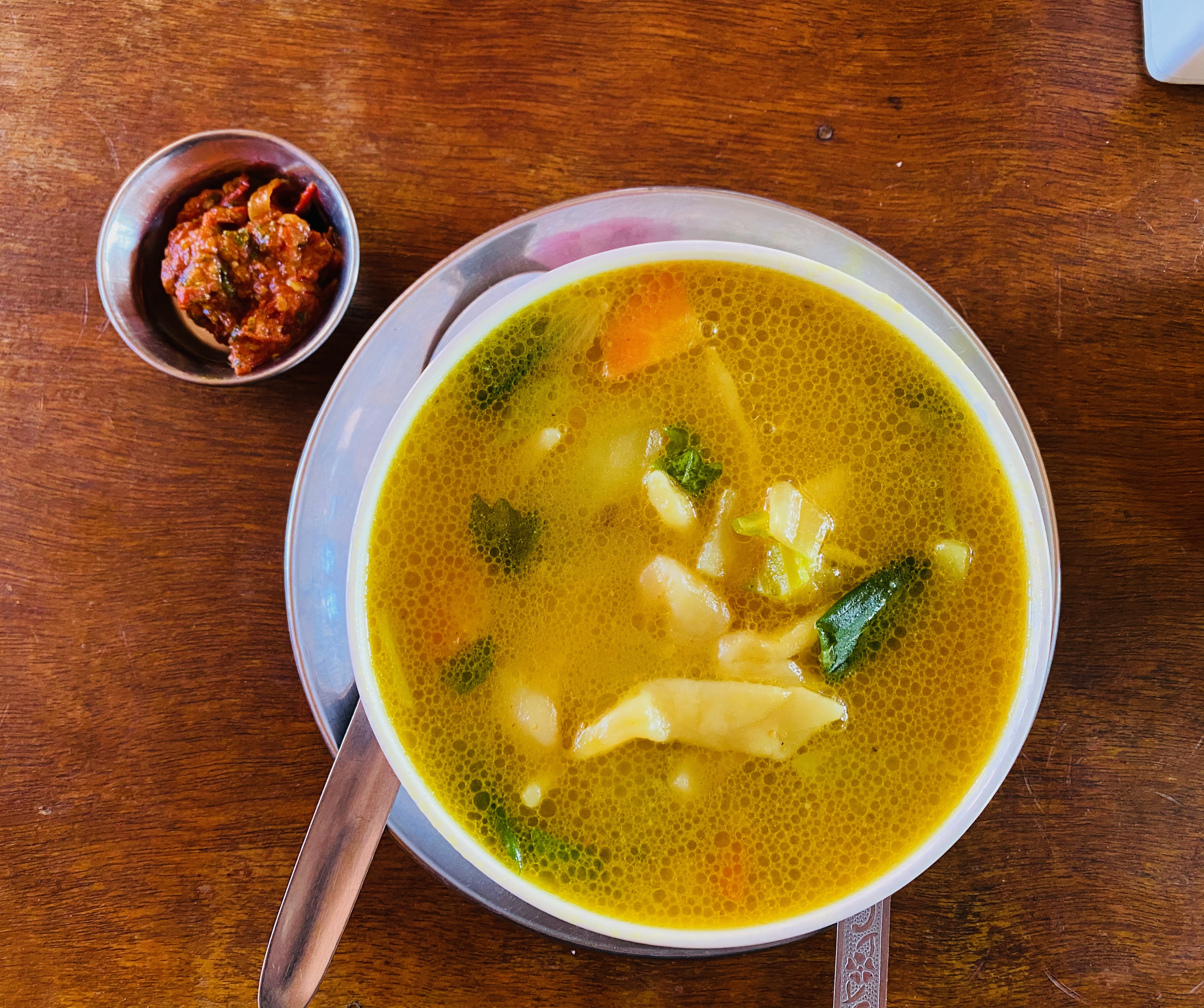 Another good one were these giant buns with curry: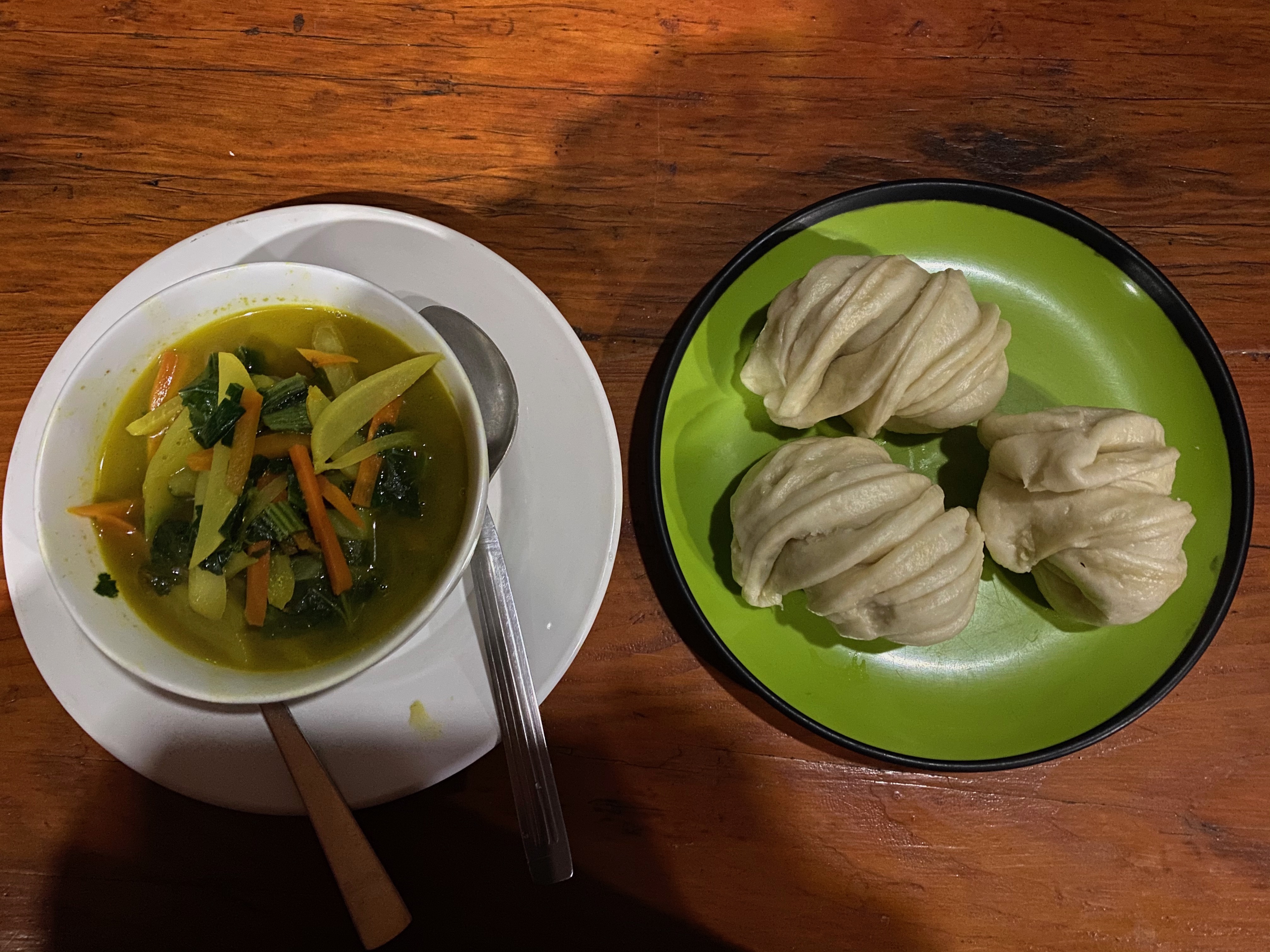 And of course, when you're in the Himalayas, you must try Yak cheese!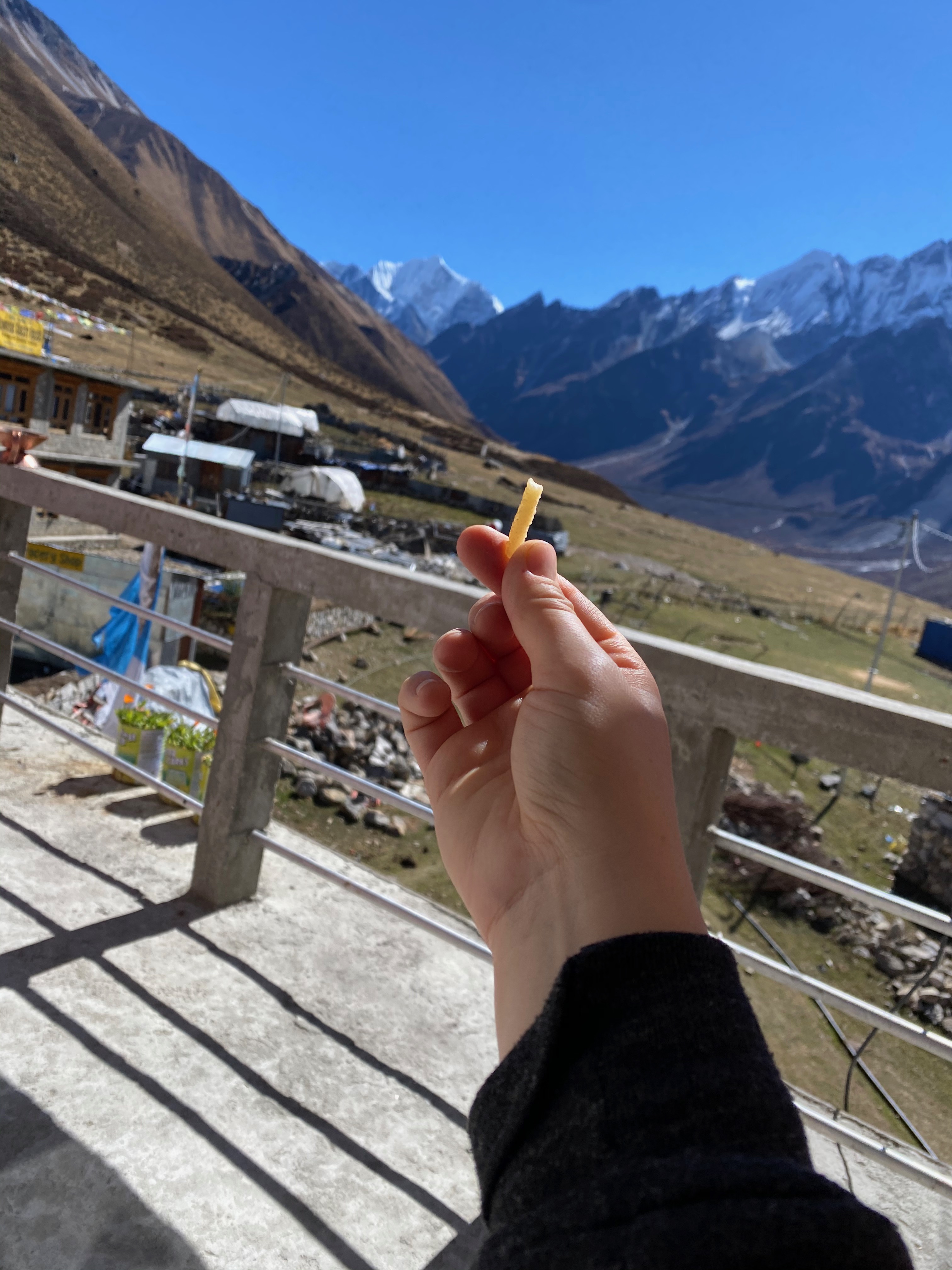 Yak cheese is super hard, so you chew it like hard candy until it dissolves. It tastes closest to parmesan. It went amazingly well with my Sherpa Stew…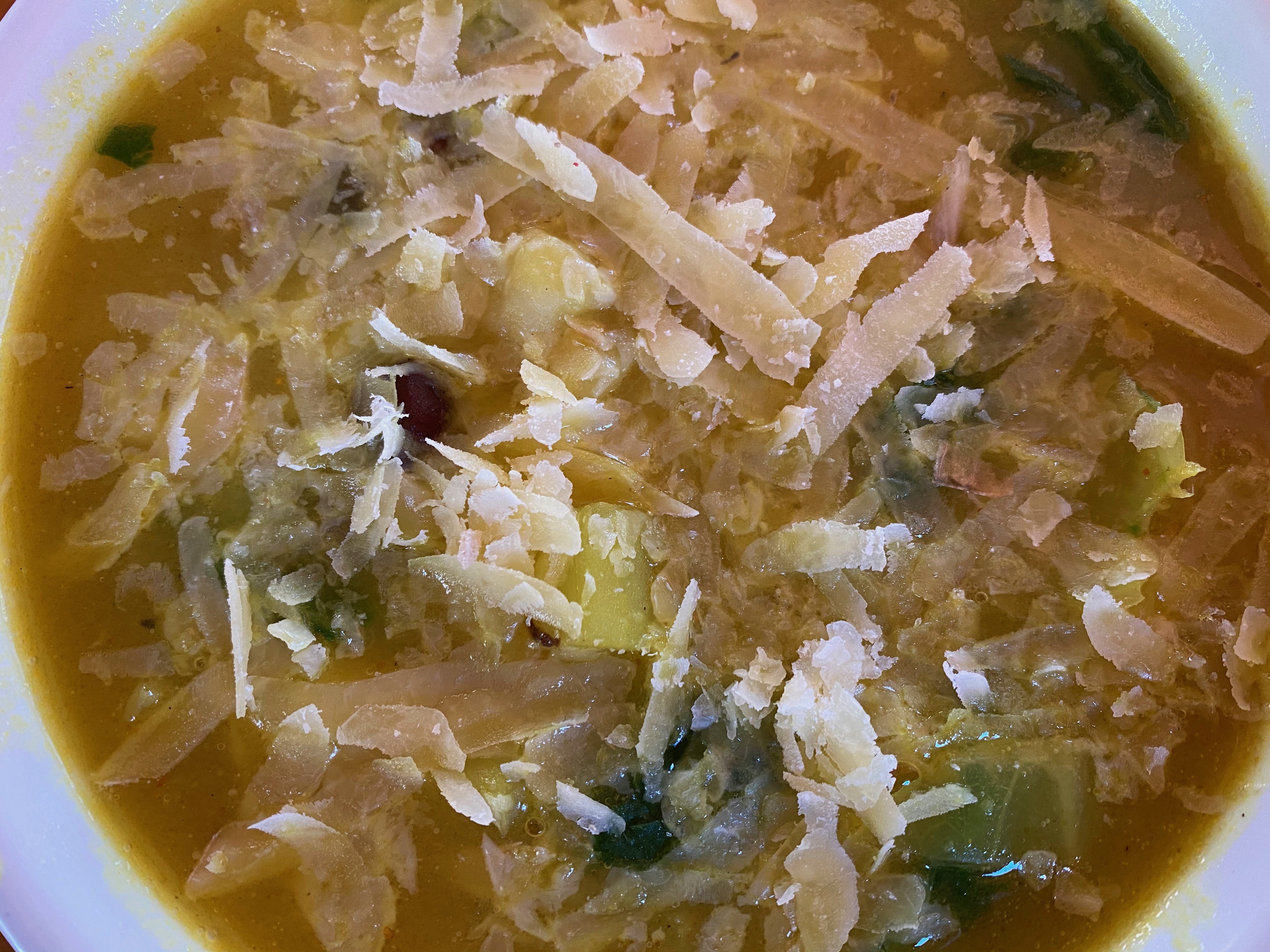 For breakfast, I enjoyed freshly made Tibetan Bread + chickpea curry: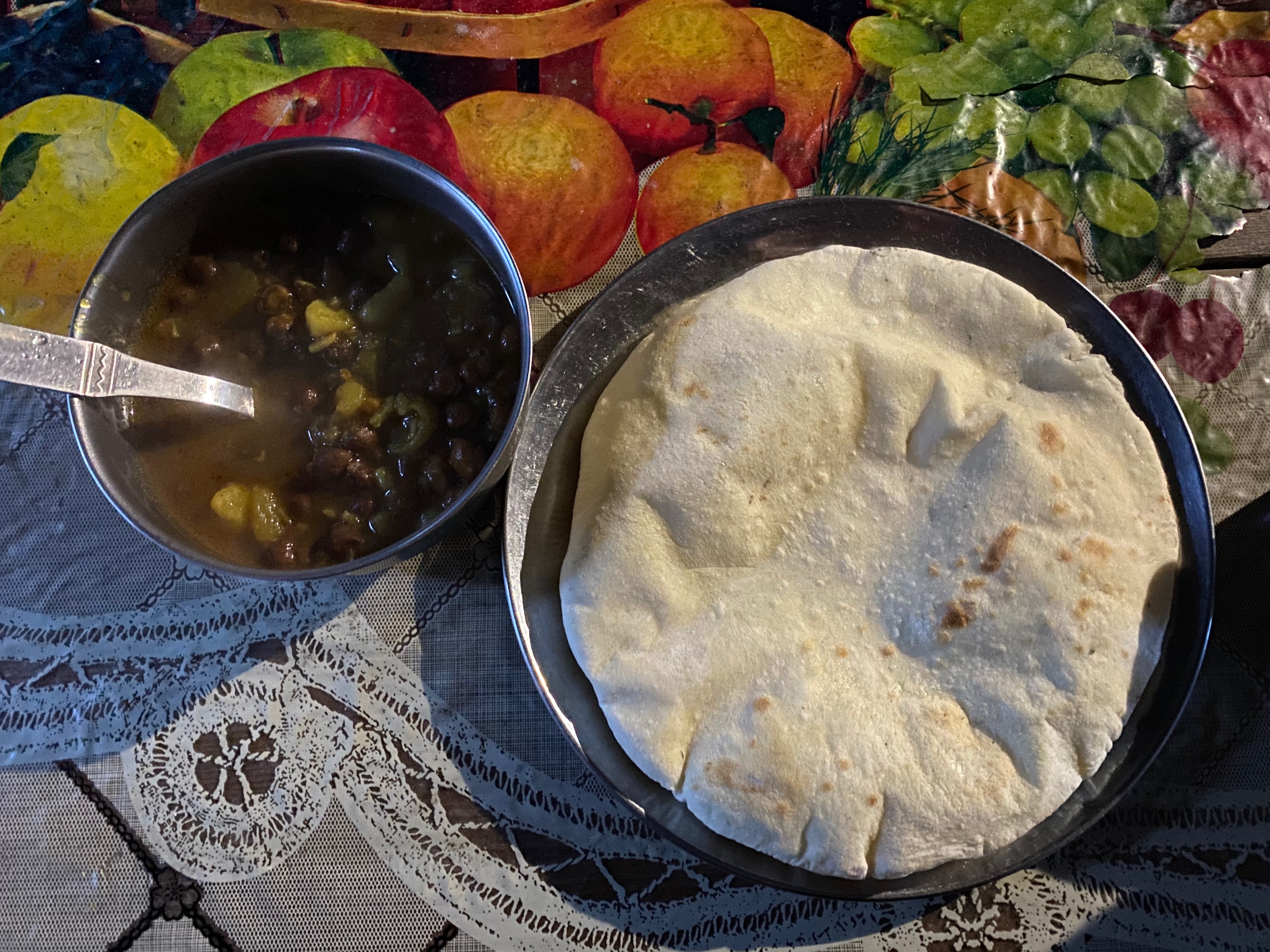 I preferred to try more of the local foods, but there were many other choices that are Westerner friendly, including eggs, pancakes, pizza, spaghetti, momos (dumplings). One time, I just got fried potatoes as a comfort food. And if you want anything custom, just ask!
Many of the ingredients are picked right from the garden next to the guest house!
One note: the diet is vegetarian, so if you want meat, it's not served! But with eggs, tibetan bread and unlimited dal bhat options, you will not be left hungry!
Mountain Plants
As a student of Ayurveda, ancient Indian medicine, I was very interested to try the local plants that grow in the Himalayas. I was excited to see something familiar right away - mint! My guide gathered a few mint leaves and I was able to drink mint tea throughout my hike.
Another cool drink was Sea Buckthorn Juice. It was diluted with warm water and tasted sour. Adding sugar to it made it very refreshing. The health benefits are as follows: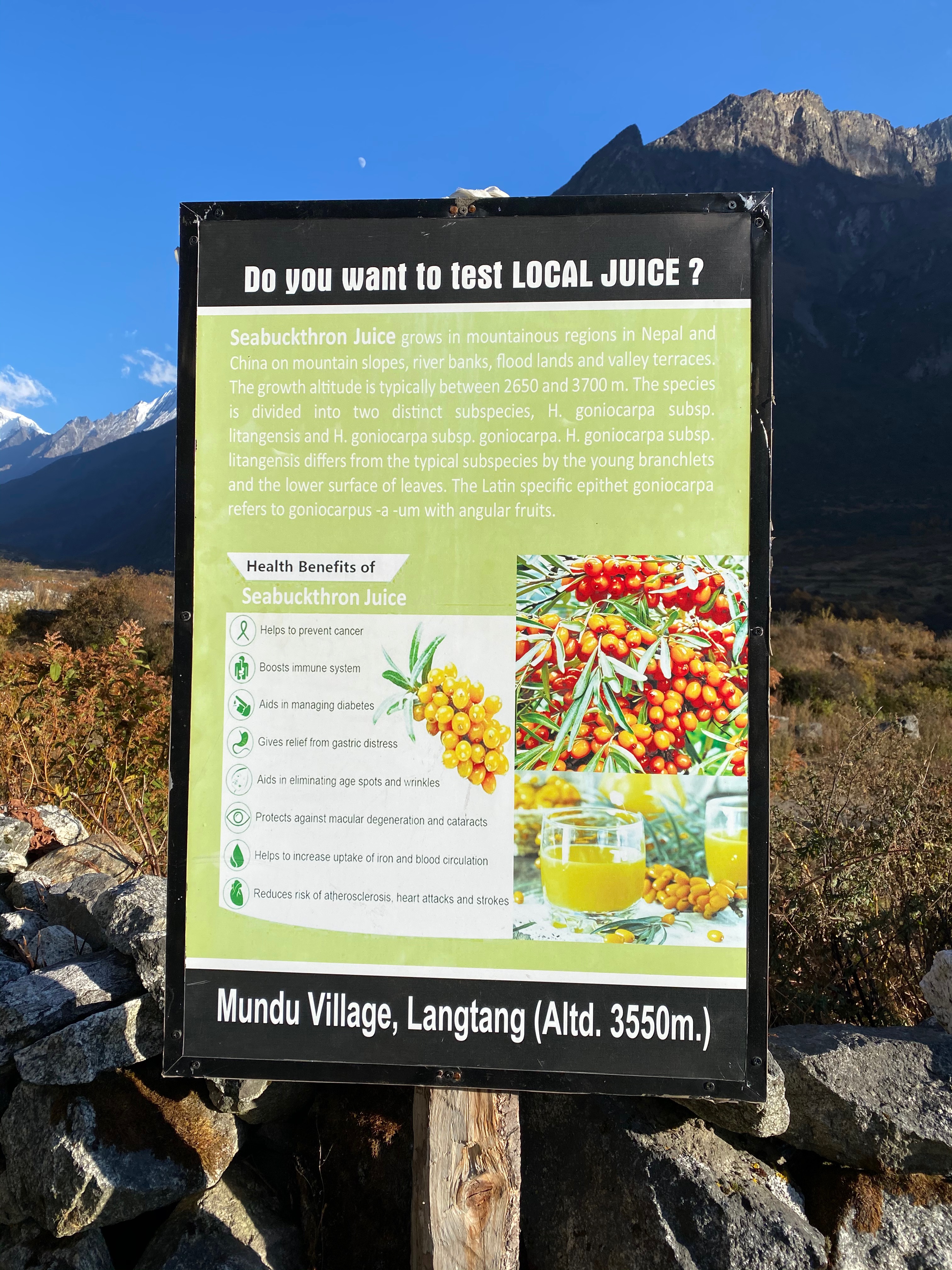 A more "dangerous" herb we encountered was Nettle Leaf. It's like poison ivy - stinging hard if you brush against it: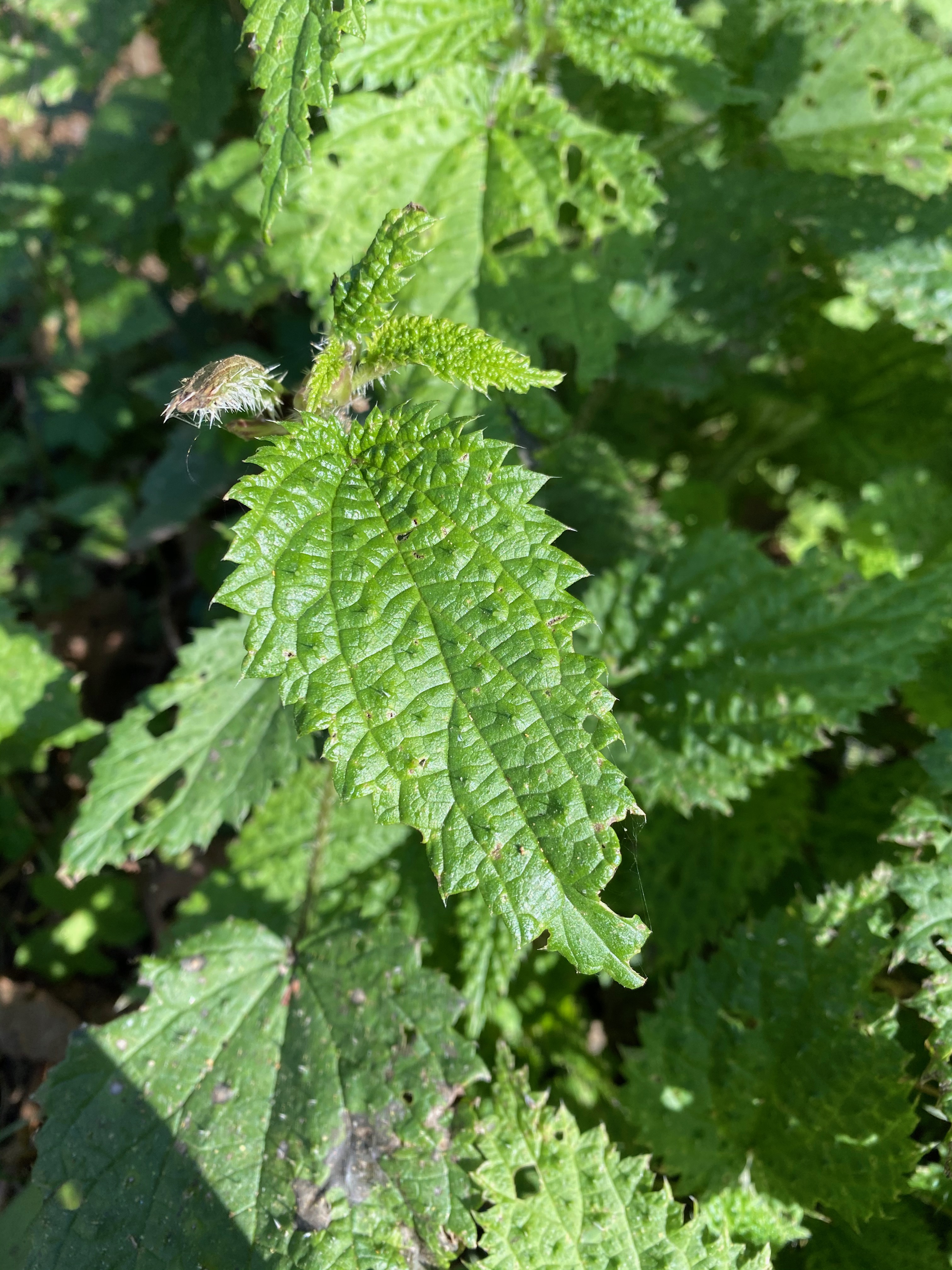 However, as my guide knew, if you make a soup out of it, it is extremely healthy. Providing many trace minerals and iron if you can digest it! My guide made a Nettle soup for me personally!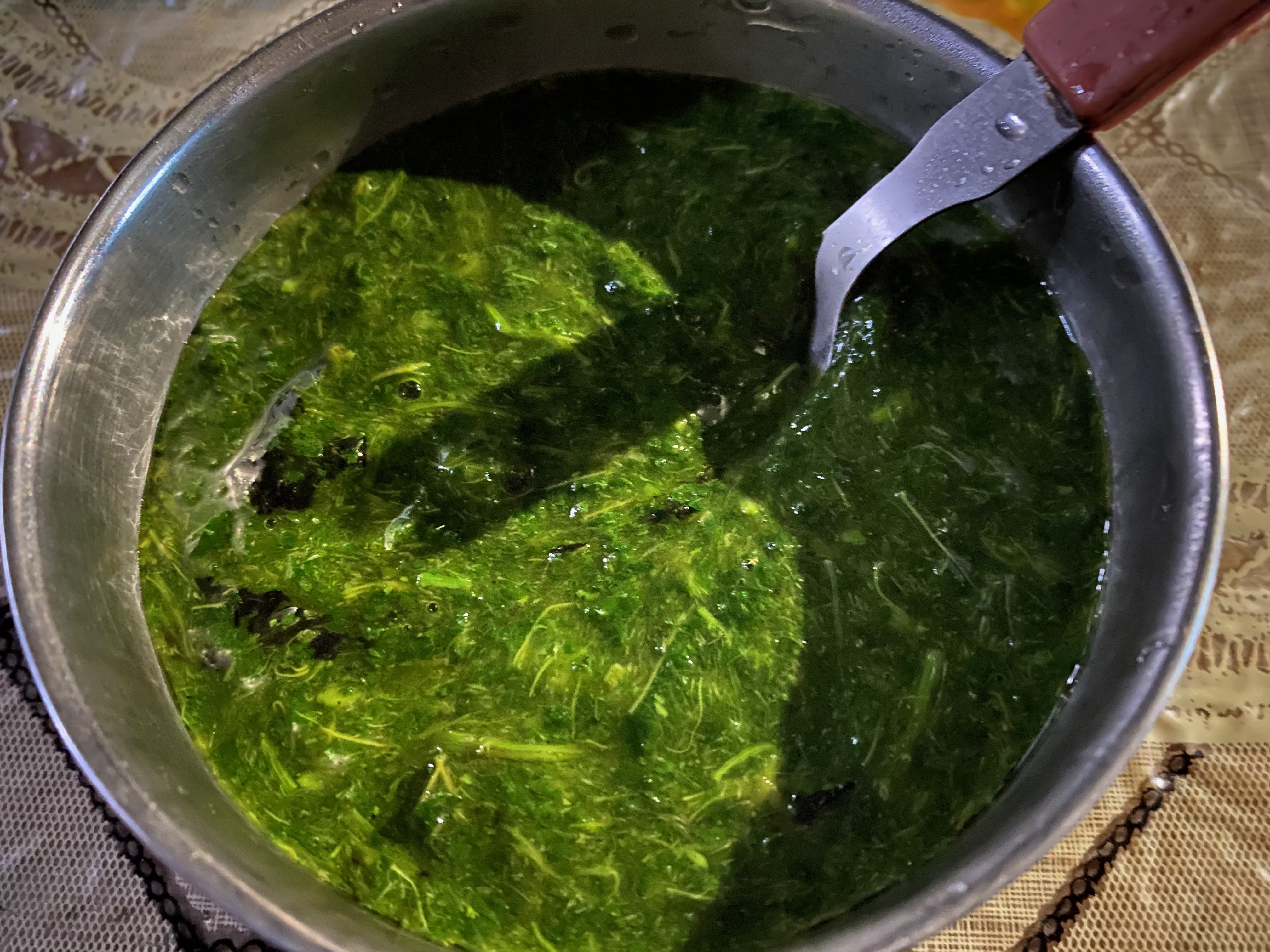 It tasted like creamy spinach. I couldn't finish all of it! But it wasn't too bad! Definitely worth a try!
At the higher altitudes, where it is more of a high-altitude desert, the herbs were dry from the sun and with not enough water, the essential oils got super concentrated in the plant. When you pluck it, rub it in your hand and smell it, it is an extremely strong and powerful smell that clears your mind. The locals burn these herbs every morning - clearing the air and emitting a divine smell around the whole house and village.
Animals
It wouldn't be a trip to the Himalayas without the obligatory yak picture :)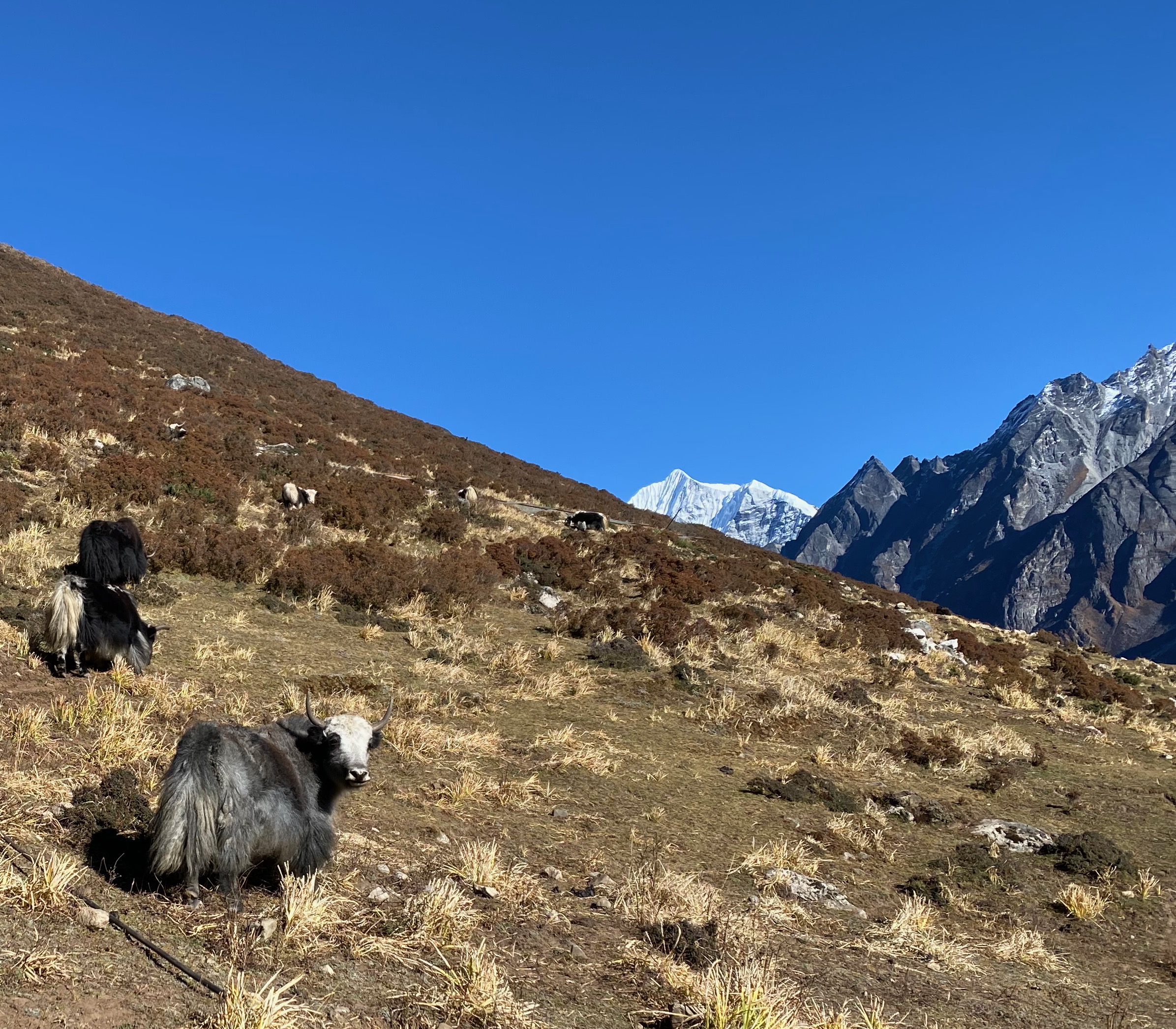 I loved sitting and just watching the yaks each day when I got a chance!
There were also goats and donkeys that helped carry supplies for the locals: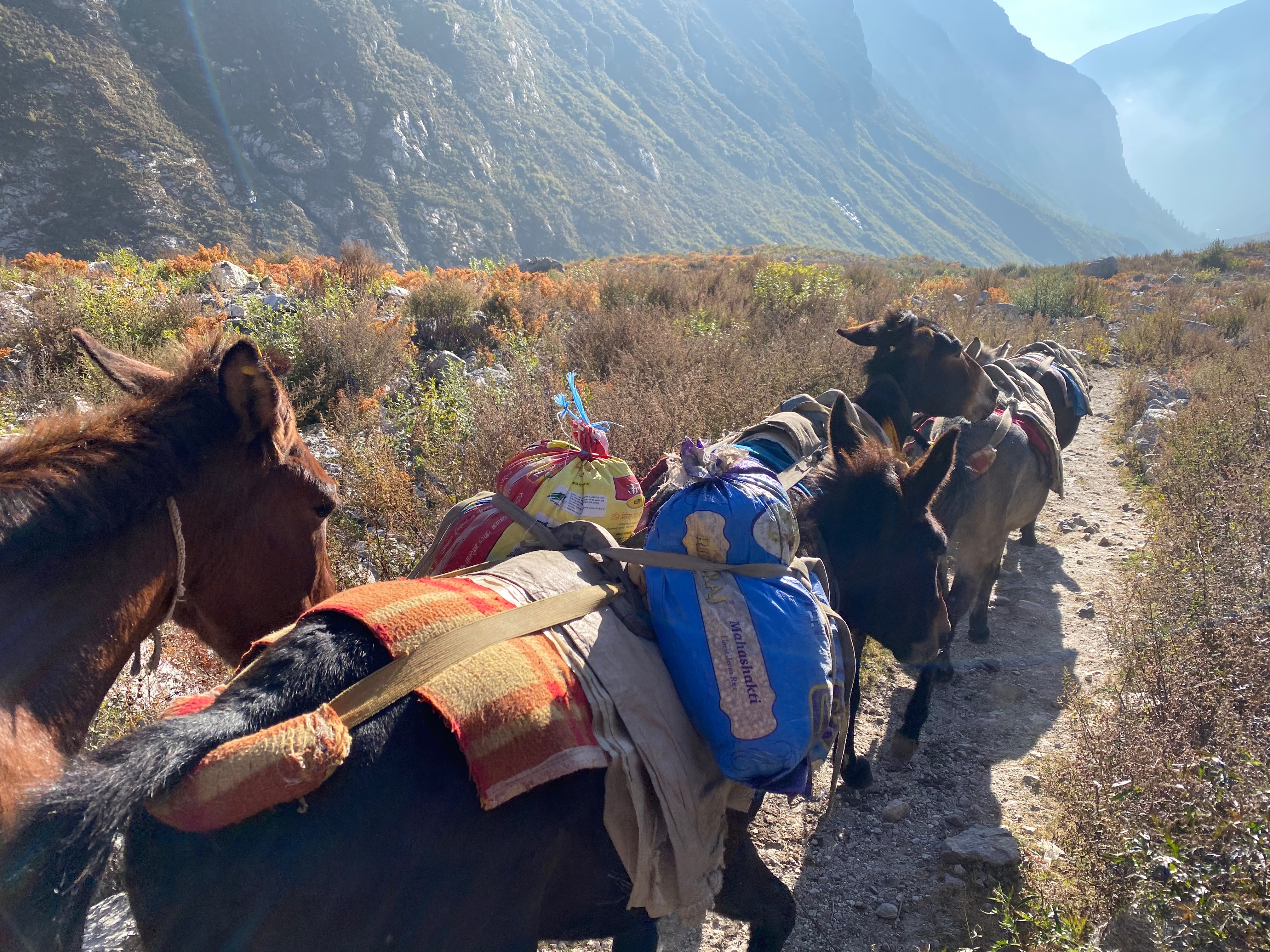 And of course cows… this one is at Mooooondu village!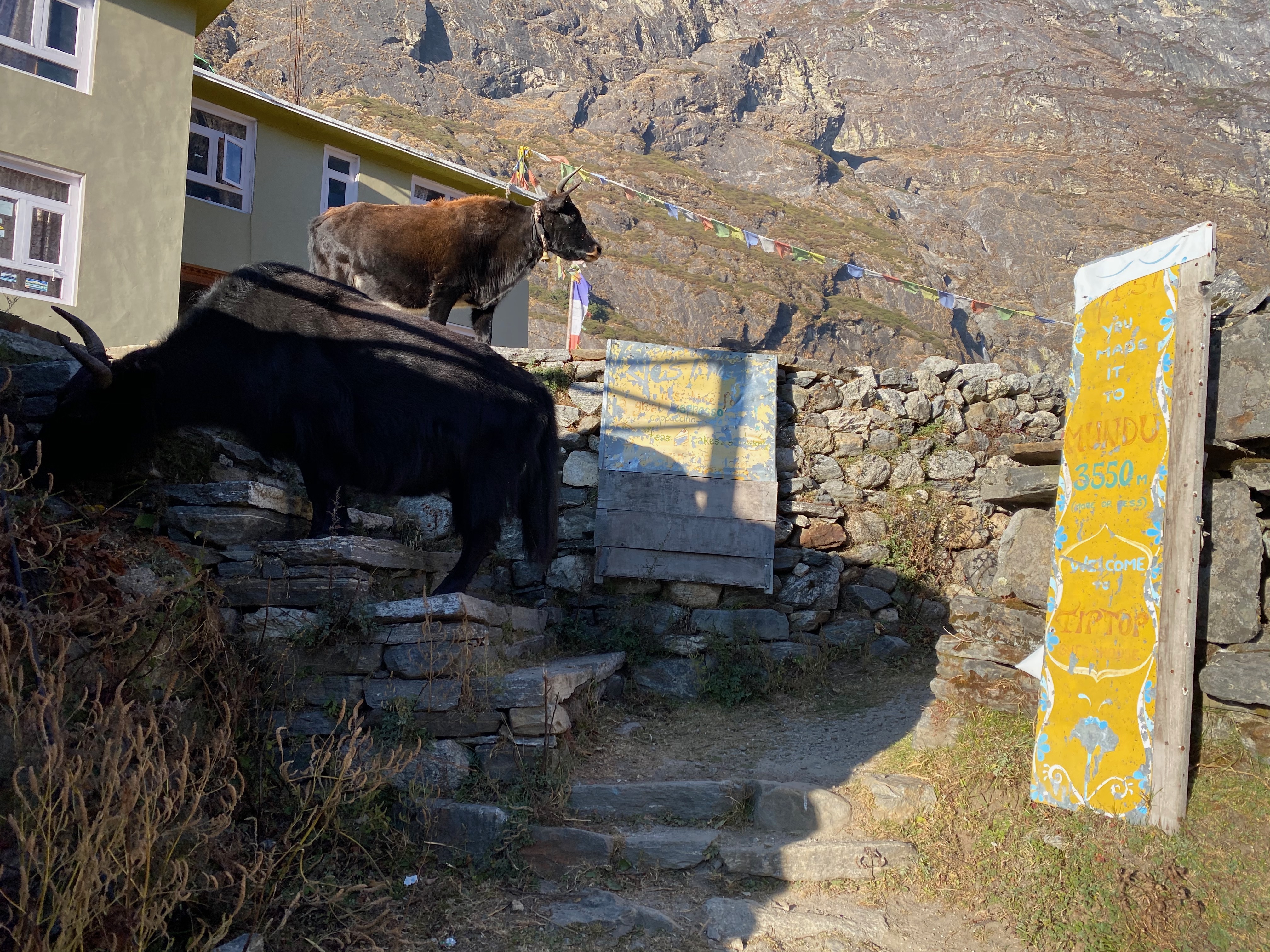 The locals collect the animal dung every morning and put it out in the sun to dry, so they can use the cow dung cakes as a fuel to make fire: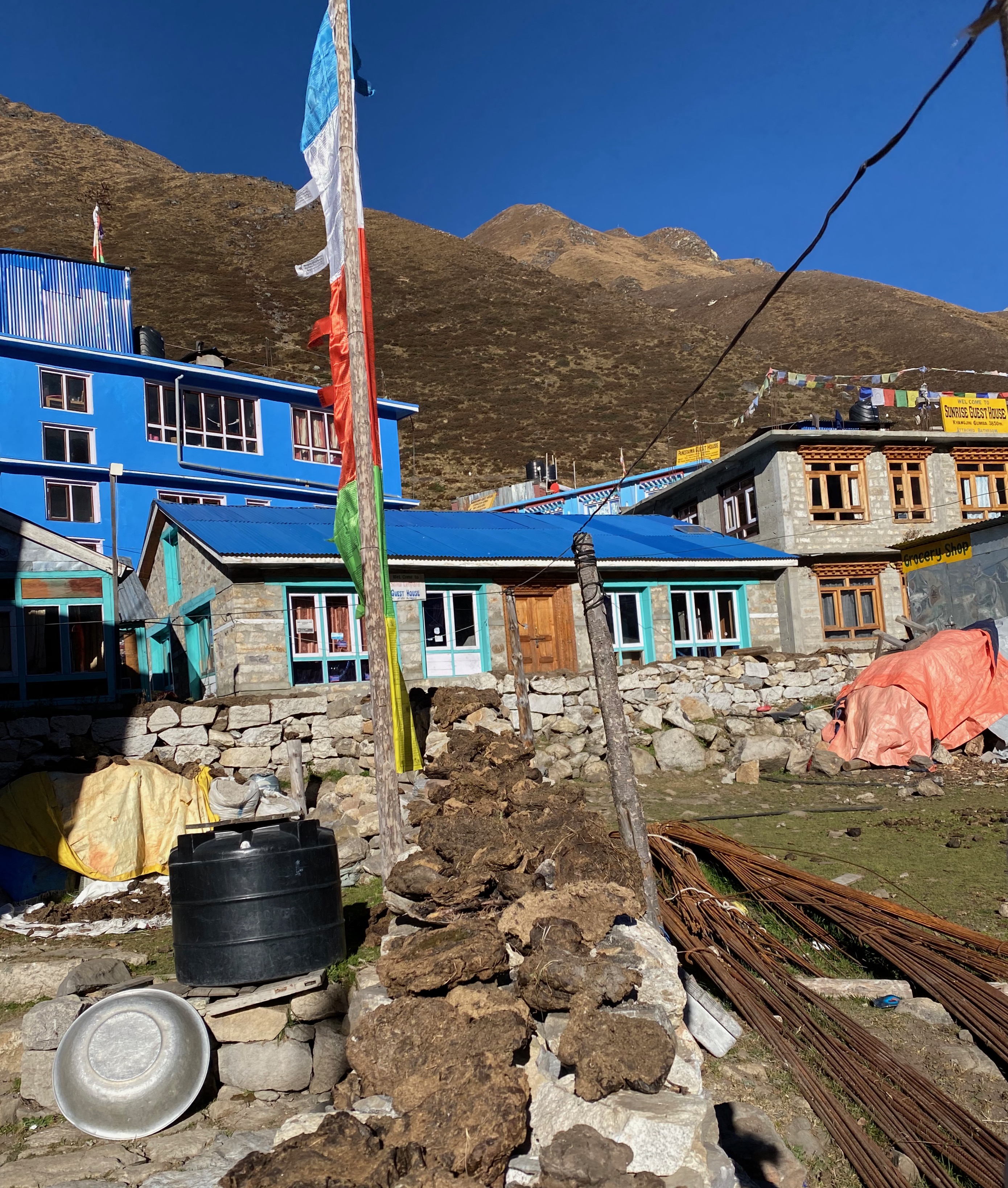 At the lower altitudes as we were heading back, we saw several monkeys jumping between trees!
Conclusion
The Langtang Valley trek is not only a natural hike, but also a very cultural one. You get to see the unkept beauty of the Himalayas, experience the natural smells, eat wood-fire prepared food, and visit villages and cultures unlike the one you're from.
As I talked to people on the trek, they were all surprised when I said I was a tourist! They haven't seen a tourist for 8 months! Hence the "only tourist in Nepal" as the title of this blog post.
The world is pretty chaotic right now, with COVID bringing on another set of lockdowns around the world and the political and economic situation changing daily. I don't know what will happen next, but I'm extremely grateful that I got this incredible experience in the Himalayas to give me the strength to face it all.
Hope you are all staying safe & healthy my friends, Natasha