Jeju Island: Hiking Olle Trail #9, with the Jeju Olle Academy!
NatashaTheNomad
03/16/2018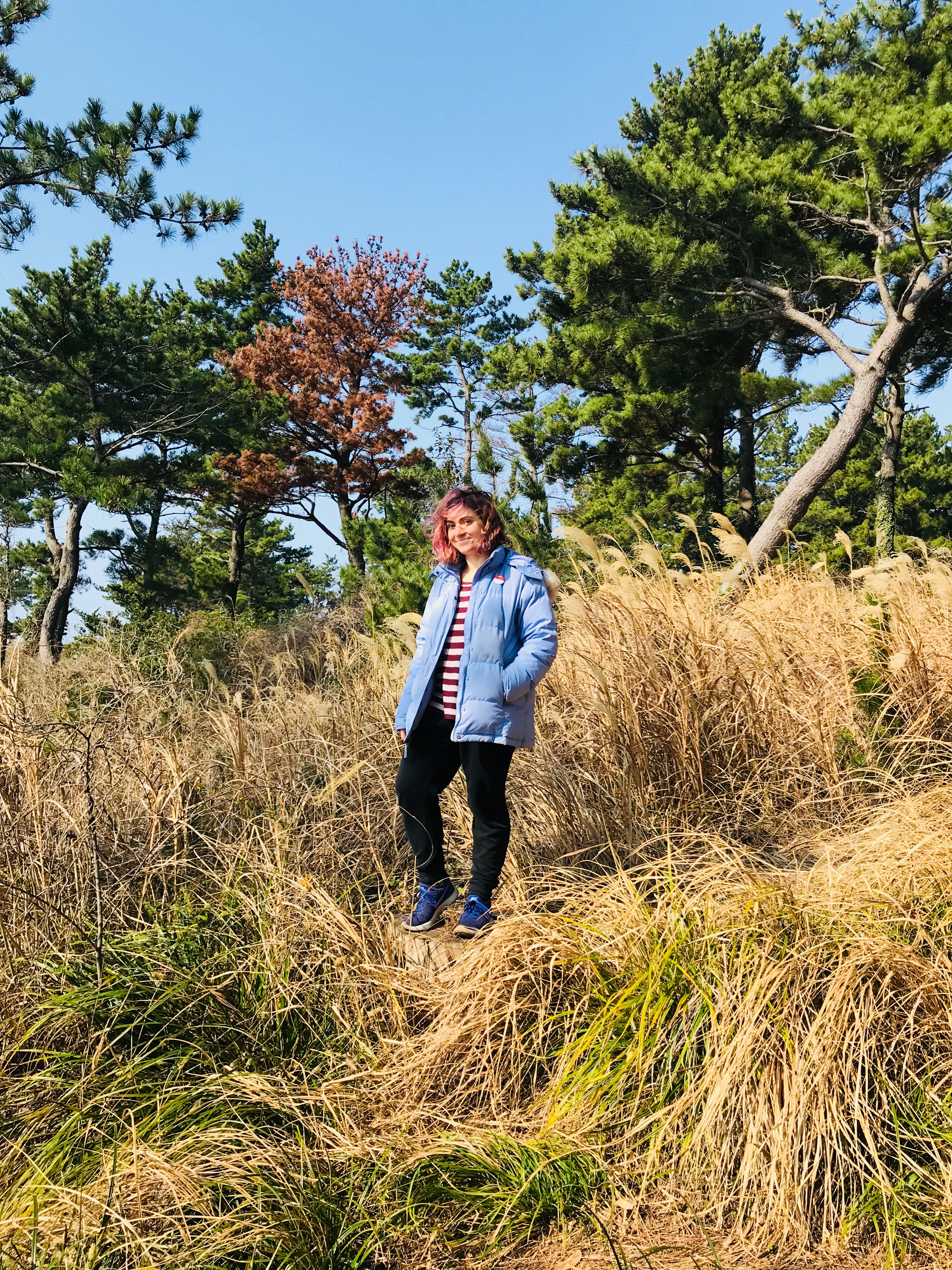 One of the coolest things to do on Jeju Island is to simply walk around it! There is a special Olle Trail just for that purpose! The trail is broken into 26 paths (422km total!), each ranging from easy to difficult and taking anywhere between one to six hours to hike!
As soon as I picked up the Jeju Olle Trail brochure at the Jeju Island Welcome Center, I was excited to join a guided walk from the Jeju Olle Academy:
"A guided walk is a chance to enjoy a really local day on Jeju at a slow pace with other walkers and a guide who has graduated from our Jeju Olle Academy. The walks are about exploring the footpaths, villages, hills, and sites of the island, but also about having a conversation and sharing the day with the walkers next to you. It is a chance to do something that very, very, few international tourists or visitors actually do…"
I emailed the academy to get more information about the group hikes, and got a great reply back in English. The information was super helpful.
The Group
We joined the group early in the morning (9:30am!) on a Saturday at the start of Olle Trail #9 and started the hike!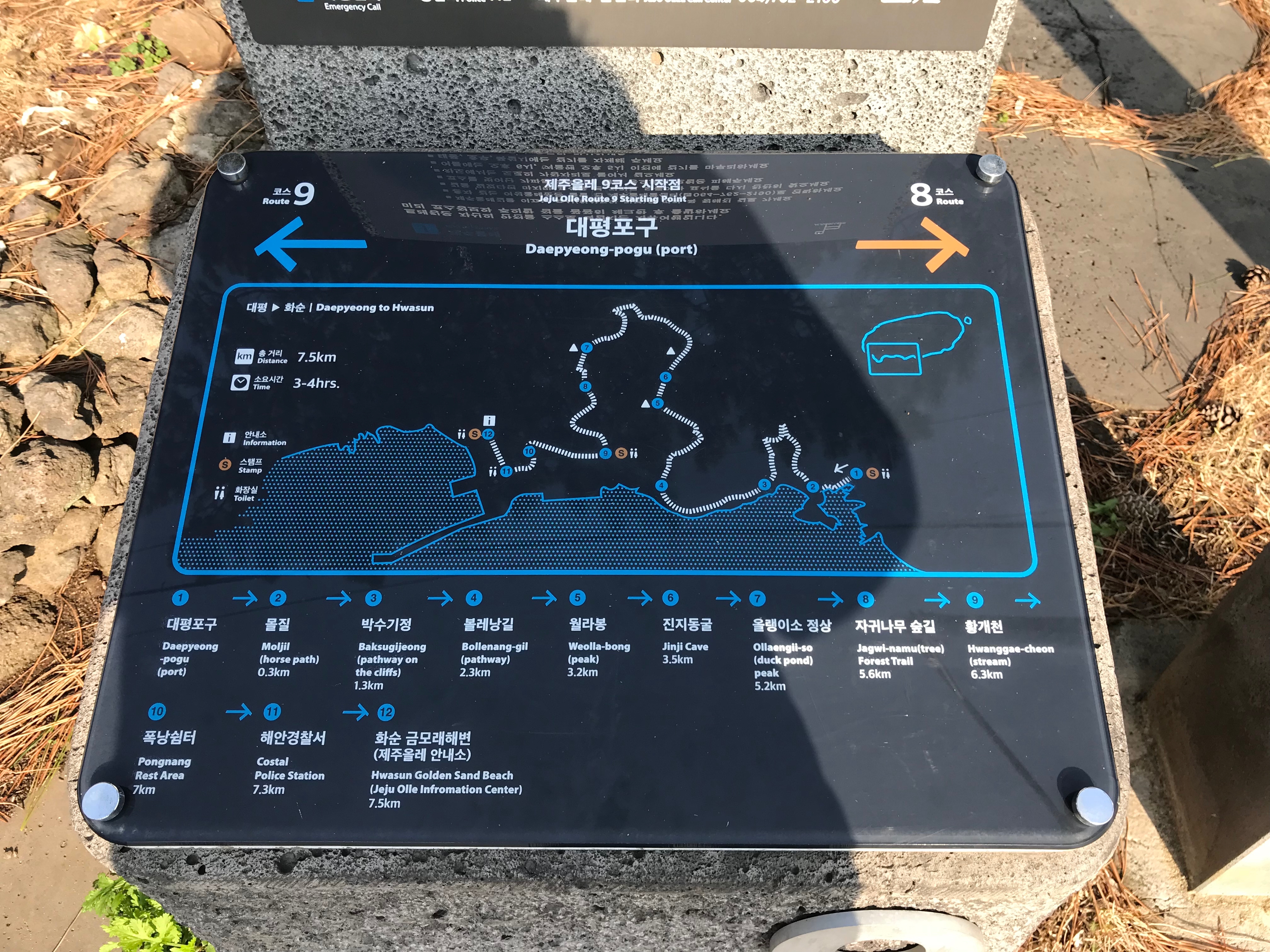 This was supposed to be a difficult hike, as it included climbing. However, the group consisted of people of all ages. In fact, we were two of the youngest ones in the group.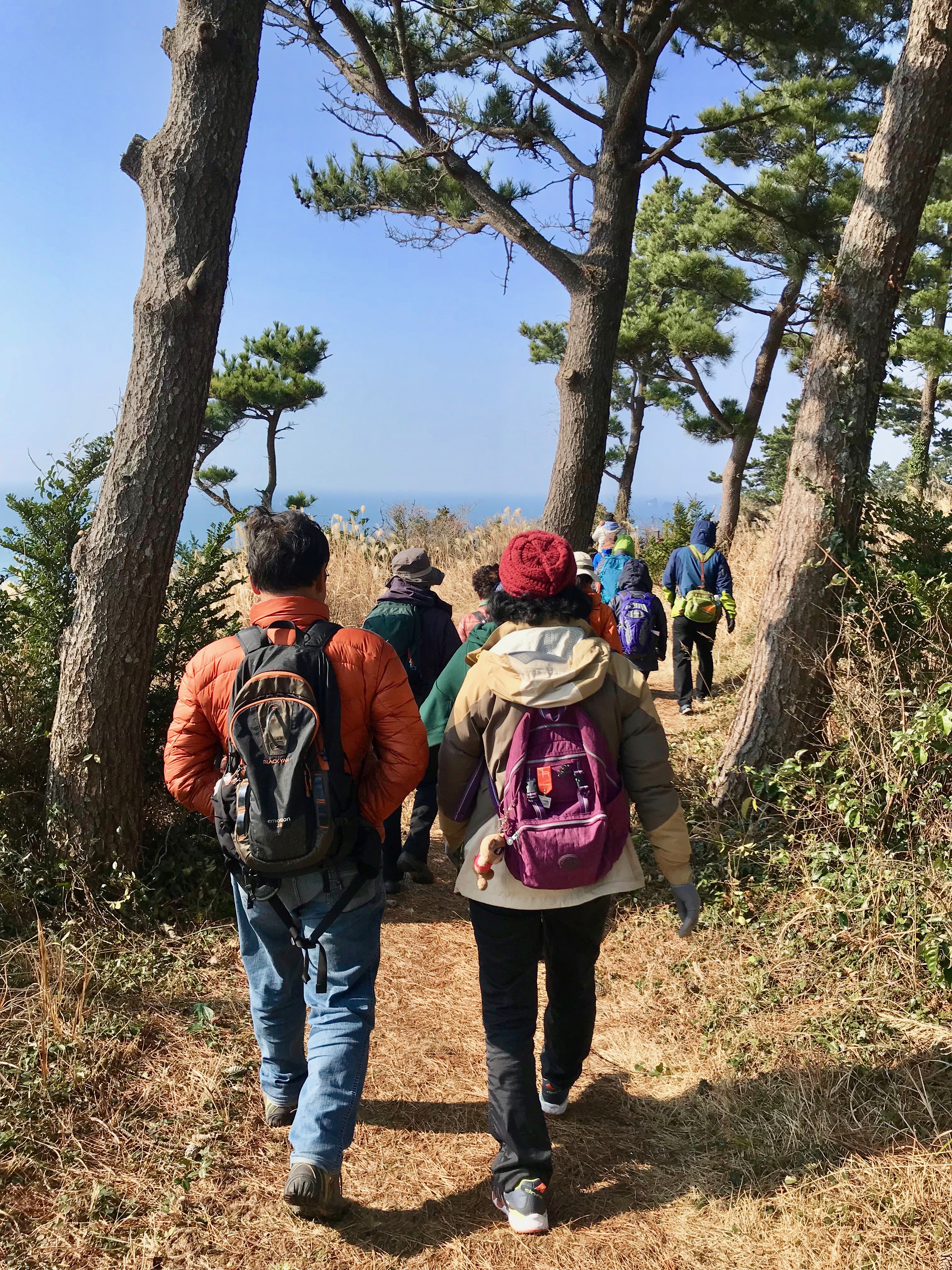 The group consisted mostly of Korean locals and tourists who didn't speak much English. Funny enough, I was able to communicate with one of the Jeju Olle Academy hiking leaders in Spanish! She didn't speak English much, but she lived in Argentina for several years! I would never have guessed that I'd be finding my Spanish useful in South Korea! What a small world!
The Views
About 20 minutes into the hike, after a bit of a climb, we reached the first amazing view point!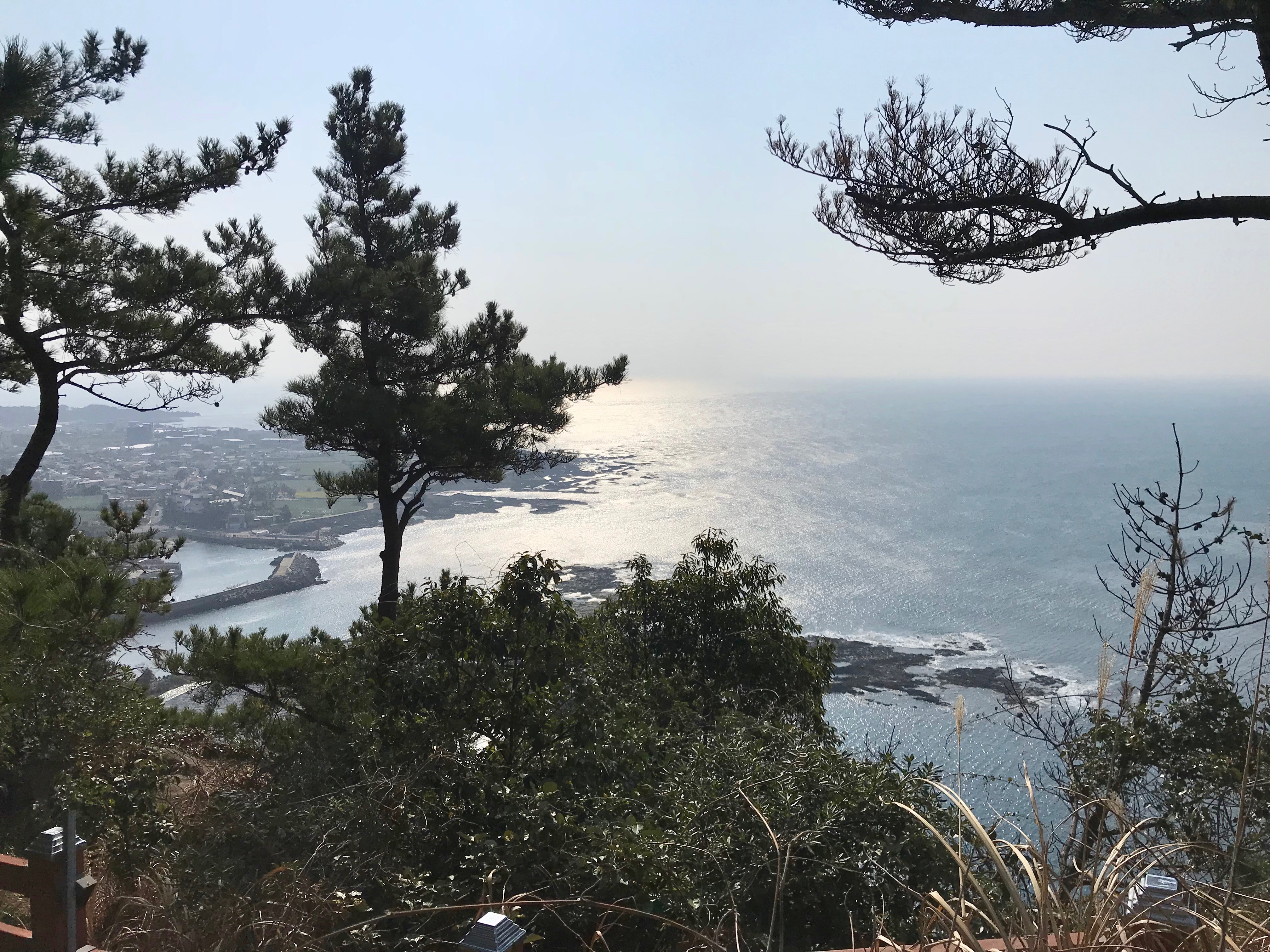 After taking pictures, we continued on through the trail. The views around us were gorgeous. The bright yellow rape seed flowers were in full bloom!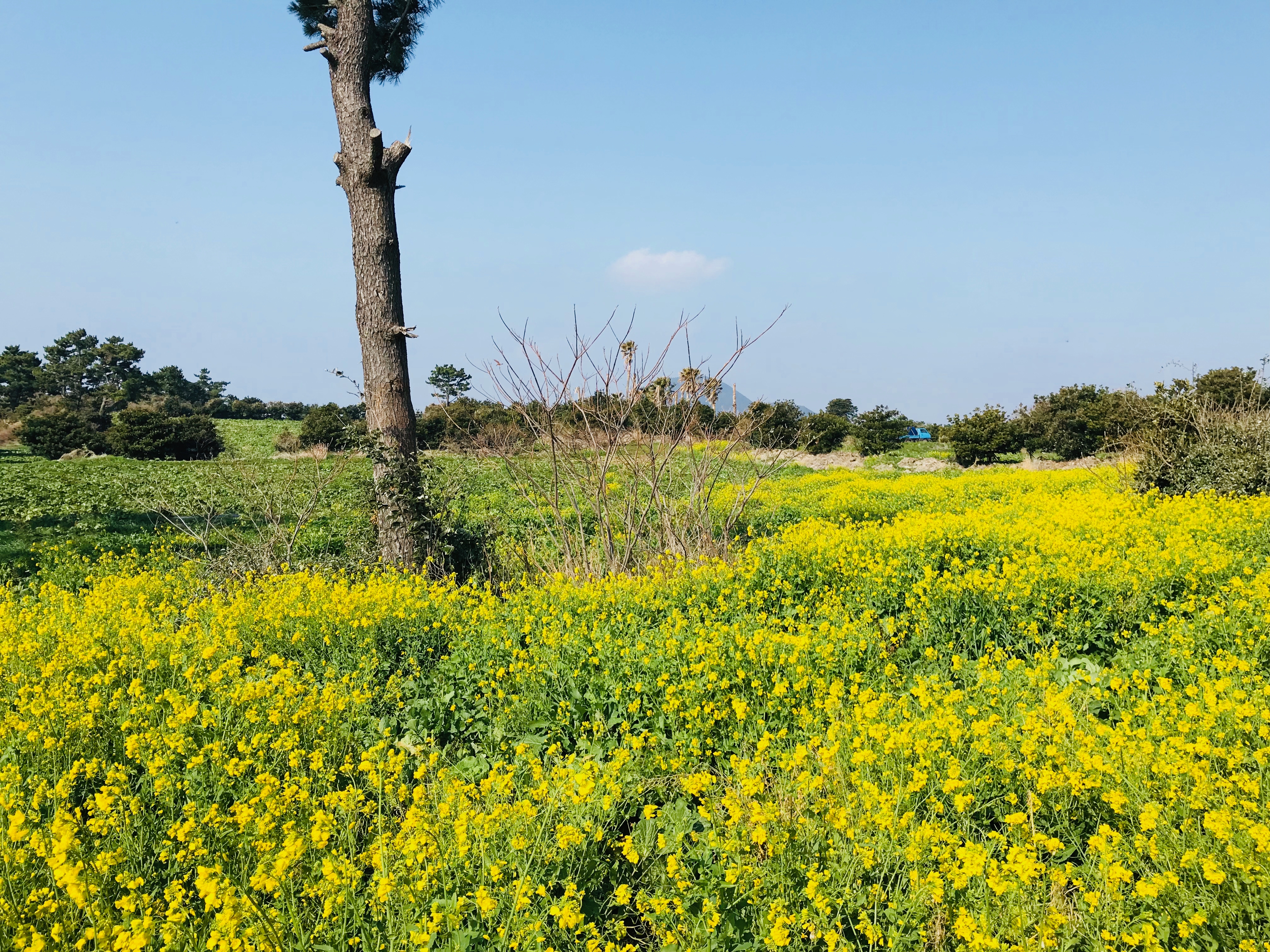 Jeju Island has very diverse vegetation, with plants blooming all year long! I was mesmarized by this tree of white berries - I have no idea what these are!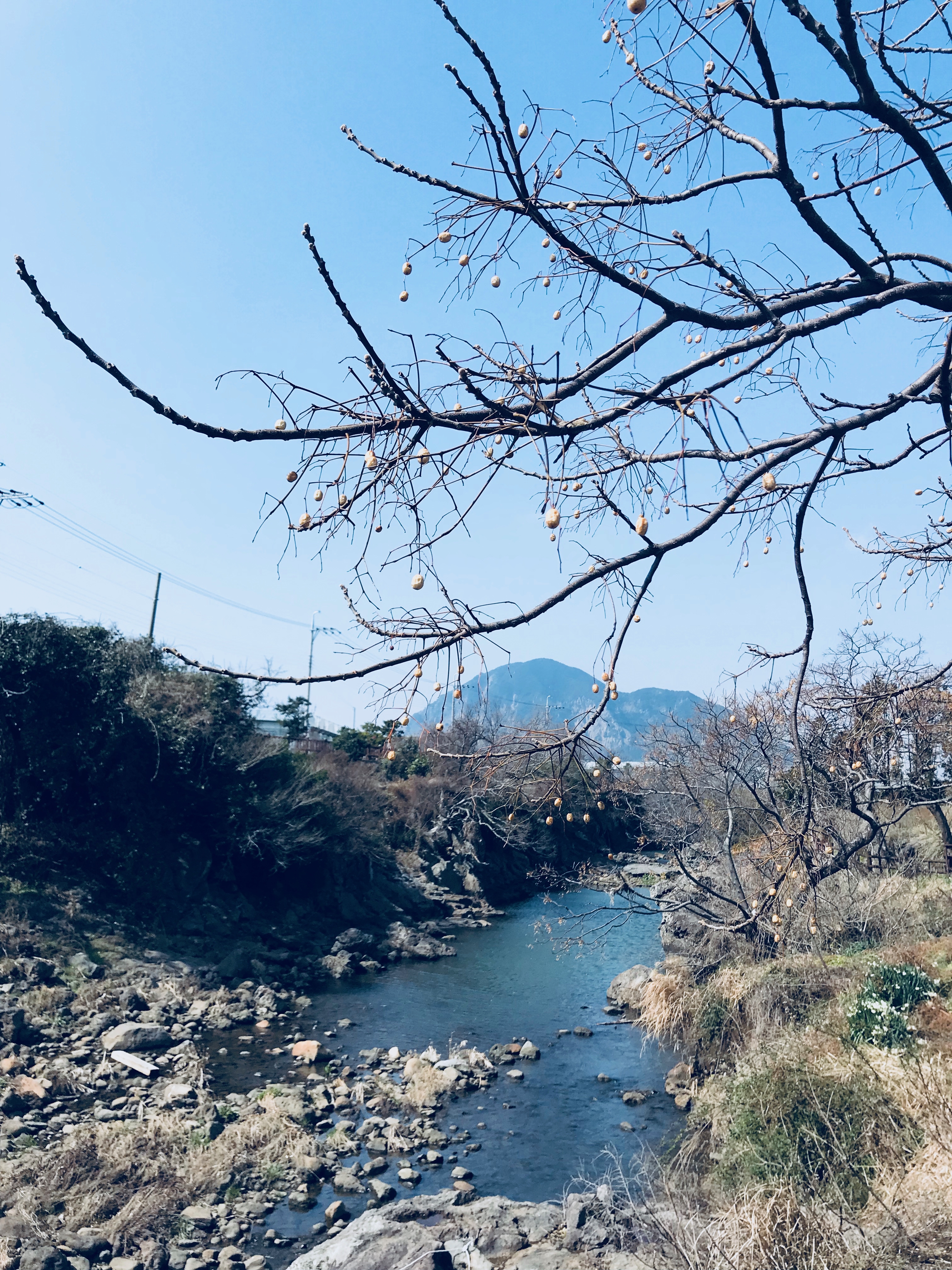 Oh, and did I mention the trail goes by the ocean?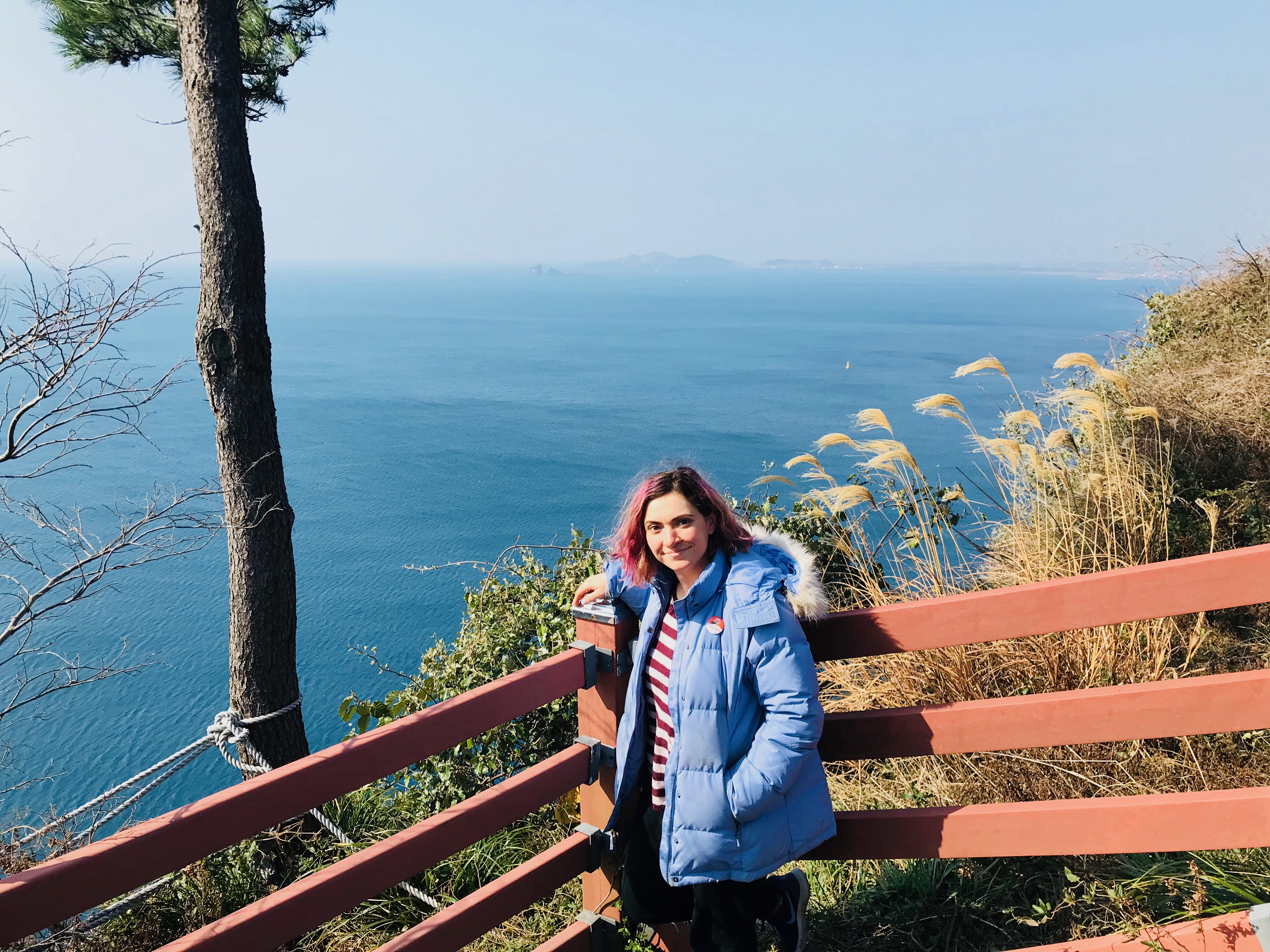 Sharing Food!
One big thing to note is that the hike we went on was on the opposite side of the island from our AirBNB. So that morning, we had to pack, take an hour-long taxi to a hotel in the south part of the island near the hike to leave our things, then take a taxi to the starting location of the hike to meet the group in time for 9:30 am!
In that chaos, we didn't have time to eat, and this was going to be a 3+ hour hike! We were considering staying behind to eat and then going on our own after, but decided to join the group regardless of the lack of food.
Luckily, the people in the group were extremely kind! Early into our hike, a man shared some mints with me and my friend: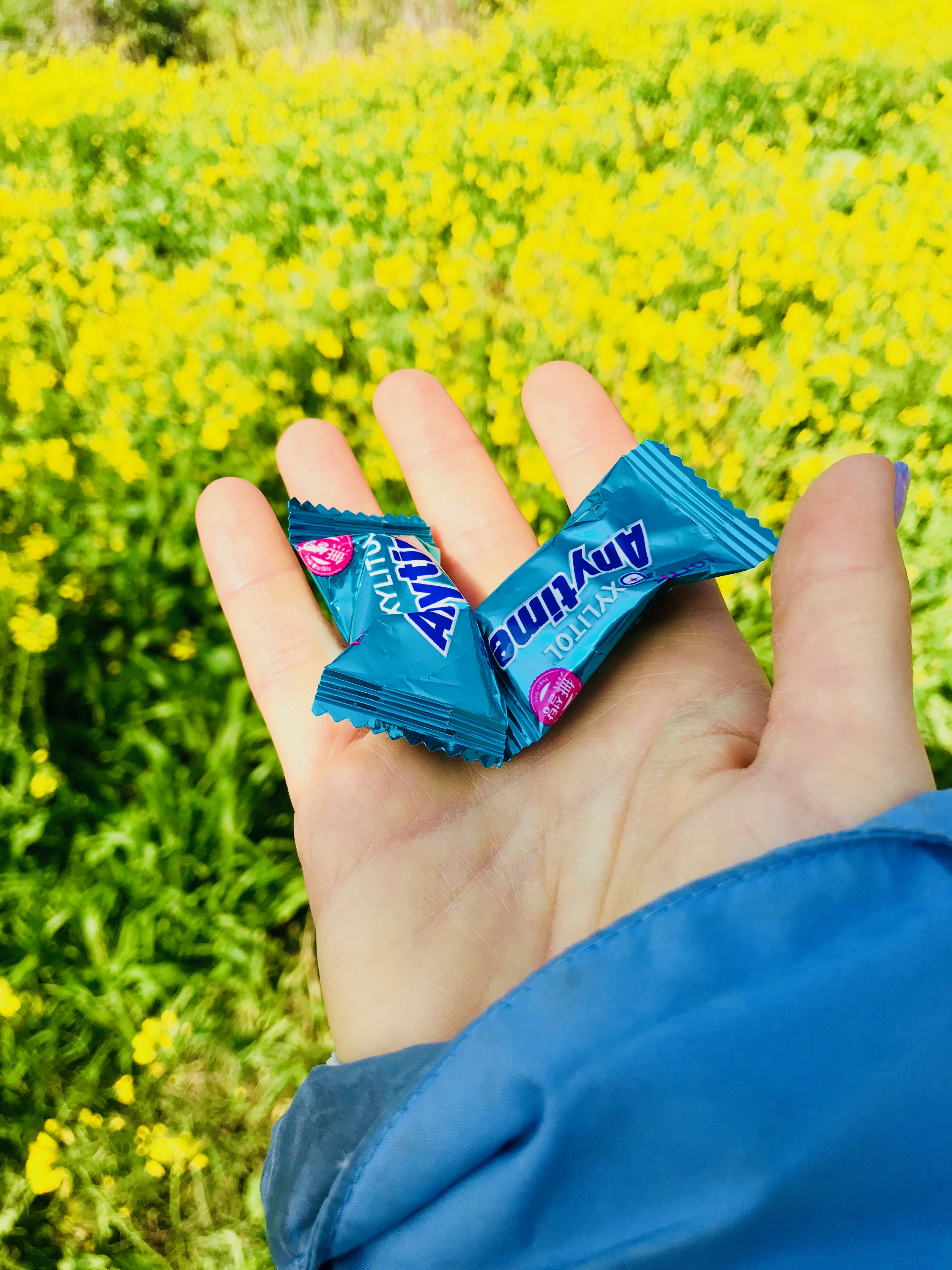 And as soon as we reached the peak of the hike (about mid-way), the real feasting began! Everyone (except us) brought something to share with everyone!
We got some homemade cake: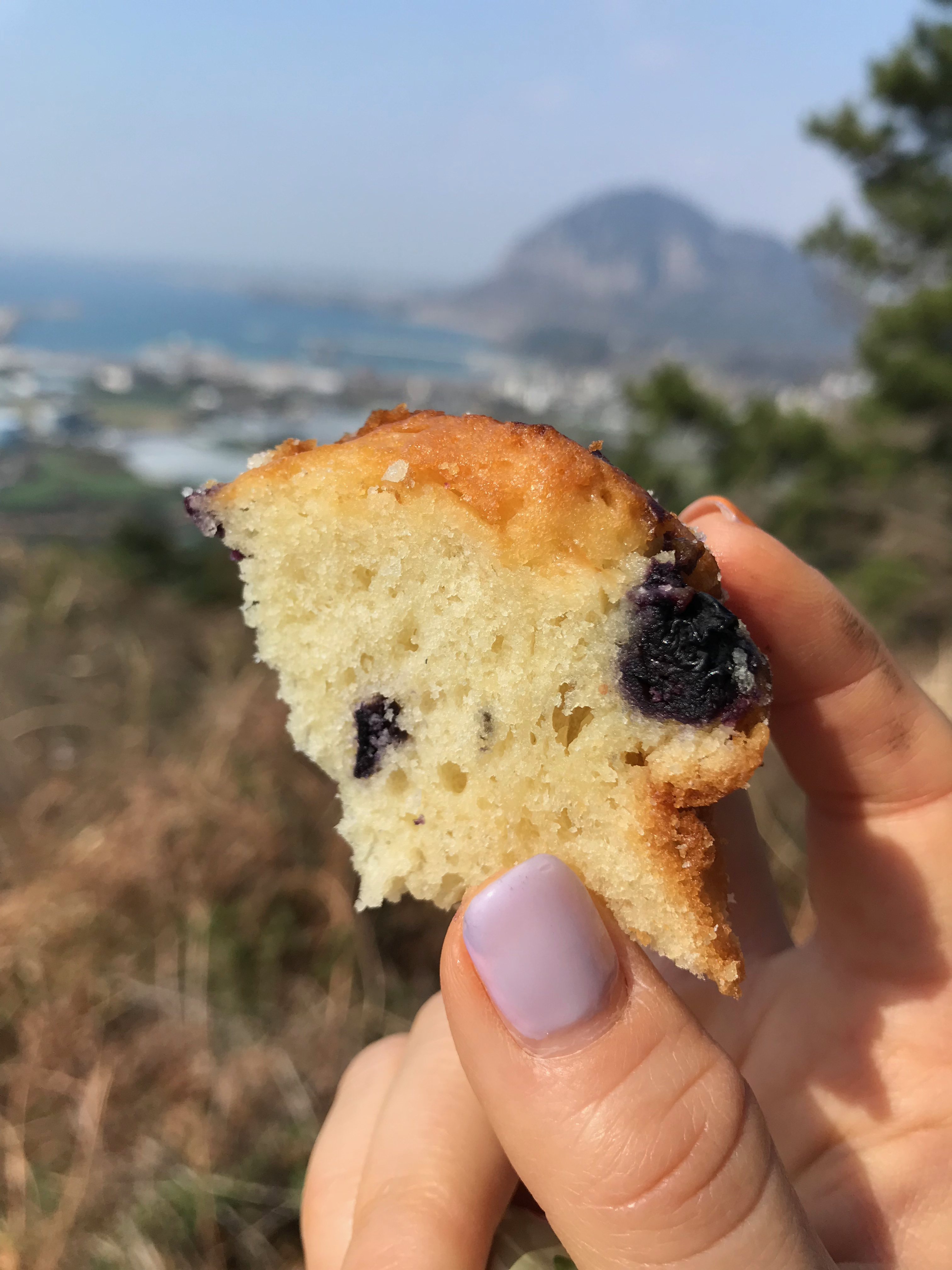 A Korean dessert with some bean paste in the middle: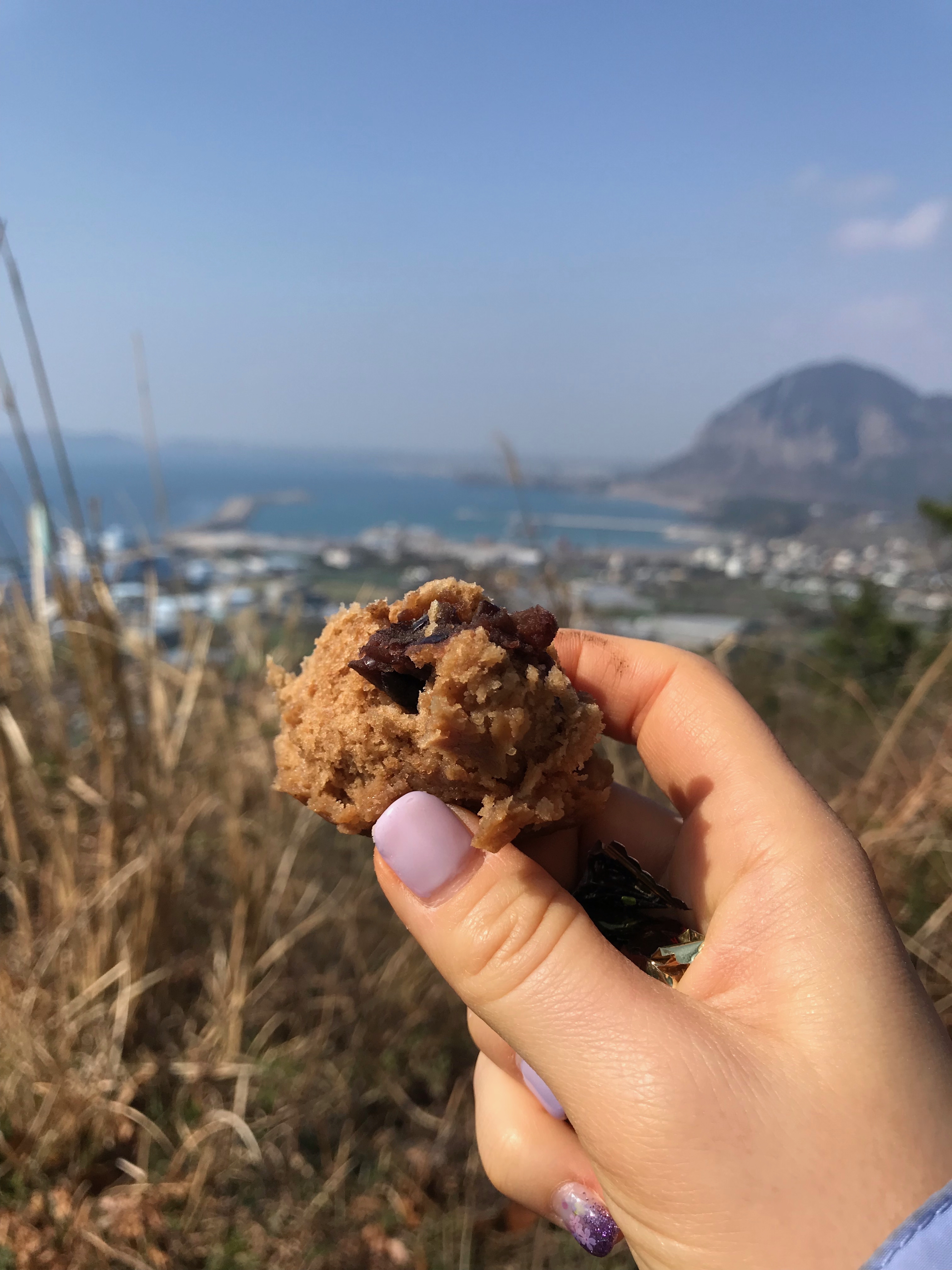 Some mandarins - a Jeju Island specialty!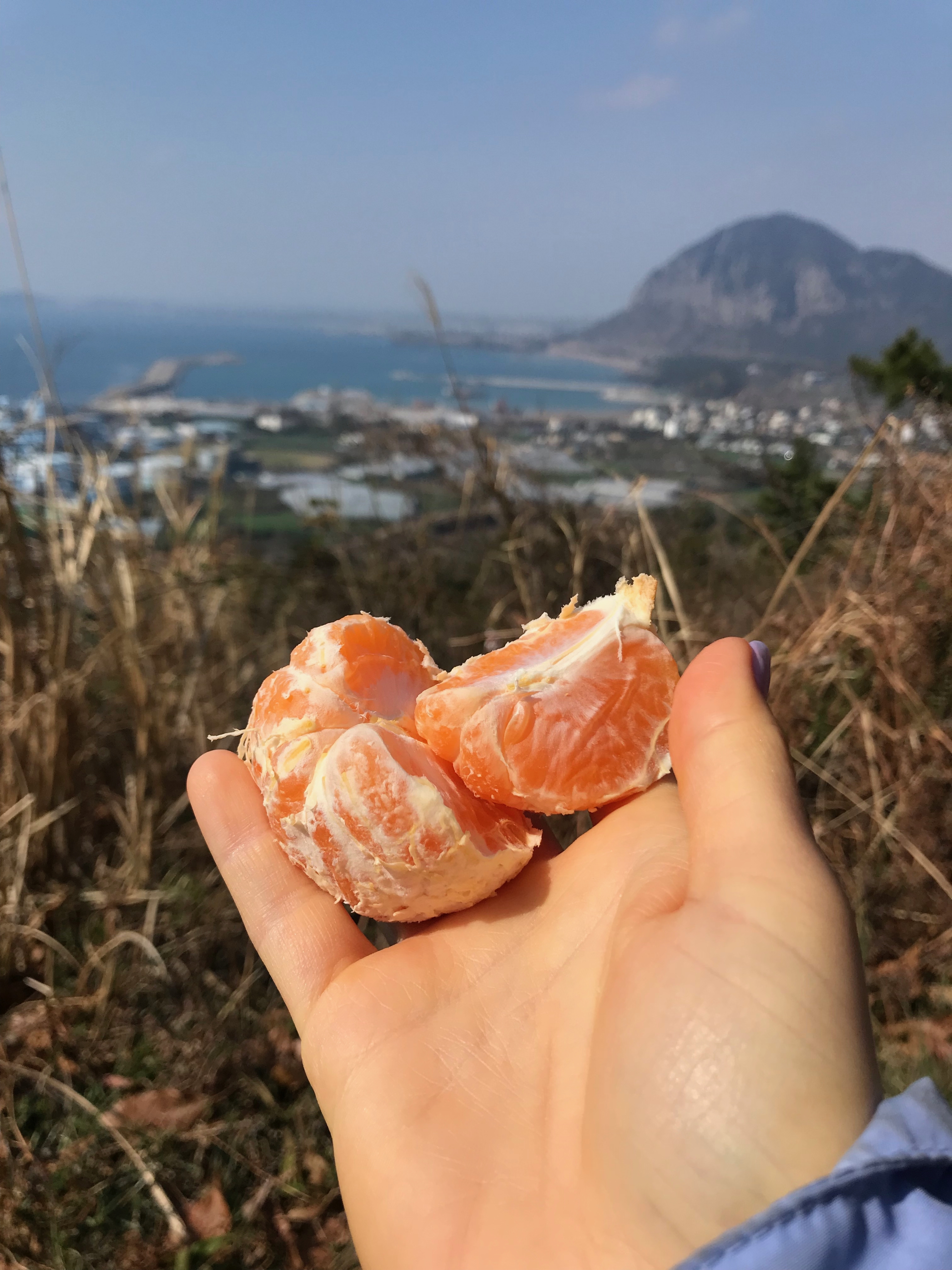 And a snickers bar, some nuts, dried fruit, and a delicious Korean granola bar (it was so good!).
I couldn't believe the kindness of these strangers! If I was more prepared for this hike, I would have brought some snacks for me and my friend. But not enough to cary for all the strangers! But that seems to be the custom for this group hike.
The language of food is universal :) So if you join, please pay it forward and bring snacks for everyone. We couldn't have been more grateful!
Japanese Army Tunnel
Jeju Island was conquered and owned by Japan during World War II. We saw a part of this island history on our hike as we encountered a Japanese Army Tunnel: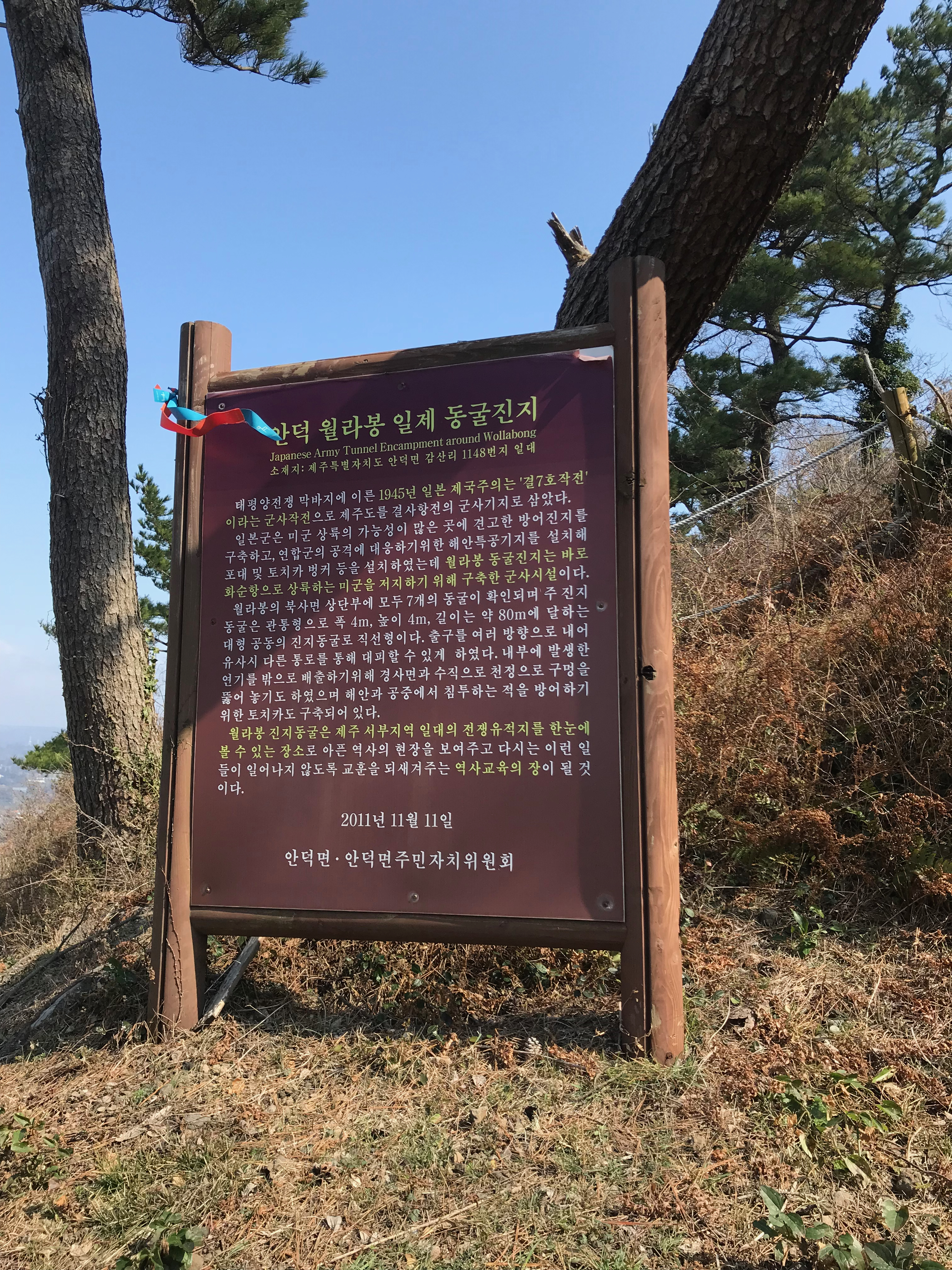 The tunnel was in good condition, and we could go inside: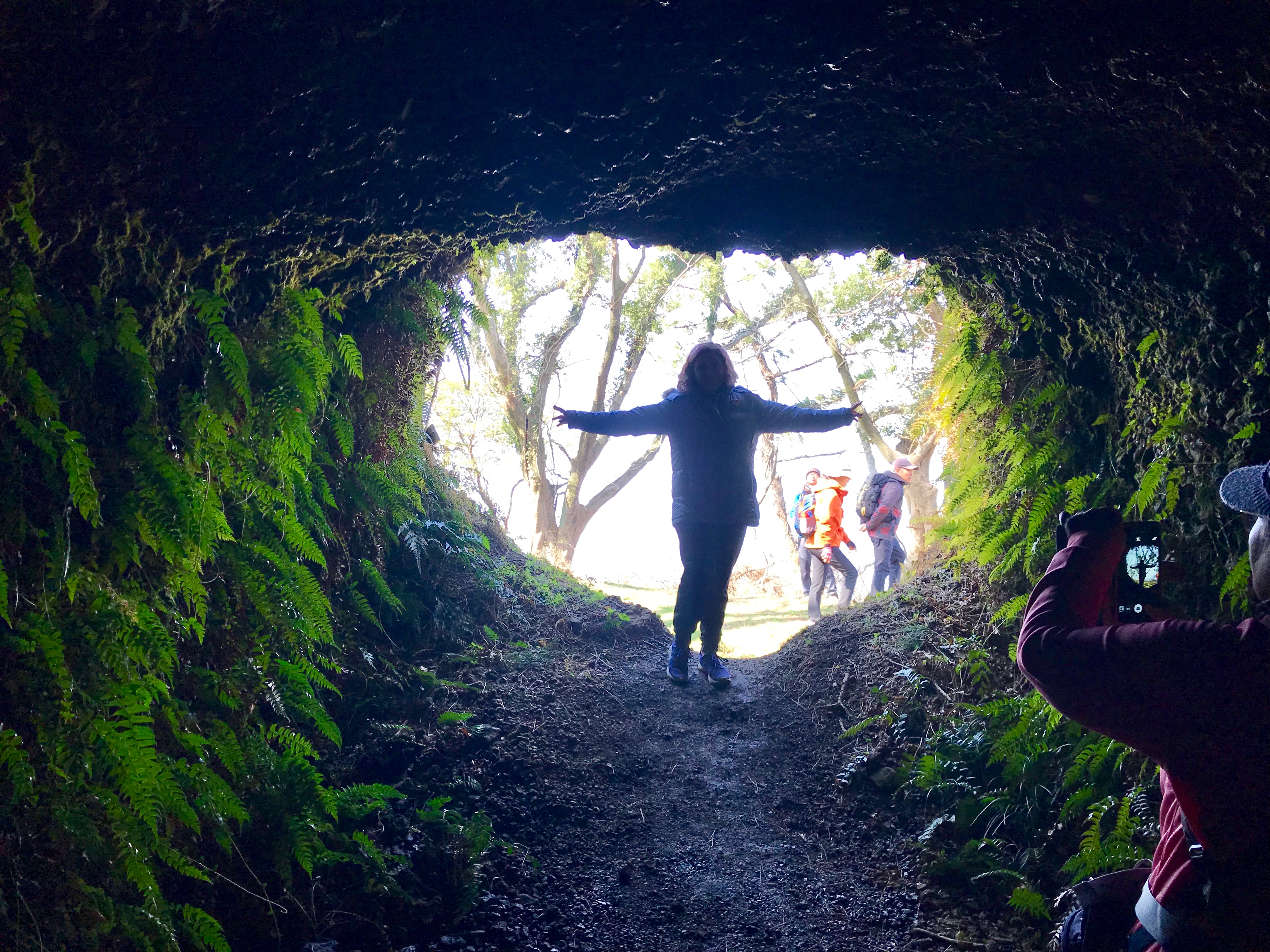 Trail Markers
Given that this was my first time on the Olle Trail, I was amazed to see how clearly it was marked with beautiful blue and orange ribbons every few steps: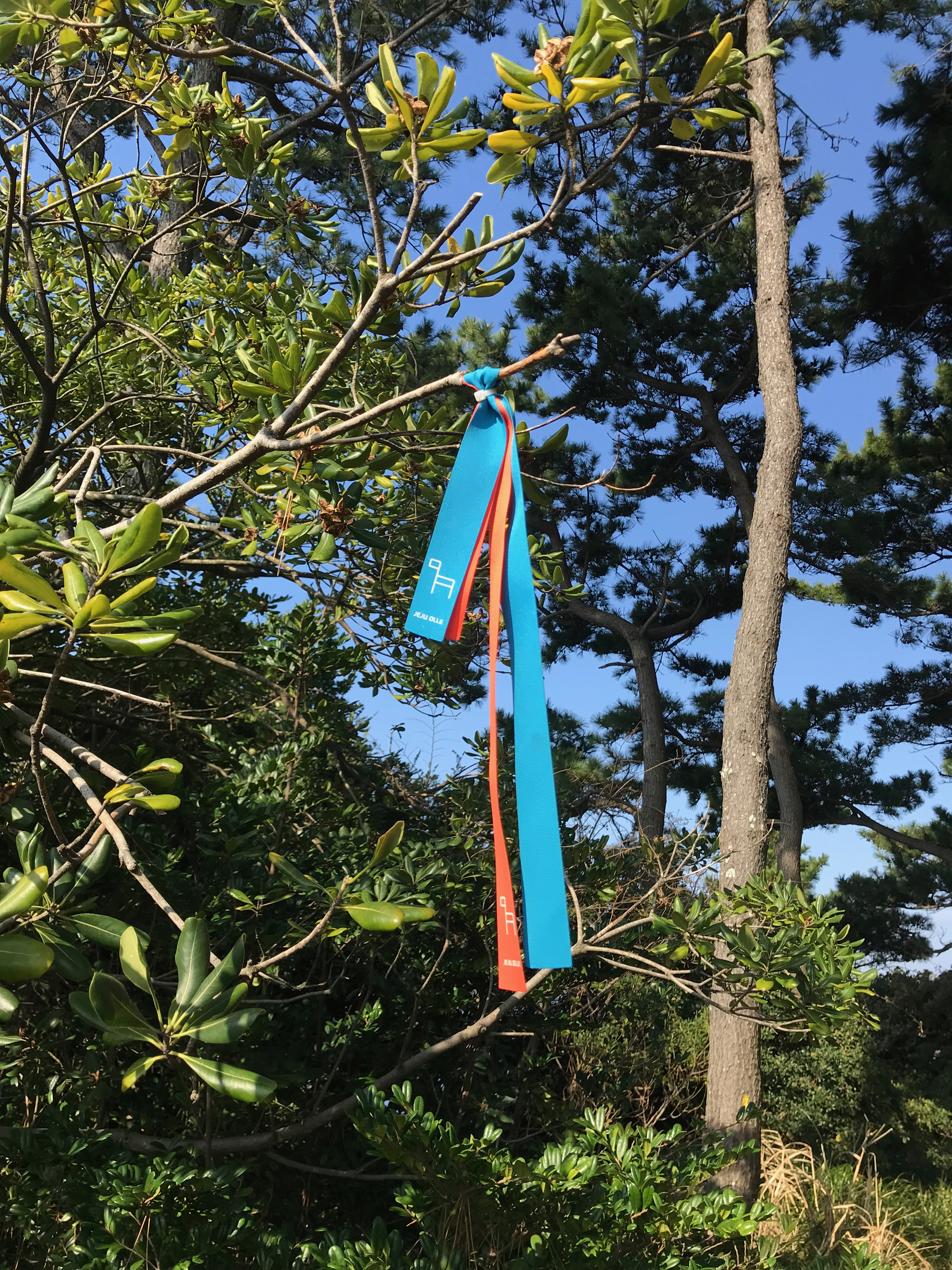 After that first hike, I am completely confident in hiking on my own through all the 26 trails!
The Olle Trail Passport
We learned that you can get an Olle Trail Passport, which you can stamp in the beginning, the middle, and end of each hike. I could feel the pride as everyone stamped their passports at the end of the hike!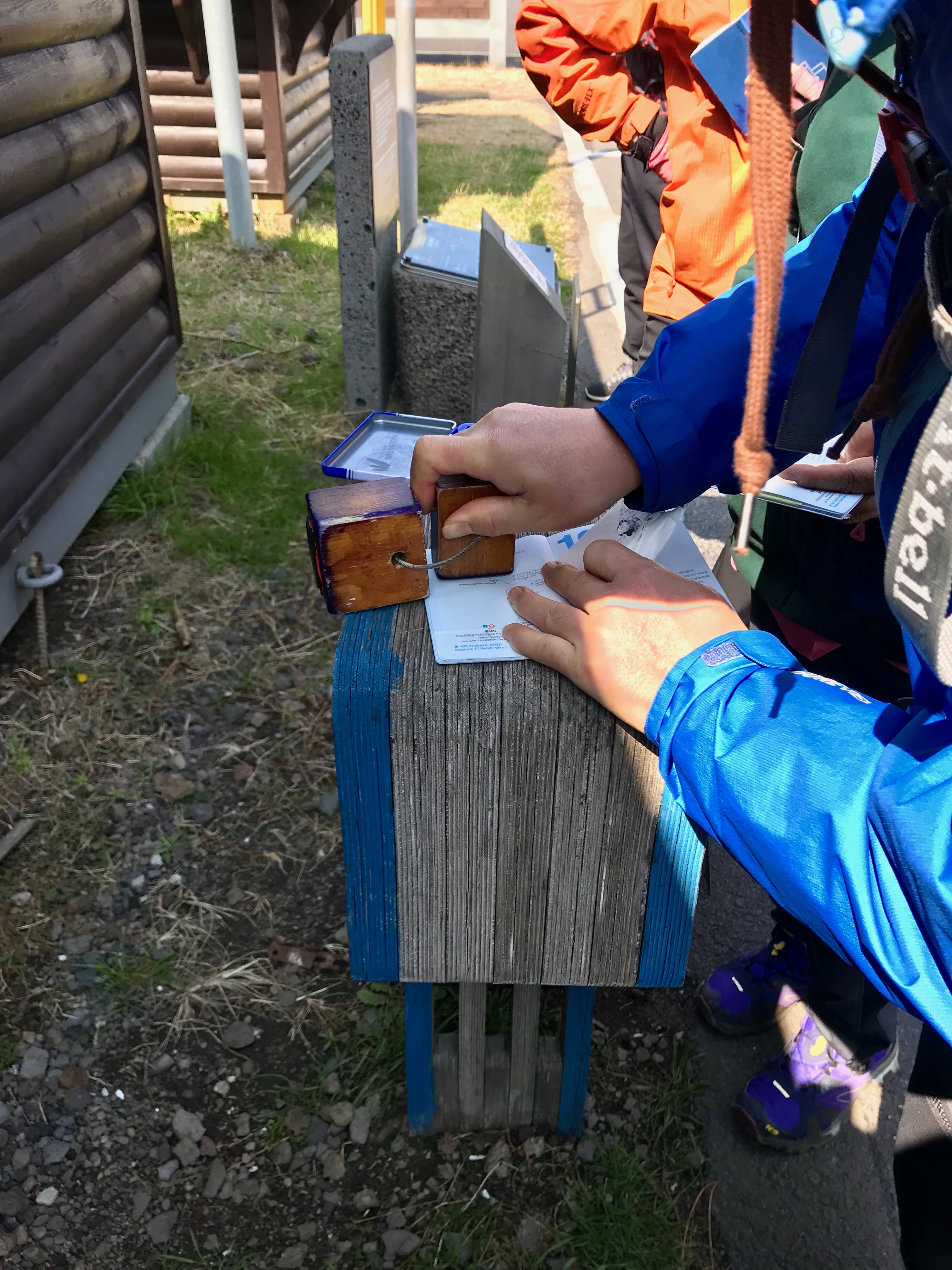 One local man in the group had his passport number 17! He hiked the entire Olle trail 16 times already! On our guided tours during the previous days, we learned that many Seoul locals end up returning to the island many times (it's only a 1 hour flight from Seoul) just to finish the passport!
I plan to hike the entire Olle trail one day. I'll need to get this passport!
Lunch!
After the hike, the group goes to lunch together for some local Korean food. Korean food is family style. It was an amazing experience to "break bread" with the locals!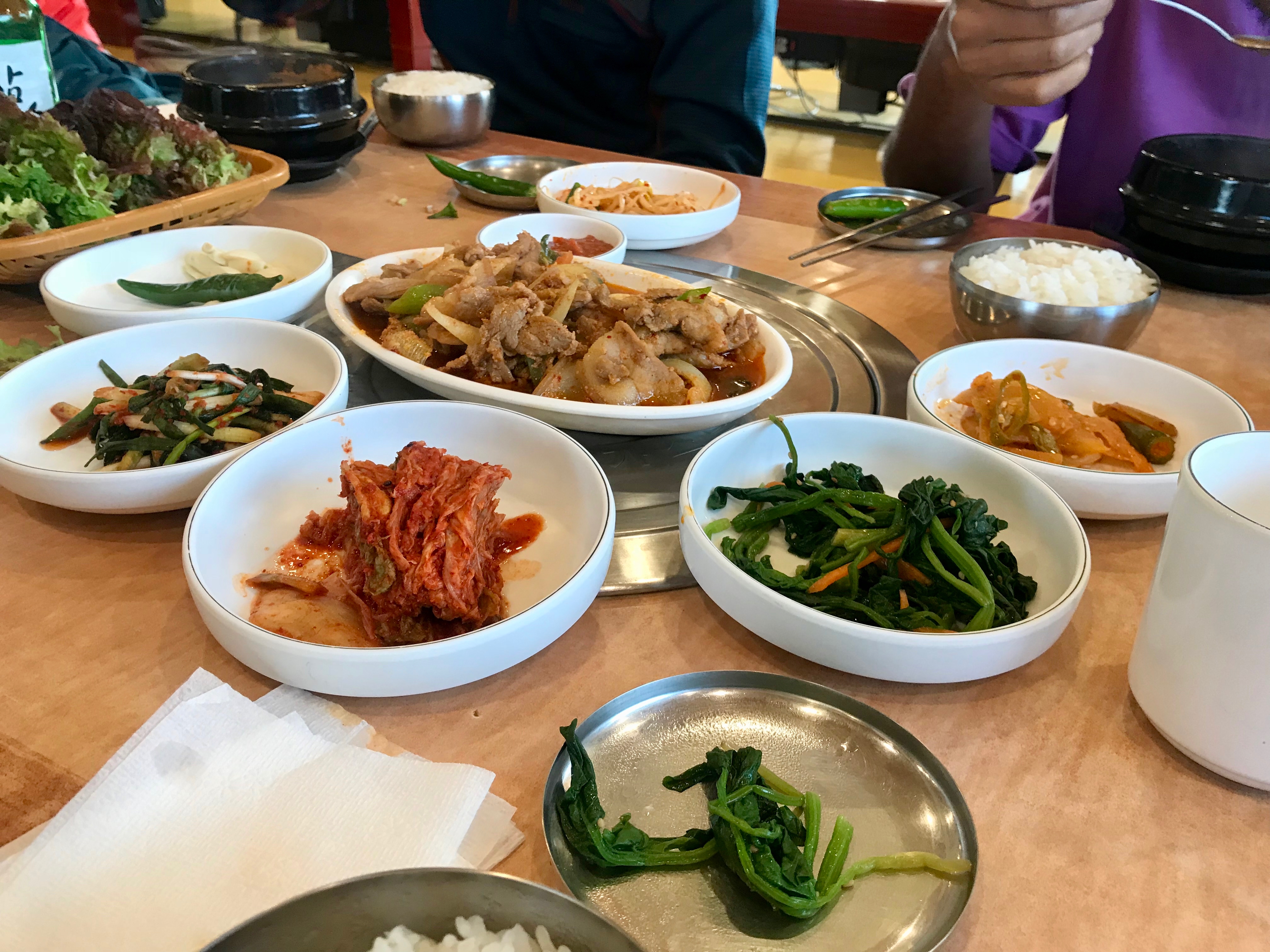 Conclusion
Even if you're an expert hiker, I highly recommend hiking with the Jeju Olle Academy Group at least once. It's rare to get such an amazing experience and meet so many locals in a beautiful setting while traveling on your own.
What a special experience!