Discovering my LOVE for Indian Food!!!
NatashaTheNomad
11/10/2016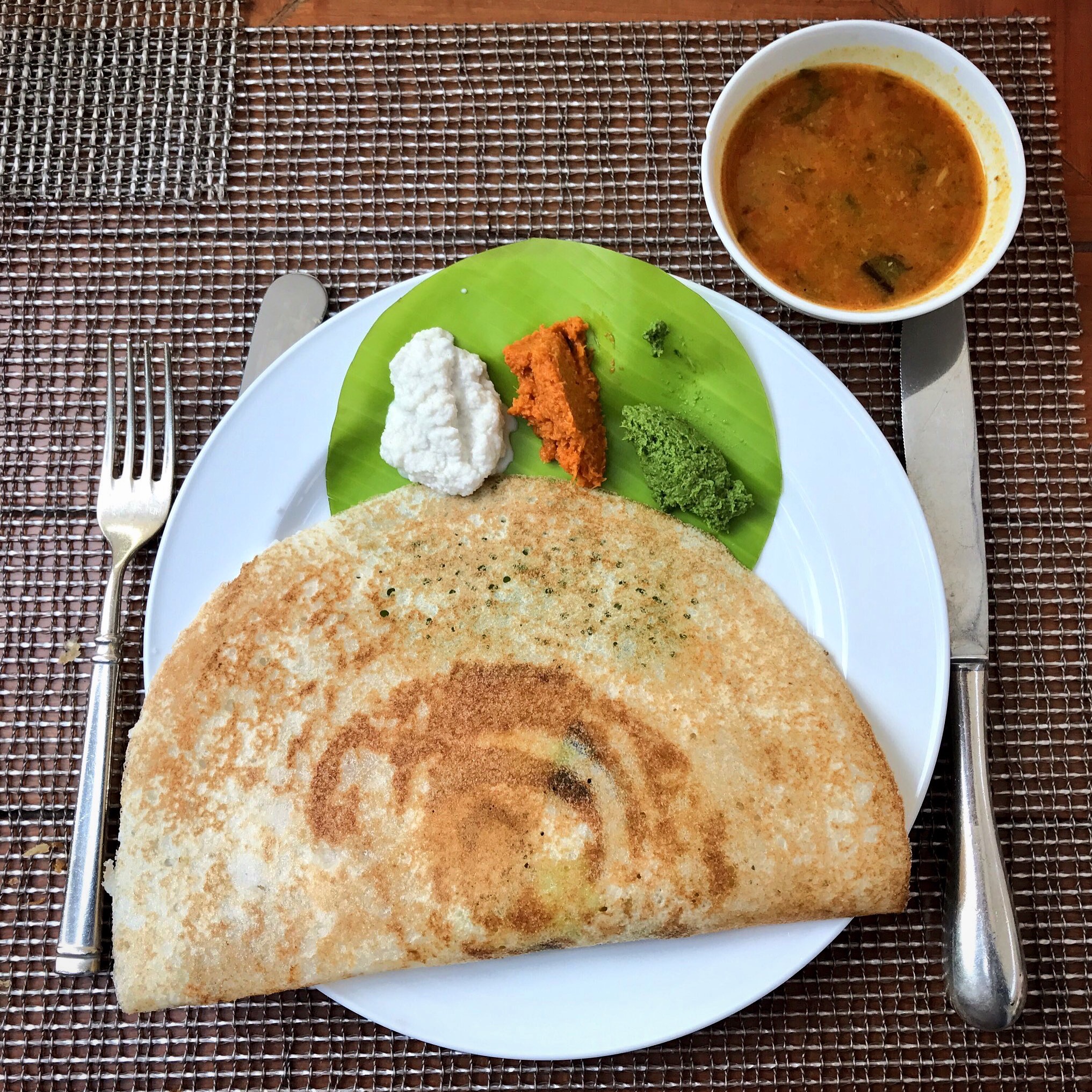 I think I've only had Indian food twice in my life before going to India. I didn't like it, so always avoided it. For one, it's spicy, and I didn't think I could handle spicy. I was also scared to eat in India because I was sure I'd get sick. So I ate for two months in Italy, and had some amazing Asian food in Singapore (looking at you Din Tai Fung), and I was prepared to eat only the minimum needed to survive during my time in India.
Well, I was completely wrong. Indian food is AMAZING and I can't wait to go back for more. I also didn't get sick at all. That is a big thanks to my friends who took very good care of me. @vaish specifically made sure I only ate food that I couldn't get sick from and that was at the right spice level for me. In fact, she even fed me an amazing Sita Phal / Sita Pazham aka custard apple (my new favorite fruit!) and idly when I got mehendi done and couldn't use my hands for two hours. I wasn't even hungry then, but the food was sooooooo good, I ate it all!
So here is what I ate during my visit to Bangalore and Chennai:
Masala Dosa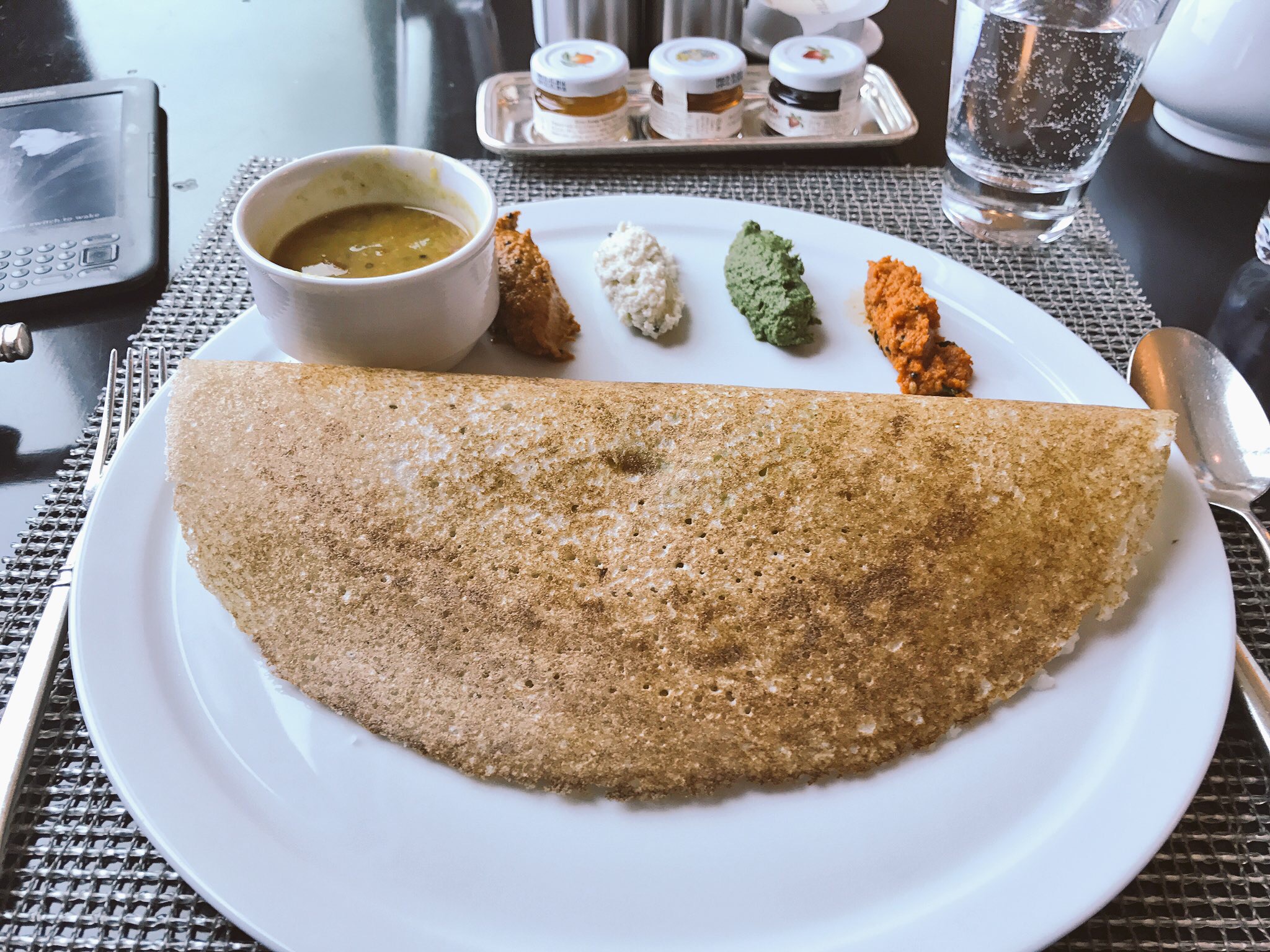 This is the one Indian food I did know about. It is a dough made of lentils filled with potatoes and spices that is dipped into different sauces such as chutneys and sambar. I loved the variety of the sauces, and the dosa itself was so fresh! I had this for breakfast almost every day I was in India.
Appam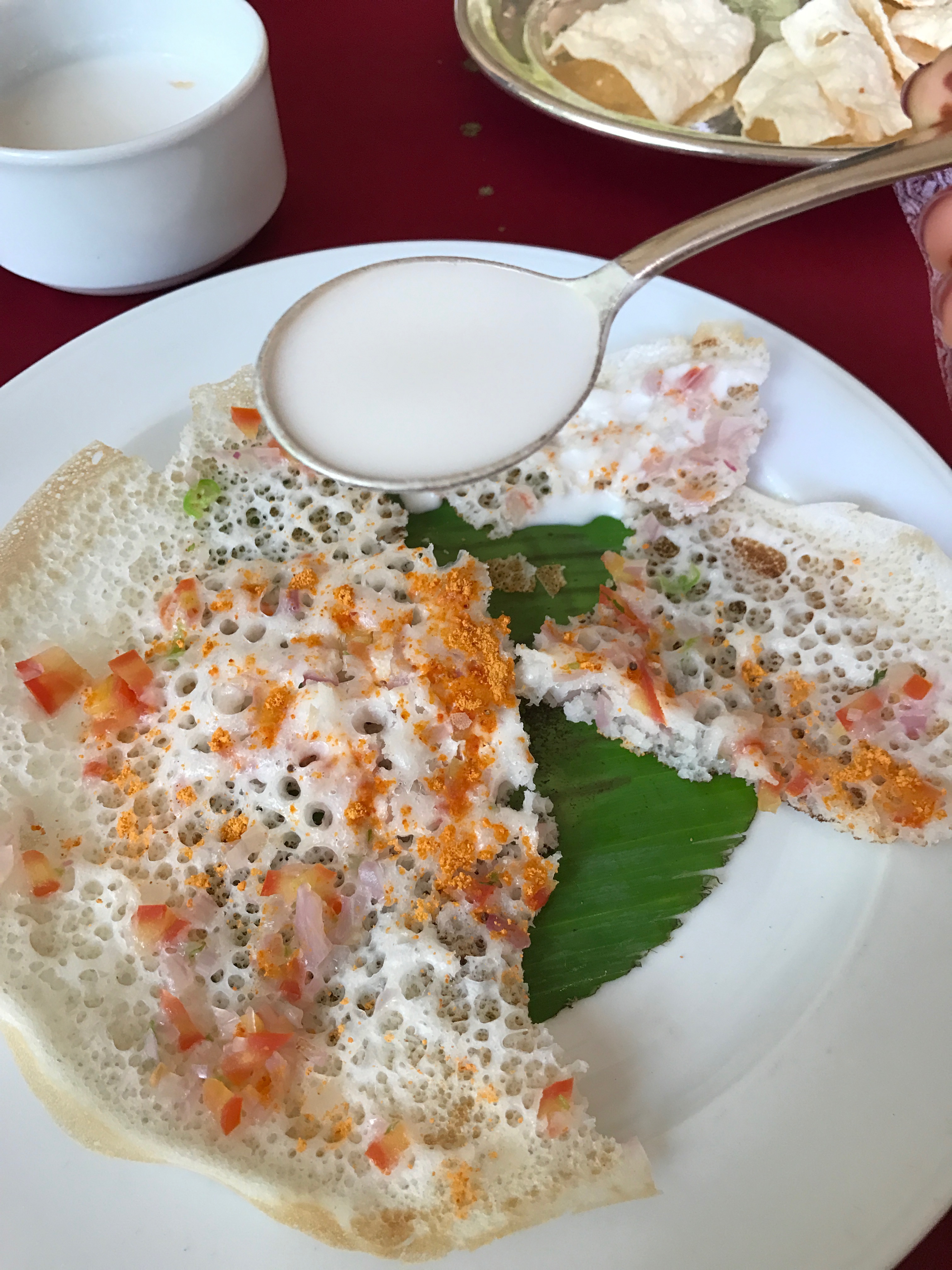 "Appam is a type of pancake made with fermented rice batter and coconut milk. It is a common food in the South Indian state of Kerala. It is also popular in Tamil Nadu and Sri Lanka. It is eaten most frequently for breakfast or dinner." - Wikipedia
This is just AMAZING!! The best part is that it comes with this incredible thick fresh coconut milk. When I got it in Singapore after my trip to India, they served it with a red powder that my friends were worried was super spicy, but it was just sugar :) The sugar and coconut and appam mix was incredible! Like a dessert!
Idly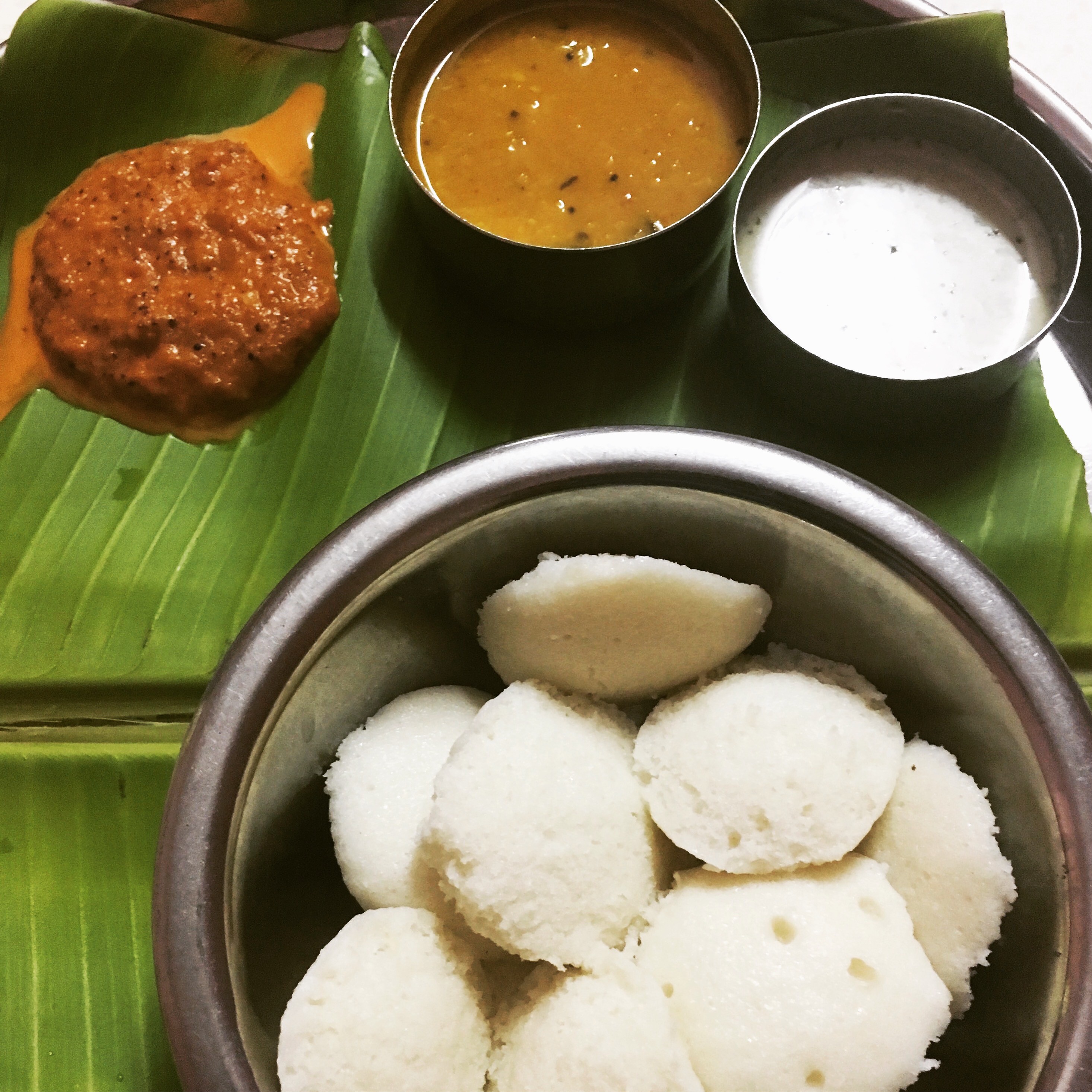 I was blown away by the Madura Idly Shop. It was soooo good! I don't even know what idly really is, but you dip them into really good sauces. And it comes on a banana leaf!
According to Wikipedia:
"Idli is a traditional breakfast in South Indian households. Idli is a savory cake that is popular throughout India and neighboring countries like Sri Lanka. The cakes are usually four to five inches in diameter and are made by steaming a batter consisting of fermented black lentils (de-husked) and rice. The fermentation process breaks down the starches so that they are more readily metabolized by the body." - Wikipedia
Roti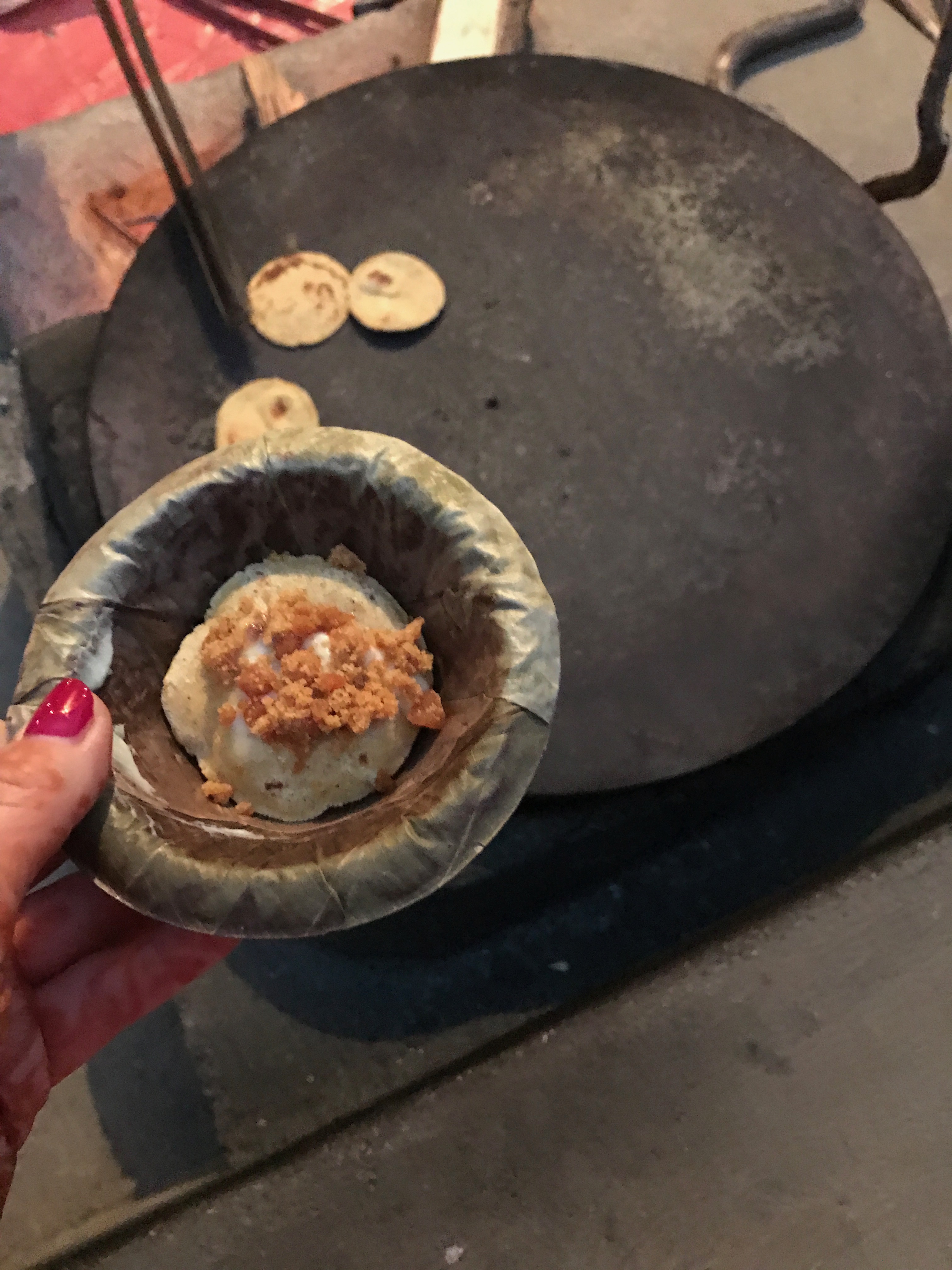 I got fresh roti when I visited the Rajasthani cultural village Chokhi Dhani in Chennai. They only gave out one, but my friend and I kept asking for more, until they gave us like 5 more 😂. This roti was made with some type of sweet yogurt and sugar on top. We also had a more spicy one! Still thinking about this one…
Green Gram and Fruit Lassi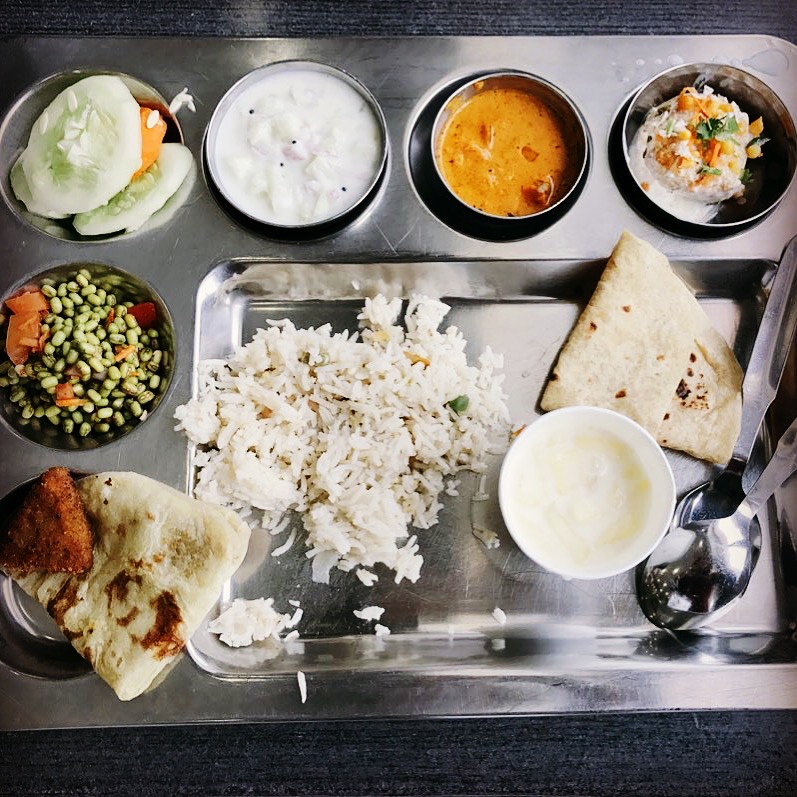 One of my favorite meals in India was when I visited the SAP India campus during Diwali. The food was free and delicious! My friends helped me choose what to take! My new favorite on there was the green gram (aka mung bean), which I never heard of before, but is super healthy.
And I really really enjoyed the fruit lassi, a special treat for Diwali that day :)
Spicy Fruits and Vegetables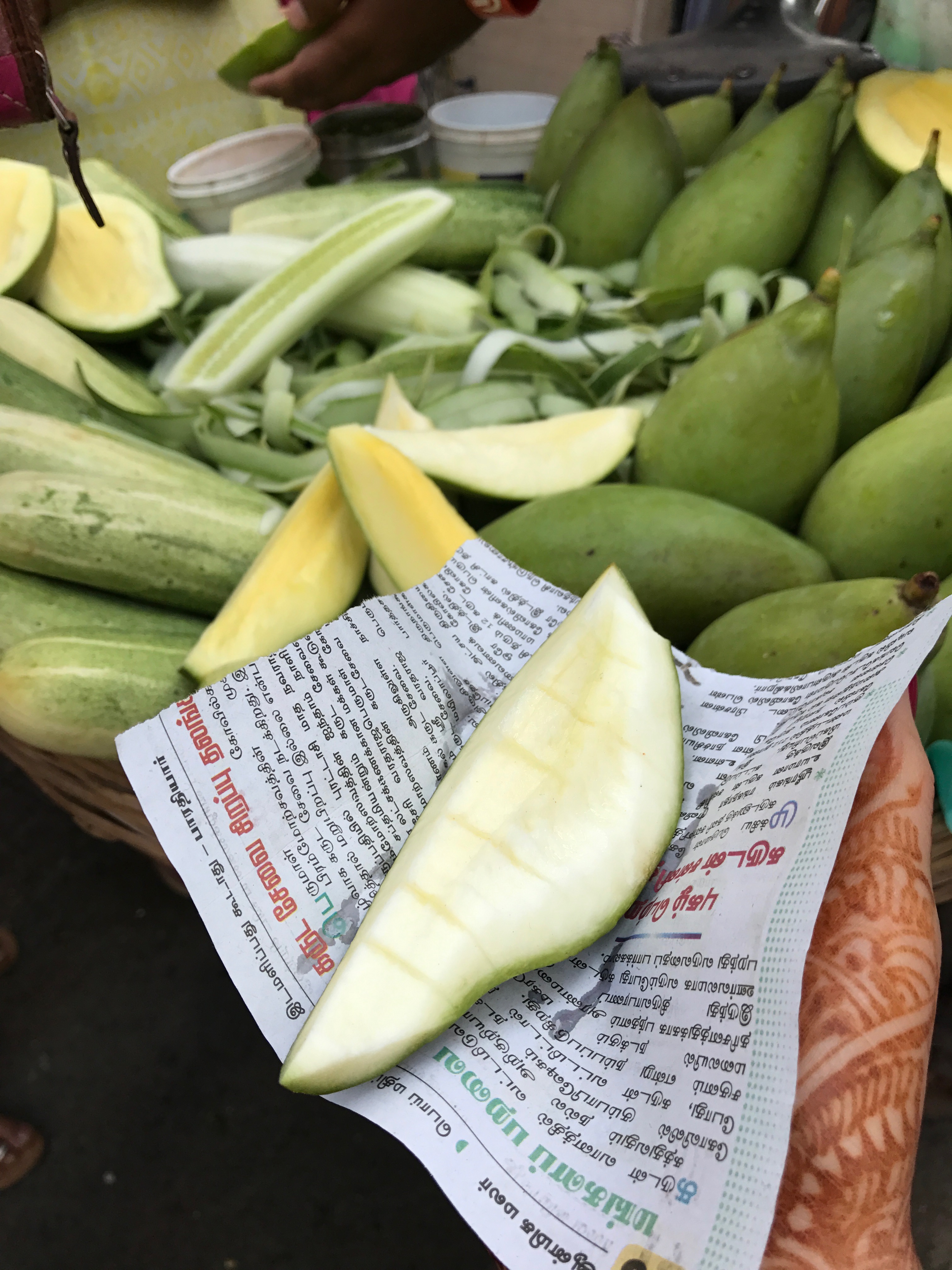 I took this photo of an unripe sour mango back when I was too scared to get spices on it. But my friend had me try his spicy one, and I really liked it! In India, when they give you fruit or vegetables on the streets, they add special spices to it. So a sour mango has a different spice on it than the sweet pineapple. Oh, and the cooked corn spice is super spicy!
Each spice is special and compliments the fruit or vegetable perfectly. It was amazing! I made myself some corn yesterday, and was super sad to eat it with just regular salt instead of an exciting special spice. I was honestly blown away by how well the spices go together with the fruits and vegetables.
Kulfi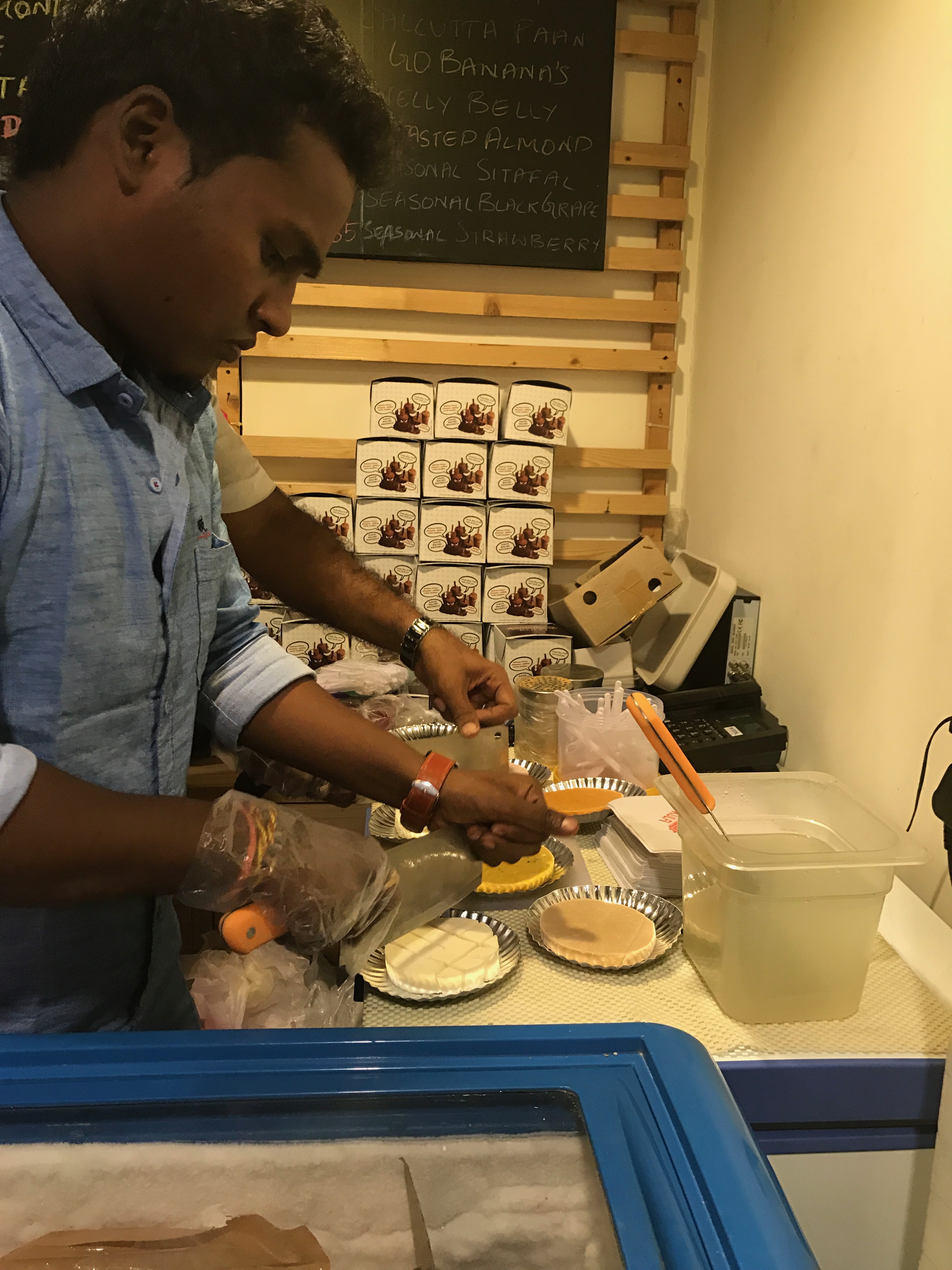 Kulfi is Indian ice cream! I got the guava, and it was sooooo fresh. It is a bit thicker and creamier than Western ice cream. You can get it on a stick, or nicely cut, like a cake. Of course I got it freshly cut :)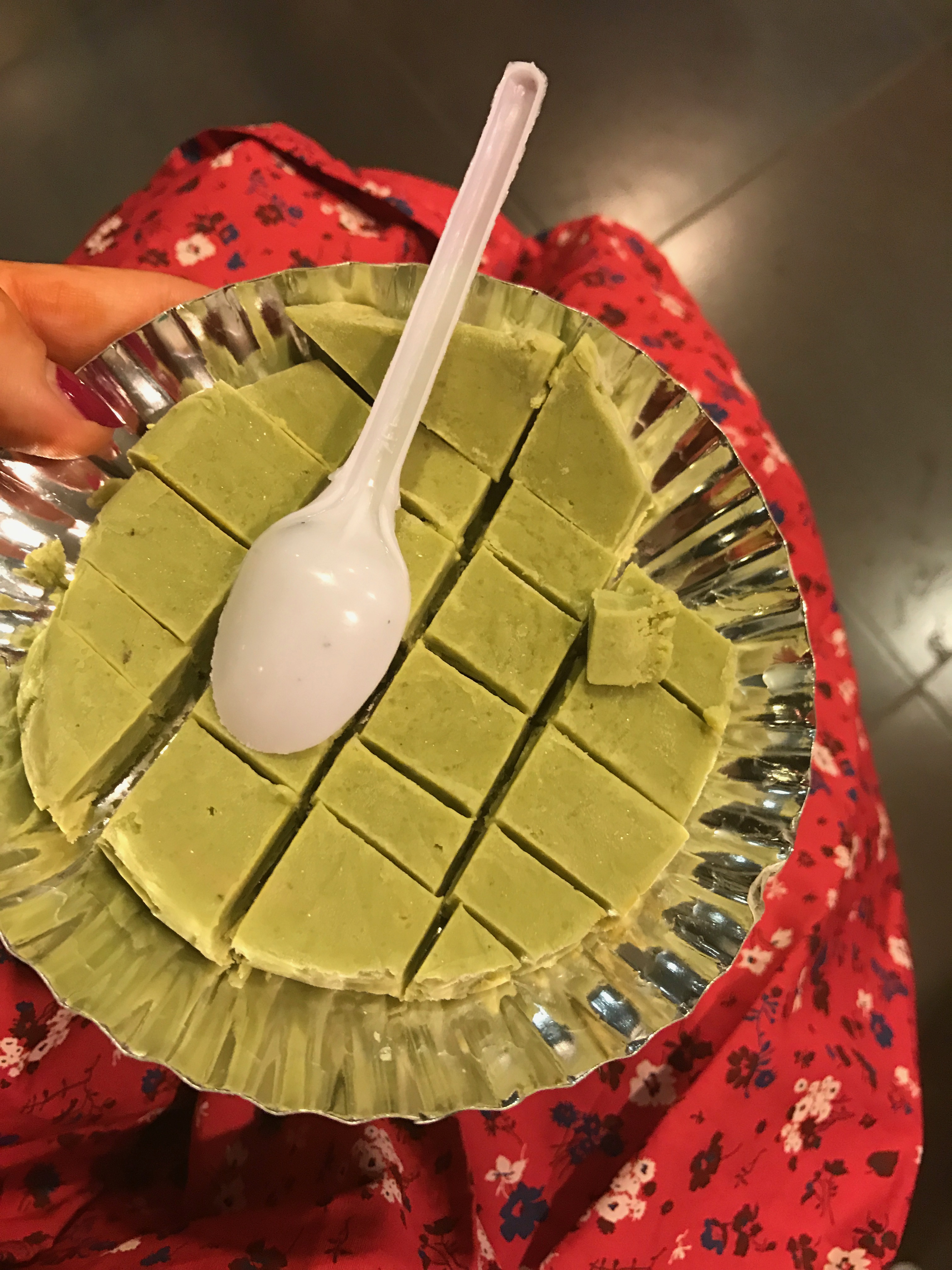 Conclusion
I ended up eating A LOT in India, and I loved it. I learned that I can push the limits of my spice tolerance - it's more about the spice complementing and bringing out the taste of the food vs just being super spicy for no reason. I still can't believe I actually LOVE Indian food so much. As my nomad self, I've noticed that I like a country based on how much I like the food there. I like India a lot!