Hiking Deer Mountain...Solo and Afraid: Ketchikan, Alaska
NatashaTheNomad
06/21/2018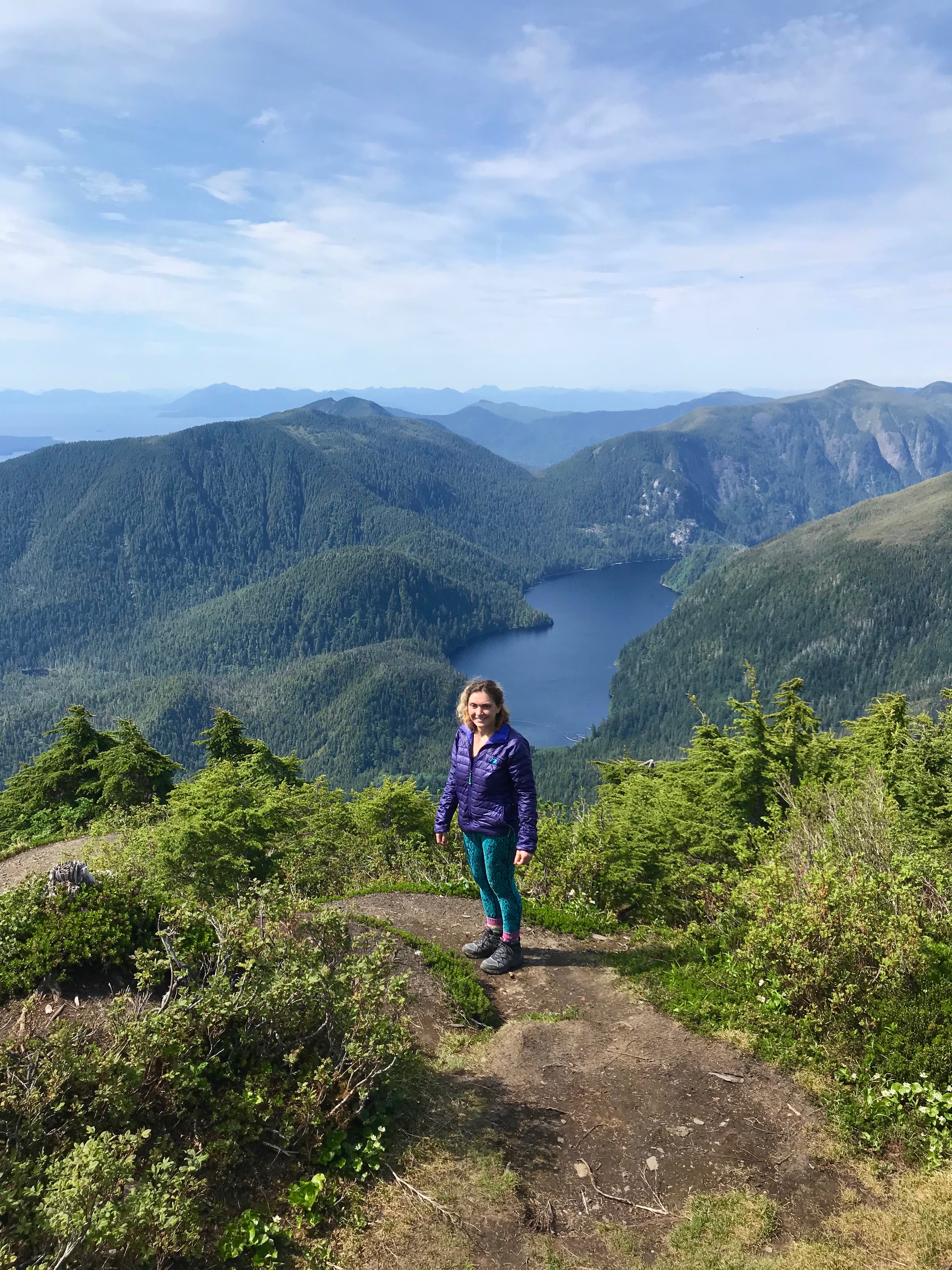 One of the top things I've been wanting to do in Alaska this summer is to connect with nature. I love hiking, but unlike places like New Zealand, with no natural predators, Alaska is home to a huge population of bears… That's on top of my normal fears of hiking, since I didn't grow up doing it and am only getting started…
As soon as I arrived here, my AirBNB host mentioned that I might come home one day only to find bears on my doorstep. "Oh yeah, they're everywhere, right in your backyard!".
So my initial plan was to get a friend or two to come visit me so we can go hiking together. My friends might still come, but after a few days here in Ketchikan, I couldn't sit still and wait to explore such gorgeous nature. I had to hike! Even solo… with bears…
Here is what I did to prepare:
Information is Key
On one of my first days here, I went to the Southeast Alaska Discovery Center and got a Ketchikan Trail Guide with information about all the hikes in the area. I asked about the bears, and got a brochure: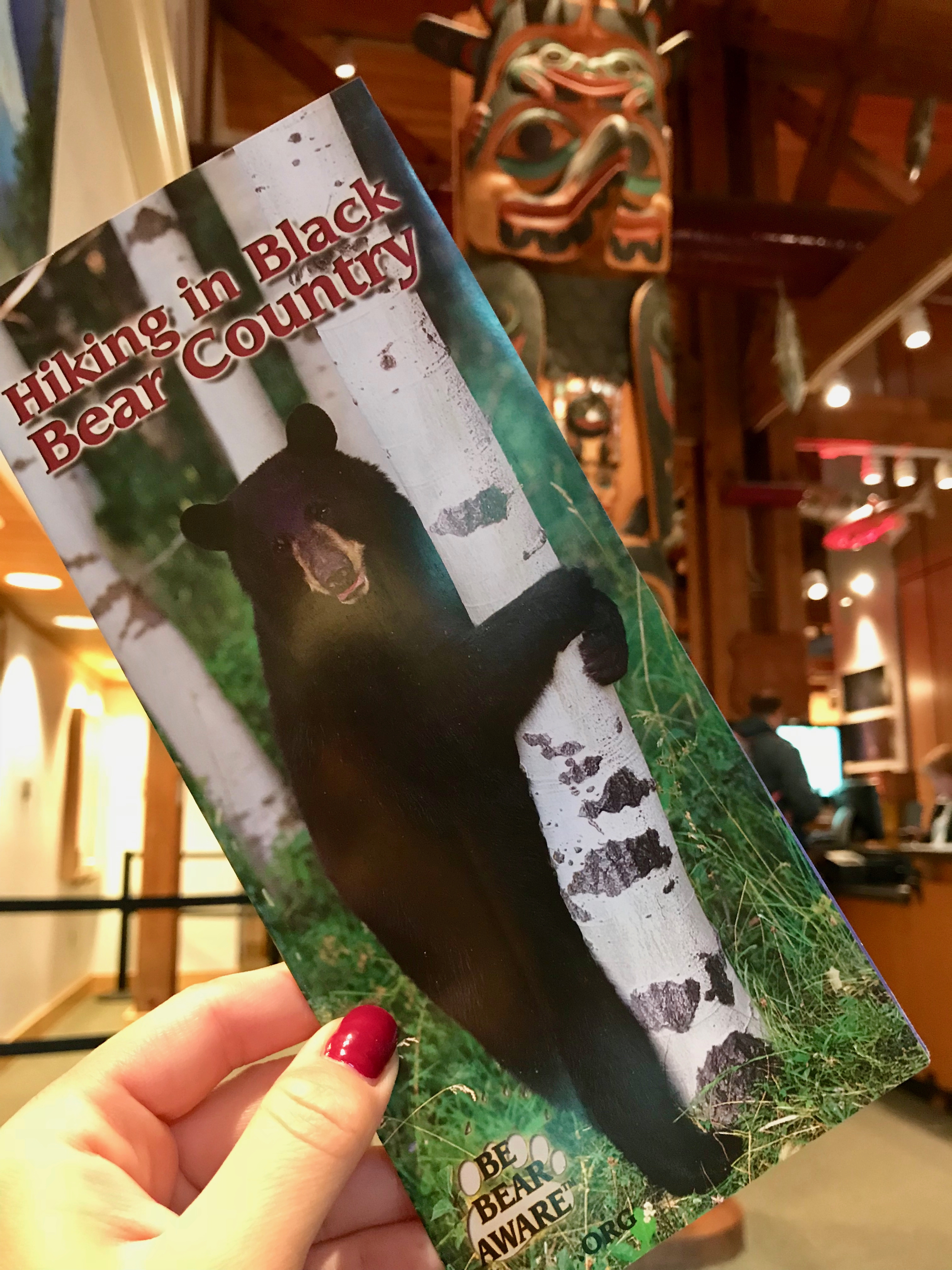 It was super helpful, but I did not liked learning that there are also cougars and alligators in the area…
I learned that Black Bears are not super in hurting humans - they try to avoid us just like we try to avoid them. If I do see a bear, never run (that might trigger the bears predator response). The nice information lady gave me additional tips, such as to make noise, talk to the bear, as I hike solo - so the bear is not surprised by me. And of course - don't play with the cubs! The mama bear will not like that…
I continued asking every local I met about their own experiences and tips with bears. I learned that many haven't seen any bears after living here for 9+ years. Or if they have, it was in the Ketchikan streets vs in the forest.
It's the worst during salmon season (when the salmon swim upstream!), especially late August and early fall as the bears go to the river to eat as much as possible in preparation for winter.
After learning all of this, I felt better prepared for accidentally meeting a bear…
Bear Spray
I first heard about bear spray (think pepper spray for bears) when I was talking about my upcoming trip to Alaska at a party in San Jose, California. The brochure confirmed this - and also mentioned that it works against cougars… The information lady told me I can get it at the local Walmart.
I went to Walmart, asked an associate (I really had no idea what aisle to look for bear spray in…). She initially denied that it was sold there, but after asking to speak to someone who might know better where to get it, we found it in the gun aisle…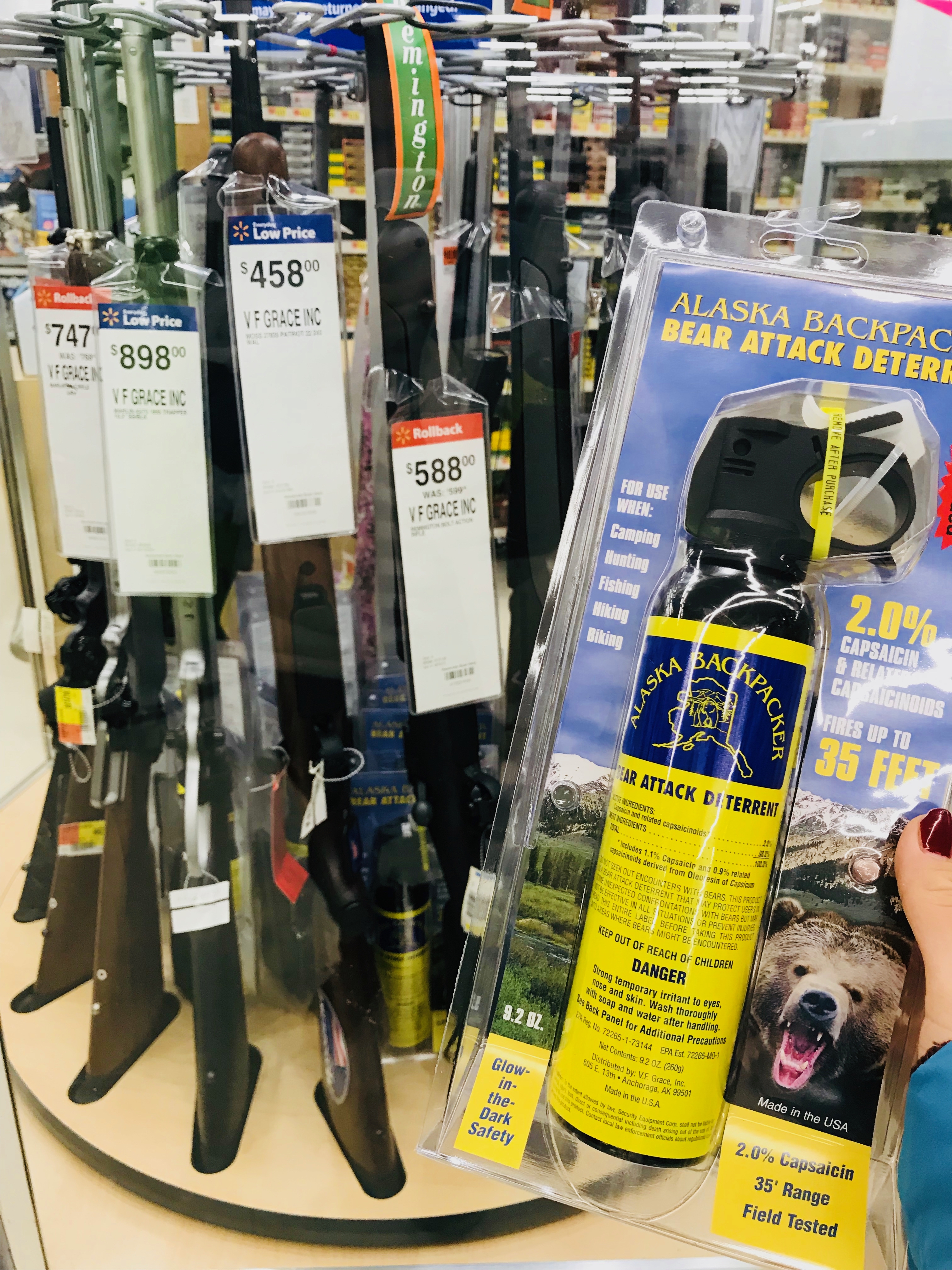 You can see it at the bottom there locked in with the guns… I'm glad bear spray vs gun is an option for protecting myself from a bear…
Pro tip: The Walmart is a bit out of town (too far to walk!), but they have a complimentary shuttle for tourist to and from the Southeast Alaska Discovery Center.
Later on, I was talking to a local Uber driver about my upcoming hiking to get some additional tips, and she mentioned that I shouldn't spray bear spray into the wind. You don't want this stuff on you… it's very harsh.
Tracking Beacon
That same Uber driver also mentioned that I can get a free tracking beacon at the Ketchikan Public Library.
I went to the library before my Deer Mountain hike, and sure enough, they gave me an amazing device. It tracks my exact location, and there are buttons for a non-urgent emergency and one for SOS emergency. This is great as cell phone service (or cell phone battery!) is not guaranteed while hiking.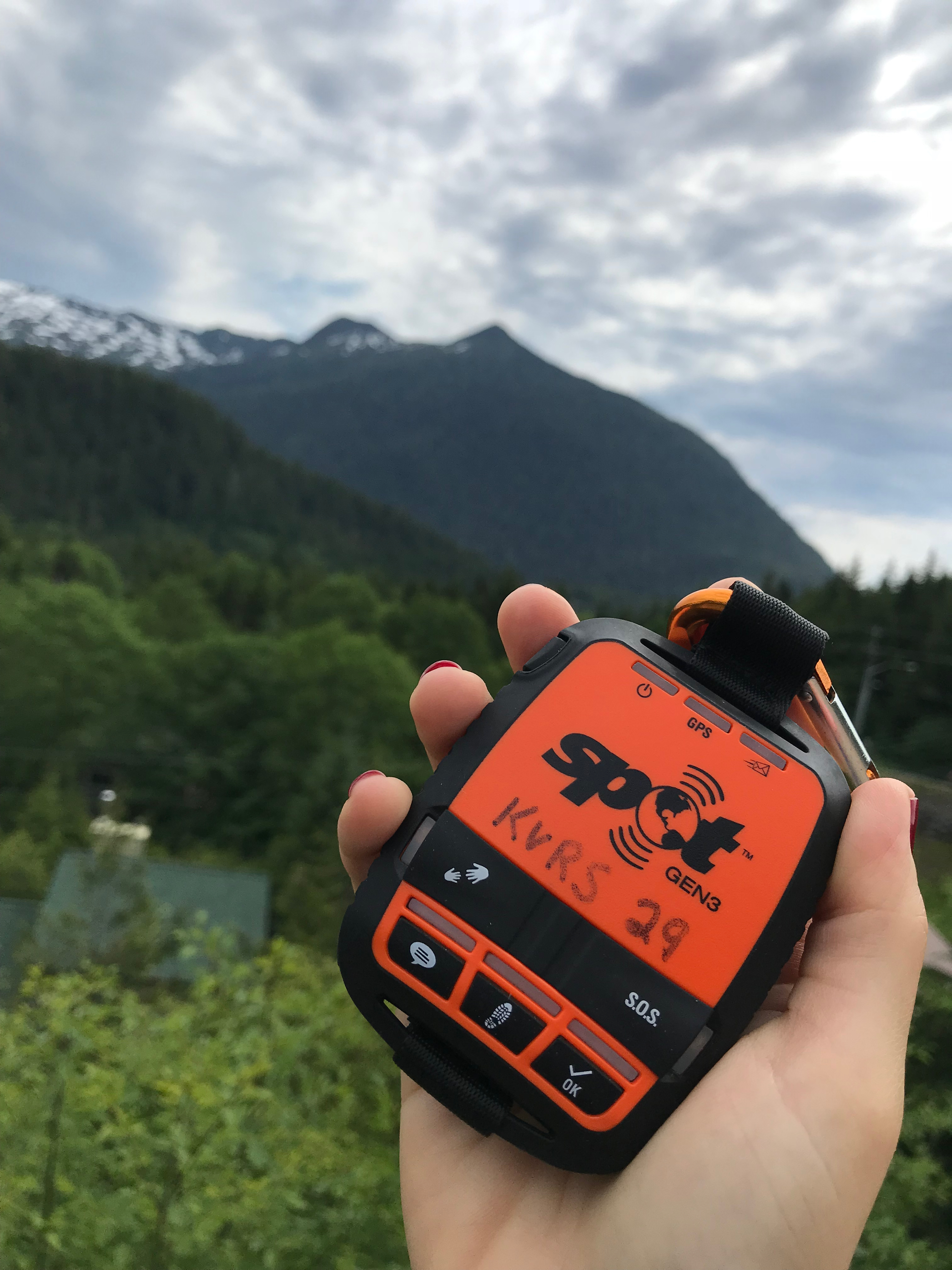 They also got all my information, including the trail I was hiking on and when I will be returning the device. If the device is not returned by that time frame, they would call you first (to see if it's just an innocent mistake), and if you don't answer, a volunteer will actually come and look for you! So amazing!
Always talk to the locals! They truly have the most valuable information.
Testing the Waters, Part 1
I really wanted to hike, but being terrified of bears, I signed up for a Mindfulness Rainforest Treks hike with a local guide Teagan.
The hike was ok - not exactly what I wanted. It was short, but I did enjoy spending a bunch of time on the beach! It was gorgeous and there were whales!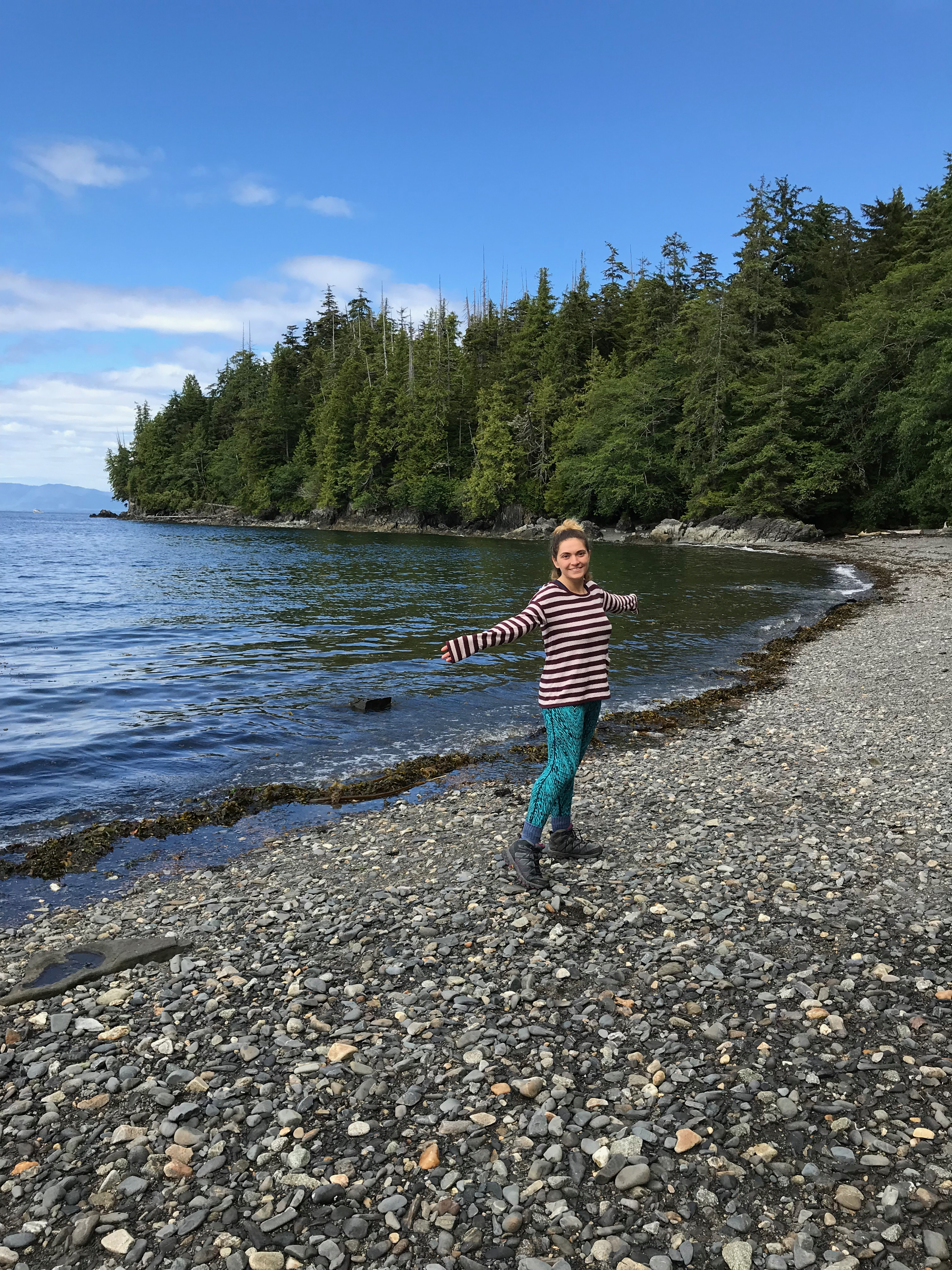 But most importantly, it allowed me to step into the Alaskan wilderness in a safe way - with a local guide. I could see what it was really like.
Testing the Waters, Part 2
Finally, I was ready to hike by myself… Well, not exactly. I was terrified! But I got my bear spray and I chose a trail I felt good about - the Rainbird Trail. This is the trail that the Visitors Center recommends to all the cruise ship tourists who ask to hike. It is very close to the city and short - 1.3 miles one way (and I could return via city streets).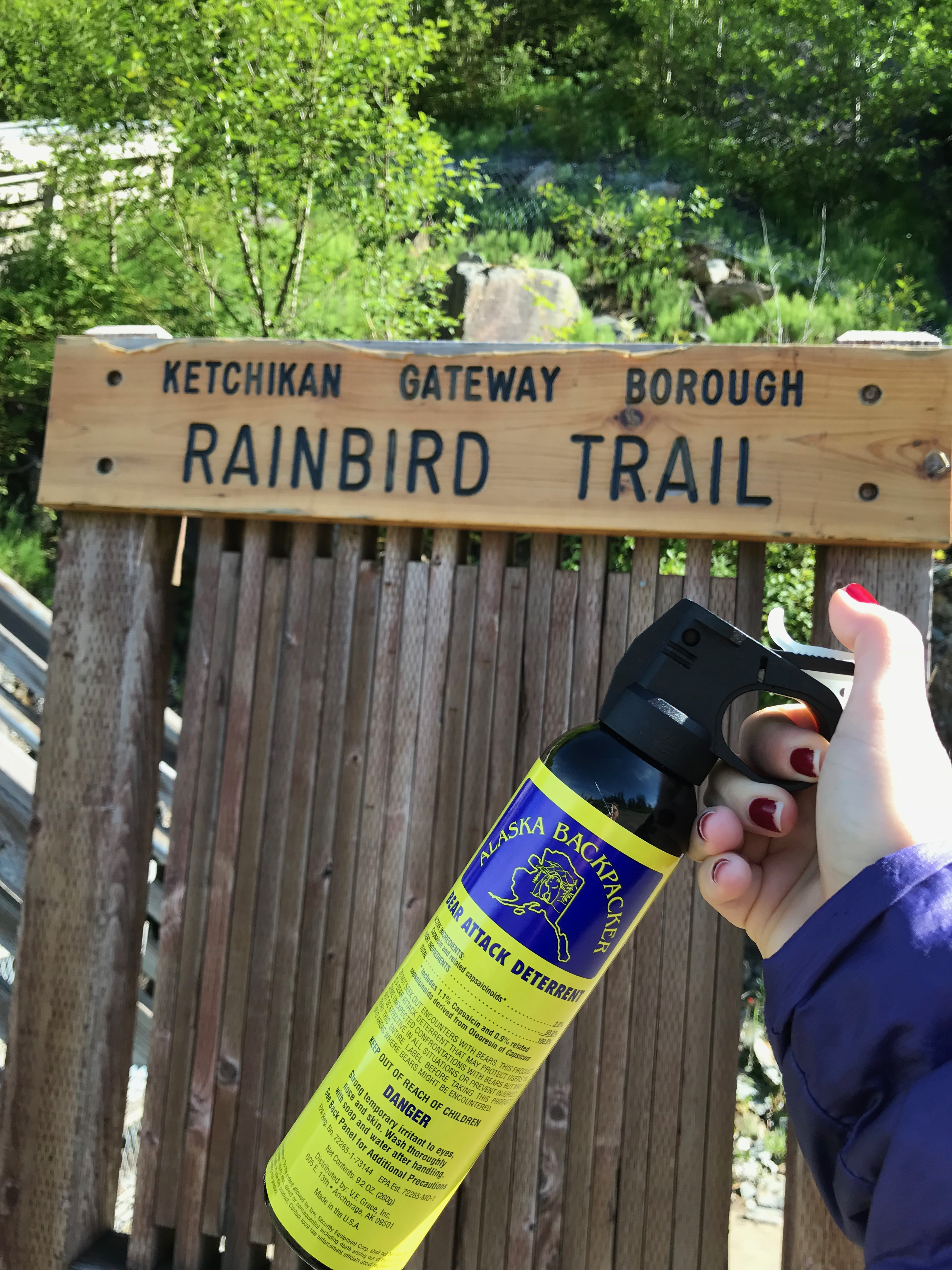 I was happy to see several tourists going onto the track in front of me, but I was by myself most of the time during the hike otherwise. I made sure to hold the bear spray, finger on trigger, in my right hand. This was a mistake…
Fear took over me. I was waiting for a bear to appear out of nowhere at any point. I was ready to use my spray!
Let me tell you, when you have bear spray, everything looks like a bear! Every shadow, weird tree shape looked like a bear was looking at me. It was terrifying.
I made it out fine, but I was tense and did not enjoy the hike. I think this hike let me work out those deep inner fears. I guess I needed that.
Climbing the Mountain, Despite Fear
After the Rainbird Trail, I did not exactly want to go back into the wilderness. But ever since I got to Ketchikan, I set my sights on the iconic Deer Mountain, always there in the background. I needed to climb to the top.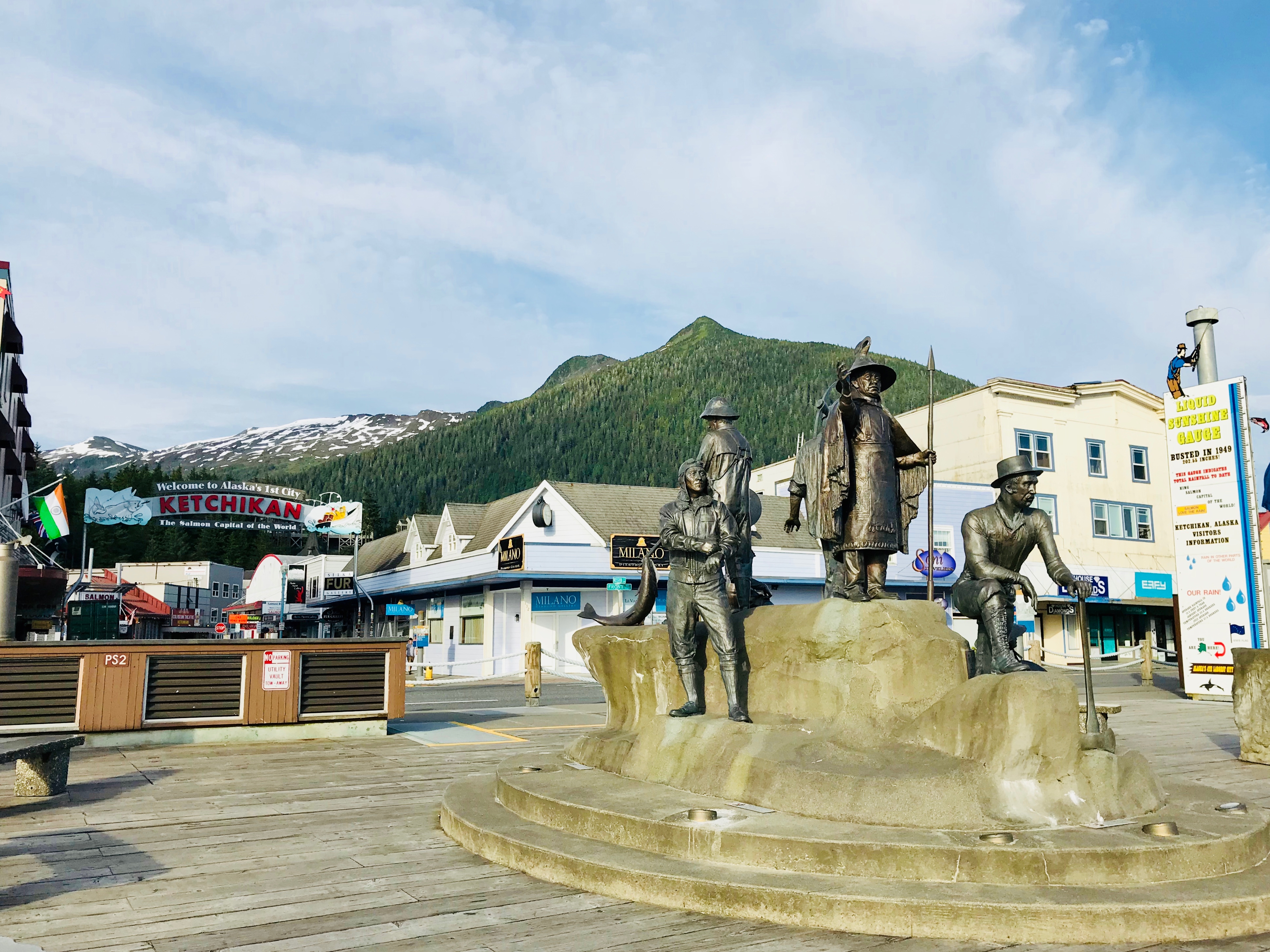 The final push was weather. Ever since I got here, it's been a bit cloudy and rainy and chilly. I don't mind - for some reason, this is my optimal weather. Not too cold, not too hot. So refreshing! The air is truly amazing here. This big sign on "Liquid Sunshine" really sums it up…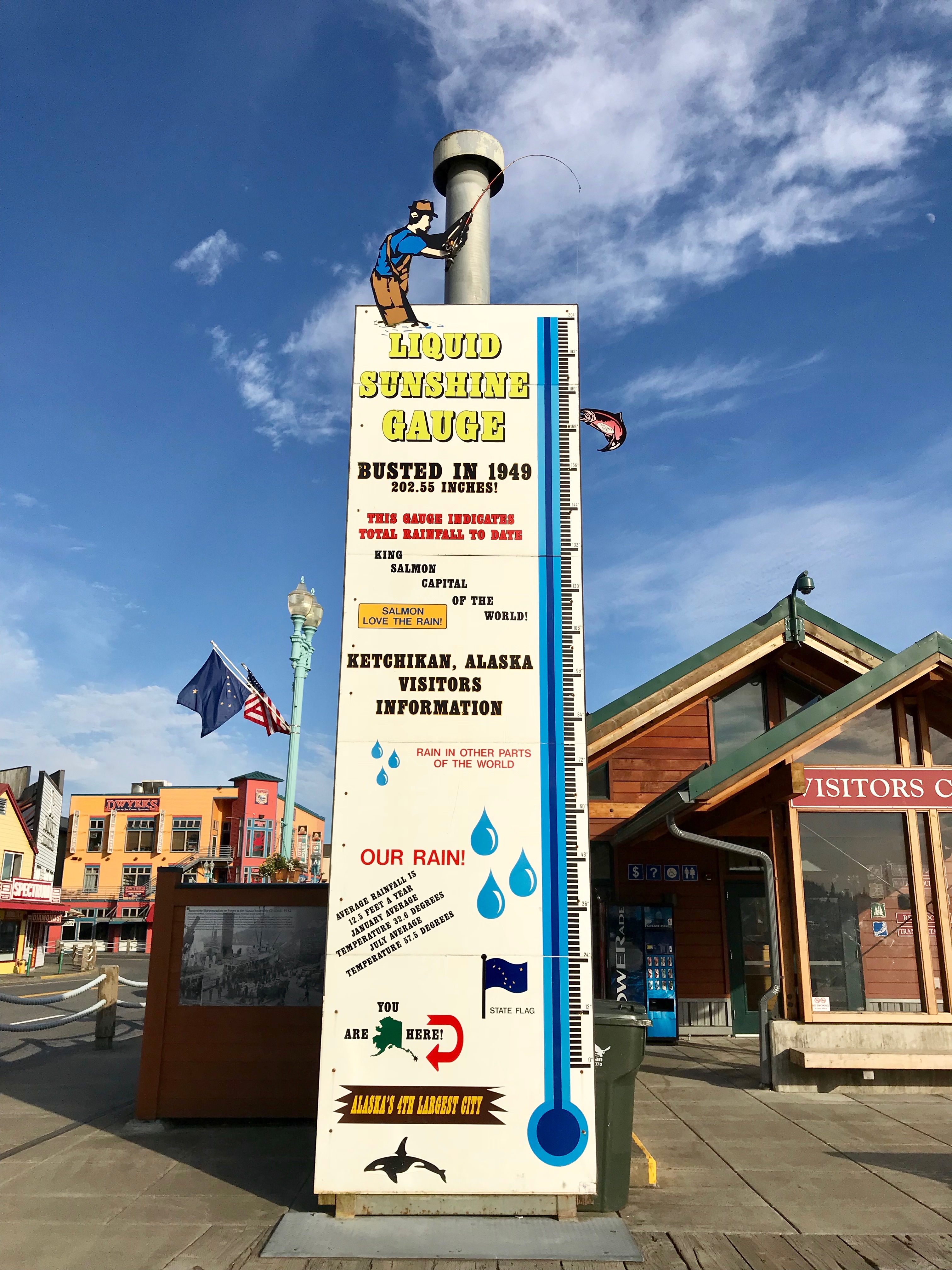 But suddenly, earlier this week, there were two perfectly warm and sunny days. The weather forecast was then back to normal liquid sunshine after that. If I was going to do the Deer Mountain hike, I needed to do it during one of these days!
First, I didn't want to add rain and low visibility to a list of dangers for the hike. And second, the biggest point of going to the top is to see the view. Most of the time, the top of the mountain is covered in a cloud. This was literally one of the best times to climb it!
My sense of adventure overrode my sense of fear. I decided to go for it - with my beacon and bear spray of course!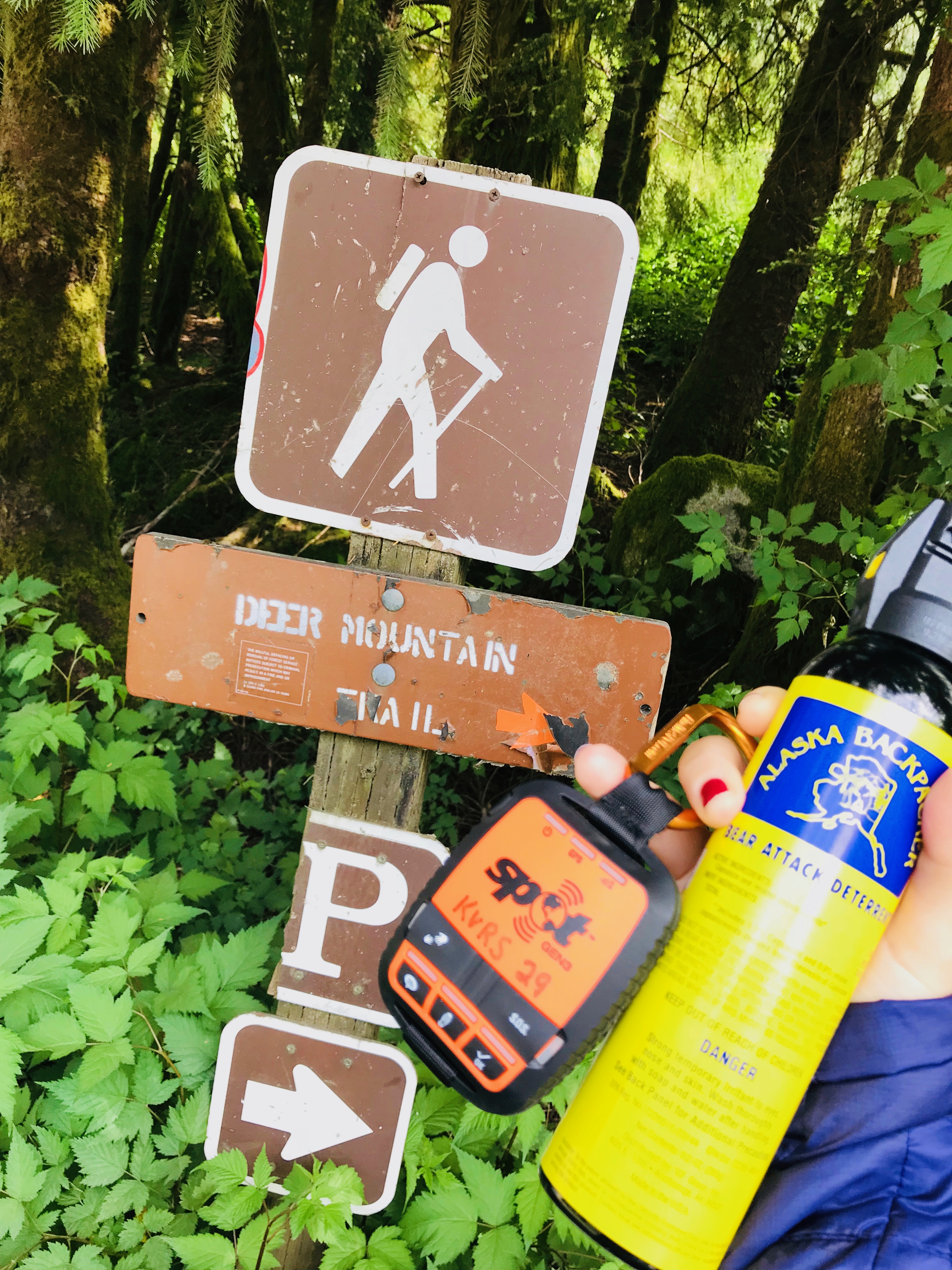 The Trail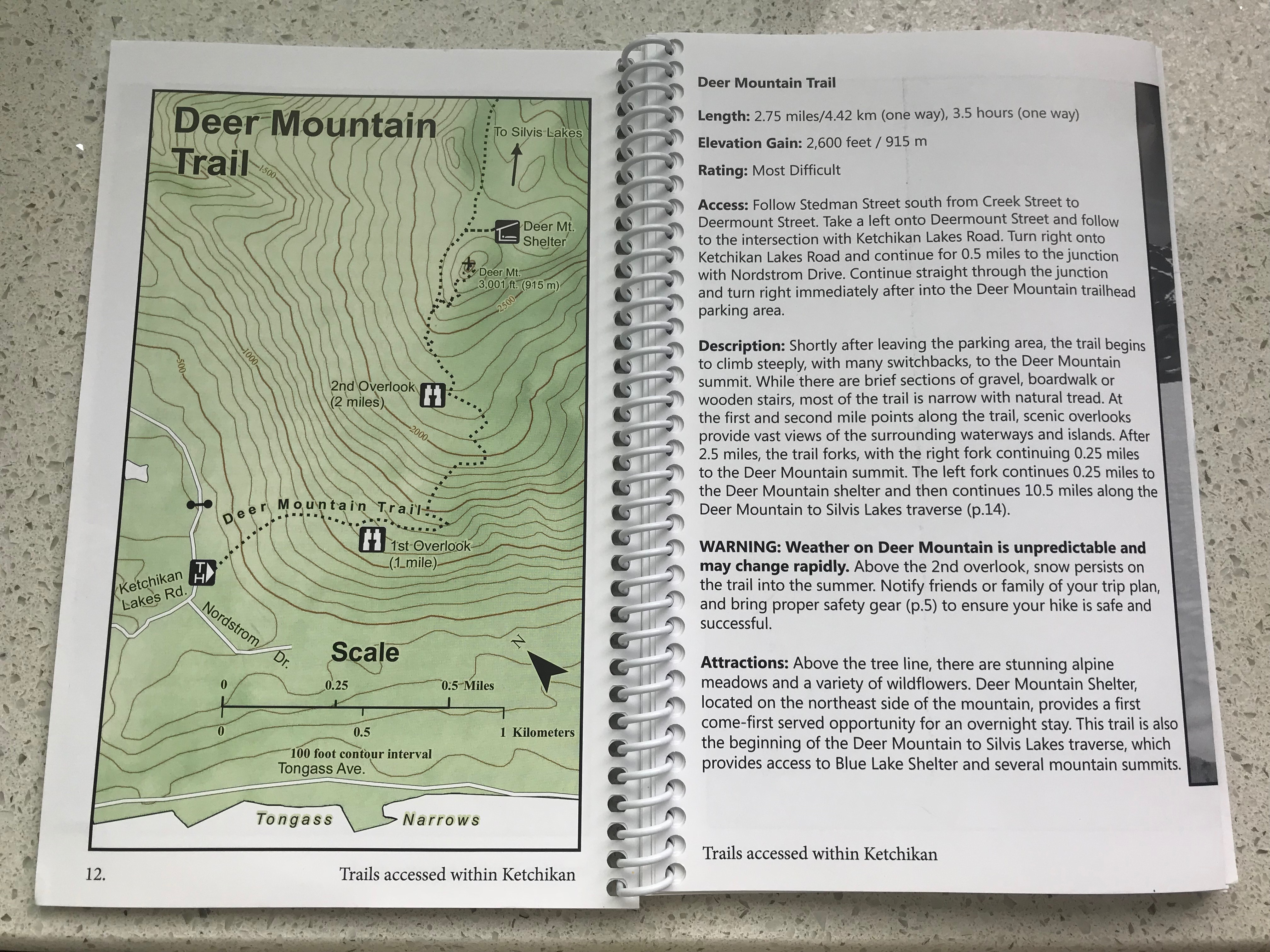 The trail is split up into three parts: 1st Overlook, 2nd Overlook, The Summit. I gave myself the option of going to the 1st overlook and seeing how I felt before deciding to keep climbing or go back. Unlike the Rainbird track, I wouldn't be able to just walk back on city streets. I'd have to hike back down the entire way!
The trail itself is pretty straightforward. You just keep on the path - this is important. The Uber driver told me that some tourists try to cut the trail, especially on the way down, and end up getting lost.
It's a mix of wood and rocks.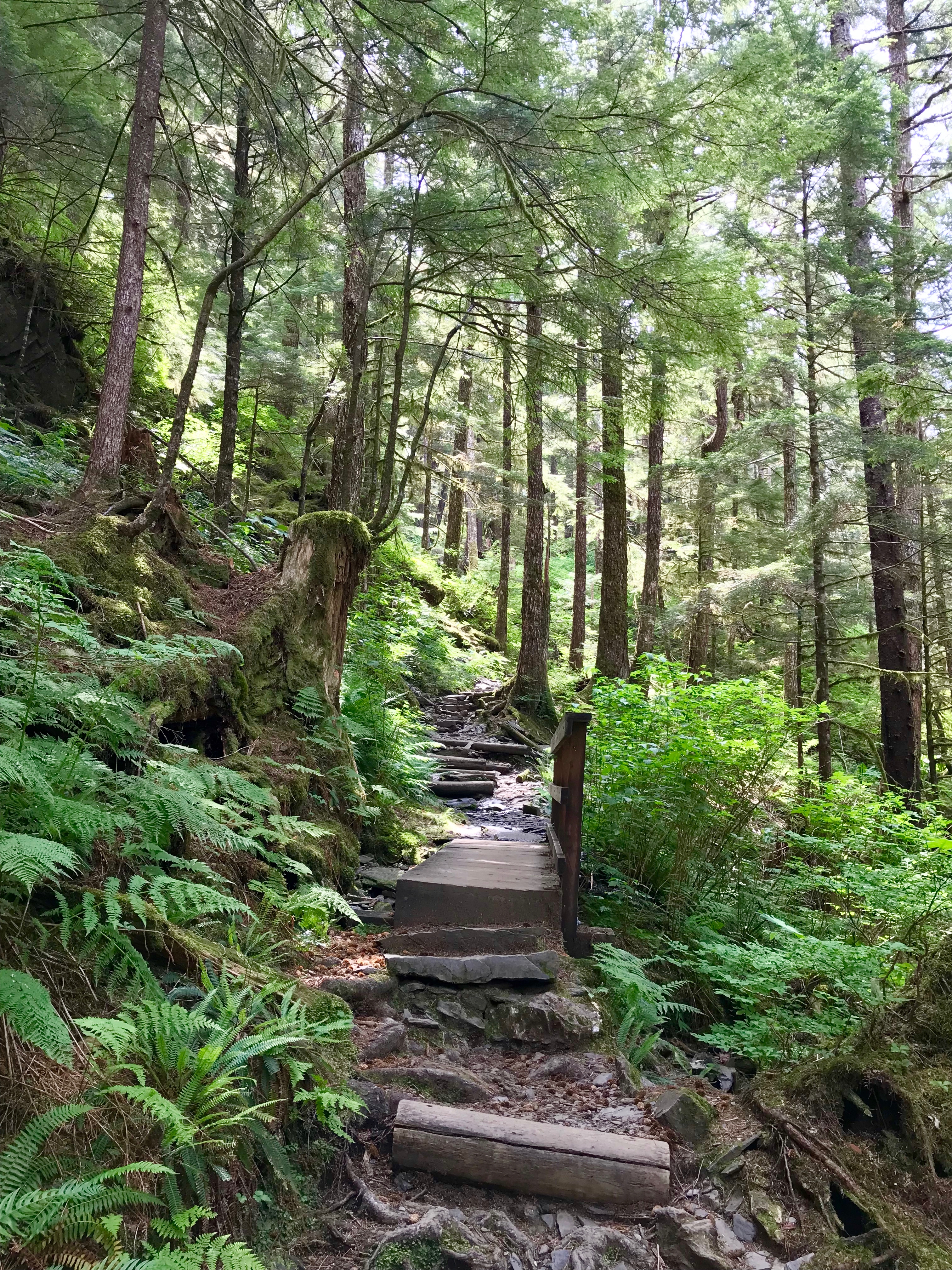 The rocks could be pretty loose and slippery, especially on the way down. I was glad I came there on a dry day.
1st Overlook
The climb was pretty intense. I was sweating and panting, but I made it the first mile: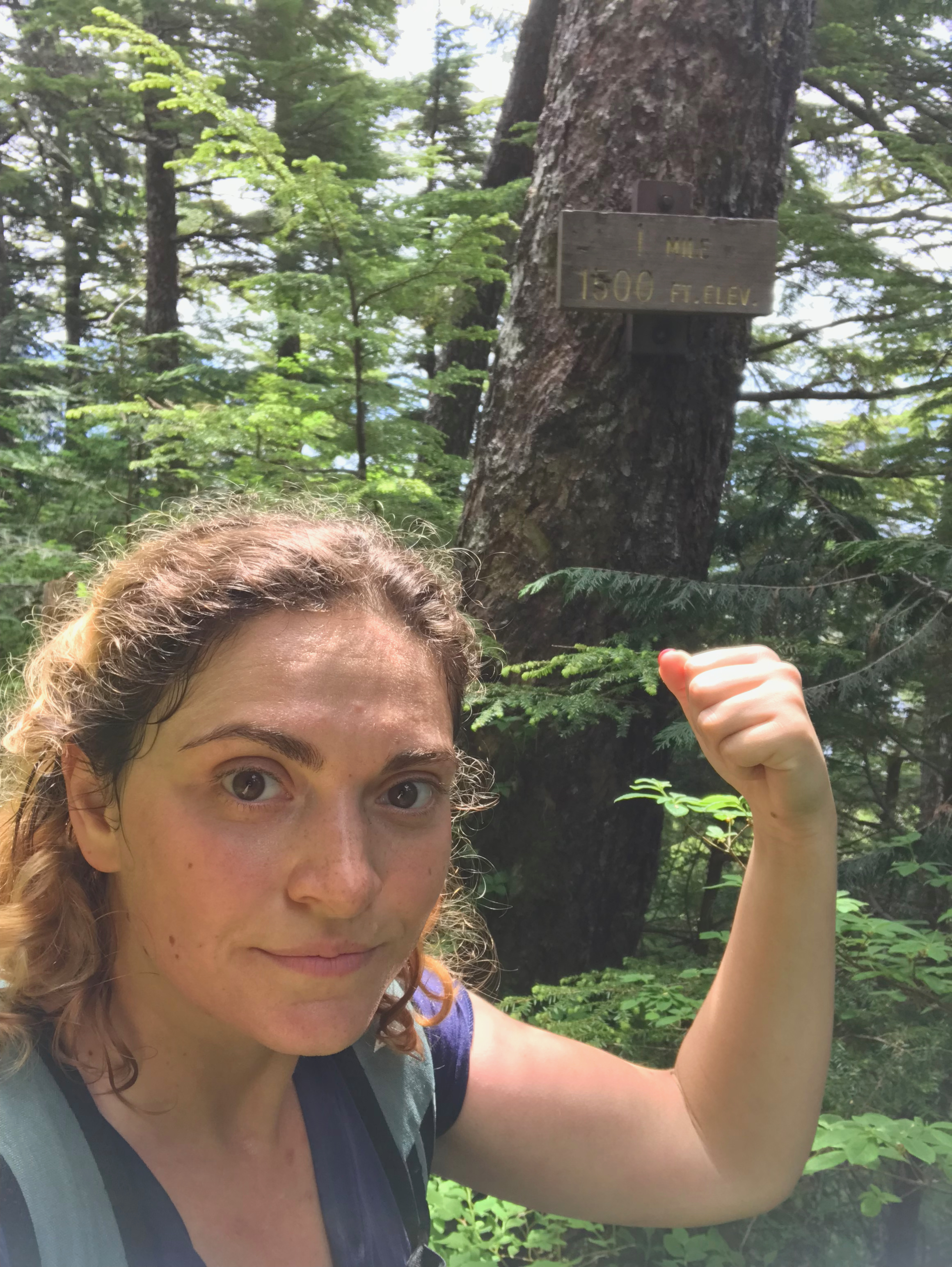 The view was incredible! This area is sooooooo beautiful. This picture doesn't even give it justice: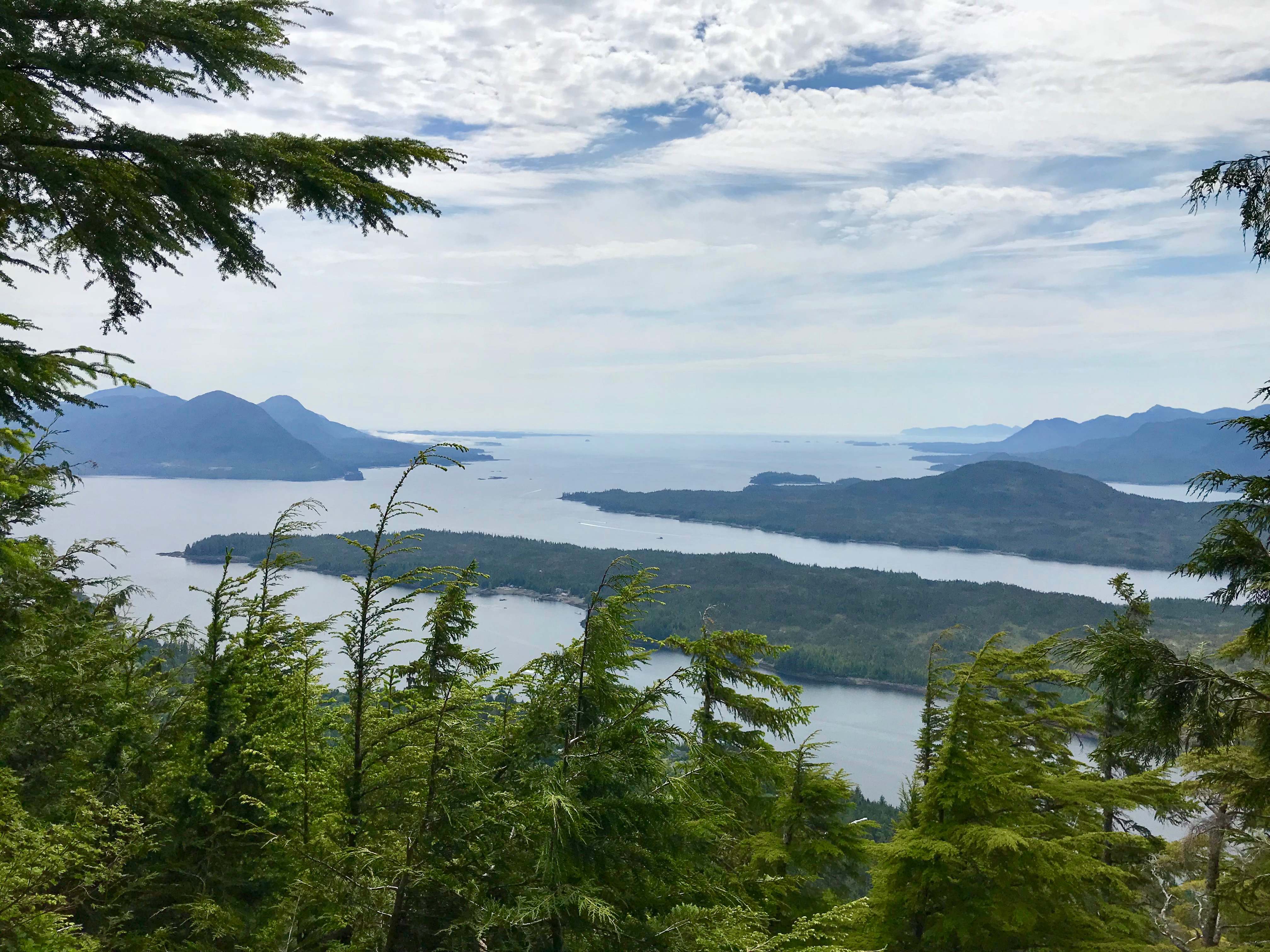 It inspired to me to keep going!
2nd Overlook
1st to 2nd overlook might have been the easiest part of the climb… I don't remember much from it. The forest felt like a holy cathedral: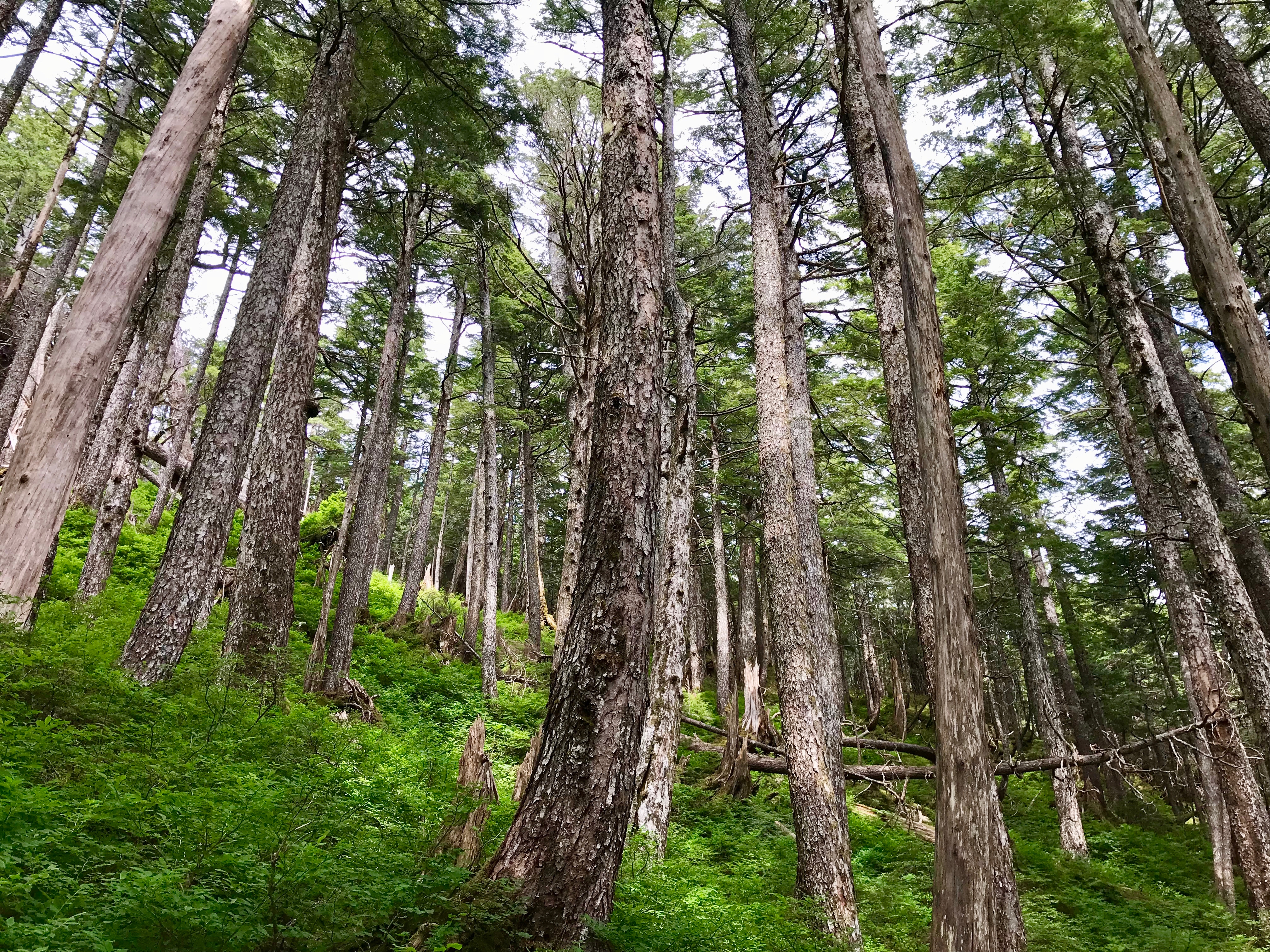 From the 2nd Overlook, I could see the city, including the cruise ships!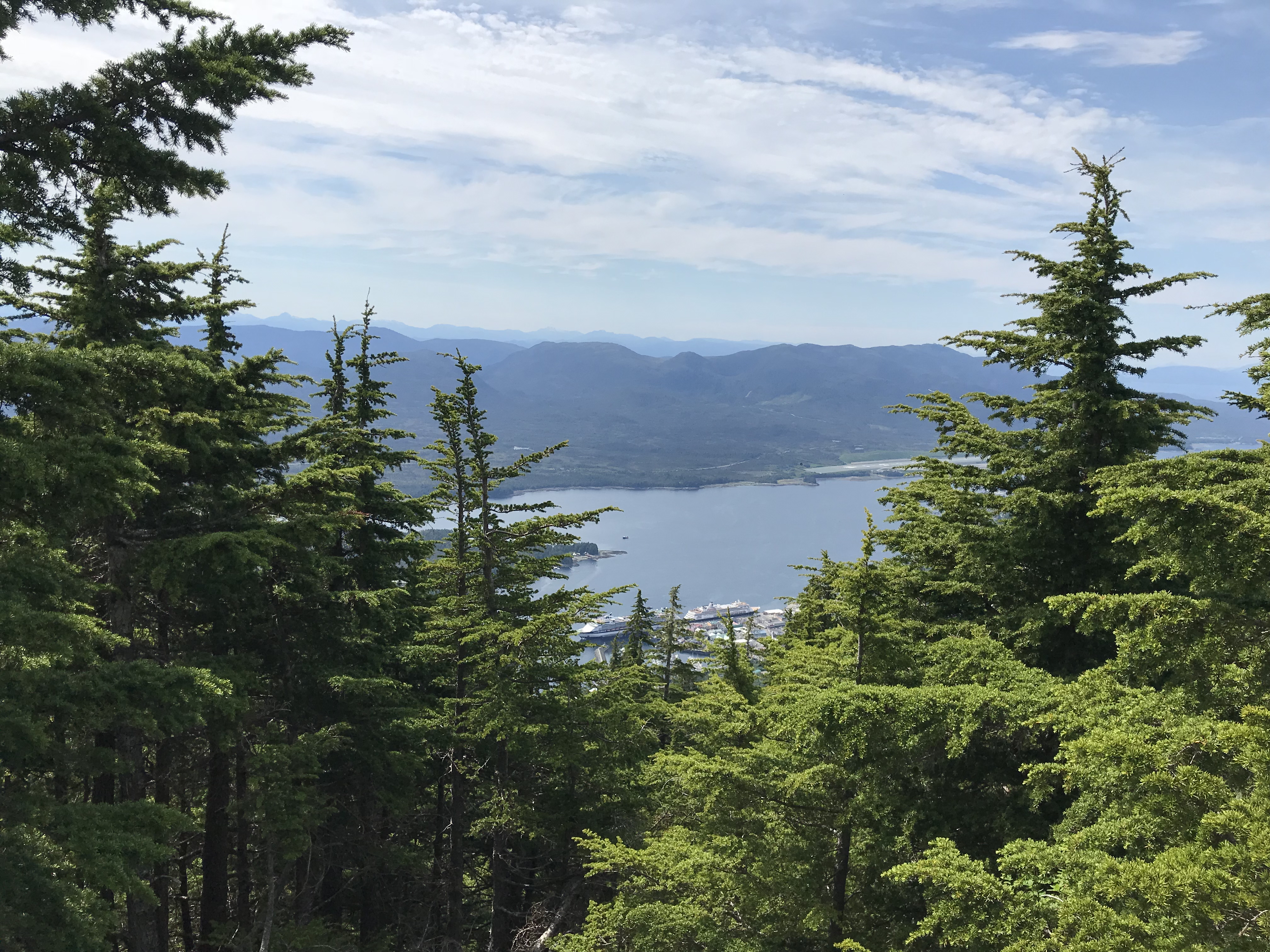 The Summit
2nd Overlook to the Summit was by far the hardest part! The trail became steeper and steeper, but it was also the most beautiful!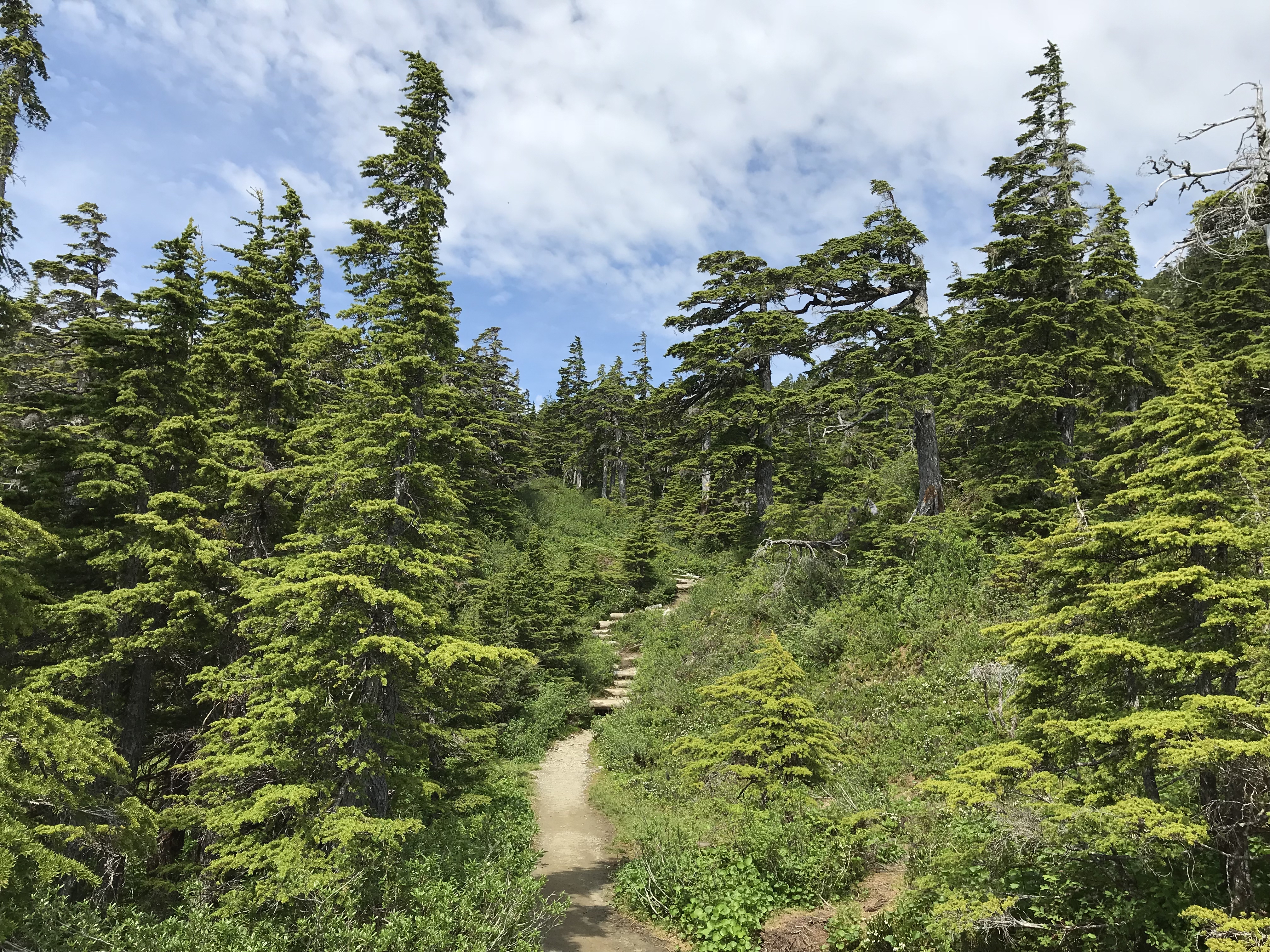 Mountains were all around me: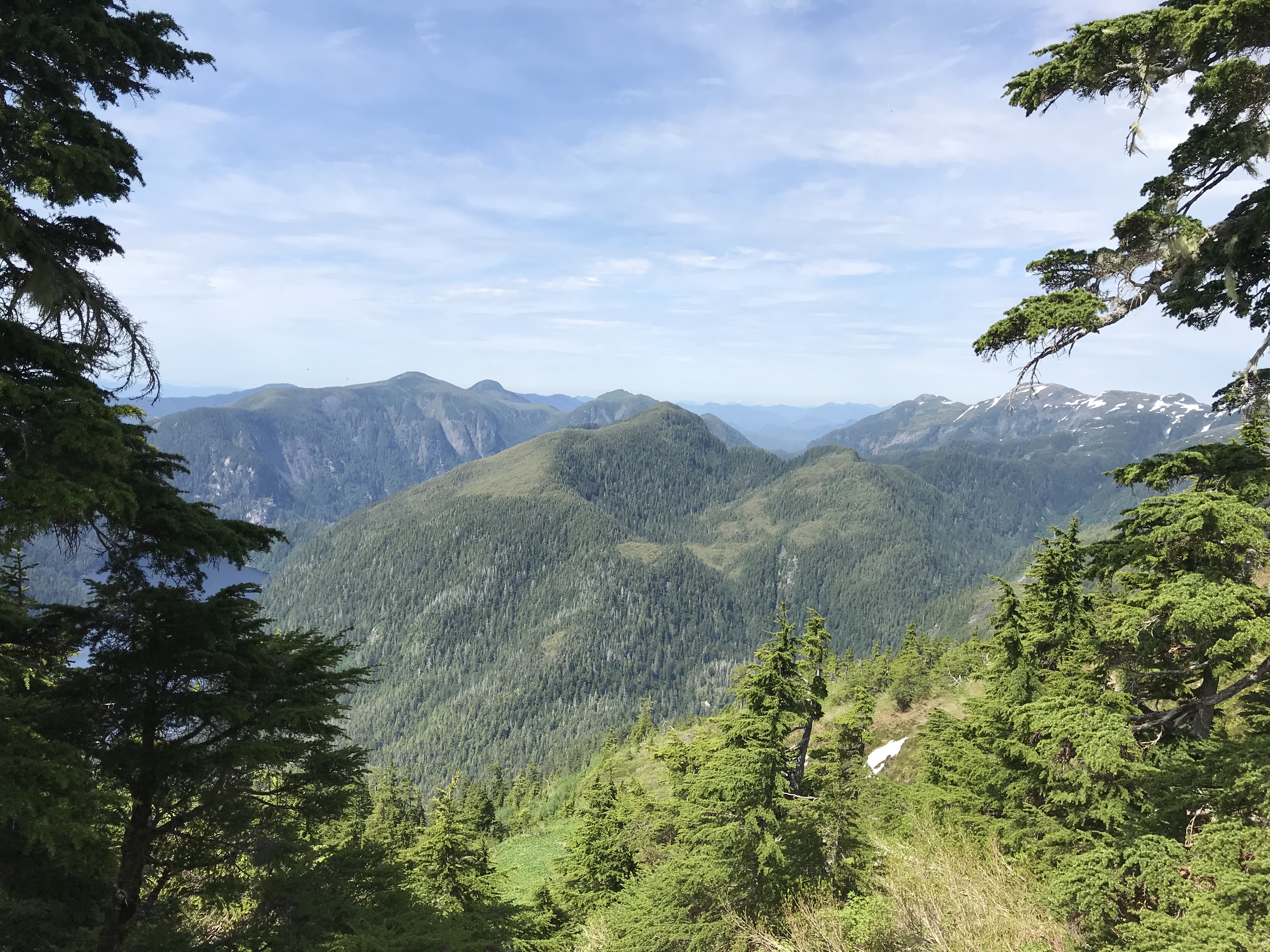 And in front of me: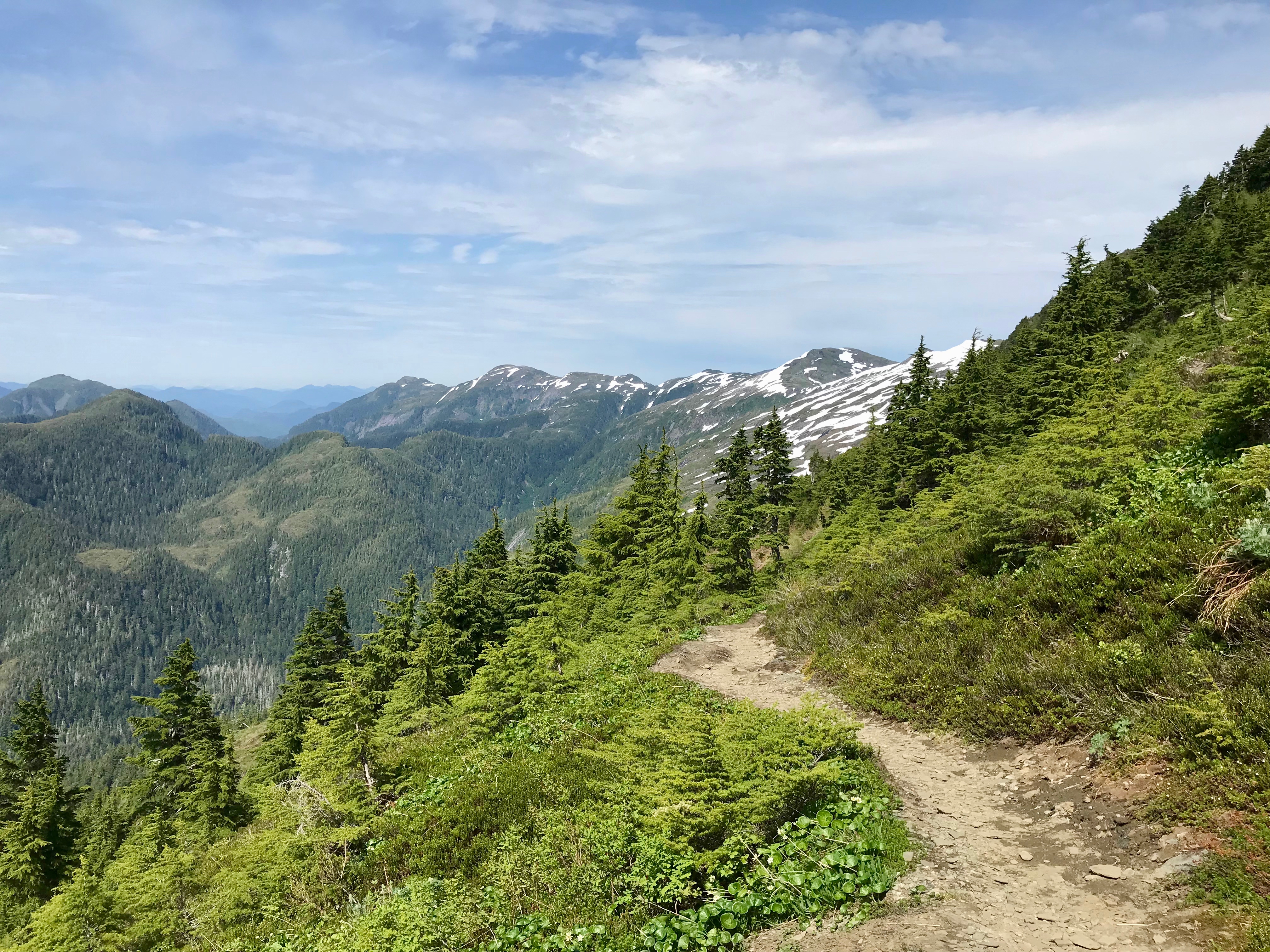 I could see the gorgeous blue lake at the bottom: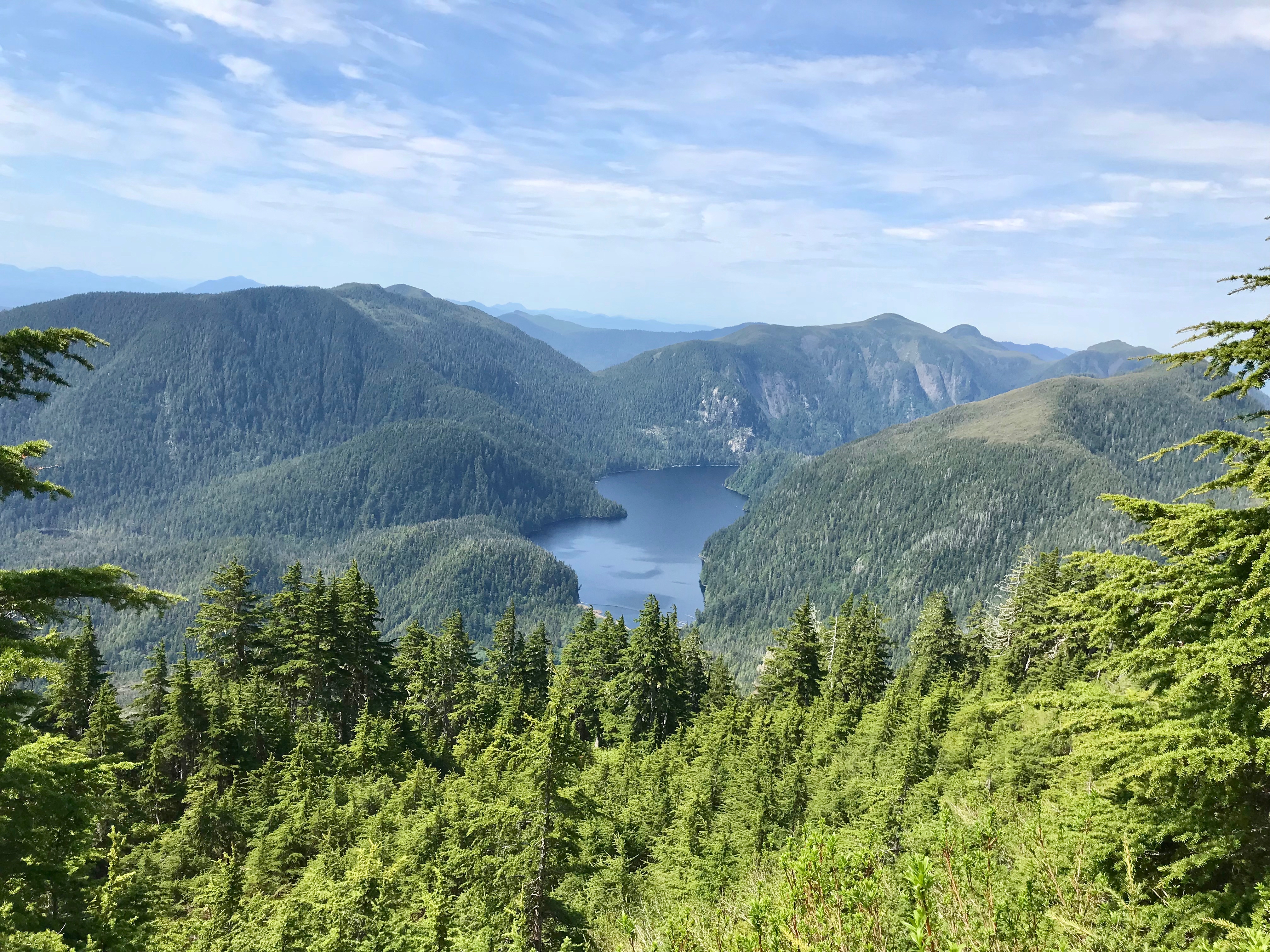 Finally, I reached the fork in the road… Only 1/2 mile on the right fork to the summit now! I could hug that sign!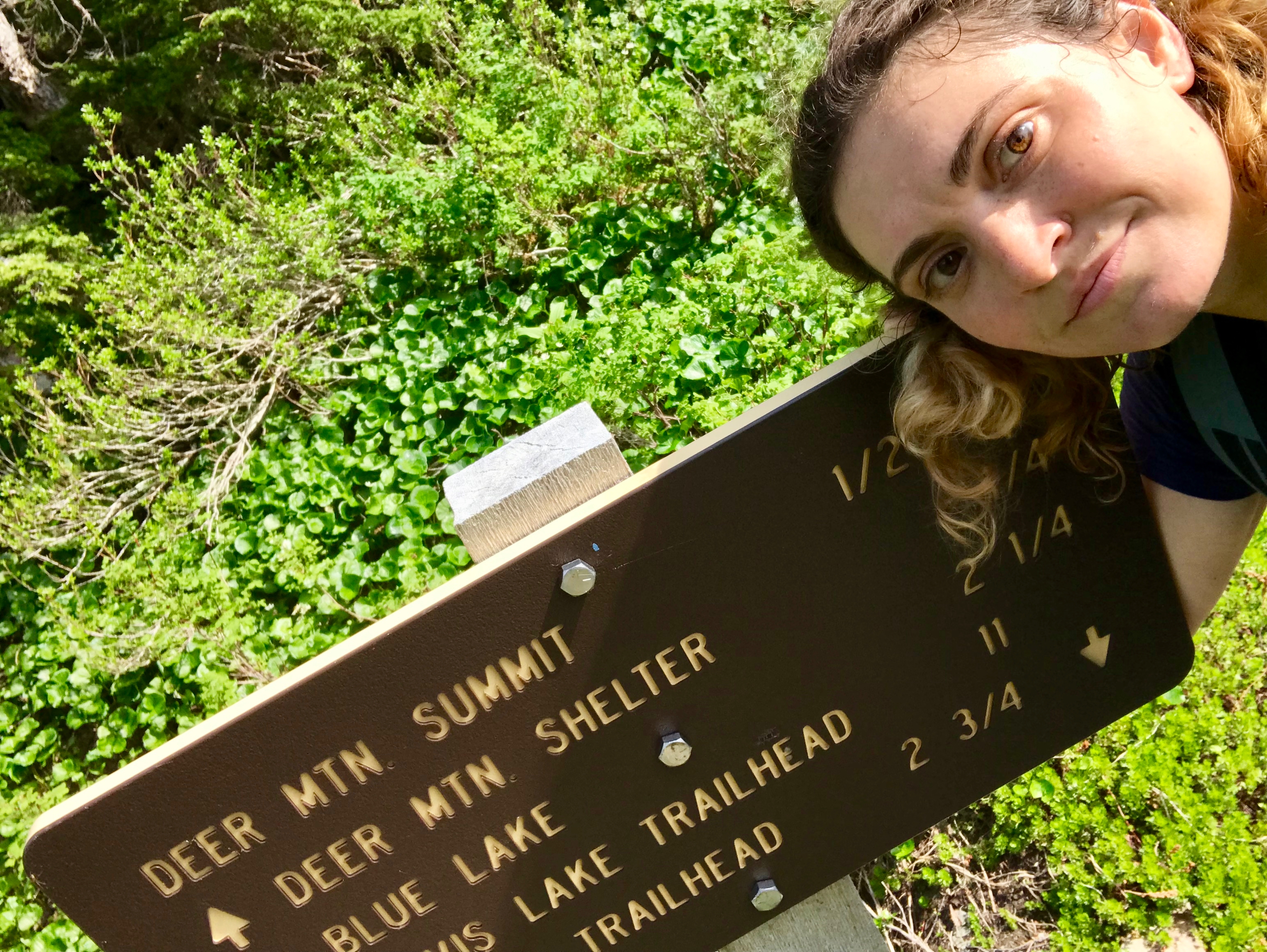 But this is where the path got the most challenging yet… Sooooo STEEP! Another solo woman hiker who took me over near the 1st overlook was coming down, encouraging me. Slowly, I made my way, and got to the top. It was worth it…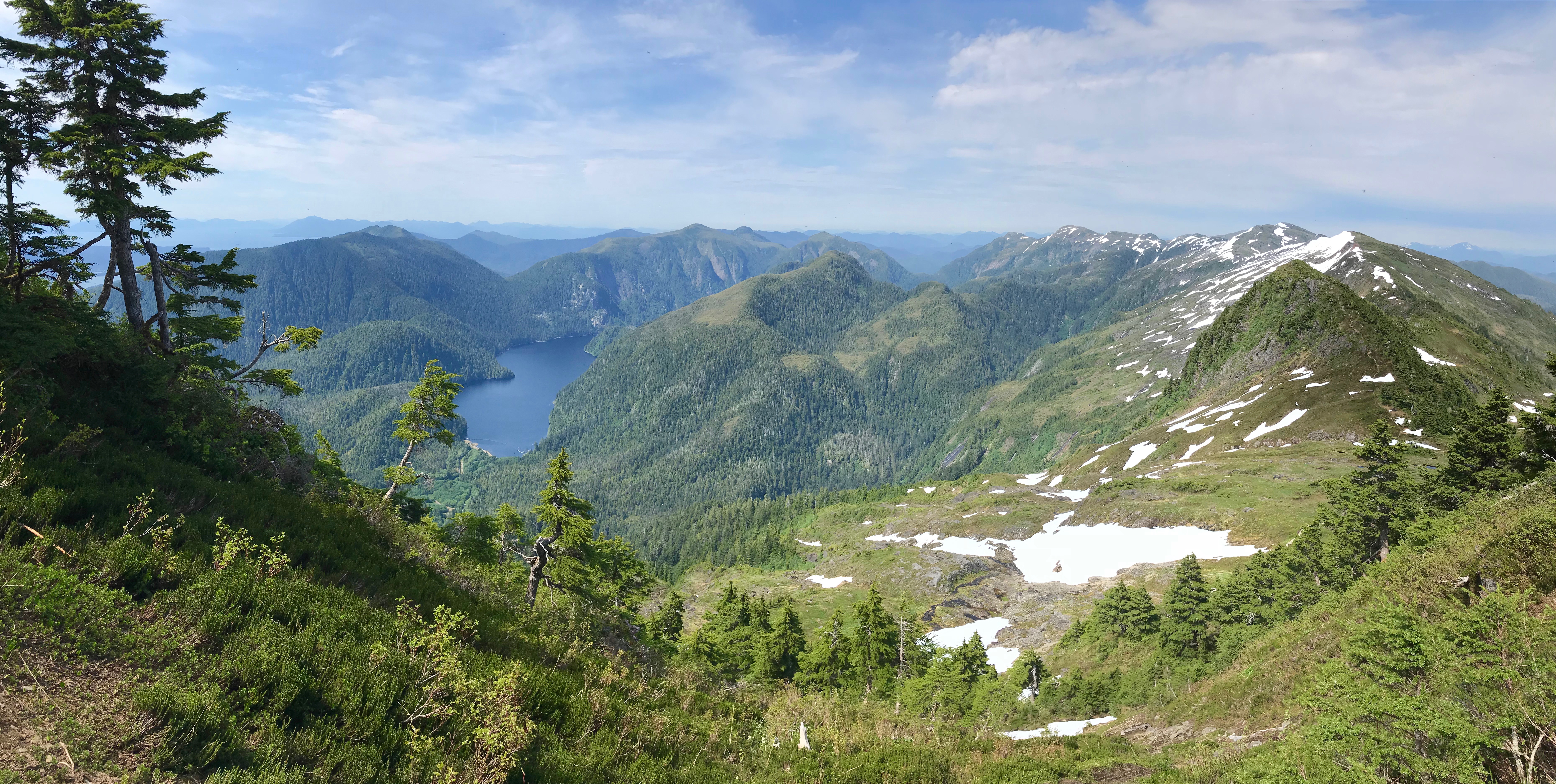 Another hiker who overtook me was already there. He was nice enough to take a photo of me :)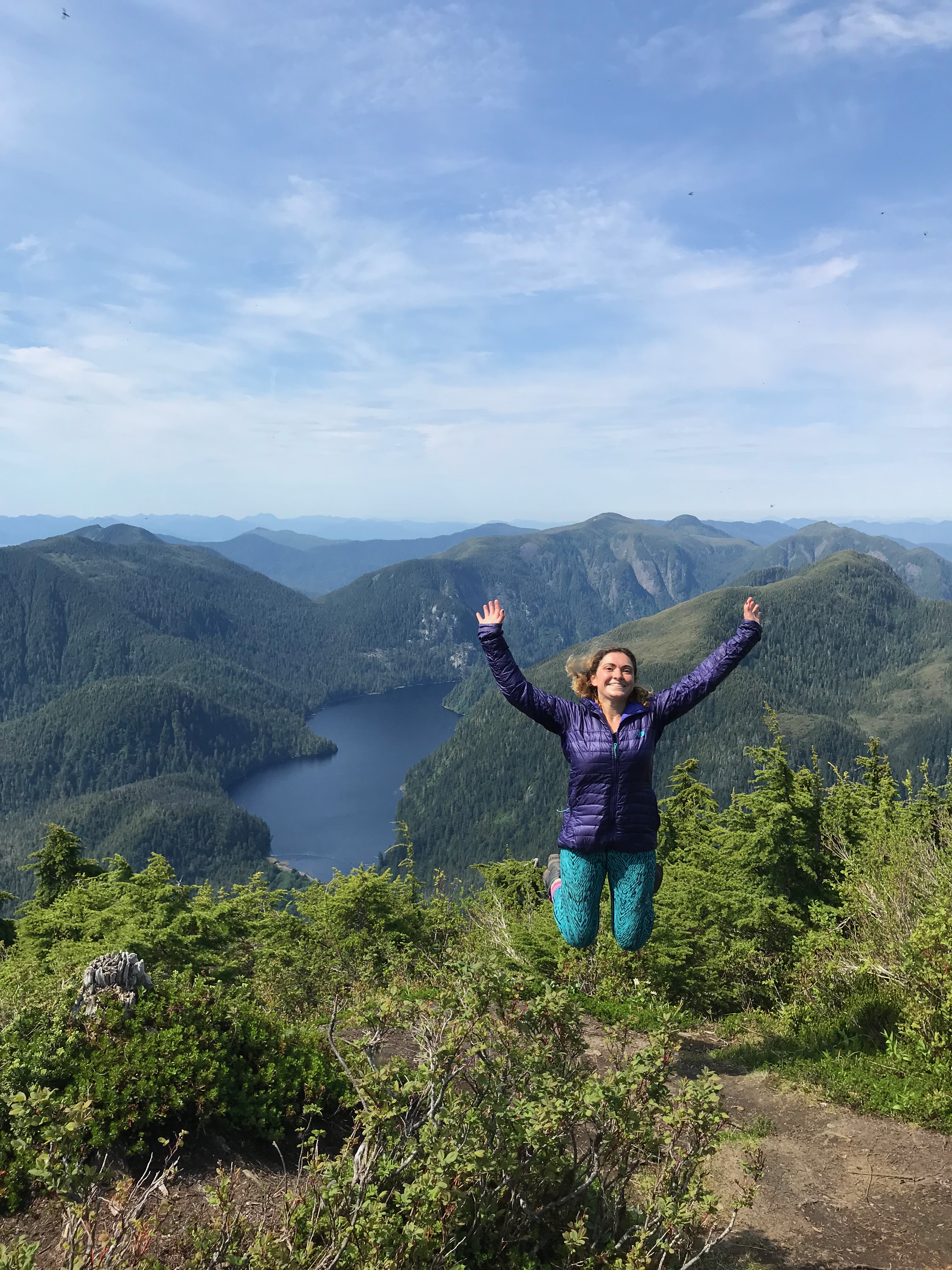 The Return
Going down was challenging for some reason. I think I just wanted to be back, I was tired and I kept going fast, but the path kept continuing. It felt like it was going forever, but finally I made it out.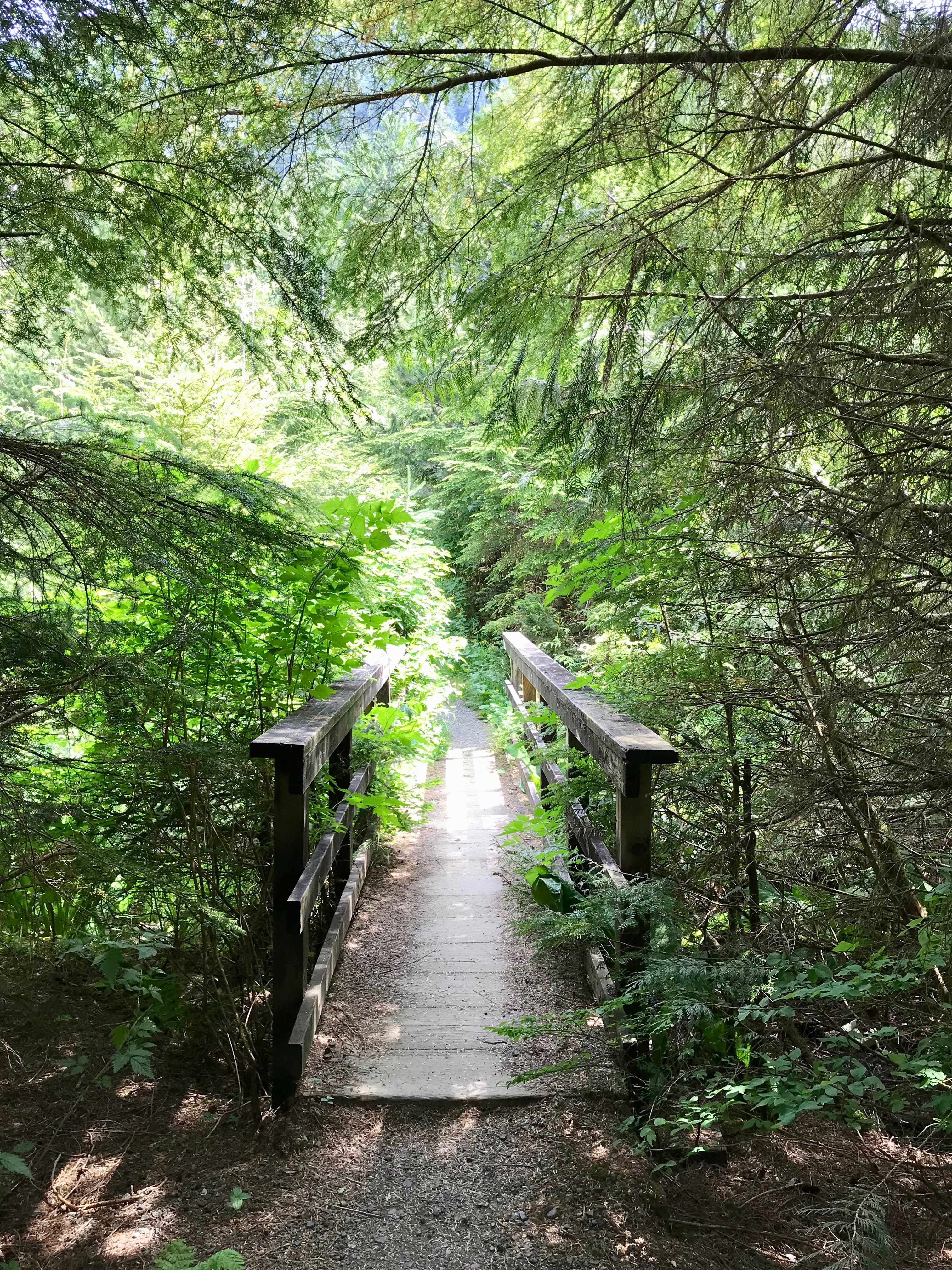 It took me a total of 5 hours from start to finish!
To be continued…
Deer Mountain was by far the scariest and most mentally challenging hike I've done to date - I was solo in bear country! But I did it and survived.
When I got back to my AirBNB later on, I was laying down in pain (so sore!) and exhaustion, when I picked up my Ketchikan Area Trails Guide listing all the trails in the area: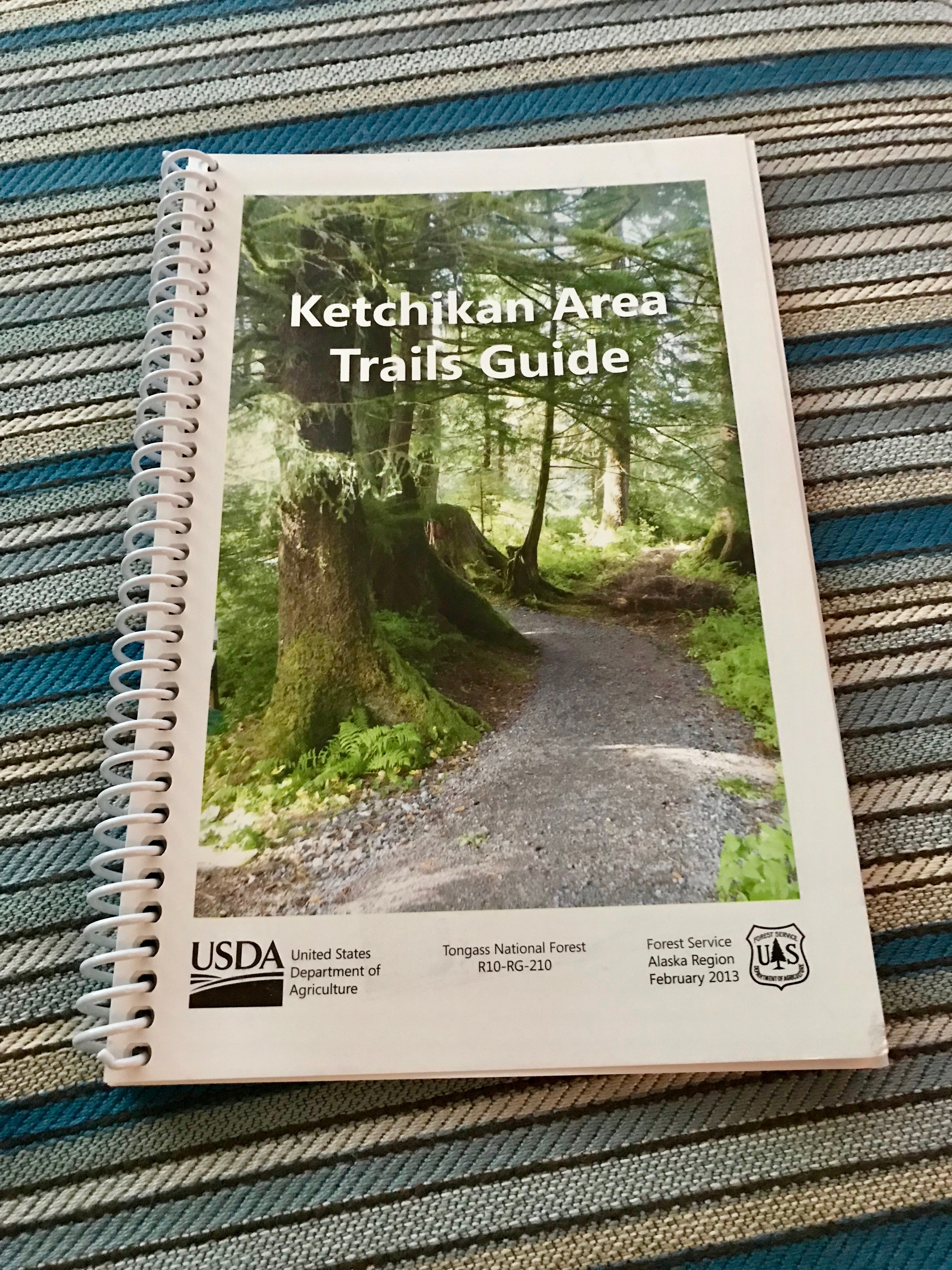 I remember looking at it when I first got here. My goal was to do most of the hikes listed in it - only skipping those that require overnight camping skills (which I don't have… yet). I didn't know how I would do all of them. I was scared.
Now, after completing Deer Mountain, one of the most challenging hike listed in there, everything else seemed simple and easy. I overcame my fear by literally climbing a mountain. I'll definitely be hiking the other trails this summer.
Happy hiking!