A Stunning Hike in Hakone
NatashaTheNomad
01/29/2018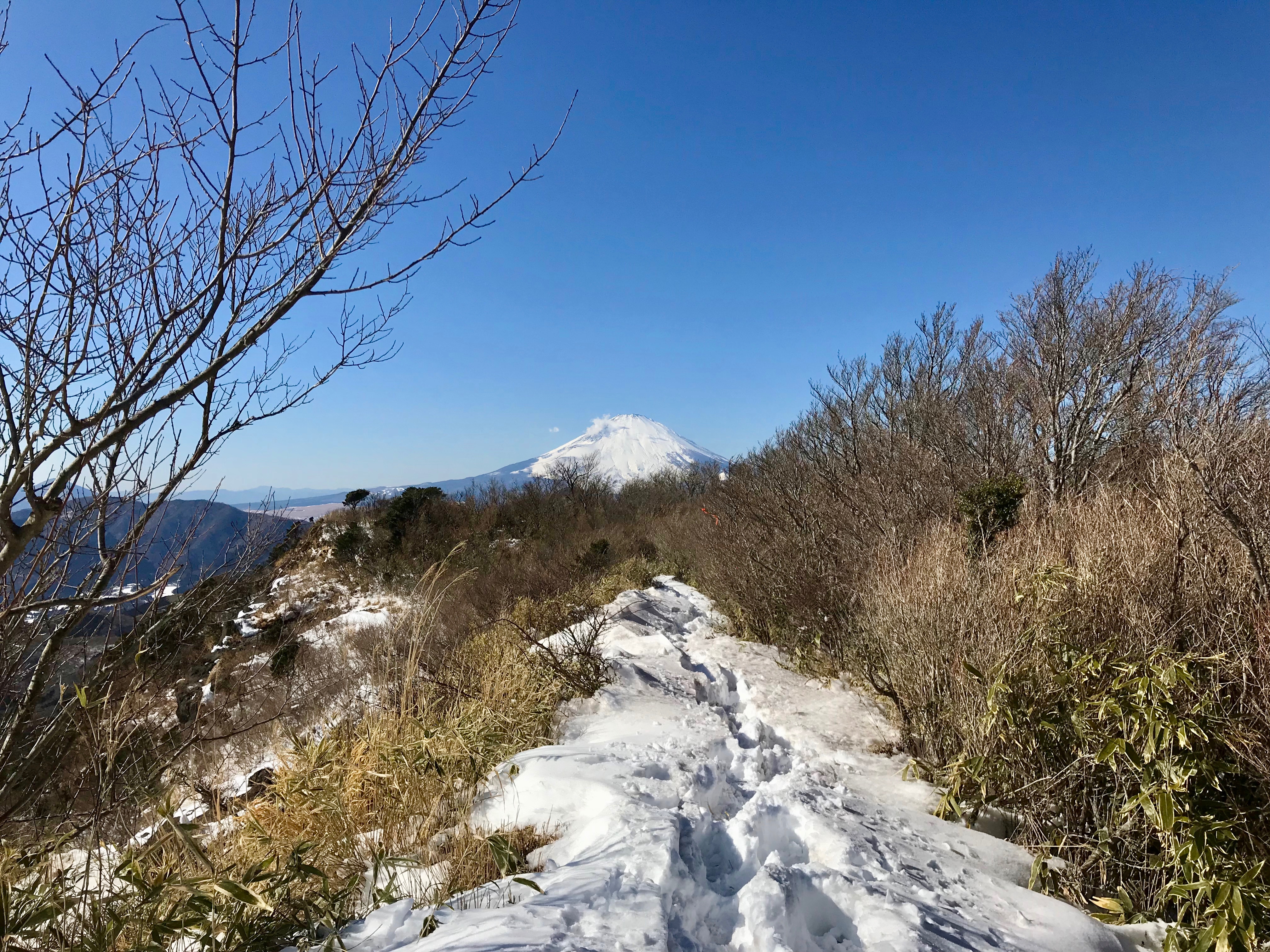 I had a feeling that Hakone, one of my favorite spots in Japan, had some good hiking, but it was hard to find information about it. Maybe I just didn't look that hard. But as I meant to try harder and figure it out, this article conveniently popped up in my Twitter feed: 3 Stunning Hikes in Hakone. I chose the second hike - it had incredible views, seemed like a good workout, and would take up a perfect amount of time - 3.5 hours.
The Map
Funny enough, in my search for hiking information, I didn't think to ask at the tourist center before. It might be that I rely on the Internet a little too much…
But this time was different. I did have confirmation that there was indeed a hike from that Tokyo Cheapo article on the Internet. And I was a bit uncomfortable with their lack of hike map - they only provided start and end points. It now made sense to ask for more details…
We arrived at Odawara station at around 8:00am. The tourist office was closed…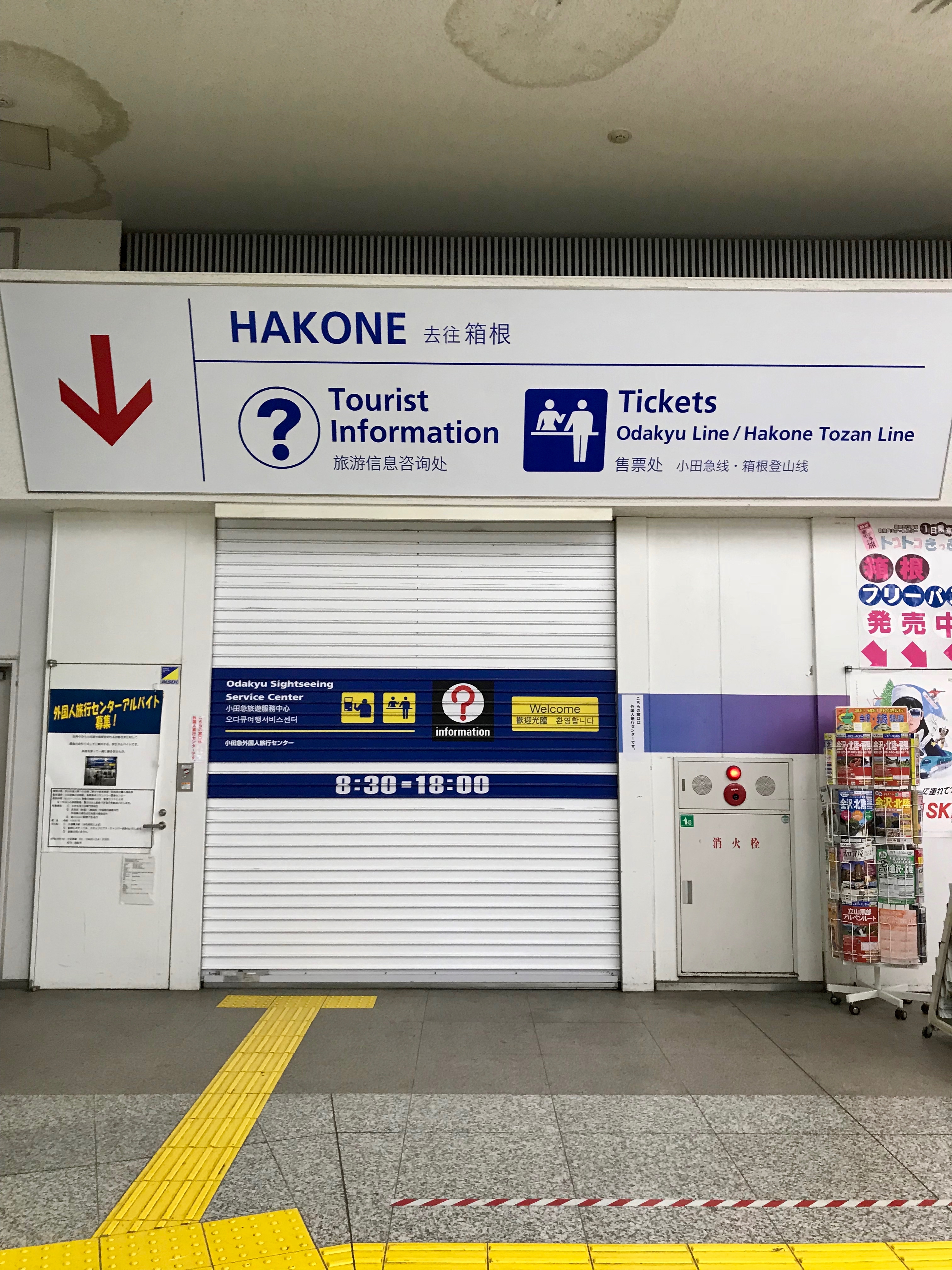 We took that time to get breakfast at the Soba, Udon, Curry restaurant - it was freezing outside, so I was excited for a bowl of hot soba! The restaurant had a vending machine system for ordering (you pay and get a ticket for what you ordered) - the descriptions of the food were in Japanese, but there were pictures! We chose the item that looked good only to be super disappointed when it turned out to be a COLD soba dish…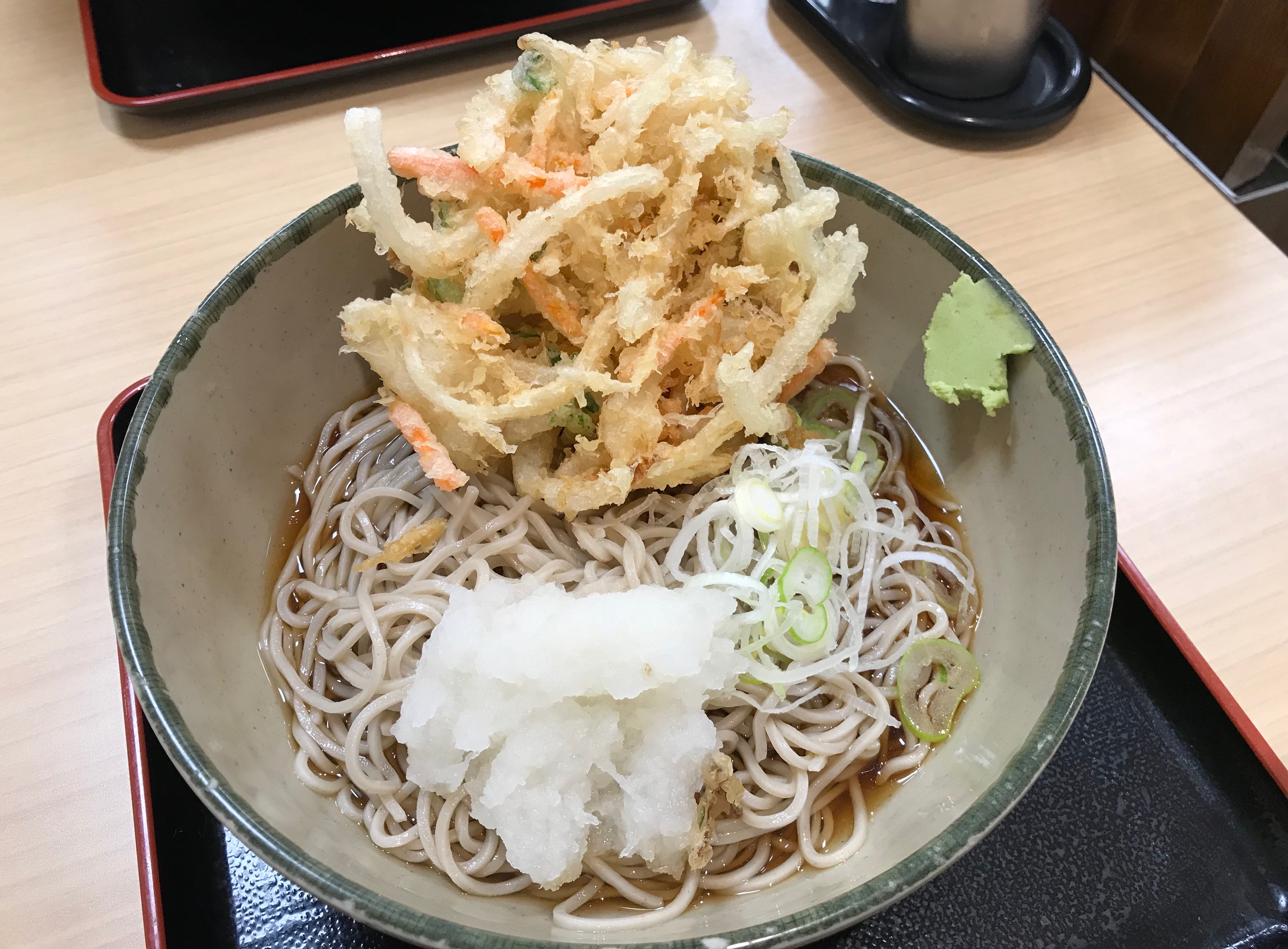 It tasted good, it was just cold and we were freezing!
Since the hike would be 3.5 hours, we also went to the convenience stores at the station to buy a bunch of snacks and some water, expecting to eat lunch on the hike. I'm really glad we did this!
Finally, the tourist office was open. We got our Hakone Free Pass and asked for a hiking map this time. They did in fact have a map!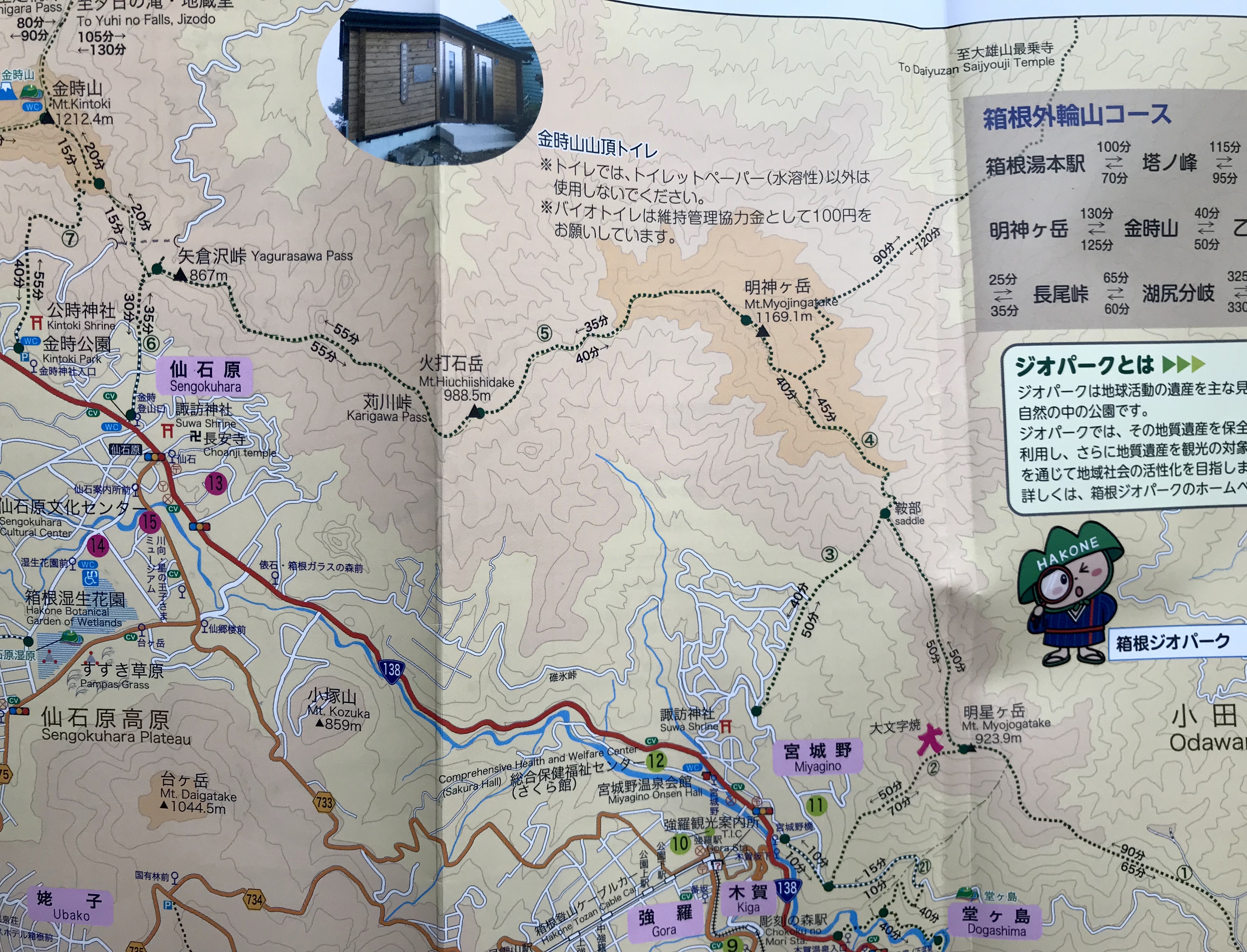 I was very happy to see an actual trail that starts and ends at the same location as mentioned in that Tokyo Cheapo article! We were all set!
Gora
We took the train to the Hakone Yumoto station, and then boarded the fun mountain train to Gora!
From Gora, we started walking toward the hiking path - mentioned to be at coordinates 35°15'53.5″N 139°03'18.0″E in that Tokyo Cheapo article. Google Maps said it would take 40 minutes to just walk to the starting location…
And so we started climbing…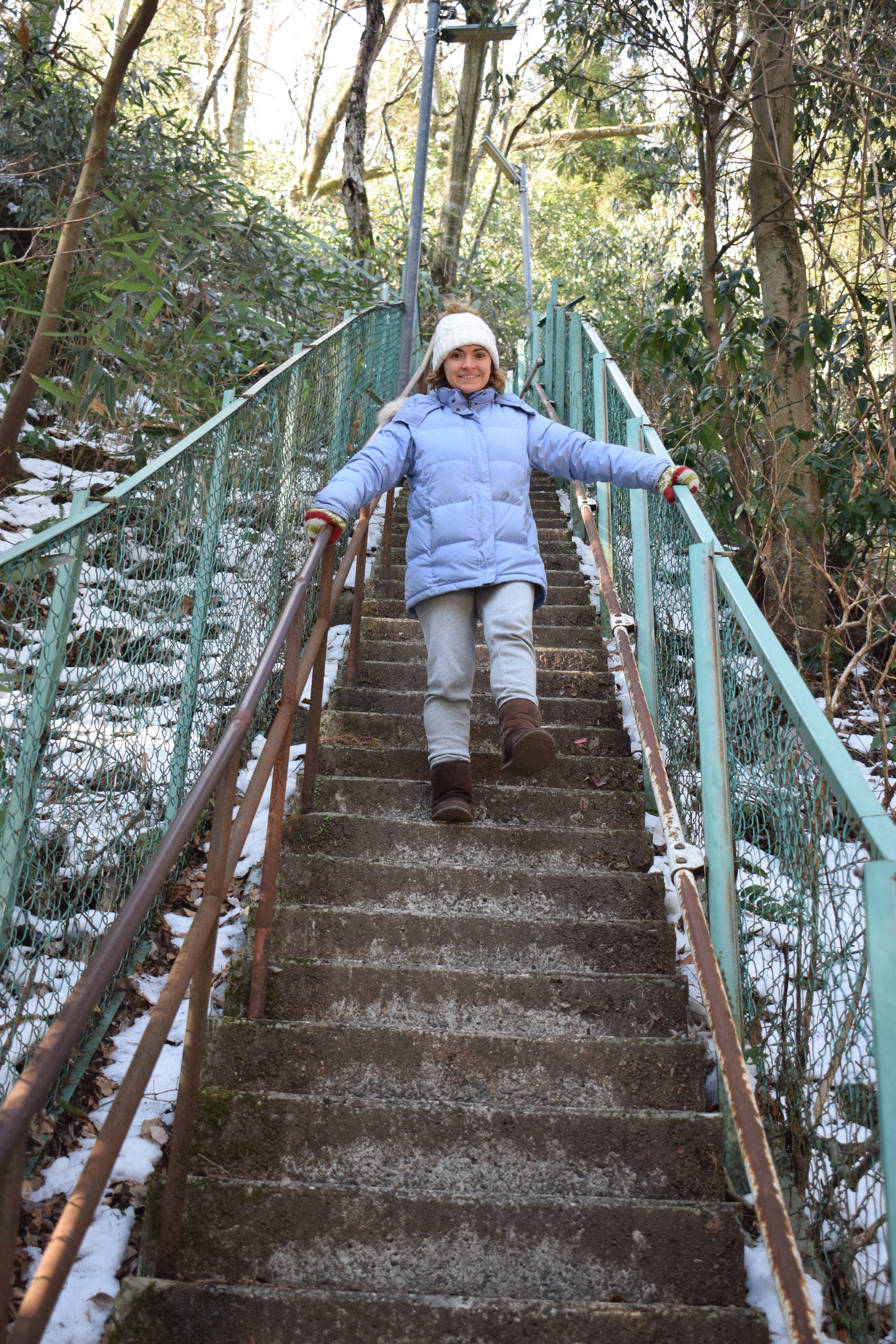 Luckily, the walk turned into a nice foresty path well before we reached the coordinates.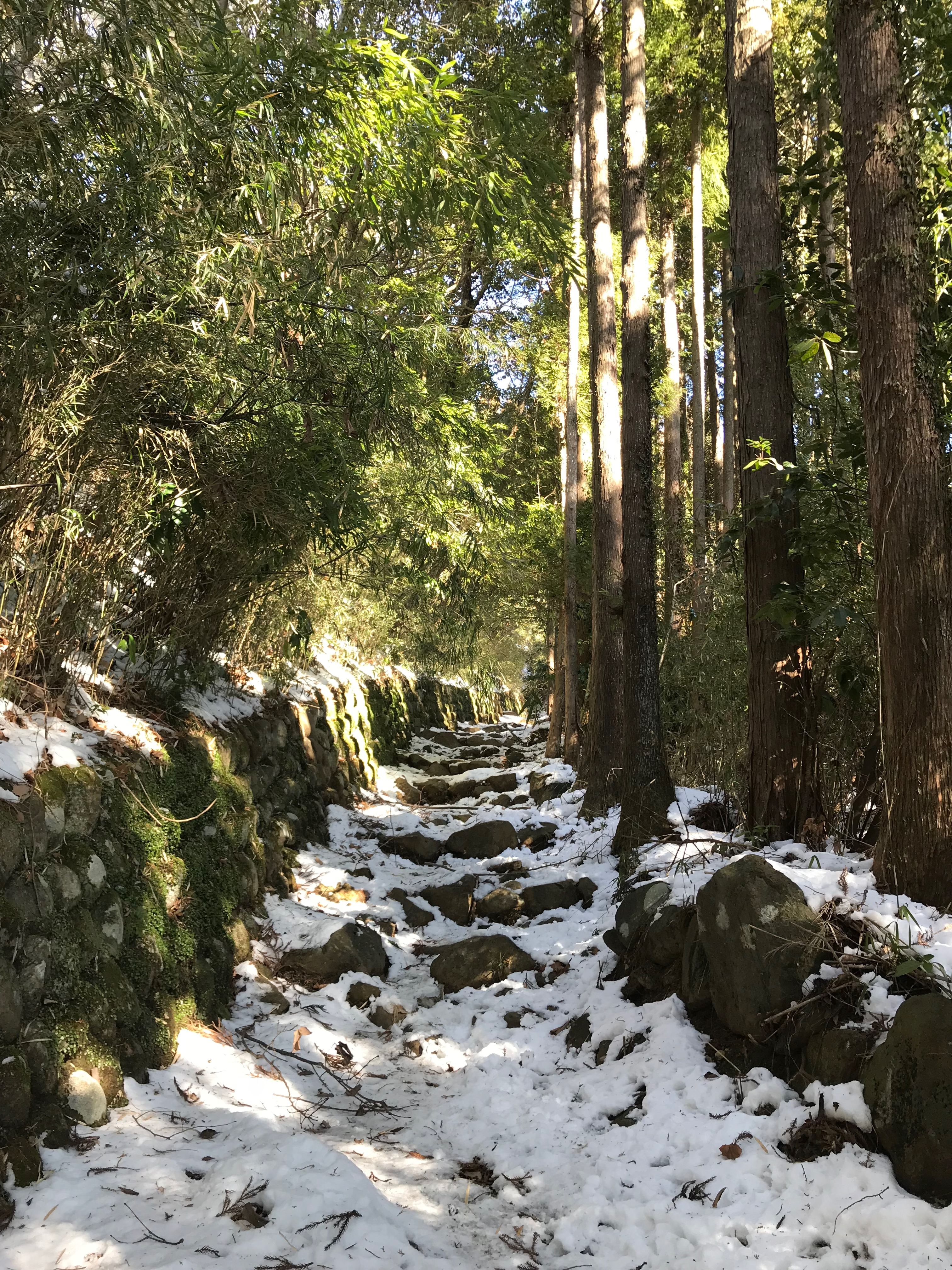 In no time, we reached the path!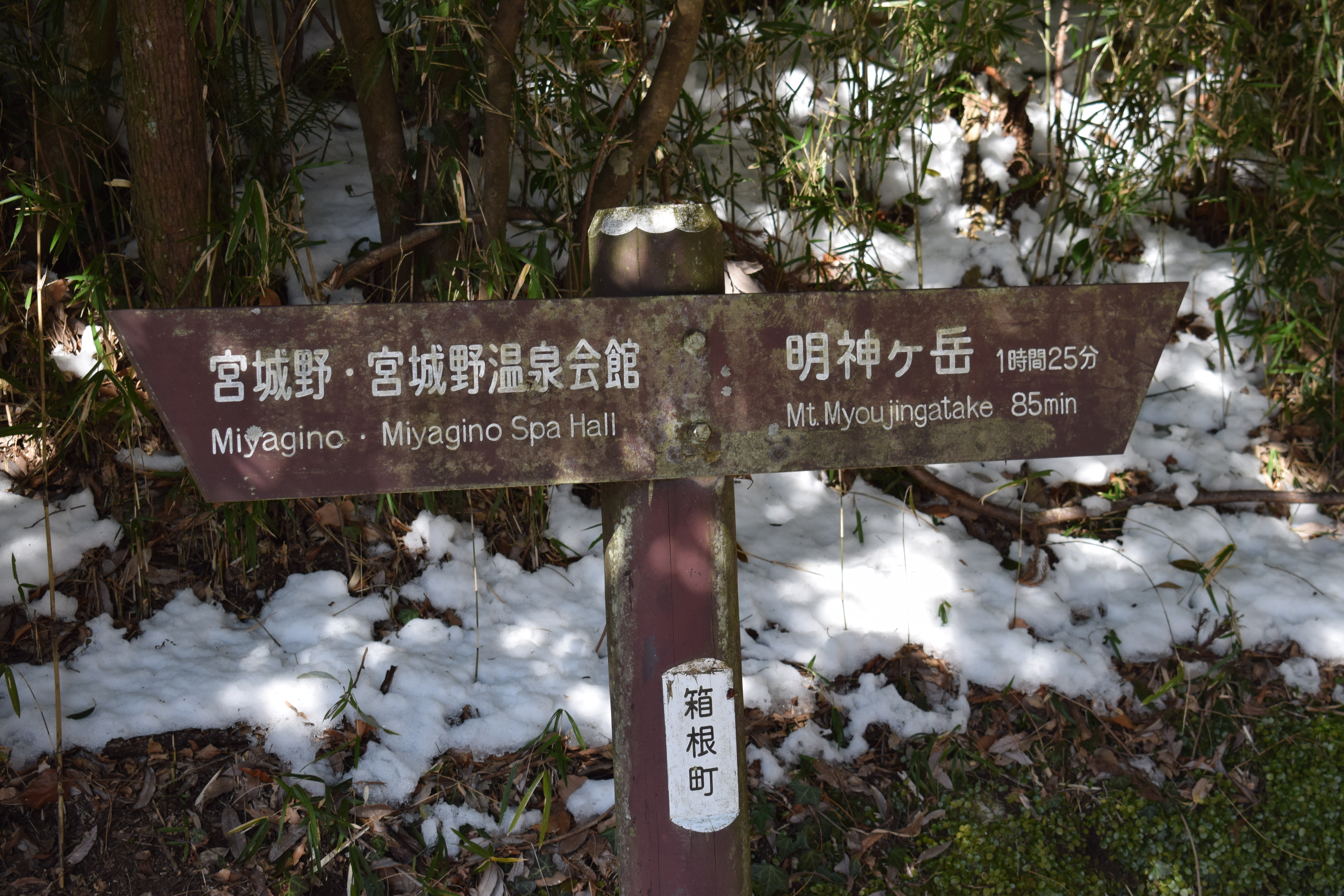 Climbing
The first destination of the hike was the top of Mt. Myojogatake. That meant we had to climb a mountain… So we climbed…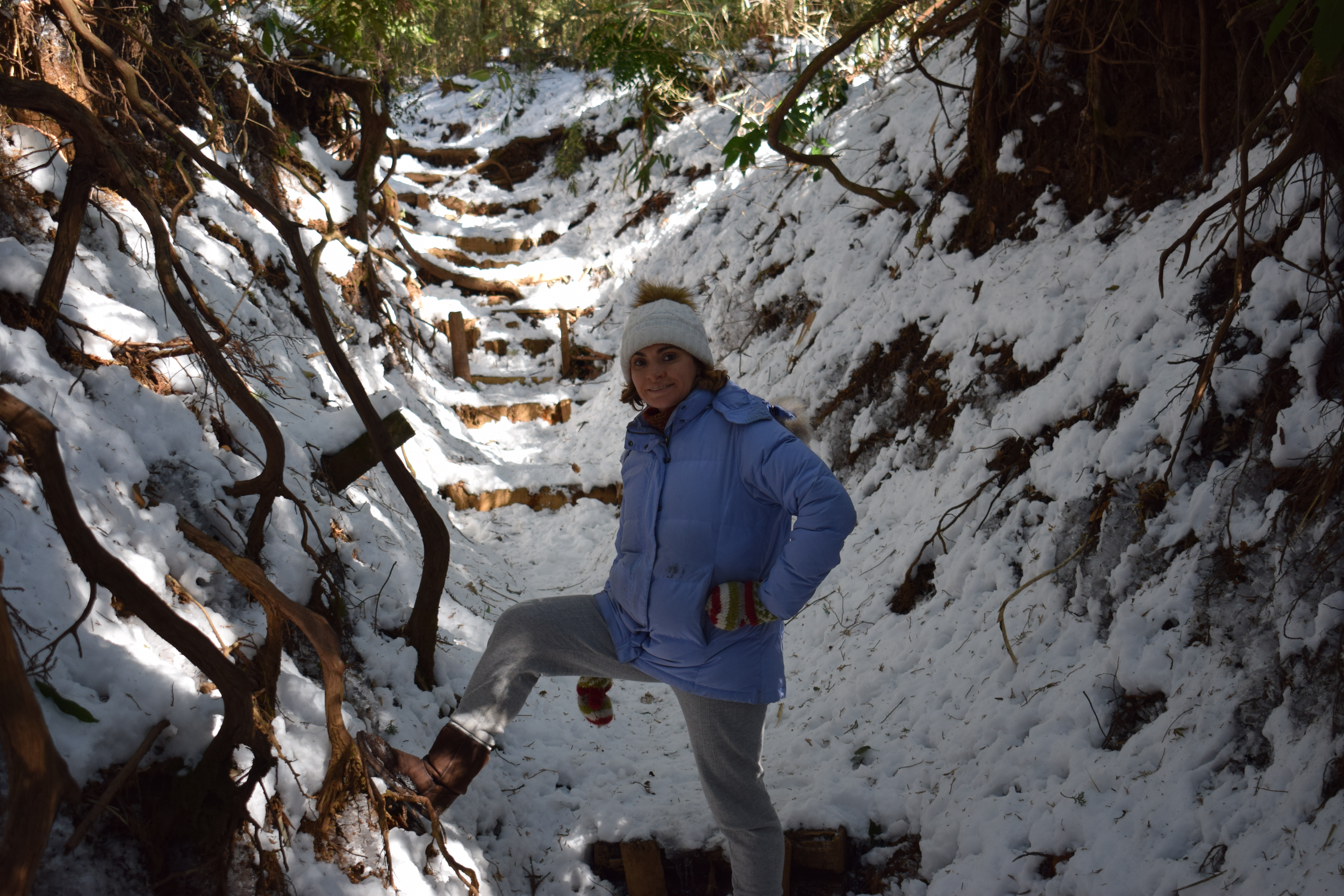 And climbed…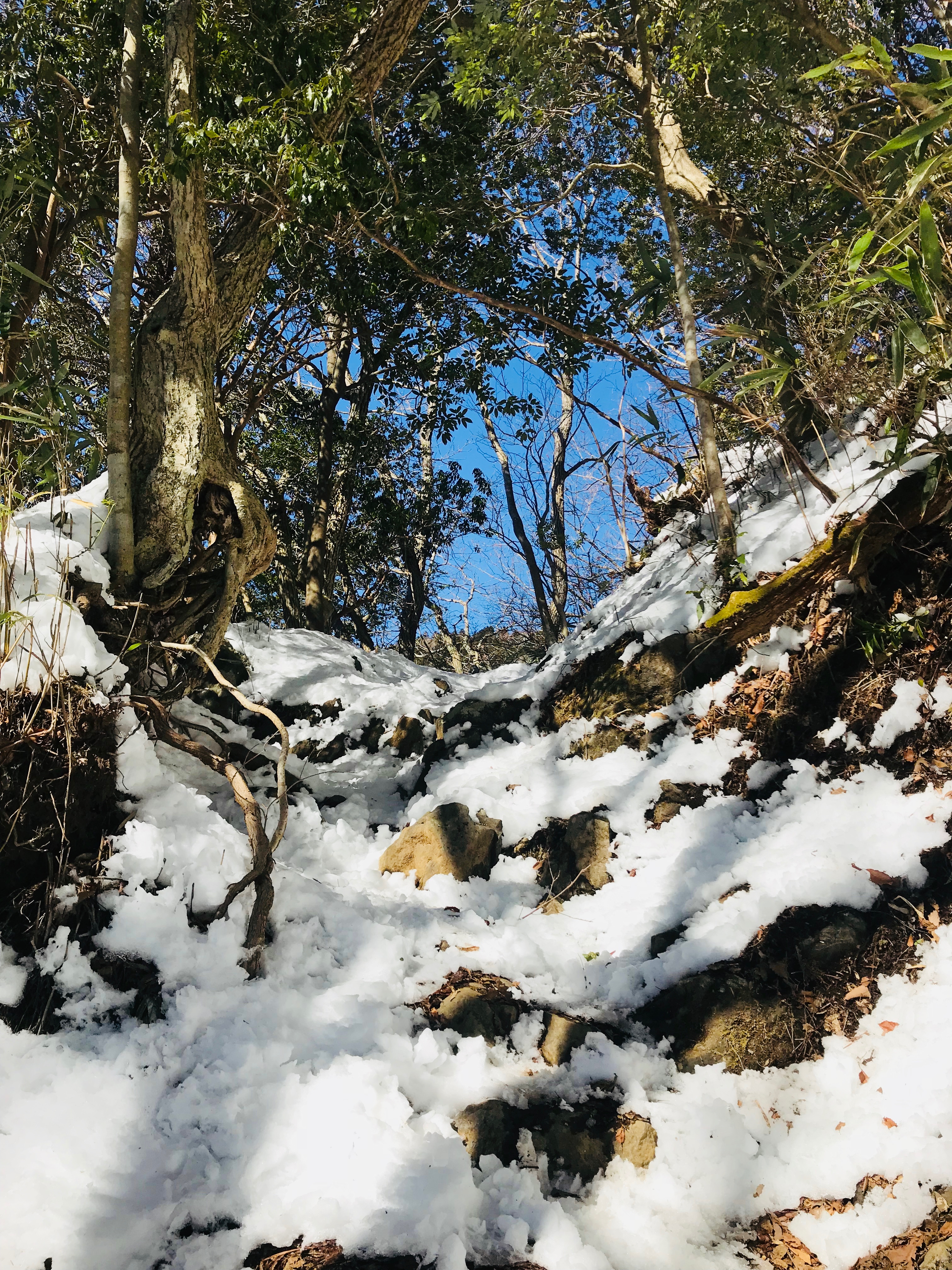 We didn't expect there to be this much snow, but we kept going, enjoying the cool crystal formations on the sides of us: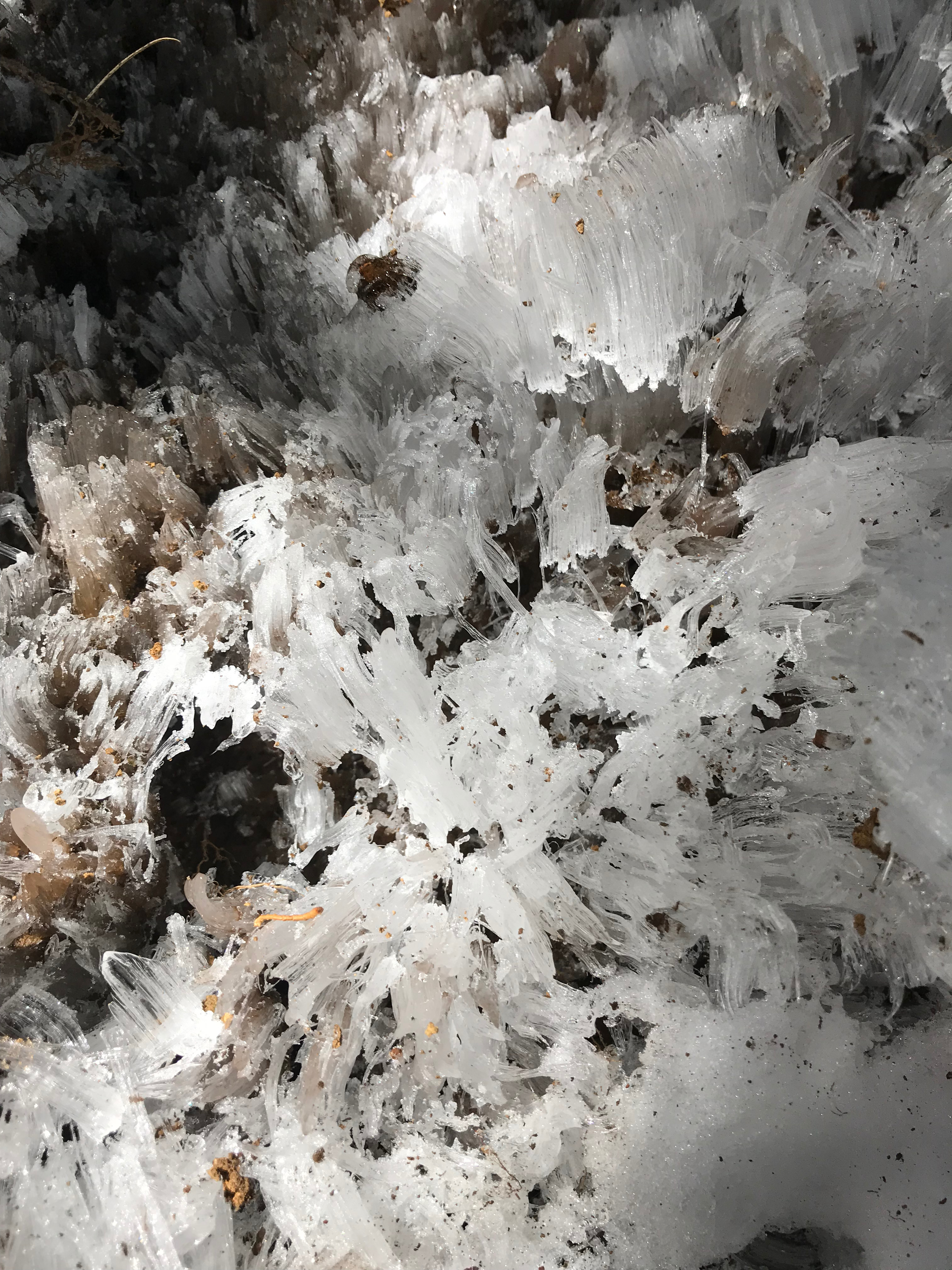 As background, I'm not a seasoned hiker and I haven't kept myself in the best shape since arriving to Tokyo in December… The hike was super intense. I ended up panting loudly until we reached the top… so we thought…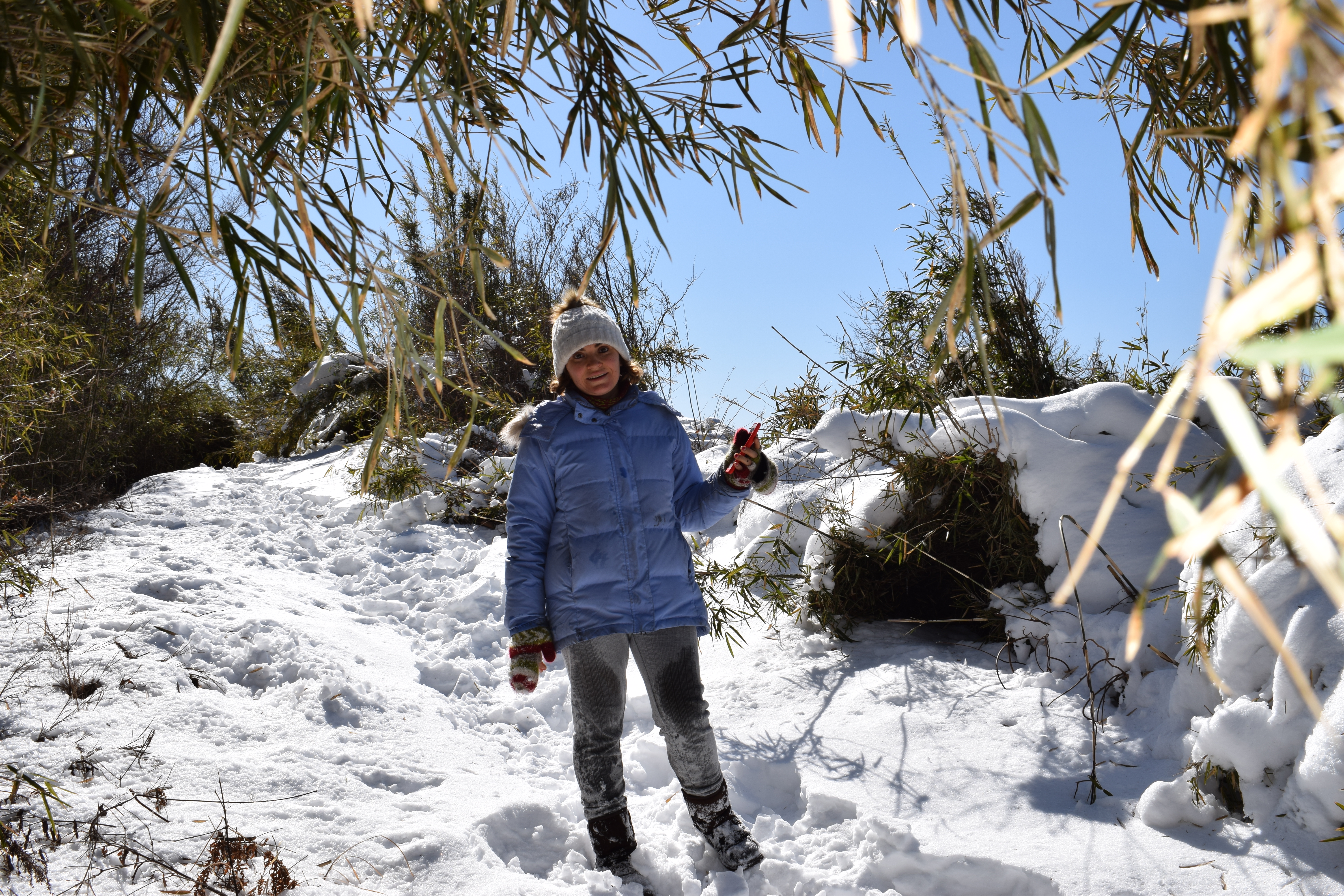 We could see a bit of Mt. Fuji!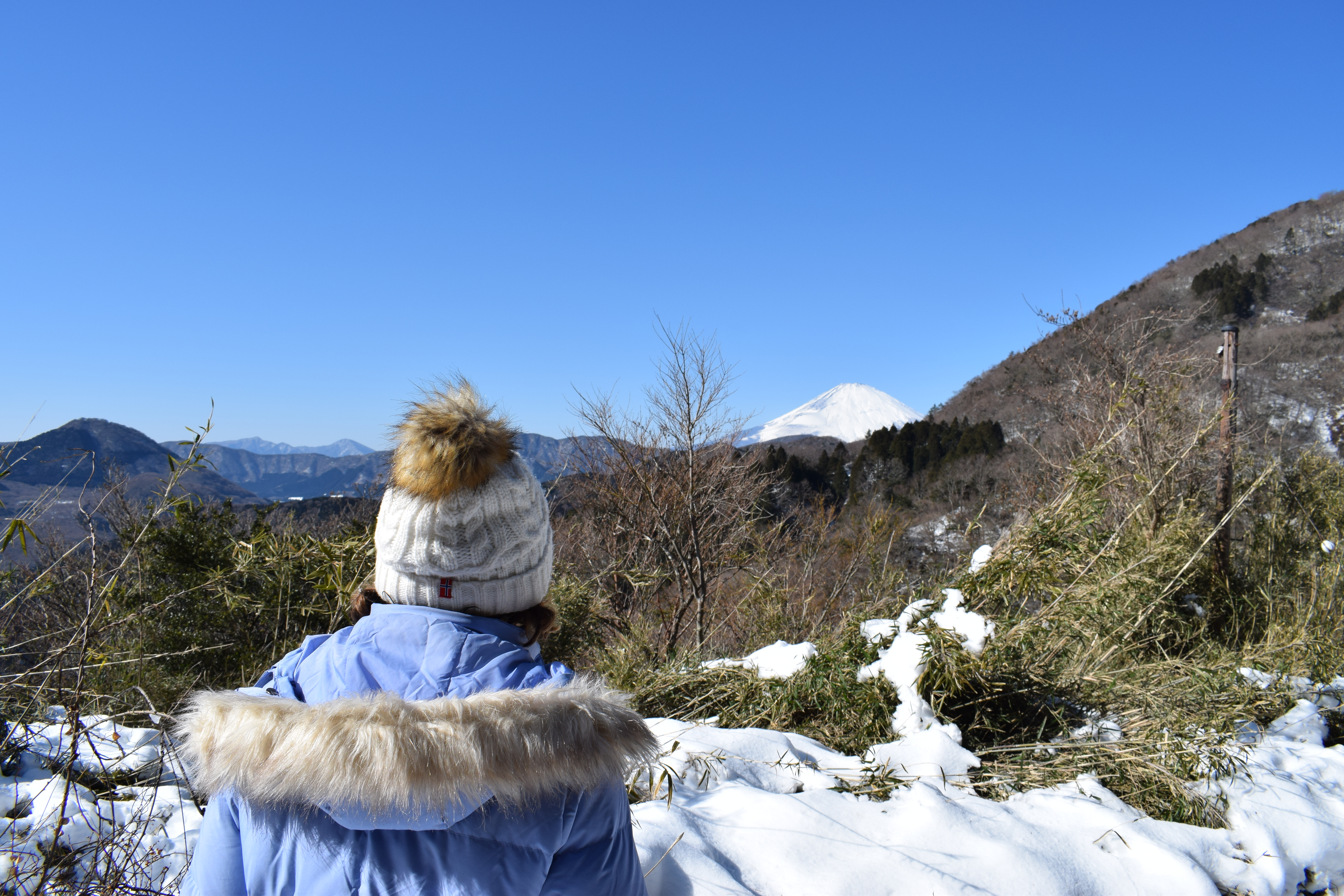 We were excited, and tired, after having climbed in the snow like that, thinking we already did most of the hike. Turns out we only just reached the real starting point…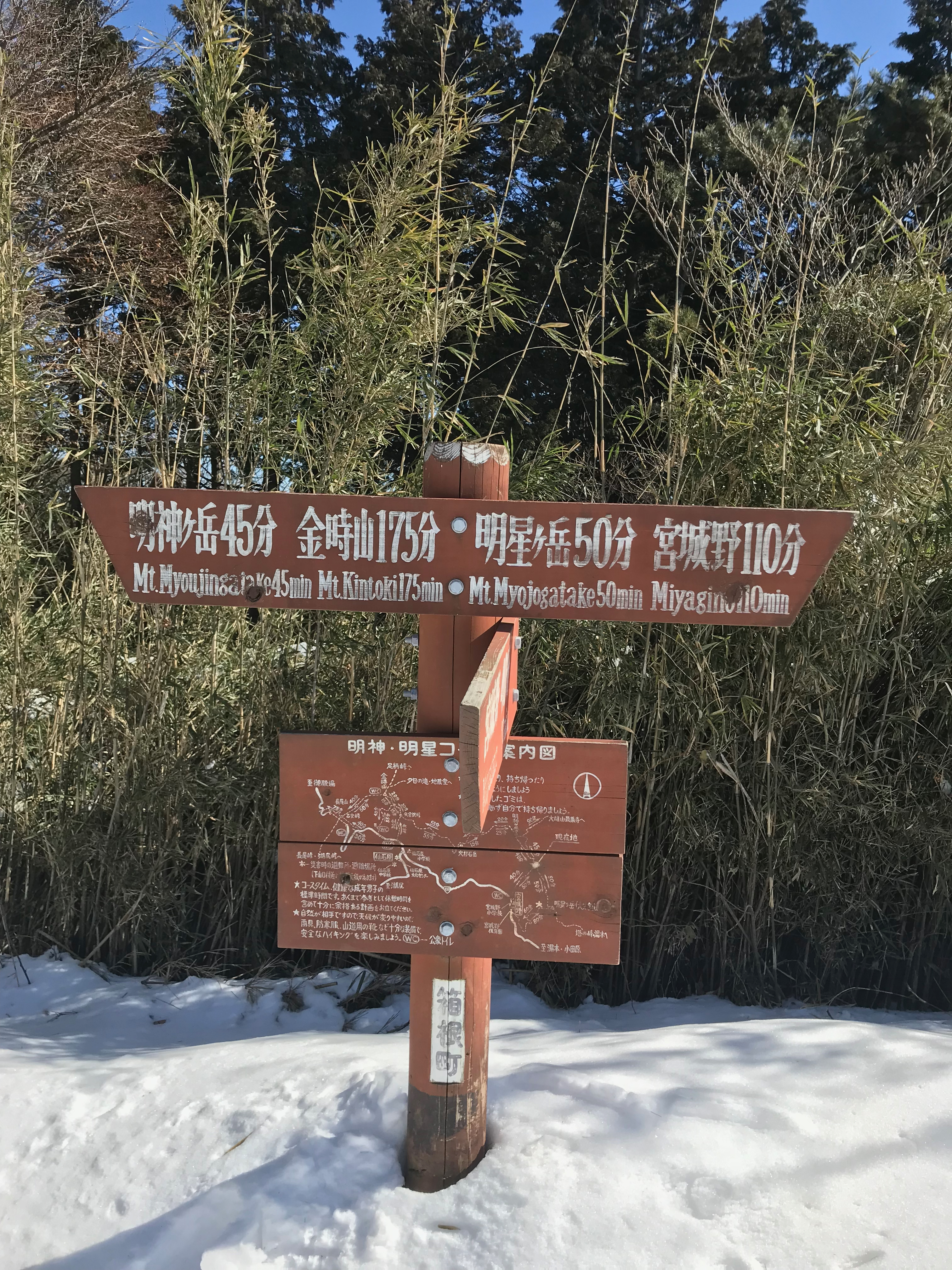 And so we continued hiking…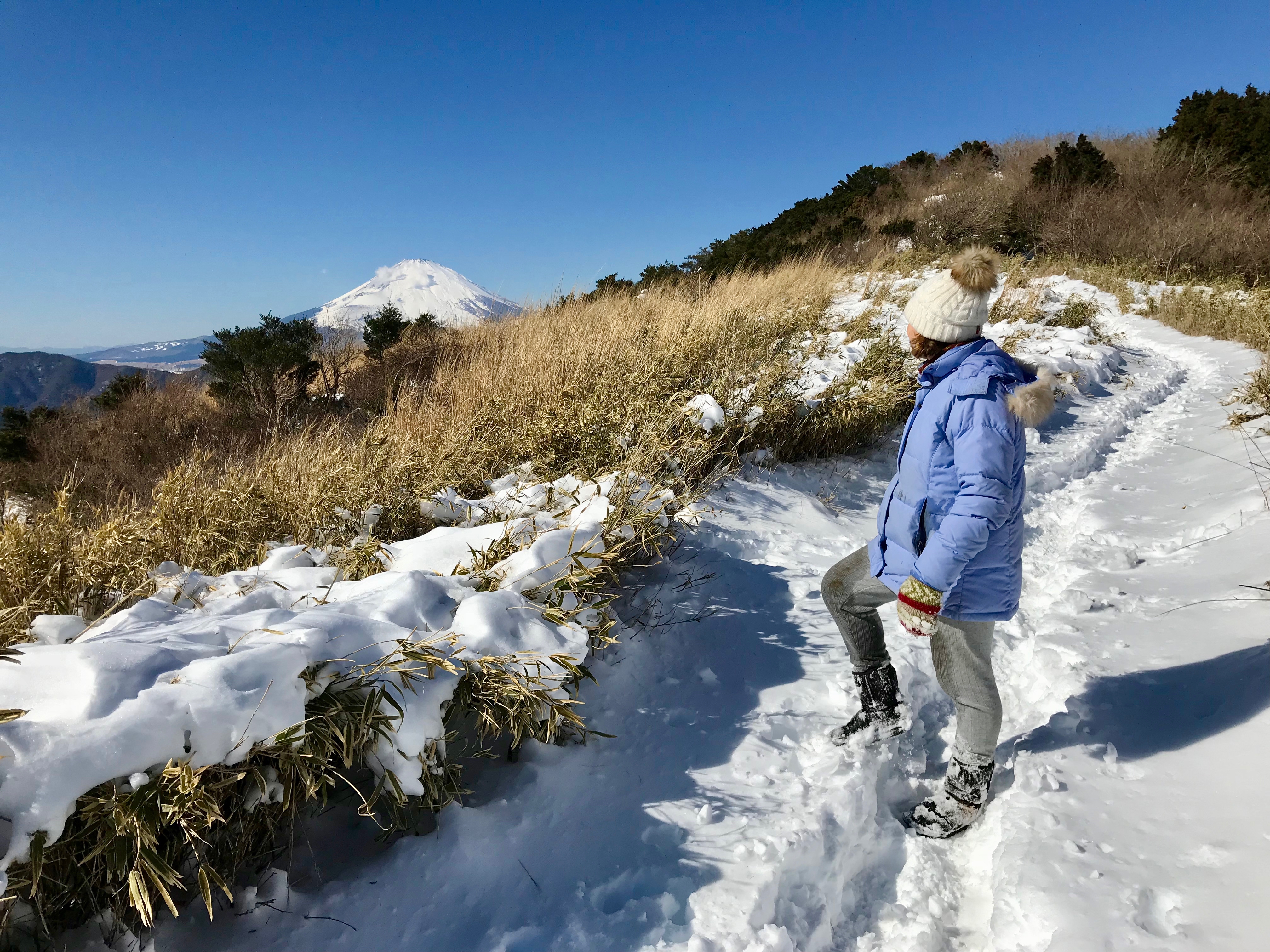 Mt. Myojogatake
We did it! We reached the top! 1,169 meters high!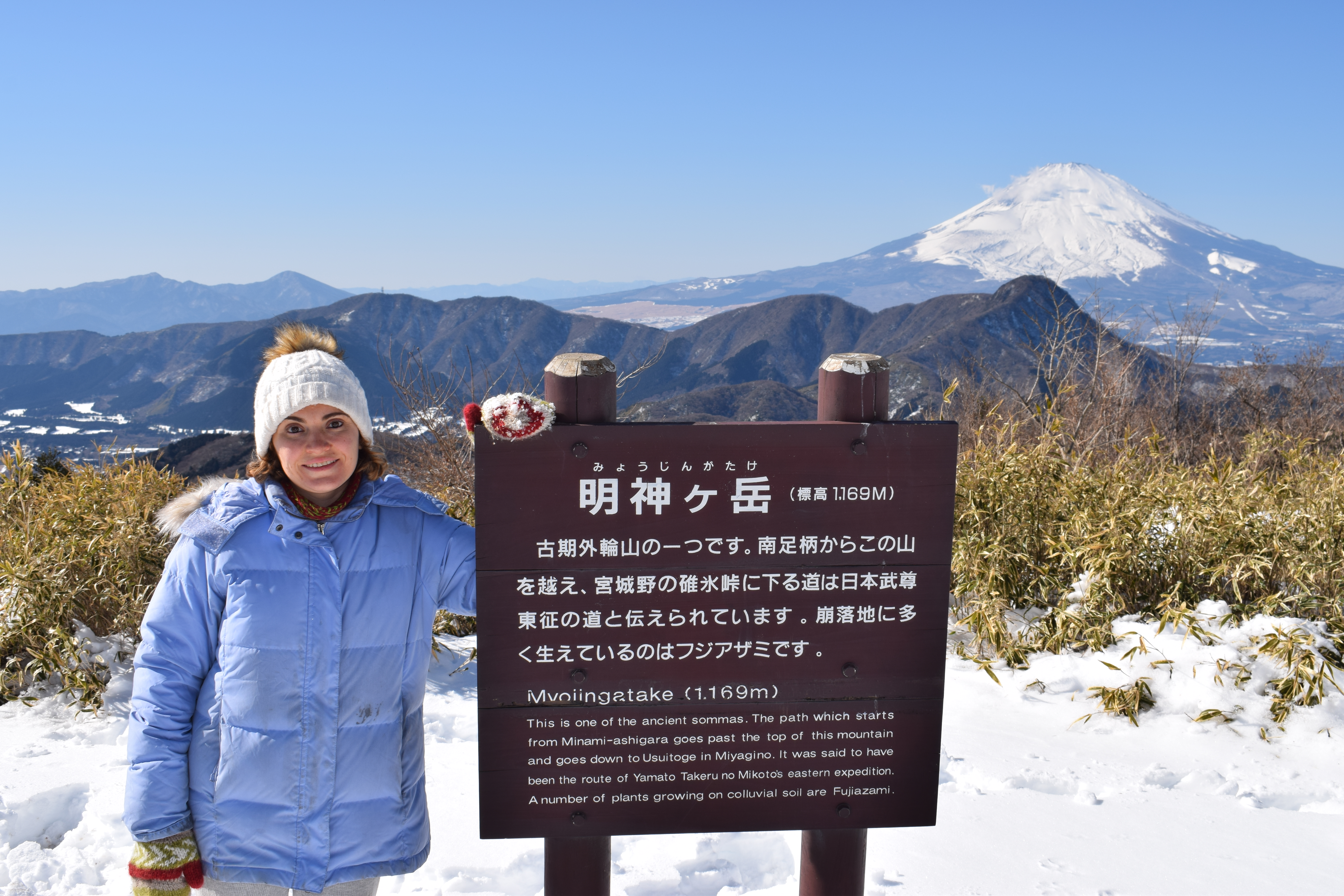 The views of Mt. Fuji were spectacular!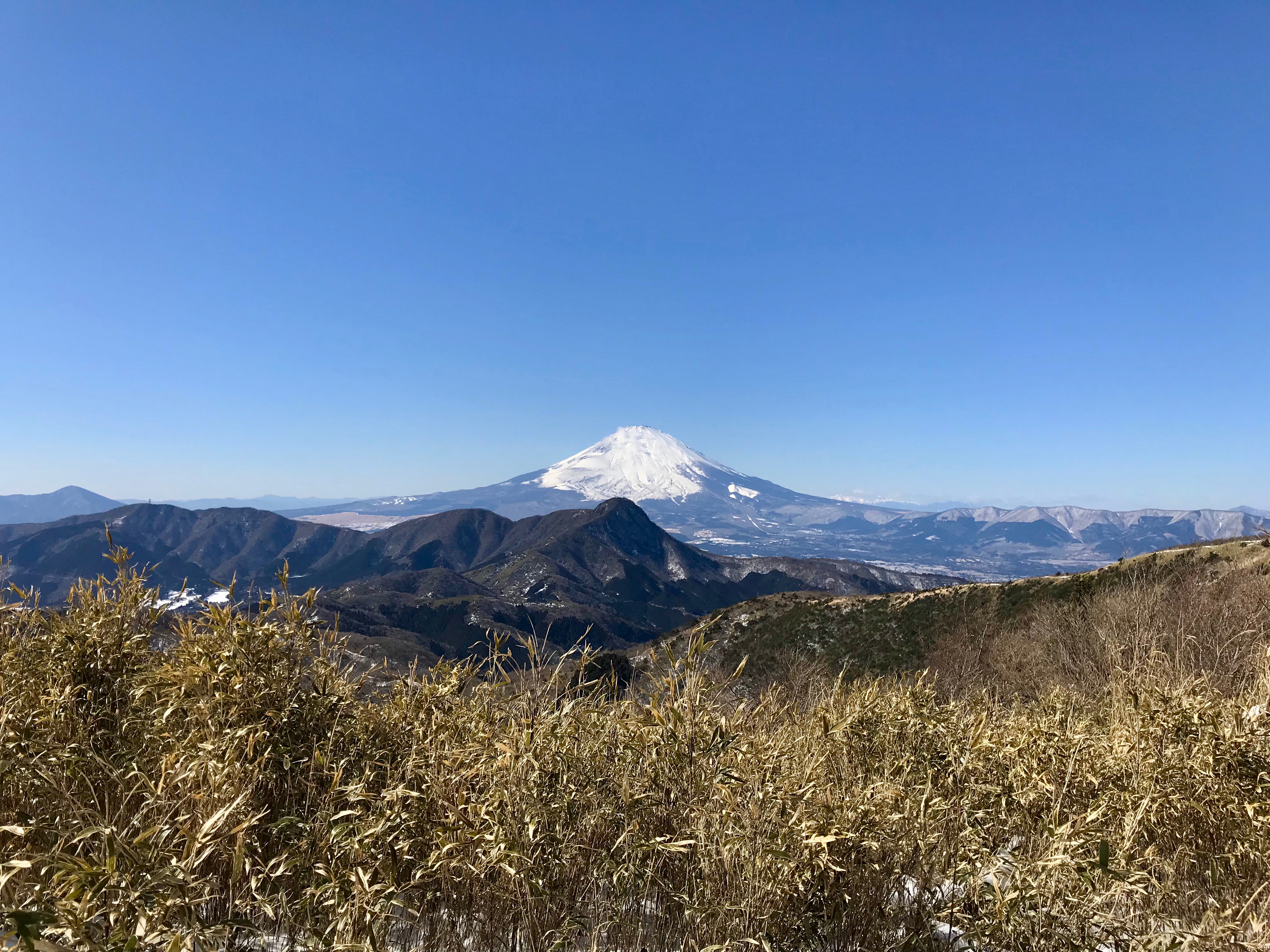 This part of the hike is where we saw many other hikers. I guess they were walking in the opposite direction as us. Everyone else was dressed in real hiking gear with backpacks and water-proof pants and shoes. We were clearly not prepared… One group even had a little cute hiking stove, where they boiled hot water to pour into ramen to eat.
My friend was a bit concerned with all the snow, but we decided to keep hiking…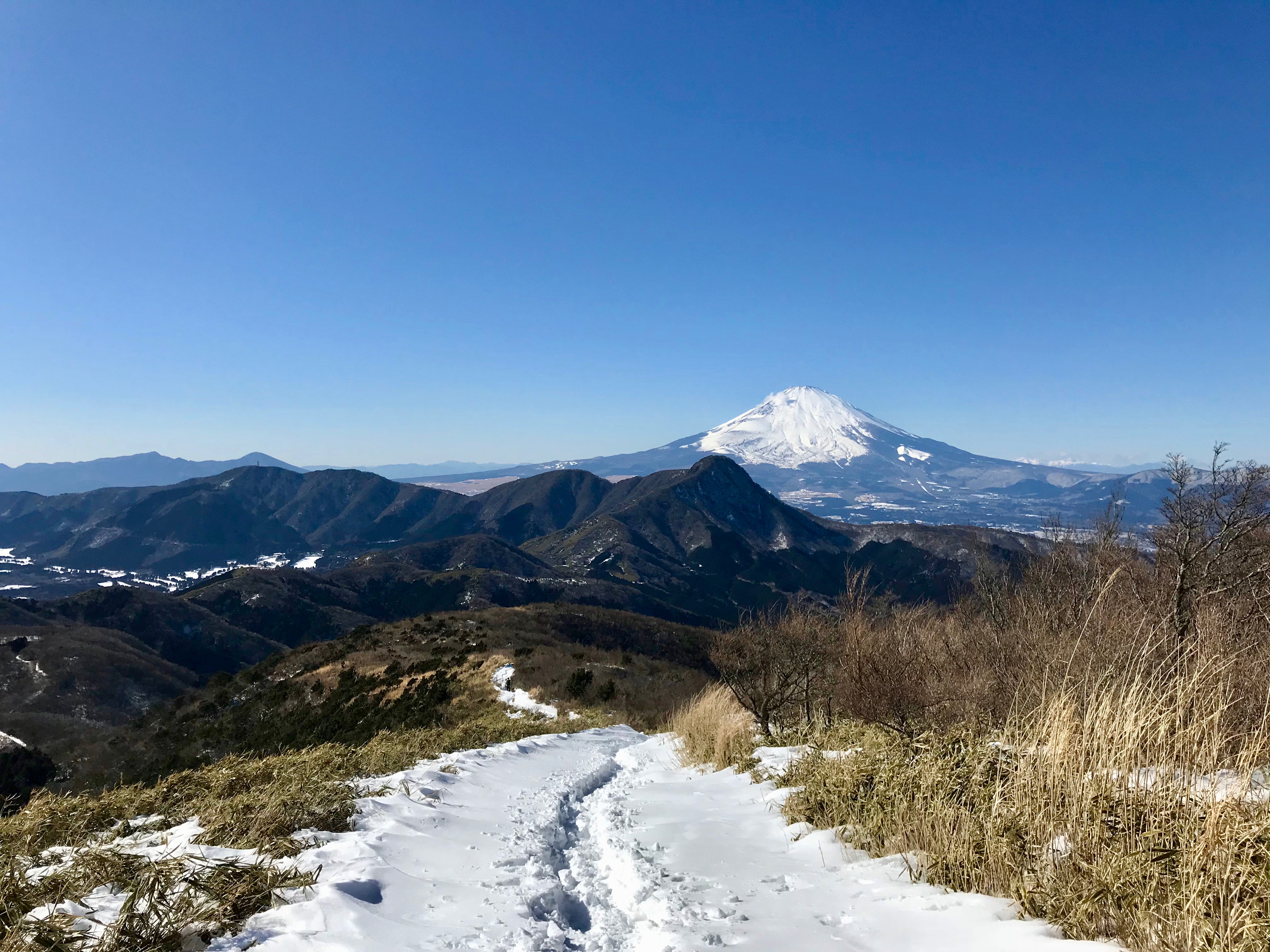 The Bamboo Forest
The descent has started (with some random ascends mixed it)… with more snow!! It was cold and slippery and intense. But soon we reached a gorgeous bamboo forest.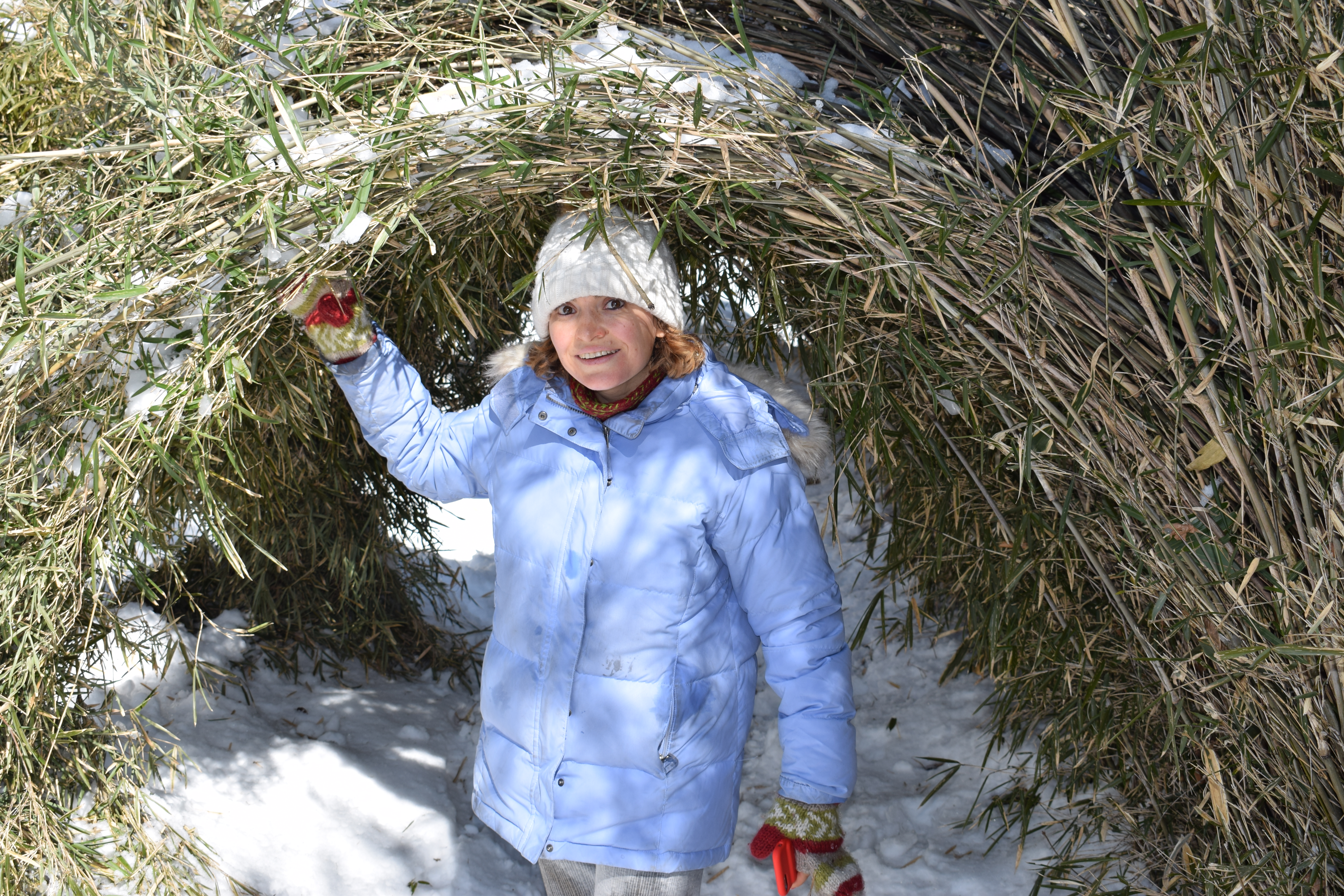 The bamboo was tilted under then weight of the snow… it is truly amazing how flexible it is!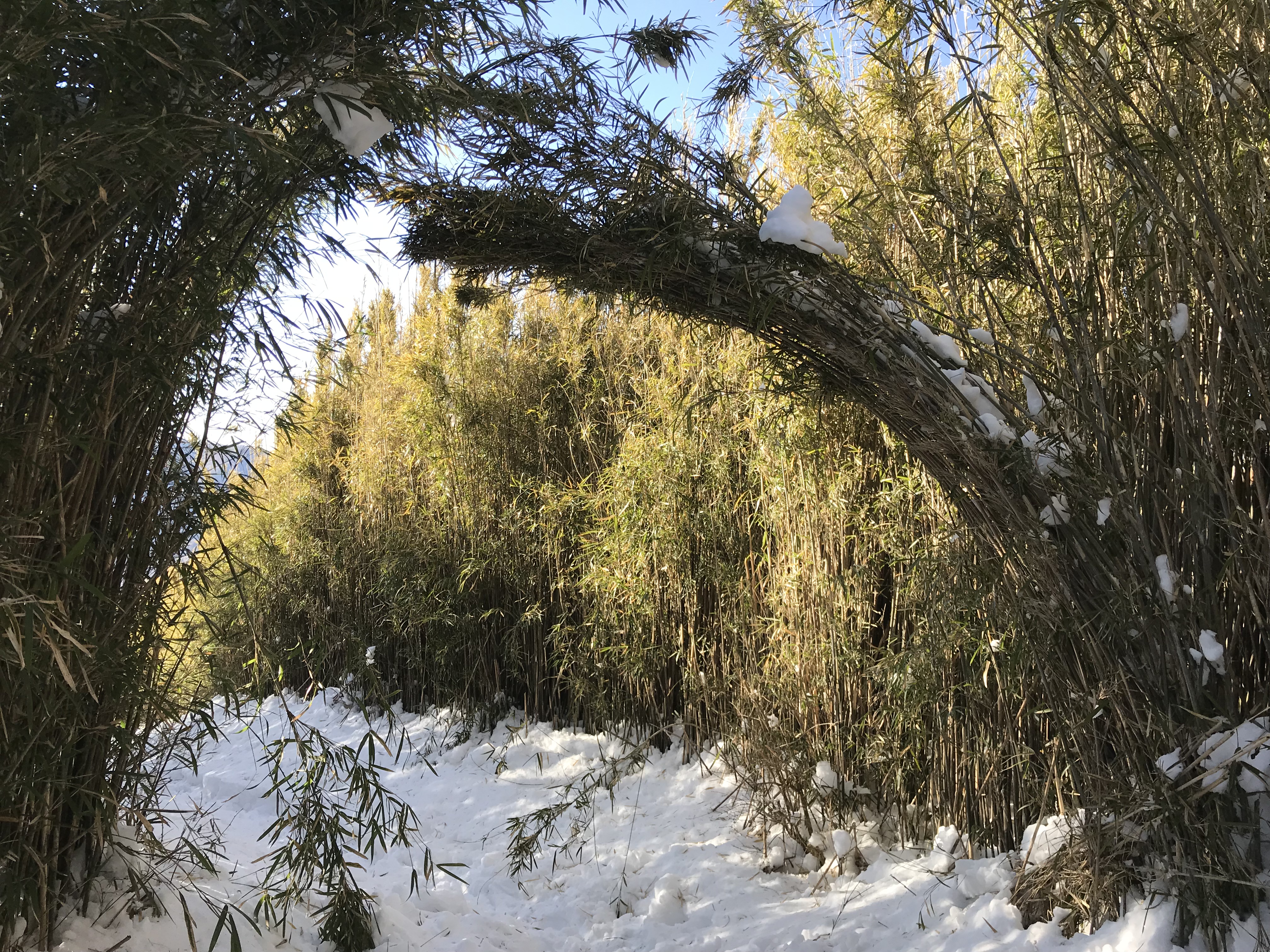 And just when we thought the path couldn't get more beautiful, Mt. Fuji came into view: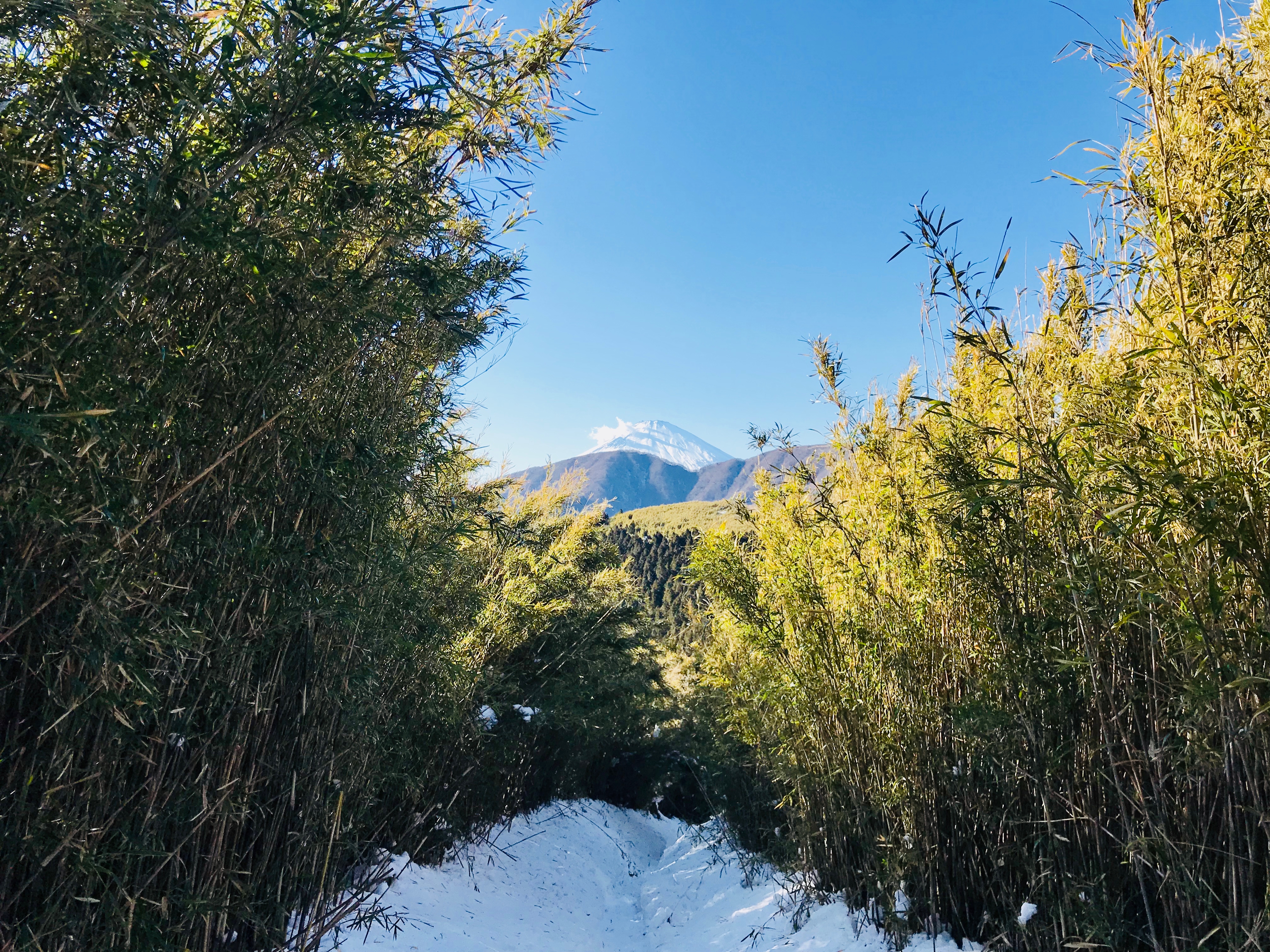 We kept hiking…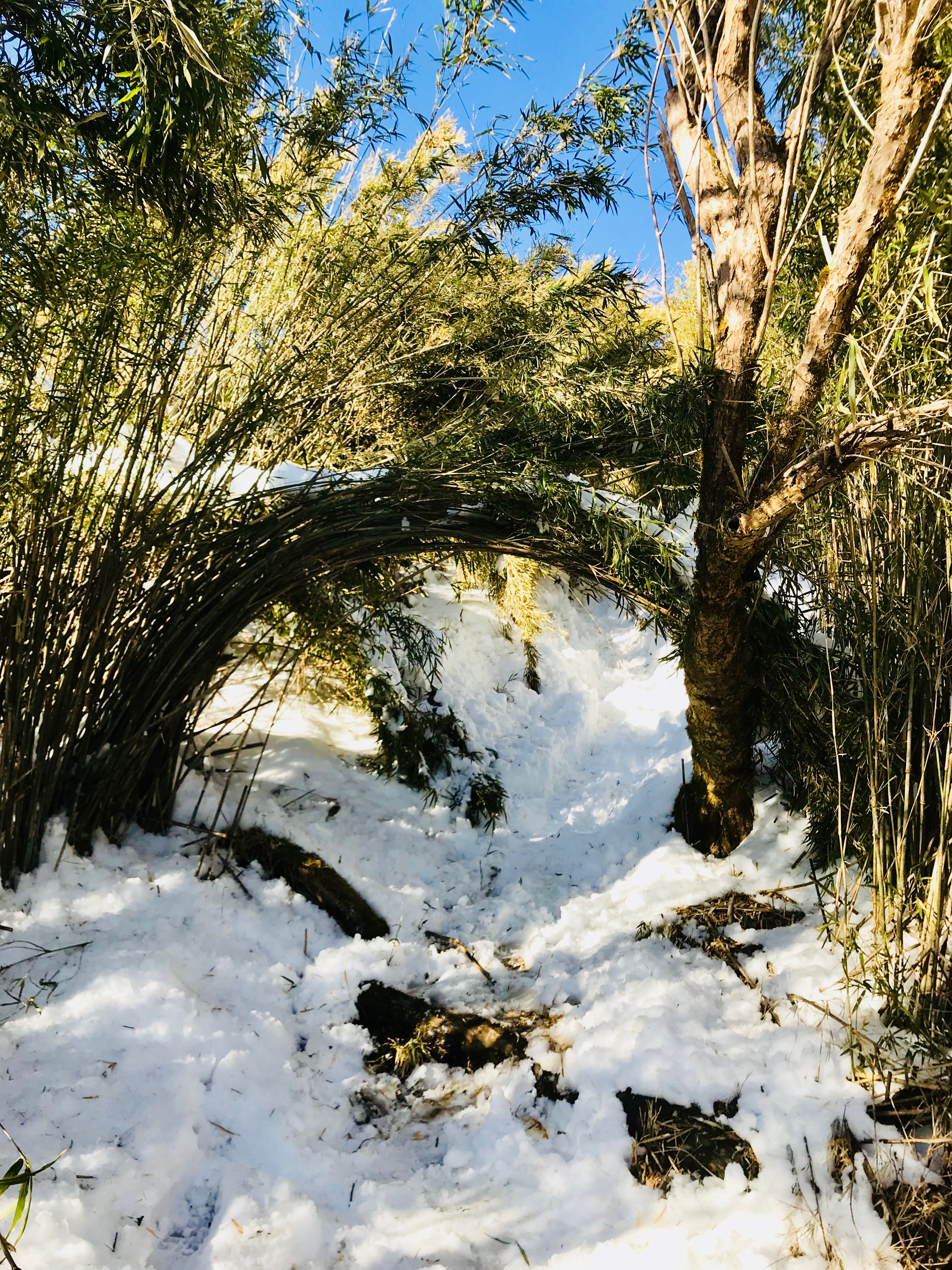 Getting Out!
If you refer back to the map, you can see that there are no real exit options on this hike. You're hiking on top of the mountain after all!
The path started to get more and more intense. We have been hiking now for 5 hours… The original hike was supposed to be 3.5 hours, but I guess that timing is meant for a seasoned hiker in a perfect summer conditions?
My uggs (I know, not hiking shoes!) were soaked through: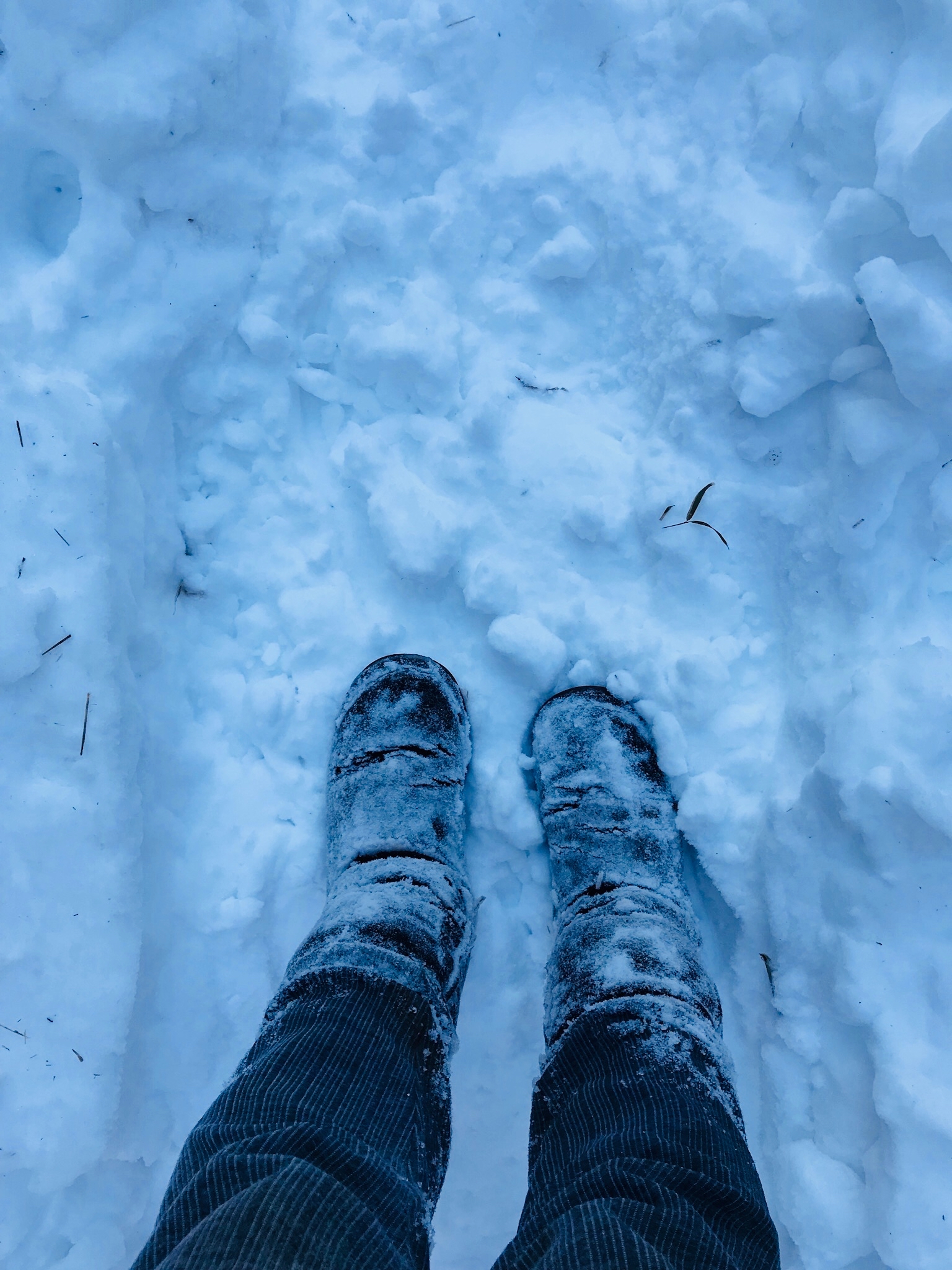 At many points, it was easier to just slide down the snow than to painfully walk. At other points, I ran with the momentum. My legs were getting tired, and it was just easier that way, even if I ended up slipping and falling…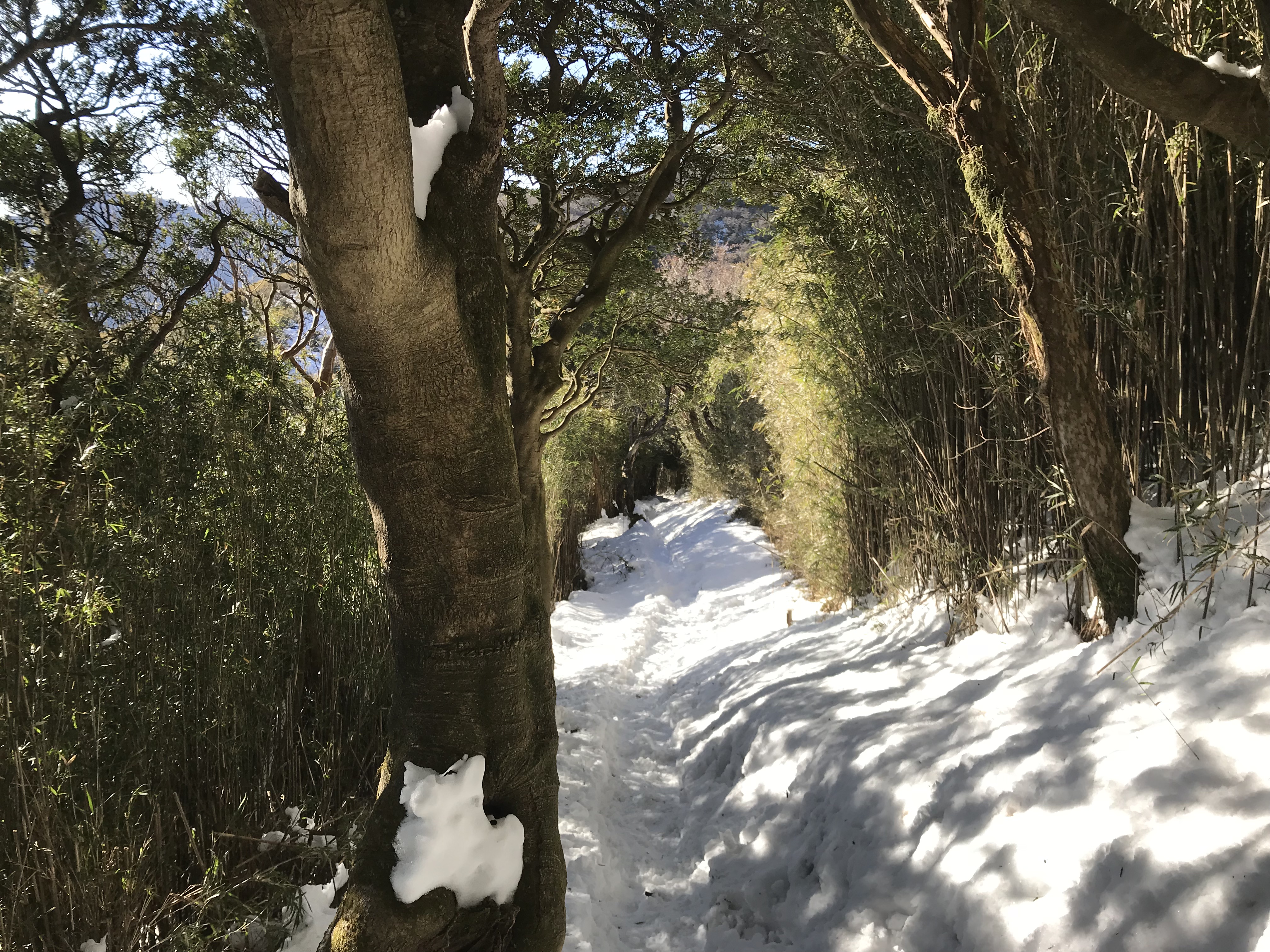 We kept walking and fighting. We started to get a little worried. We knew we haven't seen the path down, but it was way past the 3.5 hours that this hike was supposed to last… We brought a bunch of snacks, but I was starting to get super hungry for some real food…
Finally, when we started to get really worried, thinking of a plan to cut through the forest down without a path, we made it out!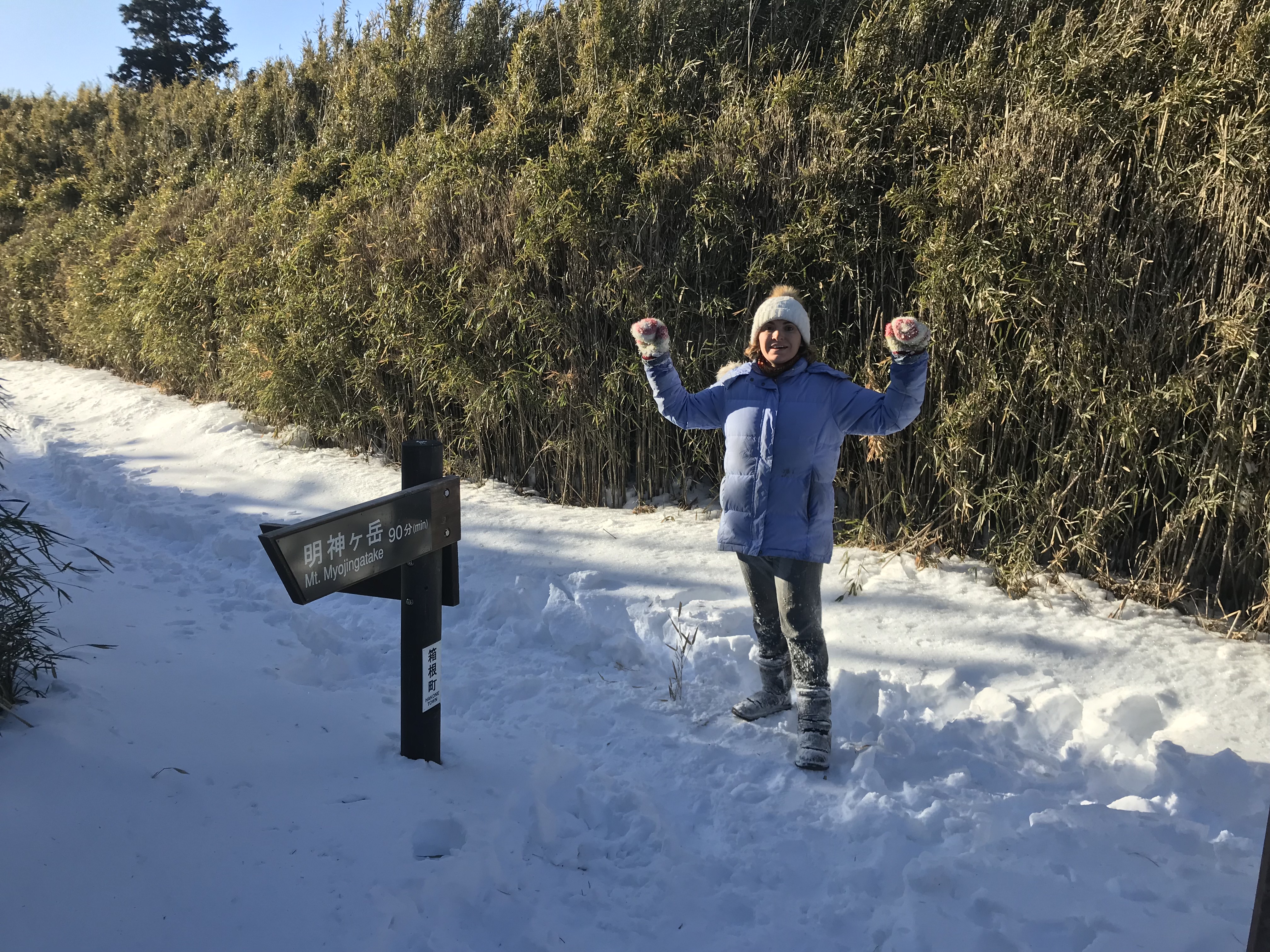 Well, not completely out… the town of Sengokuhara was now a 30 minute hike away according to the sign…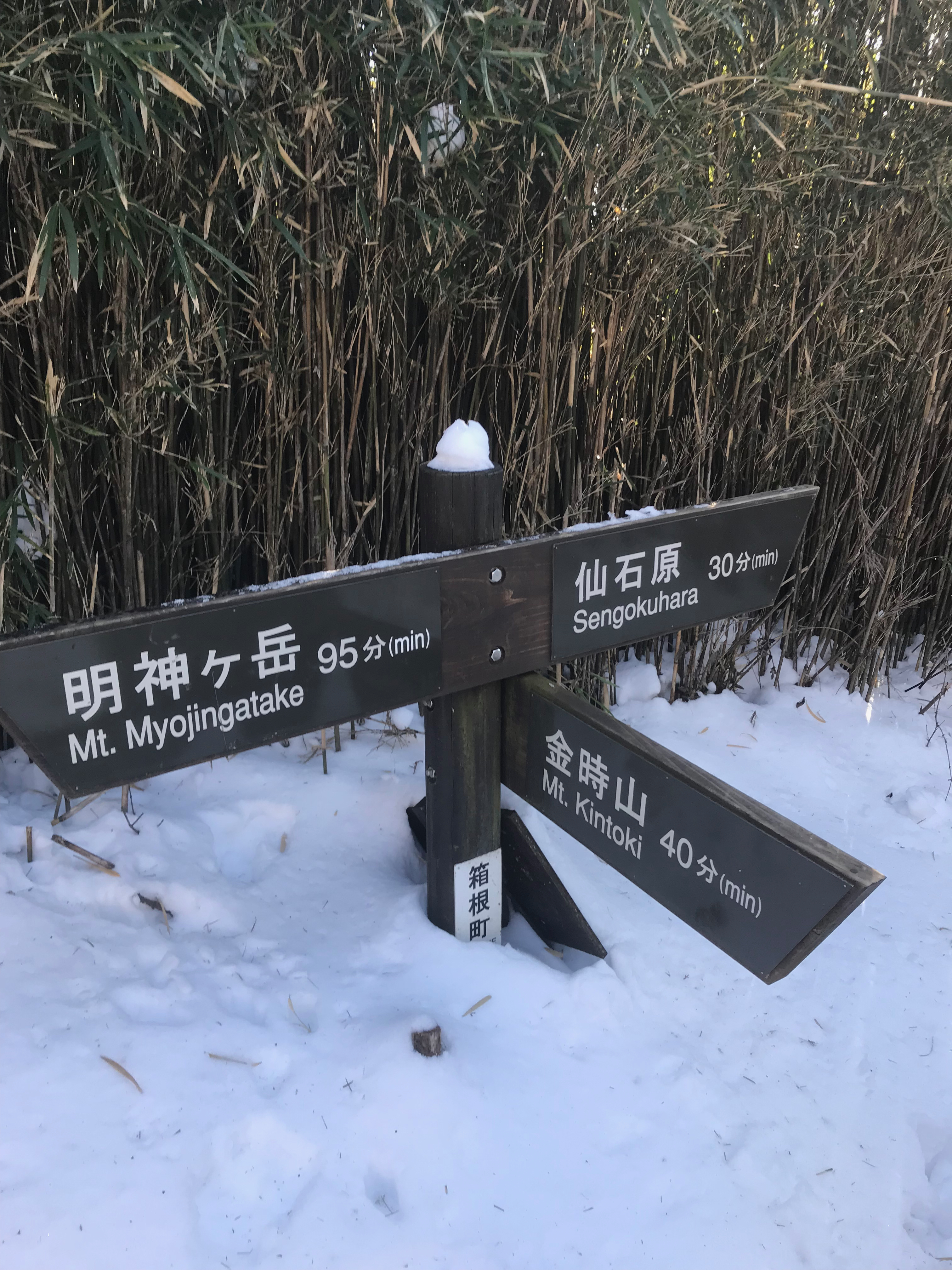 We learned by this point that the timing on the signs was not to be trusted… At one point, we walked for what felt like 30 minutes only to find a sign that said we should have walked for 5 minutes…
But still, we were getting out! The excitement of the promise of an exit gave us the strength to slip and slide down to town. We saw a Lawson's 45 minutes later!
We started hiking at 10:15am. We ended at 4:15pm. I'm glad we came that early. If we arrived later in the day, thinking the hike would only be 3.5 hours, we would have been stuck on the mountain in the snow well after sunset…
Food & Onsen
The bus straight to the Hakone Yomoto station doesn't arrive that often. Only once an hour or so. Luckily, there was an open ramen restaurant open. This time, we got hot ramen! It was exciting to eat real food.
Once the bus came, we hopped on and rode to Tonosawa station, where we enjoying soaking our cold and soar muscles in the Hakone Yuryo hot spring. Well deserved!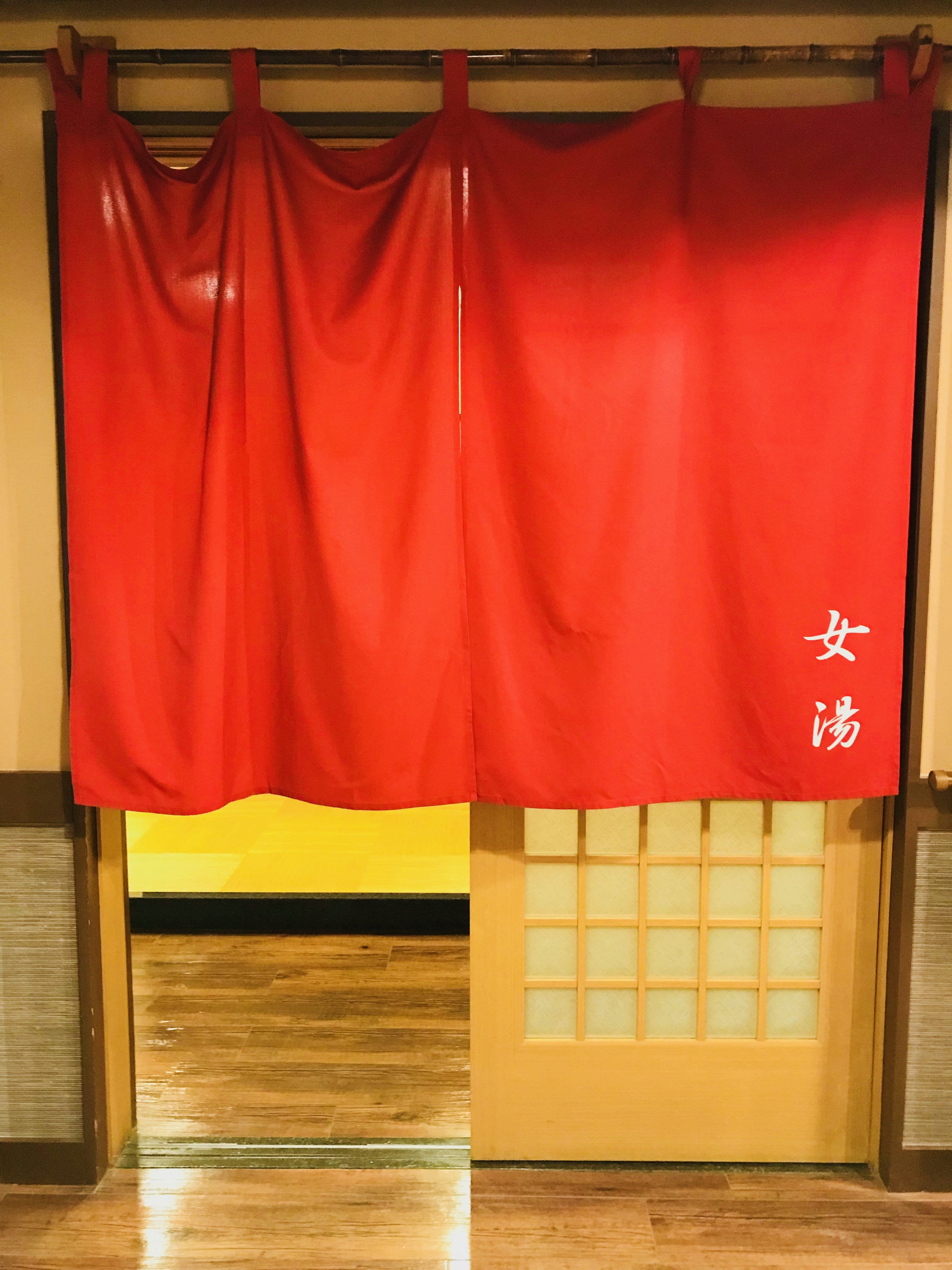 Hakone Yuryo offers a free shuttle to the Hakone Yumoto station, so we just hopped on and took the train back to Odawara from there.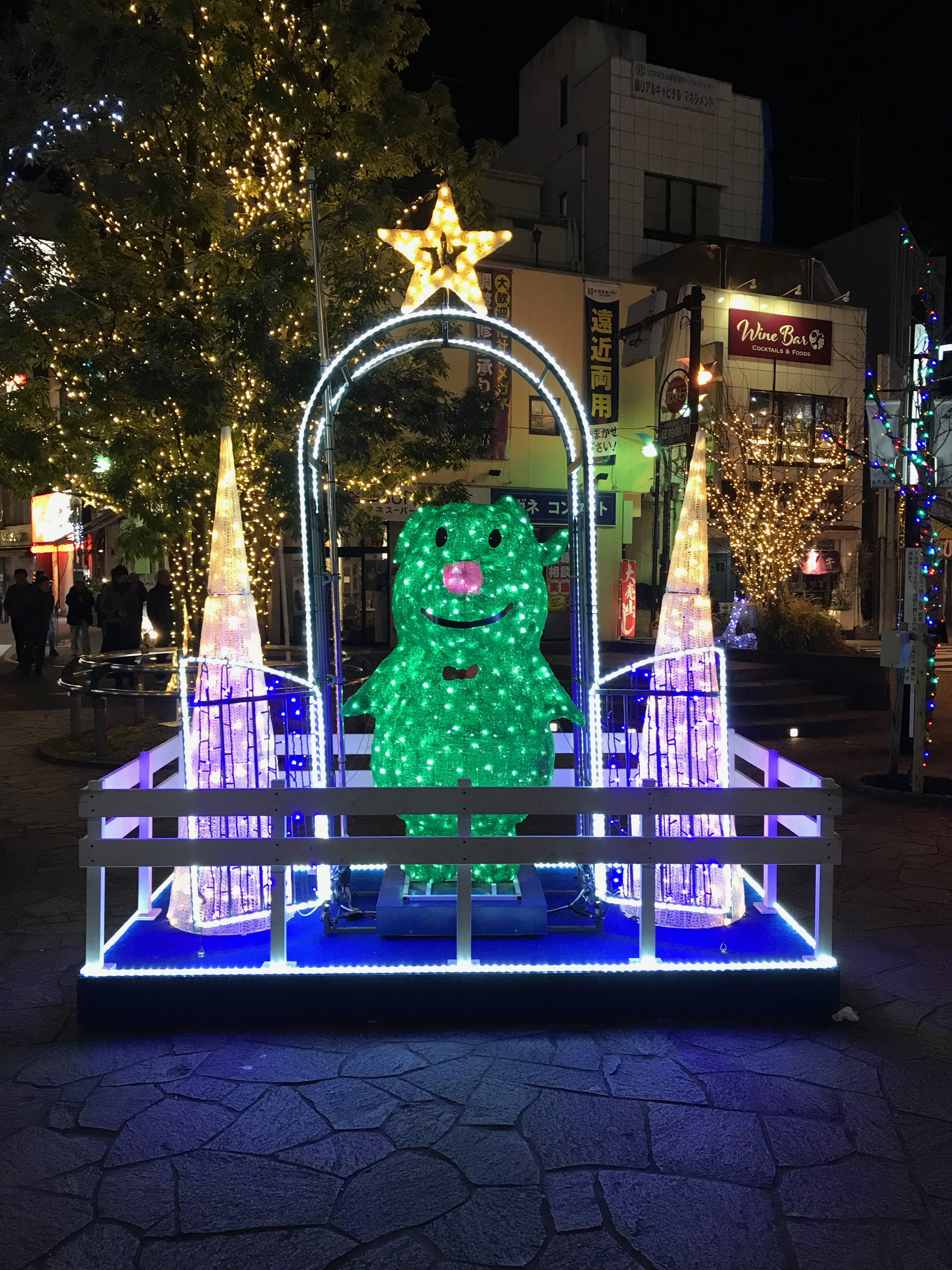 A stunning day indeed. I'm glad we survived!
Check out more from our trip here!