I did it! The Diamond Harbour Cliff Hike
NatashaTheNomad
04/01/2018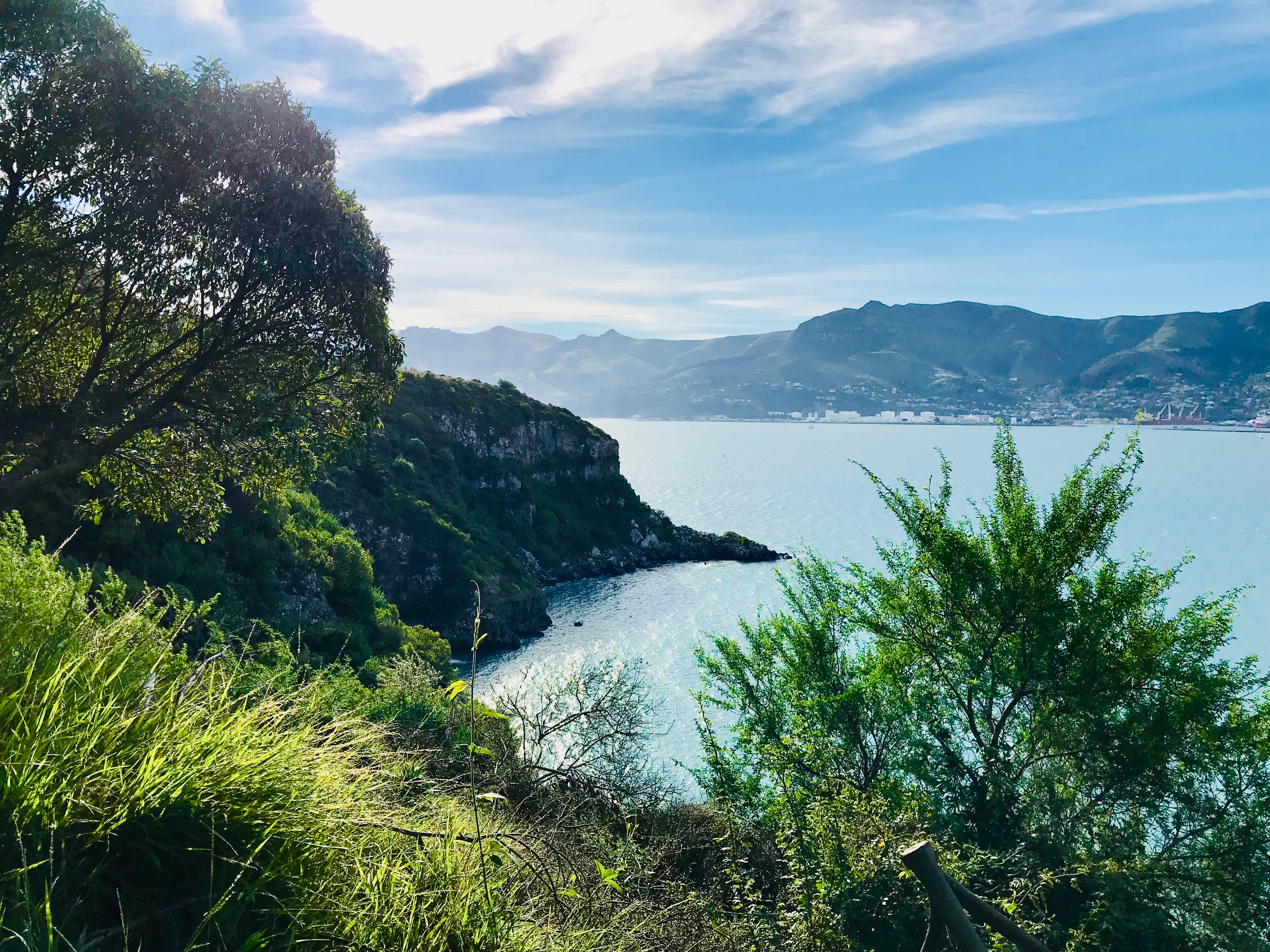 "The sun glitters on the water like diamonds" ~ The Diamond Harbour brochure
There is a paradox inside me. I grew up as a city girl - my parents never took me camping or anything. But as I travel the world, I'm finding that I'm a country girl at heart. I love nature and hiking, but I do not have the necessary or even basic survival skills. I must learn the hard way! Trial and error.
Last Friday, I decided to hike by myself on Diamond Harbour in New Zealand. I'm usually terrified by the thought of hiking on my own - I could hurt myself and nobody will find me! But it seemed way more criminal NOT to take advantage of this hike, so close to where I'm staying in Rapaki! Come what may!
Lyttelton: The Starting Point
The hike starts in the Lyttelton Ferry Terminal. If you're coming from Christchurch, you can take the bus directly there.
Since I wasn't sure what to expect in Diamond Harbour, I made sure to get to Lyttelton early to get some food. Shroom Room is my favorite cafe in town, since they offer great vegan food. Check out these vegan nachos!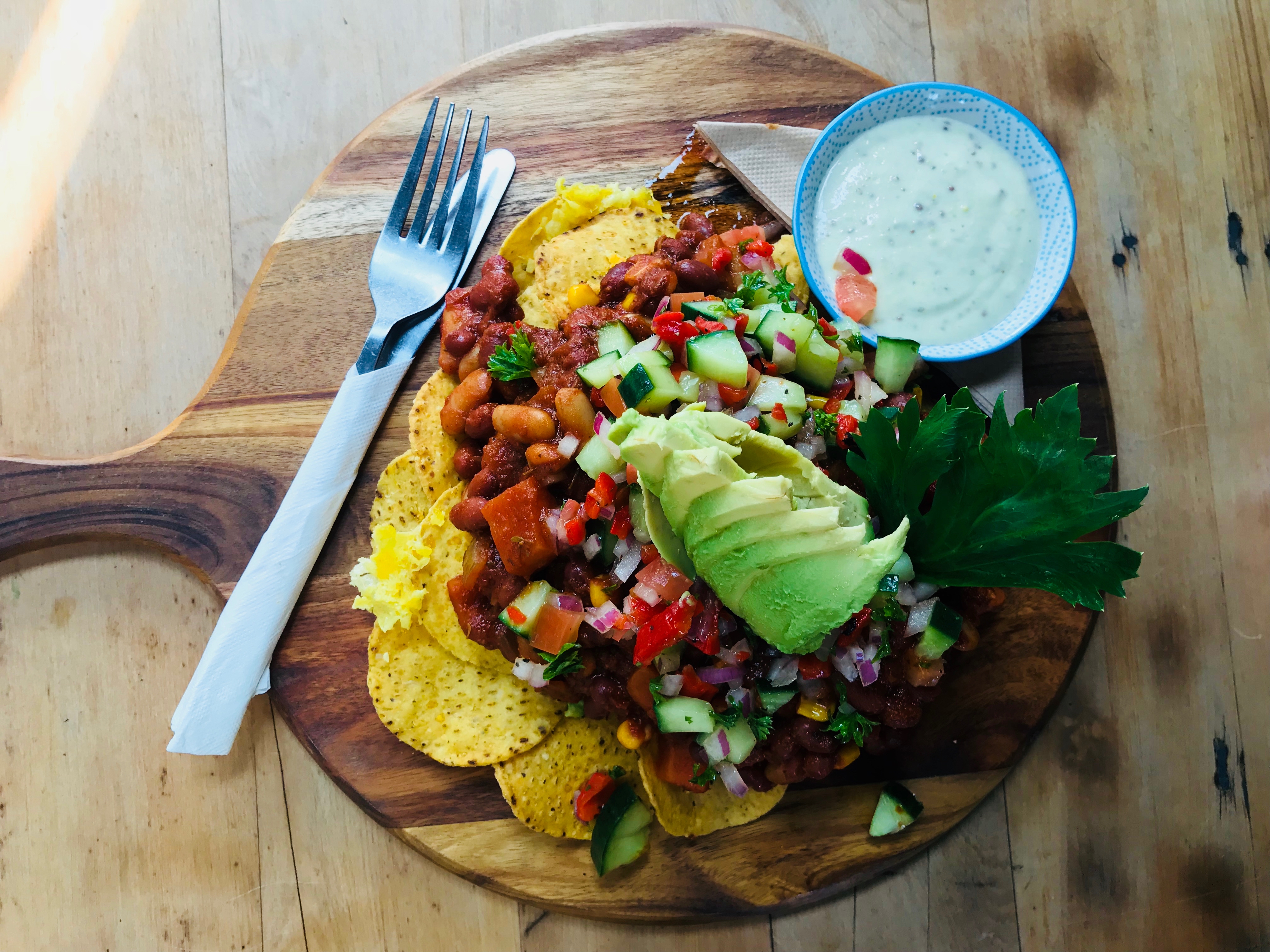 My next stop was at the Lyttelton Information Center. I wanted to get the Diamond Harbour trail map. To my surprise, I had to pay $2 for it! I'm not used to paying for information in the age of the internet… but I wanted to have a nice printed version of the map I could refer to on my walk. And I'm glad I got it - the Internet on Dimaond Harbour is not to be relied on! I also paid for the Lyttelton hiking trail guide while I was there - more hikes for me!
Next, I needed to buy a bottle of water for my hike - also sunscreen and a hat. This turned out to be a problem… the supermarket that's supposed to be open 7 days a week was closed for Good Friday… There were no other options that I could find for this… so I decided to just go for it anyway and wing it… Maybe there would be a place in Diamond Harbour where I could buy this stuff…
The Diamond Harbour Ferry leaves around every hour. Here is the schedule:
I boarded the ferry!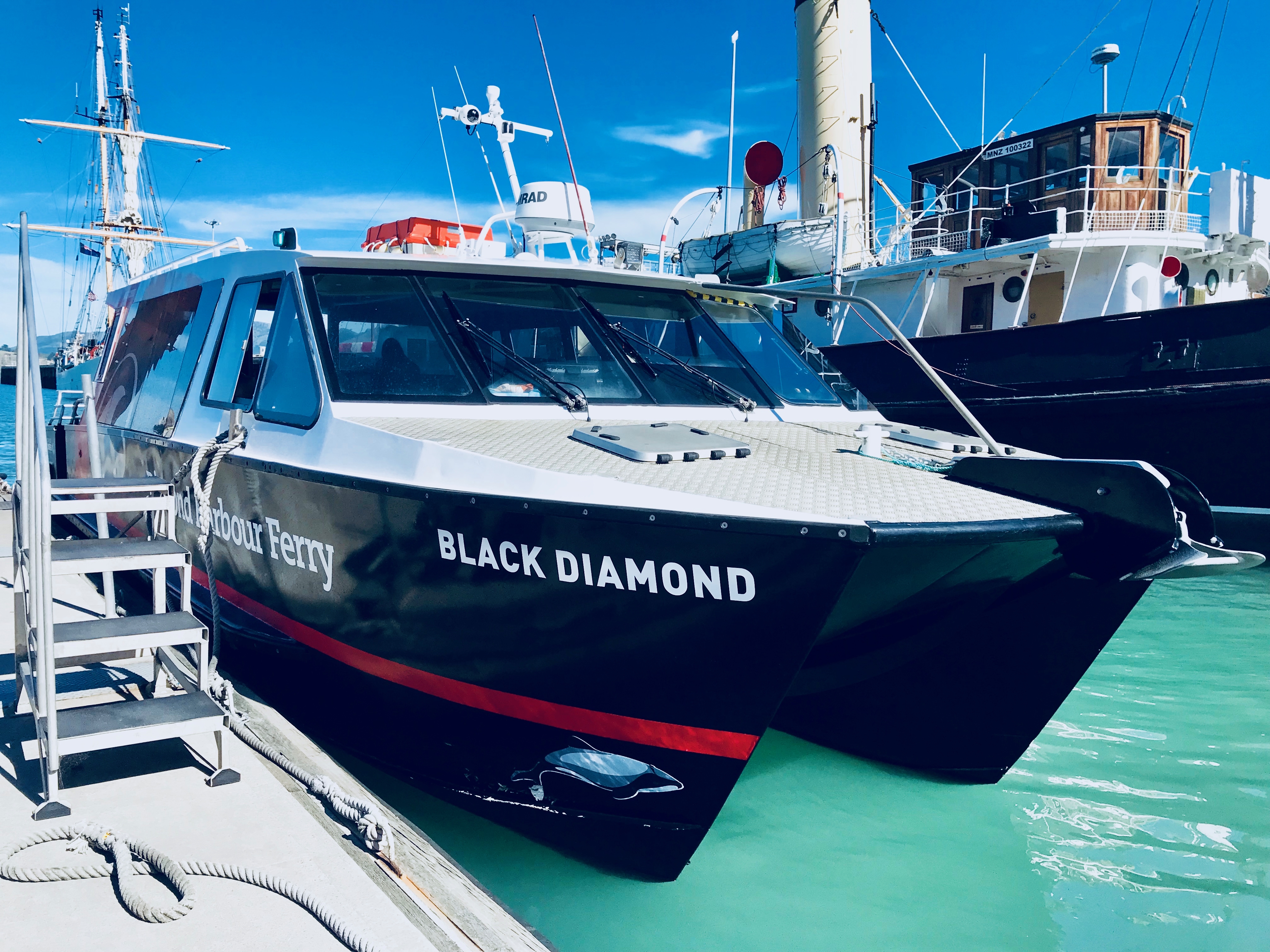 Starting the Hike
10 minutes later, through the amazing emerald water and gorgeous views, we arrived to Diamond Harbour… to a dock in the middle of nowhere: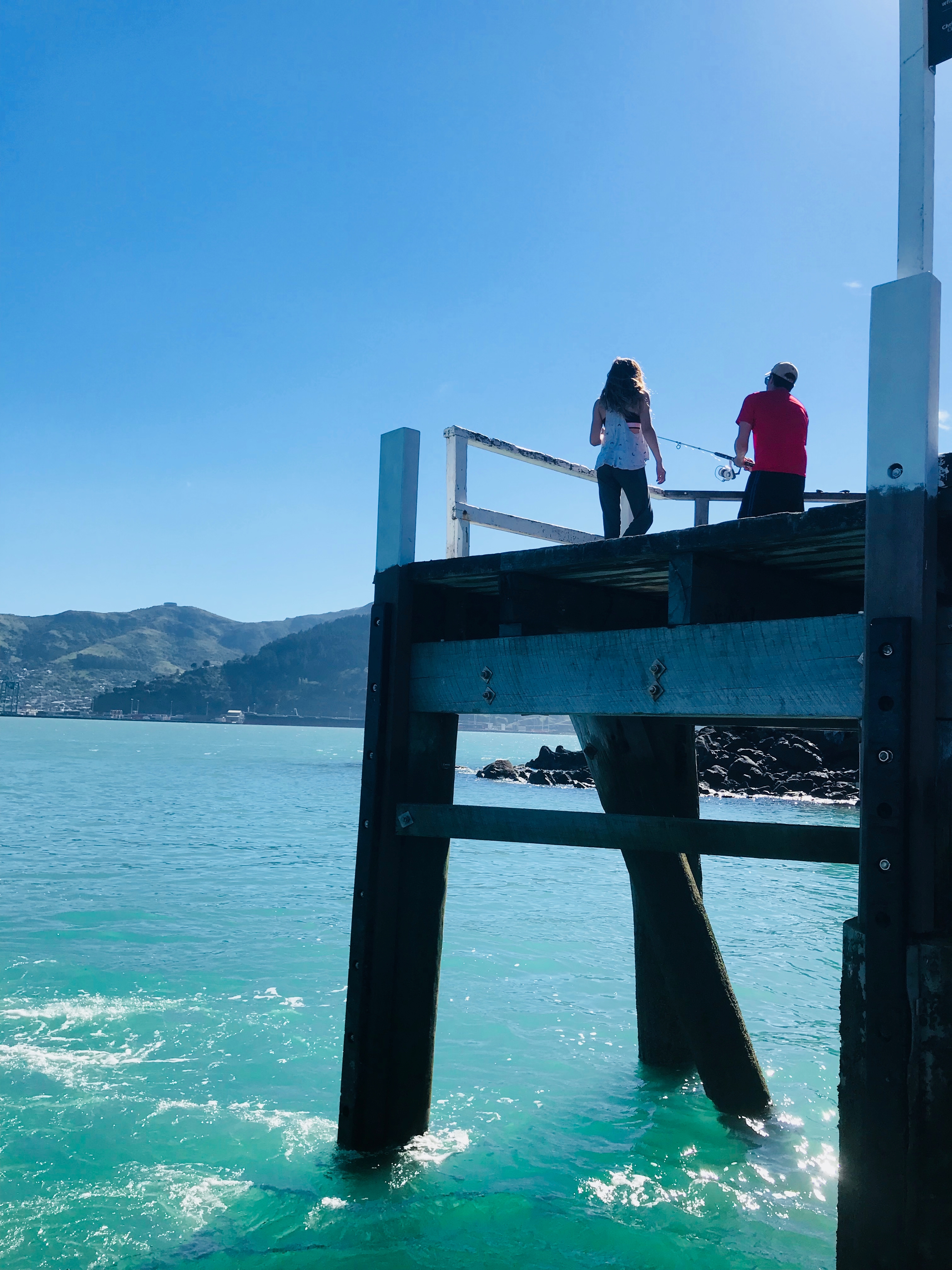 I followed my map and the signs for the Cliff Track to start the hike. The views were spectacular right away!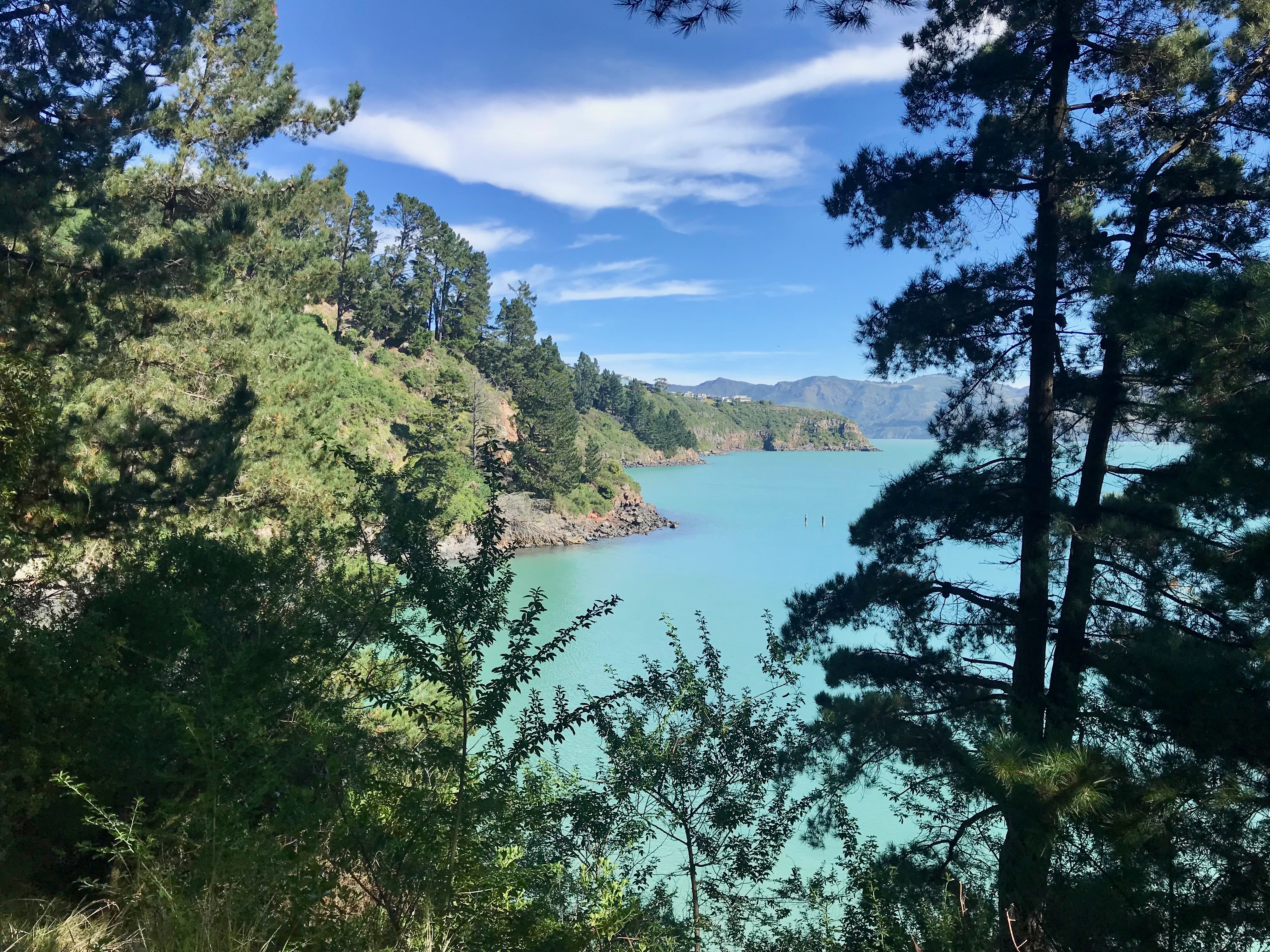 I found my way onto the Diamond Harbour Beach, where there was a bathroom with a sink. There was no hope for that convenience store I needed, so I would be stuck without water or sunscreen… I drank a bunch of water from the sink and started the hike…
"Limited food and water available - always take water" ~ The Diamond Harbour brochure
I could see the entire harbour as I climbed!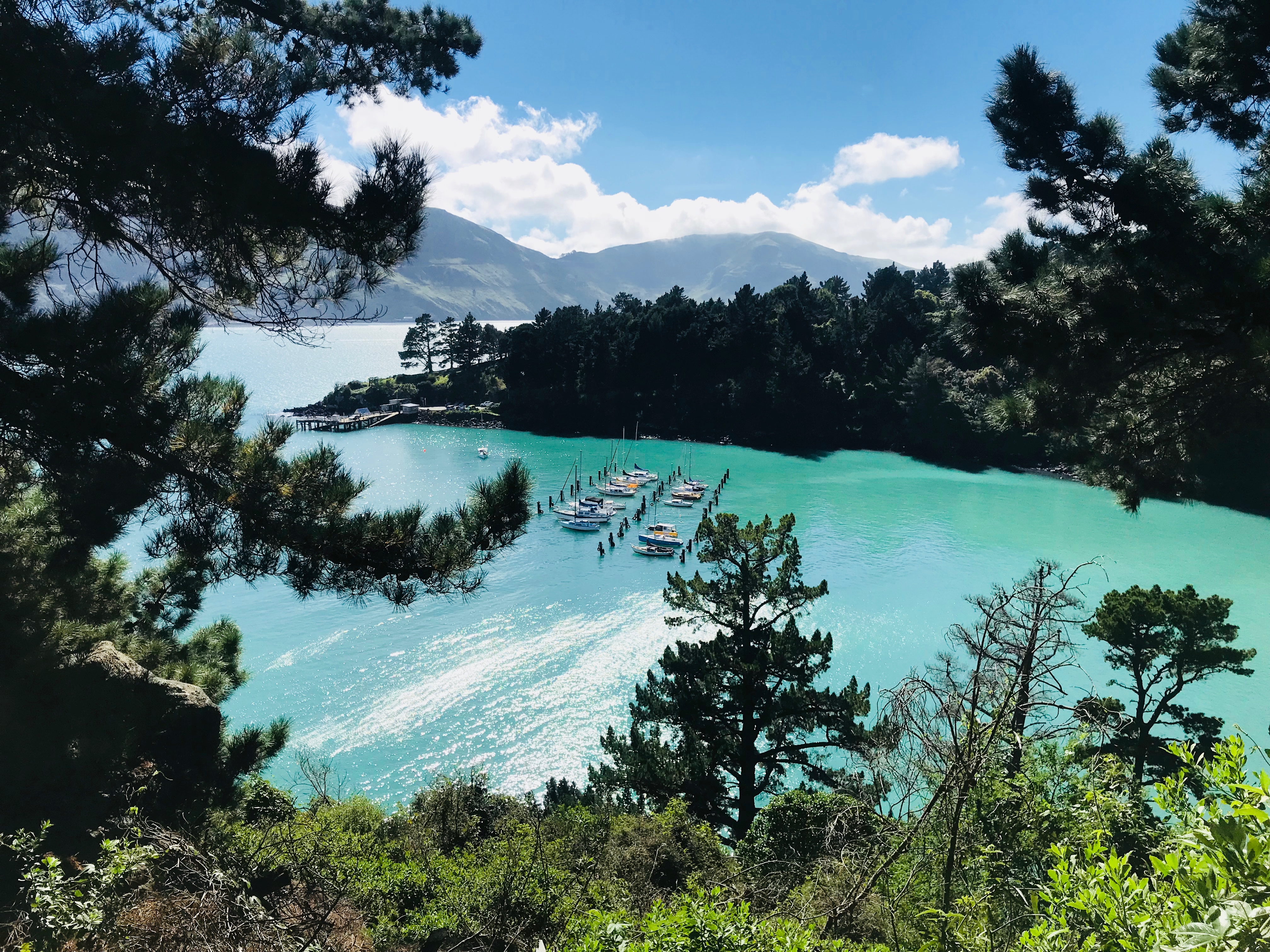 The Path
Did I mention how amazing the views were?!!! The emerald water is simply unbelievable!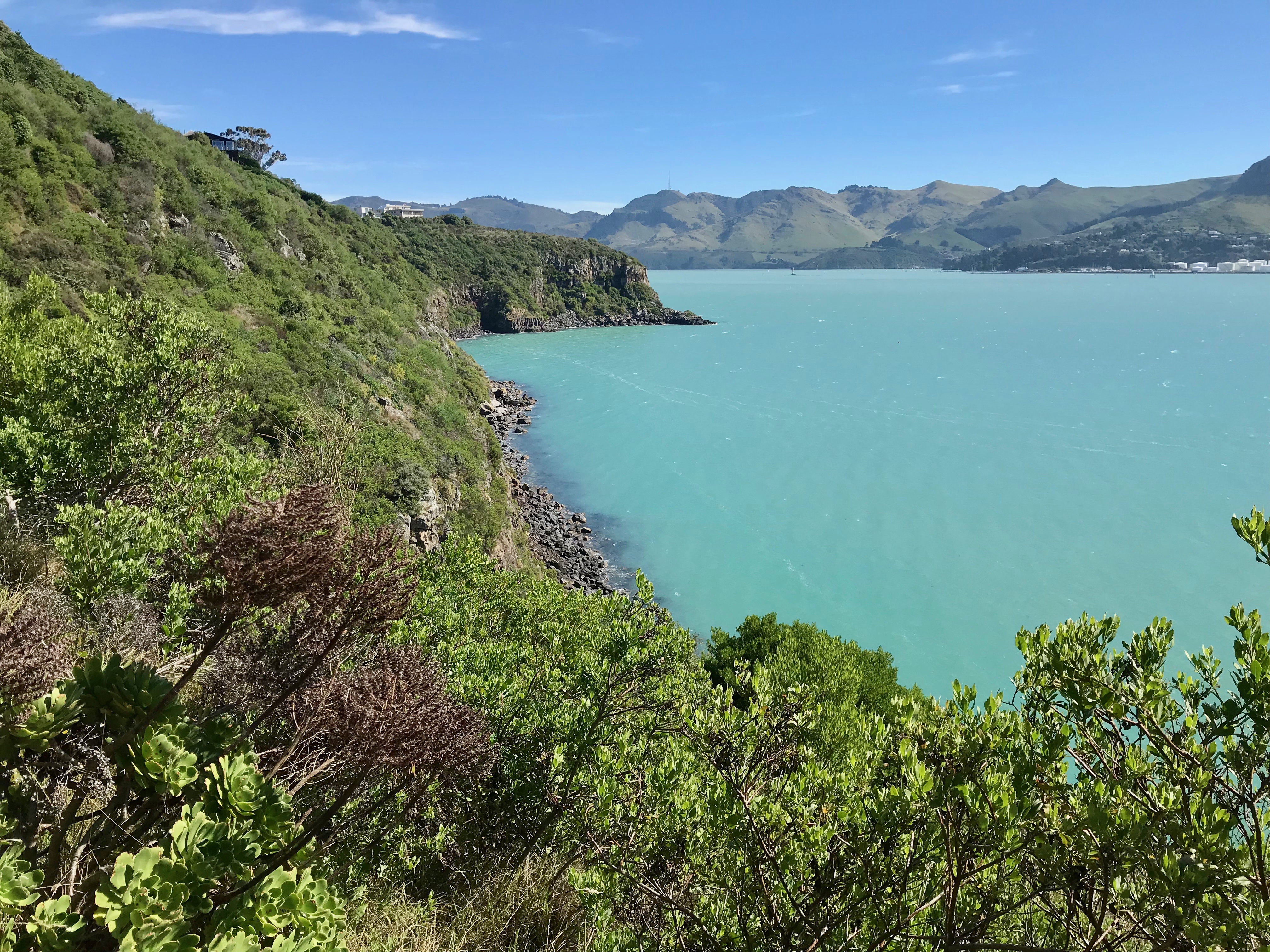 As advertised, the path itself was along the cliff: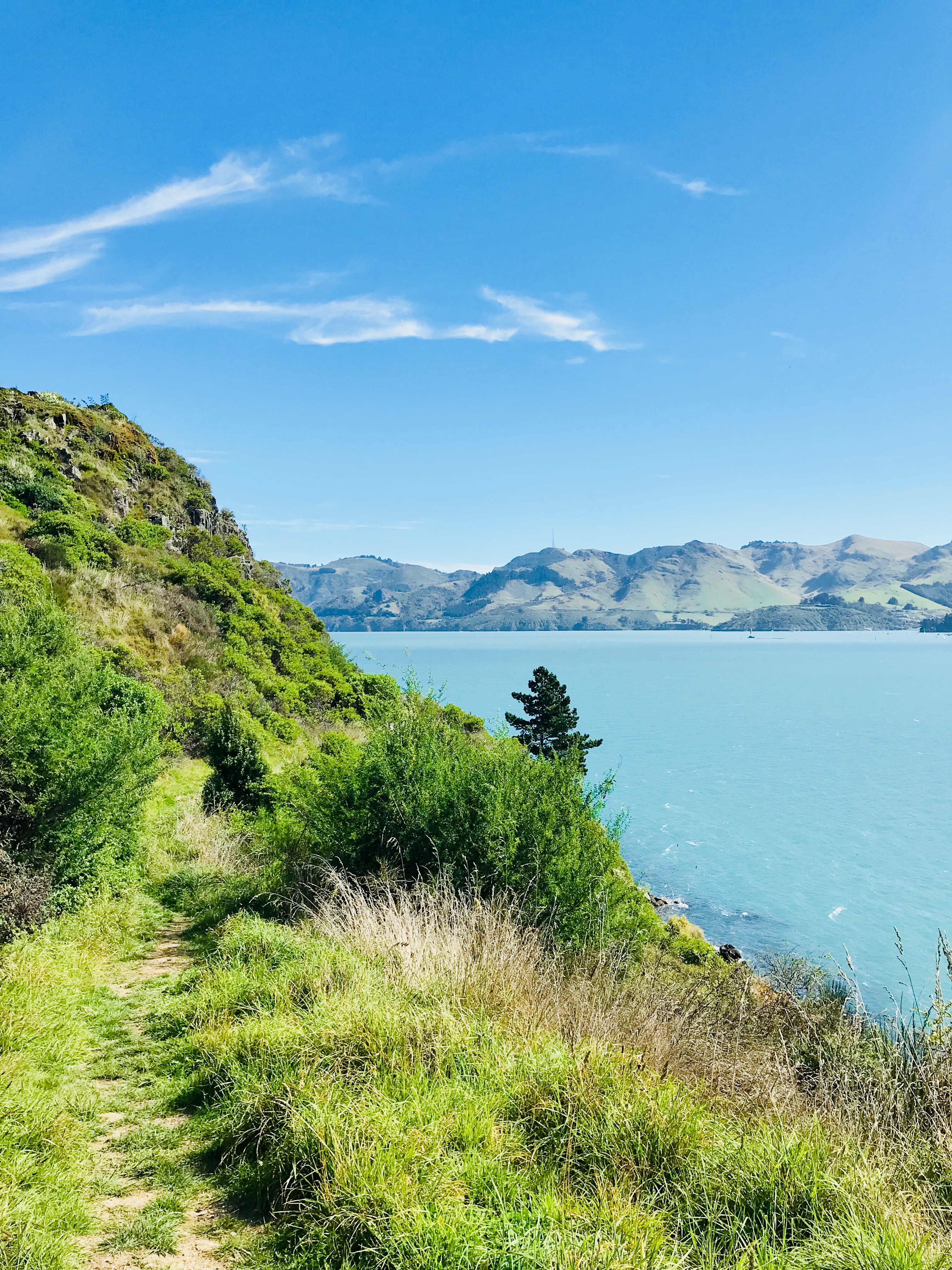 I didn't have any problems walking. Just enjoying the views at each twist and turn!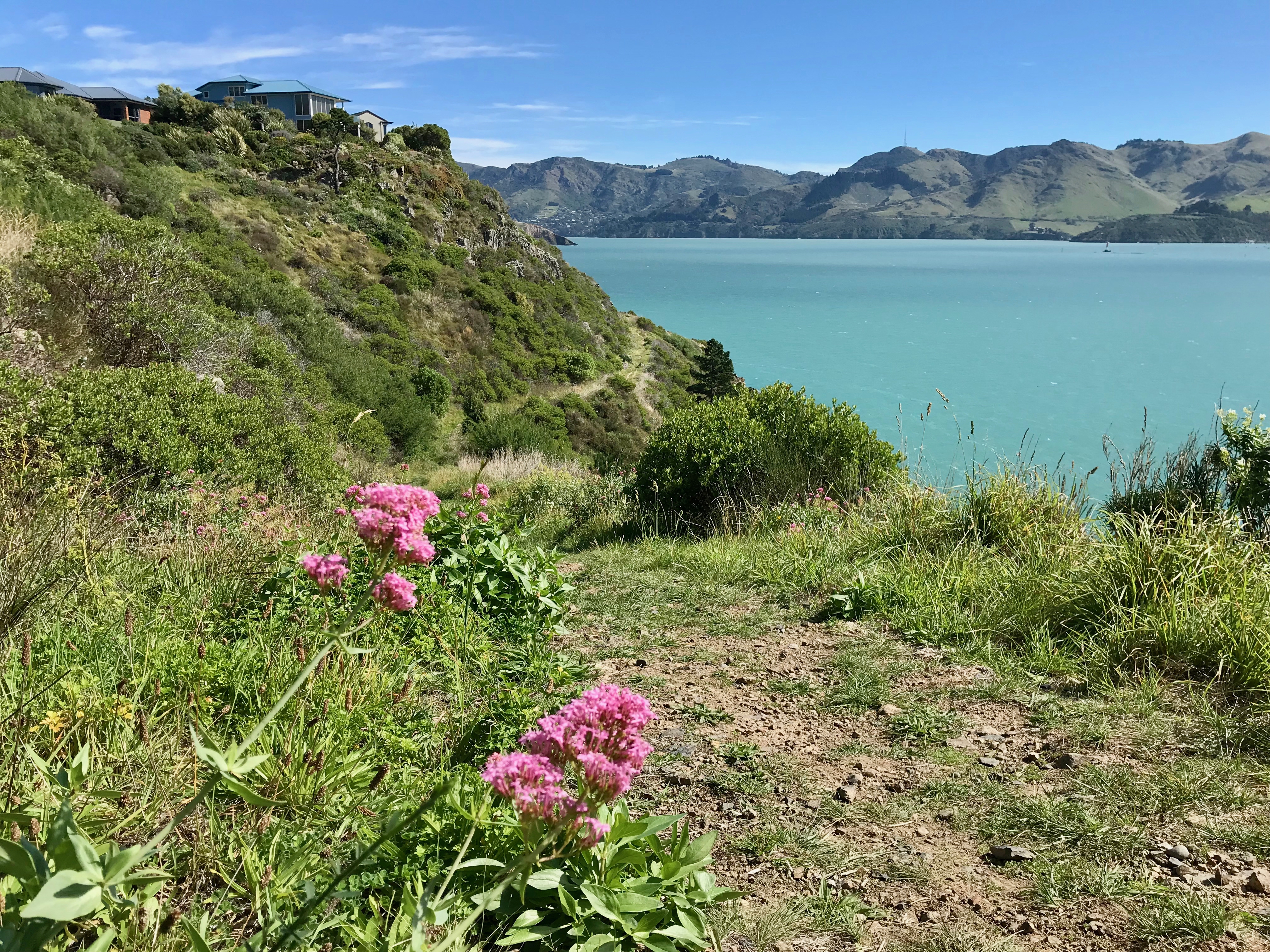 50 Shades of Green
The color of the bay was simply stunning!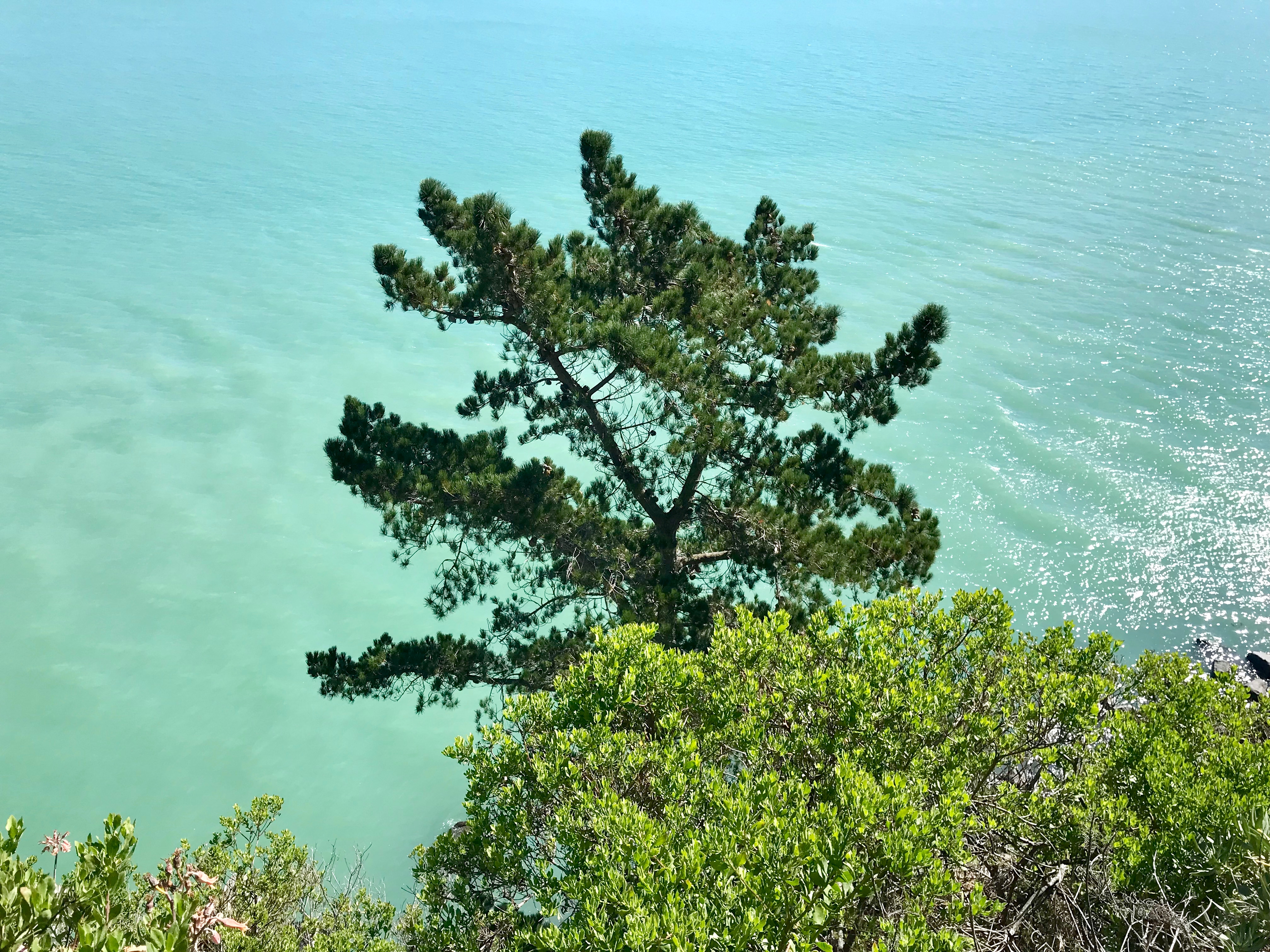 So much green! Such colors!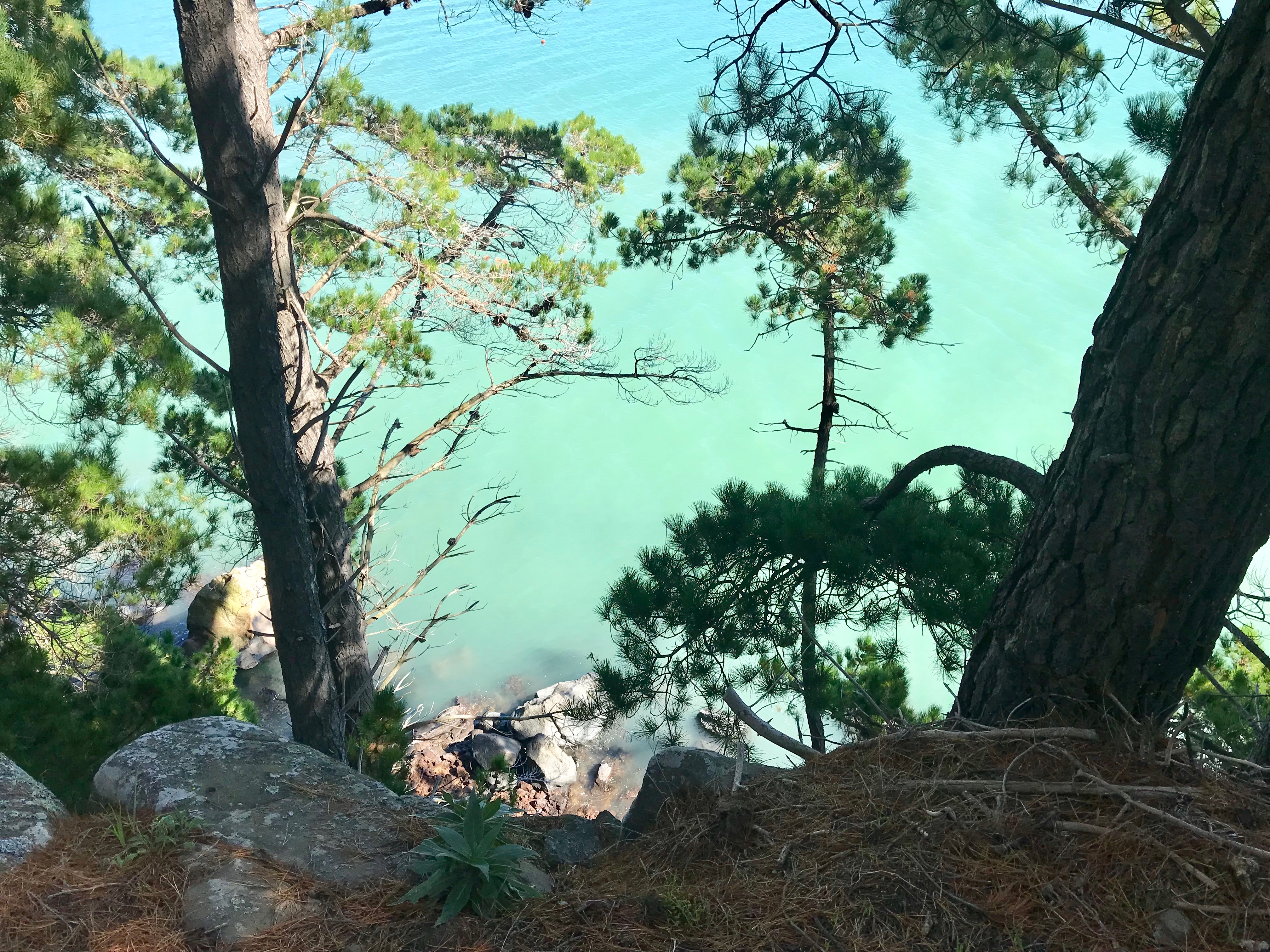 Breathtaking green views!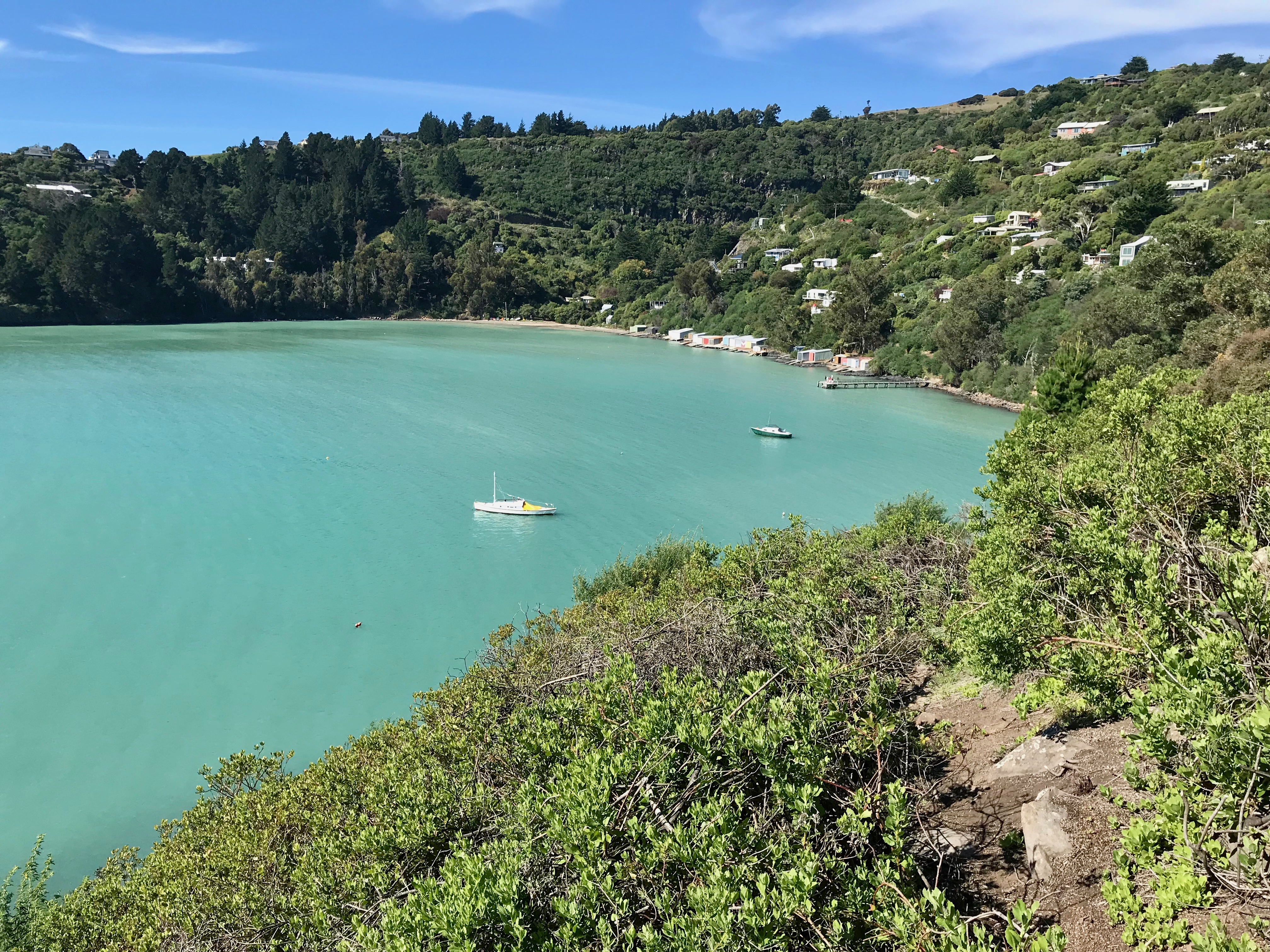 The Landscape
There were great flowers and plants along the walk. After all, nature is the best landscapist!
I enjoyed watching the big bumble bee on the purple flower: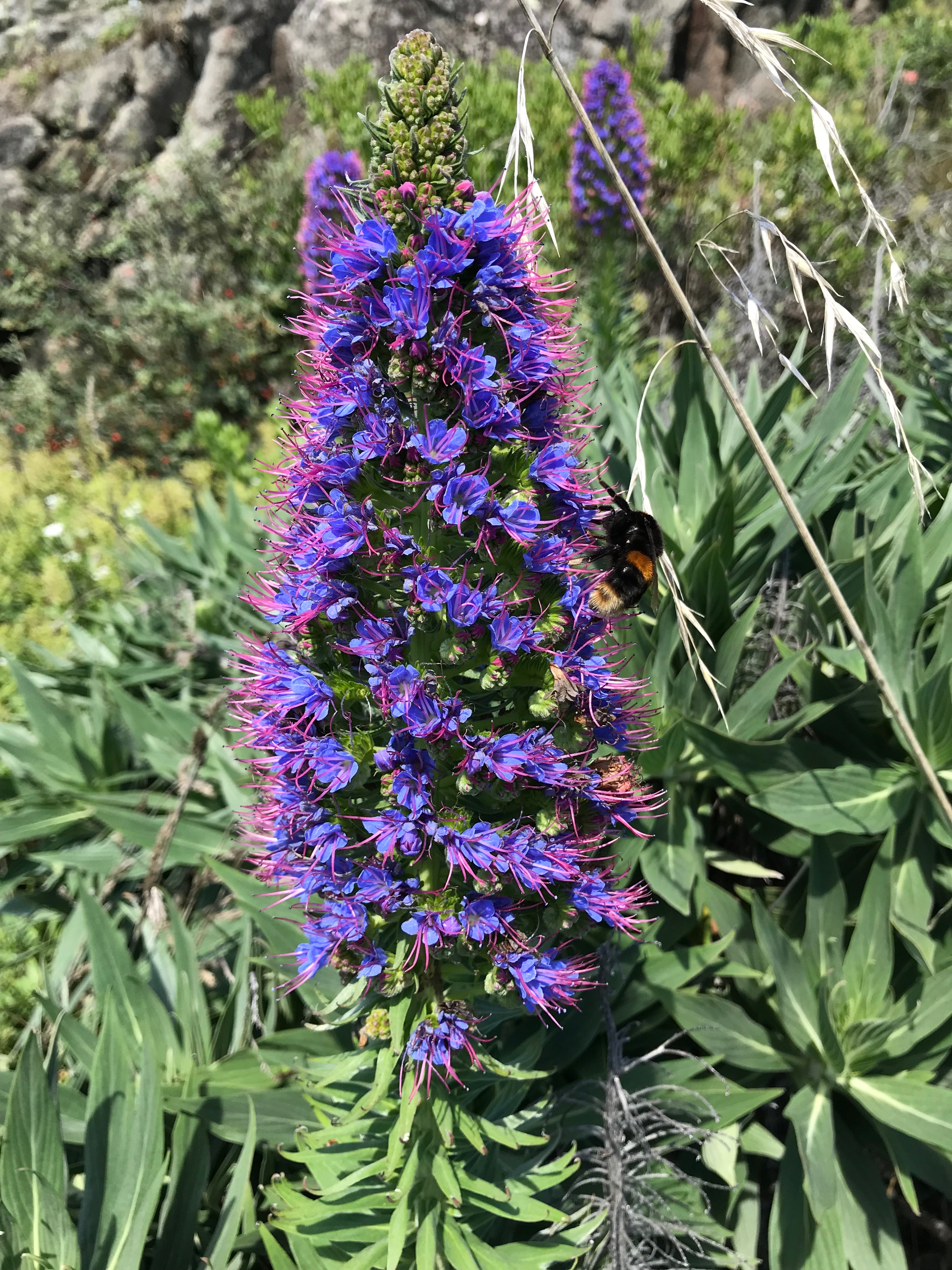 And no, I did not eat the red berries… But they added so much to the natural beauty of the place!
Black Point
"Be aware that all walks in Diamond Harbour have been built by locals for locals and need a moderate level of mobility and fitness. Tracks can be slippery after rain, so wear stout shoes or booths and bring your tramping pole. Diamond Harobur is extremely sunny, making it a great place for winter walking, but don't forget the sunscreen." - The Diamond Harbour brochure
The trail signs were great until Church Bay. I got there without any major issues.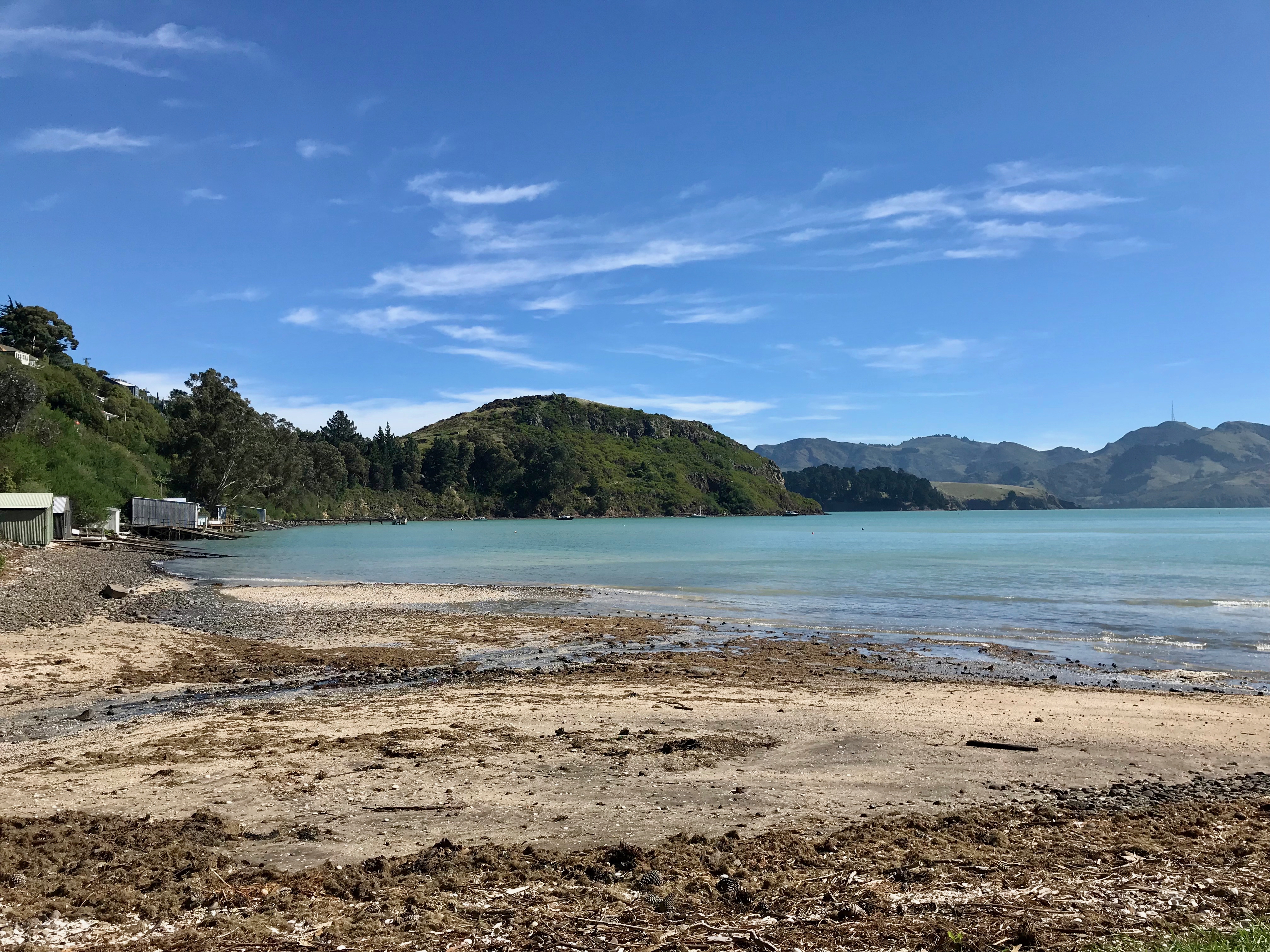 But I couldn't find where to go toward the Charteris Bay Yacht Club after that… I tried walking on different paths, but they ended up leading to the road. I wanted to continue walking on the super nice cliff path with flowers and plants along the water!
Luckily for me, a local family was fishing on a dock. I asked the local lady where the path continues. She told me that it is in fact along the road… but they are in the process of building a new path. I could use it now, but it is new and rugged… She looked me up and down and wandered if I could handle it… I went onto the rugged path in the direction she pointed, hoping for the best…
Confirmed that that path was indeed rugged…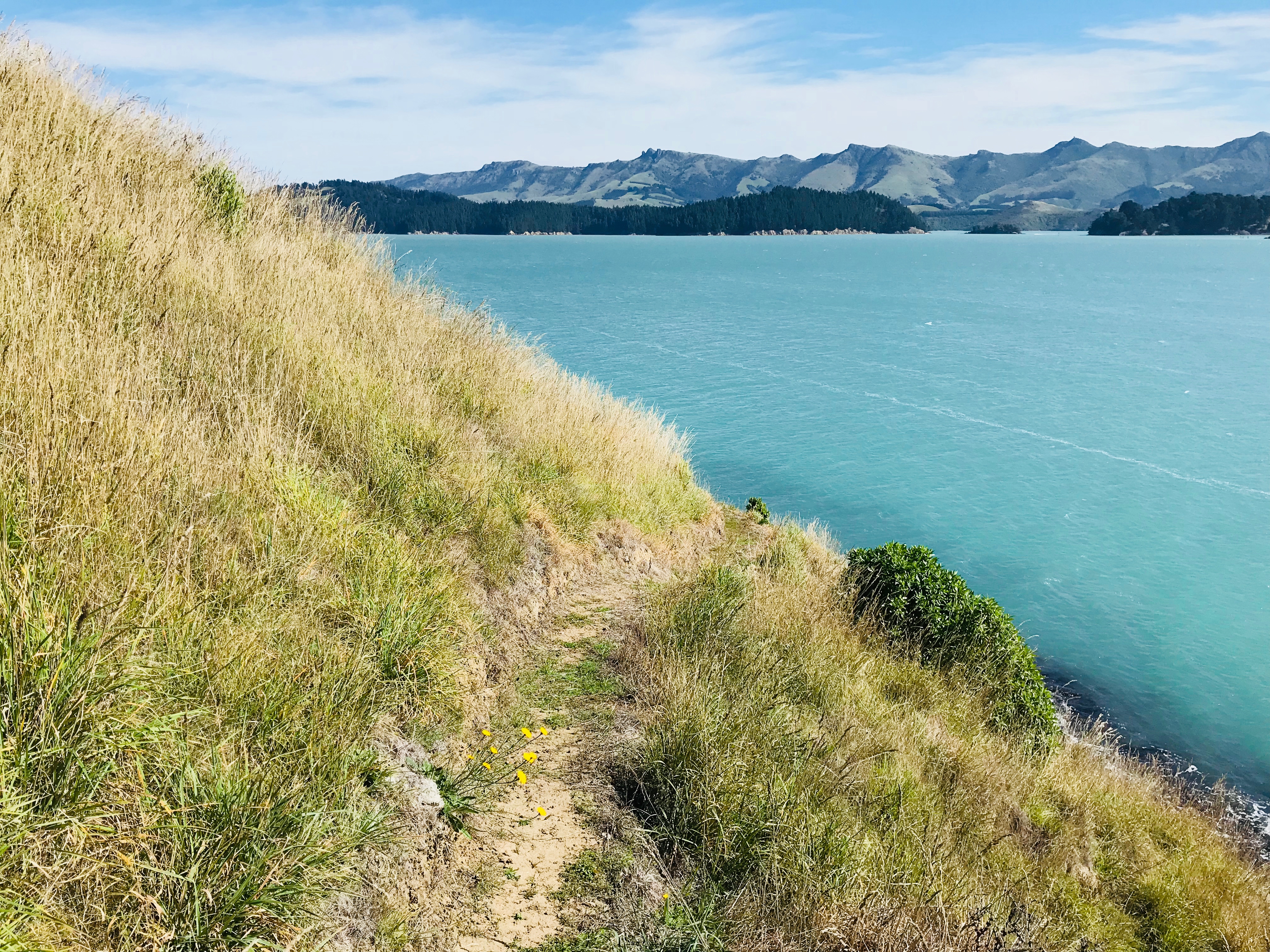 The walkways was so thin, it felt like you could only have one foot on the trail at a time. It was also reclining down the mountain, so it was a bit tough on my ankles to stay on the path. Oh, and there was nobody there. The sun was shining bright and I still had no water!
But it was spectacular! Way better than walking on the road I kept telling myself…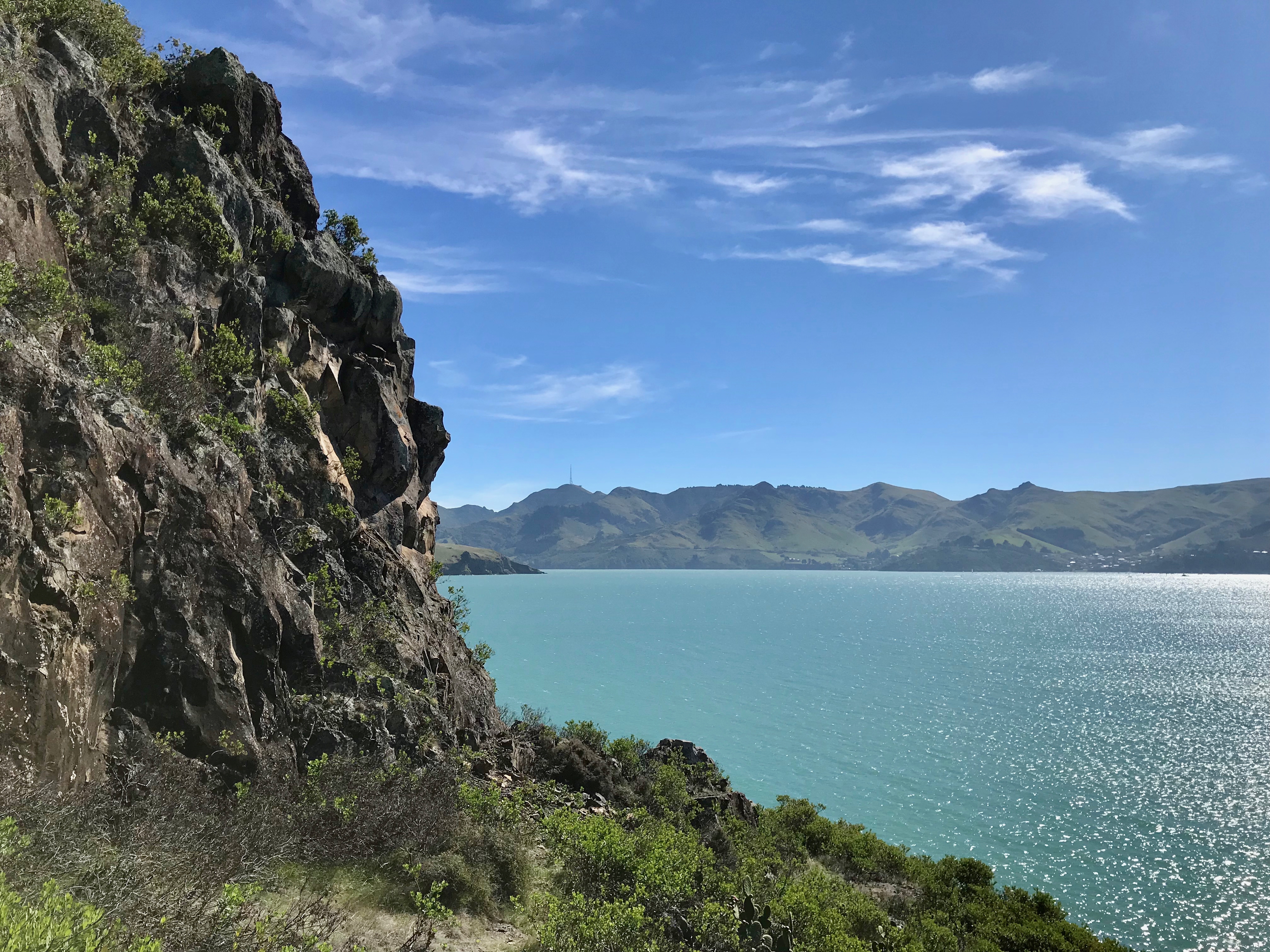 I climbed down to an isolated beach and enjoyed the water.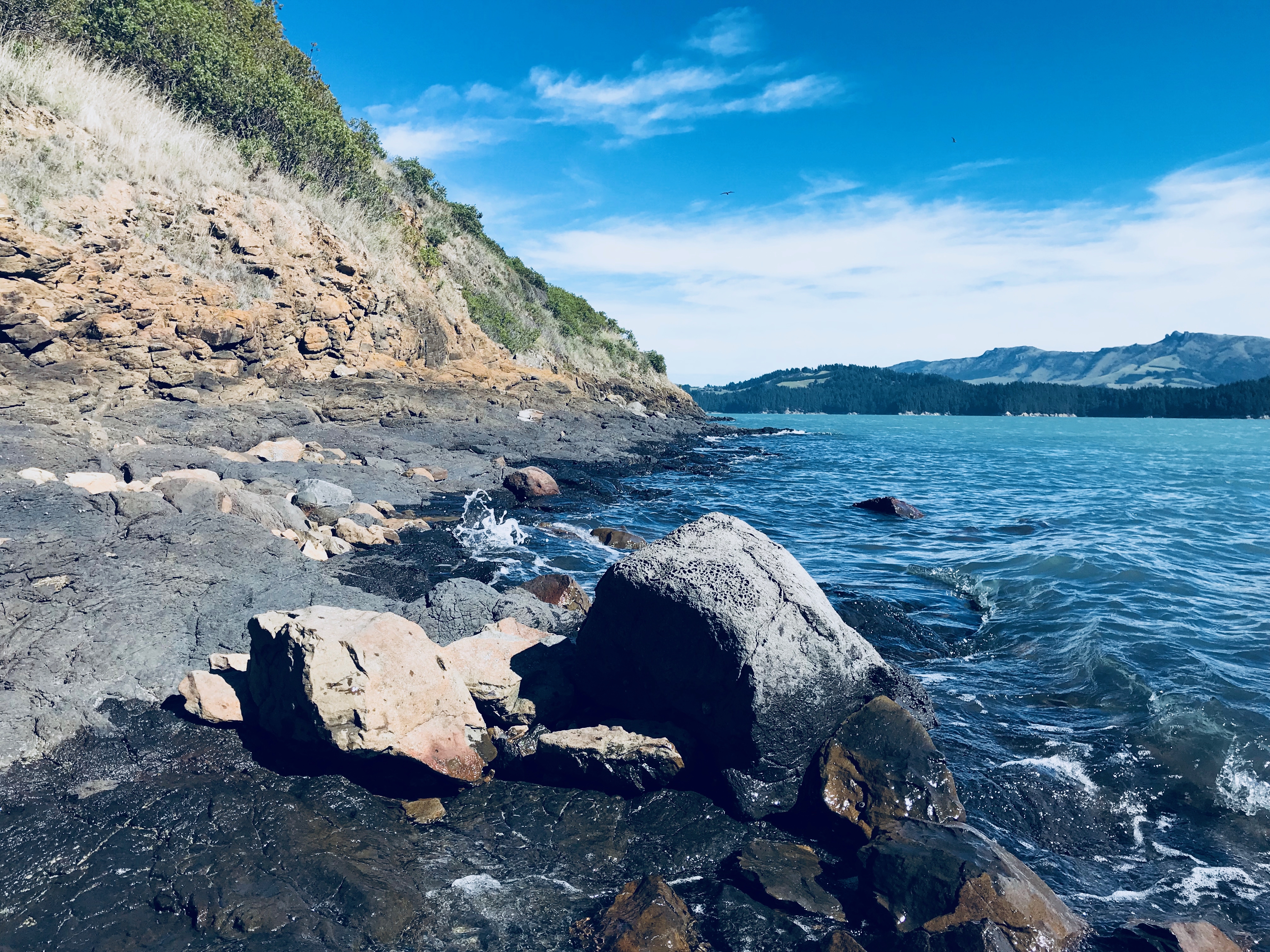 It took a while, but finally, I made it out to Hays Bay, where there were actual people: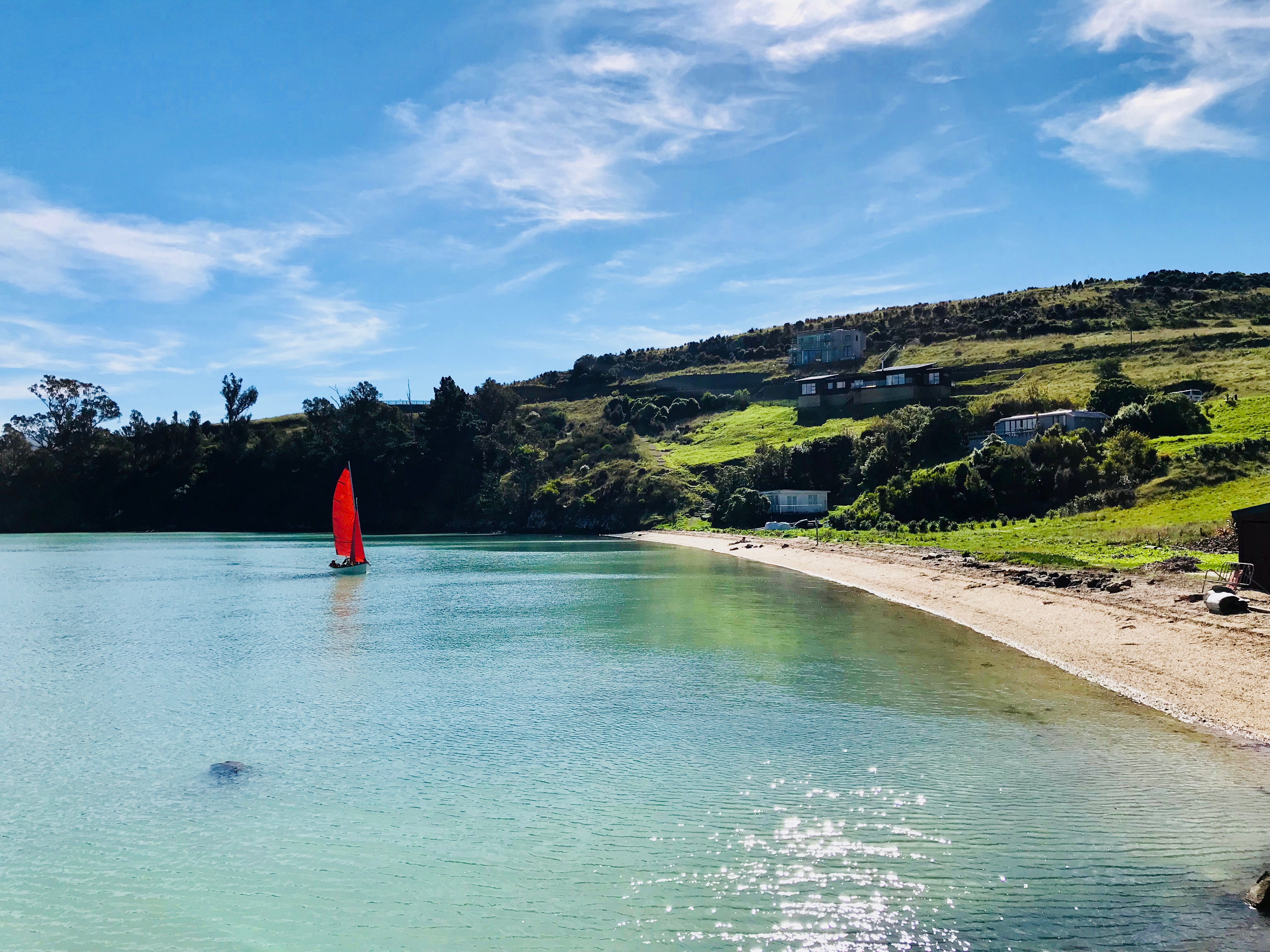 20 minutes later, I made it the Yacht Club. Thankfully, even though it was closed, there was a water faucet outside. Nobody was there, so I just kept drinking from it for a while!
The Path Back
I was excited to loop back on top of mountains, but as I started the loop, I realized that it was along a road, not in the forest and mountains like I imagined. I confirmed with the brochure that the loop was "on a quiet back road", and went back to walk the same way as I came… well, almost!
I decided not to attempt the rugged Black Point mountain path again. So I walked along the road to Church Bay. A short walk, but a confusing one still. I couldn't find my way back down to the track.
Unfortunately, the Cliff path is lined with private properties all along it: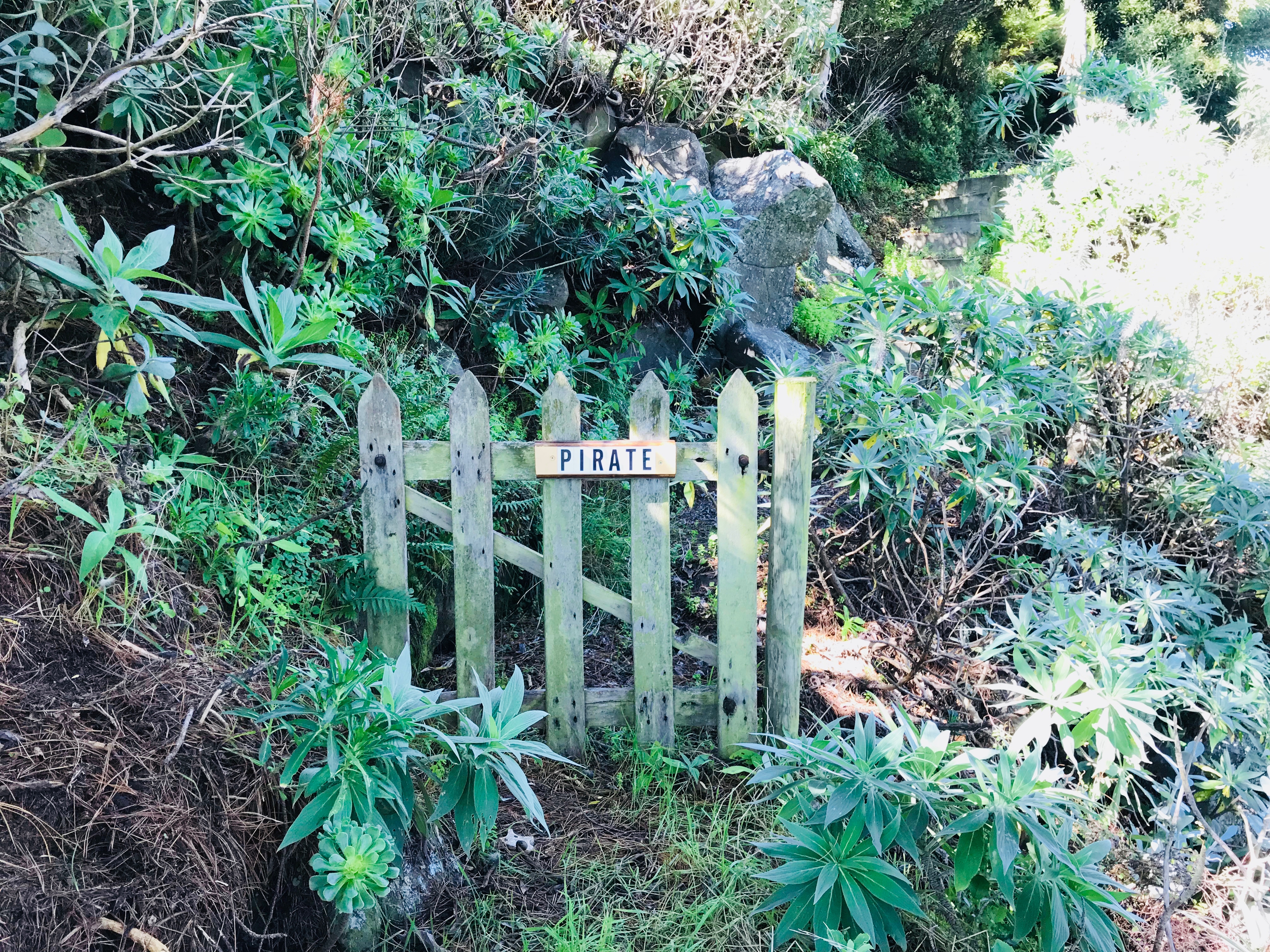 I ended up climbing down through a private property. Luckily nobody was home… And enjoyed the path back without any additional issues. What amazing views!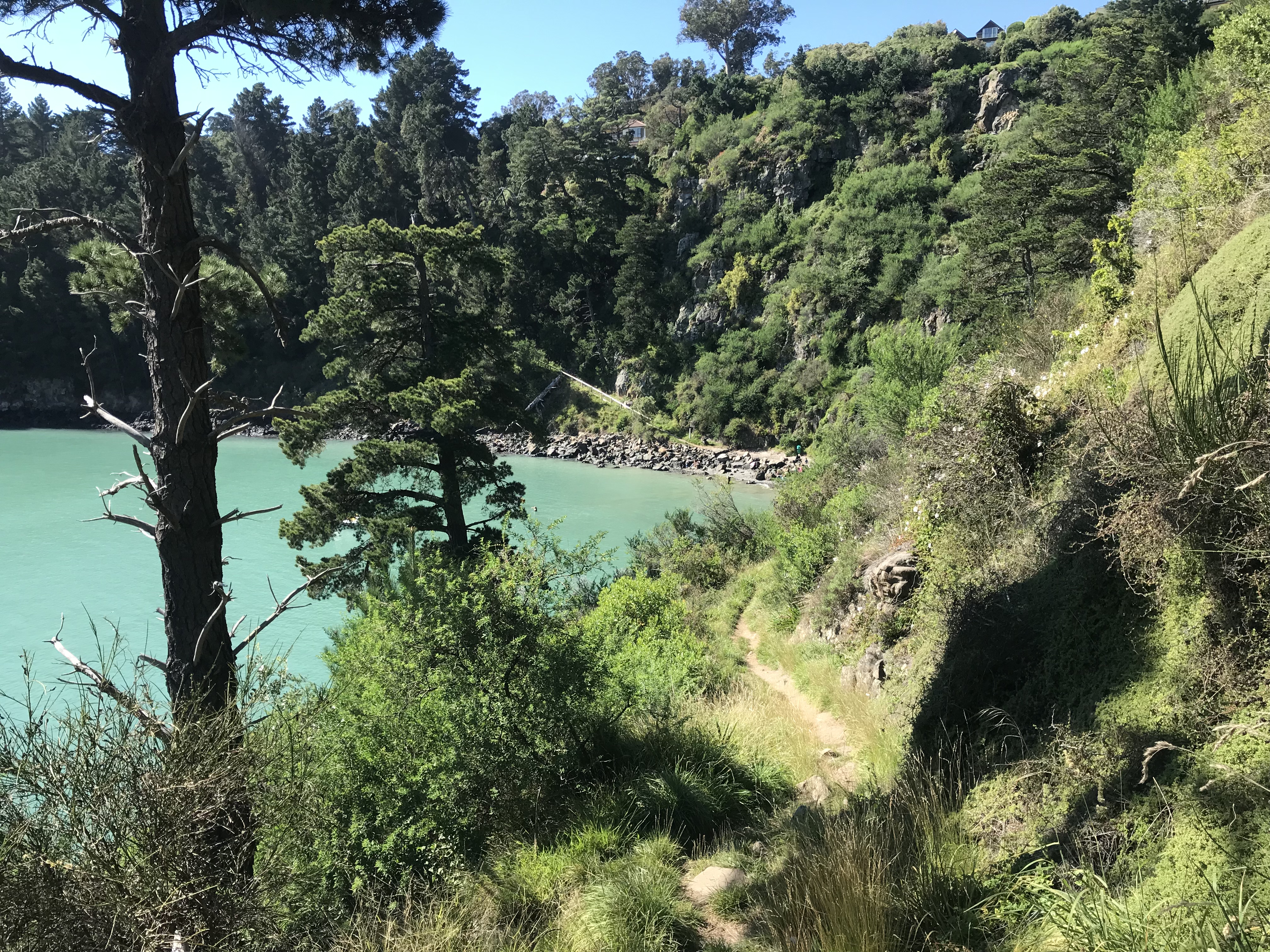 Conclusion
The whole hike took me exactly 5 hours. Obviously, I would not be stupid enough to hike without water again… Also sunscreen… But I'm still glad I did it and survived.
It was empowering to know that I can hike on my own. But also, I needed that hike day for rejuvenation. Nothing like being surrounded by such beauty for a day to get rid of whatever heavy worries and stress you're carrying.
I was so happy and energized the next day!