Buenos Aires: The Mate Experience
NatashaTheNomad
12/30/2016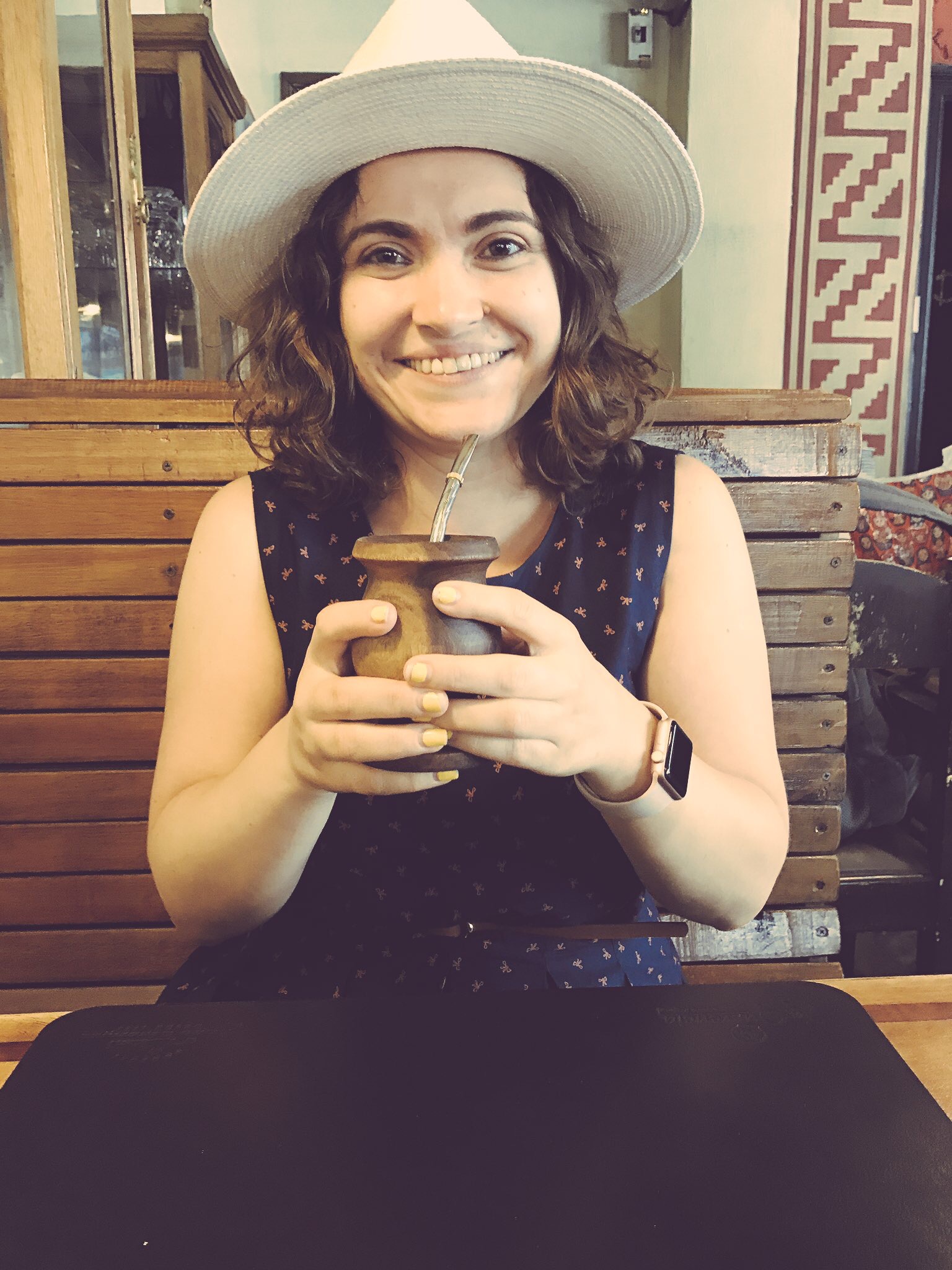 The first time I heard about Mate was from @leopyc on Twitter when I first arrived to Buenos Aires and discovered the amazing Tea Connection. Since then, I've wanted to try it! But I had no idea where to find it or how it works, so I had the goal of trying it with a local.
A few weeks later, I saw that my friend who was visiting Buenos Aires got Mate at a restaurant called La Querencia. I immediately put it on my Buenos Aires Foursquare list! So when a local friend made plans to get lunch with me, I requested to go to this restaurant!
After eating a delicious meal (La Querencia is now officially my favorite restaurant here in Buenos Aires!), I got the Mate! I didn't do any research on it, besides knowing that it's a tea and a local specialty and I should try it and that it might taste weird, so I had no idea what to expect! This is what they served!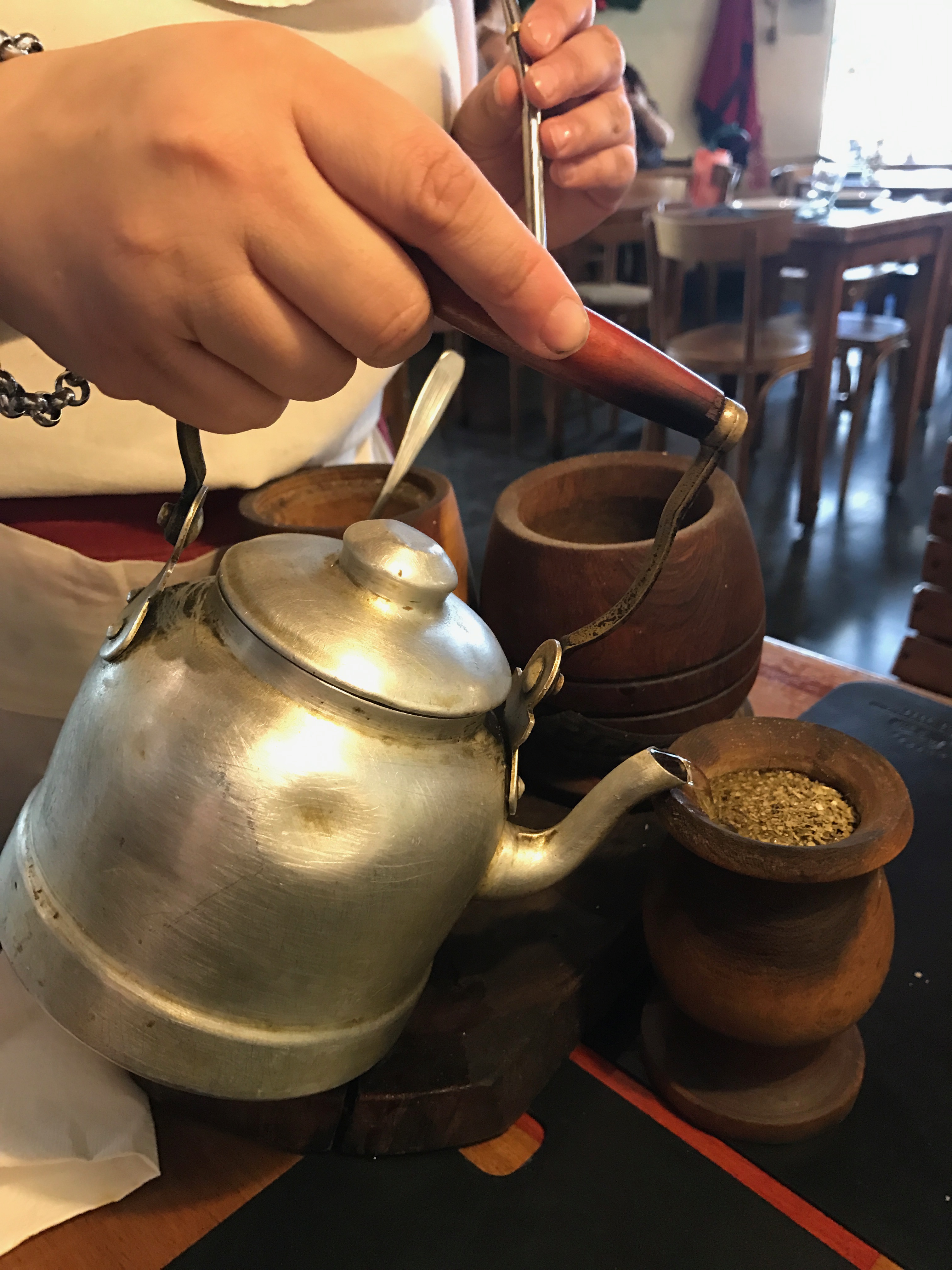 The Mate herb pretty much fills up the entire wooden cup. They fill it with hot water, and put in the straw in a way that you would only get the water, and not the herb in it. It's an art! My local friend told me that there are different types of cups and straws!
I then drank the hot water (which wasn't much given that the whole cup is filled with the herb!). My friend told me to listen for a sound. As I was finishing up the little hot water in the cup, I heard it! The sound means it's time for a refill! More hot water, more drinking, more sound, repeat!
One of the wooden cups is filled with sugar. However, I didn't mind the strong taste as I usually drink tea without any added sugar, so I was fine without it!
One thing that came to my mind about Mate is the new popular hip energy drink in the U.S. / Europe called Club Mate. My friend laughed when I mentioned Mate branded as an energy drink. Apparently, in Buenos Aires / Latin America, Mate is considered a nice calming drink to drink in the morning to clear one's head and contemplate the world.
Afterwards, I couldn't sleep that night and the next day I was still crazy energized all the way until late evening 😱… so I definitely would call it an energy drink… Reading about it, I learned that Mate has lots and lots of caffeine:
"Compared to the other most commonly used stimulants in the world — coffee, tea, kola nut, cocoa and guarana — yerba mate delivers the most balanced energy boost, according to Guayaki, North America's top yerba mate distributor."
"At 85 mg caffeine per 8 ounces, it contains more caffeine than tea but less than coffee."
I don't have caffeine very often - the last time I had it before the Mate was over 3 months ago in Italy, so I'm not surprised it affected me that much.
I also learned that Mate is crazy healthy:
"Yerba mate is so loaded with nutrition that it contains practically all the micronutrients needed to sustain life. Each serving of mate contains the following vitamins and high concentration of these minerals:
vitamin A
vitamin C
vitamins B1, B2, B3, and B5
vitamin E
calcium
iron
magnesium
manganese
phosphorus
potassium
selenium
sodium
sulfur
zinc
Overall, I really enjoyed the experience! I'd definitely try more Mate, but maybe just very early in the morning so I can sleep at night 😬 Thank you @marianoabdala for helping me through my first Mate experience!